After the best trampoline? Because right now, as families face weeks and possibly months of having to entertain the kids at home, a trampoline in the garden could well be a lifesaver. Help them alleviate boredom and get that vital exercise, all in the safety of your garden. And, who knows, you might end up joining in...
Since the pandemic began, trampolines have been a must-buy for lots of families. As such they have sold out quickly and you might find some of our favourites keep going in and out of stock. Bookmark this page and check back if the one you want is not available at the time. Some places will allow pre-order.
If you are looking for more garden play equipment to keep the kids fit and entertained, check out our list of the best climbing frames.
The best trampolines
Why you can trust Real Homes Our expert reviewers spend hours testing and comparing products and services so you can choose the best for you. Find out more about how we test.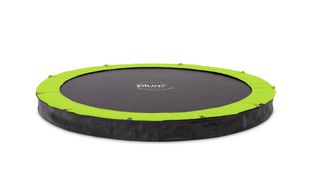 While it does necessitate a little bit of landscaping, the real charm of the in-ground trampoline is actually that it helps preserve the look of your garden. If you don't want to compromise between giving the kids all the bouncing fun their little hearts desire and not wanting an over-large trampoline acting as an eyesore in your beloved outdoor space, then you needn't. The durable trampoline frame is made from galvanised steel to protect it from rust, and a solid retaining wall keeps dirt from the underside of the trampoline, meaning it'll stay looking new and feeling sturdy for ages.
Buy the Plum In Ground Trampoline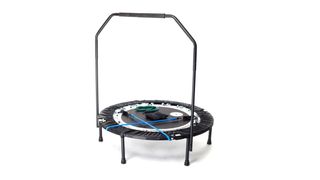 This rebounder set is a whole workout setup in itself, featuring an indoor trampoline, sand weights, resistance bands and a compilation DVD to inspire your routines. If you're looking for a trampoline for exercise, we recommend thinking outside the box and going for one of these rather than a full-sized outdoor version. This MaXimus model comes highly recommended from happy reviewers saying that the foldaway design is genius, the rubber feet and springy platform are sturdy, and the support handle keeps them secure and comfortable during a vigorous workout. By all reports, it's a great all-rounder.
Buy the MaXimus Pro Rebounder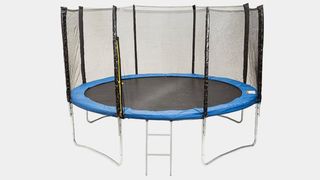 While all of our trampolines are certified safe for their respective age ranges, this trampoline might be a good choice if the whole thing makes you a bit nervous. Its main selling point is peace of mind, with safety features like custom shaped springs, an all-round net enclosure – no risk of flying off – and foam padded poles – no banged bonces – ensuring that even with kids' uncanny knack for getting into scrapes, they'd have to try pretty hard to hurt themselves on this one!
Buy the 10ft Supernova trampoline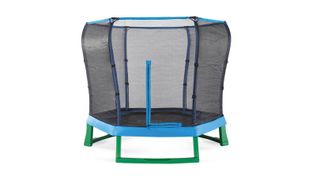 Smaller in stature than many of our other picks, and in a cheerful blue and green colourway that makes it look altogether friendlier, the Junior Jumper by Plum is our best trampoline for younger children. The lower frame height makes it easier for those with little legs to get up and down, and the reduced distance from the ground mean that any accidental falls while trying to mount are more likely to be shrug-worthy than startling. It's also a great combo of sturdy and comfortable, with a frame made of galvanised steel for strength and rust-resistance and thick foam pads to prevent knocks.
Buy the Plum Junior Jumper Trampoline and Enclosure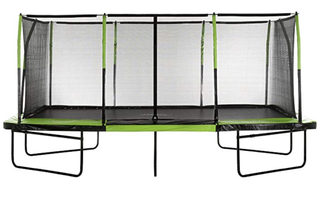 This more traditional-looking rectangular trampoline is most similar to what you'd find at the local rec, and while it gives you loads of room to bounce around in, it also saves more space than a circular trampoline. It's built to withstand some reasonably rough treatment too, since it features ultra bounce heavy duty galvanized springs for bursting strength and maximum bouncing, with 4 sturdy W shaped legs using 8 curved poles. For its space-saving design that doesn't compromise on freedom to jump, and a durable construction, this is possibly our most practical trampoline for back gardens.
Please note this product is currently out of stock.
Buy the Upper Bounce Easy Assemble Spacious Rectangular Trampoline
How to buy the best trampoline
Best places to shop for the best trampoline
Size
The main thing to look out for is overall size. Our picks range from just over three feet in diameter for an indoor trampette to a huge 14 feet for our most powerful outdoor trampoline, so if you don't want to end up with a gargantuan bouncer that'll end up overshadowing your garden, be sure to check our specs before adding to cart.
Shape
Strange as it might sound, shape can play a part too: circular trampolines are understandably popular, but a rectangular trampoline of the same size will take up less space, as you can push them up against the border for less of an infringement on your lawn.
Design
The majority of garden trampolines are elevated on legs, leaving a large gap between the bouncing platform and the ground, but a good alternative for little legs, which can have trouble getting up onto taller platforms, is a dug-in trampoline. While they take a little more work in the first instance, requiring you to dig a little way into the ground before installing, they sit flush to the lawn and can look a lot neater than their high-up cousins, as well as being easier to mount for younger children.
The rebounder
If you're of a certain age, you might recognise these little trampolines from various vigorous workout videos of the 1980s, and there's a good reason they're still going strong. If you don't have a garden but still want to bounce, these mini trampolines, often with handles for extra support during workouts, are very useful if you're looking for a trampoline for exercise, and if you don't have the luxury of your own home gym, can be stored out of the way when you're not mid-Jane Fonda.
For more buyer's guides and advice about your garden, visit our dedicated garden hub page.
Read more: