Budget garden ideas can often be the best and they will help you achieve that lush green outdoor space you want – without spending megabucks on major landscaping overhauls or out-of-reach plants...
One of the great things about exploring different types of garden ideas is that many of the most impactful looks often cost next to nothing to create. From clever planting to savvy tips for growing from scratch, there's so much you can achieve in your garden space even with a very limited budget. Plus, using clever color tricks with decking paint and more in the way of DIY, you'll be able to enhance your planting scheme for less. Be inspired and start your own transformation.
How can I make my garden look nice, cheaply?
There are so many budget backyard ideas out there, ripe for elevating with a little veggie patch or other cute addition.Ferns and Feathers garden blogger Vic MacBournie has some top tips to start with:
Try to incorporate self-seeding perennials in the garden like Black-Eyed Susans that are easy to divide but will also naturalize in an area and provide lovely drifts of color over time.
Seed both annuals and perennials directly into the garden in spring. Annuals will flower in the same year, but most perennials will not flower until the second year.
Look for household objects that can be re-used in the garden. An old shoe or even a broken bird bath can be used as a container for, say, succulents to add a little whimsy to the garden.
Ask your neighbors if they are interested in swapping some of their favorite garden plants for ones in your garden.
Be sure to visit your local garden nursery early and often to look for sales from last year's stock.
Inspire yourself with many more tips from professional horticulturists, landscapers and garden designers.*
1. Group small pots full of bright flowers
Container gardening is a really budget-friendly way to decorate a garden. Flowers are inexpensive, decorative and are often the first thing that guests are drawn to. They're especially effective in a small space, on a terrace or patio, or in a courtyard without a lawn where they can be seen from indoors. You could even display them on a junkyard find like a step ladder to create a really cheap but effective garden feature.
Garden landscaper, Ellen Wright says, 'Baskets and pots can brighten up any outdoor space, and you don't need expert gardening skills to plant them. There's an array of hanging baskets and pot types for all budgets; you can even choose most flowers and plants depending on your personal preference.'
Ideal if you don't have space for beds, plus, these will be easy to maintain and change up should you want a new look.
2. See vertical planting as a cost-cutting garden technique
Create impact with vertical planting incorporated into your garden screening ideas. We're talking pots fixed to walls, vertical gardens and plants that grow upwards, whether trees, larger shrubs, climbers or hedges, especially those good for quickly creating privacy, screening and security.
The cheapest option (other than a few plants in pots, like those above) is to start with fast-growing climbers, such as clematis armandii or wisteria. Buy the maturest plant you can afford for quicker results. Another option is to use hanging planters with plants that trail, or to create living walls.
All of these ideas are great options if you're wondering how to make a small garden look bigger.
3. Plant fast-growing climbers or invest in one stand-out specimen
Got a little more to spend? Using one of the best small trees to create a ceiling for your garden, in the same way a pergola or gazebo would, is always going to be a cheaper option than having a whole new structure built. Specimen plants give a garden an instant sense of substance and proportion, which is difficult to achieve otherwise. The same can be said for borders: instead of paying a contractor to build a fence, invest in hedges, climbing plants and grasses to define the border and increase garden privacy and security.
Again, it's always worth investing in the largest plants you can afford for quicker impact.
4. Grow your own with patience
If you have the patience, instead of buying plants that will immediately achieve your desired look, invest in smaller, younger plants to save money – and which with a little bit of support can grow to the same size quickly.
This is even more applicable when creating a kitchen garden, as growing from seed is much more cost-effective and higher-yielding than buying lots of starter pots from garden centers.
Horticulture and landscaping lecturer Julie Kilpatrick, says, 'It can be very tempting to go to the local garden center and buy the larger, more mature, plants so you get an instant effect. Young plants are cheaper and grow reasonably fast with the right care. They also adapt far quicker to the environmental conditions specific to your garden. Mature plants look great in the short-term but they might take so long to settle that younger plants will catch up and may even overtake them.'
5. Plant shrubs and herbs for year-round interest
Remember to use a mixture of good-value shrubs, including those that will flower, fruit or have interesting fall foliage, such as Sarcococca confusa or Viburnum. Use these with a mixture of spring, summer and fall flowering herbaceous perennials. These come back year after year without the need to buy again, so they are long-lasting and relatively low maintenance, as well as representing great value for money – ideal for beginner gardeners.
You can also plant many shrubs – and even some small trees – or even start a herb garden in containers, if space is tight or if you're moving and want to take them with you when you go (for an instant garden at your new home).
6. Plant perennials to spend out just once
Putting in perennials means you'll spend out just once, because they will last not just year-round, but for years and years. Work out the total number of square meters of your planting beds and allow five shrubs or perennials for each meter. Shop around at garden centers and nurseries and expect to pay hardly anything at all. Join a local gardening club and pick up knowledge and cuttings or small plants for sale at a discounted rate, saving more to make your budget go further.
Herbaceous perennials such as lavender and rosemary do especially well in garden borders, year after year.
7. Make a planting table with old pallets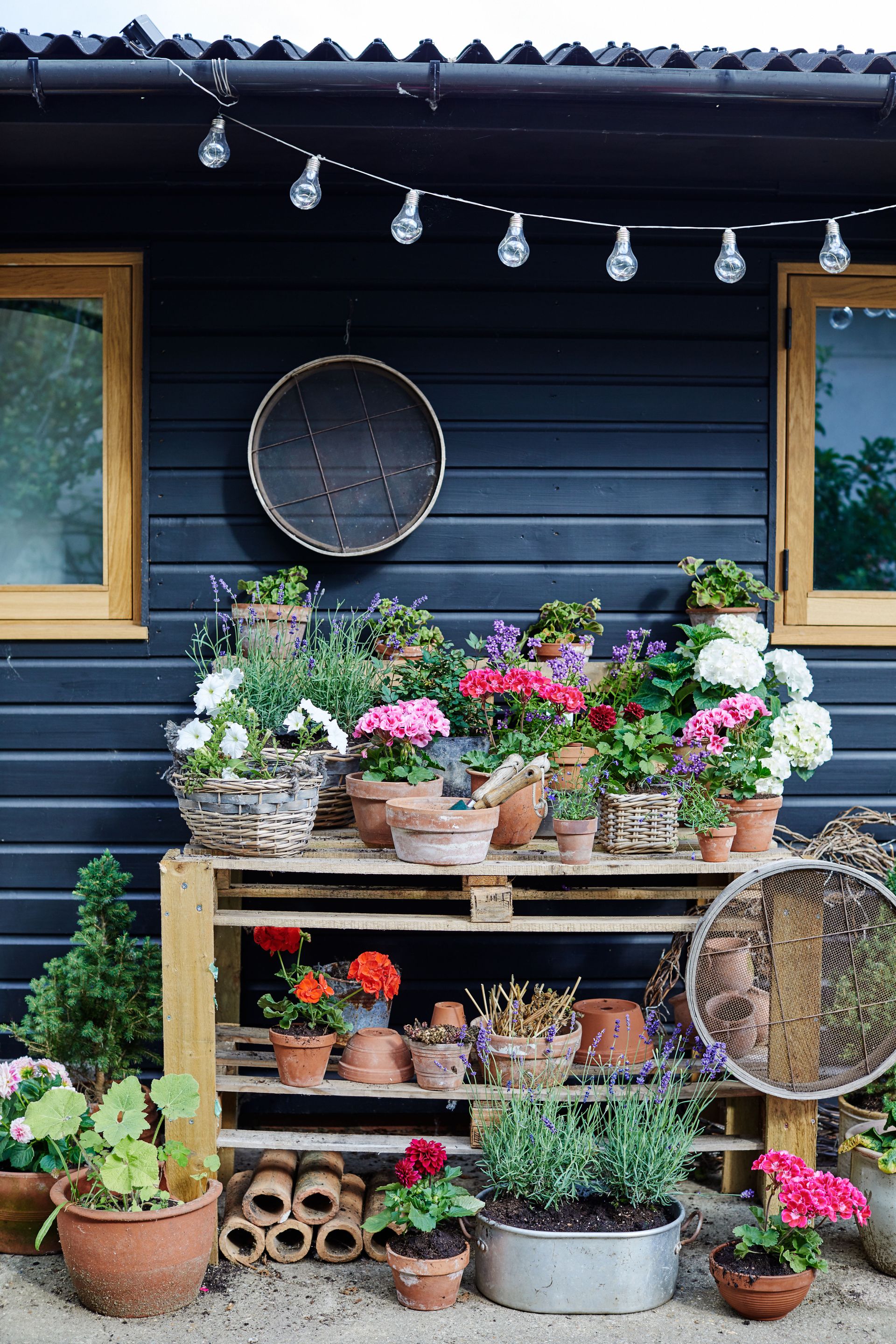 Use this pallet converted into a table as a planting table or to display a collection of pots planted out with bright blooms. Simple, free, effective. Palette garden planters are another awesome budget-friendly garden DIY.
8. Paint the garden shed and garden furniture to match
Eyesore of a shed ruining your garden? Paint a garden shed to give your garden an instant boost. You may even want to go to town and paint surrounding fences too.
Wright recommends 'If your fences or shed are looking shabby and unloved, giving them a new lick of paint can brighten up the garden. There are a lot of wood paints and stains available in a variety of different colors depending on your taste. It's recommended to use a wood protective paint to ensure any fences or sheds are protected from the elements and prevented from rotting.'
Our advice: choose your garden color scheme carefully: the more natural it is – pale grey-green paint shades – or the darker it is – think blacks and dark blues – the more you will show off your planting. Avoid anything garish which will compete with your blooms for attention.
9. Enhance a surrounding garden via the deck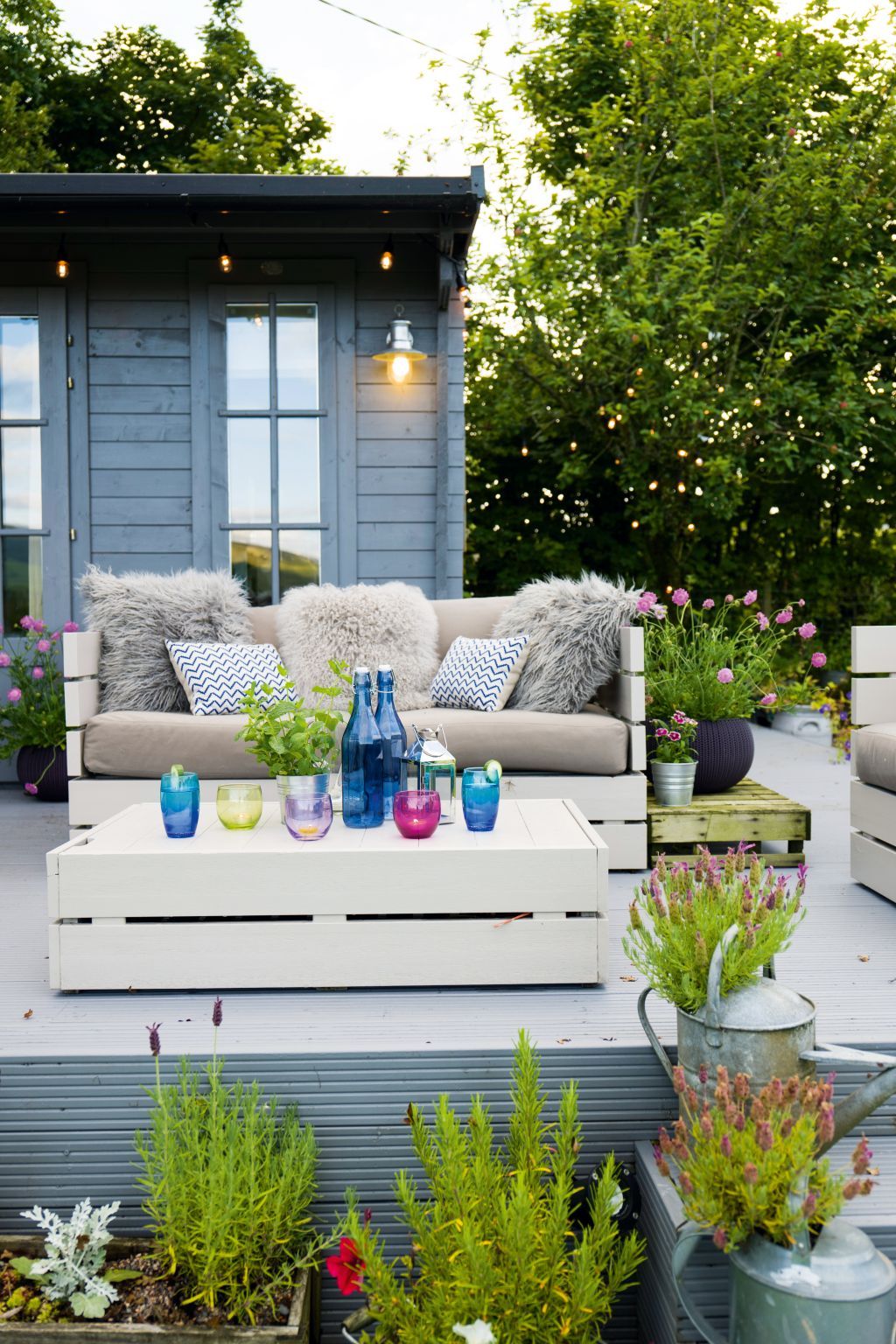 One of the simplest decking ideas going to create a just-like-new look that will enhance a surrounding garden space instantly. We have to say it might become an annual edit if you want your deck to stay looking that way all year long. Add some stunning outdoor furniture and your garden space is golden.
10. Paint surrounding walls to define planting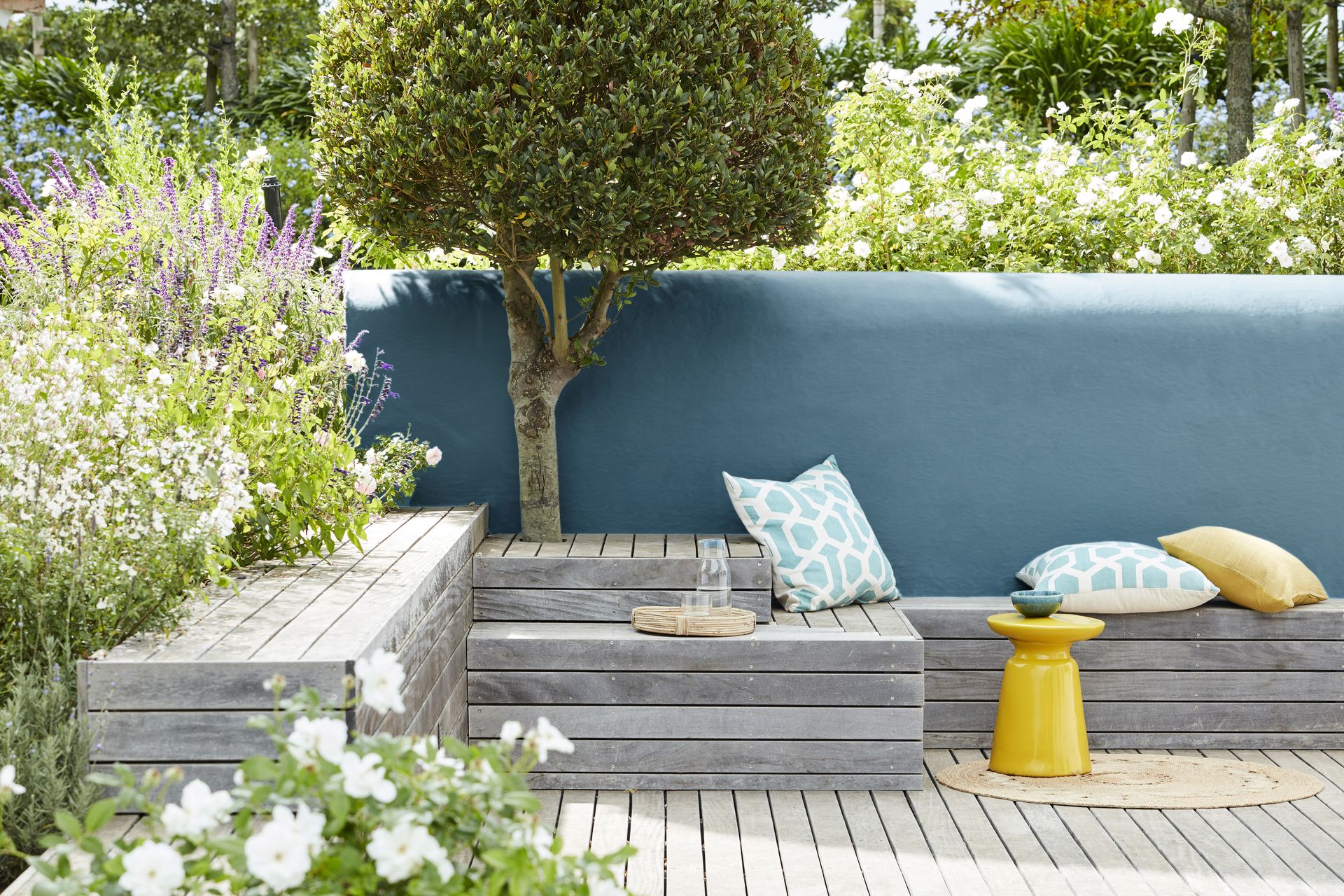 Paint: it's so easy to DIY yet the impact is so great making it an awesome budget idea for smaller gardens also. Pick a color that really shows off your planting: deeper shades work best.
11. Go for gravel
There's always a way to reduce the costs of garden landscaping. For seating areas, a solid surface is essential, but elsewhere cheaper gravel, or even bark, will do. Both are easy to lay on landscape fabric to keep the weeds down, and you can break up a large area of gravel with oak sleepers or ground cover planting.
Gravel is, in fact, one of the cheapest materials for your garden, and you can learn how to lay gravel yourself. Barve explains, 'Gravel and good quality weed membrane can make a very usable and relatively cheap path or patio. You don't need to have a hardcore base for lightly used areas. Just make sure the soil is compacted and reasonably level.'
Dry stacked stone or rendered blockwork costs less than 'faced' brickwork, while Western red cedar decking is cheaper than other decking timber, and works just as well.
'If you live in a red-brick property, for a harmonious look try dark greys or warm earthy tones, and steer away from buff or yellow. If you live in a limestone property, warm, similar-toned paving and chippings will ultimately look best,' says Paul Harvey-Brookes, RHS judge and award-winning garden designer.
'When planning paving, you can reduce the cost by infilling with gravel, and replacing natural stone with cast pavers can look equally as good and save money. You can often find similar materials at a fraction of the price and consider visiting building merchants or reclamation yards, too.'
12. Always negotiate with professionals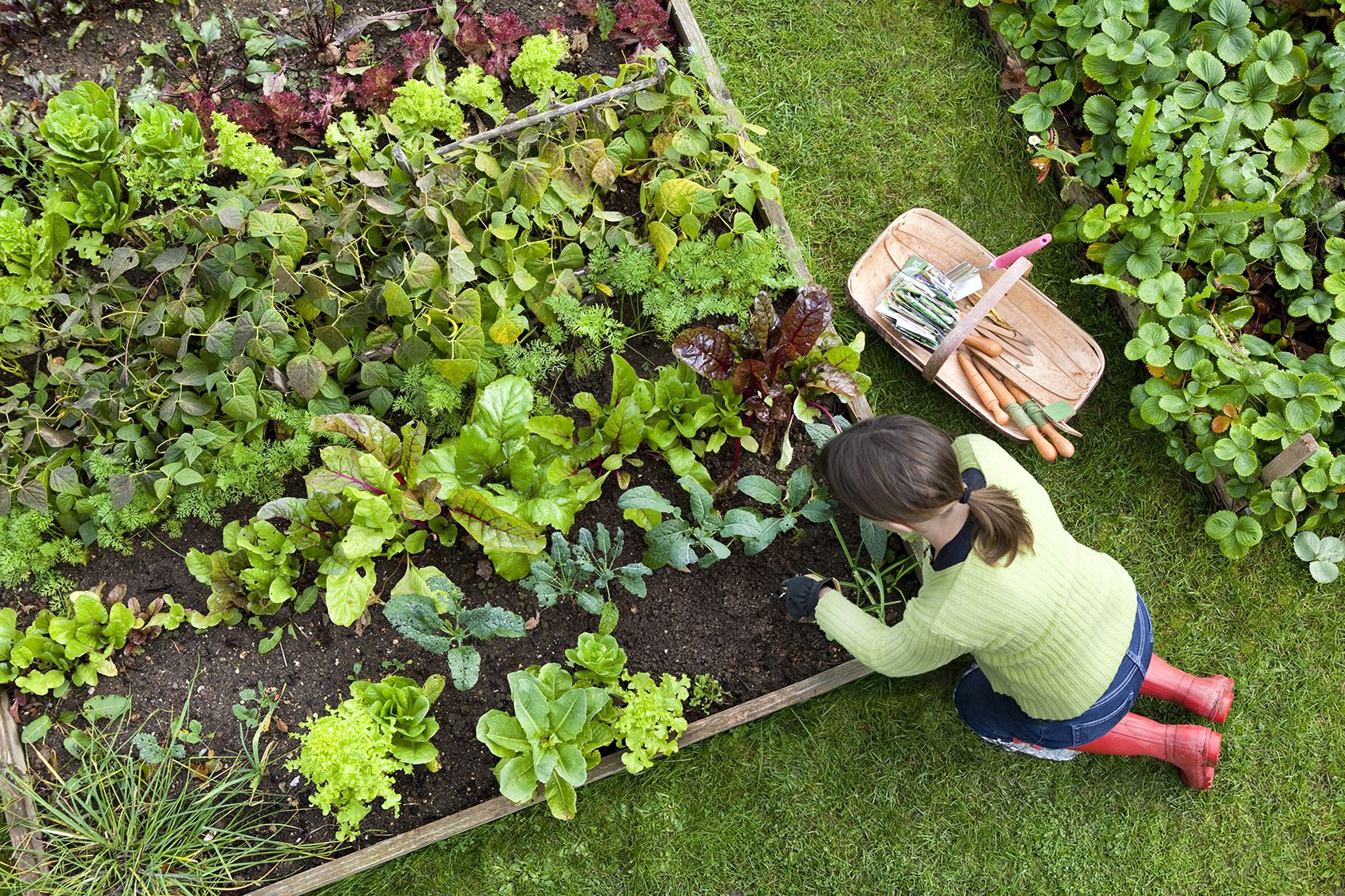 An experienced garden designer can save you time and money in the long term, helping with everything from planning the entire garden and managing contractors, to guidance on where best to proportion your budget.
When you're sprucing your garden remember that you don't always have to spend a fortune to get a good job out of specialists, and certainly don't forget to negotiate. Many prices aren't fixed and it's possible you can get a better deal if you ask, and often you can just ask for their expertise for one day and it will make all the difference if you really have no idea where to start.
The same applies to materials for your garden according to Kilpatrick, 'If you have to buy new materials, the best place to buy them is at a builder's merchant rather than a DIY store. Most builder's merchants will negotiate with you on price. Get a written quote from one builder's merchant and show it to another. Nine times out of ten, they will want to beat their competitor's price.'
13. Remember to keep it simple
Complex curved walls, fences and patterns in paving cost a lot, as they are tricky to create. Cheap garden ideas are typically simple garden ideas, and that includes landscaping. Garden building materials are usually designed for simple spaces, so adapting them for different angles and curves will result in some wastage.
Simple straight runs are far easier to build and usually look better, especially in urban and suburban gardens where unity between the garden and your home's architecture is important.
14. Stick to cost-saving designs
Some garden layouts can be expensive to work with, and sometimes there's little above ground to show for the time and money you've invested. Go for a design that minimizes the need for extensive groundworks, foundations, and drainage. One or two level plateaux built into the slope, for somewhere to site a dining table or a couple of sun loungers, could be enough 'useable' space.
Solutions such as decking are also useful as part of sloping garden ideas. A deck needs just a few foundations for the sub-frame, unlike paved areas, which are either built on top of, or into, a slope, and are therefore much more costly.
15. Use inexpensive cladding to cut the cost of garden landscaping
An expanse of concrete or an unattractive boundary wall doesn't always require removal and replacement; you could cover or clad it instead. Fencing ideas for vertical surfaces include close-knit trellis, woven hazel hurdles, thinly spaced cedar strips attached to wooden battens behind, colored concrete render.
16. Use reclaimed garden materials
Recycled materials often look better than new, particularly around traditional buildings, and it's possible to pick up a bargain. Reclamation yards can be pricey, especially those in cities, so take a day trip out to a country yard, as most will deliver.
Check Ebay, Gumtree and Freecycle as well as supermarket classifieds. You might not spot exactly what you originally wanted, but with a little imagination, it's possible to create truly unique and functional features from your finds.
17. Do the garden laboring yourself
Labor costs can be more than 60 percent of a garden redesign, so spend time considering what you can do yourself. Planting, laying a new lawn, erecting kit-form pergolas and arches, timber raised beds, simple plumbing – even a deck – are well within the scope of the DIY enthusiast.
You should know your limits, though when it comes to branching out into the rest of your yard space. Paving, brickwork, extensive garden lighting, and features such as dry-stone walls will need specialists. Choose local tradespeople to keep expenditure to a minimum.
18. And, make sure you invest in the right tools
Remember that it's not just time that buying the right garden tools can save – if your tools are of low quality, they might not be able to get the job done and could even break, meaning you'll need to buy new ones.
By paying for good quality tools in the first place, you can save more money overall and keep to the same tools for years to come. Kilpatrick, says, 'Using the right tools for the job will save you time and money. Always use sharpened tools in good condition and, if you are planning to cut wood by hand, buy a brand-new handsaw. You will find it much easier to cut with a new saw. If you need specialist tools, hire them. Mixing mortar and concrete by hand is time-consuming and extremely hard work. You can easily hire a cement mixer for a few days at a very low cost. For long runs of fencing, consider hiring a nail gun.'
19. Work outdoor lighting into your garden's landscape
Garden lighting ideas add another dimension to any garden, as well as potentially extending the time you can spend outdoors. Solar lighting can be the cheapest – and is cheap to run, so start there.
To make the most of it, use lighting to illuminate trees, beds, water features and sculptures and it will feel like a completely different space at night. Waterproof festoon lights are a flexible, temporary and cheap solution to lighting your garden, and they will create a comfortable and casual atmosphere.
Cheaper spotlights are useful where fittings will be hidden by foliage, so you will save money if you decide to conceal your garden lighting. If you plan on spending a little more money, go for attractive fittings that will double as decorative features.
Always consult a qualified electrician for anything other than simple clip-together systems. Cable runs and the associated pipework need to be factored in very early on, even if you actually plan to install the system itself later, when further funds are available.
20. Use garden edging to add definition to your borders
If your garden layout is lacking in definition, but you can't afford expensive 'zoning' using multiple materials and advanced landscaping, you can quickly – and cheaply – create zones in your garden by installing garden edging around your borders and/or flower beds. Recycled lawn edging that reuses rubber tires, or plastic edging are the cheapest options, but even using fancier, real stone lawn edging options are still cheaper than a whole garden redesign.
21. Weed your garden (yourself)
Who doesn't love a bit of weeding? Plus, weed pulling doesn't cost a thing, but can revitalise your garden quickly and easily. It only requires one simple tool, and if you want an extra bit of power, we can help find you the best weed killer around. Wright says, 'If you have weeds in your flower beds or lawn, grabbing hold of weed puller and weeding yourself is simple and effective. Weed pullers come with a long handle, so you won't even need to kneel down; you can weed with ease standing up.'
22. Save seeds or choose self-sowing plants
When you're gardening in a small space on a budget, propagating plants from seeds or cuttings is a good place to start. It is far cheaper than buying small plants and satisfying too, as you watch the young plants that you've nurtured grow. You can also collect your own seeds from existing plants in your garden and increase your stock for free.
Many annuals and biennials, including foxgloves, honesty, Californian poppies and cornflowers, will readily self-sow, too, adding to your floral display for free. Just remove any seedlings that pop up where you don't want them and replant them elsewhere.
23. Fill bare patches with bright annuals
If your garden is in need of emergency TLC – say, because you've just moved in and the garden has been neglected – fast-growing annuals are your answer. Jill Taylor, a full-time homesteader from Happy Farmyard, especially likes growing easy flowers every year: they 'are inexpensive and easy to find, so they're a great way to add some personality to your garden. Try mixing and matching different colors
and textures to create a unique look.'
Zinnias, sweet peas, nasturtiums, and cosmos are just some of the easy-to-grow annual flowers that will fill your garden quickly.
24. Improve poor soil cheaply
You've probably heard this one before, but it bears repeating: your gardening efforts will only ever be as good as your garden soil is. So, poor soil = poor harvest. But, fortunately, if you don't have good soil in your garden, you don't have to replace all of the soil, which would be both exhausting and expensive.
John Thomas, who runs Backyard Garden Geek, has the following method for improving your soil on the cheap: 'Buy several paint buckets and, using a hole saw bit that you can find at any home improvement store, drill 4-6 large holes in the bottom of each bucket using at least a 2-inch bit. Dig a hole that's wide enough for
the base of your bucket and 2-3 inches deep.
'Put the bucket in the hole, fill it with high-quality soil that you've purchased from a local garden center, and plant your plant into the good soil. The plant will take off
since its roots are surrounded by nutrient-rich soil, and plants with deep
root systems will eventually have room for their roots to burrow through
holes in the paint bucket and into your native soil.'
Thomas swears by method, telling us that last year he grew 'more tomatoes than my family could eat' using this method 'in hard-packed clay'. Impressive.
25. Make your own compost
Speaking of soil, if you're serious about growing anything at all in your garden, adding compost to your existing soil will get you amazing results. And if you learn how to make compost yourself, you won't need to buy any, ever. You can buy a compost bin if you prefer, but if you don't want to spend any money, you can just have a compost heap in an inconspicuous area of your garden.
26. Divide perennials and replant them in containers
This brilliant tip comes from Vic MacBournie, who recommends using 'existing ornamental grasses as thrillers in containers and window boxes. Last year I divided some of my existing native Northern Sea Oat grasses and used them in our window boxes. In fall, they were pulled out of the window boxes and planted in a separate area of the garden.'
27. Learn to propagate plants to grow more for free
Learning how to take cuttings from your shrubs and herbaceous perennials will massively reduce how much you need to spend on plants every year. Roses, lavender, and rosemary are just some of the plants you can propagate by cuttings, but technically, most perennial plants that have permanent branches and don't die back for winter can be propagated. It's often as easy as taking a cutting at the right time of year and sticking it in some soil.
28. Use grow bags to maximize on your harvest
If you've always thought that growing crops like potatoes is only for large gardens, we have some really good news for you: that's not really true. John Thomas highly recommends grow bags: they 'are an affordable option for gardeners who
don't have much space to work with. You can purchase grow bags in various
sizes--3, 5, 10, or even 20 gallons--but I prefer 10-gallon grow bags since
you can literally grow anything in them, from potatoes and tomatoes to
beans, cucumbers, eggplants, and carrots. You can move them around your
property or even place them on concrete to get the most out of your
available space.'
Grow bags can be bought on Amazon and don't cost much at all.
29. Grow fruit trees from seed
Love fruit and want an orchard in your garden? It's no secret that fruit trees are expensive to buy. Growing fruit trees from seed, though, won't cost you anything and is surprisingly easy. Cherry, avocado, and plum trees are just some of the species that can be grown from seed – including seeds from the fruit you've eaten. The easiest, though, have to be mango trees. If you live in a warm climate, all it takes is tossing a mango seed in some soil – you'll have a fruiting tree in about four years.
30. Buy bare root whenever possible
If you want to save on garden staples like roses, raspberries, blackcurrants, different hedge plants and the winter-flowering viburnum can all be bought bare root during their dormant season. It's much cheaper to buy these plants bare root – you're not paying for pots and soil, just the plant. They may not look as attractive when you buy them, but they are the exact same plants and will do just as well.
How can I make my garden look good with no money?
Your answer is always: plants. And yes, you can get plants for your garden without spending anything at all – just ask your neighbors for cuttings and/or seeds, you'll be surprised how generous people can be.
Repurposed objects also look great in a garden. From old pallets to fruit crates and even old baths, many things can become good-looking planters or raised bed ideas.
How do you do gardening on a budget?
If your ambition is to be self-sufficient with your kitchen garden, learn to grow everything from seed. It's always the cheapest method. Buying pre-grown plants is more expensive and also isn't suitable if you want to try organic gardening. And, for many vegetables and fruit, you only need to raise your plants from seeds once – you can then start producing your own seed for the following year's harvest.
You'd better put your gardening gloves on!
*With special thanks to discount code and charity fundraising website Savoo. Quotes: Garden Designer Ellen Wright via MyJobQuote; Julie Kilpatrick – Lecturer in horticulture and landscaping, Author of The Plant Listener, Editor at online gardening magazine Gardenzine, and Member of the Garden Media Guild; Christine Barve from Barve Garden Design.