Cheap garden ideas that are big on impact but low on budget are so easy to come up with. After all, great looking gardens are not all about throwing mega bucks at them: it's perfectly possible to achieve a beautiful and cosy outdoor space on a tight budget. 
If you are completely redesigning your garden, then hard landscaping will be the most expensive – and often inescapable – part. But there are lots of ways in which you can reduce your costs at every stage of your garden redesign, from landscaping to decorating. 
Find garden ideas in our feature and discover everything you need to know about garden design on our advice page.
Cheap garden ideas: planting
By far the cheapest and easiest way to transform your garden is with plants. An updated planting scheme with easy-maintenance perennials will require much less work and annual expense than demanding annuals. Follow these tips to make the most of the plants in your garden. 
Then find the best low maintenance garden plants in our guide.
1. Group flowers in brightly painted pots near the house
This is the easiest piece of advice for anyone looking to save money in their garden. Flowers are inexpensive, decorative and are often the first thing that guests are drawn to. They're especially effective in a small space, on a terrace or patio, or in a courtyard without a lawn where they can be seen from indoors.
You can create an impressive floral arrangement by using pots and planters if you don't have space for beds. These will be easy to maintain and if you get bored, they are easy to move around and change. If you have a lot of space for beds, try to add plants that flower at different times in the year, so that there is always something interesting going on.
Get more advice on choosing plants for your garden and check out our gallery of easy flowers to grow. 
2. See vertical planting as a cost-cutting garden technique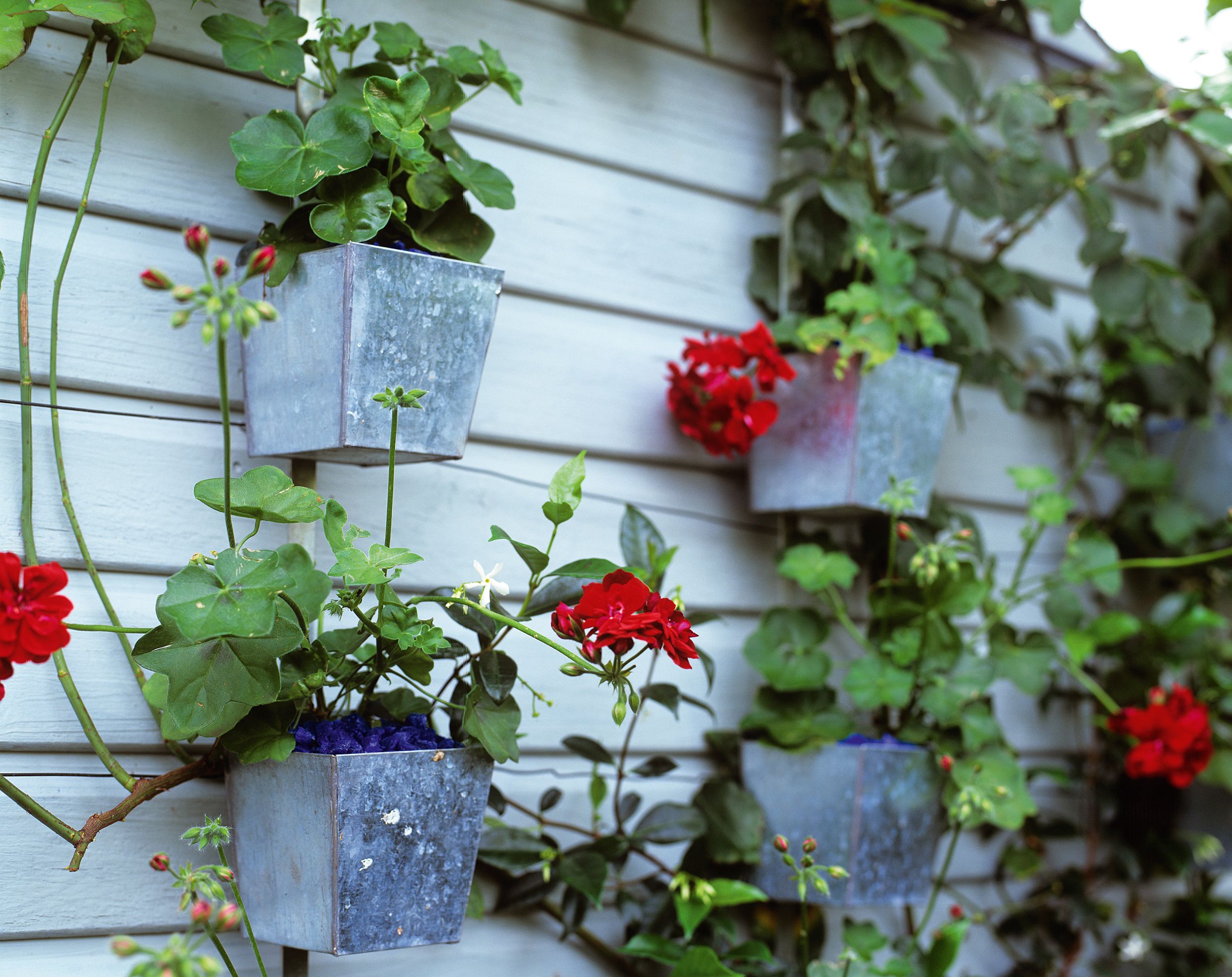 Create impact with vertical planting: we're talking pots fixed to walls, vertical gardens and plants that grow upwards, whether trees, larger shrubs, climbers or hedges, especially those good for quickly creating privacy, screening and security. 
The cheapest option (other than a few plants in pots, like those above) is to start with fast-growing climbers, such as clematis armandii or wisteria. Buy the maturest plant you can afford for quicker results. Another option is to use hanging planters with plants that trail, or creating living walls. Use our guide to creating living walls and vertical gardens for more information and inspiration, and have a look at our easy peasy DIY guides to making your own hanging planters and  a living wall planter for low-cost solutions. 
3. Plant fast-growing climbers or invest in one stand-out specimen
Got a little more to spend? Using trees (see our pick of the best small trees) to create a ceiling for your garden, in the same way a pergola or gazebo would, is always going to be a cheaper option than having a whole new structure built. Specimen plants give a garden an instant sense of substance and proportion, which is difficult to achieve otherwise. The same can be said for borders: instead of paying a contractor to build a fence, invest in hedges, climbing plants and grasses to define the border and increase garden privacy and security. 
Again, it's always worth investing in the largest plants you can afford for quicker impact. Use our guide to discover how to make an impact with mature plants. 
4. Get creative with displaying pots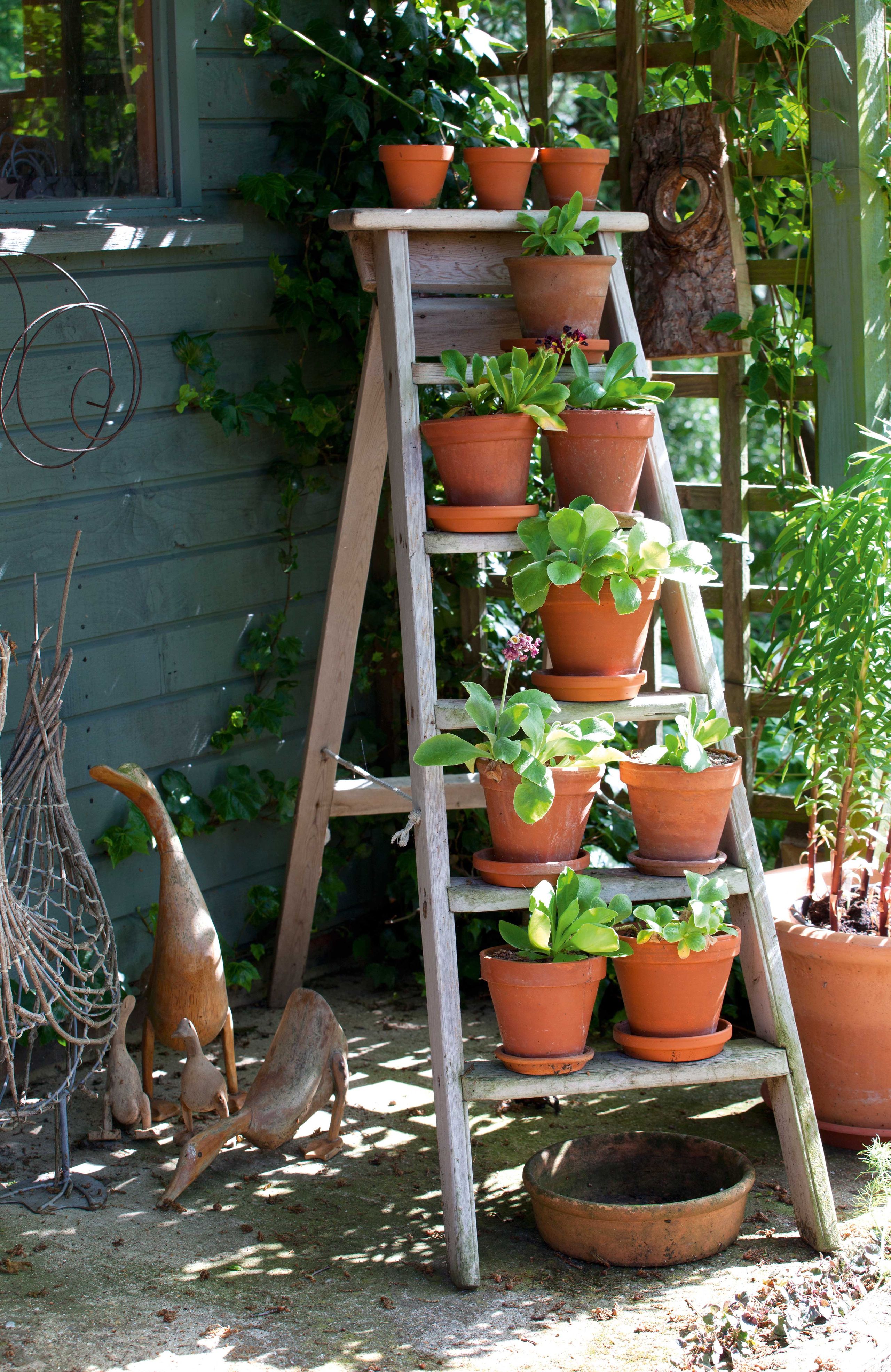 Lay out all these pots (above) on the ground and there's little impact. Group them on a table and you're getting there... display them on a junk yard find like this step ladder and you've created a really cheap but effective garden feature.
5. Repeat the same planting pattern for impact
Lining up pots that have the same blooms or plants in them can make a real impact and needn't be expensive. Try this technique around the edge of a patio or bordering a path to draw the eye down the garden for best effect.
6. Plant shrubs and herbs for year-round interest
Remember to use a mixture of good-value shrubs, including those that will flower, fruit or have interesting autumn foliage, such as Sarcococca confusa or Viburnum. Use these with a mixture of spring, summer and autumn flowering herbaceous perennials. These come back year after year without the need to buy again, so they are long lasting and relatively low maintenance, as well as representing great value for money.
You can also plant many shrubs – and even some small trees – in containers, if space is tight or if you're moving and want to take them with you when you go (for an instant garden at your new home). Find out more about container gardening for small spaces. 
7. Plant perennials to spend out just once
Putting in perennials means you'll spend out just once, because they will last not just year round, but for years and years. Work out the total number of square metres of your planting beds and allow five shrubs or perennials for each metre. Shop around at garden centres and nurseries and expect to pay between £4 and £8 for a two-litre pot. Join a local gardening club and pick up knowledge and cuttings or small plants for sale at a discounted rate, saving more to make your budget go further.
Herbaceous perennials such as lavender and rosemary do especially well in garden borders, year after year. We have lots more tips for creating beautiful garden borders. 
If you've got a very small outdoor space, read our guide to window boxes to find out how to grow perennials in windows. 
8. Make a planting table with old pallets
Use this pallet converted into a table as a planting table or to display a collection of pots planted out with bright blooms. Simple, free, effective.
Cheap garden ideas: landscaping
Landscaping, of any kind, is the more expensive part of planning a new garden, but there are still lots of way to save money, even if you are doing a total garden revamp.
9. Paint the garden shed and garden furniture to match
Eyesore of a shed ruining your garden? Giving yours a lick of paint – and painting wooden or metal garden furniture to complement the colour of the shed will give your garden an instant boost. You may even want to go to town and paint fences too. 
Our advice: choose your colour scheme carefully: the more natural it is – pale grey green paint shades – or the darker it is – think blacks and dark blues – the more you will show off your planting. Avoid anything garish which will compete with your blooms for attention. Use our guide to choosing a colour scheme for your garden to get it just right.
And if you're going to be painting large areas, we'd advise you use a paint sprayer (see our pick of the best) to get the job fast. That said, paint brushes are cheaper... if more labour-intensive.
10. Style your shed like a summerhouse
Hard landscaping is expensive. A small garden full of hard landscaping, garden lighting and a bespoke water feature, for example, might well cost more than a typical suburban garden that can accommodate a large (but relatively cheap) lawn and more (again, cheap) planting, which significantly helps to keep down costs. 
So, when you're working out your garden design, consider what you could live without. While you might want water features, fencing, shades, garden furniture, an outdoor kitchen or outdoor dining area, decking, sheds and summerhouses, look at what you could do instead. 
A water feature that works via solar power not electricity won't just save on running costs but installation, too. Outdoor kitchens might be all the rage, but you can easily create your own without going to town – a table top barbecue atop a sturdy garden table gets you half way there. Want a summerhouse but can only afford a shed? There's no reason not to buy a good looking shed with windows (see our buyer's guide for some nice ones), and paint it inside and out to style it up like a summerhouse.
11. Paint the deck and garden furniture to match
Doing this creates a just-like new look, although we have to say it might become an annual one if you want it all to stay that way. Coordinate your planting to complement the paint colours? Even better.
12. Paint garden walls for instant impact
Paint: it's sooo cheap yet the impact is so great. Pick a colour that really shows off your planting: deeper shades work best.
13. Get creative to turn ugly features into pretty ones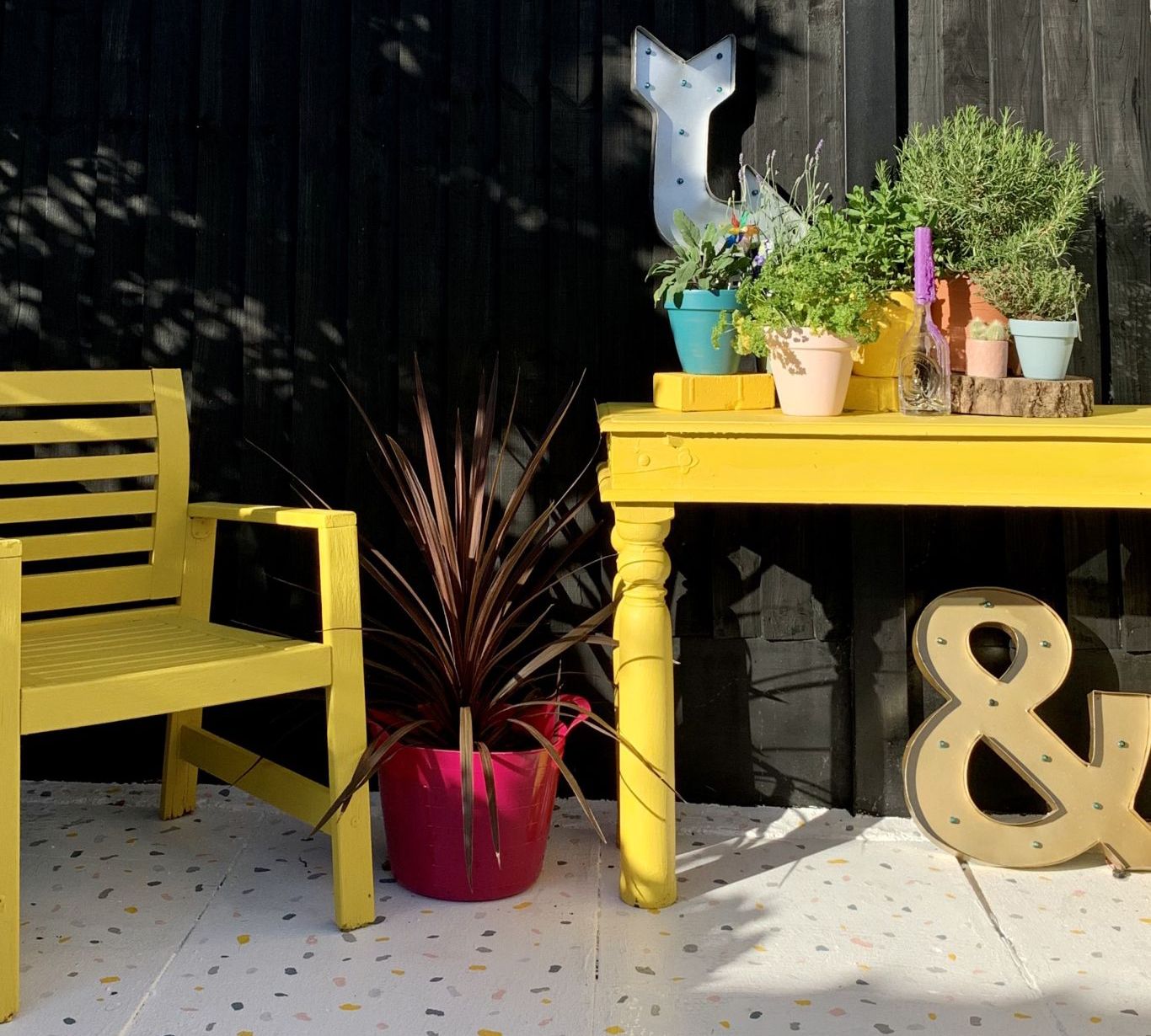 How nice are the garden floor tiles in this garden? The good news is they're not expensive or designer: in fact, they're ugly concrete tiles that have been painted with specialist exterior floor paint to give them an on-trend terrazzo look. Cost? Barely £100.
14. Save on clearance costs by repurposing old landscaping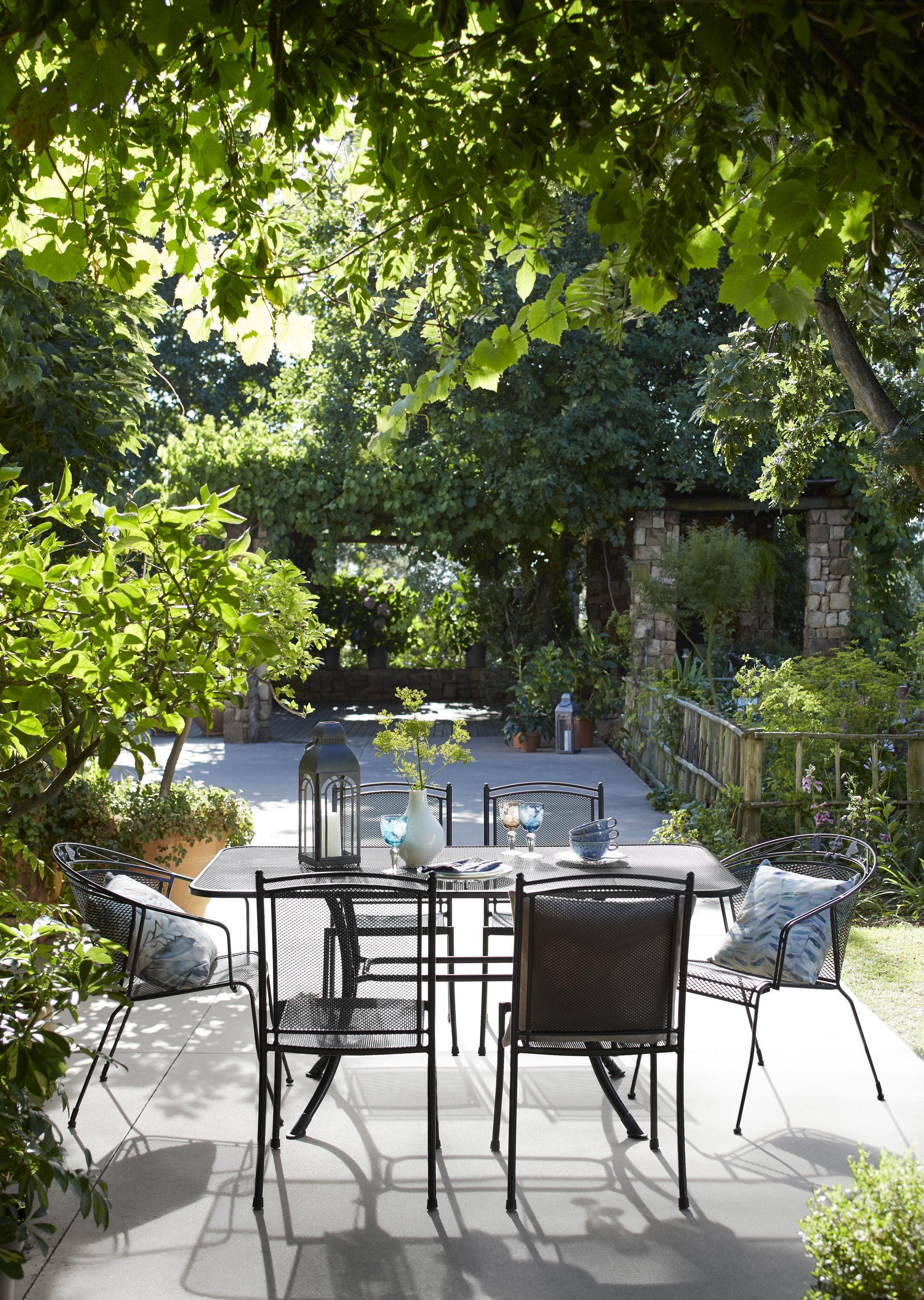 Demolition and site clearance can cost a lot, especially if access is tricky and work needs to be done by hand. A small garden that needs a lot of clearance, and that has poor access, might easily cost £1,500 to £2,000 to do. So, wherever possible, DIY, reuse or recycle is key – an old concrete pad for a shed you've pulled down could be reused or used as a base for a deck.
Or, if it's thick and the surface is sound, it could be the perfect sub-base for attractive (but inexpensive) exterior tiles, as long as adding them won't raise the height so much that the damp-proof course of an adjoining house is compromised.
15. Plan in advance and look for bargains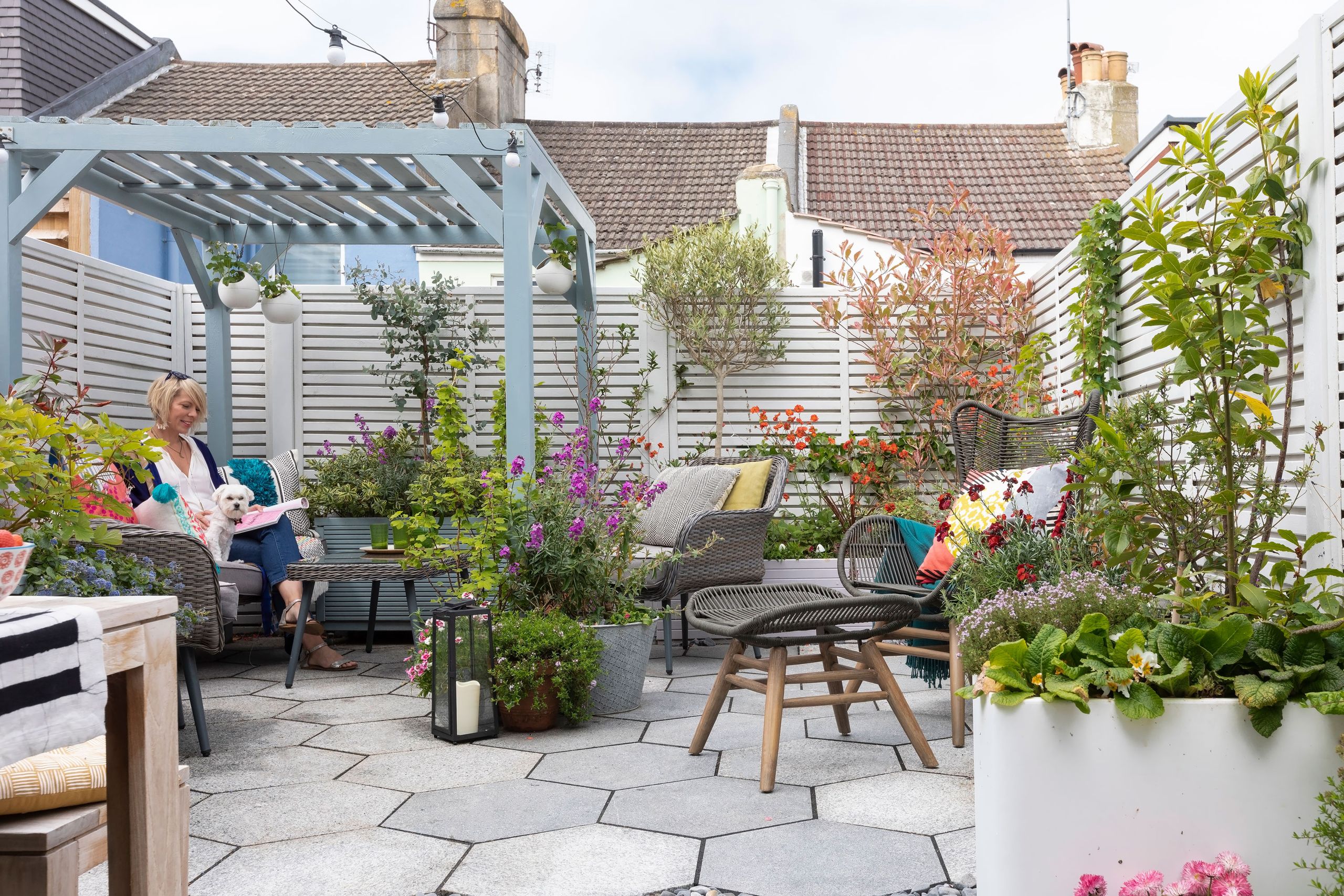 This pergola has been painted to create a cute, co-ordinated finish in this garden – and the good news is that you can get one just like it to paint yourself from B&Q (click the link to see it).
Remember, a large overall sum for a redesign doesn't need to be spent all at once. Implementing a design proposal can be phased as and when money is available. So, in year one, construct the hard landscape, for example, such as the patio, walls and paths. Build ponds, pergolas and water features (unless they're built-in) in year two and plant in year three.
16. Employ a garden designer – for a day
An experienced garden designer can save you time and money in the long term. Professional garden designers can help with everything from planning the entire garden and managing contractors, to guidance on where best to proportion your budget.
At the very least, consider a day's consultancy to give you some ideas to work with. The initial cost might seem unnecessary, but it will save money in the long term if you really have no idea where to start, and the new ideas or even plant recommendations to suit your garden's soil will be invaluable. Search online, checking out client testimonials, or visit the Society of Garden Designers and the British Association of Landscape Industries.
17. Remember, simple garden designs and straight lines are cheaper
Complex curved walls, fences and patterns in paving cost a lot, as they are tricky to create. Garden building materials are usually designed for simple spaces, so adapting them for different angles and curves will result in some wastage.
Simple straight runs are far easier to build and usually look better, especially in urban and suburban gardens where unity between the garden and your home's architecture is important.
18. Sloping gardens: how to choose cost-saving designs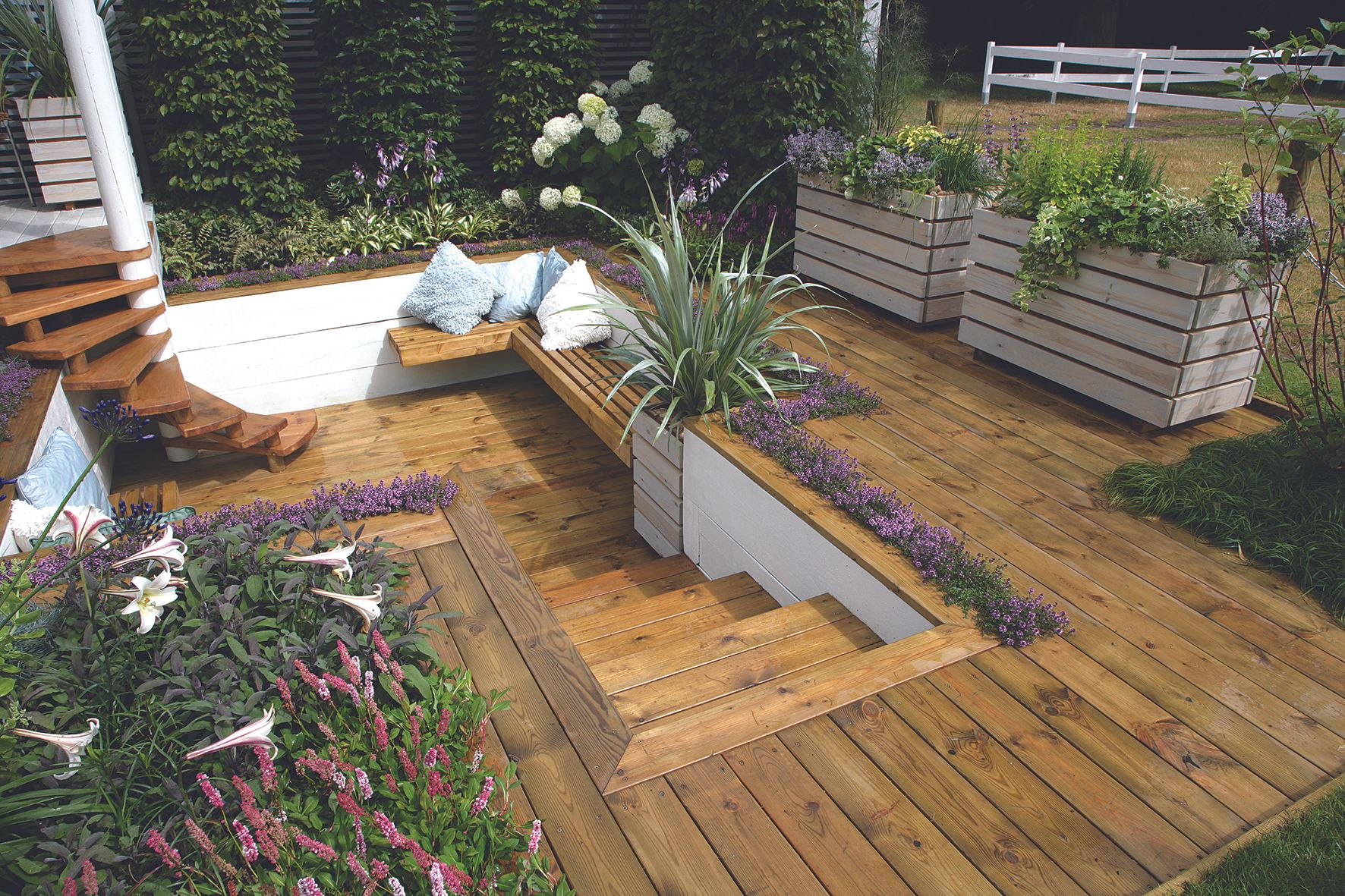 Gardens on a slope can be expensive to redesign, and sometimes there's little above ground to show for the time and money you've invested. Go for a design that minimises the need for extensive groundworks, foundations and drainage. One or two level plateaux built into the slope, for somewhere to site a dining table or a couple of sun loungers, could be enough 'useable' space.
Solutions such as decking are also useful, needing just a few foundations for the sub-frame, unlike paved areas, which are either built on top of, or into, a slope, and are therefore much more costly. 
Find more sloping garden ideas in our dedicated feature. Discover which are the best decking materials for your space, and don't miss our decking ideas for inspiration.
19. Landscaping materials: how to choose on a budget
There's always a way to reduce the costs of garden landscaping. Dry stacked stone or rendered blockwork costs less than 'faced' brickwork, while Western red cedar decking is cheaper than other decking timber, and works just as well.
For seating areas, a solid surface is essential, but elsewhere cheaper gravel, or even bark, will do. Both are easy to lay on landscape fabric to keep the weeds down, and you can break up a large area of gravel with oak sleepers or ground cover planting. Gravel is, in fact, one of the cheapest materials for your garden, and you can lay it yourself. 
Find out how to choose the best gravel for your garden and how to lay a gravel path.
'If you live in a red-brick property, for a harmonious look try dark greys or warm earthy tones, and steer away from buff or yellow. If you live in a limestone property, warm, similar-toned paving and chippings will ultimately look best,' says Paul Harvey-Brookes, RHS judge and award-winning garden designer.
'When planning paving, you can reduce the cost by infilling with gravel, and replacing natural stone with cast pavers can look equally as good and save money.
'Paving can range from £25 to more than £100 per m², so it pays to research different materials that offer a similar look to meet your budget. You can often find similar materials at a fraction of the price and consider visiting building merchants or reclamation yards, too.'
Use our guide to choose the best patio paving for your garden. 
20. Use inexpensive cladding to cut the cost of garden landscaping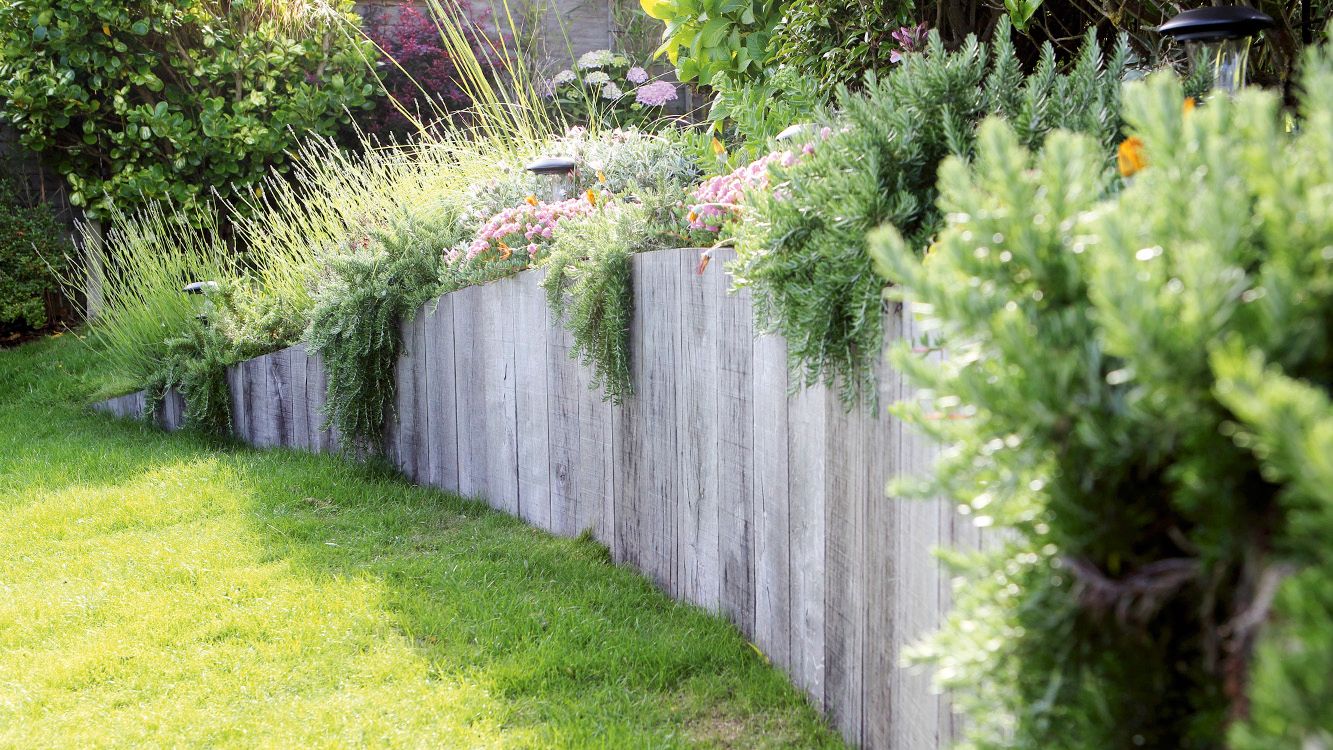 An expanse of concrete or an unattractive boundary wall doesn't always require removal and replacement; you could cover or clad it instead. For vertical surfaces, close-knit trellis, woven hazel hurdles, thinly spaced cedar strips attached to wooden battens behind, coloured concrete render. 
We have plenty garden fence design ideas for you to consider. 
21. Use reclaimed garden materials
Recycled materials often look better than new, particularly around traditional buildings, and it's possible to pick up a bargain. Reclamation yards can be pricey, especially those in cities, so take a day trip out to a country yard, as most will deliver.
Check Ebay, Gumtree and Freecycle as well as supermarket classifieds. You might not spot exactly what you originally wanted, but with a little imagination it's possible to create truly unique features from your finds.
22. Do the garden labouring yourself
Labour costs can be more than 60 per cent of a garden redesign, so spend time considering what you can do yourself. Planting, laying a new lawn, erecting kit-form pergolas and arches, timber raised beds, simple plumbing – even a deck – are well within the scope of the DIY enthusiast.
Find out how to install decking in our step-by-step guide. 
You should know your limits, though. Paving, brickwork, extensive garden lighting and features such as dry-stone walls will need specialists. Choose local tradespeople to keep expenditure to a minimum.
Use Checkatrade to find a local tradesman at the best price.
23. Work outdoor lighting into your garden landscaping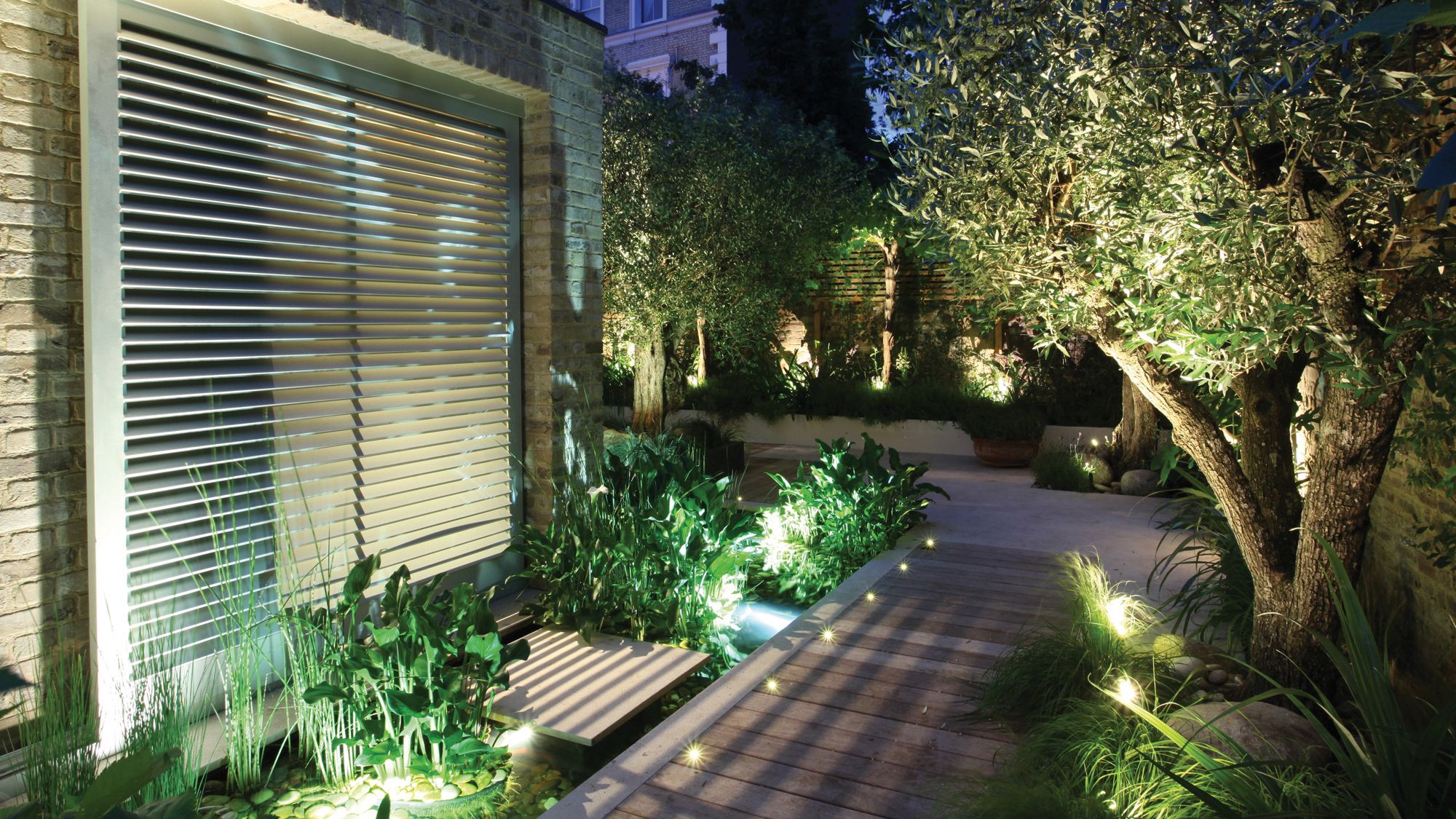 Garden lighting adds another dimension to any garden, as well as potentially extending the time you can spend outdoors. Solar lighting can be the cheapest – and is cheap to run, so start there.
To make the most of it, use lighting to illuminate trees, beds, water features and sculptures and it will feel like a completely different space at night. Waterproof festoon lights are a flexible, temporary and cheap solution to lighting your garden, and they will create a comfortable and casual atmosphere.
Cheaper spotlights are useful where fittings will be hidden by foliage, so you will save money if you decide to conceal your garden lighting. If you plan on spending a little more money, go for attractive fittings that will double as decorative features.
Always consult a qualified electrician for anything other than simple clip-together systems. Cable runs and the associated pipework need to be factored in very early on, even if you actually plan to install the system itself later, when further funds are available.
Find out how to plan your garden lighting and find the best garden lighting buys (at the best prices) in our guides. 
24. Use lawn edging to add definition to your borders
If your garden layout is lacking in definition, but you can't afford expensive 'zoning' using multiple materials and advanced landscaping, you can quickly – and cheaply – create zones in your garden by installing lawn edging around your borders and/or flower beds. Recycled lawn edging that reuses rubber tires, or plastic edging are the cheapest options, but even using fancier, real stone lawn edging options are still cheaper than a whole garden redesign.  
Find our more in our guide to lawn edging. 
25. Install a water feature as a decorative centrepiece
When it comes to adding special features to the garden, don't automatically assume that they're out of your budget. Garden water features in particular are a very cost effective decorative addition to the garden, and it's perfectly possible to find a decent water feature, with integrated lighting, for under £50. Water features don't use much electricity either, and some are solar powered. 
Learn more about garden water features in our guide. 
More on garden design: