A trellis can really transform your backyard. As a simple and inexpensive addition, it really packs a punch, adding height, privacy, and additional space for gardening off the ground. Most trellises have a latticed design, but some are more minimalist. You can either choose to fit yours to an existing structure or opt for a freestanding design (perfect for rented spaces).
Whether you want to incorporate a DIY trellis into your backyard's boundaries or use it to complement your vegetable garden, we've got plenty of great-looking ideas in this gallery.
Easy to install trellis ideas and structures
Trellis looks lovely against a garden wall or standing solo. You can DIY or buy a structure with ease, and without spending big bucks either, it's simply a great way to get more out of your planting scheme, whether you have a ton of backyard space to work with or a tiny balcony.
1. DIY an obelisk trellis for vegetables
Whether you're growing tomatoes, cucumber, peas or another climbing vegetable this year, building your own DIY trellis obelisk structure is a simple, cheap and efficient way to ensure they have all the support they need. Oblisk trellises are great for beginner gardeners – they'll often be all your young climbing plants need to develop.
Obelisk trellises are widely available on Amazon and from your local garden centers.
2. Use trellis to complement a north-facing garden
If you have a north-facing garden complete with shade plants, keep the look and help your greenery thrive by adding more dappled light with horizontal trellis around your planting. Stylish and sure to provide just the right amount of shade throughout the day for plants that need tropical-like conditions.
3. Corner off a seating spot with trellis for privacy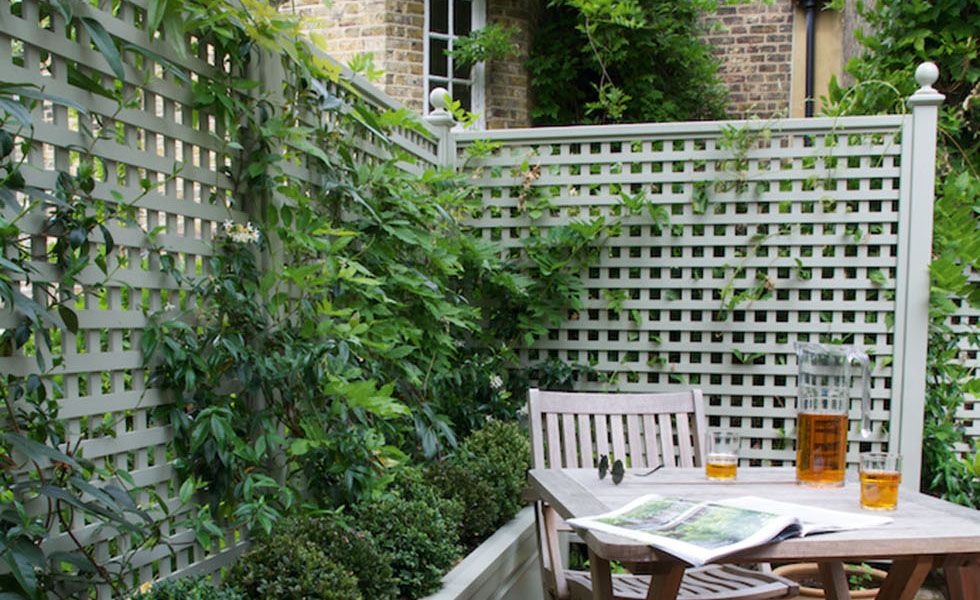 This modern-looking trellis is a fine way to show off a seating area, all while keeping it secluded. As far as garden screening ideas go, we can't fault it. Dress yours with climbers like ivy and bulk it out further with a planter, just for show, for a lush spot to escape to.
4. Use a slatted trellis design instead of fencing
When does a trellis veer into fence ideas territory? When you choose a more closed design. If you want the option to pretty up your garden's boundaries then consider slatted trellis instead of full-on fencing. Pick a neutral shade so that you can go to town on eclectic planting up and in front of yours.
5. Use your pergola as a trellis alternative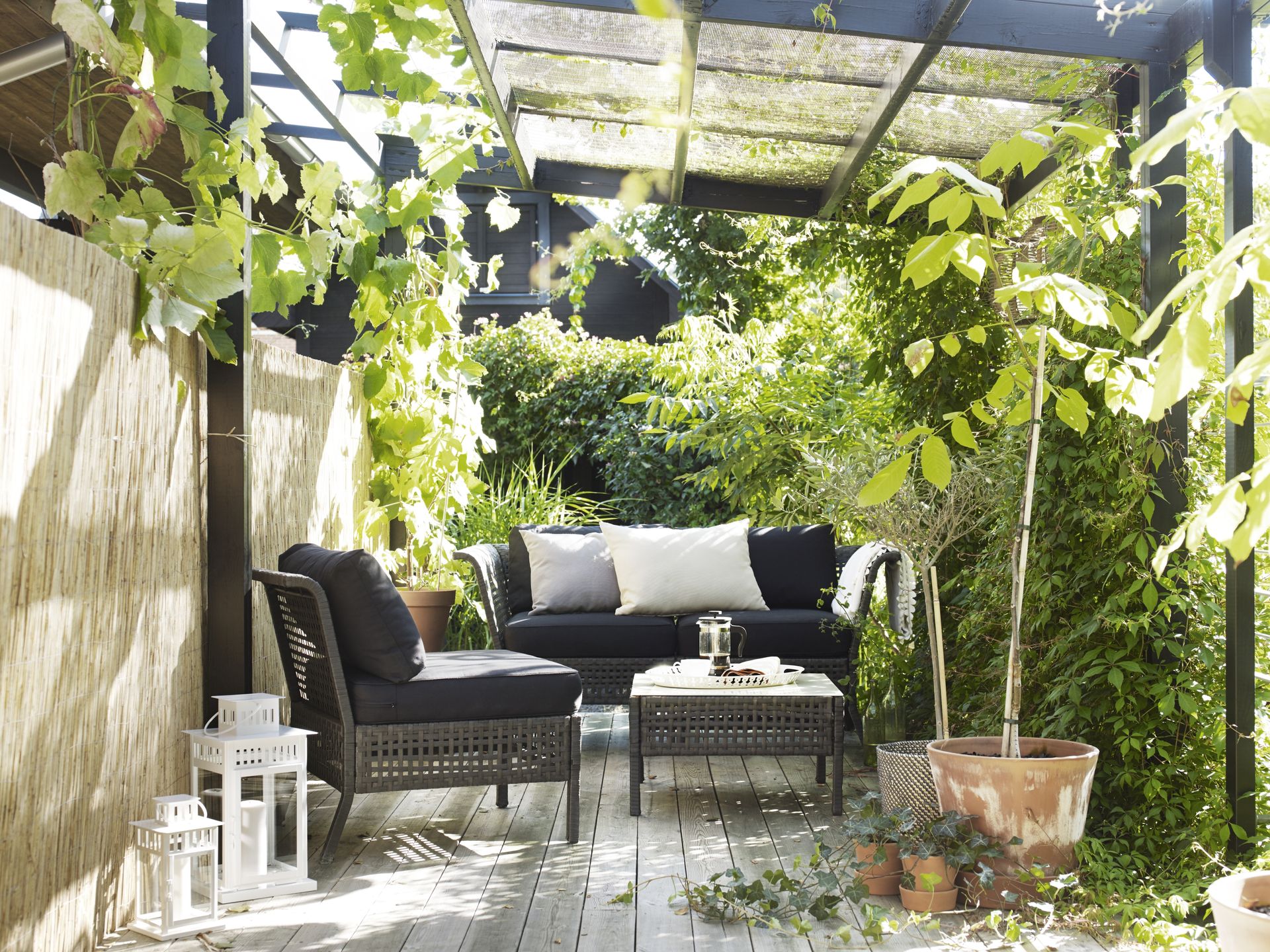 Trellis is often used as a bit of a metaphor for other types of support that climbing plants can wrap around. So why not consider treating your pergola as a trellis instead? It's the ultimate way to create a vertical garden without having to try that hard, or spend that much, and it will enhance a plain garden structure too.
6. DIY freestanding trellis for the front of your home
DIY a freestanding trellis planter and you'll be able to position it, anywhere you'd like! We love these in a front yard, for a wholesome greeting when you come home. Mix colorful plants with climbers for a layered display that will make your front garden ideas sing.
Don't feel like doing DIY? There's a good selection of freestanding planters with trellises at Wayfair.
7. Go au naturel with unpainted trellis panels
Trellis panels are an easy way to add dimensions to your patio ideas. Keep yours unpainted like this gorgeous bespoke red cedar panel from The Garden Trellis Co for a stylish yet natural finish to your space. It's a great way to conceal a less than attractive exterior wall also, think pebbledash and the like, as you won't even notice it's there.
8. Use trellis instead of a garden wall
If you haven't got the means to install the brick garden wall you'd like but still want to explore trellis ideas for privacy, trellis can make the next best substitute. A solid structure will still have all the benefits of a garden wall like privacy and a windbreak so it's a quick (and cheaper) fix for all types of outdoor space.
9. Create areas in your backyard with trellis
If you have a large backyard to work with, using trellis to zone different areas – like your patio from your garden, and even your outdoor kitchen from your seating area – is a simple way to define your space. And, it will let you add to your display over time. Trellises are very useful additions to backyard ideas – inexpensive and easy to blend in with whatever style you've got.
10. Extend your floral display
Trellises are perfectly suited to growing cottage garden plants – or creating a divinely eclectic floral display around your home's exterior walls. For best results, line part of a wall with a trellis to continue the planting theme upwards. Sure to create the perfect visual, we love the light trellis vs. the bright planting in this thatched cottage for a standout look.
11. Use trellis for privacy on a raised deck
If you've got a raised deck in your garden that puts you in the sightline of your neighbors, use paneled trellis ideas for privacy. Trellises are perfect structures for natural hiding from prying eyes: choose fast climbers like Jasmine and Ivy to go big on the greenery also. Using a trellis as part of your decking ideas creates a softer, more traditional look that's less exposed.
12. Paint your trellis to conceal a brick wall
A pop of color always goes a long way in a yard and what better way to add a little more personality to a bland space? Save on costs buy purchasing crisscross trellis and then jazzing it up yourself with some brightly colored paint.
We spoke with the experts at Essential Living about what you could do with trellis decoratively and they agree that 'Painting a trellis in a vibrant shade will help it stand out for all the right reasons. For example, a bright pink trellis stands out in front of a natural stained fence panel and helps you co-ordinate with your planting choices. Here you could introduce some white roses, a summery, ice-cream style that together creates an appealing combination. To be extra creative, you can add some colorful tile inserts to your trellis, with whatever colors you prefer. One-off tiles placed randomly in the trellis squares create a truly unique look. Make sure you fix the trellis so that is secure enough against the wind.'
Make sure you use the best paint for wood that's labeled as suitable for outdoors if you decide to paint your trellis yourself.
13. Focus on trellis ideas for vines
With any trellis, the main event will be the planting so know the vines you want to create the right look and feel in your outdoor space. What you need to check is how heavy the vines become over time to ensure that you have the correct trellis setup. A few of our favorite vine plants for trellises include:
Sweet Peas: Amazing scent and color variations, not too heavy.
Climbing Hydrangea: Takes a little longer to establish but give a bold finish and flowers all summer long. The vines can become heavy so will need sturdy support.
Climbing Roses: Fragrant, romantic and not technically a vine but they will climb high and can become heavy.
Jasmine: Stunning display, quick growth and sweet scent. Be equipped for a large display.
Clematis: Delicate and pretty flowers in every color under the sun.
Wisteria: Resembles grapes and makes for a seriously stunning and sweetly scented display. It's a hardy perennial that needs full sun.
14. Cover yours in Wisteria for a maximalist look
Proof of why wisteria is a favorite flowering vine of ours, it's just beautiful. Often thought of as a tree, it can become quite heavy so your trellis support needs to be sturdy like this pergola or you could use an arbor. Then admire those cascades of purple flowers all spring and summer. Some species can be invasive growers, so try going for North American Wisteria to avoid problems with other plants.
15. Choose a trellis archway for roses
Choosing a trellis arch is probably one of the most stunning ways to present climbing roses. We'll even go as far as to say that a trellis is must in a rose garden. Choose a metal frame for extra sturdy support, or DIY your own with the help of green saplings and wood interests to create a sweet walkway with your favorite planting.
16. Transform a garden room or orangery with climbers
A trellis is not just for your outdoor space – if you are the proud owner of a garden room or orangery, you can really add some class with a vigorous climber. Why not try growing a vine? It will love all the sunlight and warmth and will contribute to garden room ideas with a Mediterranean slant. For the best effect, keep the trellis itself simple and tone-on-tone with your walls, as shown in this beautiful example by Within Home.
17. Go all white to create a smart outdoor dining area
This is one of those outdoor dining ideas that are timeless and work for both small and large spaces. This style has been created by Sean Papich Landscape Architecture and we really like the way that a pergola has been combined with a matching trellis to create a smart, contemporary outdoor dining area. If you prefer a more rustic look you can train climbing plants up both the trellis and the pergola, but we like how this area has been kept more minimalist.
18. Create a relaxation corner with a natural trellis
If you're planning a relaxation area with a hot tub or plunge pool in your backyard, it's a good idea to make it slightly separate from the rest of your backyard. A trellis can go a long way to enhance privacy and make that hot tub soak that little bit more tranquil.
We really like the way that the wood of the trellis matches the natural wood finish of the tub and surrounding area, created by Colin Smith Architecture.
19. Grow a vegetable garden up your trellis
Trellises are not just for floral garden plants and climbers – why not try repurposing yours for a makeshift balcony garden addition? Ideal if you're short on space and there are so many crops to choose from – peas, beans, tomatoes, zucchini, cucumbers... All look lovely growing up a trellis as well as providing you with fresh, homegrown veg. Just make sure you install yours in a sunny spot to get a proper harvest.
20. Tiny space? Go for a dark and dramatic trellis
Trellises are great used as part of small garden ideas – they're less severe than solid fences while providing plenty of privacy, especially in urban backyards. If you're using a trellis in a very small outdoor space, however, don't automatically go for natural or white. As this striking example demonstrates, a small backyard can really benefit from a strong color scheme, even a black one.
What's the best material for a trellis?
You've probably guessed this one: wood. It's the material that's used for the vast majority of trellises, with pine the most commonly used wood. If you want your trellis to last longer, go for treated wood that's more resistant to rot, discoloration, and insects. You can buy traditional, wood trellises from virtually every garden supplier there is – and home suppliers like The Home Depot also stock trellises.
The other great option for trellises is wrought iron – a great option if you like a more delicate, less rustic design in European style. Obviously, iron is heavier and more suited to freestanding designs. Wrought iron trellises can be bought from Amazon.
We advise avoiding trellises made from bamboo – they don't last very long at all, so unless you're using your trellis temporarily as plant support, don't bother with these.
What can you use instead of trellis?
Trellis serves an important function in the garden and they can be completely utilitarian or they can be a work of art. The best part is that there are cheaper alternatives, such as a wooden ladder, which can add some unique charm to your garden. When using a ladder instead, make sure that the feet are planted into the ground a bit. Once it has foliage on it, it tends to catch the wind and it could rip the plant up by the roots if you aren't careful.
Alternatively, you could use pallets that are inexpensive and you can sometimes find lying around for free. Staked into the ground with a 2×4 or made into a triangle, they make a great trellis for your shorter growing vines. Just be sure the pallets you use are heat treated and not chemically treated so your harvests are contaminated.
Trellis, you gotta love it 🙌