Summer is right around the corner, which means it's time to get outdoors. Whether it be hosting a barbecue, cocktails with friends, game night, or simply some chill self-care time, it's always a treat to spend time out on your patio. Especially after giving it a total makeover since it was out of commission during the winter time.
Having all your besties over for a summer dinner party? Be sure to have enough patio furniture for plenty of seating. We've also got plenty of decor ideas to upgrade your tiny outdoor space.
How to makeover your patio
When decorating a patio, you'll probably start making a list in your head of everrrrything you'll need. When it comes to creating a patio space that suits you, think about factors such as seating, entertainment, and privacy. Then you're ready to start investing in decor pieces for your patio. Think of items such as tall plants or balcony screens if you are seeking privacy.
Incorporate pillows or small folding chairs for seating while hosting a barbecue on your patio. When it comes to choosing seating for your patio, it is important to consider the size of your patio, the number of people who will be using it, as well as your style.
When choosing furniture for your patio, it is very important to consider the size of the space and the amount of sunlight it receives. You will also want to choose furniture that is comfortable and durable.
Lastly, when it comes to entertaining on your patio, set up a buffet table so that guests can help themselves to food and drinks, serve finger foods and appetizers that are easy to eat, and play music to create a fun and festive atmosphere.
Los Angeles-based interior designer, real estate agent, and owner of DesignTonik, Amy Theresa provided us with ways you could take your patio decor to another level this summer.
1. Cafe' This Way
A sweet little bistro table with two café chairs will help transport you to your favorite little café. And as a bonus, you don't have to log in to the wifi. It's the perfect place to WFH and sip on an iced latte. Total vibes.
2. Captivated by Color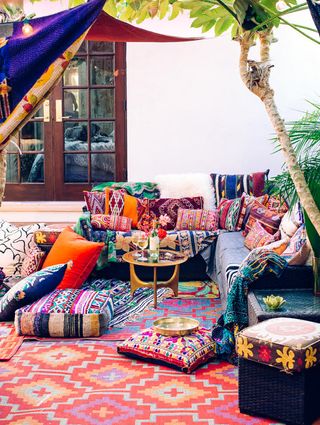 Play with fabric and color to excite the senses and boost your mood. Take dopamine decor to the next level with tons of colorful pillows, throw blankets, and lanterns. We love this new take on boho decor ideas.
3. Green Dreams
If you have a green thumb, Amy suggests going for it…and the bigger the better! Build a planter and fill it with your favorite flora. Plants add life and color to any space, as they're especially effective at making a small patio feel more inviting. Choose apartment-friendly plants that are easy to care for and that will thrive in the amount of sunlight your patio receives.
4. Lantern Love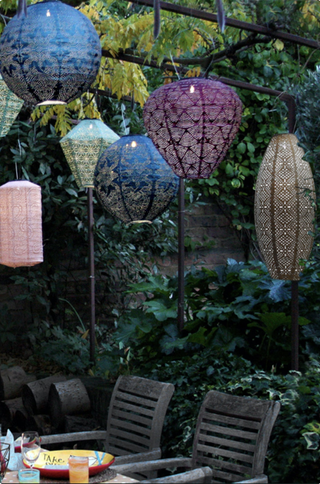 Lanterns not only light up the space but create an oasis as well as a mood that you can't recreate indoors. Go for lanterns with texture and color to amp up your vibe. They're also ideal for relaxing on a summer evening or even glamping with girlfriends this summer out on your patio.
5. All things rafia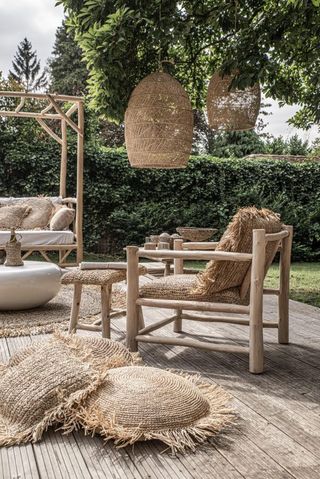 Add alllll the boho vibes with some natural materials. Rafia is such a great fabric and texture for any outdoor space. Try looking for rafia throw pillows, rugs, and other decor details.
6. Starry Night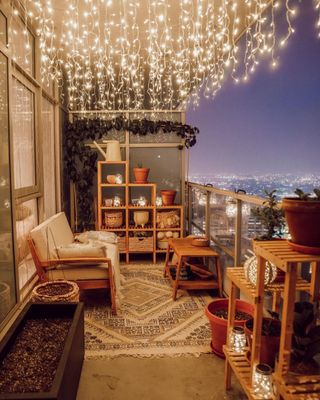 String lights are wildly popular to add mood to your outdoor space. If you're looking to have a cost-effective date night, then hanging on your patio with your person while having some comfort food, drinks, and a lit-up outdoor space giving you a night out in the stars vibe, then string lights are for you. You can never have enough like the stars in the sky!
7. Privacy pls
Want privacy and style all at once? Amy suggests investing in a screen or some kind of divider. Try making over your space with artificial greenery, wooden screens, or airy outdoor-friendly curtains.
8. Keep it Simple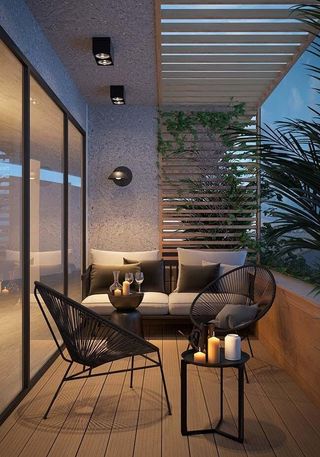 Seeking a functional and practical patio? A nice clean space with a simple cohesive look can do wonders for a small space. Don't try to cram too much into your small patio. Choose a few key pieces of furniture and accessories that you love, and leave some space for you to move around.
9. Silent Retreat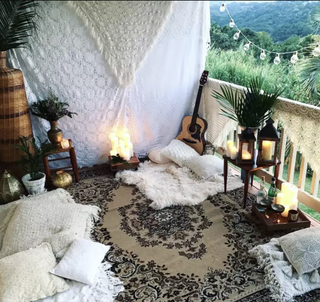 A silent patio is a space for meditating, napping, creating, breathing, and recharging. Cover your space with cozy pillows, blankets, and rugs! After this, just retreat! Choose rugs and pillows that are made from durable materials that can withstand the elements.
10. Room for One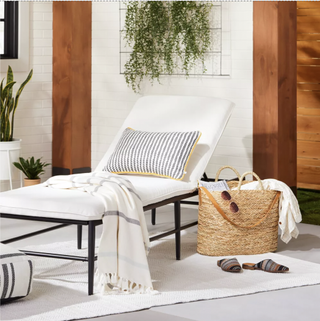 In need of some you time? No need to invite guests… your space is your space and if you only have room for one, then make the most of it! A nice nap or reading outside is a great way to recharge.