Have your garden looking gorgeous all year round with these patio ideas for all types of space. Whether you want yours to be the place for lounging, dining, partying or all three, you can transform your existing patio, no matter how drab it may be, into the most stylish and functional area going with the right decorative advice.
Your patio might be in need of a splash of color, more flowers and foliage to enjoy, or a touch of scent. Or perhaps you're looking for furniture to turn it into an outdoor room you can enjoy whenever the weather is kind enough to step outdoors? From the best materials for your patio, to expert advice on patio layouts and on how to make your space look lovely in all seasons, we've got plenty to inspire your design.
1. Stretch your patio space further with steps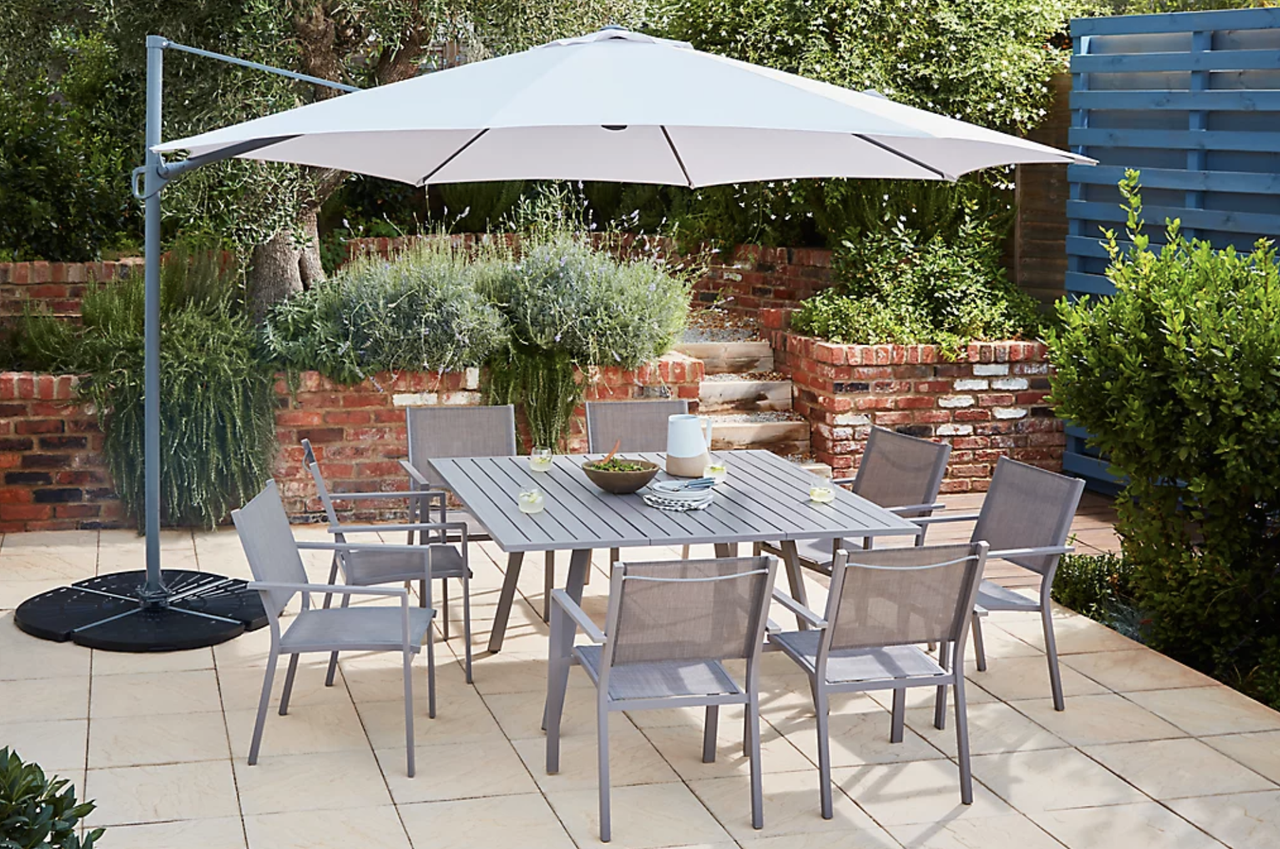 We spoke with Chris Moorhouse, Category Director for Timber, Building, Décor and Garden at Wickes (opens in new tab) about the best patio ideas and he suggests 'A great way to ensure your patio looks stylish and well-presented is by breaking it into zones. This can be achieved by adding steps, laying different materials or the addition of plants and paving circles. This will help to differentiate between dedicated areas e.g. grass, play area, relaxation, dining area.' Not to mention the planted contour adds heaps of character to this patio space. 'Finally, opting for low maintenance materials that require minimal cleaning, such as porcelain paving, all weather furniture and shrubs will ensure your patio looks great all year around!'
2. Create a focal point on a patio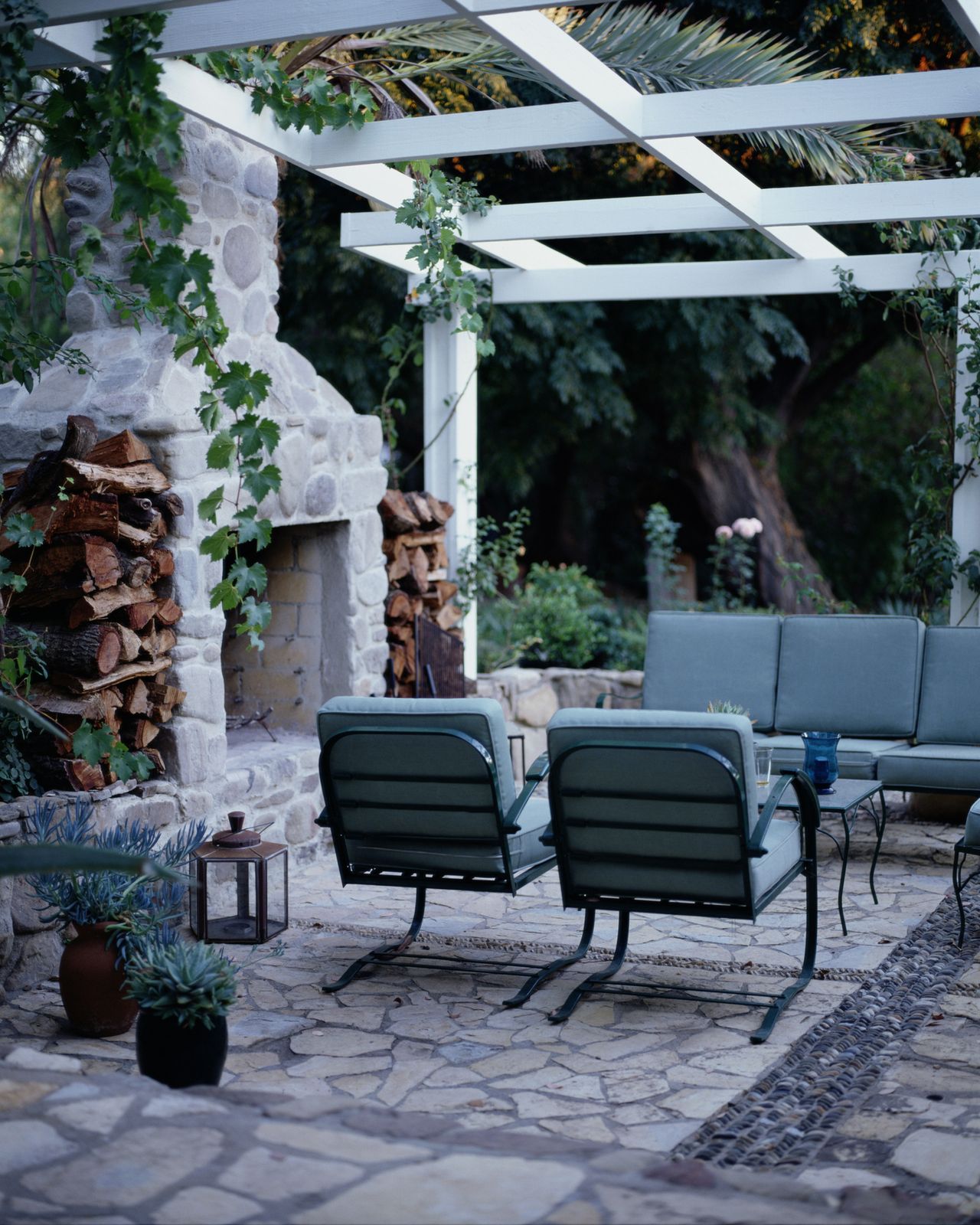 A beautiful pergola will enhacne a patio area, carving it out as a lovely and convivial space in the backyard. Moorhouse adds, 'Creating a focal point is another great way to enhance your patio – this can be done through statement tiles, fire pits, plants and accessories, such as pergolas.'
3. Fill your patio space with plush vibes
There are a few different factors that come into play when selecting your favorite patio ideas and the final layout. You want to start with your foundations to ensure that the surface itself is clean and fresh looking, free from weeds and dirt, of course. Then it's all about filling the space and borders with planting and garden furniture to create the finish you'd like and that will work best for your size of patio.
We could lounge in this patio area all day long. It's not the biggest space, but visually it's larger than life because the patio layout is so on point. The bright colors both contrast and complement each other – the blue from those cushions nodding to the bluebells up above, the lemon trees and the cushioning on the fabric footstool – and it all comes together marvelously. Add in the green border and you've one super cozy and gorgeous enclosure.
4. Let your borders overlap a plain patio
How you approach your space depends on how big it is, whether your patio is overlooked and on your home's style too. Bright planting can help add life and interest, enhancing the space of a tiny patio, and if you have a large patio that your neighbours can see into, you may want to consider taller planting, parasols and other creative ways for a more secluded feel.
Whether you have a large or small patio area, you can blur the lines between where your patio ends and where your garden borders begin by letting potted and container plants stylishly spill over. Create a little zest and add lots of color by choosing all different types of plants.
5. Define the layout with design accents
Choosing natural materials and soft furnishings to decorate your backyard patio with, doesn't mean that it can't look super modern and refined. Bamboo is beautiful in texture and painting it will give it a more defined look to help set your patio layout apart. Complement bold features with bright cushioning, rugs, coffee tables and more to make your space pop.
6. Or, choose a simple but summery vibe
Choosing the right furniture is essential and how you lay it out will make or break this spot. Aim to recreate convivial patio ideas no matter how small your space is, by incorporating a tiny dining table or coffee table to enhance the space you do have. If you are after simple ideas for small patios, then a light colored bistro set is the way forward. Nothing quite suggests summer in the same way as a good-looking furniture set and the light pastel color of this one helps you feel all the summer vibes.
7. Choose low but bright seating for a boho setup
(opens in new tab)
Low seating works even for smaller patios, especially when it's brightly colored. If your patio is overlooked and tiny, low seating will not only make it feel larger (plus you'll be able to see over it from inside to the garden beyond), it will also help improve privacy in your garden. Win win.
8. Embrace organic lines for your patio layout
When defining your patio's layout you can go for a softer finish by zoning your seating area with flowers and by careful placement of garden furniture too. Choosing natural materials will help a patio area feel a little more organic, perfect if your garden is lush with trees and more greenery to complement this area. Teak, whether new or reclaimed, or timber is the most durable of all garden furniture and you'll be able to find a finish that suits your style too.
9. Make your patio walkway cool and rustic
If you like pared back patio ideas then choosing paving that's a little weathered like York flagstones will do the trick. Light, blended shades will make for a timeless look, letting you add more color with your planting so that your patio becomes the perfect viewing spot for your garden. Plus, the large surface area of the flagstones help open up the walkway for a balanced patio design.
10. Cluster bright container plants
Bring color to your patio with clever container gardening by grouping similar colors and plants together. The repetition will create a really beautiful and organic visual, whether you have a small or big space to work with.
Choose low maintenance plants for ease – we love hydrangea and geranium, or go exotic with palms, citrus or olive trees to bring more Med vibes to your space.
11. Select the perfect color duo
There's nothing like pastel colors to make you feel all the SS21 vibes. To keep it simple but so effective, choose just two core colors for your space. The sage green bistro is set off by the simple addition of oranges on the table, and it works a dream. When they are gone – it will happen – consider a red or orange lantern as your centrepiece (pretty and less likely to get eaten) and that will be enough for a gorgeous patio look.
12. Choose one eclectic accent – just one
Add an instant splash of color, without sacrificing comfort, with a woven rattan chair. It can add an accent shade, or an array of brilliant hues, to a patio so you don't have to wait for flowers to bloom. Try the Salsa Garden Mini Chair (opens in new tab) from John Lewis, which comes in a wonderful yellow shade. You can also re-create this look by painting your own colorful garden chairs – a cheap patio idea even a beginner can tackle. '
13. Plan a cozy lounge space into your patio layout
(opens in new tab)
It's all about creating outdoor living spaces right now, so go for a lounge setup, complete with deep seats that you and the kids can lean right back into. For the best patio layout, situate yours underneath a covered patio spot but not too far from your dining table too so that it's a nice and fluid transition from dining, to watching a film on an outdoor projector.
14. Think lazy hazy luxury
(opens in new tab)
Lunchtime summer sun can get overwhelming – even if you're in the UK... So, create a shady corner – and a splash of color and pattern – with a stylish parasol. Got a spacious patio? A garden parasol will give you plenty of coverage which you'll need when you're napping on the biggest patio bed going...
15. Create a secret secluded seating area
(opens in new tab)
For some of us, the outdoor area is more of a retreat. For a chance to have some time all to yourself, and away from neighbors' (and kids') eyes, opt for a spacious arbour seat on your patio, grab a book (grab some wine) and hide away for a few hours.
16. Warm it up with a long fire pit
Open patio ideas usually need warming up, even on summer nights. So plan for cooler days and evenings and consider investing in the best fire pit for your space. Guaranteed to keep you warm, and perfect for conjuring up a convivial atmosphere, this lengthy fire pit makes a modern and stylish companion to a simple patio lounging area for those days when the sun goes down earlier than you'd anticipated.
17. Go extra with off the ground seating
(opens in new tab)
Hanging seats are the ultimate patio lounging luxury and so extra, they make the perfect talking point for your garden party. There is just something infinitely relaxing about gently swinging in a seat that is one step away from becoming a hammock. Put yours in a shady spot and string up some festoon lights to recreate the patio idea.
18. Create your own outdoor cinema on your patio
The cutest of all the patio ideas. What more perfect a spot is there to create an outdoor cinema? All you need is a blank white wall or just suspend a white sheet and you're good to go.
As for chairs, you'll need the right ones for movie nights. The Vago chair (opens in new tab) (above) is for sure one of those indoor/outdoor pieces: great on a balcony, great in the corner of the kitchen. The design is just a classic.
19. Choose patio paving for indoors and out
Using the same material continuously from your indoor space to outside will blur the line between your patio and your lounge or cooking area making spaces look and feel larger, however, you'll need to choose a material that will work in both climates, that's slip-resistant, frost-proof and will not fade or discolour; natural stones will work for these purposes, as will porcelain, which is more affordable and can be made to mimic everything from natural stone to wood.
20. Add height with lighting
(opens in new tab)
Adding height to a covered space is easily done with good garden lighting ideas. Hang lanterns and over your outdoor couch, and layer up with tea lights and more elsewhere by night for a multilevelled patio look.
To really max out the space, choose a sofa that fits with your space. You can build up how many seats you want, add armrests, corner sections, pick colors and cushions to go on top – just a really versatile piece of garden furniture and a great patio idea if you're squeezed for space.
21. And, make use of vertical space with ladders
Vertical gardening is your friend if you're looking for small patio ideas. Opt for a ladder shelf and style with plenty of plants to ensure you maximize the potential of your small patio.
22. Add pizzazz to your patio floor
This patio paving is the epitome of summer loving and a super easy DIY deco job. Grab some masonry paint and cover up those tired looking pavers. You can add stencilled patterns too, or create a terrazzo effect like the one above.
23. Go big with your outdoor rug
(opens in new tab)
Including a rug is a must with all backyard patio ideas as it will ensure that your space is well and truly styled. We love a rainforest print anywhere, but most especially to add a pop of color and pattern outside. What's more? It can conceal tired paving when you don't have the money or time to update it, and it's even quicker than painting so it's super budget-friendly. You will need a rug designed for the outdoors, of course, so that it can stand up to the conditions and prove easy to care for - find some options in our guide to the best outdoor rugs on the market today.
24. Stay on top of weeding (the easy way)
While we're talking patio ideas on a budget, keeping on top of the weeding is a cheap way to make any patio a whole lot lovelier. It's inevitable that weeds will take the opportunity to make themselves a home between the pavers, so get in the habit of rooting them out as soon as they appear.
We like this Patio Weeding Knife (opens in new tab) from Annabel James because it's specially made for the job, helping you hook the offenders out from narrow spaces. It'll work beautifully on moss, too, so you can keep your patio greenery-free.
25. Pave the way with your favorite finds
Just as it is in an individual room, creating a focal point is a great way to add personality to your backyard patio. Using a couple of your favorite stand out pieces to carve out a pathway from your patio door through to the backyard is an easy way to lengthen your space
26. Pile on the comfort
We know you wouldn't leave your sofa or armchairs indoors undressed, and why should it be any different on the patio? Pile up the pillows and you can get really comfortable on your outdoor seating.
Adding color, pattern and even a little fun to the patio is also a great reason to invest in a selection for a garden sofa or chair.
Yes, you could take the pillows from your living room outside, but we'd recommend going for designs made for the outdoors like these Outdoor Living Cushions (opens in new tab) from Dunelm so you don't have to worry about a sudden shower spoiling the fabric.
27. Pay attention to detail for atmosphere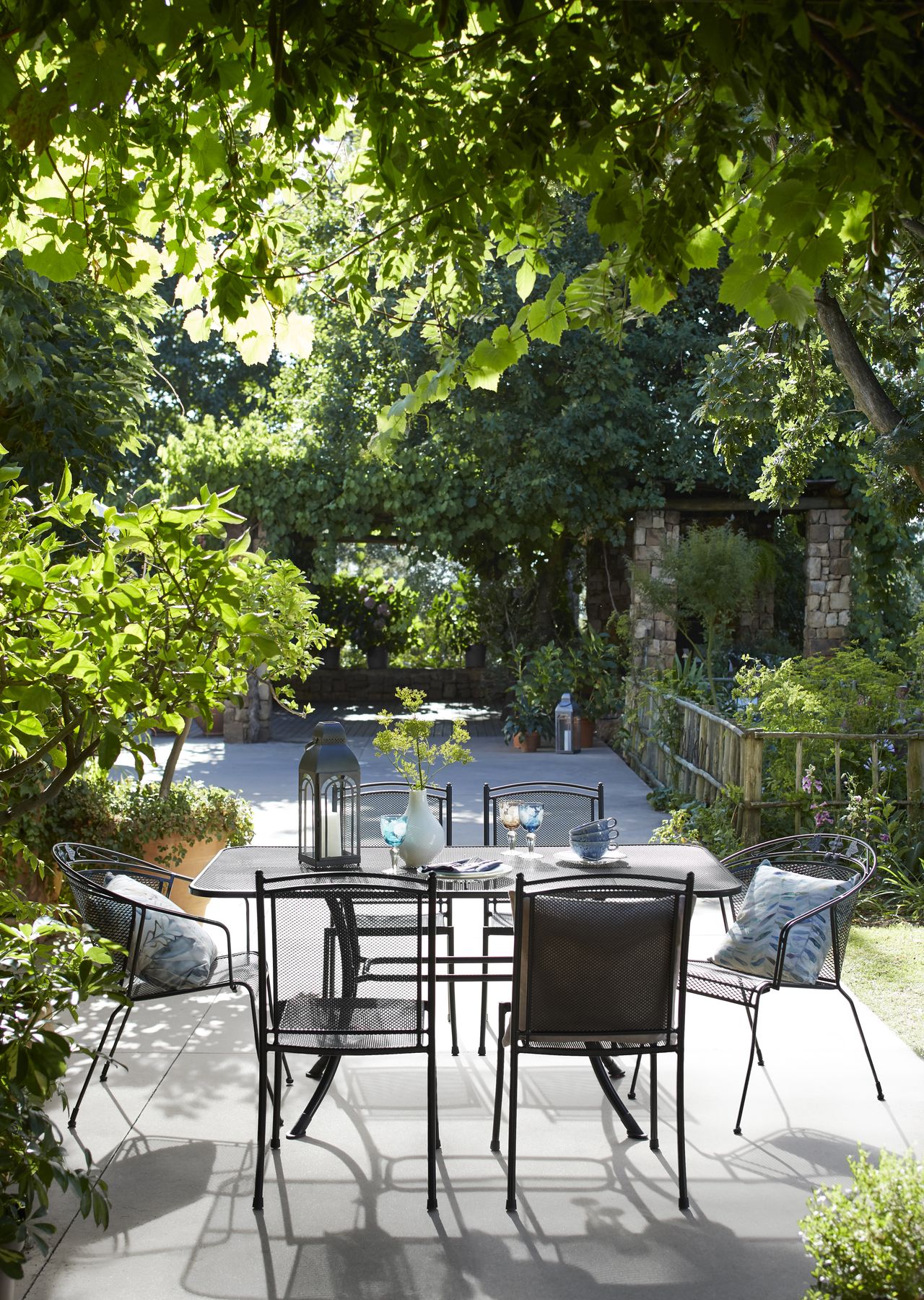 Pretty up your backyard by day and night by adding lanterns and cute table accessories to help set off a dining or coffee table. Try and match up materials like the lantern above with the metal dining table for a seamless and elegant finish.
28. Choose darker shades for drama
For a cool finish, choose colored tiles with a naturally worn, industrial-like effect to add understated character to your patio area. The dark tones will see your plants pop and those jaws drop.
29. Play with shape for an urban patio paradise
Honeycomb outdoor tiles create cool definition in a patio. It cradles all the other features going on and the repetition adds a further layer of design edge for equilibrium.
30. Clean and maintain your patio like a pro
Once you've got your patio all laid and looking lovely, how do you keep it that way? Unless you've used concrete slabs, most stone paving blocks, real or imitation, will need some maintenance, particularly in the spring, when they've been exposed to cold and damp weather conditions for months. A good patio cleaner, stiff brush, and a pressure washer is all you really need to clean your patio. Check out our guide to the best patio cleaners to find a suitable option for your outside space.
Don't like the idea of using chemicals outside? Try diluting some vinegar with water – this should be effective if your patio hasn't gone too green and you maintain it regularly.
How do you design a patio?
With all good patio ideas, good design comes into play. And, you'll need to think about its position in your backyard, taking into account its size and how many people are going to use it. Think what you're going to use it for, and decide on the style.
Moorhouse adds how 'An eye-catching patio can transform the look of your outdoor space and enhance your lifestyle too, depending on your requirements and wishes for the space. When starting the design process, there are a few key things to think about:
Firstly, you need to think about where to place your patio – whether this be an area of the garden that gets sun for the majority of the day, or a corner that isn't overlooked to ensure privacy. It's important to think about the shape of the space available and what this allows you to use it for.
Before finalising the designs, have a think about the function of the space and the kind of furniture you need to allow for this, making sure it fits well with plenty of room to walk around it. This could include sofas, outdoor kitchens, patio heaters, toys for children, hot tubs or tables for dining alfresco.
Another key thing to consider is lighting, which can make a big difference and add an atmospheric feel, especially when spending longer outside in the summer months. Lastly, set a budget to mitigate any overspend.'
What is the best material for an outdoor patio?
'It is vital that you do your research before deciding on the materials for your project. Concrete, natural stone and porcelain are all good options, but suit different needs and span a range of budgets. The material you choose is also dependent on the look-and-feel you are going for – for period properties, opt for a traditional material, whereas concrete will pair well with modern properties for an industrial look.'
Which patio color should you go for?
Shades of earthy brown, honey, dark grey and deep brick red work well with most materials used in British architecture, especially older buildings. And they are sure to look good in suburban US homes also. Around modern glass-clad or wooden exteriors, decking looks good. Subtle is always best; pre-cast concrete imitation garden paving in pink or yellow slabs is a common offender. Rainbow-colored sandstone can look odd, too.
How to build a backyard patio on a budget?
To build a cheap backyard patio, you'll need to equip yourself with the patio material you prefer along with a few other materials and tools and you'll be ready to go.
Start by marking out the patio area using pegs and string. Then dig out the area to a depth of 5 inches (13cm) plus the depth of the pavers. Compact the soil with a tamper and then spread gravel across the area to create a 4 inch layer. Add 1 inch of builder's sand and compact and level again.
After that you can lay the pavers, tapping them down with a mallet. Put them as close together as possible. Spread sand over the area and sweep it into the areas between the pavers so they're filled.
Patio = beautiful.