If you're looking for backyard patio ideas for all different types of outdoor spaces – we've got just the thing. Whether you've got a large outdoor yard to play with or you are living in an apartment with a small balcony, there are plenty of ways to inject some style and substance into your patio area.
In all seasons, everyone wants to make the most of that outdoor space with planting, patio furniture and more for style and function. Whether you're looking to breathe more life into your existing patio, or you want to transform it into the place to be come morning, noon or night – with the right decorative advice you can do just that.
Color is one of the best ways to revamp your patio area and flowers, foliage or soft furnishings can work wonders at injecting some interest and making this outdoor living space feel like an extension of your home.
Backyard patio ideas to inspire an outdoor upgrade
If laying a patio yourself, it's important to see what options you have when choosing patio materials.
Pavers are usually made from concrete, brick or natural stone and they are all good options that can work in different styles of backyard, whatever your budget. It depends on the look you want and on your existing yard space of course.
Laying outdoor tile like porcelain or clay will give you the opportunity to get a little more creative with patterned finishes and more, perfect for modern homes and they will withstand a lot of wear and tear also. Similarly, pavers last for a long time but they are more easily removed should you want to change the look of your patio landscape more regularly, and they come in a variety of styles and finishes also.
1. Bring the indoors out
Your outdoor patio area is like an extension of your home. Especially once you've decorated it with furniture that looks fun and functional. This Anthropologie (opens in new tab) setup screams summer in a picture with a unique stool like the Valerta (opens in new tab), rug (opens in new tab) and umbrella (opens in new tab) to provide some shade on cloudless days. Add a couple of outdoor cushions to your sofa to add even more character and coziness to your patio space.
2. Create a focal point on a patio
Fan of pergolas? By adding one to your patio area it can transform the look and feel of your outside, carving it out as a lovely and convivial space in the backyard. It can also help to make your space look bigger than it is. Take a look at our guide to some brilliant pergola ideas.
Chris Moorhouse, Category Director for Timber, Building, Décor and Garden at Wickes (opens in new tab) says: 'Creating a focal point is another great way to enhance your patio – this can be done through statement tiles, fire pits, plants and accessories, such as pergolas.'
3. Add a parasol
Create a shady spot in your outdoor space with one of the best garden parasols. Lucy St George, Co-founder of Rockett St George (opens in new tab) explains: 'Adding effortless style to finding shelter from the elements, a beautiful parasol is a patio essential. Ideal for adding extra glamour and style to any outdoor setting large or small, the humble beach umbrella has seen a revival as a way to help introduce playful personality to the garden.
'Taking inspiration from the beautiful terraces and poolside scenes of boutique hotels, a parasol brings that unique holiday feel back home and helps transform your patio into a party paradise or shady style spot for relaxation!".
4. Fill your space with elaborate furniture
There are a few different factors that come into play when selecting your favorite patio ideas and the final layout. You want to start with your foundations to ensure that the surface itself is clean and fresh-looking, free from weeds and dirt, of course, using the best patio cleaners if needed. Then it's all about filling the space and borders with planting and comfy furniture to create the finish you'd like and that will work best for the size of your patio.
Just check out this patio area design above. The bright colors both contrast and complement each other – the blue from those cushions (opens in new tab) nodding to the bluebells up above, the lemon trees and the cushioning on the fabric footstool – and it all comes together marvelously. Add in the green border and you've one super cozy and gorgeous enclosure.
5. Let your borders overlap a plain patio
Working with a small space? No problem. You can still bring your outdoor patio to life even if space is limited. Bright planting, like using container plants, can help add life and interest, enhancing the space of a tiny patio. And if you're blessed with a larger patio that your neighbors can peep into, you may want to consider taller planting or privacy screens to make your outdoor haven feel more secluded.
Our top tip? Whether you have a large or small patio area, you can blur the lines between where your patio ends and where your borders begin by letting potted and container plants stylishly spill over. Create a little zest and add lots of color by choosing all different types of plants. Need some inspo? Check out these container plants from Amazon (opens in new tab).
6. Add design accents to define the layout
Choosing natural materials and soft furnishings to decorate your backyard patio with, doesn't mean that it can't look super modern and refined.
Bamboo is beautiful in texture and painting it will give it a more defined look to help set your patio layout apart. Complement bold features with bright cushioning, rugs, coffee tables and more to make your space pop. Or, if metal is your kind of material, check out this set from Target (opens in new tab) and don't forget to invest in some comfy outdoor (opens in new tab)cushions (opens in new tab) to up the coziness levels and an outdoor rug (opens in new tab) to help zone your space.
7. Choose a simple-but-summery vibe
Choosing the right garden furniture is essential and how you lay it out will make or break this spot.
Aim to recreate functional patio ideas no matter how small your space is, by incorporating a tiny dining table or coffee table to enhance the space you do have.
If you are looking for simple ideas for small patios, then a light-colored bistro set is key. Check out this set from Wayfair (opens in new tab). Nothing quite suggests summer in the same way as a good-looking furniture set and the light pastel color of this one helps you feel all the summer vibes.
8. Brighten up your space with colorful seating
Outdoor dining is going to be big this year. Especially now that the sun has decided to shine. Therefore the easiest way to spruce up your patio, and add some sunshine into your space? Investing in a set that mimics the color of the sun. This industrial set from Wayfair (opens in new tab) looks idea to make a toast, dine or pull up and seat and kick back in..
9. Choose low but bright seating for a relaxed setup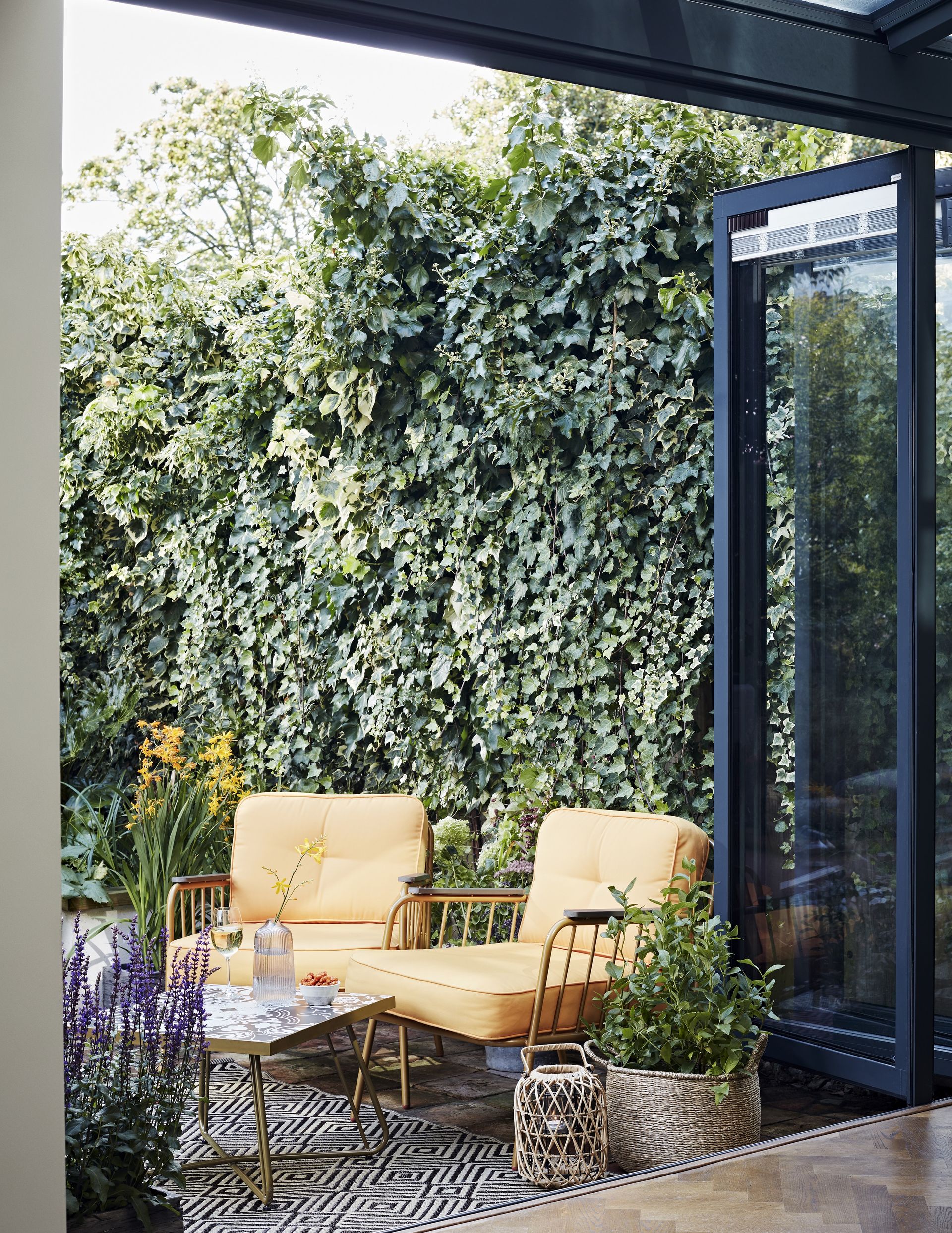 (opens in new tab)
How welcoming does this set-up look? Low seating works even for smaller patios, especially when it's brightly colored like this design above. Or if rattan is more your vibe, check out Amazon's (opens in new tab) finest low bistro set seating.
If your patio is overlooked and tiny, low seating will not only make it feel larger (plus you'll be able to see over it from inside to the garden beyond), it will also help improve privacy in your garden. It really is a win-win.
10. Embrace organic lines for your patio layout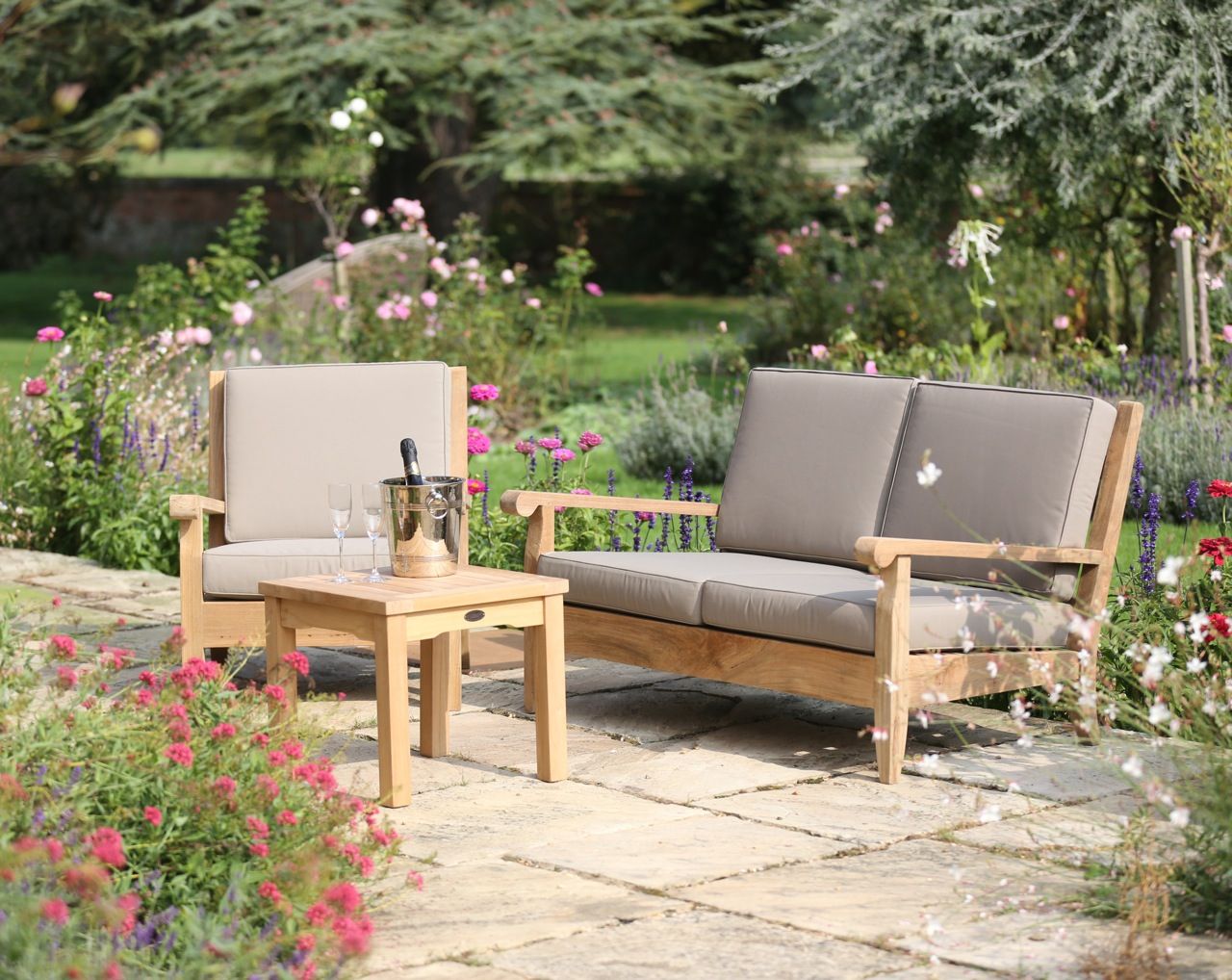 When defining your yard's patio's layout you can go for a softer finish by zoning your seating area with flowers and by careful placement of garden furniture too.
Choosing natural materials will help a patio area feel a little more organic, perfect if your garden is lush with trees and more greenery to complement this area. Teak, whether new or reclaimed, or timber is the most durable of all garden furniture and you'll be able to find a finish that suits your style too.
11. Make your patio walkway cool and rustic
If you like pared-back patio ideas then choosing paving that's a little weathered like York flagstones will do the trick. Light, blended shades will make for a timeless look, letting you add more color with your planting so that your patio becomes the perfect viewing spot for your garden. Plus, the large surface area of the flagstones help open up the walkway for a balanced patio design.
12. Cluster bright container plants
Bring color to your patio with clever container gardening by grouping similar colors and plants together. The repetition will create a really beautiful and organic visual, whether you have a small or big space to work with.
Choose low-maintenance plants for ease – we love hydrangea and geranium, or go exotic with palms, citrus or olive trees to bring more Med vibes to your space.
13. Select the perfect color duo
There's nothing like pastel colors to make you feel in a summer state of mind. To keep it simple but so effective, choose just two core colors for your space. The sage green bistro is set off by the simple addition of oranges on the table, and it works a dream.
When they are gone – it will happen – consider a red or orange lantern as your centerpiece (pretty and less likely to get eaten) and that will be enough for a gorgeous patio look.
14. Choose one eclectic accent – just one
Add an instant splash of color, without sacrificing comfort, with a woven rattan chair. It can add an accent shade, or an array of brilliant hues, to a patio so you don't have to wait for flowers to bloom. Try the Hallwood Garden Chair from Wayfair (opens in new tab), which comes in a wonderful turquoise shade. You can also re-create this look by painting your own colorful garden chairs – a cheap patio idea even a beginner can tackle.
15. Plan a cozy lounge space into your patio layout
(opens in new tab)
It's all about creating outdoor living spaces right now, so go for a lounge setup, complete with deep seats that you and the kids can lean right back into.
For the best patio layout, situate yours underneath a covered patio spot but not too far from your dining table too so that it's a nice and fluid transition from dining, to watching a film on an outdoor projector.
14. Think lazy hazy luxury
(opens in new tab)
Lunchtime summer sun can get overwhelming – no matter whether you live in a sunny or shady state.
So, create a shady corner – and a splash of color and pattern – with a stylish parasol. Got a spacious patio? A garden parasol will give you plenty of coverage which you'll need when you're napping on the biggest patio bed going.
17. Create a secret secluded seating area
(opens in new tab)
For some of us, the outdoor area is more of a retreat. For a chance to have some time all to yourself plus, the garden screening will mean that you are out of sight from the neighbors! Opt for a spacious lounge seat on your patio, grab a book and hide away for a few hours in the shade.
18. Warm it up with a long fire pit
Open patio ideas usually need warming up, even on summer nights. So plan for cooler days and evenings and consider investing in the best fire pit for your space.
Guaranteed to keep you warm, and perfect for conjuring up a convivial atmosphere, this lengthy fire pit makes a modern and stylish companion to a simple patio lounging area for those days when the sun goes down earlier than you'd anticipated.
19. Go extra with off the ground seating
(opens in new tab)
If space allows, hanging seats are the ultimate patio lounging luxury and so extra. But they make for the perfect talking point for your garden party.
Dani Taylor, Product and Creative Director at Cox & Cox (opens in new tab) says: 'A hanging chair or a cocoon chair is a really good option if you want to escape and relax on the patio because it is important to feel cozy - it will provide a go-to spot where you can switch off from the world, if you fill the chair with soft furnishings and border it with planters and scented plants it will make it feel even cozier.'
Recreate this look with this hanging seat from Wayfair (opens in new tab). Just remember to put yours in a shady spot and string up some festoon lights to really tick off all the zen vibes.
20. Create your own outdoor cinema on your patio
The cutest of all the patio ideas, pick up a great outdoor projector then all you need is a blank white wall or an outdoor movie screen (opens in new tab) and you're good to go.
As for chairs, you'll need the right ones for movie nights. This snooze-worthy chair (opens in new tab) is for sure one of those buy now and love forever pieces. You can use it inside during the winter and outside whenever the sun decides to shine.
21. Add an outdoor kitchen
Bring the inside out by installing an outdoor kitchen. Nothing beats the sight, sound, and smell of barbie cooking a colorful array of food. So the next time you're hosting a cookout, you can entertain guests, top-up drinks and enjoy alfresco dining from the comfort of your outdoor kitchen.
Plus, no matter the size of the space you have to work with, there are a ton of different cooking setups to choose from to use your patio area wisely.
22. Pile on soft furnishings
Soft furnishings are the gift that keep on giving. No matter if you're working with a small space, balcony or you have got a compact area of patio, you can create an outdoor spot you'll love coming home to.
Load up on plants, make use of rugs, add a small table (opens in new tab)and don't forget cushions. (opens in new tab)
23. Add height with lighting
(opens in new tab)
Adding height to a covered patio space is easily done with stunning outdoor lighting. Hang lanterns and over your outdoor couch, and layer up with tea lights and more elsewhere by night for a multilevelled patio look.
To really max out the space, choose a sofa that fits with your space. You can build up how many seats you want, add armrests, corner sections, pick colors and cushions to go on top – just a really versatile piece of garden furniture and a great patio idea if you're squeezed for space.
24. And, make use of vertical space
Vertical gardening is your friend if you're looking for small backyard ideas.
You don't need acres (and acres) to create a good-looking, styled outdoor space ready to enjoy all year long. The key to creating a perfectly styled small patio area?
Opt for a ladder shelf or place plants on walls to ensure you maximize the potential of your compact space.
25. Add pizzazz to your patio floor
Who said patios had to be made from stone? Not us. This patio paving is the epitome of summer living and a super easy DIY deco job. Grab some masonry paint and cover up those tired looking pavers. You can add stenciled patterns too, or create a terrazzo effect like the one above.
26. Go big with your outdoor rug
(opens in new tab)
Including a rug is a must with all backyard patio ideas as it will ensure that your space is well and truly styled.
Lucy St George, Co-founder of Rockett St George (opens in new tab) says: 'Just as indoors, garden rugs can be an amazing accessory to zone your outdoor space and spruce up your patio. Place one by your outdoor dining table to create the perfect spot for al fresco dinners in the sunshine or style with a garden sofa, armchairs and a coffee table to create a luxe lounge spot that will rival your living space indoors.'
Find some options in our guide to the best outdoor rugs on the market today.
27. Stay on top of weeding (the easy way)
While we're talking patio ideas on a budget, keeping on top of the weeding is a cheap way to make any patio a whole lot lovelier. It's inevitable that weeds will take the opportunity to make themselves a home between the pavers, so get in the habit of rooting them out as soon as they appear.
We like this Patio Weeding Knife (opens in new tab) from Amazon because it's specially made for the job, helping you hook the offenders out from narrow spaces. It'll work beautifully on moss, too, so you can keep your patio greenery-free.
28. Pave the way with your favorite finds
Just as it is in an individual room, creating a focal point is a great way to add personality to your backyard patio. Using a couple of your favorite stand-out pieces to carve out a pathway from your patio door through to the backyard is an easy way to lengthen your space.
Why not try adding one of the best patio heaters into your space for a warm and cozy retreat when the temperature drops? That way you can use your space all year round.
29. Add personality with cushions
We know you wouldn't leave your sofa or armchairs indoors undressed, and why should it be any different on the patio? Pile up the pillows and you can get really comfortable on your outdoor seating.
Adding color, pattern and even a little fun to the patio is also a great reason to invest in a selection for a garden sofa or chair.
Yes, you could take the pillows from your living room outside, but we'd recommend going for designs made for the outdoors like these Outdoor Living Cushions (opens in new tab) from Wayfair so you don't have to worry about a sudden shower spoiling the fabric. After all, too many cushions are never enough!
30. Pay attention to detail for atmosphere
Pretty up your backyard by day and night by adding lanterns and cute table accessories to help set off a dining or coffee table. Try and match up materials like the lantern above with the metal dining table for a seamless and elegant finish.
Then you can sit back and enjoy as you enjoy your patio space from day to night.
31. Choose darker shades for drama
Along with using tiles to zone your patio space, you could also switch up the color you use. For a cool finish, choose colored tiles with a naturally worn, industrial-like effect to add an understated character to your patio area. The dark tones will see your plants pop and those jaws drop.
32. Play with shape for an urban patio paradise
Honeycomb outdoor tiles create cool definition in a patio. It cradles all the other features going on and the repetition adds a further layer of design edge for equilibrium.
Match the color of the tiles to the color of your furniture, just like this setup by Anthropologie (opens in new tab).
33. Clean and maintain your patio like a pro
Once you've got your patio all laid and looking lovely, how do you keep it that way? Unless you've used concrete slabs, most stone paving blocks, real or imitation, will need some maintenance, particularly in the spring, when they've been exposed to cold and damp weather conditions for months. A good patio cleaner, stiff brush, and a pressure washer are all you really need to clean your patio.
Don't like the idea of using chemicals outside? Try cleaning a patio naturally by diluting some vinegar with water – this should be effective if your patio hasn't gone too green and you maintain it regularly.
34. Incorporate overhead planting
Plants don't just have to be grown vertically. If your patio area has a roof overhead, consider making the fifth wall the star of the space. Just like how the best living room ceiling ideas can spark interest from above, so can your patio. Plus, it's the easiest way to incorporate greenery, from top to bottom.
35. Incorporate a mini bar
The best garden bar ideas have the potential to turn an average backyard into the perfect space for entertaining and relaxing. Even if it is just for you or your family.
Why not carve out a small spot on your patio for this weatherproof design from Wayfair (opens in new tab)? You can roll it in and out of sight when you're ready to be the hostess with the mostess.
36. Inject string lights
Patios aren't just a place to sit in the daytime. Set the mood and keep your outdoor patio space looking lit even after dark with some string lights. You can pick up a handful from Amazon (opens in new tab), Home Depot (opens in new tab) and/or Wayfair (opens in new tab).
Just be sure to hang them high enough so you don't have to duck every time you use your patio area, but low enough for the lights to make a difference. Stunning outdoor sofas like the above be picked up at UK John Lewis (opens in new tab) and why not make it, even more, inviting with a gorgeous outdoor rug or coffee table too?
37. Layer your lighting
Talking of lights, you could layer your lighting with the use of a fire pit and string lights.
We love this dreamy setup from Wayfair (opens in new tab) as you can just imagine this being the best seat in the house come summer or winter. Discover our guide to the best fire pits to make sure you make the most of cozy evenings in the garden.
38. Invest in a louvered canopy
If you're looking for something a bit different compared to a parasol or pergola, why not consider covering your patio with a louvered canopy? A louvered canopy is a versatile structure that can be attached to a house almost like a mini-extension or freestanding, and the blades are adjustable depending on how much coverage you want.
Along with adding interest to your patio, it can help to make your patio look larger than it is and provide some shelter against the elements.
39. Add an awning
Or, if some sort of cover is what you're after, but you don't want a permanent option, opt for an awning.
Helping you to stay protected from hot and harmful UV rays and adding some serious style into your patio space, an awning could be just the thing your outside area needs this summer.
Wayfair (opens in new tab) has a good selection of options to choose from, as does Amazon (opens in new tab).
40. Consider your privacy
So, you've decided you want a patio. But one of the key things to think about when it comes to adding a patio to your space is deciding the location.
No one wants eyes on them while eating or lounging around. So consider the location and if space allows, add a cover such as trellis, DIY living walls or even strategically planted trees... This can all help you create the look and feel of a more private setting.
How do you design a patio?
With all good backyard patio ideas, good design comes into play. And, you'll need to think about its position in your backyard, taking into account its size and how many people are going to use it. Think about what you're going to use it for, and decide on the style.
Moorhouse adds how 'An eye-catching patio can transform the look of your outdoor space and enhance your lifestyle too, depending on your requirements and wishes for the space. When starting the design process, there are a few key things to think about:
Firstly, you need to think about where to place your patio – whether this is an area of the garden that gets sun for the majority of the day, or a corner that isn't overlooked to ensure privacy. It's important to think about the shape of the space available and what this allows you to use it for.
Before finalizing the designs, have a think about the function of the space and the kind of furniture you need to allow for this, making sure it fits well with plenty of room to walk around it. This could include sofas, outdoor kitchens, patio heaters, toys for children, hot tubs or tables for dining alfresco.
Another key thing to consider is lighting, which can make a big difference and add an atmospheric feel, especially when spending longer outside in the summer months. Lastly, set a budget to mitigate any overspend.'
Which patio color should you go for?
Shades of earthy brown, honey, dark grey and deep brick red work well with most materials used in British architecture, especially older buildings. And they are sure to look good in suburban homes also. Around modern glass-clad or wooden exteriors, decking looks good. Subtle is always best; pre-cast concrete imitation garden paving in pink or yellow slabs is a common offender. Rainbow-colored sandstone can look odd, too.
How to build a backyard patio on a budget?
To build a cheap backyard patio, you'll need to equip yourself with the patio material you prefer along with a few other materials and tools and you'll be ready to go.
Start by marking out the patio area using pegs and string. Then dig out the area to a depth of 5 inches (13cm) plus the depth of the pavers. Compact the soil with a tamper and then spread gravel across the area to create a 4 inch layer. Add 1 inch of builder's sand and compact and level again.
After that you can lay the pavers, tapping them down with a mallet. Put them as close together as possible. Spread sand over the area and sweep it into the areas between the pavers so they're filled.