These outdoor Christmas lighting ideas will help you achieve irresistible curb appeal during the holiday season. Create a stunning display on your front lawn or porch to light up your whole house during those dark winter nights.
Outdoor Christmas decor ideas using lights are some of the most impactful, whether you are going for all-over string lights, a tastefully lit porch, or just a couple of pre-lit decorations. There are plenty of options to choose from and a range of price points for budget-friendly decorations.
Whatever your decorating style, we have plenty of Christmas decorating ideas that will match it. Plus, see our favorite outdoor Christmas decorations to pick up this year to illuminate your outdoor space.
Outdoor Christmas lighting ideas: top tips
The key to successful outdoor Christmas lighting ideas is understanding the individuality of your home. Ross Harke, outdoor lighting specialist and Co-Founder of EverLights, told us, "Taking a wide view of your home when you're deciding how to decorate with lights is key."
In practice, this means highlighting "the unique architectural features of your home with lights. The most important tip here is to make sure everything is lined up to give that wow factor." Ross reminds us not to neglect driveways and paths: "Try lighting up the path to your door with lights with easy-to-use stake Christmas lights."
These cute snowflake pathway lights available on Amazon are the perfect solution to lighting up this space while being easy to install.
Kelly Fitzsimmons, the owner of Light Up Your Holidays, adds that using "professional-grade holiday lights will last season after season" even though "they are no small investment. Start small and add to your collection of lights each year. LEDs will be easier on your electricity bill.'"
Ross Harke, outdoor lighting specialist, is the Co-Founder of EverLights — an industry leader in design, engineering, and manufacturing of premium permanent Christmas lights.
Kelly Fitzsimmons is the owner of Light Up Your Holidays — a Chicago-based service company which specializes in design, installation and removal of outdoor holiday lighting.
1. More is more! Max out on lights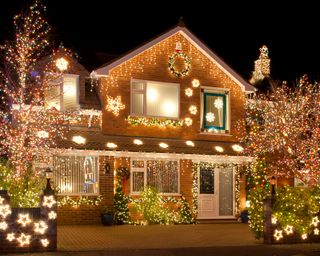 Less isn't always more when it comes to Christmas — ultimately, only you can decide how many lights are too many, and if you want to cover your entire house and driveway with lights, the rules are there are no rules.
However, to keep your maximalist Christmas lighting scheme looking great, stick to small LEDs, icicle lights like these warm icicle lights from Amazon, and string lights — one of the best garden lighting ideas. Avoid too many strings of larger lights, as they'll look clunky.
2. Prefer understated? Decorate just the perimeter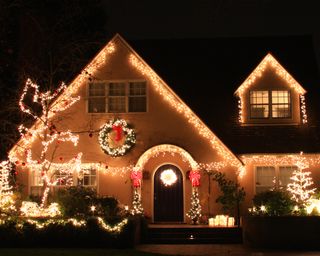 If you prefer a simple and minimalist decorating theme, then just arranging a string of LED string lights from Amazon or icicle lights along the perimeter of your home, or even just along the front porch, can look really nice.
For the ultimate elegant effect, we advise matching the tone of your lights to the coloring of your house: so, if your house is painted white, go for cool white lights; if it's brick or painted a warm color, go for warm or golden lights.
Or, follow the rules of halves and keep one half of the house lit with cool lights, and the other with warm. The effect will be very elegant.
3. Create a magical outdoor Christmas dining scheme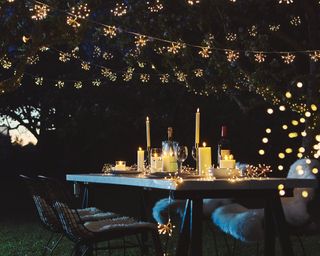 If outdoor Christmas dining is on the cards for you this year, lighting will play a crucial part in bringing your garden party ideas to life.
Cluster lighting, also known as starburst lights or firework lights, will add a shimmering, festive effect if you suspend multiple clusters above the dining table. You can stock up on a pack of eight firework lights from Amazon for a dramatic effect.
And, of course, candles and lanterns will help create a cozy Christmas centerpiece that will illuminate your guests' faces beautifully. These vintage-looking lanterns with flameless LED candles from Amazon are the perfect addition to your outdoor dining table.
4. Create a glowing pathway with paper luminaries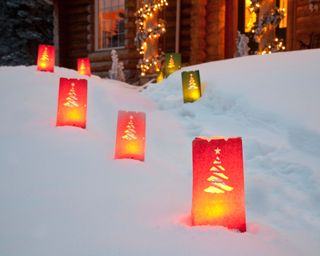 To create a cozy Christmas lighting theme, line your driveway or garden path with luminaries like these paper bags with flameless tealights from Amazon. These simple bag-shaped lanterns are traditionally made from paper but look for more durable and weatherproof plastic designs.
They work especially well if you don't have permanent lighting along your driveway. There are lots of designs to choose from, plain or patterned – we like Christmas–patterned ones for a truly festive look.
5. Add festive cheer with a lit-up snowman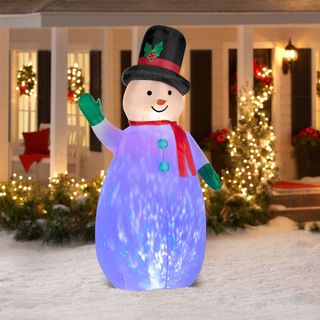 How cute is this little dude? Well, actually, he's not even that little, and why should he be? One of the pleasures of outdoor Christmas lighting is that other people will see it too, so the large size is a good thing, like with this seven-foot inflatable snowman available from Amazon.
We would recommend keeping to just one oversized lit-up Christmas decoration, whether it's a snowman or reindeer, though, to prevent an overly cluttered look.
6. Elegant reindeer lights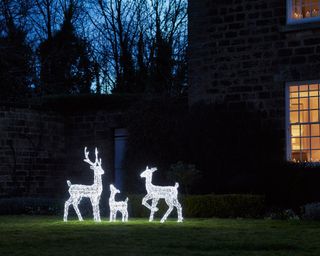 If it's reindeer or nothing for you, we get it: lit-up reindeer are such a festive classic, many of us just can't resist them.
And yes, they can look elegant: we recommend getting a group all from the same brand and creating a realistic display with them, like with this set of three LED reindeer available on Amazon.
You won't need many other lights, either — keep the deer the centerpiece of your front yard for a really striking effect.
7. Go for an LED projector for a soft look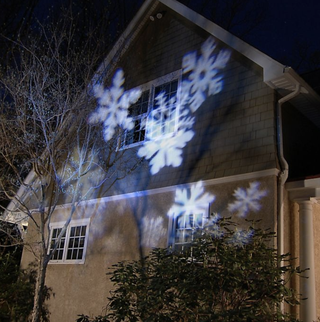 Want to try something a bit different? An LED snowflake projector light like this highly-rated projector from Amazon will give dramatic coverage for your whole house while looking soft and not overly bright. It's definitely more of a gentle glow than full-blown sparkle but still looks very festive.
You can also choose a laser light, also from Amazon, that will cast a myriad of little lights all over your garden and house — a truly magical, laser-snow effect that's very contemporary and unusual.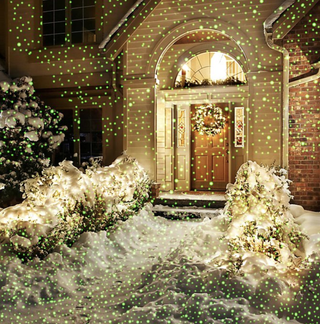 8. Choose candy-colored lights for a cheerful look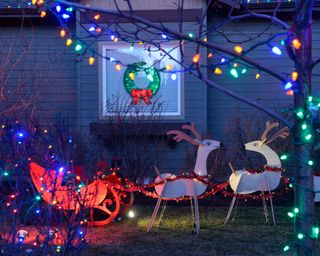 If you don't want your outdoor lighting scheme to look too serious, some of the best Christmas lights are colorful ones like these multi-colored outdoor lights from Amazon. The soft, cheerful shades of green, red, blue, and purple will work their magic on even the darkest of wintry front yards. Add a few decorations, and you'll have a fairytale display worthy of your brightest childhood Christmas memories.
Kelly points out that, "White lights are certainly a more classic and refined look, but colored lights are fun and festive. If your kids are begging you for multicolored lights, but you prefer the elegance of the warm white lights, have them select a tree in the backyard that gets decorated however they want!"
After all, one of the biggest Christmas decorating mistakes is doing something you and your family don't love!
9. Set your porch aglow with copper string lights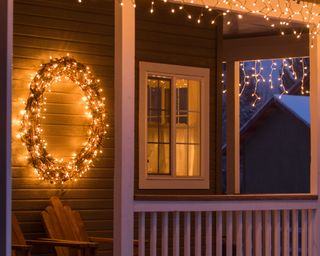 Outdoor Christmas lighting is all about adding warmth to the darkest time of year, and the warmer the tone of your lighting, the better you'll be able to achieve this.
Copper outdoor lights, sold by many retailers like these long copper lights from Amazon, are the warmest you can get and look especially wonderful against a wooden porch.
This is one of those Christmas porch decorating ideas that are timeless and will suit almost any house.
10. Get a Christmas silhouette light for a delicate look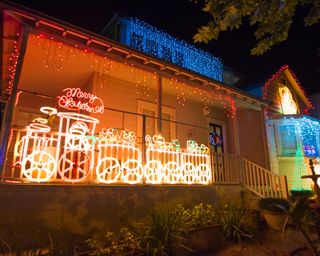 What could be more Christmassy than a Christmas train silhouette light? Well, maybe a large hanging snowflake light available from Amazon or a red Merry Christmas LED sign (also available on Amazon).
Lighting and Christmas installation in one, a silhouette light, or rope light, is perfect if you want maximum effect with minimum effort. Great for a porch, or a part of your Christmas window lighting ideas.
11. Don't forget your outdoor trees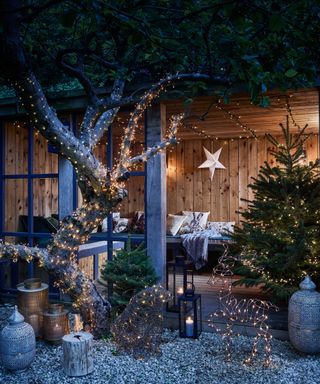 If you are blessed with a tree in your front yard, it's definitely worth decorating it. From tree wrapping to just hanging a string of lights in the crown, there are many ways to decorate outdoor trees for Christmas.
You can recreate this look with a simple string of warm white LED lights from Amazon. It's well worth putting in the effort — the result will be magical.
FAQs
How do you light up your house exterior for Christmas?
If you want to know how to hang Christmas lights, Ross Harke provides some expert advice.'
"Remember there is more than just the roofline to consider," says Harke. "Look at what other areas of your home, like the border of your windows, columns, stair rails and other unique architectural features of your home."
How many lights do you need to decorate outside?
According to Harke, the best way to determine how many lights you need is to measure your roofline first.
"There are apps you can get that let you do this with your phone, so you don't have to get on your ladder with a measuring tape. Then you can look at your Christmas lights and order accordingly," says Harke.
---
Before you get started, there are a couple of points to remember for the best result. It's also a good idea to read up on the Christmas light safety do's and don'ts to avoid any pitfalls.
Kelly Fitzsimmons cautions against using net lights for decorating your home exterior. "They can make the task of holiday lighting go faster, but the result can sometimes fall flat. Often nets don't cover entire bushes or trees," says Fitzsimmons.
Fitzsimmons recommends instead, "following the natural lines of yard and house elements which makes for more organic and complete-looking light displays."
"Now that the leaves are gone, wrap the trunks and branches of deciduous trees in lights, or drape them to create a free-form design," says Fitzsimmons.