Looking for small balcony ideas? A terrace, balcony, courtyard or shared garden is always a bonus, however small. But the challenge is to make it usable, good-looking and practical, all at the same time. At the very least, you might want to fit in some multi-tasking indoor-outdoor garden furniture and space-saving garden storage ideas – and that's even before you've considered how to decorate it. Luckily, we've come up with some rather neat design ideas for your terrace or balcony.
Find more gorgeous garden ideas and practical tips in our garden ideas page.
1. Create a visual link with your living room
Whether your balcony or terrace leads off your living room, bedroom or kitchen, styling and decorating and furnishing it to complement the colour scheme and styling indoors will make both spaces feel linked and, as a result, larger. Decorating out of the question? Budget too limited to splash out on furniture? Masses of plants just inside and outside the doors will create that indoor-outdoor blend you're after.
2. Be practical: choose lightweight, foldable furniture
Looking for garden furniture? Heavy, bulky pieces are not a good option for balconies and terraces, which is where lightweight, easy-to-shift garden furniture comes into its own. Pick a synthetic rattan or a lightweight wood for that no-maintenance approach and pick seating that's low-level and light-coloured to make the space feel larger, and to allow maximum light to reach the room indoors. If it's foldable for easy stashing, that's even better.
3. Go for stackable furniture if you like entertaining
Summer is a time for entertaining guests, but terrace gardens can present a problem if you are going to be using the same space for both outdoor dining and mingling afterwards. Opt for chairs that are stackable and are easy to clear once the dining part is over, and the transition from one stage of the party to the next will be smooth.
4. Create colourful accents with hanging planters
If your garden terrace or balcony is on the smaller side, you may end up having to choose between fitting in garden furniture or plant pots. If you need to save the space for a table and chairs but still want to accessorise with plants, opt for window boxes or hanging planters. They won't take up vital floor space, but will cheer up the outdoor area.
The Elho Corsica hanging planters are very affordable and available from Amazon.
5. Brighten up your al fresco dining area with lights
One of the great joys of summer is al fresco dining out on the terrace. Accessorise your terrace dining area with jolly festoon lights that will help create a convivial atmosphere.
See our best garden lighting buys, but check out our guide to choosing garden lighting before you shop. Lights and furniture above, Ikea.
6. Liven things up with a colourful rug
The trick to making your terrace or balcony feel like it's part of your indoor space too is to accessorise with complementing soft furnishings. Here, an outdoor rug introduces bold colour and graphic pattern.
7. Save space and tidy up with a storage bench
Terraces and balconies will need small space storage solutions that are clever and compact. So choose furniture that can double up as storage for cushions, blankets and BBQ accessories.
This bench from Ikea is great for storing away soft furnishings during rainy weather, and it also works as a very fetching coffee table.
8. Create a cosy nook with an outdoor sofa
If your balcony or terrace is narrow, you may want to just use most of that narrow space for a comfy sofa, rather than trying to fit in lots of chairs, which is likely to make the space awkward to move around. Make sure you choose a sofa that is intended for the outdoors and that the cushions are as inviting as those on your sofa indoors.
The Kungslholm Outdoor 2-seat Sofa from Ikea is made from tough synthetic rattan and aluminium, with removable and washable cushioning.
9. Design a relaxation area with a rocking chair
Balconies and terraces are perfect spaces for summer lounging. So, create a serene haven on your balcony by installing a hanging seat, hammock, or a rocking chair – in other words, a fabulous garden chair, just right for a little me-time away from a busy household.
We like the very inviting and stylish Leia Outdoor Rocking Chair from John Lewis. It is practical as well as pretty, crafted from hardy eucalyptus and quick-drying fisherman's rope.
10. Add a firepit to your balcony or terrace
Even a small terrace can accommodate a firepit or chimenea – a great way to get some outdoor cooking done, and to add a rustic charm to your decorating scheme.
The gorgeous Henley Fire Pit is from Ivyline.
11. Accessorise with plants
Plants are the easiest, and one of the most affordable, ways to make a small balcony look good. It really doesn't matter how small your space is – all you need is a couple of stylish pots and some trailing plants. Voila, your balcony is Insta-worthy.
The Ferm Living Bau Pot is From Nest.co.uk.
12. Paint exterior walls a warm colour
Painting the walls a warm colour will make the balcony look more inviting, even if the sun's not out. Love the traditional, romantic design of the Lacko set, we reckon it could transform a dreary patio into some Parisian style balcony – pots of lavender dotted around, French press and croissants on the table – yer, okay it might take a bit of imagination but still, nice idea.
13. Use multi functional furniture to save space
Look how much gorgeous Ikea garden furniture fits on to this tiny balcony! With any small space, indoor or out, furniture has to work hard and opting for multifunctional furniture is always going to help you save space. This lovely rattan effect two seater sofa has handy storage within the seat, so you won't need another piece of furniture to hide away cushions, throws, gardening paraphernalia.
14. Think vertical vertical vertical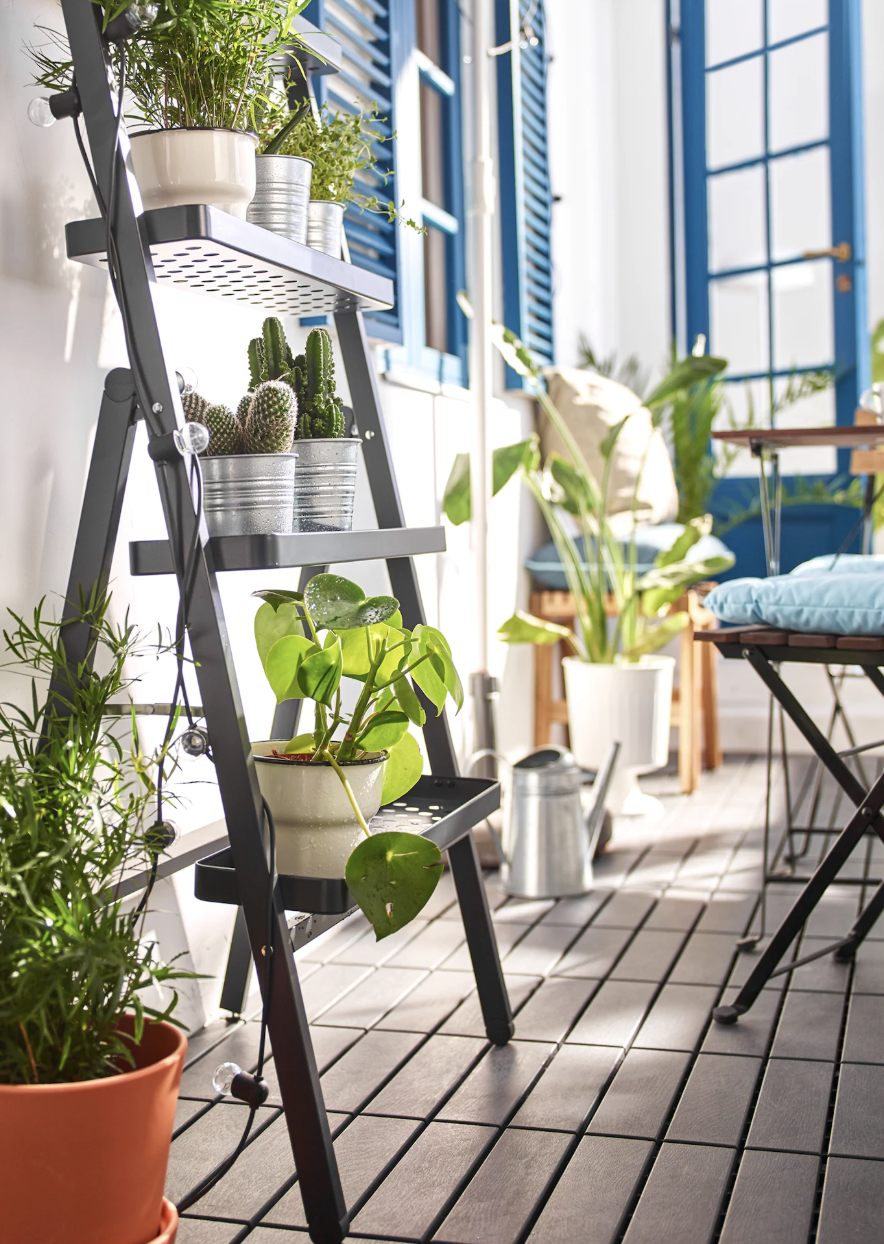 If we've said it once, and we will say it again, vertical gardening is your friend if you're looking to make the most of a small space. And this Hyllis shelving unit (above) is just a tenner from Ikea – or you can go for a larger piece (also Ikea). Style with plenty of plants to ensure you maximise the potential of your outside space.
15. Pick furniture designed just for balconies
Amazing! Look how much a of great set up this is, and in such a small space too. And this Argos Home Space Saving 2 Seater Balcony Bistro Set is just £60! You just really easily hook this table over the edge of your balcony or terrace and voila, you have a dining area with the tiniest footprint! See, you can have an alfresco breakfast like all the Instagrammers in even the smallest of outdoor spaces. It completely folds up too, so when it's not in use it basically takes up zero room.
Read more: