We will be the first to confess, that to us, all too often a balcony becomes a bit of a dumping ground. A place where dead house plants, unwanted furniture, and long-forgotten about half-drunk cups of coffee live out the rest of their sorry days. However, we are going to practice what we preach and give our balconies, no matter how diddy, the attention they deserve this spring, and actually start making the most of these tiny square inches of outdoor space we have been blessed with.
And what better place to start than taking to Instagram and getting inspired by what amazing things fellow small-space dwellers have managed to achieve with their small balconies? These beautifully bijoux spaces prove just have much can be done with limited square footage, especially as a cute extension of a tiny indoor garden...
1. Inject some color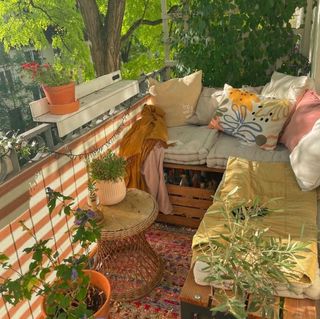 This small balcony just fills us with joy, and outdoor spaces should do exactly that! Even when the weather is a bit drab, injecting some color into your balcony is always going to make it feel slightly brighter.
Start with just a few accent pieces — think cute patio furniture like a bold chair or a patterned outdoor rug and some cushions — to add pops of more vibrant hues as Anna of @dielenliebe has done in her space. You can use plants to add color too, we know simple lush greenery is forever trending, but don't be afraid to make braver choices and bring in colorful blooms or fruit trees to your balcony garden. The earth will thank you for it too!
2. Cozy up your space with plenty of textures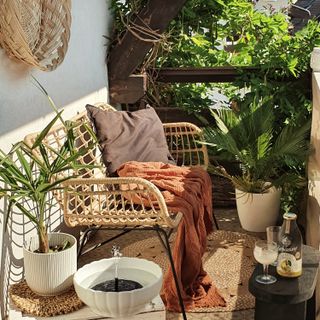 What you'll notice with a lot of these small balcony ideas is they all tend to layer up the textures. Treat the space like you would your living room or bedroom, you'll want it to feel cozy and inviting. Think wall hangings, rugs, cushions, and even curtains that will soften up the balcony and make it feel more like an extension of your indoor living space.
Susanne of @s.u.s.a.p (be sure to check out her grid if you are a Scandi interiors fan) created this lovely little setup mostly by bringing pieces she already had inside out. "I reuse, recycle and shop my home when I decorate," explains Susanne. "Our balcony is covered, so I often hang decor on the wall that I also use inside the house, like a secondhand basket. Some jute rugs on the floor make the balcony tiles pleasant to walk on — they get hot in summer and feel freezing in winter. My collection of plants adds in some greenery and completes the look."
3. Throw down a stylish (temporary) floor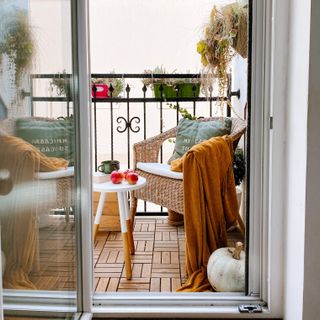 This is a great tip if you are dealing with an outdoor rental space. Sprucing up the flooring of your balcony will be a game changer, so stop trying to clean off the decades of dirt and just put down some new decking.
New decking sounds expensive and a pretty big job right? But hear us out, because of course IKEA has come through with an affordable, rental-friendly solution. The RUNNEN decking tiles grace the balconies of renters the world over as they can be put down easily and taken up easily too. The simplest way to give your balcony a total transformation in just a few hours.
4. Take the Parisian approach with a tiny bistro set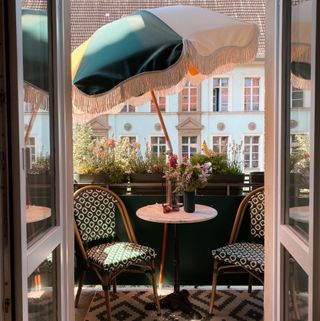 When space is tight on a small balcony, any outdoor furniture you choose has to work hard. Not only does it need to be compact and practical, since inevitably it's going to dominate your space, but it also needs to look amazing too.
Case in point, this gorgeous space by Maria-Silva of @ponysailor. Recreate these dreamy Parisian vibes with a super chic bistro set and use your setup to bring in some sort of pattern too. Wayfair has a ton of similar options that look like they were pinched straight from the sidewalks of Paris.
And can we give some attention to the parasol too, please? The perfect addition to any small balcony wanting to recreate the European city vibes.
5. Make it foldable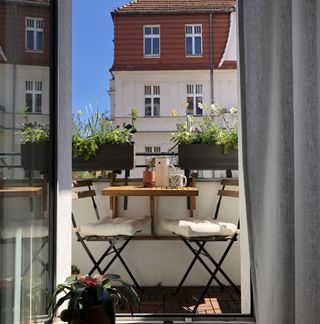 Balconies are often narrow spaces, it comes with the territory. So usually a full-sized table is not an option if you actually want to be able to move around the space. Enter folding tables. There when you want them, gone when you don't. This was stylist Igor Josif's way of working around his teeny balcony.
"The most crucial question for me was how to create something cozy and inviting despite the very small space," says Josif. "I wanted to use the tiny balcony also as a seating option where you can enjoy a summer breakfast or a relaxed after-work drink and snacks," he explains.
"I researched small and foldable balcony furniture and combined these with two bigger planters and a few smaller plant pots with seasonal flowers and herbs. Once these were set up, I like to accentuate the look with either candles or string lights for the extra touch of coziness. It basically turns into a tiny restaurant balcony that you feel excited about." Here for it.
6. Arrange your plants at differing heights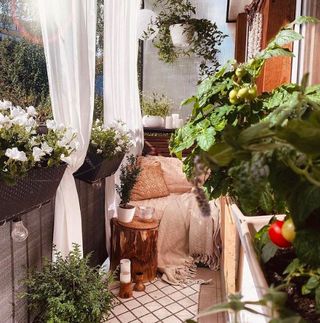 All interesting spaces have depth in common. And by that, we mean the eye doesn't instantly focus on one single spot or thing but rather you are drawn in and around the room. Now with a small balcony, you don't have endless space for decor to play with as you might do inside, so instead use your greenery just as Mika Lavien of @mika_lavien_home has done here.
Rather than say, lining the edge of your balcony with window boxes, creating a very obvious place to draw the eye, scatter plants in different shapes and sizes around the space, varying their positioning also. Have some at eye level, some at floor level, and some hanging from above. Try out vertical gardening or container gardening which are both ideal for adding a ton of interest to a smaller space. Not only do you get that fabulous jungle-like feel but it will make your small balcony feel much bigger too.
7. Add style (and privacy) with bamboo fencing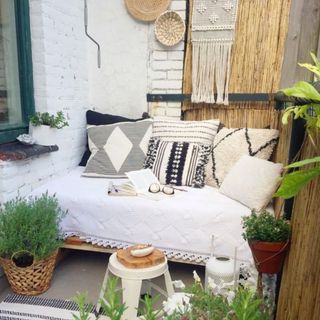 Another great one for renters who can't do anything too permanent. Bamboo fencing is cheap and easy to install. It just comes in rolls that you can cut down to fit your space and can cover all manner of sins, be it an ugly wall or unaesthetically pleasing balustrades. Plus, it will give any size balcony a warm, boho feel.
If privacy is an issue in your apartment, or if you just want to create a cozier space, be inspired by Konstantina of @konstantinasnest's cute fencing and line your outdoor space with a wicker or bamboo screen. Target has some super affordable options!
"My home and my style are mostly inspired by my Mediterranean lineage. I love neutral colors, natural texture, and a few boho-influenced touches. Details are everything, I decorated with what I use in my daily life. Hats, throughs, books, glasses, and of course pillows," she explains.
Konstantina encourages us to make use of the entire space. "Be smart in decorating it. Small balconies need smaller and less furniture, simple lines, and clever sizes." You don't want your balcony to feel cluttered and overwhelming, but rather airy and cozy: like a natural extension from the inside of your home.
We've rounded up the best apartment balcony privacy screens if you want some more inspo.
8. Bring the outside space in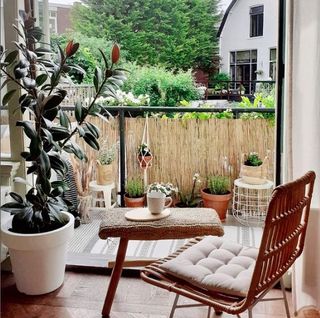 In the same breath, when space is really tight, don't try and squeeze all your furniture onto the balcony, instead "borrow" space from inside to create a seamless flow between the indoors and out.
This gorgeous balcony setup shows how you can even create more of a view by having bulker pieces of furniture actually sitting within the apartment, leaving the balcony itself a little more open and lovely. The house plant is cleverly positioned also, blurring that line between indoors and out to make the outdoor space appear much larger than it truly is.
9. Choose light and airy furniture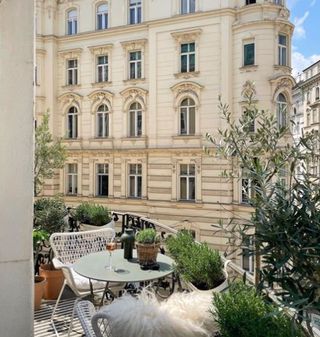 And by that we mean, stick to designs that are slimline and where possible allow light to flow through. This way you won't add too much visual bulk to the space and the eye will almost travel through the furniture to make your small balcony appear larger. Case in point, this lovely space by Svenja of @seventeenandfive.
Note the string chairs and thin frame of the chic table; how neither block any light or cut off the rest of the balcony. This works especially well in long narrow spaces, where you want to see clearly along the entire space. We LOVE the Mediterranean vibes going on here too. Olive trees really are one of our fave plants for a small balcony, and they are surprisingly hardy.
10. Bring in select larger pieces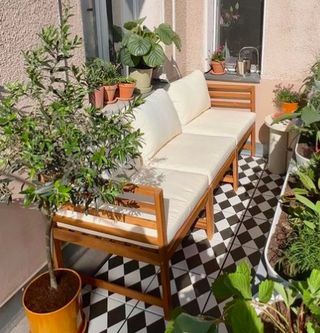 Then again, if your balcony is a little more enclosed like @saraheartmann's lovely space, don't shy away from choosing a larger piece of furniture like a sofa to comfortably fill the space. Then use plants to soften the edges and you'll see how this approach can actually make a small balcony feel so much bigger.
11. If in doubt, fairy lights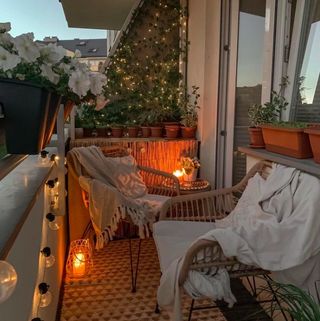 Ah, fairy lights. Our favorite way to make any space, quite literally sparkle. String up as many as your small balcony can handle and just watch how they can transform the smallest of areas.
Take Marzena of @what_makes_me_enjoy's approach, who has made her small space even more inviting with fairy lights on every wall. More is more we say... And if you have the head height, string them up above your balcony too for an extra cozy feel.
12. Consider custom-made pieces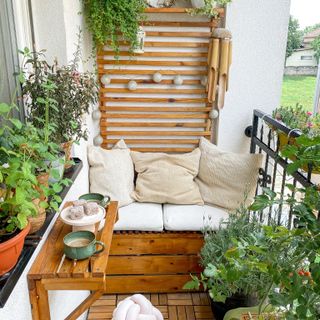 When space is tight or awkward in any room going for custom-made or built-in options will help maximize the room you do have. And that applies to small balconies too. Take note of how Tanja Sovulj of @tanjasovulj has really made the most of her outdoor space by building a bench into the wall. This space would be totally taken over, even by a compact bistro set, so making the most of an unused corner with a cozy mini sofa is such a clever use of space.
"We have a small balcony, only 2.5 square meters. When I thought about how to arrange it, I imagined a spa oasis full of greenery," explains Sovulj. "Greenery was a must, because we live in the city and look at another building. We needed a place to sit, so my husband and I made a wooden box that will serve both for sitting and for storing things. We also made a wooden folding table, which we fold when not in use to have more space. Wooden floor coverings make the space warm, the same as wooden planks on the wall."
The slats above the bench not only soften the balcony walls but offer an area to add some character using plants, lights, and mirrors — adding to this outdoor living room vibe. You could easily DIY something similar in your own space (check out our attempt at a DIY outdoor sofa for inspo), but if your handy skills are questionable, IKEA does its own version of this look.