Give your outdoor space a welcoming glow this season by trying out a few key backyard light ideas. There are so many choices - from multicolored festoons and path lights to those that hang from trees and dazzle us with their ambience. You can create different looks with different style lights - boho charm with candles or a sophisticated pool party style with modern lanterns. There's something for everyone whatever size space you have, so check out our selection of the best outdoor lighting below.
1. Add that welcoming touch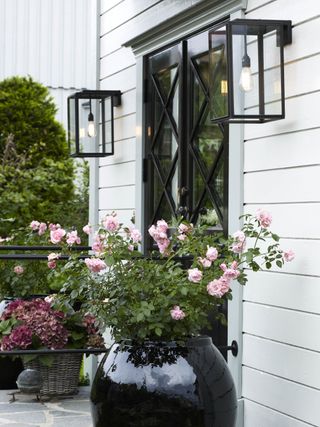 Fumbling for keys in the dark is not ideal and nor is not having a lovely welcoming glow to greet your guests when they visit - so investing in one or two front door lights is so beneficial. Crafted in the UK by skilled craftsmen using centuries old techniques, this brass Portico wall light in an antique finish with glass panels, also meets the nationally recognised standards related to the safety of products in the US and Canada.
2. A cheeky chappie to hide in the undergrowth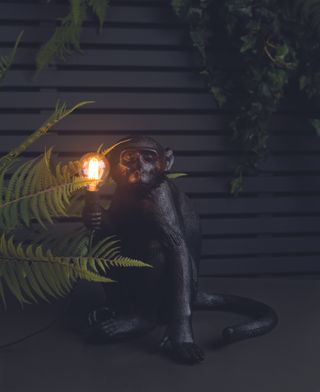 Sometimes a spot of fun is what's needed in the garden especially if you have kids. This chap is called Montyand he is adorable and cheeky and can be used both inside and out. He can peek out from behind a tree whilst illuminating a path - what's not to love?
3. Rope style lights for a path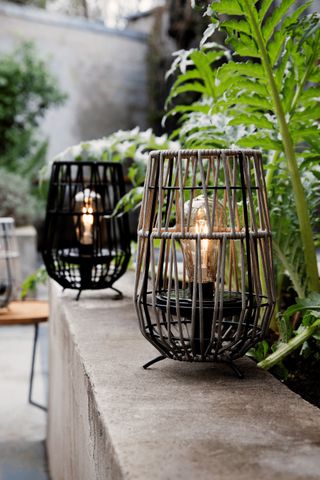 Add texture with these striking LED solar garden lights crafted from rope, they come in two colors - black and natural and emit a warm white light from the solar bulb that has an amber filament. Charge them during daylight hours and they will light your backyard for up to 8 hours, they do have an on/off switch if you want to preserve the charge.
4. Poolside style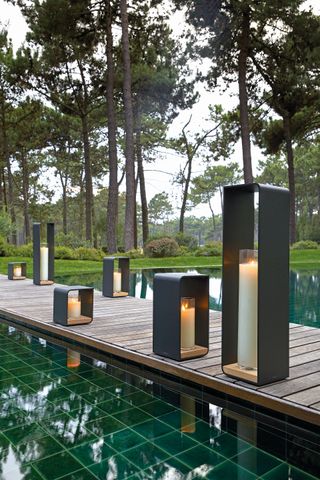 Swim under candlelight with these stunning flame garden candle holders. Uber stylish, you can place as many as you like along the pool, or use them to line a pathway or porch.
Made from ultra robust powder coated aluminum they are built to last and each come with a scented candle in a glass jar. There are three sizes to choose from and they come in white or lava with a teak insert at the bottom.
5. Use every inch of your backyard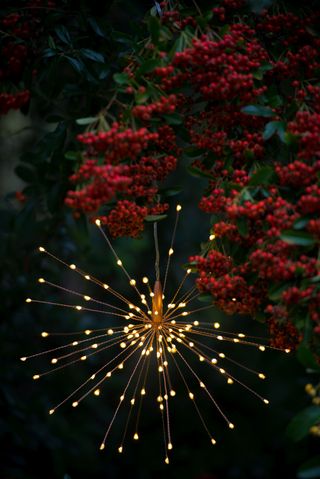 This battery operated starburst hanging light can be hung from a branch or a hook in your backyard or porch. It has 120 warm white LEDs and you can use it inside when the weather turns cooler.
Another useful feature is that it has a built in timer - so you can have it on for 6hrs and off for 18hrs so you can enjoy it without worrying about turning it off.
6. Go for drama on your porch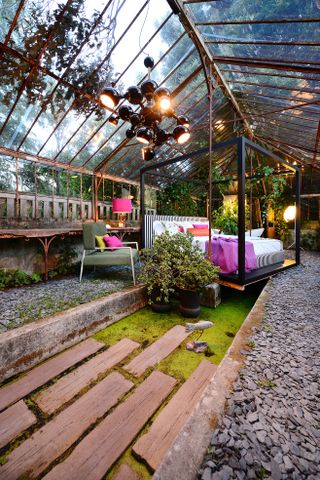 This Atomic pendant will dazzle your guests this summer with it's modern design and interpretation of an atom. It's ideal for a modern style porch and can also be used inside.
Crafted from aluminium and brass it's shown here in black but also comes in white which shows off the gold powder paint detailing.
7. Use a trad design for a classic porch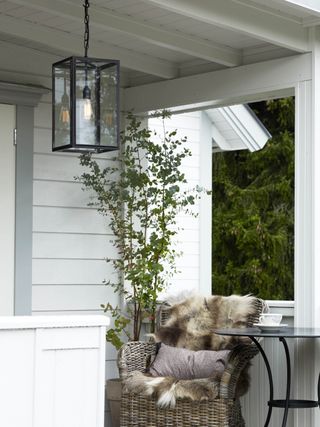 This splendid square pendant is made from weathered brass and is externally glazed. It comes in three sizes and is suspended on a weathered brass hook with 1.5 metres of chain. You can adjust the height so it perfectly lights your favourite spot for relaxing on your porch as the sun goes down.
8. Pendant lights are so useful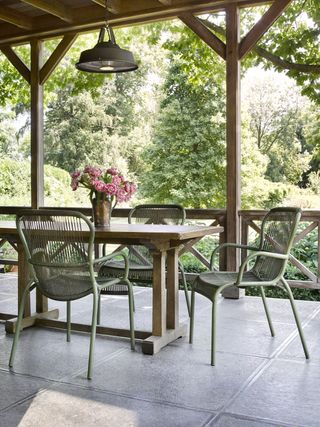 Metal pendant lights have been around for a good few years now and it's easy to see why - they're classically stylish and very adaptable to different spaces. If you don't have a backyard but simply a covered porch or sun spot, then you can use it above your dining table to create an ambient feel for your guest. For a similar design try Home Depot's Globe electric black barn light.
9. Get your festoons out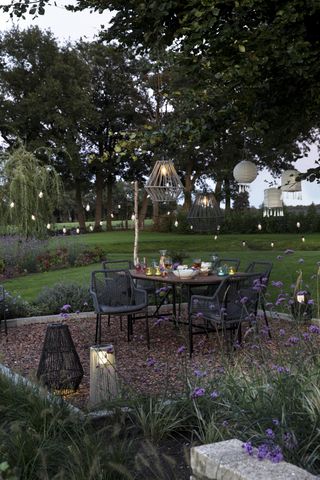 Hands up if you love a festoon light? They are so adorable right? We love how versatile they are and you can hang them up so easily from hooks to branches to illuminate special family gatherings over the summer.
This LED light bulb string has 9.5m of black wire with 20 warm white LED bulbs that have clips so you can use them to attach with too.
10. Don't forget step lights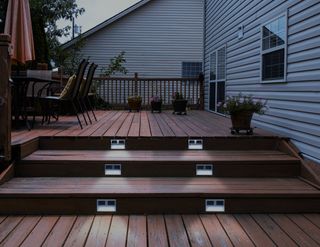 No tripping up your steps with these designs! They are solar powered LED deck lights that can be used in damp locations - always a bonus!
They will light up your walkway and stairs and each unit will automatically illuminate during the evening and then solar power back up during the day.
11. Light and cool – a winning combo!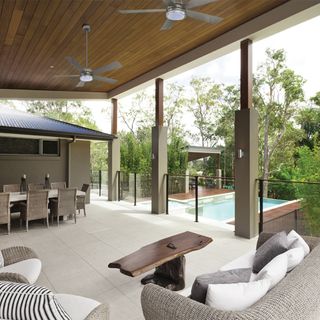 Poolside relaxation can get warm, so invest in a smart fan that looks trad but is actually super smart. The Wynd 5 outdoor LED ceiling fan comes in four weather-resistant finishes as well as a 316 marine-grade stainless steel for harsher outdoor climates. It emits an LED light as well as keeping you cool AND it can be operated with the Modern Forms app which will pair with Google Assistant, Amazon Alexa, Samsung Smart Things and Ecobee.
12. Consider a floor lamp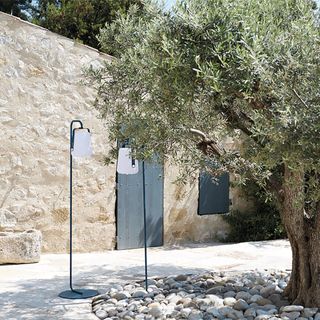 Garden lighting tends to be either hanging or placed on the floor, but have you ever considered a floor lamp? It's a design we often only use in the house, but this Balad upright stand from Fermob will shine a subtle light on your alfresco table as part of your outdoor living space.
Made from steel and available in four colors, it has a high protection treatment for outdoor use and an anti-UV powder coating.
13. The portable option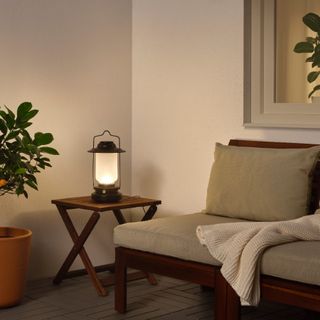 This STORHAGA table lamp from Ikea ticks two handy boxes - firstly, it's dimmable which we believe is always a useful feature, and secondly, it's portable. Both are ideal for backyard use and can be used inside too.
It has a battery that will give you 12 hours of light if fully charged, though it does take 7 hours to charge, so bear that in mind if you want to use it for a good few hours without the cord. Its design harks back to the old kerosene lamps from the past - but without the hassle!