You've got your beautiful garden lighting ready: maybe you've stocked up on strings of fairy lights, or invested into some good-looking lanterns. Or perhaps you're thinking of wiring some lighting into your deck? Whichever type of lighting you've decided on, now is the time to turn your attention to planning how and where you'll be installing it. 
We cover everything in this guide, from the best places to position your garden lighting, to which types work best in what areas of the garden. Want more visual inspiration? Check out our garden lighting ideas. To choose best quality lighting, check out our buyer's guide to the best garden lighting. Or, for all other garden shopping needs, head to our sourcebook of top garden suppliers. 
1. Work out where to position garden lights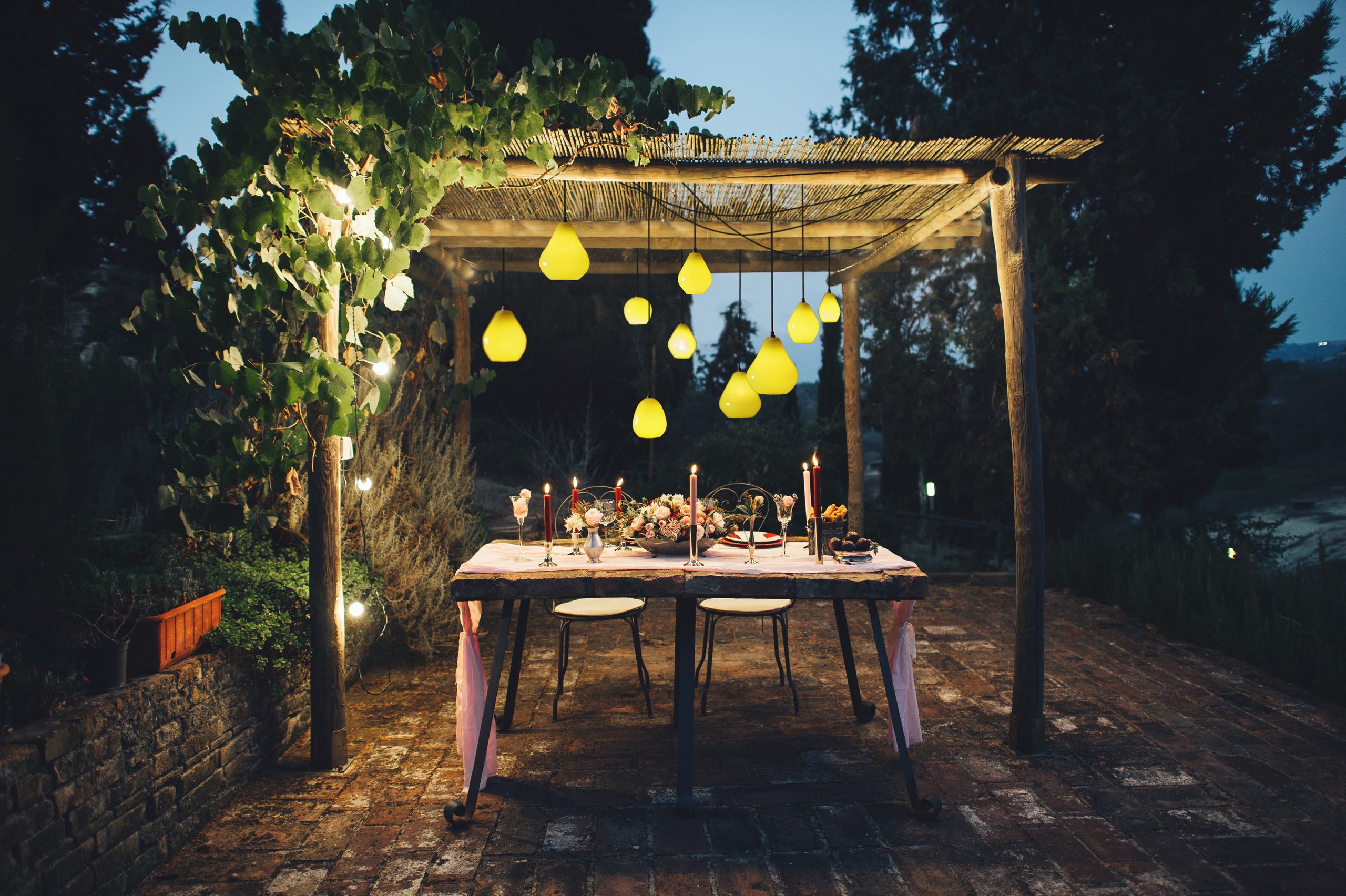 The best thing about garden lighting is that you can focus attention on plants and sculptures and totally ignore an unsightly shed or children's trampoline that you may only just manage to ignore during the day. The secret, however, is not to overdo it – only illuminate your garden's best bits, as a little light goes a long way in the dark. 
Zone your garden
Garden designer and TV presenter Chris Beardshaw advises, 'Consider the many different forms of light at your disposal and break the garden down into areas. For instance, access paths, major routes, secluded areas and decorative features and statement plants all require the most illumination, but will need different treatment for the best results.'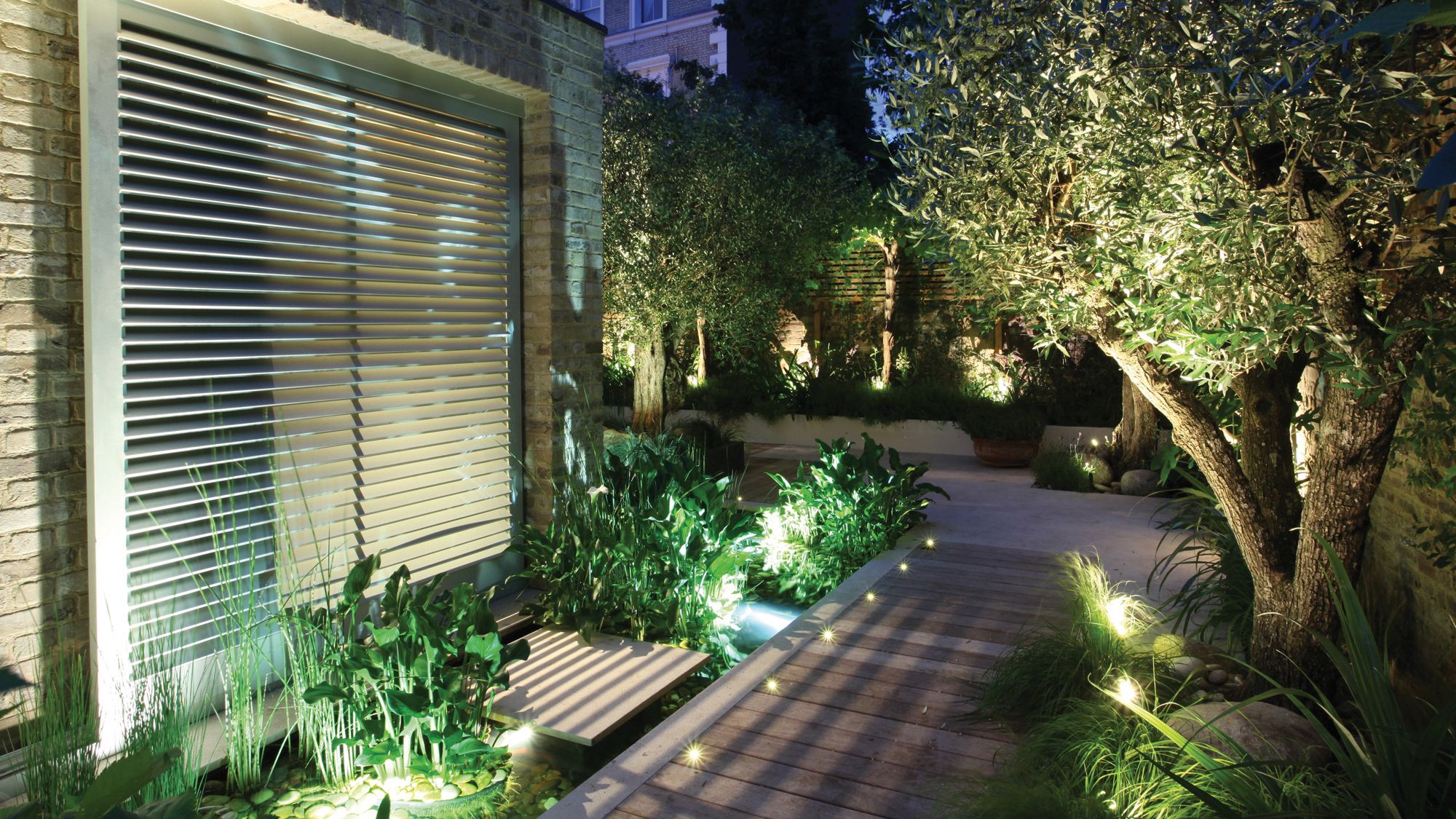 2. Experiment with a torch
Garden design expert Matt James recommends: 'To work out which areas of your garden will look best lit up, take a torch out at night and experiment by shining it on different features, such as trelliswork, statues, pots and plants with an architectural form. All of these will look different when lit from various angles.'
3. Uplight trees
'Try uplighting trees, especially those with interesting bark, like the Tibetan cherry and silver birch. To create maximum impact, position a 50-watt spotlight close to the base of the trunk so the beam creates a play of shifting light and shadow up through the branches of the tree.'
4. Use spotlights to highlight features
'For another novel lighting idea, try positioning a spotlight at the base of an old brick or stone wall and see how the light grazes the wall above and throws the texture into sharp relief.' Try a similar trick with wall lights at shoulder height (above) to highlight a contemporary space and to provide practical illumination from one part of the garden to another at night.
5. Create drama with a projector
'A plain wall at the back of a border can be transformed into an outdoor projector screen by positioning a spotlight in front of big architectural plants like New Zealand flax or tall ornamental grasses, such as Miscanthus Flamingo. When the wind makes their silhouettes shimmy against the wall, you'll have your own black-and-white movie.'
6. Conjure up an atmosphere
Fairy lights (above) are particularly effective at creating a magical mood in a garden. Drape them above French doors so they can be seen from indoors and out, or around dining areas to create soft mood lighting.
7. Treat outdoors like indoors
Pendant lighting for the garden, usually suspended over a garden dining table is an effective way to help blend indoor and outdoor spaces, as is placing a standard lamp (below) designed to be used outdoors next to garden lounge chairs.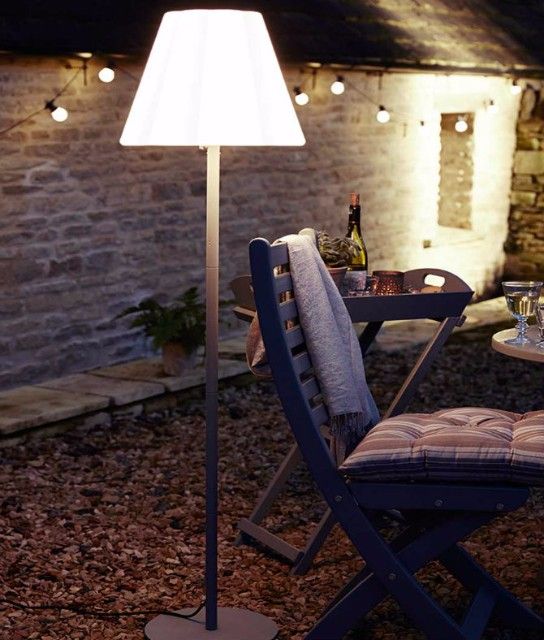 8. Light up the barbecue
If summer for you is all about having friends round for a barbecue, you won't just need to consider lighting up a garden dining or lounging area – you'll also want to brighten your cooking area, too. Think task lighting in this case; a well-placed spot that won't throw a shadow over your grill will do the trick.
9. Illuminate beautiful foliage
Make the most beautiful natural features of your garden stand out: if you have a gorgeous mature tree with interesting shaped leaves (a Ginkgo or a fig tree, for instance), put a string of fairy lights or festoons lights through the canopy. The effect will be truly spectacular, especially when the leaves begin to change colour in autumn. 
10. Buy the best garden lights
There is a vast range of garden lighting to buy. Putting aside the designs though, what do you need to know about garden lighting types, before you buy?
Fluorescent outdoor lights: flood lighting and security
Fluorescent lights are the most common lights for gardens. Most designs have 12-volt halogen reflector lamps that use less energy and are therefore more environmentally friendly. For flood lighting and security, choose large halogen beam spreads, but go for one with a PIR (passive infrared) sensor that can be turned off manually so that it doesn't waste energy or ruin garden get-togethers.
LED outdoor lights: long-lasting spot lighting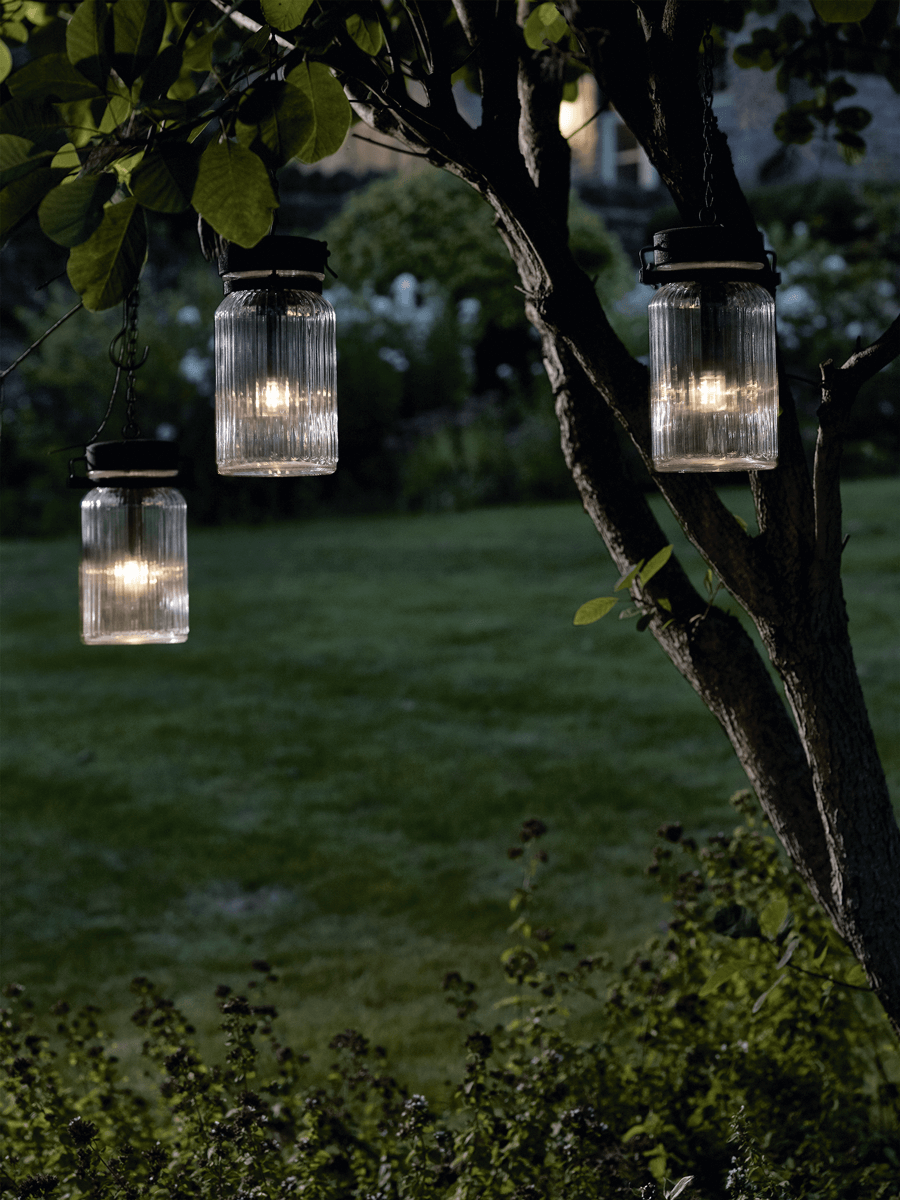 LEDs (light emitting diodes) are popular as they are particularly useful for long cable runs, and can be used almost anywhere: in step lights, as recessed spots in paving and decking, even under water spouts and fountains. Some LEDs come in different colours and there are others where you can programme the colour to suit the mood. You will pay more for LED lights than standard fittings, but the bulbs last a lot longer and the fittings are more discreet. Permanently coloured lights are best used in moderation and specifically in areas where a distinct focus or style is required.
Fibre-optic outdoor lights: a soft glow
Fibre-optic lights for gardens are fairly new and cast a soft ambient glow, making them perfect for highlighting steps or decking. DIY kits are relatively cheap, though if you opt for a professional to fit them, it will cost more compared to installing LEDs or conventional fluorescent lights.
Solar-powered garden lighting: for the eco conscious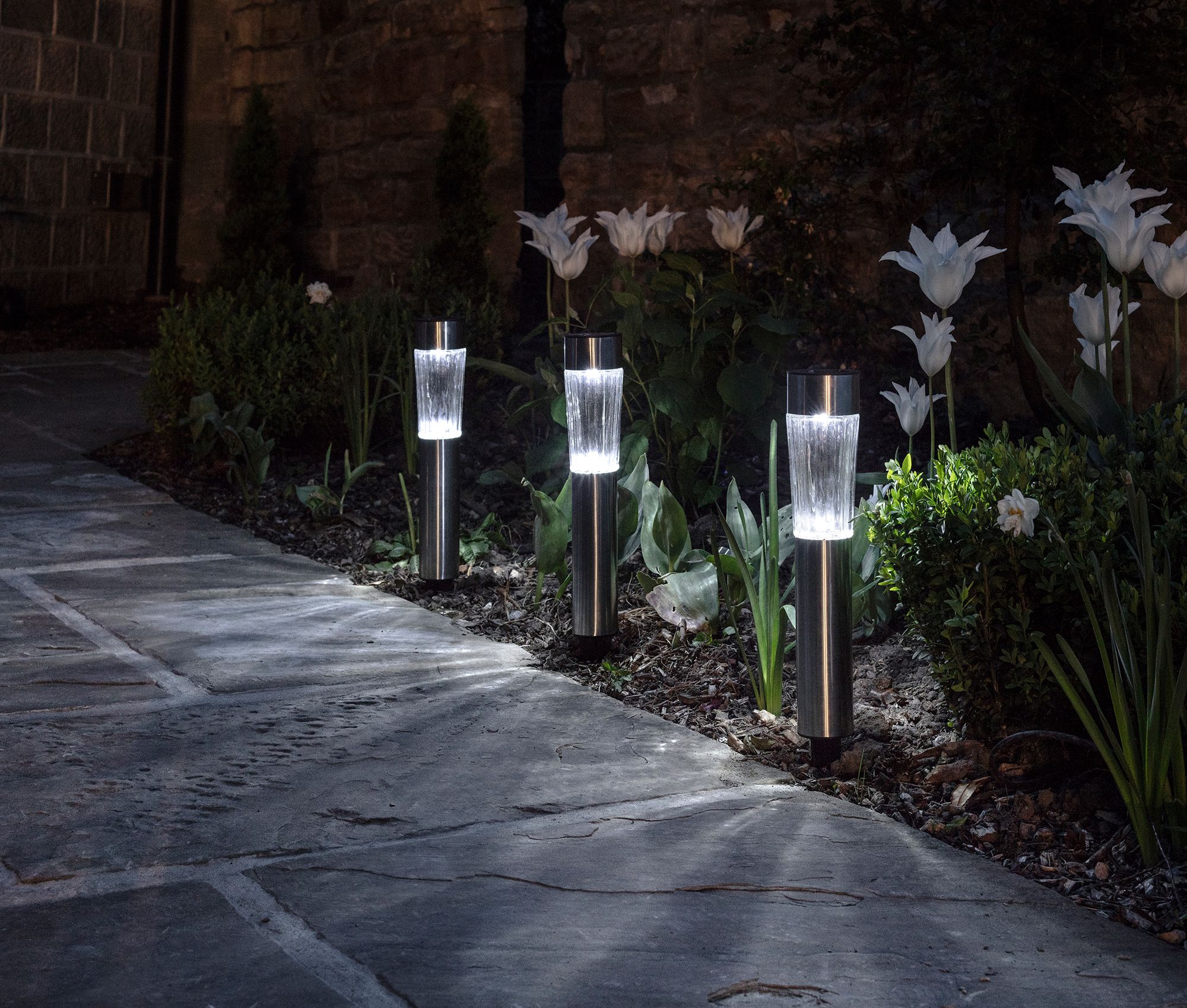 Solar-powered lights are good for the planet and they won't require any electrical skills to install them – perfect if you want to create an eco-friendly garden. Solar lighting offers great versatility and cost effective illumination. In terms of performance, they used to lose out to more powerful, traditional options, but this is quickly changing. 
Chris Beardshaw says: 'LED and solar powered lights are creating a revolution in garden lighting as both are increasingly becoming available in hugely diverse styles, economically and with low maintenance requirements. Of course both are also efficient in light production, with solar lights now offering up to six hours of illumination.'
Candles, lanterns and fairy lights: to set the mood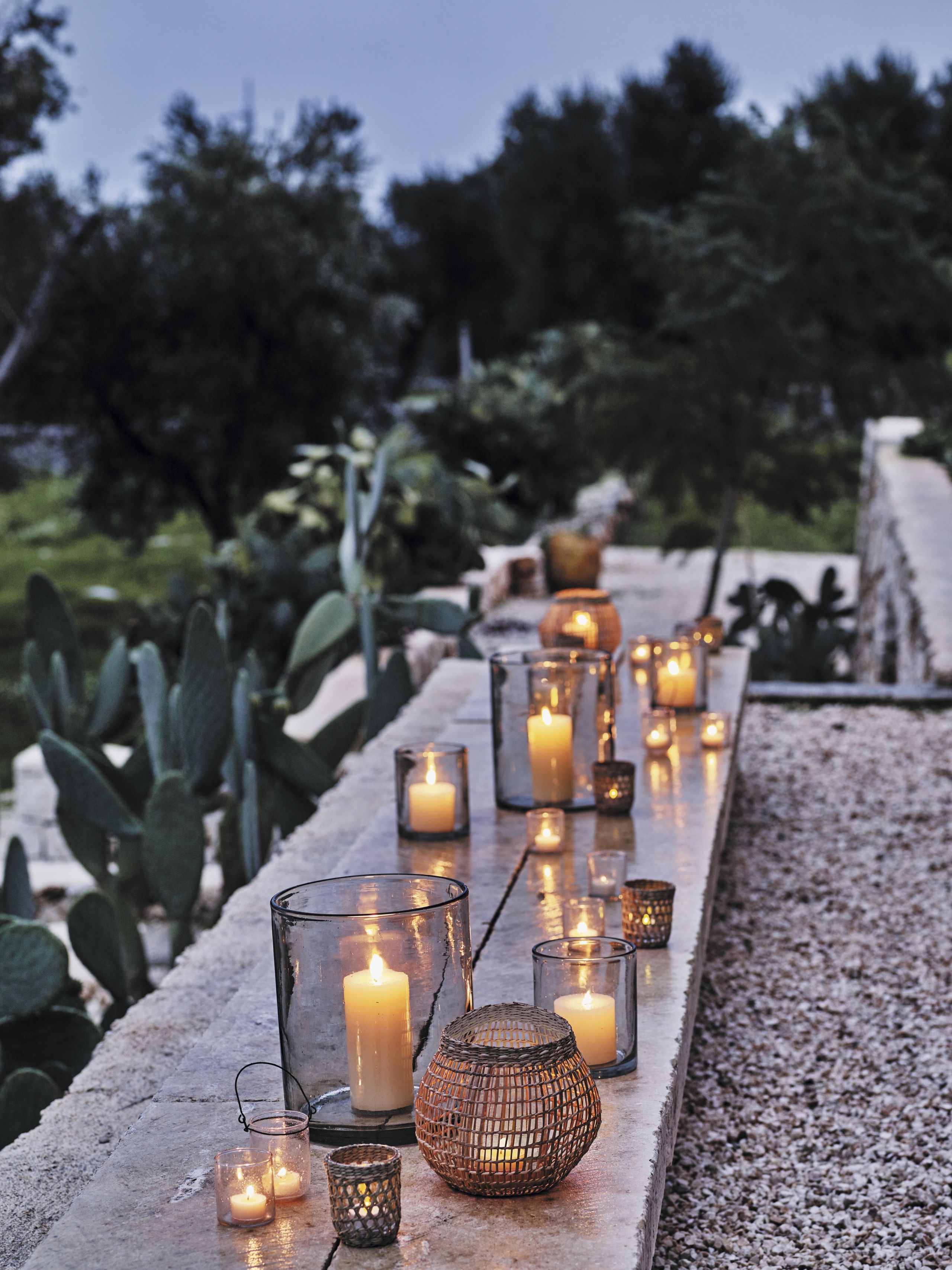 It's also worth experimenting with temporary outdoor lights, whether it's for a summer garden party or a way of extending the festive Christmas spirit to your outside space. Wrap twinkly lights around arches and arbours, or drape them through trees or even pots and baskets. A warning, however: although some party lights can be left outside all the time, others need to be brought in when it starts raining.
Improvised lights can also look far better than you might think, and what's more they cost mere pennies and are very environmentally friendly. Tealights in old baked-bean cans or jars look great when used en masse. You can even paint the outside of jars with special glass paints for a stained-glass effect if you wish, and DIY stores stock bags of 100 tealights for less than £10, making them an easy and affordable way to enjoy your outdoor space throughout the winter months.
11. Integrating security lighting into your garden 
Security lights, such as porch lights, offer a high intensity flood light effect that is unflattering for a garden and those using or viewing it. However, careful positioning of security lighting combined with the use of more ornamental lights throughout the garden creates not only a more aesthetically rewarding effect, but also aids the security by illuminating the whole garden in a variety of ways.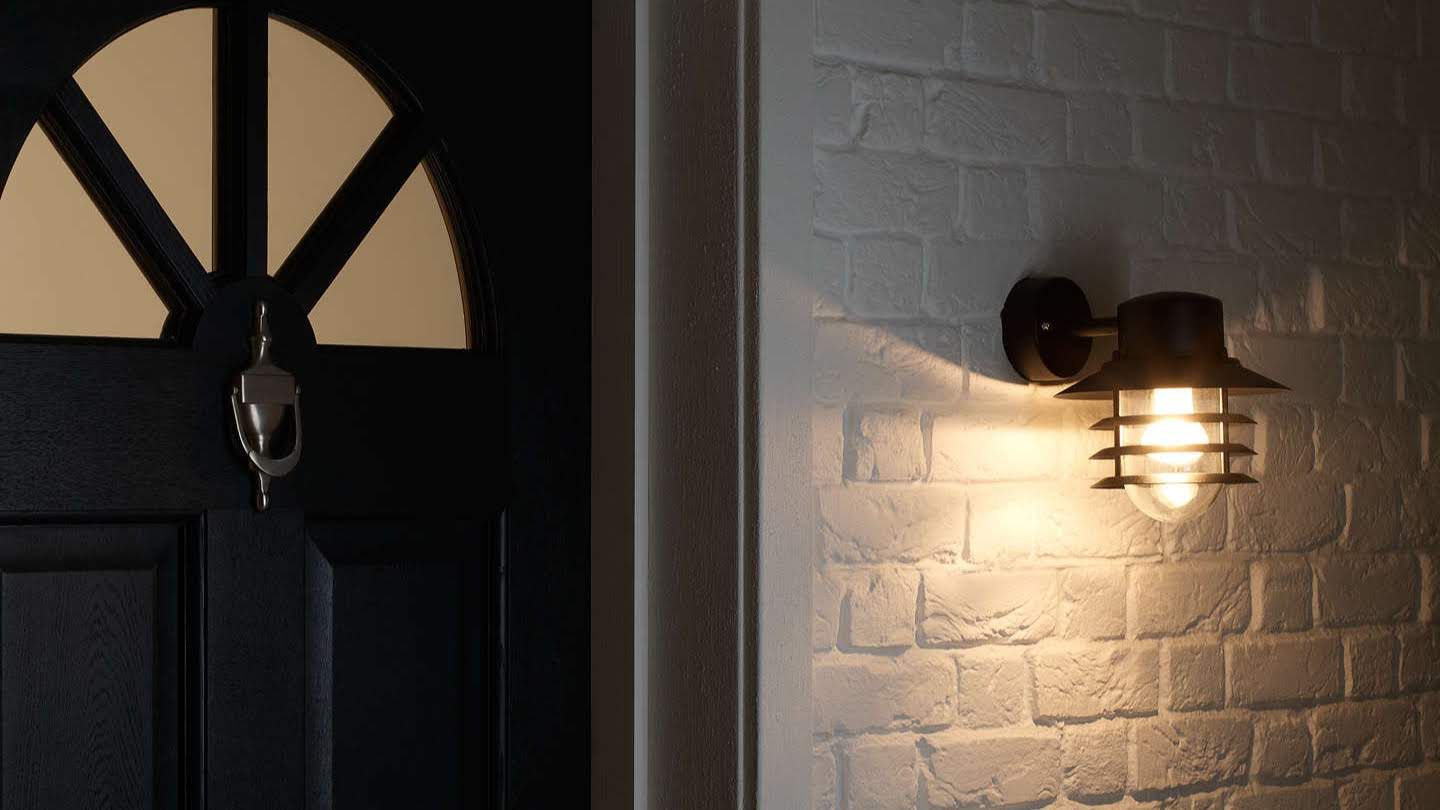 12. How to install garden lighting
Garden lights either work directly from the mains or through a transformer that provides a 12 or 24 low-voltage current. Both will need a qualified electrician to install them, but it is possible to fit some of the smaller low-voltage sets yourself once the power supply, usually a waterproof socket with an RCD (residual current device), has been fixed outside by a professional. Of the two, low-voltage lighting is best: it's far safer, there are more fittings to choose from, it's easier to install, and you can move the fittings around more readily. 
Working out the size of the transformer you'll need to install is easy. Simply multiply the wattage and number of individual lights (bulbs) you want to use in your new lighting scheme. For example, four 30-watt lamps will require a 120-watt transformer. However, it's always a good idea to go for a transformer that is larger than you think you'll need, so in the future you can add more lights or up the brightness of the bulbs without the hassle of upgrading the transformer.
Read more: