These are the kitchen storage ideas that will actually make a difference. Because your kitchen needs to work hard at being a breeze to cook in and a joy to be in. If you're looking for style inspiration for your kitchen as a whole, you can discover all our kitchen ideas in one useful feature.
No one likes clutter, and the kitchen is a space that can't be confusing to navigate, so we've put together an edit of our favorite kitchen storage solutions for you to try for yourself, from kitchen cabinet storage ideas to nifty IKEA storage hacks.
Experts at Magnet Kitchens explain more, 'Functionality is what transforms a kitchen into something spectacular. As well as an aesthetically pleasing space, your kitchen should work for your lifestyle requirements and individual needs.'
'Storage is a significant part of creating a functional space. Even in the smallest of kitchens, the right storage can make it simple to cook meals, socialize, and spend time with your family. It can also make your kitchen feel more spacious, uncluttered, and enjoyable.'
From modern 'The Home Edit' style techniques, to classic clever and efficient ways that work just as well now as they did back then, you'll be able to find what works for you.
These achievable and affordable ideas will not only save time finding what you need when it's time to cook, but they will look good too.
Jump straight to...
Looking for design know-how? Take a moment to check out our kitchen design advice piece. It's our ultimate guide to everything you need to know, when you're starting from scratch!
Kitchen cabinet storage ideas
The configuration of your cabinetry – drawers, cupboards and shelves – is a big consideration when choosing the best kitchen storage solutions to fit your design.
Once you've got the interiors right, you can really concentrate on its looks.
1. Choose drawers as well as cupboards
Forget about having to stoop and rummage through a cabinet for that colander/grater/lasagna dish. Pile everything neatly into drawers, instead.
This kitchen storage idea is both easier and tidier – especially if your drawers range in size, from slim (for cutlery) to medium (for kitchen linens) and large (for pots and pans).
We love fitting dividers in our kitchen drawers to neatly wrangle pan lids, plastic containers and cake tins.
Experts at Magnet kitchens explain, 'Drawer storage is the second most crucial factor to consider when designing your new kitchen. Be sure to include plenty of drawers for your cookware, utensils and other items.'
'You may want to think about including dividers to keep your items efficiently stored. It is also a good idea to include drawers of varying depths for extra flexibility.'
Again, this is where our good friend pegboard comes in handy as you can line the bottom of the drawer with the board, using dowels to separate items.
2. Consider modern looking clear food bins
Not only will clear food storage boxes for a well-organized pantry or kitchen cupboard be an absolute treat to the eye, but it will also mean that you are less likely to overbuy or let food go to waste.
When you can see – and reach – everything you need, cooking and storing food becomes so much easier.
Clear food jars are a must, but we love the tiered shelves that make the most of a deeper cupboard. And, those lazy Susans are super handy for stowing similar items like spices and sauces.
3. Pick storage with sliding doors to save space in a small kitchen
Looking for kitchen storage ideas for a small kitchen? A cabinet with sliding doors provides the perfect place to throw general kitchen clutter when you have guests coming over.
If you have a very small space, you will also find that a sliding door is easier to negotiate than standard cupboard doors when they are flung wide open.
There's plenty more where that came from over in our small kitchen storage ideas feature.
If you like the idea of sliding doors on your cabinets but you want a mix of open and closed kitchen storage why not copy this kitchen cabinet idea and have sliding doors that can slot individually across the entire run?
In this kitchen, designed by Cream & Black, the cabinet doors run along a rail so you can switch up which areas they cover.
4. Think about the more niche kitchen storage ideas
If you're investing in a whole new kitchen, think about those extra features that will help to keep your worktops clear. Narrow storage for chopping boards or baking trays will keep them out of the way of prep areas, without cluttering cupboards. You might also want to use small nooks for bottle racks or even a bin cupboard.
This kitchen by Olive & Barr includes clever integrated storage for trays – a savvy alternative to keeping them out on your work surface, collecting dust.
Check out how in this Ikea kitchen, their Vadholma units have been used to add specific storage for drinks bottles and cooking books. Useful and looks cool.
Need a bit more space for your ever growing collection? Maybe think about adding a wine room or wine cellar...
5. Add slide-in crates for fruit and vegetables
Even the most luxurious kitchen needs to be functional. Keen cooks will know that a lot of fruit and veggies do much better when stored out of the fridge, but how do you store your veggies in a sleek and smart kitchen?
Well, Smallbone of Devizes have found a practical and good-looking kitchen storage idea – bespoke crates that slide right into the open cabinet shelves.
If this gorgeous kitchen takes your fancy, you are going to want to go and check out our luxury kitchen design ideas too.
6. Incorporate a smart corner unit for recipe books
Kitchen cabinets tend to come in standard sizes (unless you go bespoke) meaning you might have a little extra room at the end of the run of cupboards. If this is the case, a slim bookshelf is the perfect kitchen storage idea as it will maximize the space and keep your favorite recipes nearby.
When it comes to clever kitchen storage ideas, multifunctional furniture including book storage should never be overlooked. This Roundhouse kitchen does just this, creating a neat shelving unit perfect for showing off those cookery books.
7. Built-in storage to house smaller items
Even large and luxurious kitchens can suffer from clutter, and it's small items such as keys, notes, and magazines are usually responsible for the untidiness.
Keep your kitchen serene and clutter-free with a clever storage solution, such as this brilliant built-in key and magazine rack by Guild Anderson.
8. Add interest with glass door cabinets
It's all well and good hiding away your unsightly clutter, but a kitchen made up of just solid walls of cabinetry risks becoming a bit bland.
Incorporate some glass fronted cabinets too, to break up the rest of the cabinetry and pick out your nicest bits of crockery or glasses to display – it's an easy way to add load of interest and personality to the space.
9. Blend in a slimline cabinet
What a fab kitchen storage idea – a slimline countertop cabinet that doesn't stick out into the room but still has ample space for glasses, cups and more.
Painting it to blend into the walls is a nifty trick too as it helps in fit even more seamlessly into the room.
10. Remember to make the most of space inside your cabinets
The configuration of the inside of your kitchen cabinets can make such a difference to the amount of storage you can squeeze in.
Even if you aren't designing your kitchen from scratch you can still add in drawers and shelves to make everything more accessible.
Freestanding kitchen storage ideas
Freestanding furniture is one of the most popular kitchen storage solutions in homes with limited space or wonky walls.
The flexibility of an extra workstation can be a huge help if you're a little short on worktop space too, or could use another place to store heavy cast ironware. Keep reading for all our freestanding kitchen storage ideas...
And if you want any more tips on designing a freestanding kitchen, check out our feature.
11. Use vintage finds as freestanding kitchen storage
When you are looking for kitchen storage ideas, don't forget that many great storage options are not kitchen specific – some solutions look equally at home in a dining area or living space, making them well suited to open plan spaces.
If you're designing a vintage kitchen, or a homely traditional kitchen, it doesn't get much better than a characterful kitchen sideboard to accommodate stacks of plates, glassware and table linens.
Sideboards were popular in Mid-century interiors too and become fashionable again, so you can find some great second-hand versions in charity shops or at auctions.
Check out more vintage furniture ideas with our guide to storage for period homes.
12. Add extra kitchen storage with a kitchen island
What's not to love about a kitchen island? They look great and are one of the most clever kitchen storage ideas going, so if you've got the room go for it.
You don't even have to have one built in, there are loads of free standing kitchen island ideas out there that can fit seamlessly into your current space.
13. Pick out freestanding industrial-style kitchen storage
The industrial-style kitchen is favored by many homeowners as it can work well in both old and new homes.
What's more, it works best when everything doesn't match, meaning you instantly create an eclectic look that can adapt with your kitchen storage needs.
Look for repurposed storage from workshops, greengrocers or even factories, or hunt down crates and rack shelving to keep everything tidy.
14. Use a kitchen trolley for (maneuverable) storage
Something of a chameleon in the kitchen, kitchen trolleys are as suited to life as a butcher's block as they are as a spot for vegetable (or wine) storage.
This Black Metal Kitchen Trolley from Not On The High Street is a great example of a piece that packs a punch in terms of functionality – hello, sturdy table top and storage space – while working as a beautiful piece of furniture in its own right.
15. Invest in a free-standing pantry
If you love the idea of a walk-in-pantry, but just don't have the space, you can still have somewhere to hoard your ever-expanding collection of chutneys and sauces.
A free-standing pantry will provide plenty of kitchen storage, plus they look gorgeous. We are obsessed with this pink one from Neptune.
You could of course get the look on a budget by turning an old cupboard into a freestanding pantry. See they do make for very stylish kitchen storage solutions...
16. Add a sideboard to your kitchen
If you need some extra kitchen storage and a bit more worktop space that's not going to take up a ton of room a slim sideboard can be a great addition.
The are also a great place to add some décor to your space too as a sideboard is begging for a vase of flowers and some cute prints.
Plus note how this one is painted in an accent color to match the pantry – making the blue and red combo feel more cohesive.
17. Squeeze in a butchers block
A butcher's block is a great addition to a kitchen, they look lovely, bringing that rustic vibe, but they also add extra space to prep, plus drawers or shelves for more storage space.
Again, have a look of eBay for something second-hand if you are after something authentic that's not extortionate.
Built-in kitchen storage ideas
Why built in?
Experts at Magnet explain, 'As well as your cupboards and drawers, you may want to look for in-cabinet storage solutions to make your space even more efficient.'
'Items like shelf inserts, dividers, pot organizers, spice racks, carousels, and more can make your kitchen more comfortable to use. These can help when you are looking for ideas on how to organize kitchen storage.'
Doing so won't just create a more streamlined, hygienic kitchen, it'll help you make the most of every inch of space, too – which means it's the perfect option if you are designing a small kitchen in particular.
18. Design a streamlined kitchen
Concealed kitchens are a big interior trend. With living spaces getting smaller and storage getting smarter, clean, minimalist kitchens are getting increasingly popular.
Items that once cluttered worktops – kettles, plug sockets, knife blocks, even taps and sinks – can now disappear into flush cabinets and uninterrupted surfaces to make the most of all space available. Nifty no?
Perfect for open plan kitchen diners or for small kitchen design, they are great for creating a streamlined look in a contemporary kitchen, too.
19. Got the space? Add a pantry
Pantry storage can be a thing of beauty that helps you organize your space to make it feel bigger and neater. If you have got the room, factor in a separate area in your new kitchen's design for a larder – and you can check out our pantry organization piece to show you how to organize your pantry and keep it all super-beautiful.
No room for a dedicated walk-in pantry? No problem, there are loads of freestanding pantries that you can try.
20. Zone your workspaces and kitchen storage
We all tend to keep our cleaning products (see our must-have list) under the sink, and maybe have a rack of condiments and oils right next to the oven, but have you zoned your storage to match your workspaces?
Where practical, it can be a great idea to try and give each area of worktop a dedicated role. Maybe you have a favorite place for food prep near the sink, but you like to bake with a view into the garden? Either way, keep the utensils and ingredients you need in cupboards close-to-hand.
If you are entertaining in your kitchen, think about this too. Make sure drawers of spare crockery are close to hand, or glasses are always within easy reach.
21. Make space for a laundry room
Not a kitchen storage idea per se, but if you are in the stages of planning a kitchen extension, you will kick yourself for not including a dedicated space for doing the laundry. A laundry room will not only keep white goods and noisy appliances out of the kitchen, but also provides space to hide away all of your cleaning products.
It doesn't need to be huge – enough space for the washing machine and a few shelves will be practical and help declutter your main kitchen. Check our guide to planning and designing a utility room for more tips.
22. Transform an old fireplace into kitchen storage
While not all of us are blessed with a fireplace in our kitchen, you could copy this look in a disused alcove or any awkward space you have in your kitchen.
Anyways, for those of you that do have something similar in your kitchen, installing some shelves to create some handy book storage.
Kitchen wall storage ideas
Utilizing your walls to add kitchen storage is a great idea if you are working with a small space.
Even if you have been blessed with a large kitchen, having stuff on the walls (open shelving, spice racks, etc.) adds interest to your kitchen while still adding plenty of extra storage.
23. Choose modular shelving systems for an adaptable kitchen storage idea
For minimalist interiors, modular shelving is a nice fit. Customizable and flexible, these storage systems can be dressed up or down to suit any kitchen style. What's more, the shelves can be moved around to adapt with your storage needs.
Scandi brand String provide different storage options; the system pictured includes accessible shelves for pots and pans, as well as multiple rails and canisters for stashing utensils. You can also find similar modular shelf systems at Ikea and look out for Elfa shelving.
24. Display kitchenware on open shelves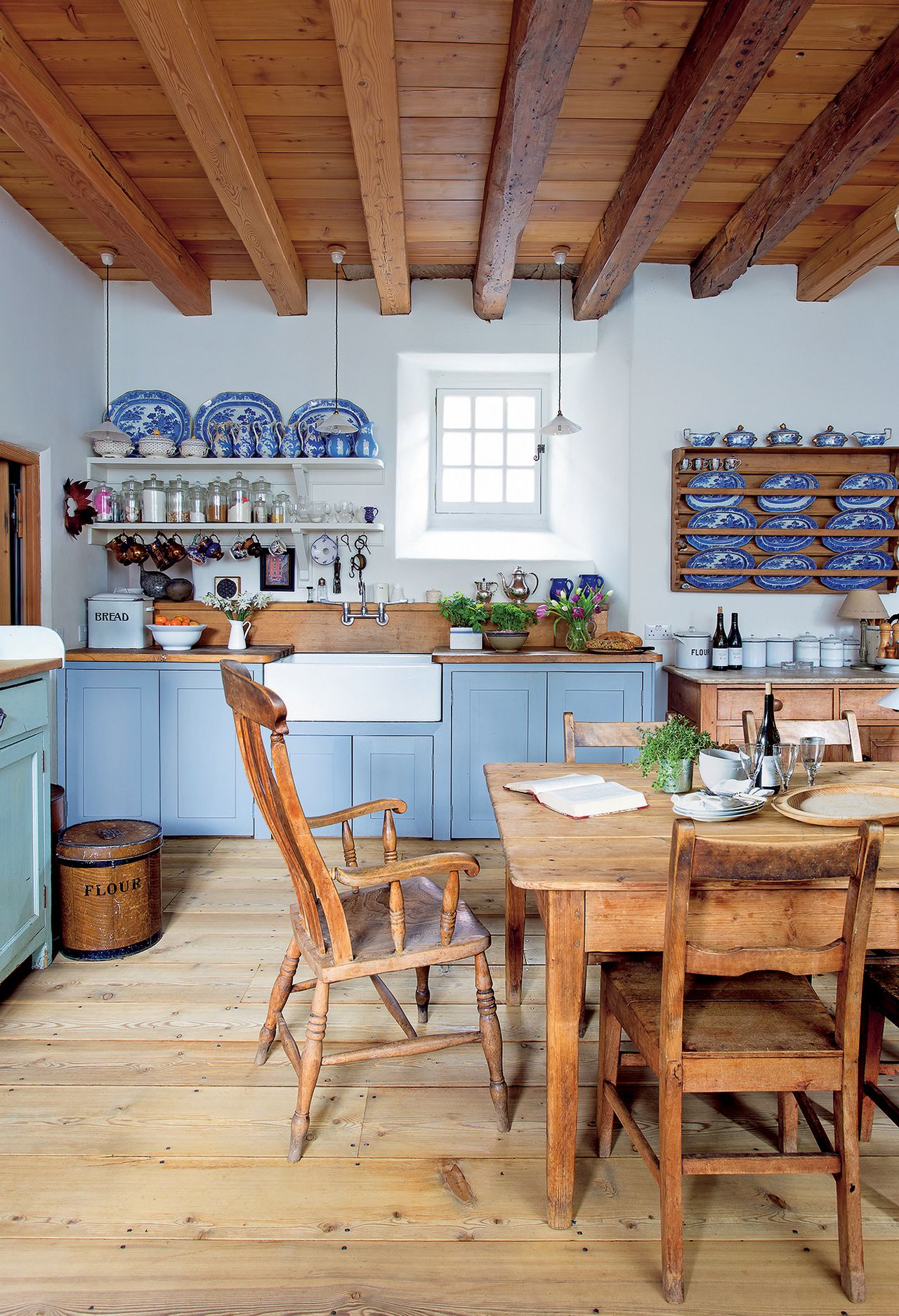 If modular shelving is too open for your kitchen storage needs, you can still put your favorite possessions on show by including open shelves or glass doored cabinets.
Including cube open shelving units is a nice way of breaking up walls of cupboards, while providing enough room to offload those cookery books, spare vases and random ornaments.
25. Add shelves above and around your kitchen windows
While a window may mean a break in cabinetry, you can still use the space around the window for shelving. A slim shelf above the window is a great storage option for small items.
Or, if your kitchen happens to feature a generous windowsill, use that for storage too. Colorful utensil containers, potted herbs and dishwashing accessories can all live here.
Fancy trying your hand at hanging shelves? This how-to should help:
Find the right spot: Consider the weight of the shelf and what you intend to store on it.
Use a stud finder to see if there's stud in the wall you want to hang the shelf which will give the shelf extra support. If you find there are no studs, use drywall anchors.
Use a level to lightly mark the wall where you want to hang the shelf.
Position the shelf brackets along the bottom of the shelf and mark inside the holes so you exactly where to drill holes.
Use a screwdriver or a power drill on low speed mode to drill starter holes for the screws. Don't put screws all the way in.
Remove the screws and put the bracket in place, using a drywall anchor if needed.
Insert screws again until bracket is secured to wall, making sure not to overtighten.
Et voila!
26. Hang utensils to save drawer and cupboard space
Suspending a rail above your worktop is a fast, easy, cost effective and one of the most clever kitchen storage ideas in our eyes. This is the perfect way to hang those awkward pots, pans, measuring cups and sieves that often clutter up your cupboards.
The slated shelves in this kitchen have butchers hooks hanging from them, doubling up the storage. It frees up the kitchen drawers and makes a feature of practical items.
27. Choose a pegboard to keep essentials handy
A simple piece of pegboard makes one of the best kitchen storage solutions as it will save you valuable time in the morning. Use it to store your keys, baking utensils or those elusive kitchen scissors. What's more, it can be adapted with your changing storage needs as you can not only use it for hooks, but also to create shelves.
Pegboard organizers can be bought from a number of retailers, but you can also buy pegboard and dowels from your local DIY store to make your own.
28. Add racks and rails to up your kitchen storage on a budget
Creating a stylish kitchen on a budget? Smaller kitchens need plenty of clever but affordable storage that won't waste valuable floor space. So, look to the walls and see where it might be possible to squeeze in a rail or perhaps a high up rack that you can hang utensils from.
Ikea are, as always, full of smart and thrifty small kitchen storage ideas and produce a number of stainless steel and powder-coated rails than can be simply fixed to walls. You can then add hooks or even small buckets to hold all manner of items.
For example, rather than taking up valuable countertop, why not hang a washing up caddy above the sink?
29. Customize your wall shelves to suit your needs
Know exactly where everything is and keep everything at hand with some customized wall shelves.
The owner of this gorgeous kitchen (check out the full tour of this retro kitchen for loads more inspo), built their shelving based on what it was to hold. Knives? Spoons? Tortoise ornaments?
You could actually DIY a couple of these really easily, just drill some holes that are wide enough for spoon handles into some floating shelves, and you are sorted.
30. Turn an awkward corner into something practical
Got an awkward corner of your kitchen that doesn't really work because no kitchen cabinet will fit? Fill it with shelves!
No matter how weirdly shaped the space, a good carpenter will be able to work with to to create something that can be used as extra storage – this wall in curved and the wall storage is still going strong.
31. Create a dedicated coffee station with wall shelves
Has your obsession with coffee grown to the point that you need a dedicate section of your kitchen to your fave drink?
We love the idea of creating a little drinks station where you store the kettle, the coffee machine(s) and all you fave mugs on display.
You could use a kitchen trolley for this and then wall mount some shelves above to keep your cups, mugs and drinks.
Kitchen storage accessories
Kitchen storage accessories are important for keeping the small stuff neat. They're a must-have in all kitchens for practical reasons but they need to be good-looking as well as functional if they are to be on display.
Here are a few of our favorite kitchen storage solutions for tiny spaces – but check out our Mason jar DIY storage and display ideas piece, too.
32. Hide the small stuff in jars and tins
For open shelving, invest in attractive canisters for utensils, and jars for pulses, grains, teas and ground coffee. Not only will this eradicate unsightly packaging, but helps keep ingredients fresh.
Choose glass for the likes of pasta, rice and cereals so you can see when you need to restock. Storage jars are also another way to add pattern and interest to a neutral kitchen scheme.
33. Quickly double your kitchen cupboards' capacity
If the shelves in your kitchen cupboards have large gaps between them, use Ikea shelf inserts to create extra levels and practically double the space you have.
A clip on basket can also maximize space, similar ones are available from John Lewis.
34. Organize your tins and jar into drawers
Kitchen cupboards can be the place where tins and jars go to die. Bite the bullet and have a sort out of all of all your cans, spreads, tins and condiments.
Anything with a label that resembles 'Sarah's Christmas Chutney 2009', get rid. Store what's left of your cull in drawer organizers or a tin dispenser so you can always see clearly what you've got to work with.
35. Add kitchen storage to the back of your door
We've said it before and we will say it again, don't forget to put the back of your kitchen door to good use.
This space is easy access, so store things like smaller snacks or frequently used spices – you can just grab them and go without have to wrestle with a mountain of tins.
Door storage unit from Elfa.