Love your wine and live in a spacious property? If you have accumulated a substantial collection of wine, it's time to start thinking about adding a wine room or wine cellar. It's not all about ease of navigation and impressing your guests, either: wine, in order to keep, requires stable temperature and humidity levels. A wine room is a worthwhile investment if you are a connoisseur and, especially, if you buy wine as an investment. Follow our guide to building a wine room or cellar and be assured that your prized rare bottle will not spoil.
Don't quite have the space? Check out our 5 best wine fridges.
Is a wine room or cellar right for you?
'In higher-end properties, a wine room, wall or cellar is becoming a must-have,' says Andrew Speer, managing director of Cellar Maison. 'The owners enjoy drinking fine wine and entertaining at home, and they appreciate the practical and aesthetic advantages of having their wine stored safely, as well as beautifully showcased.'
Larger homes may incorporate both wine on show that is ready for drinking and a cellar for long-term storage. And real wine connoisseurs will also want a cellar suitable for hosting tastings.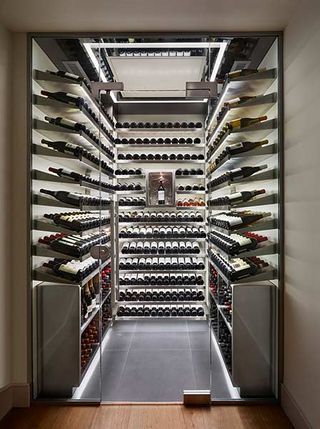 Consider humidity, temperature, and light exposure
'As well as controlled humidity and temperature levels – which is essential for vintages to be stored for more than a few months – wine needs to be protected from sunlight,' explains Michael Holmes.
'Exposure to UV light can cause wine to age prematurely, which is why it is traditionally stored in a cool, dark cellar. It is best kept lying down with the cork fully covered by the liquid inside – this has the added bonus of maximising space efficiency when you're planning how to store it.'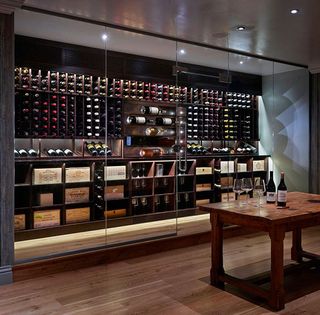 The main types of wine storage
There are three main types of wine storage to consider for your home, as Lucy Hargreaves, managing director of Spiral Cellars, explains:
Spiral cellars – built from concrete and fitted into the ground below a property, these can be installed under any ground-floor room, and can either be fitted cleanly into a finished room or as part of an extension/refurbishment project.
Wine rooms – bespoke spaces allowing wine to be artfully displayed and kept in the best possible conditions. Wine rooms are installed in an existing space and can be made from any material you like, ranging from contemporary glass and steel to traditional wood.
Wine wardrobes and wine walls – made-to-measure cellaring for smaller spaces or feature walls. These don't have to be on the ground floor and are ideal for concealing in a garage or laundry room.
Wine cellar maintenance
Wine cellars need very little looking after, although the climate control system should be serviced every six to 12 months. It's also important to keep proper records for each bottle you have.
'There is a range of specialised software for this, including our personalised online wine portfolio management platform, which combines inventory and search tools with tasting notes, market data and other important information to give you a full spectrum wine management tool,' says Lucy. 'Importantly, it will help you keep track of when the wine actually needs to be drunk!'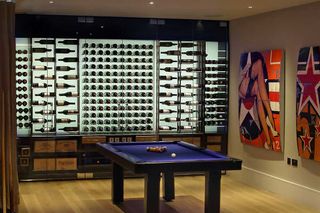 How much will a wine room or cellar cost?
A bespoke, glass-fronted chilled wine room or a spiral cellar will cost from £20,000-£50,000, including VAT. A smaller wine wardrobe starts at £12,000. Spiral Cellars' Build Your Own Essential Cellar option starts at £8,850, plus VAT.
Constructing a new cellar below an existing house will cost £2,500-£4,000 per m² – so a 32m² cellar, with a new stairwell, would be £80,000-£128,000. Fitting the space with shelving and humidity control will need to be added on top of this.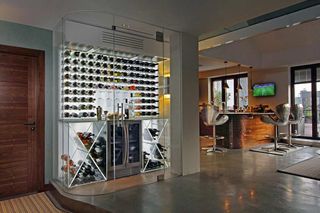 More wine-related reading: