If you're fed up because every time you open your kitchen cabinets you get greeted by being smacked in the face with food packets (we've all been there) then you need to buy one thing: a kitchen organizer. Okay, maybe you'd benefit from buying a few different kitchen organizers, but the proof is right here that these will make your life easier. And your kitchen less cluttered.
These genius kitchen organizers can help whether you have minimal cabinet space to work with so you'd like to use every inch of space in yours (totally understandably). Or maybe you like things to look categorized because... well it's aesthetically pleasing and it makes everything a whole bunch easier when cooking. One thing's certain: shoppers love them, and we highly rate them too. Whether your kitchen is small, or even if it's large enough to cook for and feed 10 in there.
How to help?
As you're supposed to do in your kitchen with types of foods and dinnerware, we've categorized these kitchen organizers by type. These are the most popular kitchen organizers people search for, and the products below come highly recommended by actual reviewers. We've also got plenty of small kitchen storage ideas for you to browse afterward.
15 genius kitchen organizers to help declutter your small kitchen
Kitchen utensil organizers
Why you can trust Real Homes Our expert reviewers spend hours testing and comparing products and services so you can choose the best for you. Find out more about how we test.
Keep your drawers looking tidy and your utensils and kitchen gadgets easy to navigate with help from these three genius buys. All are easy to clean and they should fit your drawer easily.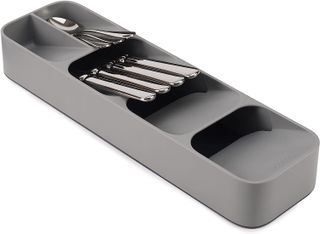 $11.99
1. Joseph Joseph DrawerStore
The best for organizing your cutlery
Size (in): H15.6 x W2.25 x D4.33
Made from: Plastic
A Real Homes team favorite, this is the ultimate buy to tidy your cute cutlery drawer. Before our drawer wasn't just untidy, it was overflowing with so many gadgets. Now, this divider stores forks, knives, tablespoons, and teaspoons stacked on top of one another rather than sitting side by side. Leaving plenty of space left in this drawer for things you might not want on your countertop.
Real Homes rating: 5 out of 5 stars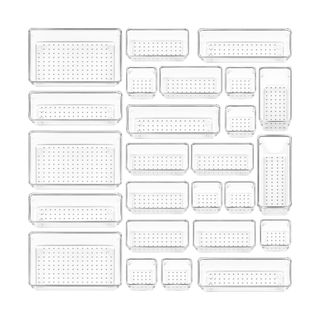 $20.99 for 25
2. Vtopmart Store 25-Piece Clear Plastic Drawer Organizers Set
The best drawer organizers
Size (in): L9 x W6 x D2 (max)
Made from: Plastic
Bulk buy this set of drawer organizers and use them anywhere, from your bathroom to your office or your kitchen. Fitted with non-slip pads, they'll keep your drawers looking neat and tidy. With 25 pieces included in this set from Amazon, you'll never run out of space again. The best part is that they're stackable and super easy to keep clean. Yes, they also work as a great bathroom organizer, too.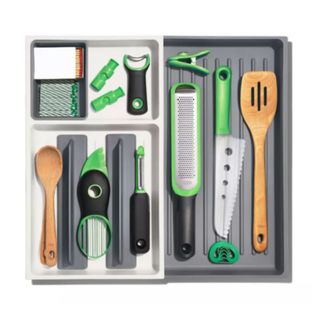 $21.99
3. OXO Good Grips Large Expandable Kitchen Tool Drawer Organizer
The best utensil organizer
Size (in): H16 x W8 x D2.5
Made from: Polypropylene
This genius organizer will fill your entire kitchen utensil drawer, and the best part is that it's expandable to suit all sizes drawers. It has dedicated slots for everything, from your bottle opener to your pizza cutter and your straw collection. It has removable parts to style how you like and however suits what you already own. We're a little obsessed with ours as it's so easy to keep clean and it doesn't slide around our drawer, either.
Real Homes rating: 5 out of 5 stars
Kitchen organizers for cabinets
Some things are naturally a little harder to store, but not if you have the right organizer! Enter a pots and pans storage solution, and something to help you keep those container lids in check, plus more...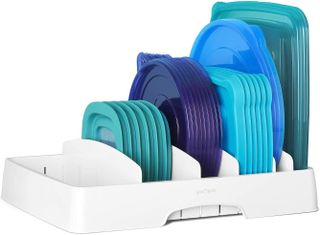 $14.75
4. YouCopia StoraLid Food Container Lid Organizer
The best organizer for container lids
Size (in): H3.3 x W13.2 x D10.4
Made from: Plastic
This clever organizer doesn't take up much space, but it'll keep your lids together and tidy. It has separate spots for different size lids, plus it's extendable, so it should definitely fit in your cabinet or drawer. A little more niche but 100% necessary.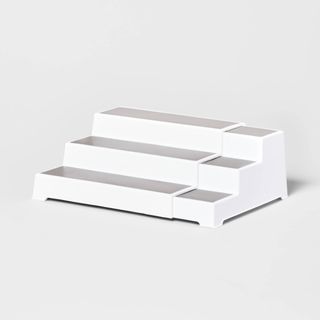 $12
5. Brightroom Expandable Shelf
The best spice rack organizer
Size (in): H4.7 x W9.9 x D14.2
Made from: Plastic
Thanks to this cleverly designed spice rack, you can store more spices using less space. You'll be able to see them all so you won't have to take every jar out when you're searching for a niche seasoning. This three-tier shelf expands to fit the width of your cabinet, too. You can also use it for sauces and can fill the empty space above with an undershelf basket.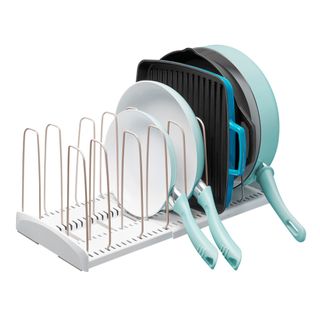 $39.99
6. YouCopia StoreMore Expandable Cookware Rack
The best pots and pans organizer
Size (in): H8.5 x W12 x D9.375
Made from: ABS plastic, steel
Yes, we've found a way to store your pots and pans without stacking them on top of one another and scratching them. This expandable rack sits in a drawer and puts your pans within reach. It also holds lids, and you can use it for baking trays, too. You can remove sections to fit the size of your cookware, and this way you'll never have to empty a whole drawer to find what you need.
Under sink kitchen organizers
Underneath your kitchen sink can every easily get overwheming. Especially if there's not already a built-in shelf under there. These under-sink organizers are an easy way to use up every inch of space, to store your cleaning supplies in style.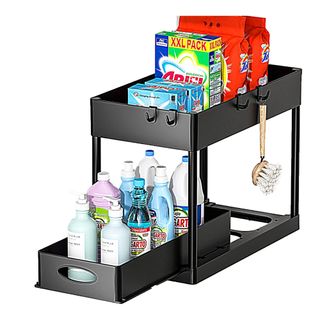 $24.99
7. PUILUO Sliding Cabinet Basket Organizer
The best under-sink organizer
Size (in): H11.6 x W8.5 x D15.5
Made from: ABS Plastic
Instead of a messy array of cleaning products scattered around in your bathroom or under your sink, keep them in this sliding under-sink organizer from Amazon for easy access. The two tiers mean you can store a lot of products in one place and keep track of what's in there. Plus, the sliding feature is satisfying, too.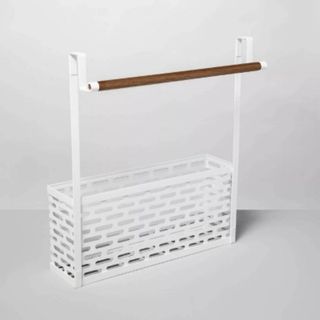 $16
8. Brightroom Punched Metal Over The Door Organizer
The best under-sink door storage
Size (in): H15 x W5.75 x D13.5
Made from: Iron
In order to use every inch of space in your kitchen, you'll need to put your cabinet doors to good use. This stylish organizer can help you do so in seconds. Hang it over your cabinet door and use it to hold cleaning supplies or extra bottles of soda. The best part? On the other side is a rail for your kitchen towel.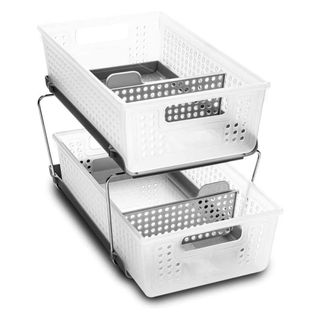 $22.99
9. Madesmart 2-Tier Organizer, Multi-Purpose Slide-Out Storage Baskets
Under-sink sliding storage baskets
Size (in): H9 x W10.63 x D14.38
Made from: Plastic
Highly rated by Amazon reviewers, this Madesmart organizer is the perfect solution for slotting under your sink. It has two tiers, both of which slide out and have handles. The baskets on each tier are breathable thanks to the holes, and they're easy to keep clean. If you have extra space, you can buy more than one to really maximize every inch of your under-sink space.
Kitchen countertop organizers
If you're all out of kitchen cabinet space, then it's time to resort to your countertop. These three solutions will help you store things on your countertop in style, without it getting too cluttered or taking up too much space.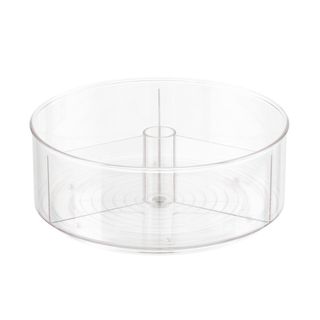 $21.99
10. iDesign Linus Divided Lazy Susans
The best lazy Suzan organizer
Size (in): D9 x H3
Made from: Acrylic
Use this lazy Suzan to display anything from spices to oils and even baby food pouches, all in style — and for easy access. Place it on your pantry shelf or inside a cabinet in your kitchen and use it to hold spices, sauces, and more. With five divided sections to categorize these items, this pantry must-have will make food prep ten times easier. Stainless steel ball bearings also mean it spins smoothly.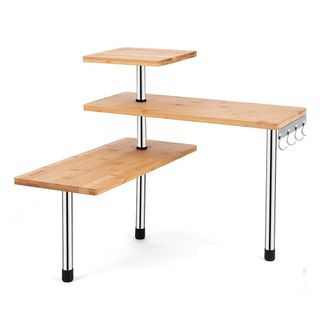 $41.99
11. HYNAWIN 3 Tier Corner Shelf
The best buy for extra countertop storage
Size (in): H15.35 x W16.93 x D16.93
Made from: Bamboo, metal
If countertop storage is what your kitchen is lacking then you need this eco-friendly Amazon buy. It adds three tiers to your countertop and it has hooks for kitchen towels, too. Place it in the corner of your kitchen to maximize space and showcase your favorite mugs. Place a plant on that top shelf to add more life to this space.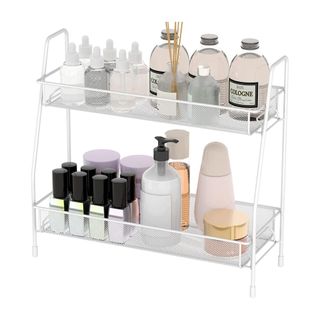 $18.92
12. Eknitey Bathroom Countertop Organizer Rack
Organize your oils
Size: H13" x W14.2" x D6.6"
Made from: Alloy steel
This wire organizer rack is a great buy for anywhere, but especially in your kitchen. It's easy to keep clean and any liquids that touch it will seep right through meaning they won't sit there. Its ideal for oils, spices, and other cooking bits if you don't have the cabinet space or prefer to keep them close to your stovetop. Or if you don't want to (or can't) wall-mount a shelf or two.
Kitchen organizer shelves
If kitchen shelves are on your lust[list but your landlord has said no (or you just can't be bothered) then these DIY solutions don't require a drill, and they can be used in seconds. Plus, they'll make use of space that's already there and probably unused.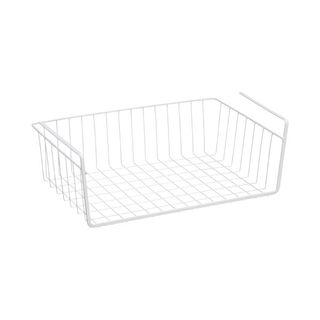 $12.99
13. Metaltex Medium Undershelf Basket
The best kitchen shelf organizer
Size (in): H5.5 x W12 x D10.25
Made from: Metal
If you have built-in shelves in your kitchen cabinets, then you need to buy a couple of these. They make the most of that annoying empty space and you can hold pretty much anything in the baskets. From extra mugs to your favorite sauces, choose from three different sizes and two colors and slide these onto your shelves for handy storage.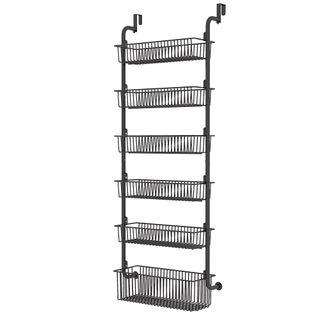 $34.99
14. COVAODQ 6-Tier Pantry Door Organization
The best small pantry organizer
Size (in): H16.73 x W8.39 x D6.97
Made from: Metal
Fake it 'til you make it with this pantry organizer that slides over your door — no drill necessary. This way, you can store your cans and more all within reach, and you'll make use of the empty space behind the door. It might not be the same as a walk-in pantry, but it'll do for convenience and affordability.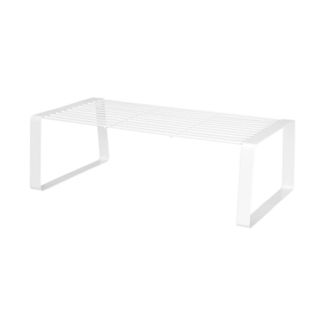 $11
15. Simply Essential Large Cabinet Shelf
Shelves for your shelves
Size (in): H5.7 x W18 x D10
Made from: Steel
Stay with us: These are shelves you put on your kitchen shelves to maximize their storage potential. You can use them on open shelving or inside cabinets. Either way, they'll help you fit way more in your kitchen. They're made of steel, and therefore can hold plates and other heavy kitchen buys. Lots of people use them for holding twice the number of cans, too.
---
FAQs
What are the must-have kitchen organizers for a small space?
If I had to choose three types of kitchen organizers, then it would definitely be a cutlery drawer organizer, under-shelf baskets, and something to hold your pots, pans, and lids.
What is the best way to organize a small kitchen?
We've got an abundance of kitchen storage ideas for you to scroll through and save for later, but in short, there are a couple of things you'll want to do now if you're looking to reorganize your kitchen cabinets and countertops:
1. Get everything out of your cabinets and put it on your countertops or on the floor. Clean out your cupboards.
2. Sort through what you have and put them into piles based on things that are similar. Put anything you consider an "extra" into a separate pile. For example, excess cutlery, pans, mugs, and plates.
3. Think smart when choosing where things will live. For instance, make sure your mugs are kept in a cabinet below or above your coffee maker. Put things that you use less (think certain types of glassware or serving plates) higher up.
4. Put anything you don't want on your countertops or open shelving into a cabinet. Stack anything that you can.
5. Place things you don't mind showing on your countertops. Make use of a storage container for a more seamless look.
6. Identify any empty spaces outside of cabinets that you can use, and look for an organizer that will fit this space.
7. Donate any unopened cans to your local food bank and take kitchenware you've not used in a while to your local thrift store.
How should I arrange my appliances in my small kitchen?
You're going to have to be space-savvy with appliances, which means that anything you don't use often will need to be stored away. Keep anything you use daily on your countertop and make use of corners where an appliance is square in shape. It's easy to make your countertops look cluttered with appliances, so you might want to give any that you rarely use to friends or family members. Or better yet: invest in multi-purpose appliances.
To hide wires, which can take up a deceptive amount of room on a countertop, buy a cord organizer (like these ones from Amazon) and stick them to the back of your appliance.
Where outlets are a problem, get yourself an extender that's not an eyesore (like this one from Amazon) as this means you can nestle your appliances together.
How we chose these small kitchen organizers
We carefully handpicked these organizers, based on customer reviews, price, and most importantly, how handy they really are. We've only included products that have lots of reviews from shoppers and a high star rating.
Where to buy a kitchen organizer?
If you're still on the hunt for a kitchen organizer for your space, then don't look any further. The retailers below have your back.
I've also listed some of my favorite Amazon organizers for your home, whether you're a Prime member or not.