Want to learn how to organize kitchen cabinets like a pro? Then you are in the right place. Let's face it, we all want to open up our kitchen cabinets only to be wowed by color co-ordinated kitchenware, groceries and what have you. But, achieving Home Edit-esque closed or open kitchen cabinets is often easier said than done.
With a little help from the experts, yours can be spick, span and sure to impress guests in no time at all. Plus, when cleaning out cabinets is such an essential part of organizing a kitchen from top to bottom, it's important to do it right first time.
How to organize kitchen cabinets properly
Firstly, you need to be ruthless and get rid of all any perishable items that you haven't touched in years. Those Pop-Tarts® from 2001, you're going in the trash. As well as any kitchenware you simply do not use, in any season, not even at Christmas... You'll be amazed to see how much room you can make simply by stripping down. Then, it's all about investing in some great organizational pieces to sort out what you plan to keep...
And, there are tones of other good kitchen storage ideas to put into play – think dividers, shelf risers, storage jars and baskets to name but a few – all of which make awesome canvases for all your great organizational work to come.
1. Sort out pots and pans with pull out mechanisms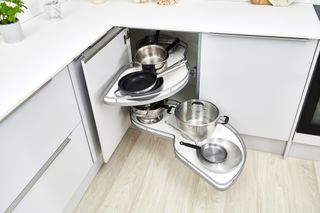 If you're tired of losing your best pots and pans to the back of the cupboard, this is the solution for you. This clever, built in mechanism from Magnet means that all of your storage space can be used. And, as you open the cabinet door, the shelves pull out entirely with it, so you can see everything you've got right there in front of you.
'When you apply design to a space, and really think about how you're going to use it and what is best placed there, you can maximise the space on offer. Soft-closing pull & swing corner units are an innovative way to make the most of corner units that can often go unused. Wire baskets are pulled forward to provide easy access and more effective storage, revealing ample more space at the back for items that perhaps aren't used on a daily basis,' says Lizzie Beesley, head of Design at Magnet.
2. Pile up extra shelves in your cupboards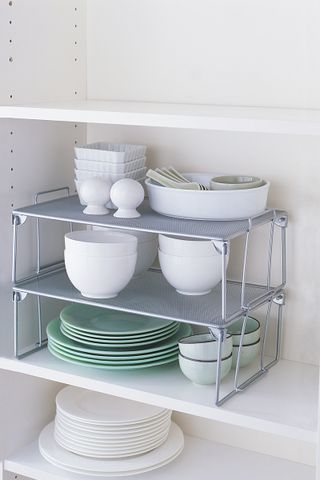 Kitchen shelving ideas can be a little scary for those who have a fear of clutter and love everything to be streamlined. But you can bring order to your storage chaos by adding shelves that will sit within your cabinets to give you that extra bit of organizational legroom – without being on show. You can store items on top or underneath so you can squeeze in some extra food tins or packets so you don't need to put up an extra shelf, on the wall.
They are also stackable so if you have the height you can add upwards and maximize your space in no time. These are from A Place for Everything and they're just the ticket.
'Tiered storage shelves allow you to easily access items at the back of the cupboard. Ensure items are ordered by height; small at the front and tall at the back,' says Beesley.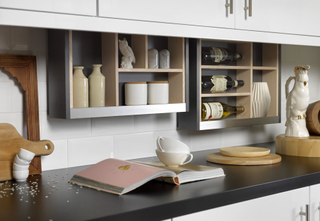 This genius kitchen cabinet idea is a great pick to make the most of your space. These built in shelves simply pull down from behind your cabinets, revealing jars or bottles or whatever you see fit. Once you're done with them, you can simply push them up to hide them away and claim back more of your worktop space.
4. Maximise the use of the cupboards under the sink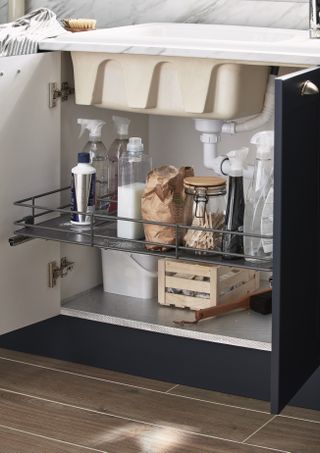 Organizing under the kitchen sink can be a little awkward, we have those pipes to deal with and the smaller storage area due to the depth of the basin. Putting an extra shelf in can work wonders, this is easily achieved if you buy some runners and a cabinet liner from your local DIY store and it will immediately give you two sections to keep washing powder, cleaning products, pegs and a dustpan and brush all neat and tidy.
5. Organize extra kitchenware into display cabinets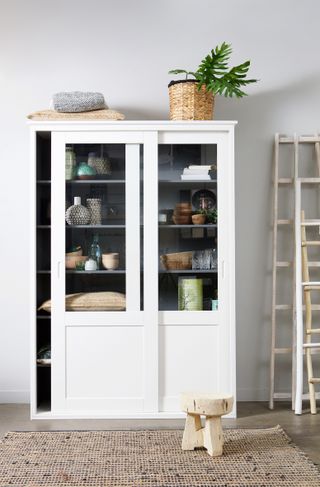 If your kitchen cabinets are already full (with many useful things of course) then you could overspill into a display cabinet. Whilst looking gorgeous and stylish, they also, quite rightly offer some fab storage and if you choose one with clear glass you can easily see your tableware, vases and glasses – and a great reason to keep them tidy too! We love this design as it has sliding doors instead of the traditional pull out option, making it perfect for smaller kitchen spaces.
6. Install kitchen drawers in your cupboard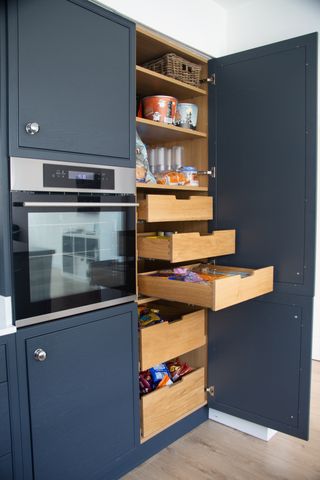 You can never have too many drawers. These beautifully crafted drawers will store all manner of kitchen paraphernalia, from the kid's snacks to napkins, linens, table mats and cooking items. The different depths is useful, and always worth opting for if you can during the design process. And the three shelves at the top mean you can put those items you don't want to be eaten straight away out of the way of hungry hands! Choose a classic design like this and your space will stand the test of time.
'Having well organized cupboards and fridge is essential so you know where everything is and to help manage stock and ingredients. It makes it much easier to plan recipes if you know what you have and haven't got and removes a certain element of stress,' says Niki Webster, owner and creator of Rebel Recipes for Magnet.
7. Revamp the insides of your cupboards with jars, baskets and boxes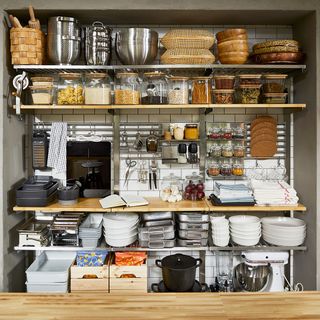 We all yearn for this kind of joy don't we, to open up our cupboard and find everything in its place, perfectly arranged. Well, you can have this too.
'Grouping supplies and ingredients together makes sense so you can grab everything you need in one hit when you're prepping or baking. Wooden crates and lift-out storage caddies are great for small items like spice jars, packets and cartons. Choose square profile and stackable jars or tins to make best use of your cupboard space, and use containers with transparent lids to quickly identify ingredients,' says Simon Glanville, managing director at A Place for Everything.
All you need is the right tools for the job so to speak – shelving, storage jars, small hanging racks and a desire to keep things neat and tidy. Then, spend an afternoon reorganizing and getting your cupboards in order, it will be worth it.
8. Re-clutter, in a stylish and organized way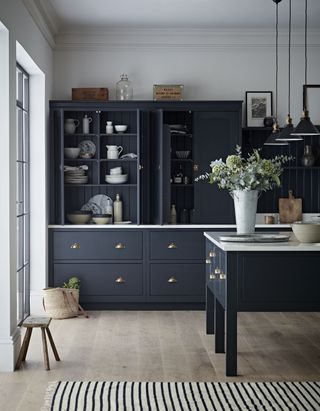 Although you can close the doors on these cabinets, the tableware and jugs have been stylishly arranged so that they look beautiful when on show. This can be a clever option, as if you do want your pieces to be on display, then you will need to keep them organized – bit of a win win, and they look great contrasting against the navy painted units.
9. Ensure your drawers are in order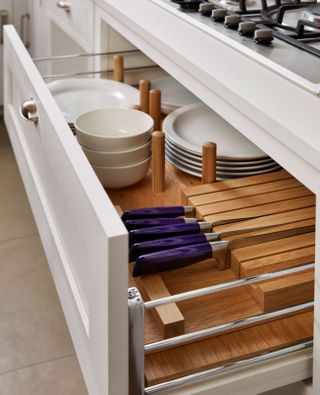 Oohh, isn't this just so joyful? Tableware neatly piled up and knives all in a row. You too can create this heavenly view by buying some extra compartment sections to keep your items ship shape. Or, if you're about to have a newly fitted kitchen then ask your designer to give you some fabulous built-in sections to keep your tableware neat and tidy.
10. Choose cabinet storage that meets all your needs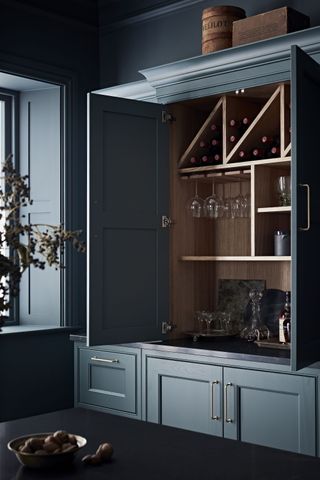 This is a wine lovers dreams! We love how the interior of this cabinet is not conventional – no evenly spaced shelving for a start! The zig-zag style wine rack is genius and the glass section is perfect for both wine glasses hanging and tumblers below. The bottom section allows you to use it as a worktop where you can mix and prepare your drinks. Learn how to clean kitchen cabinets to ensure yours are always looking spick and span, even after a cheese and wine night.
11. Fill an awkward space with a slim line cabinet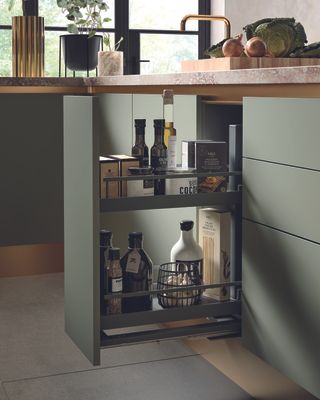 These slimline units from Life Kitchens can be a godsend, they use up those awkward nooks and crannies that can be hard to fill and allow you to store away numerous kitchen items like oils and packets of bits and bobs. They are designed so you quickly see what you have in stock and can keep them super-organized so the most used is at the front - definitely worth investing in.
12. Make use of your cabinet doors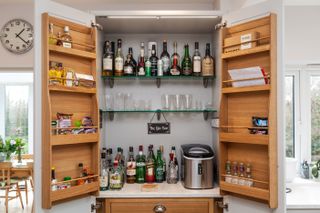 What's fabulous about this cabinet is that you can spend hours organizing it and then shut the doors. Of course, you don't need to use a space like this just for drinks, it could be for pulses and pasta, and your spices could sit in the side shelving units. Or, if you're a coffee connoisseur it would be ideal for storing your favorite blends and you might just squeeze in a coffee machine too.
13. Create an organized breakfast cupboard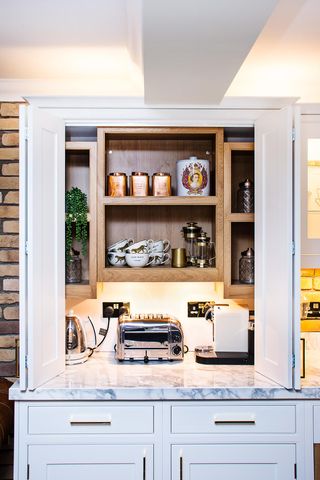 As mentioned above, these nifty cabinets with folding doors are great for hiding away certain things when you want, or you can open them up for when you're entertaining and needing that extra bit of worktop space. This fitted cabinet is perfect for keeping the kettle, toaster and coffee out of the way until you need them.
14. Keep everything accessible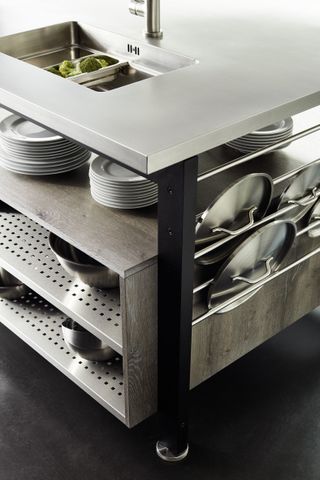 You can organize your kitchen cabinets even if you don't have doors! For minimalists who love the industrial look this style is perfect for you. Kitchen islands are fab for storing your pots and pans in and it frees up space in your wall and base units for food storage. This clever design allows you to keep your pot lids on the end rack and your pans and bowls in the shelves below.
15. Create a cottagecore feel (that's still organized)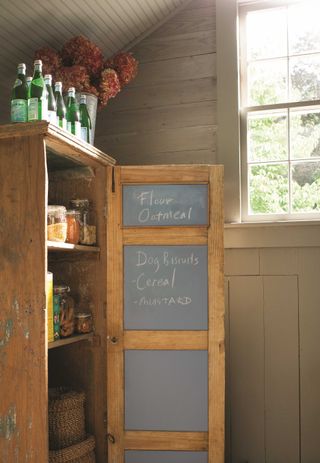 Beautiful vintage pieces like this antique cabinet will add a characterful appeal to a traditional kitchen. Weathered and worn, old furniture is ideal for keeping all of your kitchen essentials in and it works particularly well if your kitchen style is more freestanding rather than fitted. You can even paint the inside of the door with blackboard paint so you can list what you need to buy every week!
16. Make corners work harder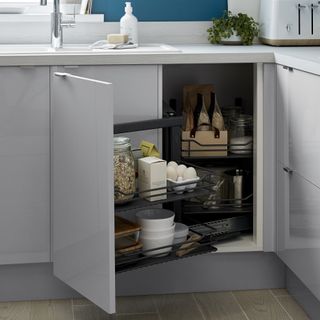 One of the issues with fitted kitchens is the awkward spaces that can literally be dead space or hard to get too – like the back of the cabinet that's right in the corner! But help is at hand with these fabulous space saving storage solutions that give you the flexibility to store things right into the corners that would otherwise be tricky to access.
17. Take an open storage approach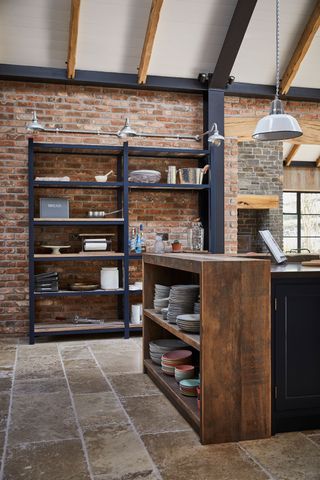 If you love the open-plan kitchen look and don't care for fitted base units and cabinets then you do need to be super organized. But it can be a fabulous style statement and it does mean you can find items easily. The only rule of thumb is you must keep neat and tidy to make it work – and the pieces you choose will give your space its own character which is a great look to have.
18. Complement cabinets with shelving too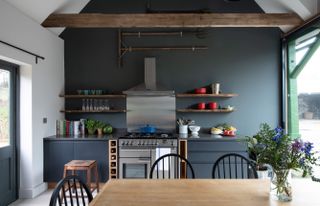 It's not for everyone but so many of us are swapping wall cabinets for open shelving and it's worth considering because when done well, it can actually help enhance a space. If you want to max out kitchen cabinet storage and make for easier organizing, why not include both? It means you can put your favorite things out on display, while you organize the rest behind closed cabinet doors. We love the symmetry created here by positioning two floating shelves either side of the cooker also.
19. Go for the classic dresser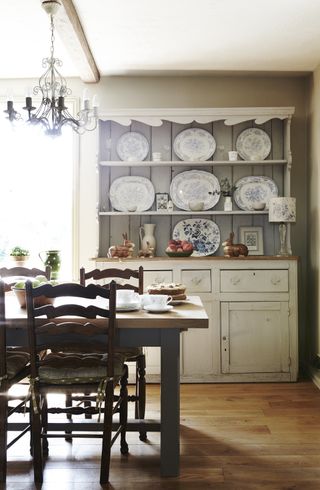 If your space is big enough, a kitchen dresser is a great kitchen cabinet alternative for fitting in more decorative storage. A dresser like this allows for both closed and open storage, meaning you can get organized and hide away any clutter, whilst displaying you favorite dinnerware. Decorative plates have become so popular in the past couple of years, and this is the perfect way to put them on show.
How do you decide where to put things in kitchen cabinets?
Think about how you use your kitchen. You want everything to be in a place that makes sense and makes cooking, prepping and serving as easy as possible. For example, your spice cupboard you want to be near your hob, coffee mugs to be near the coffee, plates near the surface you serve up on. You'll know best how you work in your kitchen so plan what's in your cabinets accordingly.
Also think about what you use most in each of you cupboards and keep those up front, and things that get used less can stay at back. That way you aren't reaching past the rose harrisa to get to the salt or the spiralizer to get to the Instant Pot.
How does Marie Kondo organize kitchen cabinets?
Of course, we couldn't talk about kitchen cabinet organization without mention the queen of decluttering herself. Marie Kondo's tips on how to organize kitchen cabinets according to her Instagram is to decant all you can into containers, baskets and jars – label them, that was you can see everything at a glance. Oh and one of her top tips is to keep heavier things on lower shelves and light items up top – it totally makes sense.