Traditional kitchens can work in both Period homes and modern spaces, just because you don't live in a farmhouse in the country doesn't mean to can't create a more rustic kitchen. From relaxed farmhouse designs to elegant Shakers styles, traditional kitchens have something to offer to everyone and will be a timeless addition to your home. We have gathered lots of stunning ideas and clever tips to help you design the classic kitchen of your dreams.
For more advice and inspiration, head to our kitchen ideas hub page and find out how to design a kitchen for a period property in our dedicated feature.
1. Create a formal, symmetrical design scheme
If you're after a smart traditional kitchen, start by honouring the proportions of the room and creating a symmetrical layout, with your oven or range cooker as the centre.
2. Go for contrasting colour to add depth and dimension
If your kitchen layout is long and narrow, add dimension to the design by opting for a high-contrast colour scheme. This traditional kitchen design has been given a striking update with dark navy paint which contrasts beautifully with the pink walls.
For more colour scheming inspiration, check out our kitchen paint ideas.
3. Match rustic furniture to a cottage kitchen
Traditional kitchen design ideas are all about creating harmony; from cabinets to flooring materials to the shape and materials of the furniture, nothing should 'stick out' too much.
This beam-ceilinged cottage kitchen is complemented by the heavy wooden furniture, which creates a balance between the top and bottom of the room.
Need more tips? Find out how to choose dining furniture.
4. Add a window seat to create a relaxing seating area
Nope, you don't need a bay window to create a cosy window seat. This space was design by Higham Furniture and the seat has been built in front of the window, adding a cosy place to sit but also plenty of extra storage underneath the seat cushion. It's a lovely way to get some softness and pattern into a kitchen.
5. Enhance natural light with a cheerful colour
Looking for traditional kitchen ideas for a room with tiny windows? Consider choosing a colour that will amplify the natural light that does get in. This doesn't automatically mean painting your kitchen white – a vibrant yellow or orange shade applied around the window will add warmth as well as maximising light.
Take care not to overwhelm a small kitchen window with a heavy window treatment – instead, pick a light, fabric blind like the one used here, by Vanessa Arbuthnott.
Browse more tips on adding natural light to a room.
6. Invest in floor-to-ceiling cabinets for a luxurious effect
Beautifully hand-painted kitchen cabinets instantly elevate the design of any kitchen, but they are especially important in a traditional kitchen. If your budget is flexible, invest in floor-to-ceiling cabinets for maximum design impact (and excellent storage space).
We have plenty more kitchen cabinet design ideas to inspire you.
7. Zone your kitchen to create a kitchen dine
If you are blessed with a large open plan kitchen, then you have the perfect space for creating a kitchen diner. Ideally, the dining area should be positioned away from the cooking area.
In this traditional kitchen, the beams create natural zones within the space, but you can also use any kitchen windows for zoning.
We have more versatile kitchen diner ideas for you to browse.
8. Create interest with patterned tile flooring
Floor tiles are by far the most practical choice for kitchen flooring – and they can add design interest, too. Choose a bold pattern to add character to an otherwise neutral traditional kitchen. For similar chessboard pattern tiles, try Topps Tiles.
Need more advice? Find out how to choose the best kitchen tiles.
9. Pick a traditionally crafted kitchen island
Kitchen islands can help you make the best use of your traditional kitchen, giving you more room for food preparation, socialising, and even having breakfast. The key to choosing the right kitchen island for a traditional kitchen is opting for a painted design with a rounded shape.
Need more inspiration? We have lots of clever kitchen island design ideas.
10. Make your kitchen cosy with a patterned wallpaper
Looking for traditional kitchen ideas that give you a cosy, lived-in look? Wallpaper can work wonders on the space, adding charm and personality. Keep the rest of the design neutral to avoid an over-decorated look.
The kitchen has been decorated with the Flora wallpaper from Sandberg.
Browse our gorgeous gallery of kitchen wallpaper ideas that will add character to your kitchen.
11. Pick a round kitchen table – and use a tablecloth
Tablecloths are something of a disappearing element in kitchen design nowadays, but they're actually a brilliant way to instantly add a rustic charm to a traditional kitchen. If you are planning on using a tablecloth, pick a round kitchen table, as the fabric will drape better.
Browse through our pick of the best traditional dining tables to pick yours.
12. Put your range cooker on proud display
There's nothing quite like a range cooker. Reliable and good-looking, they are almost synonymous with a traditional rustic kitchen. Pick yours in a bright colour to let it (deservedly) take centre stage in your kitchen.
13. Match fitted furniture to period features
If you have any period features in your kitchen, especially wooden beams, try to match the tone of any unpainted furniture for a cohesive look. The same applies if you are adding period-style replica beams.
We like the bright look the light wood colour creates in this traditional kitchen design.
14. Make kitchen storage a design feature
Whether you are incorporating fitted kitchen storage or freestanding units, a traditional kitchen design is the space to include storage furniture that is both functional and decorative. Think an impressive wooden larder and an imposing painted dresser.
To choose the best storage for your kitchen, check out our kitchen storage ideas and find out how to design a freestanding kitchen.
15. Use open shelving to create a busy and cosy look
Want to introduce a bit of countryside charm into your kitchen? Elegant open shelves are a great way to create a lived-in, slightly busier look than a wall-to-wall cabinet design will permit.
Find out more about designing a country style kitchen in our guide.
16. Choose dark wood flooring for a warm look
MORE FROM PERIOD LIVING
Get the best period home inspiration, ideas and advice straight to your door every month with a subscription to Period Living magazine
We think that nothing quite completes a traditional kitchen design scheme like wood flooring, especially if the kitchen opens onto a dining area or utility room.
It is true that real stone flooring, or ceramic or porcelain tiles are more practical – but there is a warmth and elegance that is only achievable with wood.
Do choose engineered wood flooring, however, rather than solid – it will better cope with the changes in temperature and humidity.
Find out more about choosing the right kitchen flooring in our guide.
17. Go for a bold colour in a smaller kitchen
Want to add real oomph to a smaller kitchen? Our answer is: bold, all-over colour. A great paint colour will really bring out the quality of your cabinets – and bring to life other details, such as lighting and handles.
The Peckham Rye kitchen by deVol makes a truly stunning case for going bold with colour. We love the way the same colour and finish has been applied to the walls and the cabinets, making the decorative elements of the kitchen stand out.
Ready to experiment with colour? We have 12 colourful kitchen ideas for you to check out.
18. Choose pastel shades for a soft and timeless look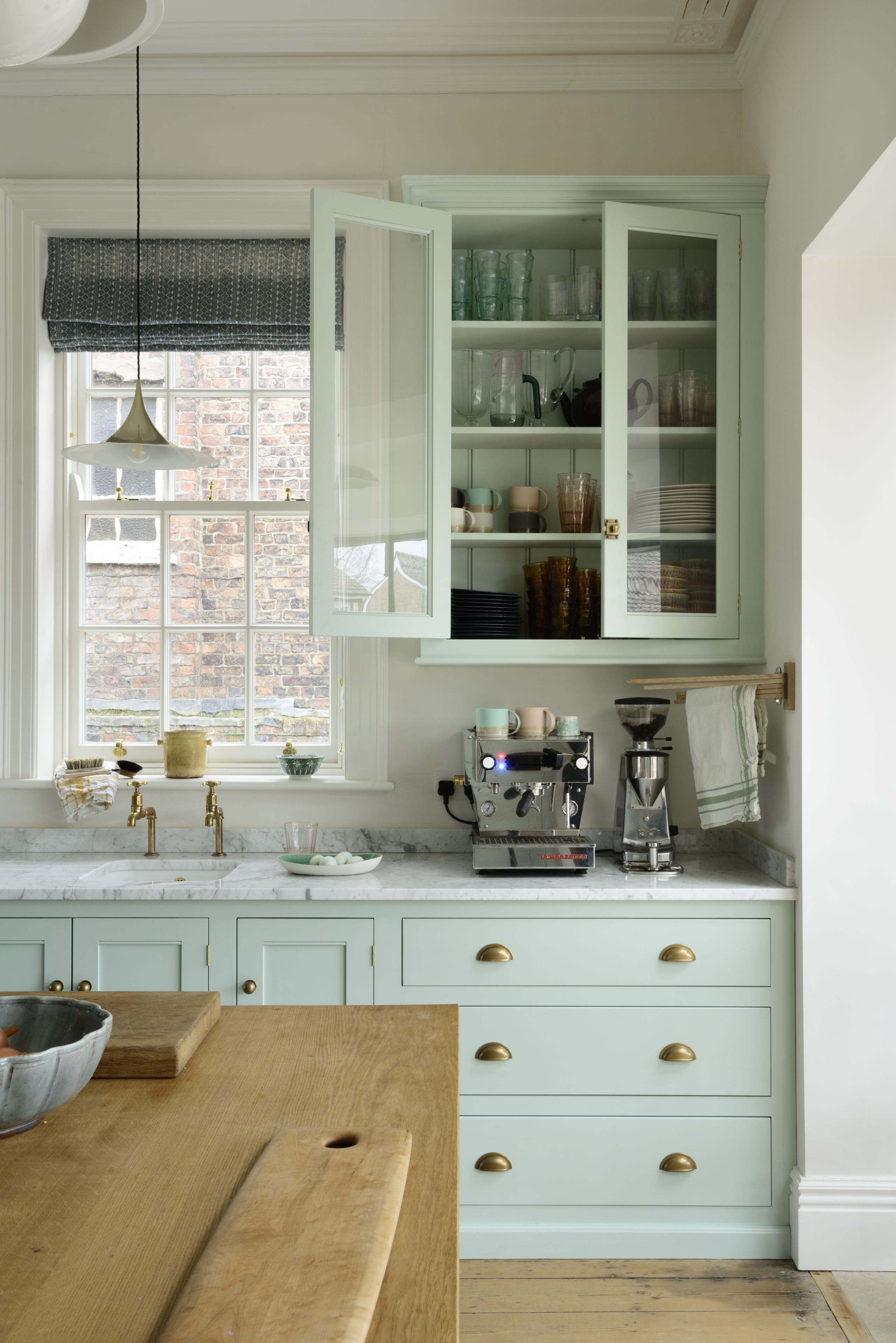 Pastel shades are universally flattering for kitchens, and they are a great middle ground between white and bolder colours. Painting your traditional kitchen cabinets in a pastel shade allows you to personalise your kitchen while keeping the design understated.
Find out how to paint kitchen cabinets in our guide.
19. Go for a dark colour scheme for a statement design
Ready to try out something truly different? Try a dark and moody colour scheme in your kitchen. The pros of a dark kitchen are: 1) it'll be much more low-maintenance than a light kitchen; 2) if you have a beautiful window in your kitchen, the dark colours will accentuate it. You will need to be careful with how you plan your kitchen lighting – the right lighting scheme will make a dark kitchen look stunning in the evenings.
Ready to embrace the darkness? We have lots more dark and atmospheric decorating ideas.
20. Embrace eclecticism with bright colours and prints
Psst, we'll tell you a secret: almost every traditional kitchen design can handle a bit of chintz or boho mix-and-match. Think clashing prints, bright colours (that you may not want elsewhere in the house, but that look oddly wonderful in the kitchen), knick knacks and wall art. Or just throw on a colourful tablecloth for a touch of boho chic.
Browse more brilliantly boho design ideas.
21. Add a structural feature for a more traditional look
If you live in a more modern property, but are yearning for a more traditional look, one option may be to add a structural feature that will 'age' your kitchen.
This stunning London kitchen designed by Humphrey Munson features a bespoke canopy that's been built especially to conceal the extractor – and accentuate the beautiful six-oven black range cooker.
22. Use wall tiles to add colour and texture
Want kitchen walls that look stunning and are easy to clean? Tiles are your best bet; they are the most hygienic option for a kitchen, and they offer almost endless design possibilities, instantly adding colour and texture to your walls.
Use our guide to choose the best kitchen tiles for your new room.
Ready to focus on a specific traditional kitchen style?