Charming and full of character, traditional kitchen ideas create a warming atmosphere in the home all year round. They can work in both period homes and modern spaces – you don't have to live in a farmhouse in the country to create a traditional-looking kitchen.
As inviting as the smells that come from this space, these tasty kitchen ideas are bursting full of fun and flavor and are ideal for a multi-functional home. From doing homework on the table, to hosting guests around the island setup, these designs take you from day to night, and are as style-packed as they are functional.
Traditional kitchens have something to offer to everyone and will be a timeless addition to your home. We have gathered lots of stunning ideas and clever tips to help you design the classic kitchen of your dreams.
Traditional kitchen ideas with plenty of character
1. Fake an aged look with tiles that look distressed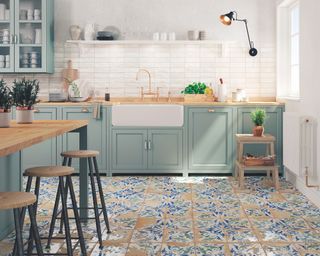 'While at first glance they may seem fairly traditional, look closer for the hidden details that give these tiles the edge, from the wear and tear of Lisbon Flora to the deliberate imperfections of Cottage Pale.They give spaces a real lived-in look, adding depth and texture as well as a splash of style.' says Abbas Youssefi, director of Porcelain Superstore.


2. Create a farmhouse feel with wood and green decor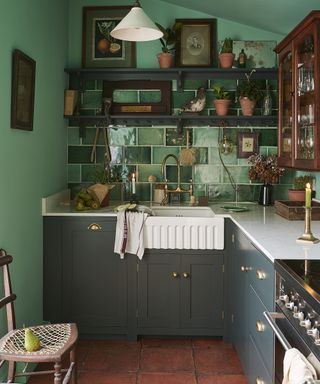 Once a derelict old cottage without a kitchen, Joe, the owner of the charming space above, has transformed it into a glimmering beacon of beauty. But you don't need to hire an interior designer to recreate this idea in your home.
Using deVOL Kitchens emerald green kitchen tiles, dark shaker cabinetry and oodles of shimmering brass, this traditional kitchen idea is brimming with personality.
It is proof that small kitchen ideas don't have to be boring. And that kitchen color schemes shouldn't be limited to white, grey or beige.
3. Fake a traditional tiled kitchen space with wallpaper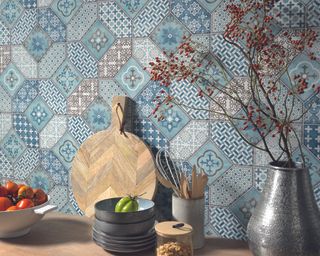 When it comes to choosing a kitchen aesthetic, don't think that you have to be limited to kitchen tile designs or paint to tell your style story. Contrary to what you might think, wallpaper can be used in kitchen design. In fact, it makes a perfect complement to farmhouse kitchens.

'It's undeniable that farmhouse decor is infused with a lot of warmth and charm, which makes it a perfect choice for any home.' says Alex Whitecroft, head of design at I Want Wallpaper.
'With its subtle use of tones, a proclivity for preservation and an overwhelming fondness for all things traditional, farmhouse chic creates a sense of coziness and style that's both refreshing and comforting in equal measure.'
'You don't need a house in the country to create your own farmhouse feel. There are so many ways that rustic trends can be incorporated into your interior design to create the feel of a real country retreat, no matter where you are.
'And wallpaper can play a pivotal role in helping bring this feeling to life.'
4. Make traditional feel modern with dark colors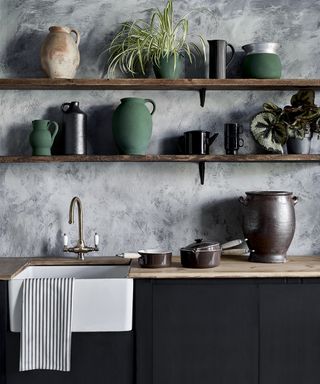 Pots and pans, utensils and more, the equipment you need to create a couple of kitchen dishes tallies up fast. So you'll need a good kitchen organization system for your traditional scheme.
Sturdy and stylish, wooden kitchen shelf ideas provide a stable place to display your wares.
Having them in plain view means you won't have to rummage through cupboards or fight a drawer that won't open because of an obstruction!
5. Mix classic with contemporary in a traditional kitchen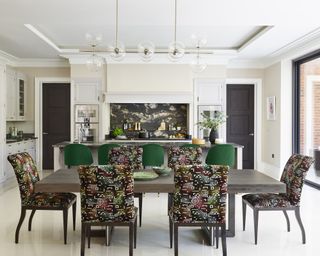 Whichever side of the pond you're on, you can't beat the look and feel of a classic English kitchen.
In this traditional idea by Martin Moore, the owners transformed their once modern minimalist and handle-less kitchen in favor of a twenties-inspired space with strong geometric detailing.
Open-plan kitchen styles allow you to put on a show when entertaining guests, while a pop of dark colors in the door, chair and granite backsplash decor adds drama.
6. Create a traditional coastal feel with Periwinkle blue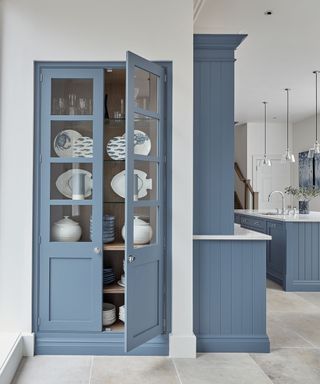 Nostalgic and calming, blue is a color that is connected to nature-inspired pastimes. From cornflower blue florals, to seaside coastal memories, this pastel color can evoke feelings of happiness on even the grayest of days.
This blue kitchen design by Tom Howley is perfect for displaying beachy paraphernalia and sea-inspired crockery.
7. Or go dark and dramatic to add sophistication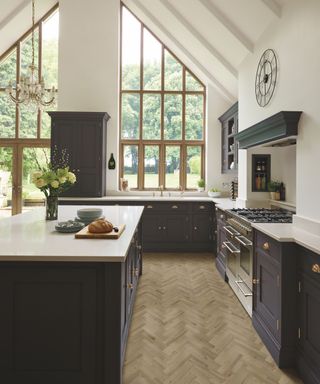 'Dark and dramatic paint colors such as black have a way of adding ambiance and sophistication to a space.', says Tom Howley, Design Director at the eponymous kitchen company.
'Dark shades can come across as intimidating; however, it's in the way you use them that changes the feel. Used on the main run of base and wall cabinetry, dark colors can look luxurious and courageous while still having a timeless, intimate appeal.
'If you're not feeling as brave, then combine dark paint shades with a green accent or a classic neutral like grey for a balanced look that still has an impact,'
8. Go grey for a Scandi twist on a traditional kitchen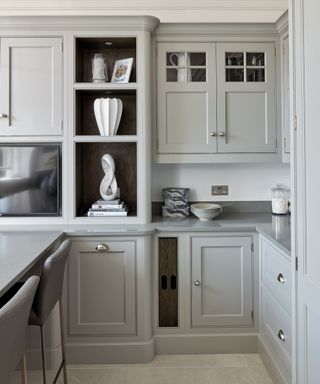 Clever open storage can bring lots of welcome detail to a kitchen, and while simple white shelves look minimal, a grey kitchen idea can channel a more relaxed Scandi look.
Peter Erlandsson, co-owner and director of string furniture, shares his top tips for when using open shelving in a kitchen area:
'Shelves of various depths and colors can be quickly re-positioned so you can build your own personal system to fit any space.
'Make your walls your best friend – introducing a string system means your walls are a valuable resource when it comes to storage.
'Use a mix of open shelving and cabinet styles to create a display unit that is flexible enough to hide the things you don't want on show.
'Make sure your shelving is deep enough to store your belongings, but narrow enough that it doesn't compromise your precious square-footage.
'Lastly, there is age old doctrine of using light colors on walls to make your home look bigger. This is true, and your shelves need not detract from this.'
9. Combine a butler sink with a shaker style kitchen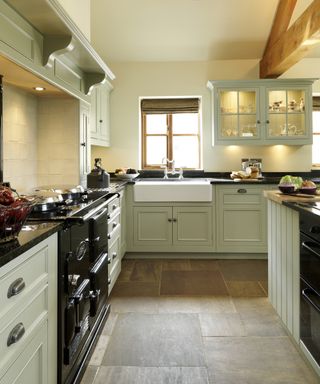 'Designing a classic kitchen is not just about the kitchen style you decide to go for – it's about the lived-in feel that it creates.', says Melissa Klink, Head of Design at Harvey Jones.
'A Shaker kitchen is a timeless option that will sit well in old properties and new builds alike.
'To make a new build or kitchen extension look and feel more rustic, try adding some antique details or pre-loved ornaments that won't overpower the room, but will still give it a charming, welcoming feel.'
'To avoid creating a too contemporary or industrial look replace newer materials such as stainless steel or corian/plastic with age old materials such as wood.
'Granite worktops can also work when trying to achieve a more weathered look in your kitchen.
'If you are concerned about having too much of one material, balancing a painted kitchen with either a wooden floor or wooden worktops can still give you the right look and feel without having too much of one material.'
10. Invest in a natural stone floor for timeless chic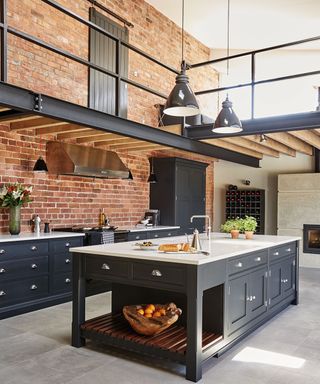 'As a family who has grown up around natural stone flooring, we are still utterly fascinated at the unique beauty each and every natural stone floor carries,' says Isabel Fernandez, Director at Quorn Stone.
'A natural stone floor is a timeless investment for your home. Both adults and children alike are captivated by the rich history natural stone presents, often though the texture and fossils that have been millions of years in the making.'
'Natural stone floors packed with character and charm are one of the most forgiving floor coverings you can install, making them a beautiful yet practical choice for modern day living that will stand the test of time.'
11. Use pink for a twist on a traditional dresser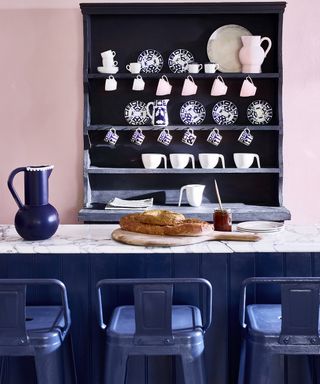 Long gone are the days of using the living room to socialize or entertain. It's now the kitchen that's the new hub of the home.
Instead of going to prepare a drink for our guests in an almost secretive sort of fashion, we now openly pour beverages in front of our friends and family - sometimes with a bit of theater thrown in.
So instead of investing in a new sofa or armchair, create a focal point based around your kitchen organization ideas.
One way to do this is to take a traditional dresser and use a contrasting pastel wall decor idea. Add similar-shaded glass and earthenware to reinforce this youthfulness. We think this pretty pink idea is as sweet as mom's home cooking.
12. Jazz up a traditional kitchen with patterned flooring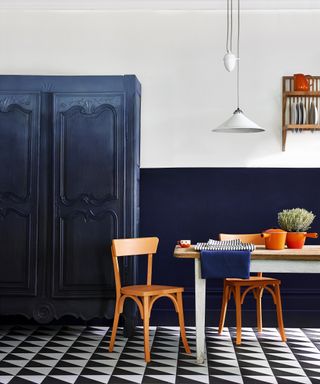 Kitchen flooring ideas take a lot of consideration. After all, they're a surface that faces high traffic, be it kids walking in from the back yard, or food falling on the floor. So you'll need something durable that ideally looks a little designer too.
If you've got a young family, then hard kitchen floor tile ideas might not be the most suitable option. Especially if your little one has transitioned from crawling to walking.
While carpet is definitely off the cards, the latest laminate, tile and LVT options have come a long way since the traditional kitchen ideas we were once presented with.
In this dark blue space, a monochromatic vinyl kitchen flooring idea has been used to create a quirky contrast. And when muddy paw or foot prints grace the surface, rest assured that it can be easily cleaned with a manual or steam mop.
'Engineered wood, luxury vinyl and vinyl remain a popular choice within kitchens.', says Carpetright, David Snazel, Buyer, Hard Flooring.
'Not only are these solutions highly durable they can help transform a space and make a design statement in the home without a large investment.
'These styles are particularly easy to maintain, offering a visible level of cleanliness and satisfaction with a light sweep and mop.'
13. Add elegant brass hooks to hang kitchen utensils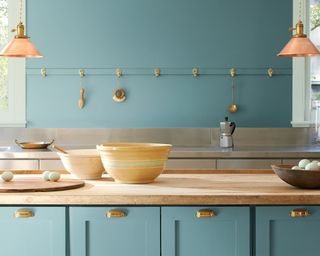 From tongs to lemon squeezers, mashers and spatulas, we all think we're the next MasterChef contestant when we purchase a new bit of kitchen kit. That is until we've no place to put them.
So if you fancy yourself a bit of a foodie, why not present your knives and new gadgets in full view of your dinner party guests.
Stylish and classy, a set of brass hooks add an Art Deco aesthetic to a teal, pink or black kitchen idea.
14. Add pattern with a traditional fruit motif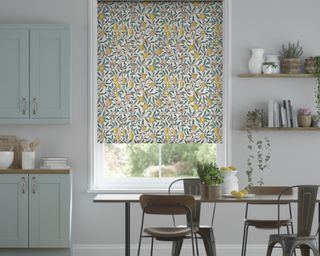 You've heard the saying: 'If you can't stand the heat, get out of the kitchen!' but what if you really need to prepare some food? Well, consider a kitchen window treatment as your new sous chef.
Practical and pretty, a printed roller print design will add retro charm to a traditional kitchen idea. It also serves the purpose of blocking out sunlight and regulating temperatures in this already warm environment.
This fruity William Morris design, with a zesty lemon and peach design can be purchased at Blinds2Go.
15. Update a traditional country kitchen with pink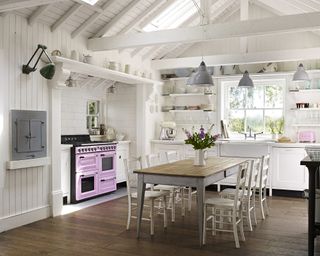 Wood paneling, painted shelves and a table in the center of the scheme. That's what country kitchens are made of.
But as elegant as it is, how do you add sass and personality to a scheme that prides itself on being disciplined in its decor. The answer: a bright pink, dual fuel, Smeg cooker.
Yes, it's certainly not for everyone, but this girly appliance gives us all the feels, and looks great in grey and white kitchen ideas. Hey pink toaster, we see you too.
16. Create a formal, symmetrical design scheme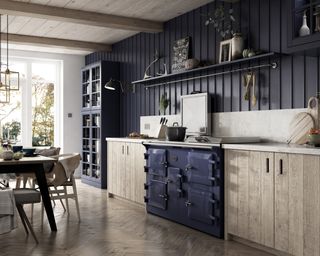 If you're after a smart traditional kitchen, start by honoring the proportions of the room and creating a symmetrical layout, with your oven or range cooker as the center.
This navy blue model looks classy and coordinated when paired with a dark kitchen wall paneling idea of the same color.
17. Go for contrasting color to add depth and dimension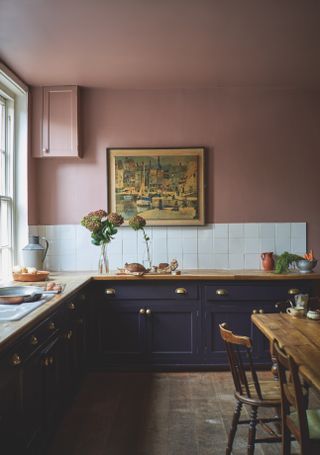 If your kitchen layout is long and narrow, add dimension to the design by opting for a high-contrast color scheme.
This traditional kitchen design has been given a striking update with dark navy paint which contrasts beautifully with the pink kitchen paint idea.
18. Pick period furniture for a traditional kitchen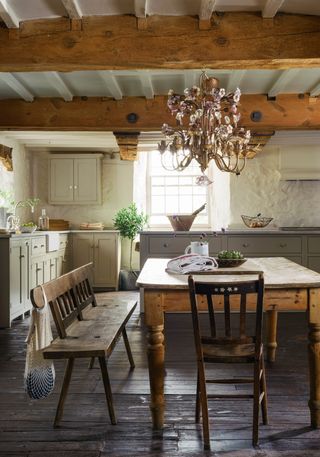 Traditional kitchens are all about creating harmony; from cabinets to flooring materials to the shape and materials of the furniture, nothing should 'stick out' too much.
This beam-ceilinged traditional kitchen is complemented by the heavy wooden furniture, which creates a balance between the top and bottom of the room.
19. Add a window seat to create a relaxing seating area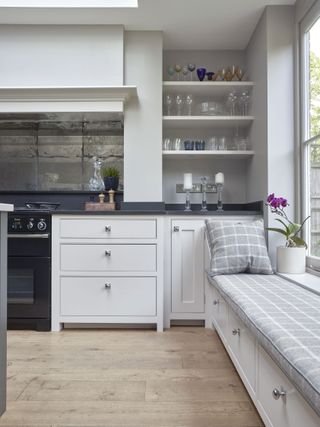 Nope, you don't need a bay window to create a cozy window seat.
This space was designed by Higham Furniture and the seat has been built in front of the window, adding a cozy place to sit but also plenty of extra storage underneath the seat cushion.
It's a lovely way to get some softness and pattern into a kitchen.
20. Enhance natural light with a cheerful color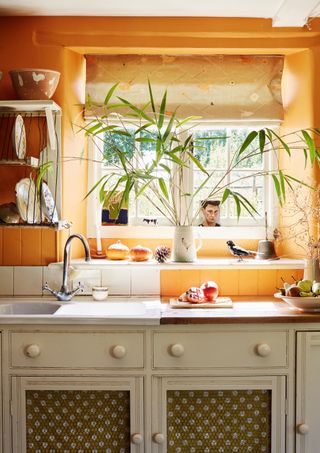 Does your traditional kitchen lack natural light? Consider choosing a color that will amplify the natural light that does get in.
This doesn't automatically mean painting your kitchen white – a vibrant yellow or orange shade applied around the window will add warmth as well as maximizing light.
Take care not to overwhelm small windows with heavy kitchen window treatment ideas – instead, pick a light, fabric blind like the one used here, by Vanessa Arbuthnott.
21. Pick a white traditional kitchen for a timeless look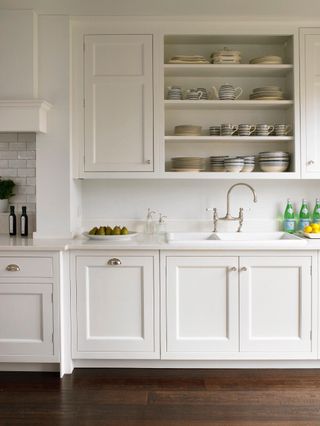 Beautifully hand-painted kitchen cabinet ideas instantly elevate the design of any kitchen, but they are especially important in a traditional kitchen.
If your budget is flexible, invest in floor-to-ceiling cabinets for maximum design impact (and excellent storage space).
22. Zone your kitchen to create a kitchen dine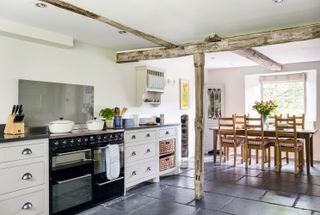 If you are blessed with a large open plan kitchen, then you have the perfect space for creating a kitchen diner.
Ideally, the dining area should be positioned away from the cooking area. In this traditional kitchen, the beams create natural zones within the space, but you can also use any kitchen windows for zoning.
23. Create interest with patterned tile flooring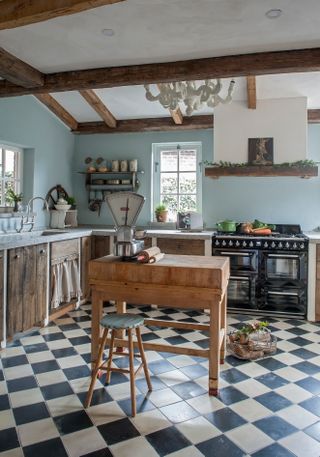 Kitchen floor tile ideas are by far the most practical choice for a cooking space – and they can add design interest, too. Choose a bold pattern to add character to an otherwise neutral traditional kitchen.
For similar chessboard pattern tiles, try Topps Tiles.
24. Pick a traditionally crafted kitchen island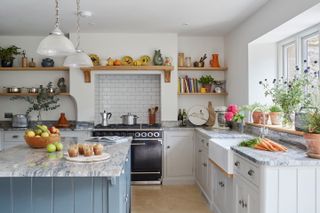 Kitchen island ideas can help you make the best use of your traditional kitchen, giving you more room for food preparation, socializing, and even having breakfast.
The key to choosing the right kitchen island for a traditional kitchen is opting for a painted design with a rounded shape.
25. Make your kitchen cozy with a patterned wallpaper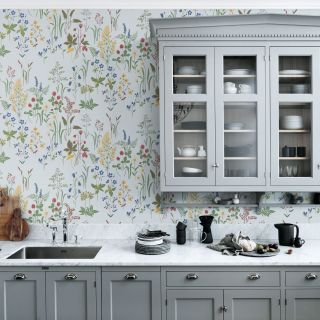 Looking for traditional kitchen ideas that give you a cozy, lived-in look?
Wallpaper can work wonders on the space, adding charm and personality. Keep the rest of the design neutral to avoid an over-decorated look. This kitchen has been decorated with the Flora wallpaper from Sandberg.
26. Pick a round kitchen table – and use a tablecloth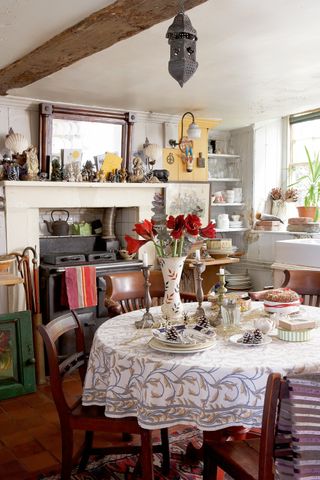 Tablecloths are something of a disappearing element in kitchen design nowadays, but they're actually a brilliant way to instantly add a rustic charm to a traditional kitchen.
If you are planning on using a tablecloth, take your pick of the best dining tables. A round kitchen table is an idyllic choice, as the fabric will drape better.
27. Put your range cooker on proud display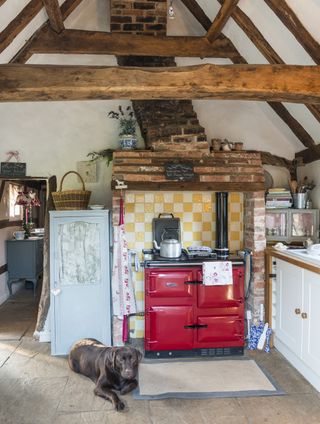 There's nothing quite like a range cooker. Reliable and good-looking, they are almost synonymous with a traditional rustic kitchen. Pick yours in a bright color to let it (deservedly) take center stage in your kitchen.
28. Match fitted furniture to period features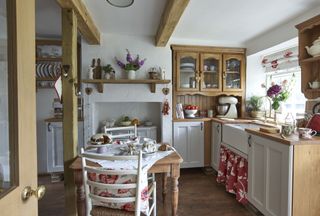 If you have any period features in your kitchen, especially wooden beams, try to match the tone of any unpainted furniture for a cohesive look. The same applies if you are adding period-style replica beams.
We like the bright look the light wood color creates in this traditional kitchen design.
29. Make kitchen storage a design feature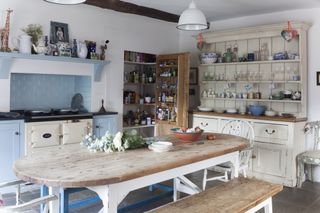 Whether you are incorporating fitted kitchen storage or freestanding units, a traditional kitchen design is the space to include storage furniture that is both functional and decorative.
Think an impressive wooden larder and an imposing painted dresser.
30. Use open shelving to create a busy and cozy look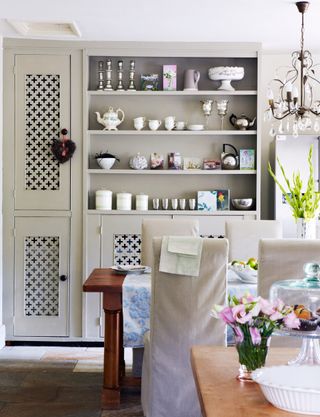 Want to introduce a bit of rustic charm into your kitchen?
Elegant open shelves are a great way to create a lived-in, slightly busier look than a wall-to-wall cabinet design will permit. This country kitchen idea will also add familial warmth to your home.
31. Choose dark wood flooring for a warm look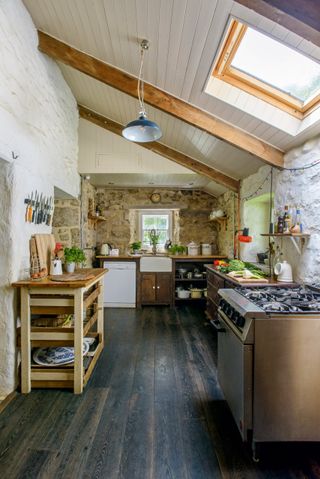 We think that nothing quite completes a traditional kitchen design scheme like wood flooring, especially if the kitchen opens onto a dining area or utility room.
It is true that real stone flooring, or ceramic or porcelain tiles are more practical – but there is a warmth and elegance that is only achievable with wood.
Do choose engineered wood flooring, however, rather than solid – it will better cope with the changes in temperature and humidity.
32. Go for a bold color in a smaller kitchen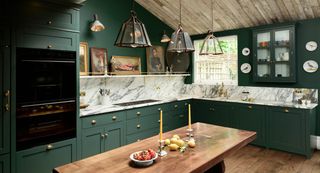 Want to add real oomph to a smaller kitchen? Our answer is: bold, all-over color. A great paint color will really bring out the quality of your cabinets – and bring to life other details, such as lighting and handles.
This deVol kitchen makes a truly stunning case for going bold with color. We love the way the same color and finish has been applied to the walls and the cabinets, making the decorative elements of the kitchen stand out.
33. Choose pastel shades for a soft and timeless look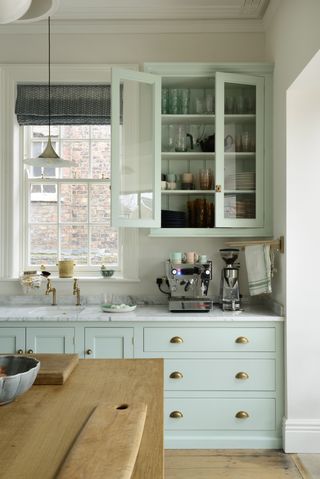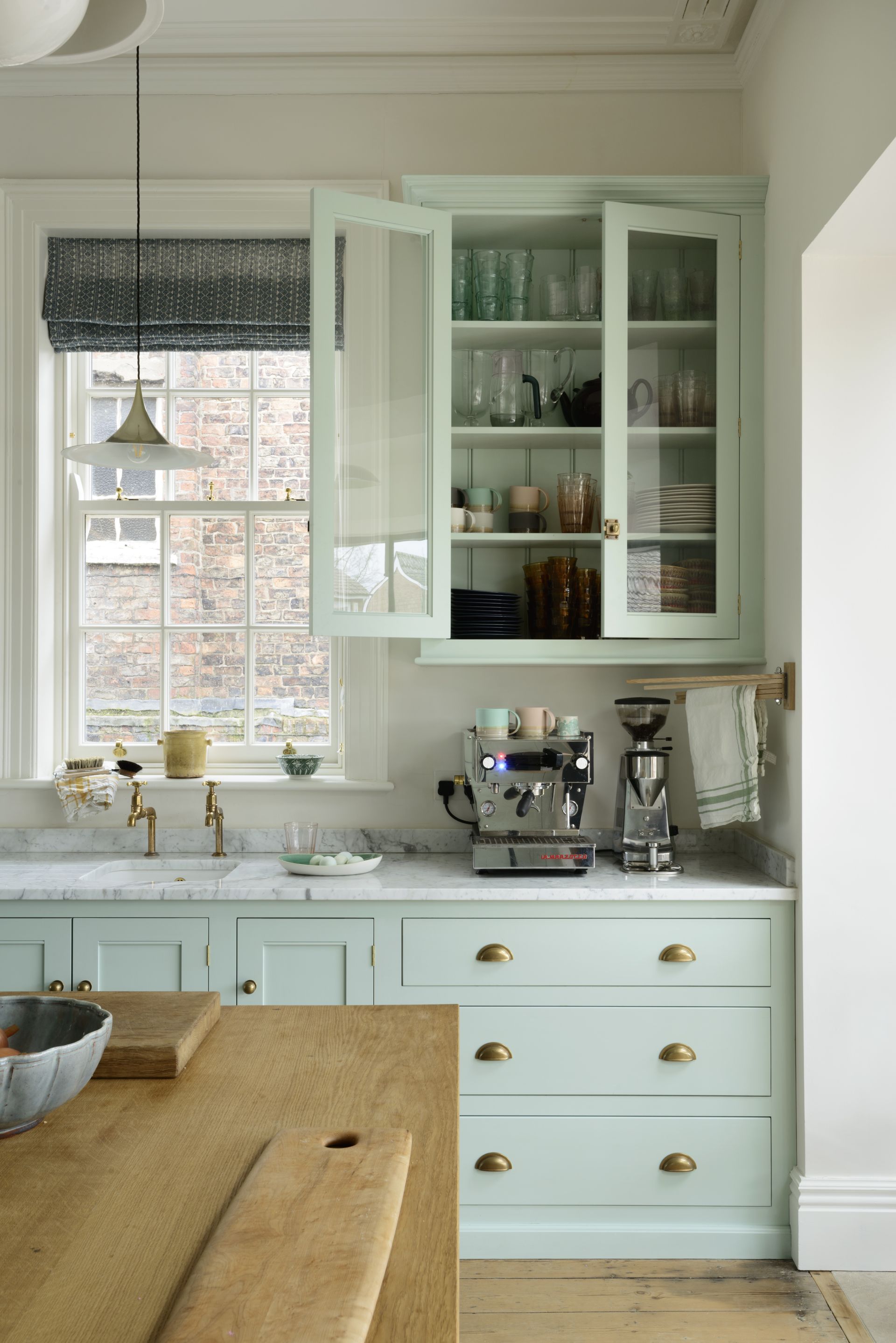 Pastel shades are universally flattering for kitchens, and they are a great middle ground between white and bolder colors.
Painting your traditional kitchen cabinets in a pastel shade allows you to personalize your kitchen while keeping the design understated.
Knowing how to paint kitchen cabinets yourself can save you some dollars too.
34. Go for a dark color scheme for a statement design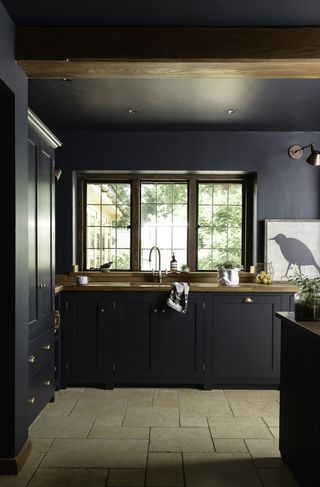 Ready to try out something truly different? Try dark and atmospheric decorating ideas in your traditional kitchen idea.
The pros of a dark kitchen are: 1) it'll be much more low-maintenance than a light kitchen; 2) if you have a beautiful window in your kitchen, the dark colors will accentuate it. You will need to be careful with how you plan your kitchen lighting – the right lighting scheme will make a dark kitchen look stunning in the evenings.
35. Embrace eclecticism with bright colors and prints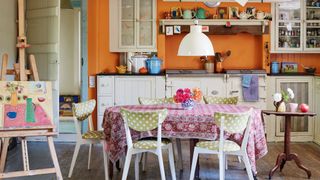 Psst, we'll tell you a secret: almost every traditional kitchen design can handle a bit of chintz mix-and-match or brilliantly boho design ideas. .
Think clashing prints, bright colors (that you may not want elsewhere in the house, but that look oddly wonderful in the kitchen), knick knacks and wall art. Or just throw on a colorful tablecloth for a touch of boho chic.
36. Add a structural feature for a more traditional look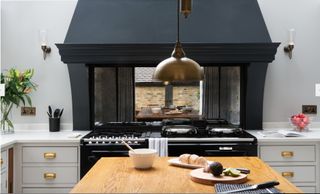 If you live in a more modern property, but are yearning for a more traditional kitchen look, one option may be to add a structural feature that will 'age' your kitchen.
This stunning London kitchen designed by Humphrey Munson features a bespoke canopy that's been built especially to conceal the extractor – and accentuate the beautiful six-oven black range cooker.
37. Use wall tiles to add color and texture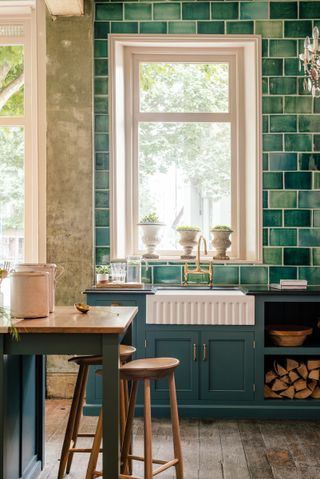 Want kitchen walls that look stunning and are easy to clean?
Tiles are your best bet; they are the most hygienic option for a kitchen, and they offer almost endless design possibilities, instantly adding color and texture to your walls.
38. Add paneling for classic country vibes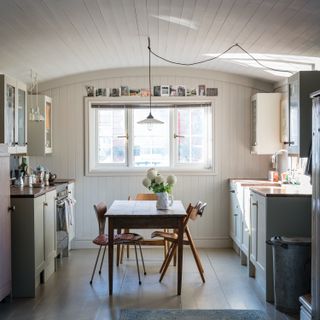 If you want to create a traditional kitchen idea that takes inspiration from the seaside - go for white or cream paneling.
Simple, yet sophisticated, cladding your wall and ceiling with long strips of wood can help you achieve a beach house feel, even if you're not by one.
Match with light cabinets with glass inserts to create an airy scheme. Now all you need is a sea salt scented candle and some fresh seafood on that table!
39. Add a backsplash with a chintzy, floral detail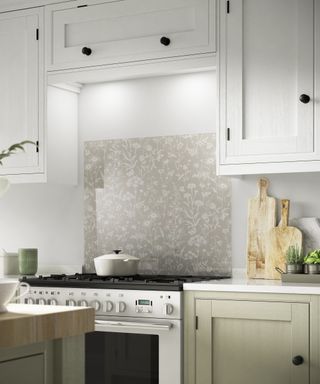 As well as being a practical addition to the space, kitchen backsplash ideas can disguise a multitude of sinful splatters, caused by messy preparation. But just because you have a traditional kitchen, this doesn't mean that you have to settle for a one-color design.
This floral motif from Laura Ashley adds a touch of romance to a traditional kitchen idea while also protecting your walls from water damage, grease and unsightly food stains. It's also quick and easy to install with peel, stick and seal technology.
Once you've finished cooking a big breakfast or family dinner, simply wipe down the surface with an antibacterial spray or wipe.
How to plan a traditional kitchen
Before you start designing your traditional kitchen from scratch, you'll want to take a good look at your existing kitchen. Carefully consider how you use the space and how everything is organized.
Once upon a time, the 'work triangle' – where the sink, hob and fridge are evenly sited at key points around the cook in the centre – was the main factor when designing a traditional kitchen layout. Nowadays, an open plan kitchen-diner is generally considered better suited to modern living.
It's likely an open-plan space will need to include extra seating or a play space, so the way the layout is planned has to be adapted, but with care in a period home so that the original bones of the house aren't compromised.
As well as thinking about what you'd like to improve, take time to consider your kitchen's positive points – is there anything you're like to keep or upcycle? Once you've thought this through, pull together all your ideas (this can include collected images) to create a wishlist.
How can I make a modern kitchen look traditional?
'Quite a few people think that wallpaper doesn't belong in the kitchen, but wallpaper design has evolved so much in recent years.', says Alex Whitecroft, head of design at I Want Wallpaper.
'Not only can contemporary designs keep up with the hustle and bustle of everyday life – they can also be an absolute game changer as a design choice.
'If you're starting a completely new renovation, choose a wallpaper that will encompass and compliment the style that you're going for.'
'Looking for that Farmhouse look? Why not try traditional white and blue patterns.
'Or choose bright florals if you're hoping to go for that Grandeco charm.
'If you're looking for a quick and simple makeover, make sure your wallpaper choice complements your kitchen's style.
'Consider everything from your worktops to your cabinets and even your appliances, and you'll soon be able to cook up a storm in style.'
While Claire O'Brien, Head of Design for Splashback comments:
'Adding some traditional features to a modern kitchen will make it unique and stylish, but the blend of styles must be the right ones.'
'Flooring can be swapped and cabinets replaced – introducing natural materials and hints of detailing such as aged bronze or brass handles. Opt for wooden cabinets with clear glass fronts to display long loved vintage tableware and glassware.'
'If replacing cabinets is a step too far, why not give them a coat of paint in a durable matt finish and add some chunky rustic furniture, like a statement wooden table and chair set that adds an extra touch or warmth to family dinners and gatherings.'
What is a traditional kitchen style?
'Selecting the right style of kitchen takes careful consideration. With so many variations on so many different themes available, it can be difficult to focus on just the one.' says Jonathan Stanley, VP marketing for Caesarstone UK & EMEA.
'You may quite like the look of the latest industrial trend or you may appreciate and enjoy a colorful high gloss look, but when it comes to actually investing in the right design for your own home, nothing beats the timeless feel of a truly classic kitchen.
'Elegant, sophisticated, understated…these are all words that we associate with the classic approach.'
'Nothing is overdone; everything has a purpose and has its place yet each and every detail is well thought out and as functional as it is beautiful to look at.'

While Claire O'Brien, head of design for Splashback explains: 'A traditional kitchen has many key features that all help to build a homely and warm feel. Natural materials tend to be used as a preference , such as granite work tops, wooden cabinets and stone, tiled or hardwood floors.'
'The color schemes are soft and muted, where the slightly greyed tones can be combined to create a harmony between cabinetry and walls.'
'A traditional kitchen often has an abundance of Shaker style cabinetry with its familiar symmetrical detailing.'
'The feature point of a traditional kitchen is generally a range or Aga style cooker – often recessed into a space which provides the perfect opportunity to enhance the detailing synonymous with this style.'