Getting crafty is the best way to de-stress within your own home - and these Michaels' craft deals are a great place to start.
Michaels is our go-to store for all things creative, and it's got some amazing projects for sale right now. From crochet to fine art, we've got the best of Michaels' boredom-busting projects covered. Now all you need to do is pick which ones you want to do.
There's some great savings to be had at Michaels right now. Today only, you can save 25 percent on any one item for online orders or curbside pickups, using the code 25MAKE32430. Today and tomorrow, you can save a massive 40 percent on fine art supplies when you order online. Just use the code 40ART32620 at checkout. There's also 30 percent off Crayola and 60 percent off all craft storage.
Michaels' stores are still open, but with great online-only discounts and the offer of curbside pickup on online orders, we would recommend staying safe and indoors by ordering straight from the Michaels site.
Embroidery
Embroidery is the perfect way to kill a few hours, and there's plenty of inspo on the Michaels site to get you started. You can embroider anything from a plain white tee to an elaborate wall-hanging to bring a personal touch to your walls. We particularly like the idea of embroidering all things nature - after all, if you're stuck indoors, you may as well bring the outside to you.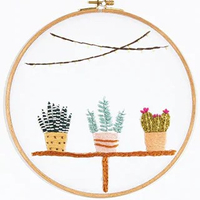 Inside The Greenhouse Embroidery | Shop the project at Michaels
This gorgeous embroidery features a row of potted plants and some twinkling fairy lights. Great for an intermediate embroiderer, or an ambitious beginner.
Knitting & Crochet
Knitting and crochet is a perfect craft option to get settled into if you're looking to take on a project. It's easy enough to pick up, all you'll need is yarn, needles and some of the many tutorials on the Michaels site. We'd suggest getting started with a cosy blanket or throw. It'll bring a warm touch to your work-from-home setup or give you with something to snuggle up to with a good box-set, and there's no complicated increases or decreases to worry about.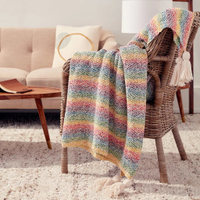 Caron Cotton Cakes Marled Knit Blanket | Shop the project at Michaels
This blanket has a lovely rainbow pattern and corner tassels, which are super fun to make. It works in seed stitch, which is one of the easiest knit stitches to pick up and brings a beautiful texture.
Keep the kids occupied
Are the kids going a little stir-crazy? We can't blame them, can we? Treat them to a little art and craft to keep them occupied for a little home-school relief with Michaels' boredom buster options. We love the idea of letting the kids create their own desk station, to give them pride in their home-school setup and encourage them to be neat and tidy. This project is super easy, so all you need to do is supervise.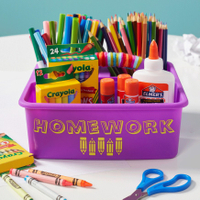 Plastic Tote Homework Station | Shop the project at Michaels
Keep kids happy and their workspace neat with this great crafty project. Now all you need to do is stock it up with homework and stationery.
Unleash your inner artist
Inject some color into your life and get painting. Putting pen to paper (or paintbrush to canvas) is one of the best ways to unwind and switch off your brain. You can work with block colors for an easy wall-hanging, or get ambitious with a portrait or still-life. This is also a great option for kids, just keep them away from the furniture!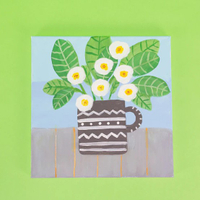 Canvas Flower Painting | Shop the project at Michaels
We love the simple and vibrant style of this particular painting, but you can let your imagination run wild with some paints and a canvas. This is a cheap and easy way to decorate your walls, and you'll even have fun doing it.