National Dog Day is Thursday, August 26th, and we have one question: do you know what you are getting your furry friend? If you're not sure (or still on the fence), we are right there with you.
I mean: can one present truly signify how much you love your dog? If asking us, we don't think so, and that's why we're here to help.
So, before you go and hit publish on your yearly tribute to your beloved dog — next to a brand-new toy or sweater – we've gone ahead and rounded up a handful of timeless treats to gift your better half this National Dog Day.
From the best pet mattress to one of the best dog crates, here are the Real Homes approved Ideas to present your furry friend with this National Dog Day.
6 National Dog Day gifts worth the investment
1. Start by upgrading their throne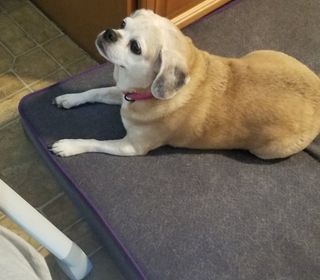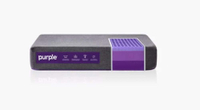 Purple Pet Bed l Was $269, Now starting at $134, at Purple
You know what they say: give your dog the right bed, and they can conquer the world. Okay, no one says that, but we should. I gifted Emma (my family's puggle) this dog mattress for Christmas last year, and it's rare to catch her not on it. The moisture-resistant material molds directly to her body, providing enough support and pressure relief to get her through her tough dog days.
2. Provide an outdoor option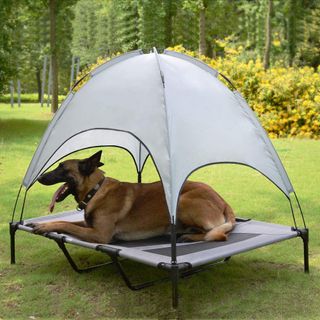 Niubya Elevated Dog Cot l Was $69.99, Now $59.99, at Amazon
Picture this: lounging outside next to the best outdoor furniture, and your precious pup comfortably soaking up some rays of sunshine too. Wouldn't that be nice? It can be when you insert this outdoor choice. Designed with breathable mesh and a removable canopy, there is ample airflow to keep dogs calm and comfortable all day long.
3. Let them cool down in this perfect pool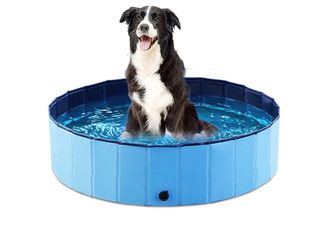 Jasonwell Foldable Dog Pool l Was $28.99, Now $24.64, at Amazon
Notice that your perfect pup is panting more than usual? It's most likely the heat, and this collapsible dog pool is a great idea to help every dog cool down after a hot summer day. Plus, it's big enough for toddler-age children to join in on the phone too!
4. Give them some TLC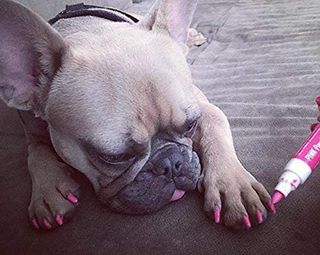 Warren London Pawdicure Dog Nail Polish Pen l Was $9.99, Now $8.99, at Amazon
This National Dog Day, treat your companion to some much-needed TLC with this manicure and pedicure nail polish. With 13 different shades to chose from (all non-toxic, of course), in 40-seconds, your dog will feel special and have salon-ready nails to prove it.
5. Reach for this goodie bag full of toys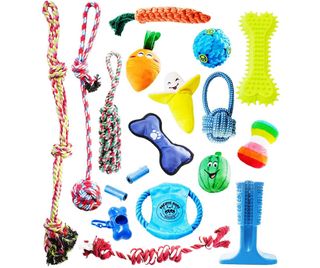 Pacific Pups Products 18-Piece Dog Toy Set for $22.99, at Amazon
It's no secret that dogs love their toys, and here this all-inclusive set features 18 different variations to meet their liking. Suitable for small, medium, and large dogs, it's the goodie bag every pet needs.
6. Treat them to this throw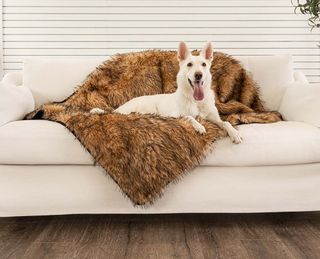 Love National Dog Day? Here are more ideas to help you celebrate: