In most households, no room will get more footfall than the kitchen. The so-called 'hub of the home' is where we naturally gravitate at both the beginning and end of the day. For this reason, a lot of our stuff gravitates there too – books, car keys, unpaid bills, scarves, handbags – the usual life trappings. Keeping this room in order will not only save time and stress, it'll be easier to keep clean.
And there are more than enough ways to tackle kitchen clutter, whatever your budget.
From kitchen islands to bespoke shelves, utensil containers, under-stair cupboards, pegboard splash backs and luxurious larders, here are some smart ideas to meet all your kitchen storage needs.
1. Larder love
A one-stop shop for all your kitchen storage needs, pantries provide shelves for things like eggs, racks for spices and condiments, and drawers for your potatoes and onions. A superb solution for smaller kitchens that lack cupboard units.
This tidy, Shaker-style larder is by Naked Kitchens (Raynham kitchen), price on request.
2. Go overboard
A simple piece of pegboard solves many a storage problem, saving you valuable time in the morning. Use it to store your keys, baking utensils or those elusive kitchen scissors.
Kreisdesign provide pegboard for all your storage needs, whether for the kitchen, hallway, office or bedroom.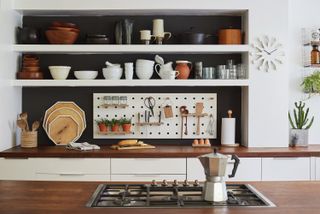 3. Vintage feel
For homely farmhouse style it doesn't get much better than a characterful kitchen sideboard to accommodate stacks of plates, glassware and table linens.
This teal sideboard from Rouge is a capacious choice that'll sit well beside a rustic dining table.
4. Highly strung
For minimalistic interiors, String shelving is a nice fit. Customisable and flexible, these storage systems can be dressed up or down to suit any kitchen style.
Scandi brand String provide different storage options; the system pictured includes accessible shelves for pots and pans, as well as multiple rails and canisters for stashing utensils.
5. Square up
Including cube shelving units is a nice way of breaking up monotonous cupboards, while providing enough room to off load those cookery books, spare vases and random ornaments.
This kitchen by Tomas beautifully mixes sleek, minimal cabinets with oak box shelves.
6. Top drawer
Forget about having to stoop and rummage through a cupboard for that colander/grater/lasagne dish. Pile everything neatly into drawers, instead. This makes storage both easier and tidier – especially if your drawers range in size, from slim (for cutlery) to medium (for kitchen linens) and large (for pots and pans).
Lozi's bespoke kitchen does away with cupboards entirely.
7. Work it
An extra workstation can be a huge help if you're a little short on worktop space, or could use another place to store heavy cast ironware.
Neptune has a great range of island units and work stations that can easily be added to an existing kitchen.
8. Out of sight
If you really can't stand kitchen clutter, an entirely integrated set up probably appeals. This way, you can keep a few of your nicest things on display but sweep everything else into soft-close drawers and cupboards.
Bulthaup have long been the go-to for this clean, polished look beloved by architects.
9. Hang on
Tiny kitchens need plenty of clever storage. Rather than taking up valuable worktop, why not hang a dish rack above the sink?
Ikea are, as always, full of smart and thrifty kitchen storage ideas.
10. Down under
In small homes, space is at a premium. The gap under your stairs is geared up for whatever you need to store – laundry equipment, shoes – or, in this case, kitchenware.
Roundhouse are responsible for this sleek kitchen which uses smart under-stair storage.
11. Heavy metal
A freestanding, narrow mesh unit is a brilliantly space-saving storage solution. It will also allow light to flow through, avoiding any sense of crowding.
This slim cabinet from Out There Interiors will show off favoured kitchenware, plants and mementos. It can be easily squeezed into a kitchen, dining or living room.
12. Mix it up
Combine a good solid sideboard with open shelving for an easy-going country house look.
Zara Home demonstrates the simple beauty of shelves generously filled with varying bowls, glassware and tea paraphernalia.
13. Multipurpose marble
A splash back that doubles as a shelf is a neat idea for any small or large kitchen.
H&M Home stylishly fill a generous marble shelf with stacked plates, bowls and storage containers.
14. Hot rod
Suspending a rail above your worktop is a fast, easy and cost effective way of adding storage to your kitchen. This is the perfect way to hang those awkward pots, pans, measuring cups and sieves that often clutter up your cupboards.
Nest makes this kitchen work harder by fixing a glossy brass rod to the brackets of a shelf.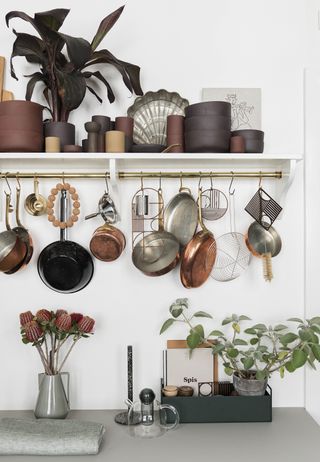 15. Let it slide
A cabinet with sliding doors provides the perfect place to throw general kitchen clutter when you have guests coming over.
Cuckooland's rustic pine cabinet has two shelves and four drawers, so plenty of room there to stash tablecloths, candleholders and other knick knacks.
16. Window of opportunity
If your kitchen happens to feature a generous windowsill, use it for storage. Colourful utensil containers, potted herbs and dishwashing accessories can all live here.
House of Fraser has used a windowsill to display vintage books and a very handy storage jar.
17. Book smart
Utilise worktop corners cleverly by adding a section of shelves. This Roundhouse kitchen does just this, creating a neat shelving unit perfect for showing off those cookery books.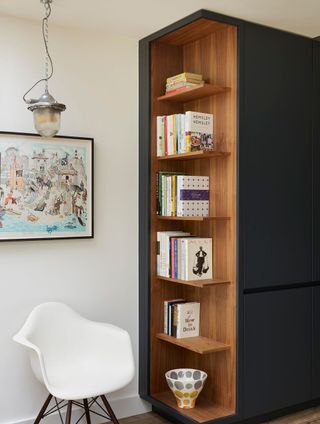 18. More to store
For open shelving, invest in attractive canisters for utensils, and jars for pulses, grains, teas and ground coffee.
Amara's colourful LSA pots (£36) work equally well for storing kitchen utensils or flowers.
19. A good turn
Invest in a 'lazy Susan' to make storing condiments and spices that bit easier. This two-tier kitchen helper will allow you to easily fit three times as many ingredients into that little kitchen cupboard.
The Container Store is the place to look for smart kitchen storage solutions. Their stainless steel lazy Susan (£18.88) can be adapted for bathroom cupboards, too.
20. Seeing double
Slotting an extra shelf into your cupboards is such a simple but effective way of making the most of your kitchen storage. Not only can you fit in twice as much cookware (or tableware), but this quick fix will keep everything organised too.
Head to Store - A Place for Everything to snap up a foldable mesh stacking shelf, £9.50.
21. All in the detail
If you're investing in a whole new kitchen, think about those extra features that will help to keep your worktops clear.
Neptune's Suffolk kitchen includes clever integrated storage for trays – a savvy alternative to keeping them out on your work surface, collecting dust.
22. Through the ceiling
Lacking wall space? Suspend shelves from your kitchen ceiling instead. This is an effective way of storing and displaying glassware, cake stands and so on – as this sleek design by Hub Kitchens demonstrates.
Read more: