The right garden paving ideas can transform an outdoor space, whether you live in an urban setting, a suburb or a country village. And if you're redesigning your outdoor space from scratch, paving a new patio will likely be right at the top of your to-do list.
Here we offer expert advice on ideas on what to consider and where to start with this garden landscaping project. Use our step-by-step guide to help bring your patio design to life, taking other key considerations such as the position, style and cost (of course) of your new paved space into account too.
1. Decide on a space to pave
Firstly, assess where you want to pave your backyard at garden design stage. A patio or other paved area needs to be easily accessible and weatherproof to ensure you gain maximum benefit and usage.
You are more likely to enjoy your space if you are not overlooked, too, so choose a private area or at least one where you can bump up the privacy with the right garden screening ideas. Using trellis and plants is a great way to create privacy around your new paved area and to introduce more greenery to your garden too.
2. Create access with pathways
If your favorite spot is halfway across the lawn, look into practical laying a gravel path or stone walkway like a herringbone path for easy access.
Consider the shape and size of the area you will be paving. It will affect the size of paving slab you use, the amount of materials you need, your budget, and most importantly the look of your garden. Draw a simple plan of your house and garden and shade in the area you would like to pave.
When deciding, be considerate of your neighbors too. Don't block their light, and ensure your drainage is adequate, otherwise water may overspill into their garden, and you may be liable for flood damage.
3. Put your garden paving's purpose first
Figuring out the exact purpose for paving an area of your backyard in the first place is key to ensuring that all the details are right, including your patio's dimensions right. Some things to consider are:
4. Experiment with a rough patio layout
Once you've established the ideal position and size of your paved area, lay out lengths of string in your backyard to work out how the dimensions will actually suit your outdoor space. This will also help you better visualize how your backyard will look and feel as a whole once the paving is complete.
5. Think about how big your paving slabs should be
Now you can decide what sized paving slabs will best suit your project. Using smaller slabs can help make a patio look larger, however, over a larger area, bigger slabs will be more cost effective. By contrast, smaller slabs will give a more traditional effect, perfect for cottage gardens, for example, while larger slabs can look more contemporary.
'Changing the direction of the paving, introducing other surface materials or simply using different sizes of the same material – small porphyry cobble setts next to porphyry pavers, for example – can help to mark out one area with a particular function from another,' says Matt James, garden designer and horticulturalist.
6. Consider non-slip paving alternatives
If your patio space is going to be used by children or elderly people, you might want to choose a non-slip paving stone material. In some cases, where water might collect and potentially cause damage to furniture or property, you might want to consider gravel or decking, rather than paving.
7. Settle on modern or traditional
There are typically two main backyard paving styles to choose from: Modern or traditional. To create a chic, contemporary look, choosing pavers made from materials like polished sandstone, porcelain or low chamfer blocks. For a more traditional feel, riven sandstone flags or tumbled block paving are ideal.
Whichever finish you decide on, you should always make sure it complements the style of your home, especially if you are planning to link your indoor and outdoor spaces.
8. Match backyard paving with your home
As we just said, any landscaping or external structures and outbuildings should always try to reflect the style of your property and blend into your backyard. You can achieve this by matching your patio area with the outside of your home and continuing your indoor color theme outside, creating an outdoor living space.
If your house has a lot of red brick or clay tiles, then a similar coloured sandstone or block paving will work well while light-colored, modern rendering works well with the silver grey spectrum of granite or natural stone flags. Either way, always look at samples to ensure that the materials you choose will complement existing architecture.
9. Think about all the details
Paving and faced brickwork joints should be the same width and run perpendicular, depending on the pattern, and pointing color should never clash.
If your paving is being laid alongside decking, ensure attention is given to decking fixings, too, using specialist screws. For hardwood and cedar decks, stainless steel or brass colored screws are best. Never use nails — you can't lift the boards easily without damaging the edges. As with paving, consistent spacing is essential.
10. Blur the boundaries between indoors and out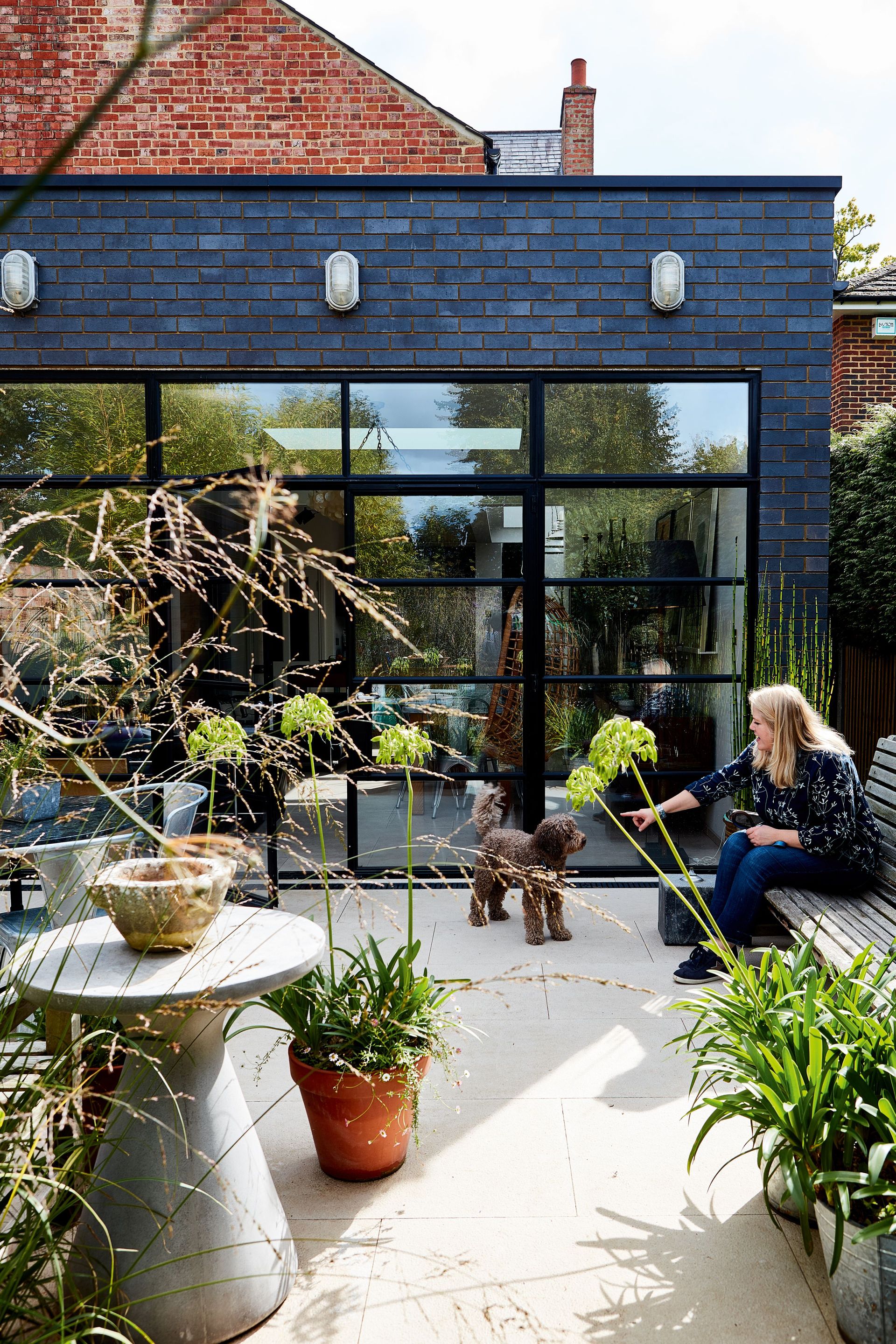 Using the same surface material and wall colors both outside and in helps to blur boundaries between the house and garden, making both spaces feel bigger. But few materials can be used for both floor surfaces. A textured finish is important for grip, so another material of a similar size or color, or a weatherproof version, is necessary.
Western red cedar or hardwoods such as oak, iroko and balau will extend wood flooring outdoors, especially if the planks are laid the same way, but wood-effect materials will work brilliantly, too. Plastic composite decking is an option, or paving — try CED Natural Stone.
Creating a seamless transition isn't as simple as raising an exterior surface to the level of the internal floor height, as it could compromise the damp-proof course (DPC). With new extensions, a high DPC can be added, or, with existing buildings, interceptor or tidy slot drains installed on the threshold. Patios and terraces should slope gently away from the house so water doesn't collect by walls.
11. Work with the patio's boundaries
'Walls and fences provide useful garden space, so think vertically with your design scheme,' advises James. 'Fix vine eye screws and wire to a fence, or a trellis to a wall, for wall shrubs and climbers to grow up. You can mask ugly walls with cedar strips, ornate trellis or concrete render. If you choose to paint them, keep the colours light and subdued so that boundaries recede. Cobalt blue walls, for example, will make the space feel like a blue cell, so stay neutral. Tall fencing, walls or dense planting can create cramped little corners in small courtyards, which aren't practical to use. However, if you subtly conceal parts of the garden so that you can't see the entire space all at once it can make it feel bigger than it actually is. A large potted bamboo or two, a freestanding trellis covered with sweet peas or tall planting with lacy perennials, such as Verbena bonariensis spilling from the flowerbeds, will help to achieve this without taking over your garden.'
12. Frame a large paved garden space with planting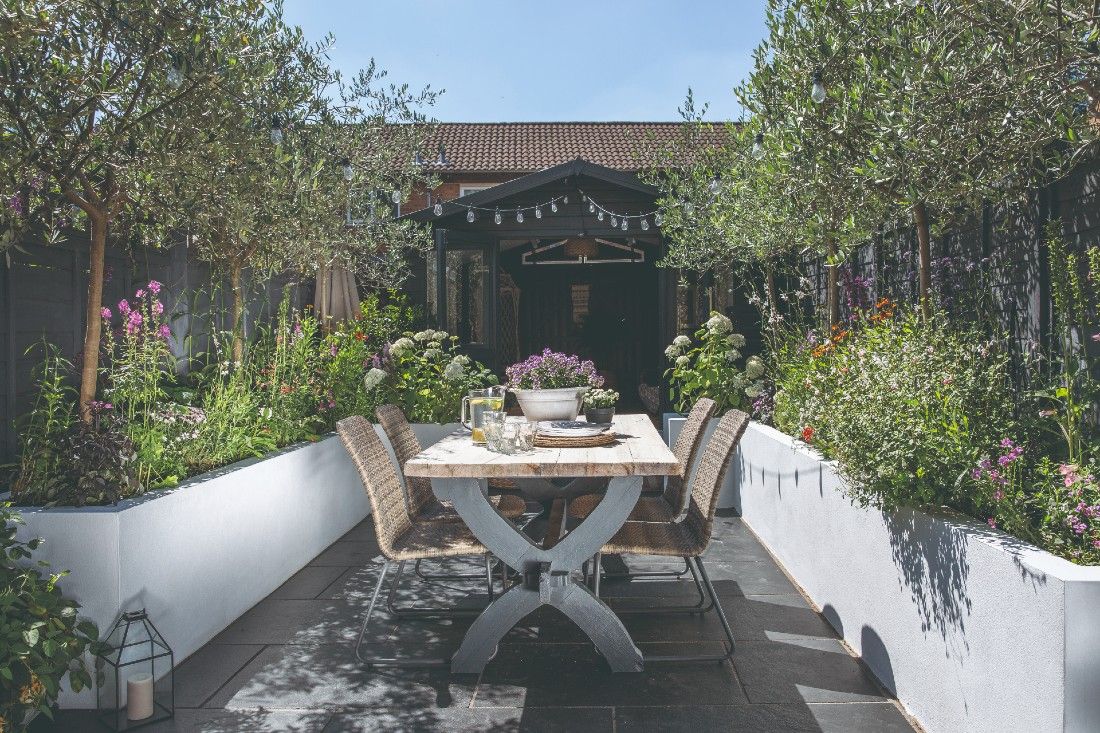 Vertical garden ideas save on ground space and can add depth to all types of paved garden space. Get creative and trying using the likes of trellis and more to grow clematis, jasmine or rambling rose. 'Plant up the boundaries first with climbers, then layer plants down in front of them, finishing with the smallest at the front,' advises garden designer and horticulturalist Matt James. 'With space at a premium at the back, choose well-behaved wall shrubs instead of big, spreading shrubs. Good choices would be Ceanothus, Chaenomales and Garrya elliptica – the gorgeous silk tassel bush – pruned and trained tight to the boundary. For an oriental feel, try tidy clump-forming bamboos like Fargesia nitida and grasses like Miscanthus; both are tall but thin.
'For the middle tier, plant smaller evergreens such as Christmas box, sage, Cistus, Pittosporum 'Nanum' and the smaller deciduous Viburnums, depending on the aspect. Mix in stalwart perennials, like Japanese anemones, Geranium phaeum and ferns for shade, with asters, Echinacea, Linaria and Lysimachia for sunny aspects.
'Plant the pockets in the front tier with ground cover perennials such as silver Stachys byzantina, Ajuga, catmint, ornamental dead nettles and low-growing thyme. Sprinkle a few bulbs throughout for added interest in this space.'
If you have space, then a well-watered container garden with fresh carrots and runner beans is a cook's dream. Bush roses, fuchsias and camellias are beautiful, sweet-smelling flowers that thrive on a patio if a kitchen garden isn't your thing.
13. Enhance a small paved area with a green wall
A good way to make the most of a small paved garden space is to fit a green wall, consisting of interlocking planting trays filled with specialist planting medium, attached to structural support posts and specialist backing boards. This can take all manner of evergreen and flowering plants and even edibles, and for best results should be irrigated automatically.
14. Complete garden paving with outdoor lighting
Create the perfect atmosphere by investing in some soft garden lighting. Solar-powered garden lighting is an ideal option, particularly to avoid dangerous trailing wires. Solar lights come in many different varieties to hang in branches, trellis, or around a table top. Richly coloured Moroccan lanterns are soothing on a summer's evening, especially if you use insect-repelling citrus candles. For brighter options, a qualified electrician can install power and down-lighters.
15. Add those final touches to your paved space
Complete your paved garden space so that it is not just a joy to look at, but also to be in. Think about garden seating, complete with an awning or even a patio umbrella to protect against the rain.
You could even add one of the best chiminea options or bring your favorite fire pit ideas to life to create a stylish focal point. If there is space, consider a BBQ or an outdoor dining area, ideal for family meals and entertaining friends.
16. Think of the effects of weathering on paving
Appearances are important, but so is performance. Garden paving and decking should be slip-resistant, durable, and require little maintenance. Retaining structures built with bricks, blocks, sleepers or stacked stone should stand firm even if the soil beneath is waterlogged. While good-quality materials cost more, they will last longer.
From a visual perspective, check if a material weathers well. Oak, natural stone and copper only get better with age. Concrete imitation paving won't change at all; however, for some people, this is exactly the point.
Which is the best paving material to use?
Most garden designers use three to four different materials, such as granite, brick and oak, to avoid a look becoming too busy. This makes it easier to achieve garden design unity. Don't feel you can't break up one monotonous material – knapped flint along side clay bricks is common in rural gardens, for example. Or use smaller units of the same thing – a ribbon of rough granite setts running through crisp sandblasted granite slabs could subtly delineate a children's play space.
Natural stone paving is well worth the money also: durable, frost resistant, it should last decades if properly cared for. As a rule, if you don't know what you want, go for sandstone, which complements most garden design schemes. In a contemporary garden, granite or limestone paving slabs will look very smart, too.
Which paving style is best?
Hard landscaping can enhance or ruin a scheme. Rustic clay pavers, river-worn gravel, split riven sandstone and tall hazel hurdles suit more traditional designs. For modern schemes, sawn limestone, quartzite, planed oak – even polished concrete – are common, although cut, sanded or planed materials usually cost more. But don't be afraid to break the rules. Traditional materials used in a contemporary way (such as porphyry or sandstone planks) also feature extensively in modern designs, for a pleasing hybrid of old and new.
Do you need planning permission to pave a UK garden?
There are no restrictions on the area of land which you can cover with hard surfaces at, or near, ground level. However, significant works of embanking or terracing to support a hard surface might need planning permission if you live in the UK. Likewise, if you live in a listed building, you will need listed building consent for any significant works whether internal or external.
How materials behave and affect the wider environment is a hot topic. Water run-off is a key issue, especially in UK towns and cities where old drains can no longer cope with run-off from so much extra paving and tarmac. Rules introduced in 2008 now mean impermeable surfaces mustn't exceed five square metres in a front garden unless angled to a lawn or flowerbed; otherwise you'll need planning permission.
Many permeable alternatives exist, from gravel and block paving ('rumbled' blocks look more natural) to reinforced grass (such as Geogrid from Grassform), so it's not difficult to comply. Porous paving and bound gravel, even permeable tarmac, are also worth considering, especially if you want to create an eco-friendly garden.
How do you prepare ground for pavers?
The key to the lifespan of all hardscape is the foundation or sub-base. The depth and construction varies according to materials. Garden paving slabs typically require a solid foundation (5cm to 20cm deep, depending on soil conditions and material), ensuring no movement. Brick or block pavers for driveways are usually laid on compacted sand (a 'laying course'), over a thick sub-base. Only the edges are cemented, to hold the whole surface together.
Gravel drives need a compacted sub-base, but paths typically don't. Never scrimp; ask a landscape contractor for advice.
Can you lay a paved area yourself?
Taking the DIY route and learning how to lay a patio or paved space yourself will help save money on a garden redesign and guarantee that it is done on your timescale. A contractor will likely be quicker and provide a better-quality finish, but you will have to fit into their schedule, and it will affect your budget. And, don't forget, if you are unsure about your patio's design, it may be worth hiring a garden designer for a day's consultancy.
Deciding which course to take will allow you to create a more accurate schedule and budget.
How much does it cost to pave a garden in the UK?
The labour cost for paving will depend very much on where you live, but expect to pay between £75 and £100 per square metre for someone to prep and bed down the paving slabs on a mortar mixture.
The cost of the patio slabs depends on their design, size, construction, quantity and quality. Cut natural stone costs more than split, while loose gravel is cheaper than resin-bound. Concrete imitation paving costs less than the real thing and, being a uniform thickness, is quicker to lay, too. Factor in labour and machinery, and always get quotes from at least three contractors.
It is worth remembering that up to 80 per cent of your landscaping costs will be allocated to ground works. There is often little difference in costs between the installation of cheap paving products and more expensive ones, so choose the paving that you really want.
DIY keeps costs down, but know your limits. Laying a gravel path is simple (don't forget the cost of edging), and laying herringbone path is within the reach of a competent DIYer, but for brickwork, rendering, plastering and patio stone, employ a professional for a quality finish. Retaining walls and steps isn't easy, plus it's essential to get them right for safety.
Where to source your patio paving?
Where you buy your patio paving slabs really depends on your budget. Cut the costs by with plenty of research. Local builders merchants and DIY sheds offer good deals, and using local materials can cut costs, but this isn't always the case. Brazilian slate, for example, is cheaper than Welsh. Likewise, reclaimed materials are rarely cheaper than new.
If you have the time and budget to look for something more interesting, specific, or in line with the style of an older property, many reclamation and salvage yards carry reclaimed paving slabs that might be perfect for your project.
Garden paving never looked better 🙌