These flower bed ideas will transform your backyard with beautiful floral color. Flowers are easily one of the best tools in any gardener's arsenal when it comes to enhancing the look of your back or front yard. The even better news is that most flowers are actually really easy to grow and don't require much maintenance, just a good thorough watering now and again.
Also, if you're looking for garden ideas that won't cost you a huge amount, flower beds are the way to go. Flower seeds and plug plants are very affordable, which makes them invaluable for covering larger areas in a space that's in need of TLC.
Are you ready for a colorful, fragrant journey to getting your yard to look its very best?
1. Start with colorful bedding plant classics
There's nothing quite like a gorgeously dense flower bed in mid-summer, full to brim with bedding classics. Petunias, begonias, and marigolds are some of the most commonly planted flowers, giving you masses of colorful blooms all through the summer. They're also easy flowers to grow – just remember to water!
If you aren't sure where to start, we have tips on how to choose a color scheme for your garden.
2. Grow wildflowers for easy matinenance
If your garden has a fair amount of hard landscaping, or if you're all about a wildlife garden vibe then choosing wild flowers is the perfect way to soften the look. Try a wild flower seed mix to add poppies, pops of blue cornflower and more bright species to your flower beds.
3. Choose bee-friendly species with color impact
Want to create a bee-friendly garden? Incorporating bee-friendly flowers into your flower bed is a great place to start. Fortunately, many of the best-looking flowers are also beloved by bees, providing them with plenty of nectar. Alliums have to be our favorites for their distinctive globular shape, tall stems, and the dreamiest purple color.
3. Combine flowers with succulents
Succulents don't just do well on your window sill and they can in fact thrive outdoors. Varieties like Echeveria elegans don't need too much soil space, making them perfect to squeeze in among flowers in tight displays, whether you keep them in a separate pot or not. All sempervivums do well outdoors also, and need we mention how incredible they look coupled up with roses and the like? Try this look around the side of your backyard or in another small garden spot.
4. Try drift planting for dramatic impact
Drift planting is basically planting in rows, and it looks incredible especially in larger backyards. Try contrasting colors of the same plant or alternating rows of different plants, as shown in this beautiful drifting plant scheme using alliums and salvia.
5. Line your dining area with flower beds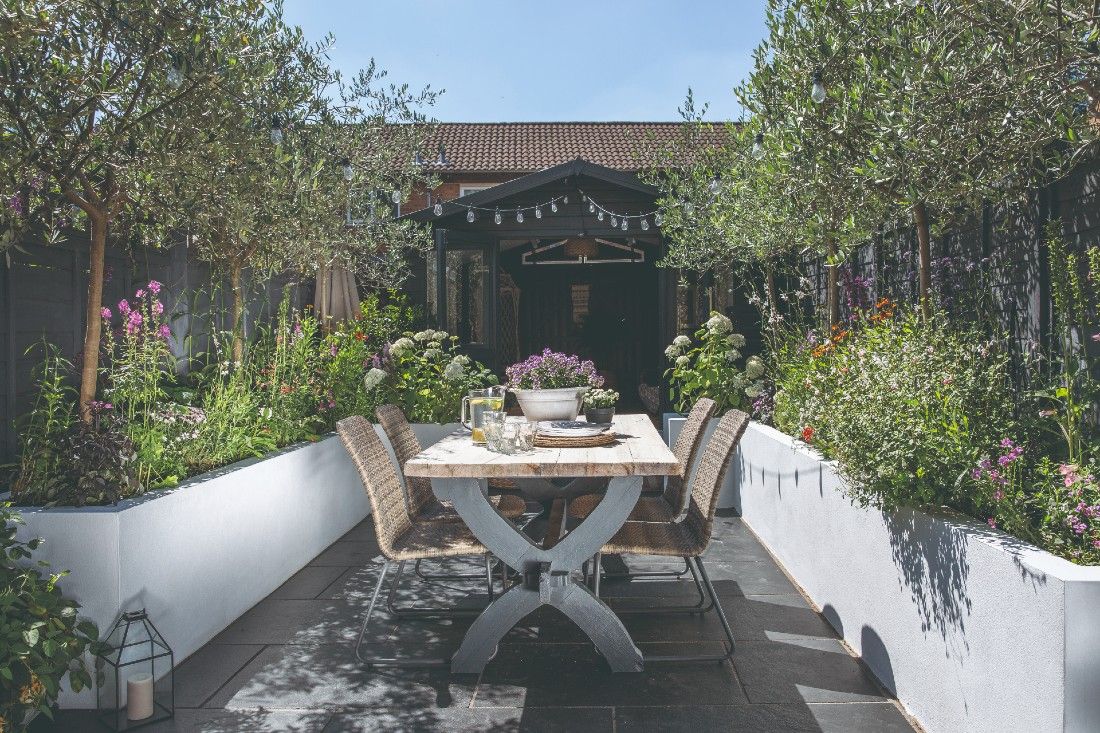 Flower beds in sight will make all outdoor living spaces that little bit more exciting. We love how the flower beds here frame the backyard dining area, setting a natural backdrop and adding heaps of atmosphere also.
6. Give your flower beds definition with garden edging
Effective garden edging is key to many of these flower bed ideas – one can be used in order to enhance the other. Even simple, raw garden edging will make your flower beds really stand out, drawing the eye towards them.
5. Mimic a flower bed with containers
If you don't have much soil going on in your backyard, if you only have a balcony or other tiny outside space but still want to get your flower bed look on, you can make it happen with clever container gardening. Choose a pot made from natural materials like rattan or wood for a soft finish that will complement whatever variety of florals you'd like to plant. And, play with levels for interest and elegance.
6. Make your flower beds edible
Beautiful and delicious? We're game! And if you've got kids that like eating the heads off of flowers (you know the type) then choosing edible flower varieties for your beds will help put your mind at ease – at least half the time. Nasturtiums are beautiful to serve on salads or to decorate a summery bake, repeat the same colored variety for an eclectic pop to your outdoor space.
Kate Turner, Gardening Guru at Miracle-Gro, also recommends Calendula, 'A wonderful and easy annual flower that brings a bright bold splash of orange happiness to your garden. Although annuals these flowers produce seed which will spread around your garden every year. You can eat the petals in salads and they are also great for pollinators too!'
These edible flowers are great if you're gardening for beginners with the kids, or just want to something that isn't a full-blown vegetable garden.
7. Pick a duo color scheme
Tulips make great garden border plants and you can find them in so many colors that you'll be able to create the decor scheme you have in mind with ease. We like just two colors for impact. If you want to jazz it up furthermore, team them with annuals and even perennials for a super low maintenance garden look.
8. Or stick to one color for an elegant look
Single-color planting schemes always look attractive in flower beds; if you're not sure what flowers to go for, just pick lots of different ones in a similar color group. Purples are very easy to group together, but you could also go all-white or all-pink very easily.
9. Get creative with outdoor ornaments
This flower bed is beautiful enough, but the beautiful stone urn brings it to the next level, adding even more character to the space. You could recreate the same finish by repurposing an old wheelbarrow or watering can – get creative!
10. Add height with tall-growing bi-annuals
Many bi-annual flowers grow tall (over eight feet), so if you want to add some interest with height, you should definitely plant them in your flower beds. Hollyhocks, lupins, and foxgloves are just some of the tall bi-annuals to consider. Plant some more the following year and you will eventually have these flowers blooming in your yard every year.
11. Create sensory spots
We love growing lavender in flower beds to bring a sense of calm alongside herbs like rosemary for their cool texture, look and taste. It is a great addition to any herb garden and can be used in cocktails and baking, but we love the sensory opportunities it adds. Brush past it on a warm day and you will know what we mean.
12. Raised beds are not just for vegetables
Raised beds are not just for veggies! If your backyard has poor soil, or you just want to try something a bit different, raised beds are perfect for growing all kinds of flowers.
13. Combine minimal florals with evergreens in a garden bed
If you love a little DIY and have built raised flower beds yourself, and if you prefer a fresh, modern finish to your outdoor space, this idea is for you. Combining delicate flowers like fuchsia with evergreens and shrubs will keep the finish pared back, but lovely all the same.
14. Choose a multi-colored display
Try for a mix of brights for a multi-colored and fragranced display, all while keeping one color running through each flower bed if you're fortunate enough to have a few different ones in your backyard!
Turner raves about Sweet Peas especially, 'If you want an addition to your garden that is not only going to look beautiful but smell beautiful too, then sow some sweet peas. These are hardy little plants that can be sown in winter and you can even grow them in toilet roll tubes! Once they flower keep picking them and they will keep on flowering.'
15. Pick plants with long flowering seasons
Some plants will only flower for a couple of weeks in early summer, so you can't rely on them to provide you with summer-long color in your beds. Pick at least a couple of varieties with long flowering seasons: lobelia is a case in point, flowering all summer.
16. Introduce shrubs to add more volume
If you're not quite getting the density and height you desired with just flowers, add some shrubs for instant impact. Hydrangeas and roses are obvious candidates and will instantly make your beds look luscious. Shrubs will work really well in front yards, too.
17. Go moochrome for a contemporary effect
If your backyard has a modern and less is more vibe going on, you can plant out flower beds with neutral toned and even white floral varieties to create the right look. Pick different shapes and textures for subtle interest.
18. Add late summer interest with sunflowers
Ideal if you're also looking for smaller garden ideas, sunflowers add sunny and spacious vibes to your spot. Turner says 'A sure winner for all the family is the sunflower which kids can proudly grow themselves. Go for Giganteus if you want to transform your garden into a playful haven, with looming and giant eye-catching yellow flowers. Great for bees but if you leave the seed heads on the plant then you've got your very own home grown bird feeder.'
Plus, if you've an unsightly garden shed around, it won't be so ugly anymore...
19. Let flower beds interrupt your garden path
One of the wilder flower bed ideas, letting your planting be a little more dramatic in-ground flower beds so that all those brights spring into your garden path or walkway will make for a playful finish that kids and grown-ups alike will love.
20. Play with texture
If you want to get the most out of your flower bed ideas, picking plants of contrasting textures will add dimension and depth to your planting scheme. If you're not sure where to begin, combining single and double flowers and adding ornamental grasses will be a good place to start building a textured flower bed design.
How do you start a flower bed for beginners?
We spoke with Kate Turner, Gardening Guru at Miracle-Gro about the best approach when creating floral garden beds if you're making yours for the first time (or with the kids!). She says 'A fantastic introduction for beginners is to have a go at growing flowers from seed. Not only are they a cheap way to start but there's an endless variety of color and types to choose from. They are also low maintenance.'
This of course will take a little longer for a filled-out display, but many flower varieties are fast-growing and the end result will be worth the wait. No wonder growing from see is one of our favorite budget garden ideas.
How do I arrange flowers in my flower bed?
The easiest arrangement for a flower bed is by height. Taller species (e.g. hollyhocks and foxgloves) should be planted at the back of a flower bed, while smaller, low-growing flowers like petunias should go at the front. You'll also need to consider light availability. Most flower require a sunny spot, but if part of your flower bed isn't, choose shade loving plants that don't mind part-shade conditions.
What is the best shape for a flower bed?
Round or at least curved shapes are typically the best for flower beds. Naturally pleasing to the eye, rounded flower beds are also easier to walk around and look good integrated into your lawn. That's not to say that angular or even square flower beds can't work, but they look best in backyards with a more contemporary look and lots of hardscaping.
How will your garden flower beds grow? 🌷