If your plot is in need of a makeover, garden landscaping costs will be on your mind. Good garden landscaping could turn yours into a space in which you really love to spend time whether that's tending plants, growing veggies and fruit, relaxing, cooking or dining – or all of the above.
The costs of landscaping include both what's called hard and soft landscaping. Hard landscaping includes elements like paving and decking and walls and fences, but it can also involve levelling the plot and tackling drainage issues. Beds and borders and the planting that goes into them along with laying lawn is the soft landscaping.
If you want inspiration for how your garden could look plus find out about the process, check out our special garden landscaping feature. For guidance on what you should expect to pay, just scroll down.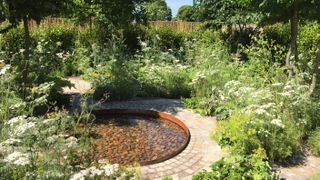 Hard landscaping costs
Hard landscaping costs, as we mentioned, include those for drainage and levelling as required, fences and walls, the paving you lay for patios, terraces and paths, and any decking you choose to install.
If your project involves a total transformation of every element of the garden, or perhaps you've a sloped garden to work with, then clearly the costs of all of these should be part of your budget. However, if some or all of the existing elements are sound, you may be able to incorporate them into a new design, saving on the overall costs.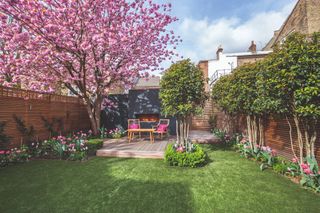 The cost of hard landscaping will be influenced by the materials you choose. Re-using materials such as old bricks for paving, for example, could save against buying new materials. Laying gravel rather than paving could also save you money.
Creating a deck in your garden? What the deck's made from will also have an influence on garden landscaping costs. A softwood deck is the least expensive option in the first place, with hardwood decking and composite decking costing more.
How much hard landscaping you include will also influence your costs for garden landscaping. This isn't just a function of the garden's size, however. If you dedicate more of the garden to planting and less to hard landscaping you could also lower the overall bill.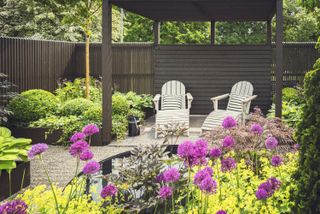 Soft landscaping costs
Soft landscaping costs will not only be influenced by which trees, shrubs and other plants you include, but their size. In other words, if you're prepared to wait for your garden to grow, then you can reduce costs. Opting for large specimens for an instant garden, however, will send your budget higher.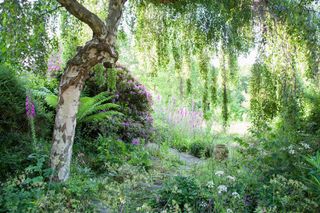 What other garden landscaping costs are there?
Aside from the costs of the hard and soft landscaping, an important influence on the final total for your garden makeover is whether you choose to use a garden designer or landscape contractor. If you feel happy to create your own garden design, you can save this money.
Like the idea of employing a professional to come up with a design? Bear in mind that you can use a garden designer for just that – the design itself. Alternatively, they can design and then manage the project, or they could give you a complete design and build service.
If you are happy to plan the features of the garden yourself, you have the option of then employing a landscaper to make your plans a reality, and can get quotations from professionals to compare.
You could also split the labour involved in your project according to your talents. You might do the planting and lay lawn, but pay for expensive paving stones to be laid, for example. Garden lighting is subject to building regulations, so you can opt to call in an installer registered with a competent person scheme. If not, an application to building control or a building control firm will be required, adding to costs.
Be mindful that the design you choose for the garden will also influence landscaping costs. A contemporary design will demand an extremely precise finish while a cottage-style scheme with softer lines will save in comparison.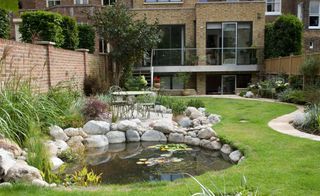 How much should I budget for landscaping?
Your budget for landscaping will, as we've seen, depend on whether you can retain some existing elements of the garden, the materials selected, the balance of hard and soft landscaping, whether you are prepared to wait for the garden to grow or want more instant results, and – of course – its size. How much clearing and levelling are needed will also affect the budget for your project.
Employing a professional and having a patio prepared and laid, a lawn prepared and laid and a decent-sized bed prepared and planted out could cost you from around £4,000, but clearly most designs will be more complex than this. For a smaller garden you can expect to pay from around £10,000. For a large garden, and depending on the design, costs could reach as high as £50,000 and more.
When it comes to costing labour, most landscape contractors will readily give you an hourly or daily charge-out rate, as well as an estimate as to how long jobs might take. For the cost of machinery and plant hire, ask local reputable hire companies to provide daily and weekly prices.
Typically, labour costs amount to 50 to 60 per cent of a project's costs, so, with a £10,000 budget – typical for urban gardens – that leaves £4,000 for clearance work and skip hire, design fees (around £1,500), specialist consultant fees, if necessary, and materials.
If you are employing someone to take on the entire project, it is worthwhile getting quotations for both labour and materials. This comparison of an 'all-in rate' is easier when you're choosing. This should include the complete cost for a particular part of the job, including labour and all materials. This rate will differ depending on the contractor and also the size of the company (the larger the company, the higher the rate). Site overheads and profit aren't listed, so your best bet is to ask experienced contractors who can advise and could quote for the work in advance. Contractors that are affiliated to either the British Association of Landscape Industries (BALI) or the Association of Professional Landscapers (APL) should be your first choice, while Checktrade also has reputed garden landscapers across the UK.
Be aware that if you are going to include a feature that requires planning permission, such as a raised deck, you will need to add in the fee, currently £206 in England.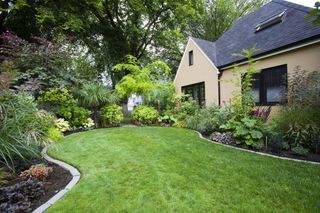 Is landscaping worth the money?
Garden landscaping is worth the money in our opinion. It can turn a sad outdoor area into beautiful extra space that meets your needs in terms of enjoying gardening (and growing produce if you like the idea), providing a place to relax, dine, and cook, too, and a space for kids to play.
Remember that there are plenty of ways you can lower the cost without compromising the garden's attractiveness and functionality, as we've detailed above. Either research materials costs yourself to find the less expensive options or let a garden designer or landscape contractor advise you. Take on the work you can do safely and competently on a DIY basis, too, if you want to lower your bill, and think about the balance of planting and whether you want a more instant garden, or can wait for growth.
Time to get to work.