These clever patio cover ideas will help you transform your outdoor space into an even more functional and beautiful place to spend time in.
As easy garden ideas, whether you enjoy your paved space for a morning coffee or for routine outdoor cinema sessions in the summer, choosing covered patio ideas, be them temporary or permanent, is a sound move for more privacy and rain protection.
From covered deck ideas which will instantly give your patio the coveted outdoor living room look, to more budget-friendly designs and more, we have the best inspiration.
Patio cover ideas that will inspire you to spend more time outside
'The overall trend we've been seeing through COVID is that people are wanting to live outside, and you can extend the life of your outdoor space throughout the day and the season by putting an awning over your patio,' says Samatha Steur, product manager at Sunsetter Awnings.
1. Start with a pergola and build it up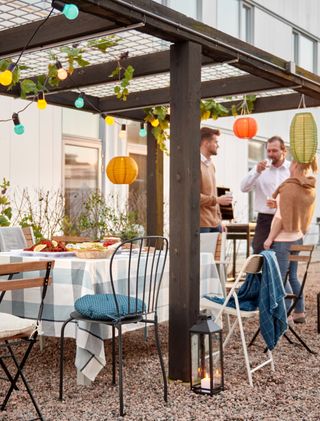 Building a pergola is one of the most versatile ways to create a covered patio. You can start by building a simple structure and then increasing coverage with evergreen foliage (ivy always works well), seasonal climbers such as wisteria and jasmine, and waterproof sheeting on top if you need it. Pergolas are also easy to accessorise with garden lighting – try festoon lights combined with pendant lanterns for a cosy look. See our guide to further pergola ideas.
2. Create a makeshift green roof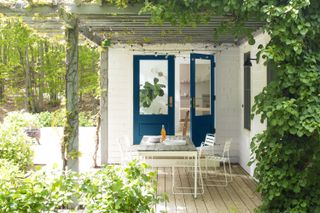 Green roofs are often added to outdoor structures as a decorative waterproofing membrane. While it may not be possible on a patio space unless it is part of an extension, you could still nod to the look with vertical gardening to create more of a wildlife haven and not to mention, private space in your enclosed patio area.
3. Make a patio part of your extension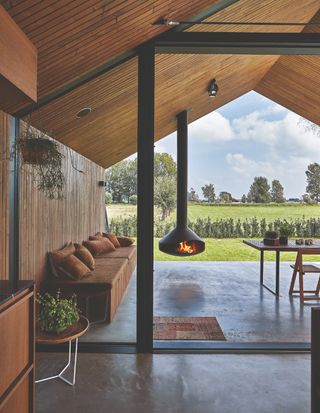 For a covered patio area that feels like an outdoor living space, build it out as part of your house extension. Having a more robust structure in place is an investment, but it will add value to your property on most accounts, especially as it will give your the opportunity to include the likes of a chiminea fire pit, plush outdoor sofas, and more as you would in your living room.
4. Or, choose a glass box extension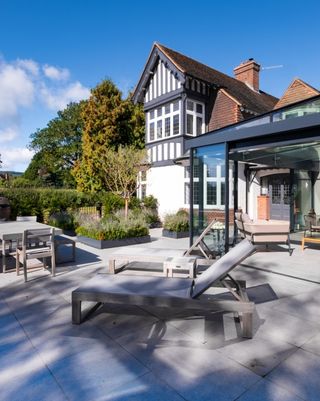 The beauty of a glass box extension is how it can create a seamless link between the indoor and outdoor space. Floor to ceiling windows hung on the paving make for a cool and minimal finish, letting you spend time under your patio cover, or lounging out on the wider outside space.
5. Keep it minimal, but functional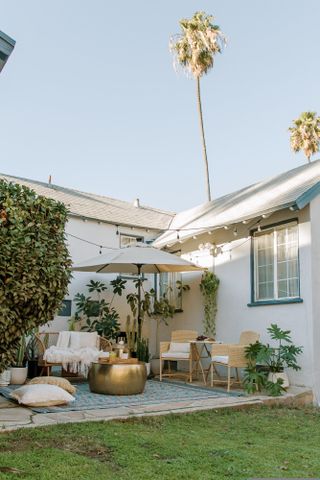 A parasol that you can put up super quickly, blends in, and does the job of keeping the rain at bay, is one of the best patio cover ideas around. Keep your color scheme minimal for an even more chic finish. There are a lot more garden screening ideas to consider.
6. Keep it well lit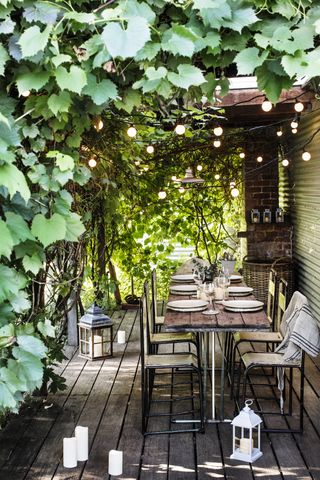 With all patio cover ideas, there is always a risk that you block out some sunlight so be sure to take this into account when you come to design your best setup.
What's for certain is that garden lighting ideas will enhance the end result furthermore. Create a dreamy setup like this under your patio cover and you'll still feel like you're staring at the stars.
7. DIY a roof with garden netting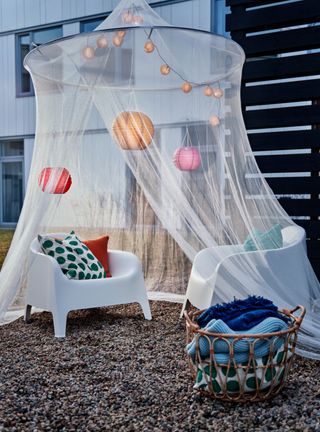 If you're looking for occasional, light patio coverage, then a garden net is one of the easiest and cheapest ways to create a covered patio atmosphere without having to do lots of DIY or investing in expensive permanent options.
Of course, a net won't protect you from heavy rain, but on a fine, chilly evening, paired with a patio heater and some pretty fairy lights, it can help create an enchanting atmosphere. The Solig net is just £15 from Ikea.
8. Get a garden sail for a patio corner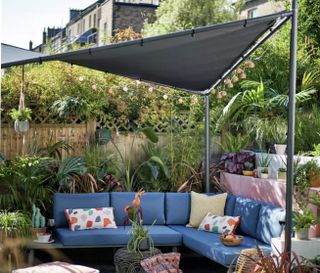 Garden sails are all the rage at the moment, not least because their billowy shapes look great in Instagram photos. Sail shades are also an inexpensive way to create a covered patio, and they can be easily removed as and when you want so work as a super small garden idea.
A good way to create a covered area in a patio corner over your corner sofa, without needing to invest in a permanent structure.
9. Invest in a louvered canopy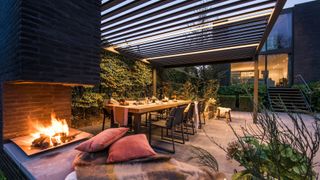 Want more substantial patio roof ideas for a larger backyard? A louvered canopy, like The Algarve by Renson shown above, is a versatile structure that can be attached to a house almost like a mini-extension or freestanding, and the blades are adjustable depending on how much coverage you want.
It's not cheap (£9,200), but it's cheaper than an extension and could help you build an outdoor room or outdoor kitchen. Or, create a simpler structure, like the one below, for a much lower cost.
10. Create targeted coverage with a tilted umbrella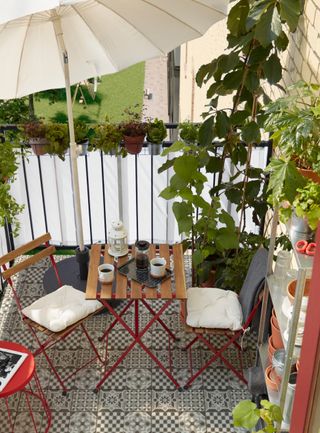 Parasols are the perfect solution for small patios or a covered balcony idea – you can easily get enough coverage for a small area if the umbrella is large enough and tilts. They're also useful in any season, protecting you from rain and wind during colder weather, and sun during the summer.
11. Ensure everyone is catered for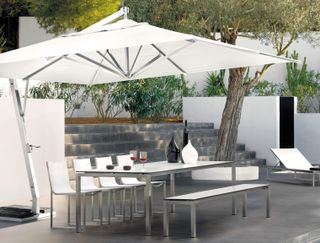 Having said that, garden parasols are not necessarily just for small backyards. An extra-large, sturdy umbrella can easily become a semi-permanent covered patio fixture. The Tribu Vitino Pendulum Tilt Garden Parasol (above), for example, comes with two base options – one for general use and one for heavy-duty use, making it suitable for windy weather. It's huge, too – three meters in diameter, making it suitable for covering your entire patio furniture set.
12. Choose clever outdoor seating with built-in coverage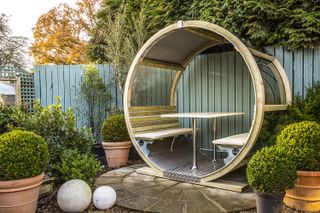 If your patio is small and you want an interesting-looking alternative to an arbor or pergola, then this unique garden wheel bench from Cuckooland could be the answer.
Granted, it's not really an option if you already have lots of garden furniture, but if you're moving house and want a completely new look, it's such a great idea. The interior is water-resistant, too, and the polycarbonate roof helps keep the heat in, like a mini-greenhouse.
13. If you have the budget consider a permanent covering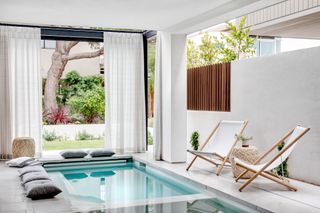 A built-in option is ideal if you want the feeling of being outside yet you need the protection from the sun or rain – depending on where you live. An all-white scheme gives a Mediterranean feel and will help to bounce the light around even on the cloudiest of days.
14. Handy with the tools? Try this design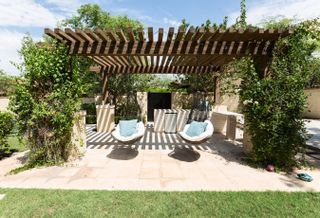 If DIY comes naturally to you then this open slatted design could be a good option. The four posts could go straight down rather than into the pillars shown here, all you need is the correct measurements and a couple of friends to help.
15. An outdoor kitchen can be covered too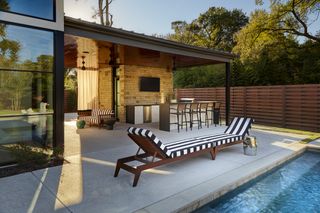 Cooking alfresco through rain or shine and in all seasons is totally achievable by covering your outdoor kitchen. Opt for a permanent structure like in this modern home and include a kitchen island where you and your guests can while away the hours eating whatever the weather.
16. Wood beams are a great option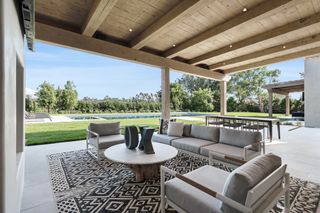 'You can cover an existing patio several different ways,' explains Susan Spath, president and principal designer of Kern & Co.
'You can use wood beams which can be fully covered with the same finished tile as your home's roof or you can leave it with just the beams. The beams eliminate the direct sunlight, allowing the area to be shaded and a bit cooler.'
17. Match your covering to the rest of the scheme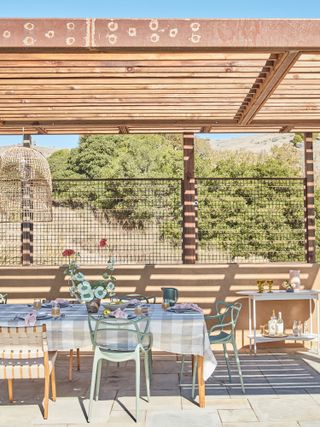 We love a touch of cohesion and this pretty covered patio designed by Lisa le Duc is a great example of how to make it work. Often, the wood is dark but this design perfectly matches the rest of the decor in this lovely outdoor setting.
'This Gazebo was designed and built using steel & redwood timber to cover a slight extension to a patio, providing dappled shade and a structure for trailing/climbing plants like Jasmin or Wisteria to grow on. A power source was added for the pendant lighting, the wicker shades can be removed in harsh weather conditions,' explains Lisa, creative director, and principal designer at Lisa le Duc.
18. On a budget? Consider a freestanding portable design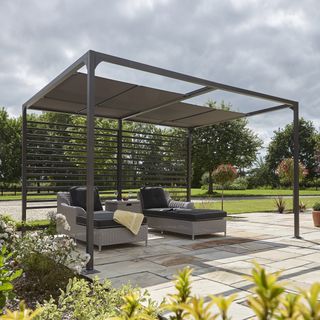 If the weather's hit and miss where you live, investing in a permanently covered patio might not be an option, especially if you feel you won't get the use out of it. This is where a free-standing design could be a fabulous idea – this Florence outdoor pergola from Nakenis made from lightweight aluminum and weatherproof weave canopy fabric.
The bonus with this design is that it has four independent sliding shade panels that can be partially opened to create shade as the sun moves throughout the day.
19. Got to love an awning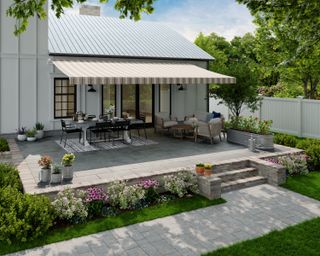 Reminiscent of old shop fronts, an awning is a fabulous covered patio idea to consider as Samatha Steur, product manager at Sunsetter Awnings explains:
'Awnings are a stylish and simple solution for homeowners who want to expand or enhance their living space to create an oasis outdoors for relaxation, entertaining and for their own health and wellbeing – but also stay protected from hot, and harmful, UV rays. SunSetter awnings provide many advantages and benefits including greater outdoor enjoyment, weather and UV protection (rain or shine), shade, energy savings, and custom-built features without the custom-built price.'
'They are a great solution for homeowners to enjoy their existing outdoor patio space in a protected, custom, and affordable – but also stylish – way. The awning fabric can be matched to your home's exterior paint colors and shutters and can tie into the color scheme and style of your outdoor furniture.'
20. Adorn your covered patio with multiple sets of fairy lights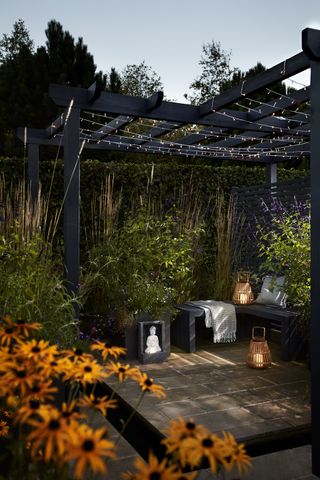 'Create the ultimate display by lighting up your covered patio area with warm white connectable string lights. We recommend you daisy-chain multiple sets together like these connectable string lights from Lights4fun and display them overhead.'
'String the fairy lights back and forth underneath the roof of your patio to create the perfect fairy light canopy. The warm white glow will create a tranquil retreat where you'll be able to enjoy the outdoors from the comfort of your home,' says Lucy Kirk, creative and photography manager at Lights4fun.
21. A pitched roof creates a grand covering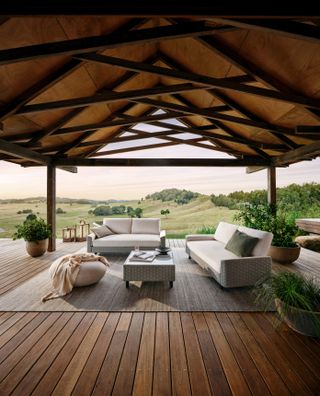 This fabulous pitched wooden roof gives the ultimate covering for this patio. It allows you to still see the view whilst giving protection against any elements. The design adds to the style of the space too.
22. Personalize your covered patio with a modular design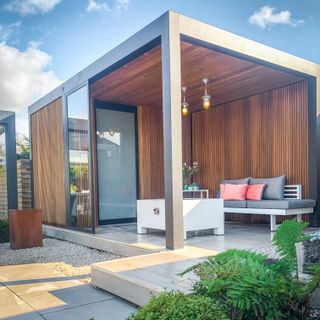 As we all have various sized gardens and individual needs, a modular set up has many bonuses. They can be attached to existing walls or freestanding and some come with multi-functional canopies made out of aluminum which is both durable, lightweight and can be powder-coated in any RAL colors.
You can choose water-resistant walls too and different materials for your panels like thermowood, they're a great choice for a bespoke design.
23. Create an outdoor sanctuary with a pergola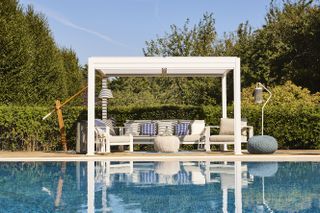 Come rain or shine an aluminum pergola is the perfect choice for an all round outdoor living space as Reilly Gray, founder of SUNS Lifestyle explains:
'When it comes to finding the right outdoor structure for your garden, there are a few key considerations to take into account to help you pick the right one. Think about what you'll use the pergola for as this will determine the style and type of materials you'll want to introduce.'
'For instance, a decorative wood frame will add a more traditional feel (and require more maintenance) whereas one in 100% aluminum will have a contemporary finish whilst being more robust, low maintenance, rust-proof, and suitable for use all year round. Aluminum will also last a lot longer than wood and the problem with wooden pergolas is once the wood gets wet it can drip sap on the furniture below which can ruin furniture. The powder-coated aluminum will never fade and will look the same forever, the wood will change almost instantly after it has been installed.'
How do you cover an existing patio?
'There are lots of great options, but the first step is to create a roof support structure if you don't have one already. The best (and easiest) way to do this is with 4x4 lumber beams and 2x4 lumber roof supports.'
'To cover the patio, the most popular option we have seen lately is using polycarbonate panels. They are plastic-like panels that are very durable in resisting hail and wind and also allow sunlight to pass through. Other options include plywood with shingles or metal over, but both options are pricier than the trendy polycarbonate,' advises Kyle Shirley, owner of Colorado-based Sol Vista Roofing.
How do I cover my patio on a budget?
'It is hard to determine the cost, because there are so many different ways you can cover a patio space with landscaping, umbrellas, etc. If you are leaning towards a more budget-friendly option, umbrellas and landscaping are a great way to add some shade to your patio, which also looks great,' explains Susan Spath, president and principal designer of Kern & Co.
How much does it cost to cover a 12x12 patio?
'If hiring a professional, covering a 12'x12' patio will likely run between $2,500 and $5,000. We just completed a patio project for a client in Denver with a 14'x14' patio that we covered with polycarbonate panels, and that project cost $4,400. If tackling as a DIY project, the material expense alone would cost approximately $1,600-$2,500,' says Kyle Shirley, owner of Colorado based Sol Vista Roofing.
What do you call a roof over a patio?
'Many different words are tossed around when it comes to roofs or covers over a patio, mostly you will hear the word veranda or pergola,' says Susan Spath, president and principal designer of Kern & Co.
Is a covered patio worth it?
We think so, but it totally depends on your needs. Whether you and your family spend a lot of time outdoors or, if you just sit out in the evening every so often, and only when it's warm. If you're the former then having a guard against the elements to protect both you and any outdoor furniture, is essential.
If you sit more in the latter category then you could still consider patio roof ideas that aren't permanent and that are as easy to put up as they are to put down, like parasols, as they will help with prying neighbors if your patio is overlooked, and add a touch of luxe too.
If you're thinking of enclosing your patio area with a more permanent structure then this could of course even add value to your property as it would be classed as a home improvement, much like when you add a garden room or outbuilding to your backyard. We've listed more backyard improvements that'll add value to your home.