How we test coffee makers: Quick Menu
Wondering how we test coffee makers, and why our reviews are incredibly in-depth? Well, research has shown that 7 in 10 Americans drink coffee every single day. But the quality consumed, and how your beverage is made varies substantially. From instant freeze-dried preparations to pods, grounds, and even coffee bags we all have our own methods and machines we prefer.
We've been reviewing coffee makers both at home and in our dedicated testing lab for nearly five years now, and as a result, we've landed on our top favorites. That's not to say that this will never change, of course. We also review brand-new coffee makers, as they are released or sometimes just before. Either way: we will always have hands-on experience with a machine before we recommend it. All of our coffee maker reviews are conducted either by team members or in the case that we have no more space left on our kitchen worktops, by a contributing editor that we trust. Whilst thinking about who is the best person to test which coffee maker, we always consider their living situation too.
This means that the best coffee makers we can recommend have been put through their paces to check that they can cope everywhere from a busy family home to a single household with a tiny kitchen and every other situation in between. We always try to use these coffee makers for at least a month before coming to a decision, and in some cases, we might review them or have two (or more) going at one time, as this makes it easier to compare different models for our key criteria.
How we test coffee makers — our methodology
Coffee maker experts

We use a rigorous five-stage process to become a Customer Advisor. Customer Advisors are proven experts, with hands-on, long-term experience of industry-leading products and the ability to compare between major brands to help you make the best choices for your home. Our acting head of ecommerce, Christina Chrysostomou, is our current in-house coffee maker Customer Advisor.
The process is as follows:
Home user: We own a market-leading option, and use it in our home or garden on a regular basis. This means we see how the top products hold up over time, and compare new releases to our top choice.
Industry expert: We know the market leaders, and stay up to date on their latest releases to make sure we're always in the know.
Behind the scenes: We've been to a factory or showroom to see how products are made and experienced the behind-the-scenes of how new products are tested and developed.
Technical know-how: It's one thing to test a product, but the key to being a customer advisor is knowing how it works. We understand the inner workings of a product and can explain exactly what makes it satisfactory (or unsatisfactory).
Reader awareness: We answer to our readers. Ask us questions, request new product releases, or just let us know what your favorite products are! We want to understand how you shop so we can help with your purchasing decision.
Christina Chrysostomou balances her time sitting behind a desk and getting hands-on with some of the best coffee makers on the market — including her De'Longhi Rivelia. Though reviewing these appliances is fun, she appreciates that cleaning coffee grounds and descaling. She has been invited to De'Longhi's factory in Treviso, Italy, and attends espresso-making workshops at the Smeg London Flagship Store. Before joining the Future Plc family, Christina worked for Media 10, including on events such as the Ideal Home Show, Grand Designs Live, Eat & Drink Festival where many products featured in a show home or kitchen scheme. She also produced digital content for Good Homes and Grand Designs Magazine.
Millie Fender is our former head of reviews at Real Homes, which meant that her kitchen was (and still is) full of new and interesting products that are constantly being put to the test. She honed her expertise in reviewing products by heading up the small appliances vertical, where she tested nearly 50 air fryers, as well as dozens of coffee machines, including the Nespresso Vertuo Plus and Smarter Coffee 2nd Generation. Nowadays, as head of e-commerce for Woman & Home, her tests are focused on hair and beauty.
Jaclyn Turner previously worked on Real Homes and has been a loyal Keurig user since her college days, sampling the majority of the product lineup. She loves browsing the gourmet coffee options at her local HomeGoods for specialty K-cup flavors.
Sarah Warwick is a freelance journalist and editor writing for websites, national newspapers, and magazines. She's spent most of her journalistic career specializing in homes — long enough to see fridges become smart. She loves testing the latest home appliances and investigating the benefits, costs, and practicalities of home improvement. Sarah reviews coffee machines taking them through their paces at home to give us an honest, real-life review and comparison of every model. She has tested the De'Longhi Active Line ICM14011, De'Longhi Dedica Style EC685, De'Longhi Scultura ECZ351, KitchenAid Artisan Nespresso 5KES0503, Lavazza A Modo Mio Idola, Lavazza A Modo Mio Jolie Plus, Melitta Barista TS Smart, Wacaco Minipresso NS, and Sage Nespresso Creatista Uno SNE500BKS.
Helen McCue is a freelance contributor who trained as a home economist. After starting her career in the food industry, she moved into home appliance reviews, utilizing her cooking skills and experience to put all kinds of products to the test, Over the years has reviewed hundreds of home and kitchen appliances for a variety of publications. Having completely renovated her current house, Helen reviews kitchen appliances from her open-plan kitchen at home in a beautiful Berkshire village. She has tested the Zwilling Enfinigy Drip coffee maker for us.
Casey Clark is our New York City-based contributing editor and has tested a handful of the best Keurig coffee makers for us including the K-Classic, K-Duo, K-Elite, and K-Select.
Paige Cerulli is our contributing editor and runs her own company, Wild Mare Marketing. She's tested the Nespresso Citiz espresso maker, the Casabrews espresso maker, and the EspressoWorks All-in-One Espresso Machine Set.
Terri Williams is our contributing editor and drinks decaf coffee every day – with breakfast, lunch, or dinner. She has tested four machines for us including the Cuisinart Coffee Plus 12-Cup Programmable Coffeemaker Plus Hot Water System, the Braun MultiServe Coffee Maker, the Nespresso Essenza Mini, and the Nespresso Pixie.
Bailey Cain is a contributing editor who tested the Beautiful by Drew Barrymore 14-cup programmable coffee maker for us. As an ex-barista who loves a brew, she has at-home and vocational experience with coffee machines.
As a working mom of three, Courtney Irwin fuels her day with lots and lots of coffee. She has spent lots of seeking out the best coffee makers, including the Nutribullet Brew Choice Pod + Carafe which she tested for us.
How we test coffee makers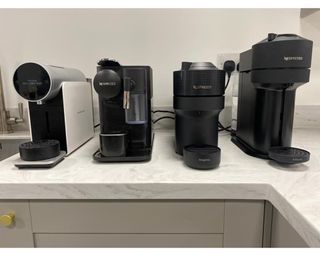 While coffee makers have been around for years, for a lot of people, making the switch from instant or shopbought is a first. This is why we make sure to include plenty of photos of our testing process and advise how to get the most out of each product when we review them.
We do like to add some objective measures to our reviews, tracking how long it takes to prepare coffee menu items, and measuring noise levels to ensure they are suitable for morning and evening use (homemade espresso martinis are a Real Homes favorite).
Even the most outstanding small coffee maker might not be the right fit for your kitchen or lifestyle, which is why we always test these in our own home, to help you decide if a product is right for yours. This enables us to figure out how a product slots into day-to-day life, for example, how easy a coffee maker is to clean, if the beverage-making process is messy, or if a pod coffee maker isn't the most sustainable option.
How we decide which products to review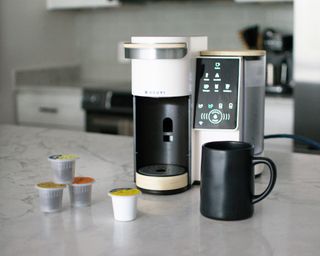 Our reviews are always completely impartial and never paid for. Brands will often send us coffee maker free of charge to give us the opportunity to review them. We are often allowed to keep them, which means we can add to our reviews over the months (and even years!) to note how well the product has fared after consistent use.
When we're not allowed to keep a product we try to hang onto it for at least three or four weeks to make sure that the product is put through its paces before we send it back to the company. This means we rarely miss a new launch and are constantly reviewing new coffee makers back-to-back, throughout the day.
Some brands are trickier to get hold of than others, but we're always striving to include as many different products as possible, with different price points and designs to suit any space or budget. We're genuine coffee maker enthusiasts, so if someone launches a new product with an interesting feature, we'll be first in line to try it out. You can find our 'Review in progress' badge on the models we are currently testing.
Why we bother with unboxing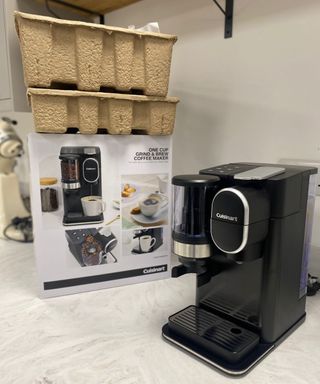 First impressions are everything — so how the coffee maker arrives is important to us. While things like a battered cardboard box can happen in transit, having something stable that you can carry home or get delivered without the packaging getting too damaged is essential.
Many of our Real Homes reviewers live and commute into the city, so we also have to think about lugging boxes on public transport. What's more, many of us rent apartments so more often than not have to shuffle stuff through lifts or carry these small kitchen appliances up sets of stairs.
We are all for sustainability packing too. So even if the coffee maker comes in 100 percent FSC cardboard — the box should be appropriately sized. Inside, some plastic is fine (for example plug protectors) but we would prefer it to be kept to a minimum. We'll always state where a product arrives with excess packaging that's harsh on the environment, as this is very important to us.
And, no one needs a forest's worth of instruction manuals and bits of paper, too, so where a PDF or page can be found online or kept to one sheet with a QR code, we're happy to scan this on our smartphone to find extra information.
Our standard testing procedures
Functionality tests
Coffee makers tend to (generally) fall into a number of camps: pod coffee makers and bean-to-cup coffee machines. When operating the former, you are instructed to insert a capsule and press a button that will pierce the cap to allow the grounds to mix with hot water. A fairly standardized process all in all. Whereas, with a whole bean machine, there is a bit more involvement around sourcing fresh beans, grinding them (and finding the right coarsity), and ensuring that the water temperature isn't too hot.
We don't have a bias on which is necessarily better as it all comes down to the overall experience. Yes, bean-to-cup brewers do have more buttons and settings, but most buyers consider it an art form that they can master with time and experience. And, most surprisingly, these days, even the simplest of machines are equipped with 19-bar extraction.
It's also worth noting that some coffee makers' settings that are supposed to simplify making a cup of Joe. Times, temps, and strengths may vary from model to model as the manufacturers may have taken into account the wattage and capacity of the device. Most coffee makers will have a shut-off mode which will automatically switch off the machine after a period of inactivity. This will ensure that you don't use any more power than you need.
Coffee making tests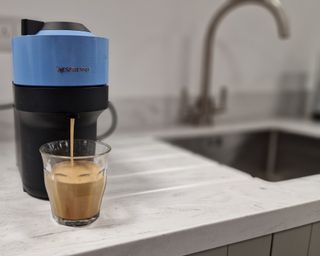 When testing a coffee maker, our first step is to make a selection of standard drinks in the same cup / cup material. Depending on the cofee maker model, this may include:
Espresso
Americano
Milk-based coffee drinks including cappuccino and latte
1. Making espresso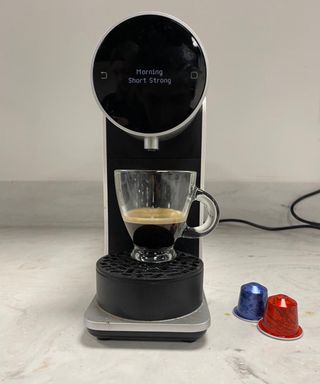 Short and simple, an espresso is the purist coffee drink on the menu and is the foundation or base that your beverage begins with. Typically, this uses around 0.84 fluid ounces of water to 0.24 ounces of freshly ground coffee (or its equivalent pod makeup).
In a pod machine, we expect this to take around two minutes (once you've popped the respective capsule into the appliance). But we don't just measure time as a gross metric. Here, we might see how long each model takes to heat water, and dispense coffee, and if it has a keep warm function, how long this stays active until the machine switches off.
Once prepared, we'll use a thermometer to test how hot the coffee is. Coffee that is extracted at too high a temperature will a) burn the user's mouth and b) taste bitter. On the contrary, water that doesn't reach a sweet spot between 149 – 160 degrees Fahrenheit might not produce adequate crema.
In terms of crema — that is, the thin layer of small bubbles) that forms on the top coffee — we're aiming for a rusty-brown, tan leather hue, that has an oily viscosity and rich mouthfeel that gives the drink 'body'. And, though the contents of these pods can be up to a year old, you may notice the difference between fresh and stale products. It is worth noting at this point, however, that some models artificially create this crema. We have the experience to identify authentic foam that is produced when the water and oils emulsify. The biggest tell-tale sign is that a real 'head' typically lasts a lot longer.
2. Making Americano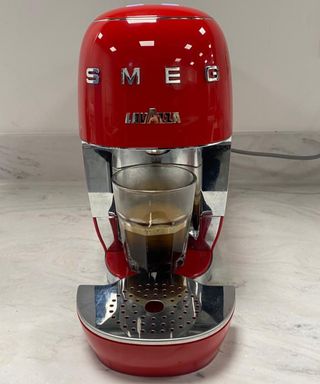 An Americano (or Caffe Americano) is your typical black coffee made by lengthening a shot (or two) of espresso with hot water, with a typical 2:1 water-to-coffee ratio. For most coffee drinks, it tends to be more paletteable and drunk in 7–10 fluid-ounce servings. Milk can be added, but for testing, we tend to omit this ingredient so we can assess the strength of the coffee, identify any tasting notes and take note on the extraction process. Again, we're looking for a temperature that sits between 194-201°F and a lovely layer of caramel-colored, creamy-looking texture.
3. Making cappuccinos and caffe lattes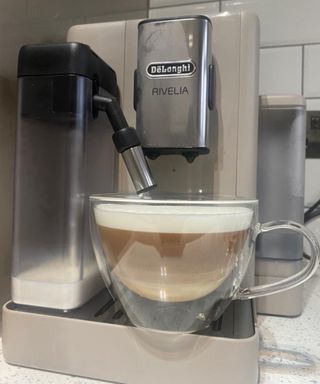 For milky coffee lovers, making a cap is one of their favorite tests to try out. The composition is based on thirds. A third espresso, a third steamed milk, and a third foamed milk. Depending on the device, we might test a prepared milk capsule, review the functionality of an automatic milk frother, or have a good at using a steam wand that typically sticks out on the side of the machine.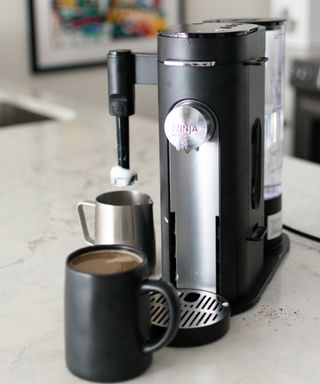 Cleaning tests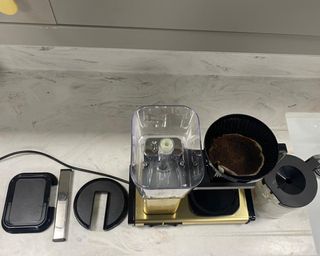 After we've made the coffee and assessed its functionality and features — it's time to clean the coffee maker. There are, of course, a few variables that might affect how easy or difficult this task is. So when getting rid of coffee grounds, oils, dried-on milk, and dirty water from the drip tray, we ask ourselves these questions:
Are any of the parts dishwasher safe? If so, should it be placed on the top rack only?
How easy is it to clean the outside of the coffee maker; can it be wiped with a cloth?
How easy is it to clean the internal parts, including the filter and grinder?
If the parts are not dishwasher safe, can they be hand-washed with dish soap?
Does the coffee maker have any other accessories — how do these scrub up?
Assessing value for money
We appreciate that our reader have different budgets, and will have different expectations from their machine. Generally speaking, the best coffee makers will last around five years and will have a warranty attached to them (that you'll often need to register for). But, if we suspect that the machine will break in the near future, or has design flaws — we will tell you.
Conversely, if we review a product that is affordable and performs well, we will look for the best deals for you to get it at the most competitive price (especially during peak shopping periods like Black Friday and Cyber Monday). We use price comparison sites like CamelCamelCamel to determine whether the discount you're getting is actually a saving, or whether you should purchase it at another time.
How we give our verdict
Though our experts have ample experience in testing coffee makers, many of our in-house customer advisors will coordinate with colleagues on our sister publications to arrange a coffee maker review day in our Future plc kitchen, where we have the facilities and equipment available to test these machines in one place and act as a collective panel.
Five stars: denote an outstanding product in all of the above criteria. It is rarely awarded, although we do aim to review the best quality product possible and the various industries' leaders, to ensure you'll be buying the best products for your homes. These 5-star (and 4.5-star) products are awarded a Real Homes Rated Gold badge which you'll see dotted around the site.
Four stars: an excellent product that delivers on all the key criteria and would be a good investment for our audience. If a product gets this rating it receives a Real Homes Rated Silver badge.
Three stars: a good score that denotes the product has elements of all of the above criteria. It is the standard rating for products that could be enjoyed by most of our audience. They are awarded a Real Homes Rated Bronze badge.
How to submit a coffee maker for review
Our team is always looking to get our hands on new coffee makers to put to the test. If you or your company would like us to review your product, please reach out to homesecommerce@futurenet.com.
Our coffee maker reviews
5-star coffee makers
These reviews have been given our gold badge and are considered to be the top-rated models we've tested.
4.5-star coffee makers
4-star coffee makers
3.5-star coffee makers