For many people, there isn't a day that goes by when they don't enjoy a cup of java. Now, there's nothing wrong with an occasional Starbucks trip, but if you're looking for coffee right at your fingertips, you'll want to invest in a decent coffee maker. I've tried my fair share of Keurig coffee machines, but never one that combines a single serve and carafe option in the same unit ⁠— until I was introduced to the Keurig K-Duo Single Serve & Carafe Coffee Maker, that is.
This coffee maker is great for anyone who is normally always on the go and wants a quick cup of joe at the click of a button — hello, commuter life. And, as someone who isn't tech-savvy (especially in the AM), this coffee maker satisfies all of those needs and then some. Its intuitive 11-button design takes away the hassle commonly found in more expensive models for a quick and seamless experience.
I spent a few weeks familiarizing myself with this 2-in-1 coffee maker to see how it fares against other single-serve coffee makers and drip coffee makers on the market. Here's my honest verdict, and everything you need to know before you buy yours.
TLDR: What I thought of the Keurig K-Duo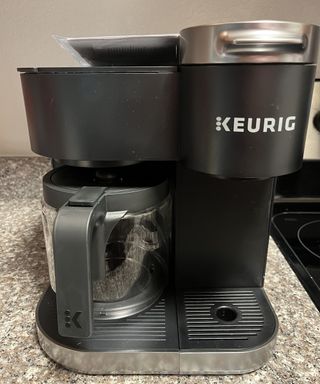 Keurig's K-Duo Single Serve & Carafe Coffee Maker combines coffee pods with a classic carafe to make a fresh cup of coffee at the click of a button. It's simple to fill up the water tank and select how you'd like to brew your coffee and the size you're looking for. A quick glance over the instruction manual, and you're ready to go. In saying this, it is worth noting that this is one of Keurig's more basic offerings, However, it does exactly what's advertised.
The auto-brew was slightly more difficult to figure out and semi-delayed when brewing, but not enough for me to say it wasn't a standout feature. It's now become part of my morning schedule, and I feel like I've "won" a cup of coffee as a reward for getting ready.
Testing the Keurig's K-Duo Single Serve & Carafe Coffee Maker
Reviewed by
Reviewed by
Casey is a freelance writer and has previously worked on mattress reviews for our sister publication, Homes & Gardens. In her work, she browses the internet for the best products for your home to help you make the right purchasing decisions. She spent a few weeks trying out the various coffee prep methods of the Keurig K-Duo Single Serve & Carafe Coffee Maker at home.
The techy stuff
Type: Single serve/carafe
Water tank capacity (oz): 60
Dimensions (in): H12.92 x W10.94 x D12.76
Weight (lb): 10.71
Setting: Buttons for brew strength, brew size, and auto-on and digital clock display
Color: Black
Brews (oz): 6, 8, 10, and 12
Heating time: 4 minutes
Pressure: Strong
Water filter: No
Warming plate: No
Programmable: Yes
Cord length (in): 30
Warranty: 1 year
Price: $189.99
Unboxing the Keurig K-Duo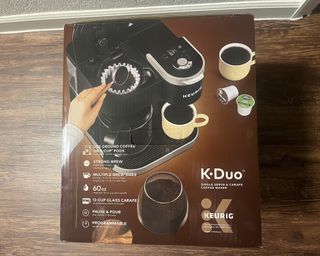 One of the reasons I love Keurig machines is that they are easy to set up. All of the parts come individually wrapped and are pretty much ready to go. I simply had to unwrap them, lift the carafe, machine and filter out of the box, and assemble. It also came with a spoon to measure your ground coffee.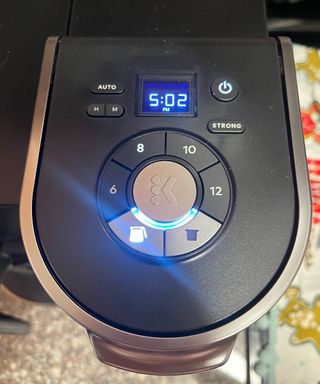 The "unofficial official" first step in the plastic-wrapped (sigh) user manual was to plug in the machine, power it on, and set the time. There was a power-on button with the traditional logo followed by an LCD digital clock screen with the hour and minute which I set by clicking two tiny buttons labeled "H" and "M." Once the time was set, I clicked the "brew" button to confirm my action.
Keurig provided step-by-step directions on how to do a cleansing brew for both the single cup and the carafe. This involved running 8 ounces of hot water through each part before dumping it out. I filled the 60-ounce reservoir to the MAX fill line and brewed both a single cup into a mug and through the carafe. The initial heating process took about four minutes and after that, it was ready to go.
When using this coffee maker, I liked how there was an indicator light to confirm that the brew was complete. The carafe button even turns red to signal that the heating plate is on so that you can keep your beverage warm instead of diluting it with hot water from your kettle.
Test 1: making coffee using the drip filter and carafe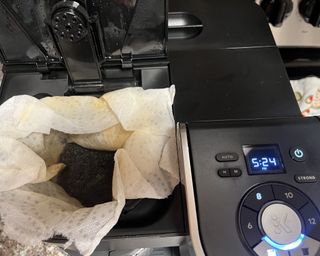 First, I started by brewing a regular cup of coffee using the carafe. I refilled the reservoir to the maximum fill line and placed it in the rear of the machine. Then, I lifted the filter basket cover up to place a paper filter. The brand recommended one tablespoon of ground coffee per cup. I closed over the cover for the filter basket and placed the carafe on the heating plate.
With the click of four buttons, it was ready to go. I pressed the power button, followed by selecting the carafe button, then the brew button. The process took all of five minutes, not even to get the coffee brewed and into my mug.
The best part? The heating plate stays on for two hours after brewing so you can have hot coffee for longer. And, it's not super loud either. It does make a squeaking noise when heating up for both settings, but nothing that'll wake up your household.
Test 2: making single-serve coffee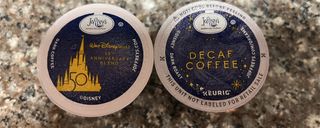 To test the single-cup setting, I used a Joffrey cup I bought at Disney World. For this, I placed my mug on the tray, placed a capsule in, and pressed the necessary buttons.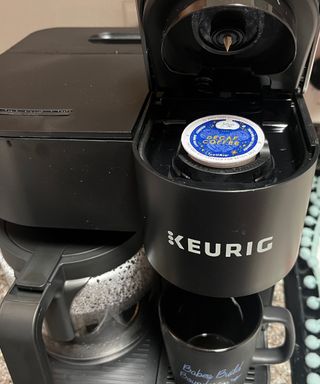 It's pretty much the same buttons as the carafe, except you select the pod icon instead. You do need to apply some pressure to puncture the pod when you shut it so don't be alarmed if you need to use a bit of force. I did this twice, once using the standard setting and then again, selecting the "strong" button before brewing. The stronger setting provided a more intensively-flavored brew, (which isn't usually my vibe), but I wanted to try it out for the sake of this review.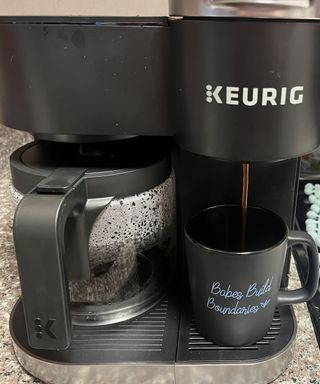 You'll need to refill the reservoir every so often (roughly every two days or so), depending on how much coffee you drink. And since there is no water filter, you'll want to keep in mind that it may have an impact on the longevity of the coffee machine. This could be an element you'll want to look into and perhaps invest in a coffee machine with a water filter like the Keurig K-Cafe Smart. For more complex drinks, you'll want to consider alternative Keurig machines that have additional features like a milk frother, an iced setting, multi-stream technology, etc.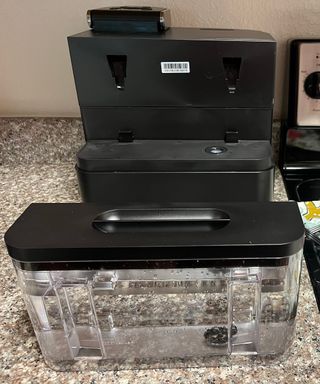 Key features the Keurig K-Duo offers
Smart Start: Keurig's "Smart Start" allows for heating and brewing without the wait. After turning on the machine and adding in the brew type, you simply select the size and press the brew button. I thought this was a great feature to speed up the process in the morning. Taste-wise, the coffee was how I expected it to be, bittersweet with a strong aroma. It wasn't watered down or too strong — exactly how I like it.
Auto-Off: We've all been there — myself included — forgetting to switch off the machine and unplug it. Thankfully, this coffee maker has an automatic shut-off for the brewer five minutes after your last brew and turns off the hot plate two hours after.
Strong Brew: This feature increases the strength and intensity of the beverage. Simply click the button before hitting brew and voila, it's like ordering a double shot at the store.
High Altitude: If you live in an area at a high altitude (above 5,000 feet), you'll want to make sure your coffee maker works properly. Simply press the mountain icon that'll pop up after holding down the pod and carafe buttons for three seconds.
Pause and Pour: If you like your coffee piping hot, this feature ups the water temperature mid-brew without having to wait.
Brew and Pause: The same idea applies when using the carafe. Simply press the carafe button to pause and resume the brew afterward. I found the ground coffee tasted a little diluted in comparison to the single-use cup. However, after adding milk and sugar, they tasted nearly identical.
How to clean and maintain this Keurig coffee maker
After spending $100+ on a small coffee maker, you'll want to keep it in pristine condition. To clean this coffee machine, Keurig recommends hand washing it when it's unplugged and cooled down. And, when it comes to disposing of your spent products, Keurig's K Cups are recyclable when you remove the lid and the used coffee grounds (which can be composted).
How does it compare to other Keurig machines?
In comparison to the K-Supreme Single Serve Coffee maker, both offer 6, 8, 10, and 12-ounce cups of coffee and don't have the ability to make espressos or lattes. The Keurig K-Duo Single Serve & Carafe Coffee doesn't have an iced setting unlike the K-Supreme, however, this one has strength control whereas the other doesn't.
For a more thorough list, Keurig has a comparison chart where you can compare models based on price, functionality, etc.
Is the Keurig K-Duo right for you?
If you don't need a fancy latte every morning then this machine will do the trick. With its single-use and slow-drip options, you can make yourself a 12-ounce cup of coffee or insert a pod for a consistent, individually-sized beverage. It's small enough to slot into tiny kitchens and if you aren't techy, you'll appreciate its intuitive design and easy-to-follow manual.
About this review and our reviewer
Casey lives in a small two-bedroom apartment in New York City where she tested this pod coffee maker every day over a couple of weeks. We are sent products to review at Real Homes and are sometimes allowed to keep them so that we can update our reviews after using products for a lengthy amount of time.