I come from a family who takes their coffee black. No sugar, no cream. Just back to basics coffee. A time living abroad in Barcelona and daily cups of Cafe con Leche ruined my ability to take more than a few sips of my coffee black. Now, I've had the pleasure of trying the OXO Brew 8-cup coffee maker, and I am happy to report, I am more than willing to serve myself a smooth cup of black coffee from this beautifully-designed machine.
The OXO Brew 8-Cup is especially significant as one of a handful of coffee machines that have achieved recognition from the Specialty Coffee Association for brewing a Golden Standard Cup of coffee. The $177.95 is certainly not cheap, but it's one of the more affordable models on the list.
I've spent the last few weeks working the 8-cup coffee maker into my family's morning routine. Now, I'm ready to share how it performed in my household in this review and why I think it's one of the best coffee makers you can buy. Don't miss out on this great price for the smoothest cup of coffee you may ever sip.
Who will the OXO Brew 8-Cup Coffee Maker suit?
The OXO Brew is built for the discerning coffee purist but can be enjoyed by casual drinkers as well. It doesn't have a lot of features to tamper with, which makes it almost foolproof to create the perfect cup of coffee. If you're looking for the ability to customize temperature and strength settings, you may need to look elsewhere. The 8-cup capacity can sustain about 3 adults, depending on preferred consumption, with a one-cup feature that brews up to 20 ounces if you're looking for a single-serving, without a pod.
OXO Brew 8-Cup Coffee Maker: Specs
What's in the box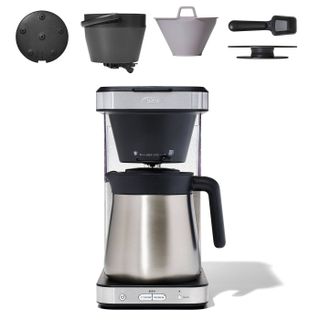 - OXO 8-cup coffee maker
- Coffee Scoop
- Single-serve accessory
- Kalita Wave and standard paper filters
- Instructions
Water tank capacity: 8 cups
Dimensions: 13.5" x 10.5" x 7"
Weight: 10.2lb.
Filter Type: Paper
Water filter: No
Warming plate: No
Programmable: No
Warranty: 2 years
Key Features
Golden Cup Standard
As mentioned above, the OXO Brew 8-Cup Coffee Maker is among a select group of coffee makers designated for home use that meet the Specialty Coffee Association's definition of the Golden Cup Standard. The certification means that a particular coffee machine meets the association's standards for water quality, coffee-to-water ratio, grind/particle size distribution with a temperature between 195 and 205 degrees, and a brewing time of fewer than 8 minutes. For instance, using what OXO calls Better Brew precision to control water temperature and brew cycles, a whole pot brews in less than six minutes right at 200 degrees.
Rainfall Showerhead
Water pumped in from the water reservoir (it's really quite therapeutic to watch too) is channeled to a rainfall showerhead that distributes water evenly over coffee grounds, while an integrated bloom cycle allows for optimal flavor extraction.
Thermal Carafe
Instead of a glass carafe and hot plate, OXO uses a sturdy double-wall, vacuum-insulated thermal carafe that keeps contents hot for hours and stays cool to the touch. The only thing we missed is not being able to see how much coffee was left. We set up the coffee machine at night, and ran the first water cycle, and forgot about it...the water was still hot the next morning.
A brew-through, pour-through lid also enabled us to pour directly from the machine without having to deal with seals or valves, and it poured completely drip-free.
Single-Cup Brewing
The OXO Brew is working to eradicate the need for pod-style machines with its single-serve feature. It includes a cone-shaped single-serve accessory filter built to optimize flavor that uses Kalita Wave paper filters. When brewing, pour up to four-cups or 20 ounces into the water tank, pop in the single-serve attachment, flip the switch for single-serve, and be sure to click the right cup size.
I wish there was a place to store the accessory on-board, but it would most likely distract from the design.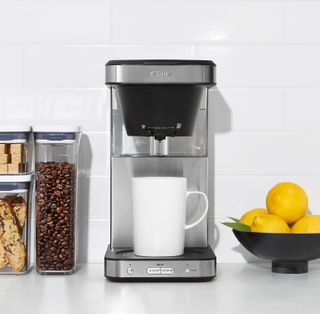 Set Up and Use
Set up is fairly straightforward, and once plugged in simply requires a rinse cycle.
To brew, fill the water tank to the clearly marked max-fill line if you want to make a whole carafe, then add a paper filter and ground coffee. Both are accessible from the top part of the machine. Press power, and then select cup size. Within six minutes, you'll have a full pot of hot coffee.
OXO's recommended dosage is one full coffee scoop (2 tbsp.) for each cup, meaning a full carafe uses 8 full scoops. This definitely uses up more ground coffee and faster, with my family used to following the guideline of one tablespoon per cup. With experimenting to find the right medium, we also found that a 3:4 ratio of coffee to cups provided a coffee that was just as delicious as a way to slow down the rate at which we were going through coffee.
It also requires paper filters, something my parents also had to get used to again after previously opting for a machine with a permanent filter, but I'm thrilled at just how much easier it was to clean the machine and lift the brew basket from its handle to deposit used grounds into the trash.
Cleaning and Maintenance
It's recommended to wash your carafe in between brew cycles, otherwise, some funky smells can start to build up if you let it sit. The carafe and lid are not dishwasher safe and must be hand washed. However, the removable pieces like the brew basket, single-serve accessory, scooper, well cover, and rainmaker showerhead are all dishwasher safe.
The water tank is not removable and should be gently wiped clean from time to time.
After every 90 cycles, the Clean light indicator will turn on as a reminder to descale. Descaling involves adding a descaling solution, running a clean cycle, and finishing with a clean water rinse. The clean cycle takes about -25 minutes.
How does the OXO Brew 8-cup coffee maker rate online?
Not ready to trust our word, just yet? On Amazon, the OXO Brew 8-cup has a 4.4 out 5-star ratings. Advocates cited the ease of use, quality of coffee, the ability to make a single-cup without using pods as top reasons why they loved it. Others docked points for value for the price, its smaller carafe size, and unprogrammable design. Some other reviewers thought the coffee wasn't hot enough to their liking. While preferred temperature can be subjective, keep in mind, this machine was built according to SCA Golden Cup Standards, and temperature influences that.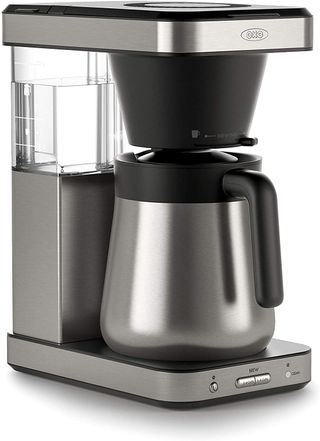 OXO Brew 8-cup coffee maker: our verdict
It's been a long time since a traditional drip coffee maker has gotten me excited for a morning cup of coffee, but OXO has succeeded in brewing a full-bodied cup of coffee that's smooth, never bitter.
Its profile is attractive whether you display it straight on or to the side and is ideal for small spaces, designed to fit underneath most overhead cabinets. However, the steam from brewing emits from the top of the unit, so I wouldn't recommend brewing right under a cabinet.
The single-serve option straight into your mug is extremely convenient for when you don't have the need to brew a whole carafe but does require swapping out the normal brew basket for the accessory and designating the single-cup setting.
I like that the OXO Brew 8-cup forgoes complicated settings and instead focuses solely on the coffee. While it lacks a programming option — something my mother complained about and I've never actually seen her use, so she was just being picky — if you're truly all about the coffee's integrity, I imagine you wouldn't let your grounds sit overnight anyway.
Relative to how much coffee you consume in a day, 8-cups can be on the smaller side for serving a group, considering some automatic drip coffee makers can brew up to 12 cups of coffee. However, 8-cups is more than enough to satisfy two to four adults in a home setting.
Now, if you want a slightly larger coffee maker, for $40 more, the OXO Brew 9-Cup Coffee Maker differs with its extra cup capacity, digital LED display and 24-hr programming option. It does not have the single-serve option.
These superficial gripes aside that stem from what we're accustomed to, the OXO Brew highlights the coffee and yields a delicious, powerful carafe. That's what we're going for anyway. If you want to experience a Golden Standard Cup of coffee for yourself, the OXO 8-cup coffee maker is just the machine to get top-notch results at home.
OXO Brew 8-cup coffee maker: where to buy