Bruvi Coffee Maker Review: Quick Menu
With most coffee makers currently on the market, you just get coffee. Maybe there's a setting to put it over ice on some, or perhaps you can throw in a hot chocolate pod in others. But the options are limited, to say the least. Unless you're willing to fork out $1,000 and sacrifice a whole load of countertop space (and cleaning time, that is). The Bruvi coffee maker, on the other hand, decided to give you all the options — and how it does it is basically magic. Oh, and it costs $350 and is nice and compact to fit into all kitchens, tiny or gigantic.
As someone who tests these appliances for a living, you could say I have high standards for single-serve coffee makers and pod machines. I'm not going to prioritize convenience over quality, and, if I have to sacrifice flavor just to get a quick cup of coffee, I'm out. Luckily, with Bruvi, I don't have to. The espresso rivals any I've gotten from a manual machine, and it's so much easier than grinding beans, measuring out the espresso grind, and then tamping it down. It's quick, easy, and delicious. And the cold brew option! What a dream, especially on hot summer days. It doesn't come out cold, but it does come out lukewarm, which means it will get ice cold quickly with a few cubes, rather than watering down. A total game-changer.
Here's what else I loved about this coffee maker while I reviewed it at home, using it to get my caffeine fix every day for a couple of weeks.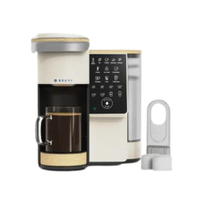 What I thought of the Bruvi coffee maker
I know I keep going back to its looks, but the Bruvi looks so chic on my kitchen counter. So much so that someone DM'd me on Instagram after spotting it in the background of a photo I posted. They wanted the details on "that gorgeous coffee maker." It's also a nice and compact coffee maker for smaller kitchens, or if you don't want your appliance to take up a bunch of unnecessary countertop space.
This thing is modern through and through, from its styling to its capabilities. It uses what they call B-Pods®, which deliver 40% more coffee (awesome!), but, even better, the machine reads these pods for auto-optimized brewing. That means you pop in a pod, and, if it's an espresso pod, Bruvi tells you it can make an espresso or an americano, gives you the size, strength, and temperature options, and you're on your way. If it's a coffee pod, you can make hot coffee or turn this baby into an iced coffee maker or cold brew machine — which I'm sipping on at the moment.
Do note that it's not compatible with Nespresso pods or any other coffee pods besides Bruvi, however.
This machine is also incredibly easy to set up. As in, there's practically no setup. It comes fully assembled so all you have to do is take off a few stickers, pop in the charcoal filter, and run a clean cycle. Then you're good to go. It's also super easy to clean. Plus, thanks to its hygienic brewing system, the only cleaning that's necessary is a quick wipe down with a microfiber cloth if there are any splashes, hand washing the pod bin, drip tray, and water tank every few weeks, and then descaling every two to three months.
Swipe to scroll horizontally
Bruvi coffee maker test results

| Attributes | Notes | Rating |
| --- | --- | --- |
| Ease of use | Super intuative with lots of icons to customize your brewing experience | ★★★★★ |
| Design | Looks so good I had Instagram followers direct message me about it | ★★★★★ |
| Price | For under $350, this coffee maker offers great value. Use code OMG150 for $150 off. | ★★★★★ |
| Maintenance | Easily wipeable. Buttons will blink to signal time to descale. | ★★★★★ |
| Packaging | Boxes may initially appear excessive at first. The coffee maker came in a reusable tote bag | ★★★★ |
Testing the Bruvi Single Serve Coffee System
Reviewed by
Reviewed by
Hey, I'm Heather, a lifestyle and commerce writer based in Washington, DC. This coffee maker was sent to me by the Bruvi, and I tested it out daily for several weeks before writing this review, eagerly trying out everything from espresso to cold brew and beyond. In the name of research, I tried every pod flavor and combination of customization. I've continued to use the machine and will keep this updated if my thoughts or opinions on the coffee maker change.
Bruvi coffee maker specifications
Model name: BRUVI® Single Serve Coffee System
Dimensions (in.): H11.5 x W10.2 x D12.6
Brew Sizes: 1, 2, 3, 4, 6, 8, 10, 12oz
Weight of machine: 13.2lb
Water capacity: 70 fl. oz.
Voltage: 120 volts
Pump: 15 bar high-pressure pump
Wattage: 1550 watts
Unboxing and setting up the Bruvi coffee maker
Unboxing this coffee maker felt a little bit like playing with a set of nesting dolls. The box promised an extra protective experience and, sure enough, it was. There was a box, then another box, then a carton, and then, finally, a tote bag, which held the beautiful new coffee maker.
While I was a little annoyed I'd have to haul all of this back to my recycling bin when I took the coffee maker out of the tote bag, I instantly forgave them. It comes totally set up and assembled. It could not be easier. And, hey, I've used that tote bag for groceries multiple times since. Win-win, right?
I removed a few stickers and popped in the water filter. Once it was plugged in, I ran a quick cleaning cycle, and we were good to go.
How to use the Bruvi coffee maker
The Bruvi is full of options, but they make the whole process so easy and intuitive. First things first, plug it in and fill the water tank with cool, filtered water. Then, pick a pod. There are 12 different coffee pod options available currently, and I tried the Wonderland De la Casa, Wonderland Dancing Spoon, Mulholland Roasters Colombia (available via Amazon), and Mulholland Roasters Ethiopia (available from Bruvi). Personally, I love a darker roast, so I preferred the Wonderland pods, but my husband, a light coffee drinker, usually springs for the Mulholland pods.
Here's where it gets fun. You pop your pod in, and Bruvi 's auto-optimized brewing scans the pod and presents you with your options. This may sound weird, but there's something friendly about the touchscreen. Maybe it's the font, the colors, the icons, the spacing — it all just works and makes for the best experience.
Let's say it's 7 am and you choose a Mulholland pod. You want a straight-up cup of black coffee. But you also want it steaming hot and strong, and you want a lot of it. Great. You've got all of those options. You can choose 'Hotter' to get a 200°F brew, stronger, and 12 oz.
Now, let's say it's 3 pm and you need an afternoon pick-me-up. You choose one of the Wonderland pods, pop it in, and decide that cold brew sounds right. Press cold brew, then maybe decide you want it stronger and low acid. Hit start and your cold brew begins brewing. It will take longer — 7.5 minutes to be exact — given the way the cold brew is brewed at a lower, lukewarm temperature, but it's worth the wait. And it's a heck of a lot faster than making cold brew overnight. Don't expect that cold brew that's so dark and thick it's practically a meal, but this will get the job done. It's impressive, especially considering Bruvi is possibly the first pod coffee maker that can produce cold brew.
Meanwhile, if you want a refreshing iced coffee, that's brewed using both hot water and cold water, rather than a consistent lukewarm like the cold brew. Again, you can select your size, so maybe you choose a 6 oz. iced coffee so you have plenty of room for icy, frothed milk. Does it get any better for an afternoon coffee? No, no, it does not.
One more note to make on brewing, particularly if you're making multiple cups in a row, Bruvi has a hygienic brewing system. That means the coffee never actually touches the inside of the brewer and there's absolutely zero flavor cross contamination.
Making espresso using the Bruvi coffee maker
Making espresso with the Bruvi is super similar to brewing a cup of coffee. Pop in your espresso pod (which, reminds me, I need to reorder ASAP!), then you're given your options. Obviously, I always go for the stronger option and the 3 oz. option. Bigger is better when it comes to caffeine, IMO.
While there's little crema, you can't beat the ease of making espresso with a pod. Most mornings, I'm in a rush (someday I'll be that leisurely, relaxed morning routine girl — but, currently, not the case). If I can save myself the five to ten minutes it takes to grind beans, tamp, and wait for the espresso machine, I'm in. The flavor is strong and it's perfect with some frothed milk. Note: You'll need to shop for a good milk frother as there isn't one built in.
Also, while I didn't try the matcha latte pods, those are an option, too!
How to clean the Bruvi coffee maker
Every six cups, you'll need to empty the pod bin. And, while this might seem obvious, both my husband and I made the same mistake the first time we emptied it, so I feel obligated to tell you. Take the drip tray out before you remove the bin. Otherwise, it'll crash on the floor and startle you. Use this as the opportunity to rinse the drip tray, which takes just a minute and should be done once a week.
Using warm water and mild dishwashing soap (e.g: something like Seventh Generation Free and Clear from Amazon), you should rinse out the pod bin, drip tray, and water tank every few weeks. Never put these in the dishwasher.
Every two to three months, you'll need to descale the machine. You'll know it's time when the americano and 1 oz. icons blink together. Handy.
Because of the hygienic brewing, the Bruvi seems to stay pretty clean. You can unplug and wipe the machine down with a wet microfiber cleaning cloth (again Amazon's great for these), but, despite being bright white, mine still looks as good as new after nearly a month, and it hasn't been cleaned yet (I'll let this serve as my reminder that it might be time…).
Is the Bruvi coffee maker right for you?
If you love the convenience of pods, but also truly enjoy the taste of coffee and want a good cup, then the Bruvi is for you. Add in the flexibility of different types of coffee, from a basic cup of brewed coffee to cold brew to iced to espresso to americano, different customization options, including low acid, stronger, and hotter, and multiple sizes, and this is an easy-to-use machine that gives coffee connoisseurs the options they want.
And, hey, if you love a beautifully styled machine, this is one that will add a modern touch to your kitchen.
If you're not sure whether it's the right coffee maker for you, here are three other pod machines we've tested (and we love):
Best Keurig coffee maker
Best pod coffee maker
Instagrammable
3. Grind One coffee maker
Good to know
Instructions
The Bruvi coffee maker comes with both an instruction manual and a quick start guide. I opted for the quick start and it got me to my first cup of coffee in minutes.
Warranty
A one-year warranty from the date of purchase is included with the Bruvi coffee maker.
Where to buy the Bruvi coffee maker
The Bruvi coffee maker is available to buy directly from the retailer (use code OMG150 for $150 off), or via their Amazon storefront.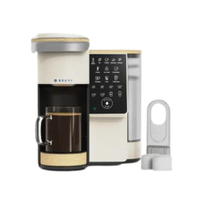 About this review — and the reviewer
We have a set process for our coffee maker reviews at Real Homes. As is the case with all products we review, we match the reviewer with the coffee maker.
Here are a few things I like to look out for when testing coffee makers:
Unboxing: We review the product's packaging how well it protected the product during shipping and how sustainable it is. This might include, for example, how much Styrofoam it contains, as well as how easy the machine's setup is.
Operation: How reliably and consistently does the machine perform? How loud is the coffee maker?
Beverage quality: Considerations are made to the overall quality of the beverages produced. We looked for issues like watered-down beverages and evaluated beverage temperature and consistency.
Ease of use: In a nutshell, we overall experience of using the machine, including factors like how easy it is to remove and fill the water tank, how simple it is to understand the settings, and how easy it is to fill, insert, and remove the filter holder.
Ease of cleaning: With cleaning being such an important element of maintaining a machine like an espresso maker, it's important to focus on how easily the components can be removed and maintained for long-term use.