Whether you're heading back to school or just looking for an affordable way to get your caffeine fix, the Keurig K-Express Essentials Single-Serve K-Cup Pod Coffee Maker is going to be your new best friend.
The Walmart exclusive is available in three stylish colors to suit your personality and style, with a spacious 36-ounce water tank that lets you choose from three size options. Did we mention that it's also Keurig's most affordable model yet and under $55? Sounds almost too good to be true, right?
I've had the opportunity to try this small, but mighty Keurig in my kitchen, which in turn has led to me sharing my thoughts on this budget-friendly Keurig. Is it up to snuff with our curated guide of the best coffee makers? I'll be evaluating its ease of use, value for money, and the overall coffee drinking experience, to find out if this single-serve coffee maker ticks all the right boxes.
What's more, for a limited time with your purchase, Keurig has partnered with four unique Etsy designers on a limited-edition collection of mugs to complement your new coffee maker. Simply visit the site BuyOneGetMore.com, upload a photo of your receipt, and select your favorite design from Erin Fleet, The Pirabirds, Gendergems, or The Bee and The Fox. It's too easy!.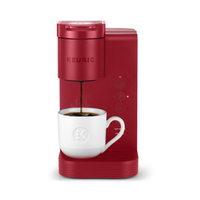 Keurig K-Express Essentials Single-Serve K-Cup Pod Coffee Maker I $55 at Walmart
This coffee maker is available exclusively at Walmart in three colors: black, red, and tropical blue.
K-Express Essentials Single Serve Coffee Maker: Specifications
Dimensions (Overall): 11.3" (H) x 6.5"(W) x 12.2 Inches (D)
Weight: 4.5 lbs
Capacity (Volume): 36 oz.
Cup Capacity: 1
Cord length: 27.5"
Coffee Filter Type: No Filter Needed
Coffee Type Used: K-Cups
Material: Plastic
Power Source: Electric
Warranty: 1 Year
Keurig K-Express Essentials Single Serve Coffee Maker: features and functions
The features on the Keurig K-Express Essentials Single Serve Coffee Maker are decidedly minimalist, but that doesn't effect your experience at all. With just a power button and three size options, your single serve coffee brewing experience should be foolproof. The 36 oz. water tank is also easily removable to take it back and forth from the fridge or sink for minimal mess.
The design is relatively boxy, with a plastic body. It's smallish footprint (approximately 6 inches wide by a foot deep) can just as easily rest atop a mini-fridge or squeeze into a narrow counterspace. The matte color options in black, red, and blue add the right pop of color without being too flashy, for a modern approach.
My experience with the Keurig K-Express Essentials Single Serve Coffee Maker
Being a long time fan of Keurig (I attribute them to getting me through those college years, after all) these are just some of the reasons I enjoyed the Keurig K-Express Essentials Single Serve Coffee Maker.
Ease of use
I've tried a lot of coffee makers in the last several months, and this one takes the cake for ease of installation. Simply unbox, fill with water, plug it in and run one 8oz. cup cycle with out a pod. From unboxing to cup, I was sipping coffee in under 10 minutes. I love that I don't have to refill the water system after each cup, and it can be used back to back. So if it's just me using the machine, the water tank will last me four beverages if I choose the 8 oz. size each time. Plus, for days when you're on the go, a travel mug up to 7" can fit underneath when you slide out the drip tray.
Intuitive Settings
Settings are pretty standard on the Keurig K-Express Essentials brewer. Once you hit the power button and pop in a K-cup, select one of three buttons above it to indicate cup size: 6 oz., 8 oz. or 10 oz, and within minutes you'll have a nice hot cup of coffee. My only gripe is that the buttons are a shade lighter than the machine itself, and it can be difficult to read if you're not familiar with the buttons, as a family member pointed out. There are little light indicators to the right of each button that shows the option you selected, and that the machine is on.
It'll shut off within five minutes after the last brew for both safety and energy saving. Plus, it will remind you to descale after every 250 brews so you can make sure your brewer stays in top shape, as well as when the water tank needs a refill.
The Coffee House Experience
Of course you're going to want to hear about how it brews and the type of coffee it delivers. With three size options, I typically go for the 8 oz. coffee size. The 10 oz. comes out a little too watery for my liking and the 6 oz. gives a bold flavor, but less in volume, the middle setting is my happy medium. The coffee machine uses Keurig's signature traditional brewing method, with the singular puncture in the top and bottom of the K-Cup.
How does the Keurig K-Express Essentials Single Serve Coffee Maker compare to other Keurig coffee makers?
Coming in at under $60, Keurig K-Express Essentials Single Serve Coffee Maker is by far the most affordable single-serve coffee from Keurig, but it is only available at Walmart.
However, the slim Keurig K-mini is the next budget-friendly choice coming in at $79.99. Besides being slightly slimmer, the key difference is that you'll have to refill the water reservoir each time. While the Keurig K-mini has frequently been found on sale for as low as $50, my pick would still be the K-Express Essentials just for the fact that you don't have to refill the water tank after each time.
For a step up that also stays compact, you'd find the K-Slim Single Serve Coffee, which offers a 46 oz. reservoir and can brew 8 oz., 10 oz., or 12 oz. portions.
And, if you want an even more sophisticated cup of coffee, you'll want to examine the K-Supreme line which includes the (K-Supreme, K-Supreme Plus, and K-Supreme Smart) for its Multi-Stream brewing technology and added functionalities like Over Ice, and the ability to make adjustments to strength and temperature.
Keurig K-Express Essentials Single Serve Coffee Maker: Our verdict
Whether you're the type who will be drinking coffee every day, multiple times a day or a few times a week, the Keurig K-Express Essentials is a no brainer.
Sure, I self-admittedly have been swayed by their latest brewing technology (and pricier) MultiStream technology, which uses 5 punctures in the K-cup for a more saturated flow of water, if you're on a budget or looking for a quick coffee fix, the Keurig K-Express Essentials can do no wrong. It's classic Keurig.
It's easy to use, delivers a consistently flavorful and hot cup of coffee, requiring minimal maintenance, and at one of the lowest prices you're going to find for a genuine Keurig.
The most common critique I've seen from existing reviewers (who drink copious amounts of coffee throughout the day) said the water reservoir was too small for their liking. However, for the price and size (it's designed to be compact, after all) I find the water tank to be more than enough. I particularly love not having to fill the tank each time. A lazy girl's dream, right?
About this review and reviewer
Jaclyn is the US eCommerce editor across the home titles at Future, including Real Homes, where she specializes in a variety of topics ranging from all things coffee to helping you find your best mattress so you can sleep better. She spends her days tracking the latest buzzworthy releases and testing a variety of products to determine whether they are worth bringing into your home. The real fun is in coffee makers, where those around her get to partake in taste testing. And if you're wondering her preferred coffee house order, she's currently loving cold brew with oat milk and caramel, and will never say no to a mocha.
All our reviews, as in the case of the Keurig K-Express Essentials Single-Serve K-Cup Pod Coffee Maker, are based on the real-life experience of using these products at home. The products are given to us free of charge and we test them for as long as possible before sending them back to the brand unless we are able to keep them as we are with this coffee maker. This means that we can continue to use the product which gives us the opportunity to return to our reviews for updating, so you can keep up-to-date with how it's fared over a period of time.