Best Pod Coffee Makers: Quick Menu
It's official: Pod coffee makers have a lot going for them and are a step up from the "has-beans" that first came to the market. These days, capsule coffee makers can trump traditional appliances on the time it takes to brew a cup and, of course, the clean-up before you need to dash out of the door.
Gone are the days of these machines relying on plastic-heavy caps to make a drink — local authorities can recycle some, and a few are even biodegradable. But if you're worried about stale grounds in their cases, you'll be pleased to know that manufacturers have come up with ways to lock in the freshness for your espresso or lungo. So if you're sitting on the capsule coffee machine fence, our top picks will clear the water and cut through the noise of a saturated market.
Here are the 12 coffee makers we rate the most, as tried, tested, and approved by our Real Homes reviewers. From the likes of Nespresso, Illy, Smeg, and Breville, here's what's hot right now for 2023. Out of the 25+ pod makers we've tested, these are the ones we've given no less than 4 stars out of 5. The best news is that three of the ones we've put to the test are on offer right now.
Christina has tested five of the 12 pod coffee makers in this guide — and she enjoyed them all for different reasons. She was blown away by Morning's smart features, liked the mid-century modern feel of the Lavazza X Smeg collab, was impressed by the Lavazza Desea A Modo Mio's milk-frothing abilities, and saw the potential in the Nespresso Pop as a way for readers to introduce color into their kitchen scheme.
Amazon pod coffee maker deals
If you're thinking about buying a pod coffee maker but don't want to splurge, now's a brilliant time to buy. Prime Day (also known as Big Deals Day) is running from Oct 10-11, and there are lots of machines on sale. Here are our top picks that we love, with some highly-rated picks that shoppers love thrown into the mix.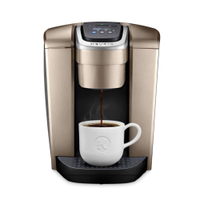 1. Keurig K-Elite Single-Serve K-Cup Pod Coffee Maker | Was $189.99 Now $119 (save $70) on Amazon
Amazon shoppers absolutely love this small-space-friendly machine, with over 50,000 shoppers rating it five stars. They love how easy it is to use, how little space it takes up, and the iced coffee function. It comes in three different colors, so you can match it to your kitchen's decor perfectly. We also tested it earlier this year and agree it's a great 2-in-1 machine.
Real Homes rating: 4.5 out of 5 stars in our Keurig K-Elite single-serve coffee maker review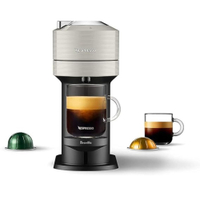 2. Nespresso Vertuo Next Coffee and Espresso Machine by Breville, Light Grey | Was $179.95 Now $154 (save $25.95) at Amazon
Ask Joe Public to name one of the best pod coffee makers and the likelihood is that they'll say Nespresso. This really is a great capsule-compatible, compact machine that has a comprehensive coffee catalog. With 14% off right now, you can afford to pick up a few of your fave caps too.
Real Homes rating: 4.5 stars in our Nespresso Vertuo coffee maker review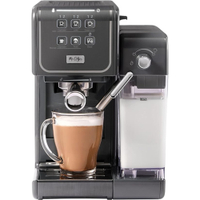 3. Mr. Coffee One-Touch CoffeeHouse+ | Was $349.99 Now $329.97 (save $20.02 at Amazon)
Hands up if you want one of the best small coffee makers for lattes and cappuccinos. T-24 hours ahead of Prime Day, Amazon has slashed 6% off the list price of this milk-frothing, coffee-brewing machine. Whether you prefer to work with grounds or pods, this machine will happily accept either. And with more than a third off, you'll have more to spend on your favorite blitzed beans or capsules. By the way, this has been on sale for $212.87 in May, so you might want to wait for the Black Friday sale this November.
Real Homes rating: 4.5 out of 5 stars in our One-Touch CoffeeHouse+ coffee maker review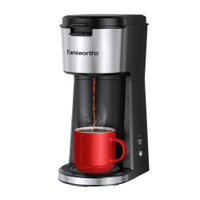 4. Famiworths Single Serve Coffee Maker | Was $69.99 Now $39.99 (save $30) on Amazon
Looking for a low-cost pod maker that gives you major bang for your buck? This is Amazon's overall pick for coffee makers, thanks to its amazing price and multiple functions. It can be used for both ground coffee and pods, so whether you want a bougie brew or a quick brew, you're totally covered.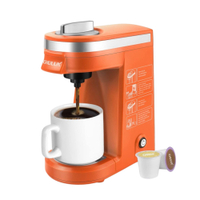 5. CHULUX Coffee Maker | Was $55.99 Now $39.99 (save $16) on Amazon
Sometimes, all you need is a cute coffee maker that's easy to use. This one would work so well in smaller spaces like apartments and dorms, as it's decorative and dinky. Shoppers say that it's low power, easy to clean out, and lightweight. Choose from seven funky colors, which will all jazz up any countertop.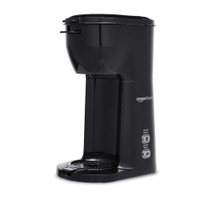 7. Amazon Basics Compact Capsule Coffee Maker | Was $38.92 Now $22.26 (save $16.66) on Amazon
A coffee maker? For under $23? Yep — I can't believe it either. This is such a budget-friendly choice, and can even use ground coffee as well as pods. It holds enough water for 2-4 cups, which makes it ideal for those living by themselves or with one other person. Plus, it also works with all kinds of coffee pods.
Our top 3 pod coffee makers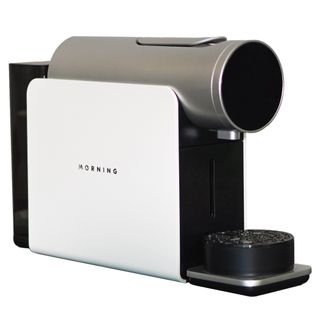 Our fave
1. Morning Coffee Machine
If you want a proper full-flavored cup of coffee, consider this the future of capsule coffee machines. The OLED screen and dial mean business and it has ten default brew modes to make the ultimate beverage. We like that the makers of this machine appreciate different tastes and palettes, and so haven't backed you into a capsule corner to buy a certain brand of pod. If anything, the Morning Marketplace is somewhere you can go on-site to shop tens of different products and filter by flavor profile, and even the type of drink the cap is best suited to.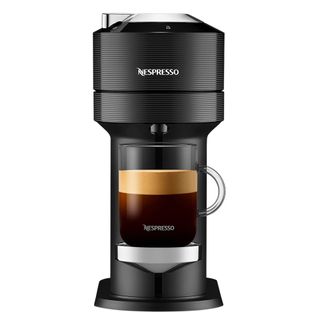 Best Nespresso Vertuo machine
One of the most well-known coffee machines, the Nespresso Vertuo Next's familiarity is almost as comforting as the four types of coffee it produces. Available in ten colorways, you're guaranteed a solid cup of Joe, with change (to buy matching cups) from $200. Plus, if you want a machine with a li'l bit of eco cred, this slim-fit model is made from 40% recycled plastic without compromising on style. Fast heat up, energy-saving mode, automatic capsule ejection, and a descaling alarm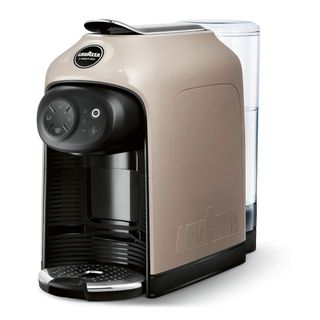 Best Lavazza pod coffee maker
3. Lavazza A Modo Mio Idola
If it's only black coffee you need, then this model will be right up your street. It'll deliver the length of drink you want and fabulous taste with, of course, all the convenience of doing so in your own kitchen whenever you like, with no grinding and tamping required. It may specialize, but there's actually plenty of flexibility with this machine, which offers a choice for lovers of espresso-based drinks. Also notable is the aroma of the coffees this machine makes — very enticing — and the authentic crema on the top of its coffees. The used capsule drawer holds ten pods so you won't be emptying it all the time. You can easily take off the parts that need cleaning, so that's no trouble, and there's a light to remind you to get rid of limescale as well, taking the remembering part off your plate.
Pod coffee maker reviews
Why you can trust Real Homes Our expert reviewers spend hours testing and comparing products and services so you can choose the best for you. Find out more about how we test.
The best pod coffee maker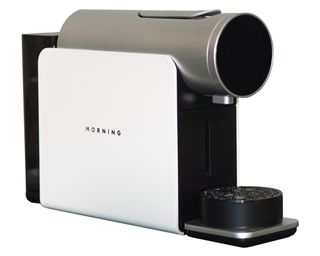 Six words: Welcome to the future of coffee. If you're into AI and getting your hands on the latest tech, there's no doubt you'll want to add this to your kitchen countertop (and keep it there!)
In review
OK, so the tank capacity is a li'l on the small(er) side, but if you're just making a cup of coffee for you and your boo — you're cool. You won't need any hi-tech spaceship-looking caps fo for this as it takes your run-of-the-mill Nespresso OriginalLine pods. But this isn't your cookie-cutter pop 'n' go machine. Nope, it has a whopping ten default brew modes to tweak your Joe just how you'd like, and a built-in TDS meter so you can keep an eye on the mineral content (ideal for city-dwellers who shouldn't have to put up with icky hard water masking the true flavor of your beverage).
Good to know
With an award-winning design, "firsts" in specialist coffee-making abilities, and a sleek OLED screen — it doesn't come cheap. So, we're afraid to say, if you're looking to economize on your spending habits, it's going to take a few hundred cups to make it "worth" its cost per use.
Real Homes rating: 5 out of 5 stars
Read our Drink Morning coffee maker review.
The best Nespresso maker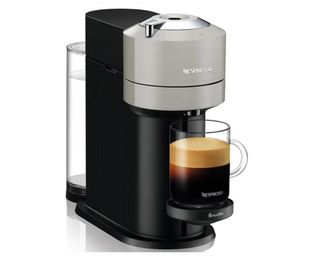 Let's say you like espresso, but you frequently choose longer black coffees. Speaking your language? Then check out this pod coffee maker which is specially made to deliver a larger drink.
In review
Using the Vertuo capsules — and this must be in a Vertuo machine — can deliver you up to 414 ml of coffee in one go, and there's no programming or holding down buttons to get the amount of coffee you like. The machine reads the barcode on the capsule when it's making your coffee so the process is automatic. Once it's read the barcode, it spins the capsule to extract the coffee. Clever, right?
Good to know
The lock and unlock mechanism takes effort to open, make sure you go in with a li'l bit of elbow grease to ensure you're able to get your coffee fix.
Real Homes rating: 4.5 out of 5 stars
Read our full Nespresso Vertuo Next coffee machine review. FYI, this pod coffee maker doesn't come with the Aeroccino3 milk frother (but do look out for offers on bundles, especially during promotional periods and over the holidays).
The best pod coffee maker with a milk frother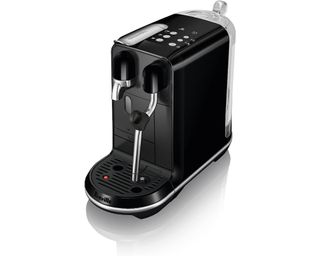 If you're mesmerized by your local Barista's abilities to draw leaves and flowers from frothed milk — you're in luck. With the Nespresso Breville Creastista Plus. With a li'l YouTube tutorial and this machine, you'll be a pro.
This coffee machine by Breville is definitely up there with the best pod coffee makers, though it does come at a rather high price. You can whip up a delicious espresso, and you can also make all your milky coffee shop favorites with espresso as a base. The steam wand simply needs wiping before it auto purges, so keeping on frothing is no hassle. There's no hard graft to keep this machine in tip-top shape. The necessary parts can be easily removed for cleaning, and there's an alert that'll remind you to descale. Be warned, though, as you will pay for the pleasure of using this machine and it does have less expensive rivals. However, if your budget does extend this far, we think you won't be disappointed as it offers good value in terms of taste and savings versus drinking at your local coffee shop.
In review
Even if you've snoozed your alarm more times than you'd like to tell, you can still have your coffee and drink it too. With a rapid 3-second warm-up, this pod coffee maker is RTG before you wipe the sleep out of your eyes. For bougie babes who like their milk foamed a particular way, there are three texture and temperature settings for a flat white, cappuccino, and a latte macchiato. And for those more interested in the machine's mechanics — it's got a whole 19 bars of pressure (just as we'd expect). The pull-out cup support is really cute too.
Good to know
Unlike the biscotti that accompanies your latte — using this machine isn't hard. But don't forget to stock up on some small tea towels to give the milk frother a wipe-down after use. Brownie points if you clip it to an apron for easy access. Just so you know, if you avoid the monthly(ish) cleaning maintenance on this machine, it'll stop brewing until you pay it some attention. So don't be lazy, bb.
Real Homes rating: 5 out of 5 stars
Read our Sage Nespresso Creatista Uno SNE500BKS coffee machine review.
*Breville is known as Sage in the UK (where we tested this pod coffee maker)
The best Lavazza pod coffee maker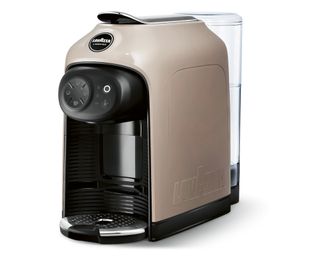 Mama (A Modo mio Idola) Mia! Isn't she beautiful? As well as being super stylish, this is one of the more quiet pod coffee maker, so it won't make a peep if you're trying to get your fix while bae is still sleeping in.
In review
If espresso and black Americanos are on the menu in your household, this is the machine for you. This versatile machine can make three sizes of coffee, all with no fuss and minimal mess. And if you coo over the coffee "head", just know this device prides itself on delivering a darn good crema.
Good to know
If white drinks are why you're in the queue at the coffee shop — this baby isn't for you. I mean, you could invest in a separate milk frother, or pour it straight from the fridge, but straight-up sips are this machine's strength.
Real Homes rating: 5 out of 5 stars
Read our Lavazza A Modo Mio Idola review.
The best eco-friendly coffee pod maker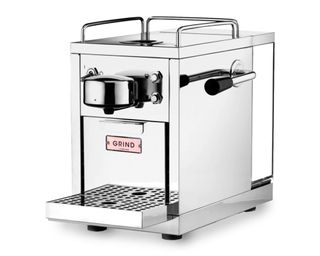 Designed to be "an antidote to the mass-market plastic machines that seem destined for landfill", Grind's machine is stainless steel and has an airplane-style lever to lock your pod into place. The coffeehouse brand also produces its own line of Nespresso-compatible pods which claim to be free of plastics and fully compostable. What's more, the delivery is carbon-positive, and the coffee itself is organic and ethically sourced.
In review
If you want to "get the London look," this is a definite worktop enhancer in our book. It doesn't take up too much space either. The sturdy design is made to last, and it will pair well with plenty of other kitchen gadgets.
Good to know
We didn't like having to remove the drip tray to pull out the pod bin, and while there are latches to raise and lower the tray which holds your mug, it won't fit very large mugs.
Real Homes rating: 4.5 out of 5 stars
Read our full Grind One Pod coffee maker review.
The best Breville pod coffee maker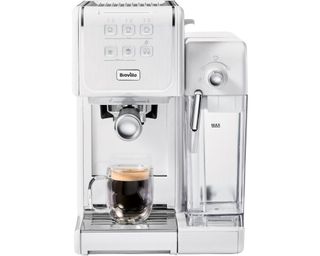 While hardcore coffee drinkers will happily survive with a good espresso maker, some of us prefer to sip java topped up with a splash (or generous glug) of milk. But if you don't want to add cold milk straight from the fridge, or invest in a separate milk frother (for lack of space or budget), the Breville One-Touch CoffeeHouse II is what coffee-flavored dreams are made of.
In review
No need to know how to froth milk, this machine will make the fluffiest-looking lattes and cappuccinos for you. Just add syrup. Heck, you could even add cocoa powder to your mug for a fancy mocha or hot chocolate in the winter. More of a green tea gal? Add some ceremonial-grade matcha powder to your cup, get the frother going, and Konichiwa — you've got the it-girls drink in an instant.
Good to know
You can use either pods or ground coffee in this one FYI. So to misquote Dua Lipa, "one touch is all it takes" to make your favorite drink in a flash.
Real Homes rating: 4.5 out of 5 stars
Read our Breville One-Touch CoffeeHouse II review.
The best Smeg pod coffee maker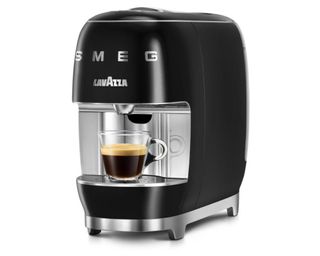 This mid-century modern design comes at an affordable price given the brand name featured on the front. The Rosso capsules that came with this model were highly commended by our tasting panel, too.
In review
Proving two can play that game, this retro pod coffee maker isn't messing when it comes to style with its chromed metal finish. If you're not quite ready to commit to a bean-to-cup coffee machine or single-serve that uses ground coffee, Lavazza does the work for you. Our taste testers said that this machine produced some of the most flavorsome capsule coffee they tried on the day.
Good to know
The Lavazza capsules are quite uniquely shaped, so don't try and wedge a Nespresso OriginalLine or Vertuo cap in there to use up the glut you might have from an old machine — you might end up breaking your new toy! This machine is quite intuitive and lets you know when the bin is full (so there's no excuse to "forget" to empty it).
Real Homes rating: 4 out of 5 stars
Read our Lavazza A Modo Mio Smeg coffee machine review.
The best De'Longhi pod coffee maker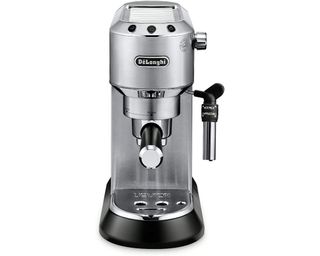 The fact that you can make espresso or a cappuccino — or whip up some hot milk for a hot chocolate — helped earn this machine a spot on our list of the best. After all, even if you're a fan of just espresso, it's good to be able to make visitors their favorite drink.
In review
Whether you appreciate artisan ground coffee or pick-up pods for ease, you can have it both ways with this 2-in-1 ESE machine. ESE stands for easy serving espresso and the big difference between this and other capsule systems is that it's an open system with lots of companies making the capsules that fit into compatible machines like this one.
Good to know
This isn't one of the cheapest pod coffee makers on our list, but you are getting more for your money and, if being able to brew up either capsules or ground coffee is something you're going to take advantage of, then it could well be worth the extra spend. Unfortunately, (according to Amazon reviews), it can be a bit too easy to push a button inadvertently when putting in the filter holder, so just be aware of that if you're not the most delicately-handed!
Real Homes rating: 4 out of 5 stars
Read our full De'Longhi Dedica Style EC685 coffee machine review.
The best value pod espresso maker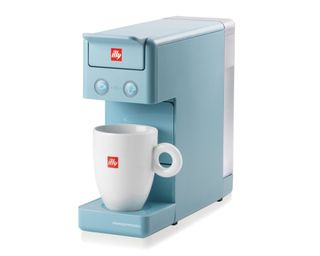 If design credentials are equally as important to you as a tasty espresso, then have a glance at this beauty. It looks the part, operates smoothly, and delivers a drink you'd get from a barista.
In review
The Illy Iperespresso Y3.3 is perfect for espresso lovers because the quality Illy pods create a cracking shot or lungo. They're great coffees, too, delivering in the categories of aroma, crema, and, most importantly, taste.
Good to know
We do think the Illy Iperespresso Y3.3 has a real "less is more" vibe, with an attractive color lineup. But it's not one for those who want a high-value machine, because other options we reviewed had far more functions for the price point. Be warned, the capsules do come individually wrapped in plastic, so not one for caffeine-loving eco-warriors.
Real Homes rating: 4 out of 5 stars
Read our full Illy Y3.3 Iperespresso coffee machine review.
Adjustable drink size pod espresso machine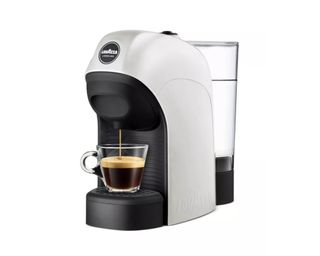 The drink of the day (and every day) is espresso if you own the Lavazza A Modo Mio Tiny. But good things come in small packages, and if the limited menu is executed well (which it is), then you're laughing.
In review
The clue's in the name with this one. It is a small pod coffee maker, but don't let its size fool you. It'll still deliver you a tasty brew in double-quick time, too. The machine's ready to go in 25 seconds flat (hurrah). Your job? Just fill the water tank, insert the pod, and click to brew. Done. It sets out to make you a good espresso and it does.
Good to know
We're big fans of Lavazza's A Modo Mio capsules. They reliably deliver a coffee that tastes like one you'd get in a coffee shop, and using them in this machine proved no exception to this rule. It looks good on the worktop, which is definitely an important factor when you're buying an appliance that's going to be on show all the time. You have to eject capsules manually. It's not a huge deal, we're just saying.
Real Homes rating: 4 out of 5 stars
Read our full Lavazza Tiny Coffee Machine review.
The best coffee pod maker for cappuccino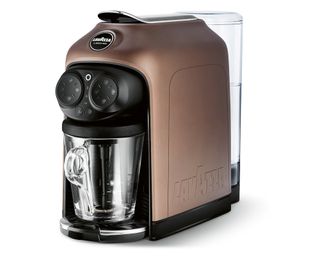 Ideal for anyone who likes frothy coffee, the Lavazza Desea A Modo Mio could be your next go-to if you (now) work from home more often, or just like coffee on demand (who doesn't?).
In review
Our reviewer's favorite feature is the extra hot button. Select it so that it lights up, before selecting your drink of choice if you like your coffee to stay warmer for longer.
Good to know
If you use the milk frother, you may lose a bit of froth and heat when you transfer your cappuccino to your own mug from the jug. And if you like big brews, you may want to double up on espresso caps when making large cappuccinos to ensure you get the perfect coffee (and caffeine) to milk ratio.
Real Homes rating: 4 out of 5 stars
Read our full Lavazza Desea A Modo Mio Pod Coffee Maker review.
The best stylish pod coffee maker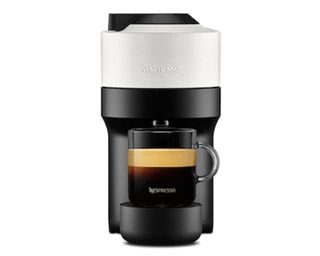 This vibrant pod coffee machine celebrates coffee in technicolor. Available in Aqua, Mango Yellow, Spicy Red, and Pacific Blue (as well as Coconut White and Licorice Black), it's a budget device that over-delivers for the price.
In review
You'll never get bored of coffee with the 50 types available, varying in strength, size, and flavor. It's the talk of the town and the kitchen worktop. The team tried the Pierre Hermes macaron-flavored coffee and it was *chef's kiss,* as you'd expect from a French collaboration.
Good to know
Like the Illy machine, it does look a bit plasticky, which is fine if you've got a kitsch-style kitchen, but you may want to reconsider if your cook space is filled with more high-end classic or contemporary finishes like marble, chrome, and wood as it'll look a little out of place.
Real Homes rating: 4 out of 5 stars
Read our Nespresso Vertuo Pop review.
What to consider when buying a pod coffee maker
Before you buy a pod coffee machine, take a look online or in your local supermarket to see how much the various pods retail for. This will give you a rough price per cup — and note that while some brands offer a cheaper machine, the pods can be more expensive.
If you like a straight forward espresso or Americano, then your options are wider, but for those who fancy a flavored latte or perhaps the choice for hot chocolates, Tassimo and Dolce Gusto ranges will serve you best. You could alternatively opt for a pod coffee machine with an attached milk frother to expand your drink choices to lattes, cappuccinos, and milky coffees. Otherwise, you can get a separate milk frother if you have worktop space.
FAQs
Why buy a pod coffee machine?
Pod coffee machines have a lot in their favor. They are easy to use and easy to clean, and they can deliver a delicious cup of coffee. But what coffee aficionados might not appreciate is that they can also pull off the same fancy tricks as espresso machines, with the ability to froth milk as a feature of some machines.
What is the best pod coffee maker?
If you want our number one pod coffee machine, then we highly recommend you buy the Drink Morning pod coffee maker. It's expensive, but a great all-rounder that accepts Nespresso pods and you can always add milk to your drink if you need to. But if you're a sustainability-conscious consumer, the Grind One pod maker is a top pick. It's got a stainless steel build that looks great and is really built to last.
What is Black Friday?
Black Friday is an Amazon deals event that will take place this year on November 24 – 27. Many shoppers will head to the retailer's site to prepare for the holiday gifting season to take advantage of discounts from top brands on must-have items.
When is Black Friday?
Typically the day following Thanksgiving, Amazon will host their Black Friday event this year on Friday, November 24, 2023. The sale period usually lasts for four days continuing over the weekend, and into Monday (known as Cyber Monday).
Should I wait until Black Friday for a pod coffee maker?
While Amazon hosts multiple promotional events throughout the year, (including July and October Prime Days in 2023), it sees some of the highest traffic on its site on Black Friday and Cyber Monday. Historically, some of the biggest discounts have been spotted on this four-day event, and time-sensitive, limited deals (known as lightning deals) can also be shopped. We at Real Homes compare prices and provide insight using the Amazon price tracking site, camelcamelcamel. This allows us to see the lowest and highest prices recorded and provide guidance on the right time to buy.
How we test pod coffee makers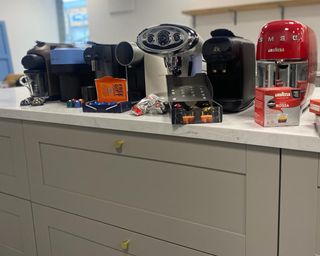 Our test kitchen is the perfect place to brew a cup of joe... or seven. It's not the prettiest coffee shop-style spot but it does have plenty of plug sockets, sinks, and mugs, to get on with the job at hand. Together with our testing panel, we spent the day (a little wired) thoroughly reviewing each machine that the brands kindly sent us, creating a variety of different coffee types to suit even the most discerning buyer.
Reviewed the Grind One pod coffee machine
Reviewed the Grind One pod coffee machine
Real Homes' head of reviews Millie tested the Grind pod coffee maker in her South London kitchen. She thinks it's totally iconic and just as gorge in person as it looks online. She recalls that the shiny stainless steel does mark easily, but it also buffs clean with a microfiber cloth. Your options with this pod machine are limited, but what it does, it does well.
You can choose to dispense either a short or long shot of coffee — this is adjustable if you want it extra long. However, if you do want to top up a bulky mug you'll struggle to get it under the dispenser. It's also a winner for sustainable credentials, with a made-to-last design that won't find its way into a landfill for a long, long time. The pods are also compostable and the coffee inside is super delicious.
Reviewed the Nespresso Vertuo Next
Reviewed the Nespresso Vertuo Next
Our previous ecommerce editor Louise stays caffeinated with the Nespresso Vertuo Next pod coffee maker. Thanks to this machine, she's canceled her coffee subscription and saved lots of money (and effort) in the process. In her East London apartment, her coffee bar setup includes a bottle of Monin syrup (with a pump for barista vibes) and a glass jar filled with cookies.
Nishaa has the Breville One-Touch CoffeeHouse in her apartment, and it's been there since she moved in two years ago. She loves how easy it is to use, and it's saved her so much time and money on going out for a cup of coffee or a matcha latte. The only thing she doesn't like is that the milk compartment is an awkward shape to clean, but the price more than makes up for it.
Where to buy a pod coffee machine
Pod coffee machines are one of the most popular beverage makers on the market right now. But if you don't know where to start, I'll help you out!
---
Got your eye on one of the best pod coffee makers? Now learn how to clean a coffee machine to keep your caffiene tasting its best.