Coffee lovers will know that the best bean to cup coffee machine is the investment to make if you take your brew (very) seriously. For many of us, the perfect morning cup of coffee is one of the highlights of the day, so buying the right machine to deliver that spot-on latte or rich espresso without fail is an important choice.
It's also an expensive choice though, and many of the best bean to cup coffee machines we've tried can cost around £500. Luckily, our guide does have a few more budget-friendly options, and if you can forego a grinder in your espresso machine, you could also consider the best coffee machines we've tried with brilliant brewing power but without the in-built grinder.
Featuring machines from Beko, Sage, Melitta, De'Longhi, and Smarter, each and every one of our top picks has been tried by the Real Homes team. We're bringing you these recommendations freshly caffeinated, so keep reading to find the best bean to cup coffee machine for your perfect brew.
The best bean to cup coffee machine reviews
Why you can trust Real Homes Our expert reviewers spend hours testing and comparing products and services so you can choose the best for you. Find out more about how we test.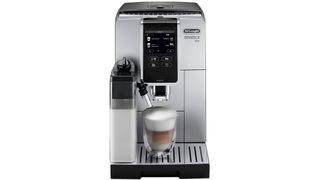 The De'Longhi Dinamica Plus is one of our top picks of the best bean-to-cup coffee machines for its smart, fully automatic functions. With a scrollable menu with everything from espresso to latte macchiato, this machine will meet every craving of a coffee-loving household.
Make it your own
There are preset sizes that are easy to toggle, and you can also adjust the strength of your brew. If you like your drinks very specific, or you have the same thing every day, you can use a custom button to program your perfect drink. That includes the level of froth, the volume, and the length and strength of your espresso shot.
What do we like about it?
The modern design is becoming of a high-tech kitchen, and while we know it's a major investment, it takes a lot of the faff out of coffee making. In the long run, we think it's worth the price. The milk frother is self-cleaning after each cycle, and it took months for our machine to automatically request a de-scaling cycle, so it pretty much takes care of itself.
Quality brews
This machine is only as good as the coffee you put in it, but it does take every possible step to make sure your coffee is brewed to perfection. The grinder automatically adjusts to the specific type of bean you've used, and it's easy to refill.
What don't we like?
Some of the best coffee machines will allow you to brew two drinks at once, but the De'Longhi Dinamica Plus will only do one. That's fine for most households, but particularly busy ones who just want a morning americano may find it frustrating.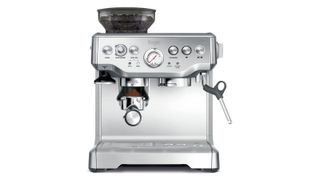 For those who want to feel involved in the coffee-making process from start to finish, take a look at the Sage Barista Express. Tried and tested by one of our (former barista) editors, it allows you to adjust everything from grind coarseness to pressure.
Adjust to every bean
Top this machine up with beans and then press the portafilter into the grinder attachment. You can choose how coarse you want your beans and adjust the amount of grounds you want, which is ideal for those who like to try different varieties and experiment.
What do we like about it?
The look is everything. Sleek stainless steel, easy-to-use controls and that classic feel that will never feel out of place in your kitchen. No bean to cup coffee machine is cheap, but the price is right with the Sage Barista Express. It also comes with a Sage frothing jug which tells you the temperature of your milk as you heat it up, which means no disappointingly cold lattes or burnt cappuccinos.
Cleaning is easy enough, and you can switch out from a single to double espresso portafilter and press either a single or double shot button to get the perfect measurement. The pressure is displayed front and centre, so you can alter your grind settings if it's not reaching the ideal point.
Mix it up
Simply twist the side dial to get your milk wand going and then experiment with how you want your milk for your coffee. It's an involved process, making it easy to change your technique depending on the type of coffee you want.
You can also twist the other direction on the side dial to top up your espresso with hot milk. Americano, made simple.
What don't we like?
If you want a hands-off experience, look elsewhere. Everything from the bean grinding process to the milk frothing is down to you and your preferences, which could be a little intimidating to a budding barista.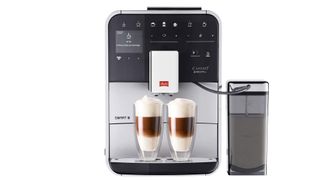 If you love the taste of coffee made from freshly ground beans, then this is the design you'll want – and our number one. It grinds, it makes excellent coffee, frothing milk is easy, and you can use your smartphone to control it when you want to get the coffee on before you even get out of bed.
Full automation
This is a machine for those who want fully automatic coffee making but the freshness and flavour of starting from beans rather than using pre-ground coffee or a pod. The controls are intuitive so you'll be turning out great coffees in no time, and both coffee making and milk frothing are a piece of cake.
What do we like about it?
Think of a coffee and this machine will make it for you. That's all the classic coffees – espresso, café crème, cappuccino and latte macchiato – plus, with the 'Recipes' feature, a full coffee shop range including flat white, americano, ristretto and so on with a total of 21 coffees available.
Naturally, this being our number one and the recipient of a five star rating in our review, the coffees are excellent with an enticing aroma and wonderful flavour that we judged as better than those from some of the high-street chains.
What makes it stand out from the crowd is that, sophistication notwithstanding, this machine is actually really easy and intuitive to use. The sort of design we love.
Milk frothing is simple
With this machine, creating the foam that milk-based coffees need won't be an effort. Just add milk to the container, connect the hose, and press the button for the right drink. The machine automatically adds the frothed milk to the coffee as it's dispensed.
What don't we like?
Honestly, there isn't anything but there are two issues that will likely influence the decision over whether this is the machine for you. First, its brilliant coffee making and smart features come at a price. Secondly, it's no minnow, so you may not be able to afford the worktop space it requires.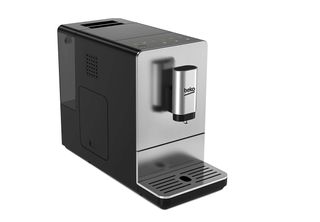 Want to go bean to cup, but don't have the £££s for a super-sophisticated machine? Then let us introduce you to the Beko CEG5301 It'll lighten the load on your card without a compromise on the taste of your coffee.
Good looks
We'll set aside the coffees themselves for the moment (but will return to this crucial topic below). In the meantime, let's admit that looks count. As a permanent feature of the worktop, a coffee machine's appearance is important. This one? Stylish in a beautifully understated way.
What do we like about it?
Moving on to the coffees, it's a big tick in that box. The results of this machine's bean grinding and coffee making are a most pleasing cup of java. The coffees are full of flavour, and you can make them strong or mild to your preference (or perhaps in response to a late night). You can also make a drink of the length you prefer with a press of a button.
Set up of the machine is easy from putting the beans in the container to filling the water tank, while it has a rather nifty spout that can be adjusted depending on the size of coffee cup you're using.
The LCD touch controls work well, much to our approval, and customising coffee recipes isn't a faff, either.
Easy maintenance
Don't want to give up precious hours to coffee machine TLC? Us neither, and so we like this machine's low demands. There's a rinsing cycle for the coffee nozzle, and prompts when there's a full grounds container and for descaling.
What don't we like?
It's a model without milk frother. Don't want black coffee only? Then there is an alternative version with a steam wand on board.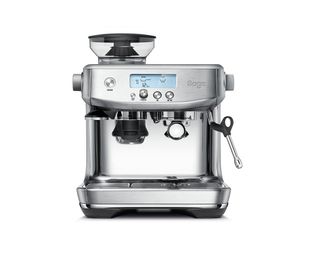 A gleaming machine for your kitchen work surface, this bean to cup design not only grinds the coffee but froths the milk expertly as well. It offers speedy heat up, too. Worth the cost? Read on.
Coffee bar style
It may be a little less sizeable than the machine in your local hang-out, but otherwise this machine has all the looks of the one you'd see there and it catches the eye in gleaming stainless steel (although you could go more subtle in black, if you prefer).
The built in grinder isn't hidden, as with some of our favourite machines, but prominent on the top of the machine, and it has an LCD display so you can make your coffee just how you like it.
What do we like about it?
We're rather impressed by the quick heat-up time. That's three seconds to optimum extraction temperature. That'll give you time to say 'Is it ready yet?' but not a whole lot more.
The true coffee aficionados in the Real Homes team like the fact that the grinder's grind size and dose can be adjusted. It's a burr grinder, by the way, which the experts prefer over blade grinders because of the uniformity of the resulting grounds. Ultimately, this should produce a better coffee brew.
Last in the list of our favourite aspects of this machine, but certainly not least: it produces a cracking coffee, which has prompted some owners to forswear coffee shops for their own home brews from this machine.
Get arty
Yes, you can make like a barista and create latte art with the steam wand on this machine. Really, there's nothing missing from the whole coffee shop experience if you can do this, too.
What don't we like?
Er, cleaning stainless steel isn't one of our most loved jobs. Having said that, it is brushed stainless steel, so shouldn't prove too onerous to keep pristine, or you could avoid this with the black finish we mentioned above.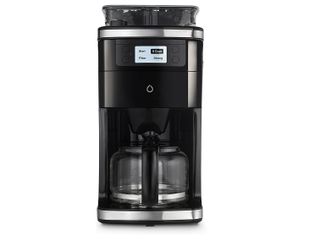 So, you like filter coffee rather than espresso or latte, but you don't see why you should miss out on the taste benefits of grinding beans in the machine? Nor should you. This filter machine lets you do just that plus it links to your smartphone.
Coffee app
If you want your home appliances to come with smart features, check out this filter coffee machine. The app allows you to set the strength and coarseness of the grind and the number of cups you want remotely – though you'll need to show up for the actual coffee.
The machine can also be connected to Amazon Alexa, Google Home and Siri enabled devices.
What do we like about it?
As we may have mentioned before, we do like filter coffee as well as more fancy drinks. There's something rather soothing about being able to brew up a big pot of coffee ready for a lot of refills over a leisurely weekend breakfast when the alternative is to keep starting over with a new round of coffees. That being the case we're rather open to a filter machine – and especially one that lets us use beans rather than ground coffee.
Being able to control the strength and grind coarseness is a feature we appreciate, too, as we do like perfecting our brews.
Aside from that, this is a machine that's good looking enough to earn its place on the worktop.
Colour changing
Like to change the decor a tad? Serial renter and want to be able to complement each kitchen with your coffee machine more easily? Swap between the red, cream and black colour panels that come with your machine.
What don't we like?
Making a filter coffee machine smart makes it a more costly buy and the benefits might not outweigh this for many.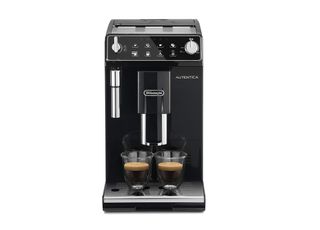 Fallen for the dark good looks of this bean to cup machine, but wondering if it's just a pretty face. We say no. Find out why this De'Longhi design fully deserves your attention.
Tubeless system
Why is a tubeless system a plus point? The idea is to reduce the amount of coffee left inside the grinder to a minimum so it's only the newly ground coffee in your drink. After all, if you're going for a bean to cup machine for the freshness, you don't want to compromise the flavour.
What do we like about it?
One button touch for espresso, espresso lungo, long and doppio+ coffees are at the head of the list of this machine's assets. Add to this milky coffees including cappuccino, latte and more which come courtesy of the built in milk frother. Oh, and it'll make a cup for you and a cup for your other half/mate at the same time, which is handy.
You can adjust coffee strength by moving the taste selection dial so more or less coffee beans are ground by the machine, and you can change the coffee quantity the machine delivers automatically as well.
Also on our list of likes is the glossy finish and streamlined good looks of this machine.
Size matters
This machine is rather slim at only 19.5cm wide, so it won't elbow its fellow small appliances out of the way on the worksurface. Bear in mind, though, that it's almost 48cm in depth, so it does take up a fair bit of space front to back.
What don't we like?
At 9.1kg it's no lightweight if you're a frequent housemover.
---
What is the best bean to cup coffee machine?
So, let's recap...if you're looking for a sophisticated bean to cup coffee machine which will make delicious espresso and froth for all your other favourites, we highly recommend buying the De'Longhi Dinamica Plus. As the name reveals, you can control it from your smartphone, plus customise your coffees so they're exactly how you like them.
Need a model that's not as pricey and takes up less kitchen space? Then we would recommend you buy the Beko CEG5301 coffee machine. It looks good, it's no space hog, and it makes great coffee – and all for a price that's a great deal for a bean to cup coffee machine.
You've reached the end of the page. Jump back up to the top^