Nespresso Citiz: Quick Menu
The Nespresso Citiz takes an entirely different approach to making a quick shot. You see, many espresso machines make preparing a short coffee into something of an art. From grinding beans and packing grounds to finding the perfect temperature and pressure, making a beverage that's supposed to pick you up can be an exhausting process in itself.
This machine features a simple operation. With just two buttons and Nespresso's coffee capsules, there are no real settings to worry about. It's quick and efficient, ideal when you need to get your coffee and go.
Plus, with its compact design, this espresso maker can easily fit in most offices, apartments, and kitchens, even when space is limited. While the lack of options like milk frothing and pressure control might be a downside to some, this small coffee maker puts in an efficient and consistent performance that makes it an excellent choice for those looking for a simplified brewing experience.
Nespresso Citiz review
TLDR
Looking for simple, quick, and easy espresso and lungo coffee brewing? You'll get exactly that with the Nespresso CitiZ Espresso Machine. This coffee maker doesn't have all of the bells and whistles of your traditional espresso machine, but it allows you to enjoy coffee and espresso without all of that hassle.
Its compact design makes it an ideal choice for houses, apartments, and businesses where space is limited. Designed to work with the Nespresso capsules (available on Amazon), this machine has a total of two buttons. There's no need to worry about grinding beans and compacting coffee grounds. This machine efficiently does all of the work for you, saving you time and putting in an impressively consistent performance.
Testing the Nespresso Citiz
I'm Paige Cerulli and I specialize in product reviews. I tested the Nespresso Citiz coffee maker for several weeks in my home kitchen.
Nespresso Citiz specifications
Model name: Nespresso CitiZ
Dimensions (in.): H10.9 x W5.1 x D14.6
Reservoir capacity (oz): 33 ounces
Used capsule container capacity: 9 capsules
Weight of machine (lbs): 8.9 pounds
Voltage: 120V
Cord length (ft): 2.6 feet
Accessories: Removable drip tray
Available colors: Chrome, red, white, black, stainless steel
Unboxing and setting up the Nespresso Citiz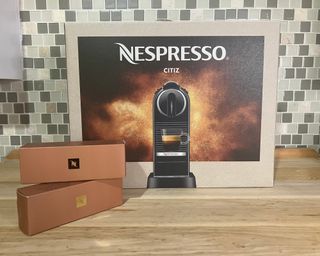 The Nespresso CitiZ Espresso Machine arrived double-boxed and in excellent condition. I also received two boxes of Nespresso No. 20 ground coffee capsules (available to buy online). These have notes of orange blossom and citrus and are made using Columbian coffee beans.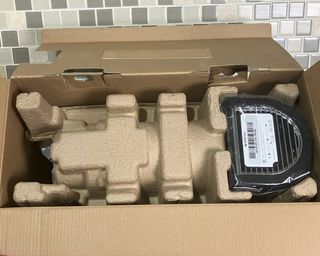 The espresso maker is packaged largely with molded cardboard inserts instead of styrofoam. The packaging selection is part of Nespresso's commitment to sustainability. Additionally, 80% of the aluminum used in the capsules is recycled aluminum, and the capsules are packaged in a cardboard box with no plastic wrapping. Nespresso offers a free capsule recycling bag that you can also return for free by dropping it off at any UPS drop-off location. In New York City, customers can recycle the capsules by putting them directly into their recycling bins.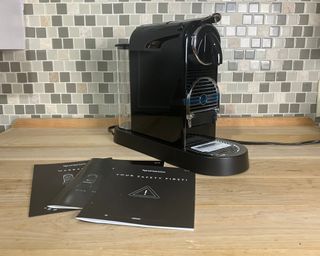 Setting up the machine was easy and intuitive. The drip tray was separately wrapped, but the rest of the machine was delivered as a single unit. After removing two pieces of tape holding components in place, the machine was ready to use.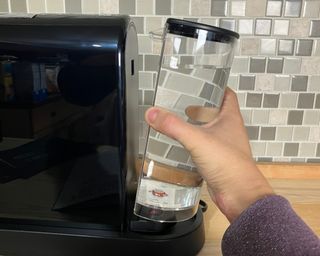 Before brewing any drinks, Nespresso instructs you to rinse and fill the tank, then on the machine, and run a hot water cycle. The process is easy and the water cycle completes in about one minute. The water reservoir pulls up and out of the machine, and it features a large and fully removable cap for easy filling. Once filled, it snaps back into the machine with minimal effort. The construction of the base guides the water reservoir into place and creates a secure fit.
Using the Nespresso Citiz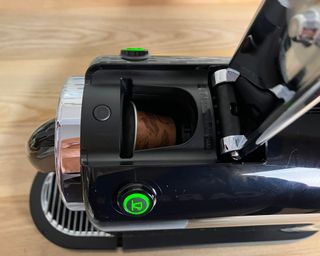 The machine warms up in about 25 seconds after being turned on. During that time, I inserted a capsule into the top of the machine. This process is largely foolproof, thanks to the shape of the receptacle, which only allows you to insert the capsule in the correct direction. The level is easy to press down, holding the capsule in place.
This machine is incredibly simple to use and features only two buttons on the top. The larger button is for lungo coffees, and the shorter one is for espresso. Depending on the size of the cup that you'll be using, you might place it directly on the drip tray, or fold down the cup tray for smaller cups.
Once the cup is in place, you only have to press the button corresponding to the type of drink you want to make. The machine starts to brew instantly. I found that espresso shots took about ten seconds, while the Lungo coffee took about 90 seconds. The machine offers a quiet operation, reaching a peak of 58 decibels. It's quiet enough that I think someone sleeping in an adjoining room wouldn't be woken by its use.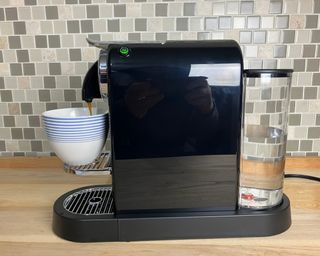 I found that the drinks were consistently 135 degrees Fahrenheit. Both the espresso and the lungo had a rich, frothy crema. The Nespresso capsules have a rich taste, and there are also many varieties available via Nespresso in flavors like pumpkin spice cake, cioccolatino, vaniglia, caramello, and more.
Each time you open the lever to insert a capsule, the machine collects the used capsule in a container. That container, and the drip tray below it, are easy to remove, so you can collect the capsules in a recycling bag.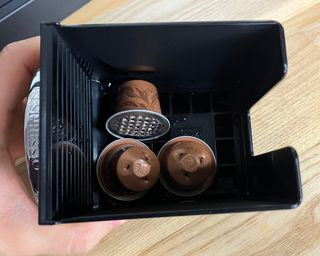 I was pleased to find that I was able to continuously use the machine to make drinks without having to wait for a cool-down period, as I've encountered with other machines. This espresso machine has an automatic off function that will turn it off after nine minutes of inactivity. That function is programmable and can be set to turn the machine off after nine or 30 minutes. I didn't find the instructions for how to do this in the printed instructions manual that comes with the machine, but they are included in the digital instruction manual available on the Nespresso website.
Cleaning and maintaining the Nespresso Citiz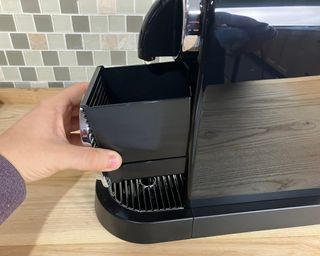 The removable components of this machine, including the drip tray and used capsule container, can be hand-washed with hot water and a mild, odorless detergent (Palmolive fragrance-free dish soap is under $4 on Amazon). They can then be dried with a dish towel (like these from Amazon) and reinserted in the machine. I reviewed this machine in a black finish, which is highly glossy. I found that it smudged quickly and easily, and I had to wipe the machine with a damp microfiber cloth to remove the smudges. They're a bit bright, but these HOMEXCEL towels I found on Amazon do a great job.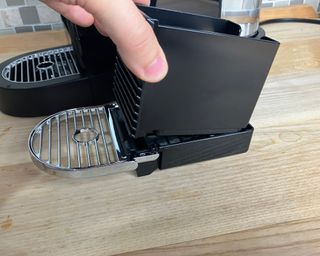 Nespresso recommends that you periodically descale the machine to remove mineral buildup and keep the unit operating at its best. The frequency at which you'll need to descale the machine depends on your water hardness and how often you use the espresso machine. It provides a chart to help you determine your descaling frequency.
To clean your coffee maker, Nespresso recommends using water and a Nespresso descaling liquid (currently on offer on its site). Alternatively, Nespresso's descaler is also available on Amazon (albeit at full price). Once you decant a sachet into the water tank, you can set the machine to the descaling mode and let it run until the water tank is empty. You will need to refill the tank with the descaling solution and repeat the process, then fill the container with clean water and run it through the machine again. The entire process takes about 15 minutes.
Is the Nespresso Citiz right for you?
The Nespresso CitiZ Espresso Machine is designed for coffee drinkers who want an easy and compact solution. This isn't for the coffee aficionado who enjoys grinding their own beans and who wants precise control of the brewing process. A good bean-to-cup coffee maker would be better for said sipper. Instead, it's best for coffee drinkers who enjoy a hot, consistent brew but who don't have the time or the space to use a full espresso machine with accessories like warming plates and milk frothers.
With two buttons and no real controls and settings to worry about, this machine is simple and straightforward. It would be a great introductory model for a coffee drinker buying their first machine since the range of Nespresso capsule flavors allows you to explore different brews. The machine's compact design is another major advantage, especially compared to the size of your average coffee maker or espresso machine. Its small footprint saves counter space, and since it only weighs 8.9 pounds, it can easily be placed into a cupboard when not in use.
On the lookout for some alternatives, we've tried and tested these too...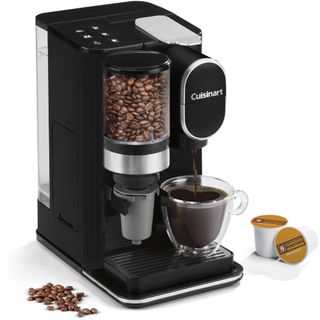 K-cups, grounds or beans
Cuisinart Grind & Brew coffee maker review
Price: Usually $149.95 Now $119.99 (save $30) at Amazon
Dimensions (in.): H12.67 x W7.28 x D11.02
With three ways to brew and three size options, the Cuisinart grind & brew single-serve coffee maker is one of the most flexible machines in the market. Novice users, (or those who want more choice) have the opportunity to use K-Cups, while intermediate and advanced coffee drinkers can use the eco-friendly reusable filter to make coffee drinks with grounds or whole beans. The generous 48-ounce water reservoir means that you can make up to six beverages before needing to refill the tank.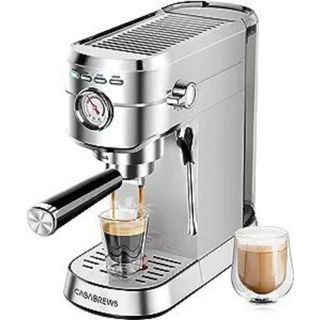 Sleek design
Casabrews espresso machine
Price: Usually $164.99 Now $119.99 (save $45) at Amazon
Dimensions: H11.97 x W5.9 x D12.28
The Casabrews espresso machine offers the convenience of at-home espresso in an ultra-compact package. Despite its smaller size, it features a generous water tank and an easy, push-button operation. While the machine lacks some accessories that would be nice to have, like a milk frothing pitcher, it's a solid choice for anyone looking to try their hand at espresso making.
Read the Casabrews espresso maker review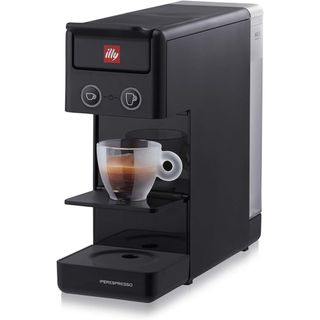 Four colorways
Price: $149
Dimensions: H10 x W3.94 x D11.73
For espresso fans who just want a minimalist yet efficient machine, this illy Y3.3 espresso machine does the job. The one-touch capsule machine is super easy to use, compact, and makes great-tasting, Italian coffee. But if you're after more versatility, this is probably not ideal for you.
Good to know
Instructions
The machine includes a safety pamphlet and a 27-page instructions manual. The manual has detailed diagrams, but the written instructions are very minimal. Additional information would be helpful in some instances, such as in describing the descaling process. Since the instructions are provided in 18 languages and the languages aren't separated by sections, they are somewhat cluttered.
Warranty
Nespresso backs this espresso machine with a one-year warranty against defects in materials and workmanship.
Where to buy the Nespresso Citiz
This espresso machine is available directly through Nespresso. It is also available on Best Buy and via Amazon.
How we test espresso makers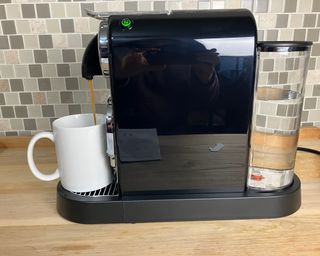 Nespresso sent me the machine and I tested it for several weeks in my house before writing the review. I used the following criteria for the testing process:
Unboxing: I evaluated the product's packaging, including how well it protected the product during shipping. I gave bonus points for packaging that is more sustainable, such as including cardboard packing instead of using Styrofoam.
Operation: When evaluating the machine's operation, I looked for factors like reliable performance, how long it takes to warm up and brew, and how loud the machine's operation is.
Beverage quality: I evaluated how well the machine prepared coffee and espresso, looking for qualities like a consistent brew and a hot temperature. I also considered the different flavors and options available in Nespresso's capsules.
Ease of use: I considered how user-friendly the machine is, including the learning curve when using it for the first time and what consumers will experience when using it daily. I also considered factors like how easy it is to insert and remove capsules and to fill and insert the water rank.
Ease of cleaning: I considered how easily the machine can be cleaned and maintained, including whether components are dishwasher-safe. I also evaluated the descaling process and how easily it can be completed.