NGL, when I heard that this machine was called the Nespresso Vertuo Pop, Justin Timberlake and his bandmates were the first thing that, erm, "popped" into my head. And there are some similarities between this pod coffee machine and the '90s boyband.
Like the group, the coffee machine is cute and fun — this, I promise you. Whether you're drinking a cup of joe by yourself or hosting brunch with your girlfriends, you won't want to say bye bye bye to this machine. The thought of having to part with this coffee maker after a short period with it is tearin' up my heart, but when I show you the digital get down on the specs, you'll make this a permanent feature in your home.
TLDR: What I thought of the Nespresso Vertuo Pop
Dear Nespresso Vertuo Pop, (The Nespresso) God must have spent a little more time on you. OK, if another *NSYNC song reference has gone over your head just know this. This coffee machine is the perfect way to add a subtle splash of color into your scheme. Alternatively, if you're into dopamine decorating, this will only add to the good vibes.
Looking at this machine with our tech head on, it's interesting to know that this particular spec comes with Nespresso's centrifugation patented technology for optimum aroma extraction.
In laywoman's terms, what this means is that you can really wake up and smell the coffee. Because they say a large percentage of what we commonly think of as taste actually comes from the sense of smell.
Just look at that green colorway above, I mean who says your best coffee machine has to be tucked away in the kitchen. I say, if you've got it, flaunt it (in the front room, or make it a feature in your home office for a bright touch).
Too often, we look to vases to decorate, but unless you're getting flowers every week or so, these planters can collect dust. Why not introduce something you use every day into your living room scheme (or a nook if you're worried about coffee stains). It's certainly a conversational point when you're pals come around.
Together with head of reviews, Millie, Christina tested this coffee maker out in our Reading UK test kitchen. This large-scale facility allows us to review a wide selection of products at the same time, comparing and contrasting features. There are no white lab coats involved though. If anything, we're in tracksuits, sneakers, and comfies to ensure we're set for the job at hand. Oh, and a good Spotify playlist is essential!
Christina loves the wide range of colors this cute Nespresso Vertuo Pop comes in and the fact that her favorite French pastry chef collaborated with the coffee brand to create a range of gourmet capsules. He makes the most delicious macarons, and they're the perfect accompaniment to a cup of coffee... don't tell the Italians! It's a great machine that's versatile enough for any household, whether you live alone, in a college dorm, or have a small caffeine-loving family.
Millie Fender is head of reviews at Real Homes. A former barista, she knows her way around a coffee machine and has finessed her palette with years and years of coffee testing. Millie has tested a number of Nespresso machines, so when she tried the Nespresso Pop she was able to directly compare it to other machines on the market.
Millie's current coffee machine is the De'Longhi Dinamica Plus, a swanky bean-to-cup that grinds and brews at the touch of a button. She's not one to turn her nose up at a pod though, and occasionally enjoys a V60 pour-over when she's experimenting with specialist beans from local roasters.
The techy stuff
Product dimensions (mm): H250 x W136 x D426
Weight: 7.7 lbs / 3.5 kg
Water tank capacity: 560 ml
Wattage: 220-240 V, 50 Hz, 1260 W
Cost to use per hour: 19c / 43p
Heat-up time: 30 seconds
Waste basket capacity: 3–4 pods
Energy rating: A+
Energy-efficient features: Automatic standby after two minutes without use
Cord length: 75 cm
Parts and labor guarantee: Two years spare parts and labor guarantee
Unboxing the Nespresso Vertuo Pop
As reviewers, we're often given samples straight from this source. And while we're super appreciative to have access to these products, sometimes product loans don't come in their original packaging. The good news is that I've heard that the box is delivered with 12 Vertuo capsules, which is a nice touch to get you started.
First impressions of the Nespresso Vertuo Pop
You'll probably have guessed by the TDLR snippet that we're a fan of the range of colors this machine comes in. Yes, it's a little plasticky, but for what it's worth, it's durable enough for day-to-day use. It does take a little elbow grease to lock and unlock, but I'd take that over flimsy mechanics.
How to use the Nespresso Vertuo Pop
With the Nespresso Vertuo Pop, you can use the dome-shaped capsules to create your drink of choice. At the time of writing this review, you can choose from small, medium, large, and extra-large capsules. Or if we're getting technical, the Espresso (40 ml), Double Espresso (80 ml), Gran Lungo (150 ml), or Mug (230 ml).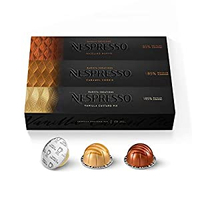 Purging the machine in preparation for first use:
Like any machine, whether you've bought it brand new or not, you'll want to give the water tank a quick rinse and the exterior a quick wipe-over. Here, I've put together a three-step guide if you want to hit the ground running.
Fill the tank with about a liter of drinking water (faucet is fine for this step). Plug it into your plug socket or electrical outlet and you're almost there.
To make sure your machine heats up correctly, close and lock the appliance until the light blinks. This pre-heat process takes around 30 seconds. When the light is illuminated (without the slow flickers), you can move on to the next step.
Stick a heat-safe kitchen bowl under the machine and press the coffee cup icon button three times within two seconds to trigger the rinse setting. This program takes about seven minutes to complete, but it's a well-invested seven-minute cycle nonetheless. Again, when the light no longer flashes, the cleaning part is done.
Manually making an espresso in the Nespresso Vertuo Pop
Let's get coffeeing! So you'll want to first fill the tank with fresh drinking water (from the faucet or a water filter). As mentioned, for optimized heating, you'll want to close and lock the machine and give it half a minute to do its thing per steps one and two above.
Then place your cup on the cup support. You'll then want to unlock and open the machine head (the colorful top) and insert your capsule of choice (dome shape down). Close the head and lock the machine by turning the handle towards the lock sign. Push the button and the nifty Nespresso will get on with doing some pretty neat barcode reading to work out how best to treat the capsule. It'll pre-wet the capsule (fancy), and calculate the infusion time, so all you need to do is work out which biscotti or cookie to serve with it.
If you notice the coffee is about to spill over, push the central button to stop it from overflowing. You can also push the button to manually top up your beverage for a longer drink. Just remember to press it again to stop, otherwise, you're in for a messy sitch.
Initially, we looked a little concerned as the coffee pod extraction seemed to produce a lot of froth, or crema if we're talking shop terminology, but it seemed to settle itself.
To finish, you'll want to unlock the head by turning it to the unlock sign, which will eject the pod into the capsule container.
Taste-wise, the Nespresso Vertuo pods come in some pretty delicious flavors. Fortunately, we found the limited edition Infinite Gourmand Saveur Noisette (roasted hazelnut flavor) capsules developed with French pastry chef Pierre Herme on the free-for-all desk at work. So, in true opportunist style, we nabbed them before anyone else, and it paid dividends.

This was personally my favorite coffee of the day (I don't dare count just how many cups I'd had), but the team noted how hyper I'd been, so the caffeine must have kicked in.
Word has it, they have a toasted coconut flavor, which I can't wait to try for something a bit more exotic. It would totally complement the rice-coconut plant milk I buy from the store. On the menu, there are currently 50 coffees in four cup sizes (three capsule sizes).
Pairing your phone with the Nespresso app
As well as actually using your hands to press the button, you can also sync your machine to the app, so you can make coffee by tapping your smartphone. This is a great feature if you're hosting friends or can't peel your eyes away from that Netflix series before the cliffhanger. Did [insert main character] really just do that? Don't worry, because, in this coffee love story, you're the protagonist.
First, make sure you've got enough storage on your smartphone to download the Nespresso app. My iPhone is full of pet pictures, but I don't need multiple copies in my photo gallery. Go to your settings and make sure Bluetooth and Wi-Fi are on and that you're close to your machine. Once you're in the app and on the homepage, click the coffee maker icon. From there you can follow the instructions on the app.
Make sure you agree to get push notifications from the app. It'll let you know if there's a problem, solve general troubleshooting issues, and show you a step-by-step on how to descale and clean your coffee machine. Oh, and always update the app to the latest version. Nespresso comes out with some cool developments all the time.
Cleaning the Nespresso Vertuo Pop coffee machine
Cleaning this coffee machine is pretty easy and many of the parts including the water tank, drip tray, and capsule container can be hand-washed. To descale it, you'll need 20 minutes of time.
Rather handily, the machine will give you a mayday signal to tell you when it's time for descaling (spoiler alert: It'll blink three times orange, once white). Nespresso recommends you use its descaling solution which you can buy direct from the company, or via its Amazon storefront. Like the aforementioned rinse process, you'll need that trusty 1-liter capacity container handy to purge the dirty water as you'll be adding 500 ml of water and 1 unit of descaling liquid before locking the machine.
You'll then want to hold down the coffee button for about seven seconds (it will start flickering rapidly, but don't panic — this is a good thing). I've been restraining myself from another *NSYNC reference, but I can't help it... Dirty Pop!
Once the murky water has been dispensed, you'll need to run a normal rinse cycle to make sure the descaling solution is fully flushed out.
How does the Nespresso Vertuo Pop coffee machine compare to other coffee makers?
When buying a coffee maker, you're also committing to a type of pod. With the older Nespresso machines such as the Nespresso Lattissima One, you get access to a lot of options from coffee brands other than Nespresso, but Nespresso has exclusive rights to create pods that are compatible with the Vertuo line. This means you've got to be on board with Nespresso coffee when you opt for the Pop.
If you're happy with your Nespresso choice but want to choose the right Vertuo for you, there are a few differences worth noting. The Pop is very similar to the Vertuo Next, just a smaller and less expensive alternative. The main difference we noted was that the Pop didn't always have space for us to place a large mug under the dispenser spout when we made an extra-tall coffee, which is an issue we never had with the Vertuo Next.
The Vertuo Plus is another option from Nespresso Vertuo Plus, which Millie Fender, our head of reviews, tested for a number of months. Millie also tried the Nespresso Pop, but would opt for the Plus due to its easier controls. Instead of having to twist the top into place with the Pop, the Plus has a touch-operated lever that automatically lifts and raises, and there's a button on top that lights up to indicate when the machine is pre-heating and dispensing.
Best alternative to Nespresso Vertuo Pod

Water tank capacity: 1.1 L/ 37 oz.
Dimensions: 5.5"W x 16.9"D x 12.4"H
Weight: 9 lb./ 4 kg
Cord length: 29 inches
Water filter: No
Warming plate: No
Programmable: No

Read our Nespresso Vertuo Plus review for more info
Eco-friendly alternative, made from 54% recycled plastic

US Manufacturer: Nespresso, De'Longhi, or Breville
UK Manufacturer: Krups
Water tank capacity: 1.1 L/ 37 oz.
Dimensions: 5.5" x 16.9" x 12.4"
Weight: 8.8 lb./ 4 kg
Cord length: 29 inches
Water filter: No
Warming plate: No
Programmable: No
Warranty: Two years
Read our Nespresso Vertuo Next and Aeroccino 3 milk frother review
Best small-scale pod coffee machine with milk frother

Dimensions: H10.07" x W6.05" x D12.75"
Weight: 9.3 lbs
Pump Pressure: 19-bar pump pressure system
Heating prep time: 25–40 seconds
Warranty: Two years
Read our Nespresso Latissma One review for more info
Should you buy the Nespresso Vertuo Pop coffee machine?
For under £100, you can't go wrong. It's quirky, made from a market-leading brand, and has a versatile range of flavors to suit all tastes. If you're fine with an espresso, double espresso, or Americano, or don't mind adding milk to your drink after, this is one of the best value machines on sale. However, if you're more boujie and prefer a device that can make frothed milk, say bye to this coffee maker.
About this review and the reviewer
Christina Chrysostomou is our ecommerce editor and resident foodie. You're bound to hear from her on a Monday morning telling you about the latest culinary adventure, whether it's trying out a restaurant she'd finally got a reservation for or stumbling across a food market in London or Essex. Her favorite coffee shop is Monmouth Coffee in Borough Market, though if she's in Spitalfields she opts for a spicy Masala Chai from Chai Guys.
The Nespresso Pop was sent to us by Magimix for review. Magimix is a European manufacturer of Nespresso Vertuo machines, and they allowed us to hang onto the Nespresso Pop for a number of weeks before we returned it to them for other people to test.