If you fancy yourself as a bit of a coffee connoisseur, you'll need a barista-style, professional coffee machine. The Gastroback Design Espresso Barista Pro Coffee Machine is a great high-quality option, designed to offer choice.
From coffee specialities like americano and espresso to latte macchiato and cappuccino, this machine caters to every beverage need.
It's versatile with a built-in grinder with a generous 30 (yes 30!) grinding settings for your favourite coffee beans, and a compartment for ground coffee if that takes your fancy.
What's more, the Gastroback Design Espresso Barista Pro Coffee Machine looks striking and professional, thanks to its stainless steel with shiny black plastic casing. But while it looks the stylish part, can it do the job of making barista style coffee? We put it to the test to find out…
Setting up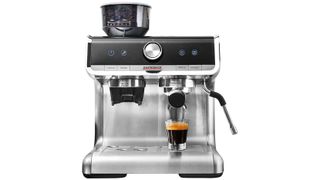 In the box
Stainless steel milk jug – for texturing milk
Metal tamper for pressing the coffee powder
Different espresso filter baskets –1 or 2 cups
Cleaning brush for the grinder
Needle tool for cleaning clogged pores in the filter basket or the milk foam nozzle
It's definitely a sturdy bit of kit so lifting the machine out of the box and onto the kitchen worktop was quite a chore. Nevertheless, in comparison to similar, pro-style coffee machines, this is a decent size that's not too cumbersome in size.
Setting up the machine was surprisingly straightforward. The main machine is practically set up already, but you are required to install certain parts such as the bean hopper, the drip tray and the water tank, which also obviously needs to be filled with fresh water every time you use it. It's fully programmable, so once you put your beans or ground coffee in, you're ready to go at just a press of a button!
HOW EASY WAS IT TO MAKE COFFEE?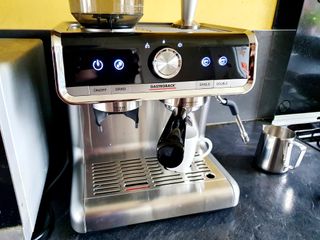 If you're not familiar with using a professional style coffee machine, it may be worthwhile going through the instructions manual. So after a quick read through the important details, I was good to go.
The front panel is streamlined to just four settings so you can't go wrong. This consists of an on/off switch, grind function and a button where you can select either a single or double shot. It also has as a central dial which allows you to choose from steam or hot water function. And if you don't fancy grinding beans, it has a separate section for ground coffee.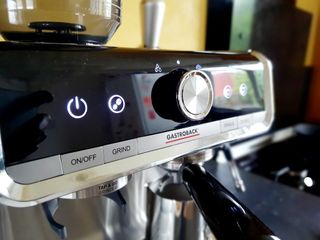 During my first attempt I opted to make a double shot of grounded coffee. The only thing I would say I struggled with was attaching the filter basket to the group head (thermoblock), which is quite stiff and requires a bit of elbow grease to get it to lock securely. But after giving it a few tries I became more confident in doing so.
Additionally, this professional style machine has an integrated milk frother that whips up creamy, foamy cappuccinos and lattes in an instant. You really do feel like a barista when controlling knobs and pressing buttons surrounded by the sounds of milk frothing up via the steam wand in the milk jar. I made a few cappuccinos using the swivel steam wand, and I'm pleased to report it was all smooth sailing, with rich, creamy and delicious results.
ANYTHING ELSE?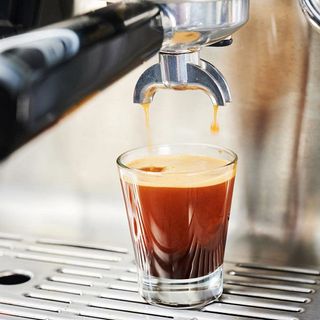 One notable thing is the ground powder tends to be scattered over the portafilter so there is always powder next to the machine on the worktop. This can be slightly inconvenient to keep wiping. In addition, there is no water level indicator, which can be inconvenient to know when running low. In any case, these are minor issues that doesn't take away the impressive quality of the coffee.
CLEANING UP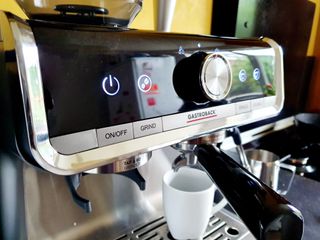 One of my concerns about using a barista style coffee machine would be the clean-up, but I'm pleasantly surprised by just how easy it is. The removable drip tray only requires a quick rinse, as does the filter basket which is the main item that needs cleaning the most. The machine will require descaling the water system, every few months or depending on how often you use it, But the instructions manual will guide you on how to do this properly.
REAL HOMES VERDICT: SHOULD YOU BUY THE GASTROBACK DESIGN ESPRESSO BARISTA PRO COFFEE MACHINE?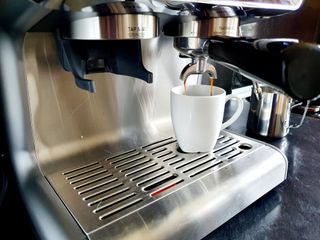 If you are a lover of fresh coffee and tired of spending your money in pricey coffee shops, the Gastroback Design Espresso Barista Pro Coffee Machine is definitely a worthwhile investment. It's not only aesthetically gorgeous, but also makes high-quality, barista style coffee easy. Bear in mind, it is a little on the pricey side, coming at just under £350. However, if you're likely to use regularly and keep well maintained, this premium coffee machine will serve you for many years to come.
ABOUT THIS REVIEW – AND OUR REVIEWER
Cynthia Lawrence is a freelance lifestyle and homes/interiors journalist, and writes for various national publications. With an unhealthy obsession for all things homes and gardens, she also has an interior design blog. When she's not spending time surfing online for decor inspiration to revamp her 1930s home, she is busy reviewing some pretty awesome home appliances.
A regular contributor to Real Homes, she has written for Livingetc., Gardeningetc., Ideal Home, T3.com, Top Ten Reviews and House Beautiful amongst others.
The Gastroback Design Espresso Barista Pro Coffee Machine was loaned to Cynthia by Freemans where it retails at £380. It was tested extensively over a period of two weeks. This was while Cynthia and her husband were working from home which meant it got plenty of use with regular (and much needed!) coffee breaks. While this was her first barista style pro coffee machine to test, it certainly passed for her favourite cappuccinos and lattes.