Listen, I'm a working mom. Coffee runs through my veins like blood. Some days I can survive on a cup (as long as it's XL or extra-caffeinated), but most, I require a pot to function. You've got wine connoisseurs, and then there's me: the queen of coffee. I've tried just about every coffee maker on the market, and this review is reflective of that experience.
Sure, NutriBullet may be known for having the best blenders, but its very first coffee maker steals the show. With a traditional glass carafe, the Nutribullet Brew Choice Pod + Carafe may look like your everyday machine. Plot twist: it's not. What sets this gadget apart is the versatility and customization options it offers– namely its dual functionally to brew single-serve coffee pods.
Joining the likes of an air fryer and toaster, this NutriBullet coffee maker was a welcome addition to my countertop. Wondering what sets this bad boy apart from the pack of the best coffee makers? Here you go!
Who will love the NutriBullet Brew Choice Pod + Carafe?
You, your mom, your brother's dog walker, the mailman– my list could go on. If you're a coffee drinker, I recommend the NutriBullet Brew Choice Pod + Carafe. It's great for those on the go, but also provides a tasty cup of coffee anytime. Speaking of those on the go, the entire machine is virtually dishwasher safe and cleans up in no time at all.
One worry amongst reviewers was the quality of pod coffee because it's brewed so quickly. If you're an avid coffee drinker, you may be able to tell the difference between the pod and traditionally brewed coffee. My nan, on the other hand, had no idea. And yes, I roped her into my testing.
If you have kitchen cabinets, you'll probably have to pull the machine out to open it. At a whopping 9 pounds, consider it your workout of the day (you're welcome). Totally worth the effort! Don't worry about tucking it away, though. Aesthetically it's very easy on the eyes!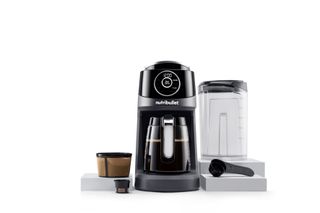 NutriBullet Brew Choice Pod + Carafe: Specs
Water tank capacity: 2.3L/ 78oz.
Dimensions: 4.65" x 7.87" x 15"
Weight: 9 lbs
Cord length: 30 inches
Water filter: Yes
Clock: Yes
Auto shut-off: Yes
Warming plate: No
Programmable: No
Warranty: 1 year limited
NutriBullet Brew Choice Pod + Carafe: Key Features
Brew Sense Technology
NutriBullet's Brew Sense Technology automatically detects what type of brewing you'll be doing. It then displays options for either the pod or carafe. Options include 6, 8, or 10 ounces for the k-cup pod, and 6, 9, or 12 cups for brewing.
Reusable pod
While compatible with K-cup pods, the reusable pod is earth-friendly and perfect for anyone on a budget or choosy with their ground beans. Plus, being able to pick your own beans, or even grinding yourself, is a nice option.
12-Cup Carafe
Because sometimes one isn't enough, you can now make up to 12 cups at once. The water tank holds a whopping 67.2 oz. of water, making this the perfect coffee pot for days you're feeling extra tired or have company over.
Auto shut-off
I appreciate auto shut-off because with kids running around, you can never be too safe. I'd imagine most everyone would prefer this added safety feature, though! The only downfall here is the plate under the carafe begins to cool after about half an hour. This equates to lukewarm coffee if you don't drink it right away, so be prepared to toss it in the microwave!
Self-explanatory accessories
No instructions are necessary, but I still recommend reading them. It's so simple switching between carafe and pod, and all it requires is switching out a couple of pieces. The pod fits snugly into a cylinder, and the reusable filter slips right into the included brewing basket.
Digital clock
Definitely not a necessity, but I love it. The handy dandy blue clock is a nice little touch, and personally, I'm glad they added it!
Recipe book
I'll let you in on a little secret. NutriBullet has a hidden talent, and that is recipe making. Included in the box was a small recipe book, and it did NOT disappoint! I read this from start to finish, and so far have tried several crafty coffee creations, and vanilla & mint-infused syrups. The vanilla was so easy & too good not to share, so here you go:
Heat the water & agave until combined, and take off the heat. Carefully split the vanilla with a knife lengthwise, and scrape as much as you can get from the inside of the bean. Add it all back into the mixture (including the bean). Let the mixture cool, and store in a bottle. I popped mine in the fridge, but because there's no dairy I don't think it's necessary.
NutriBullet Brew Choice Pod + Carafe: Unboxing and Set up
This could not have been easier to put together. The only thing missing was coffee! All pieces were easy to identify, and after a quick rinse, was ready to use.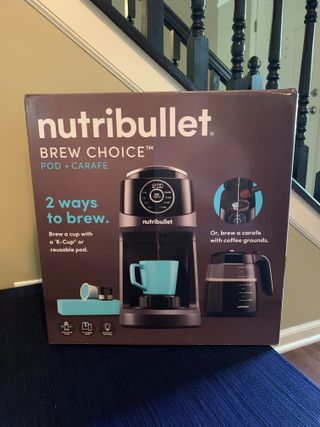 Inside the box, there was the coffee maker, a glass carafe, removable (dishwasher safe!) water tank, k-cup/pod holder, reusable filter, coffee ground measuring cup, mug platform to prevent splashing, and a reusable pod.
The removable platform is a nice addition because it allows you to use everything from a small mug to a 16-ounce travel mug. What also stands out is the reusable pod. K-cups can get pricey and rather than being wasteful, it's nice to be able to brew just one cup using coffee grounds.
The base itself isn't much taller than a Keurig, but it does require you to pull the appliance out from under the cabinets to add coffee. I have fairly tall cabinets (18"), and I still had to move the Nespresso to make a cup of joe.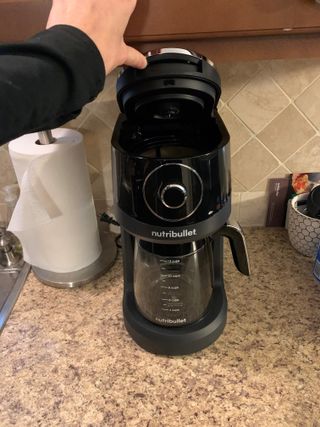 Another nice touch? The measuring spoon tells you exactly how much coffee should be added depending on how many cups you need! I usually wing recipes, but coffee is expensive so I recommend following directions here.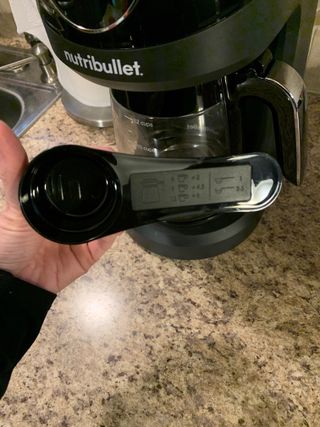 NutriBullet Brew Choice Pod + Carafe: Use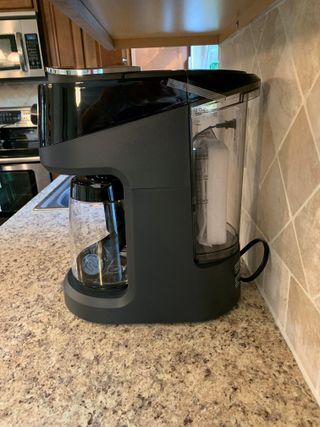 The NutriBullet Brew Choice Pod + Carafe is so, so simple to use! First, you choose which brew method you'll use, pod or carafe. You can then add water to the tank, which holds up to 12 cups! Did I mention the water tank is dishwasher safe? I've seen some pretty gnarly moldy tanks in my 15 years of coffee drinking, so this is a winning feature for me!
If you prefer a pod, you can either insert a premade cup into the provided pod holder or add ground coffee to the reusable pod. If one cup won't cut it, you can insert the reusable coffee filter (which is oddly beautiful, by the way), into the base.
Once a pod or filter is in the machine, it automatically detects which method you'll be using. Nifty, right? From there, you can choose the amount you'd like to brew.
Pod: 6 ounces, 8 ounces, 10 ounces
Carafe: 6 cups, 8 cups, 12 cups
NutriBullet promises up to two hours of hot coffee, but I beg to differ. I'll admit I like things PIPING hot, and it was "hot" for a maximum of 45 minutes.
Cleaning up is just as easy, as the pod pops right out and the filter can be dumped in the trash (do NOT put ground coffee down your garbage disposal!).
How does the Nutribullet Brew Choice Pod + Carafe compare to other single-serve coffee makers?
The best single-serve coffee maker competition is fierce, and in the ultimate showdown, and we evaluate how Nutribullet compares to Keurig. Check out my thoughts below:
Nutribullet vs Keurig
NutriBullet
It might be barely slower than the Keurig by a teeny tiny hair, but the NutriBullet can hold my travel coffee mug. It has nearly 11 inches of space for a cup, which holds significantly more coffee than Keurig's space allows.
Keurig
The good ol' Keurig can whip up a K-pod in less than a minute, and that's impressive. Our reviewers consistently give Keurig a full 5-star review, and I agree it's deserving. The one option that some Keurig machines offer that the Nutribullet doesn't is programming. Some mornings I wish I could wake up to a fresh pot of coffee, and the Keurig can make that happen.
On that note, I still can't help but fancy the NutriBullet just a smidge more. With the holidays coming up, and family filling the house, it will be nice to brew 12 cups of coffee at once.
Faster: Keurig
More versatile: NutriBullet
Larger coffee capacity: Tie
Space saver: NutriBullet
Better coffee: Tie
Easier to program: Keurig- the NutriBullet is not programmable
Final result: It's a tie!
Other options
There are quite a number of similar, but different dual brewing coffee makers working to gain their share of the market.
Ninja concurrently has released its own DualBrew Pro Specialty Coffee System, which has beefed up customization and drink sizes, though it will cost you about $100 more.
Meanwhile, if you're looking for a more side-by-side make that doesn't require popping in a K-Cup adapter each time, the Keurig K-Duo is perhaps the first that comes to mind with a standard K-cup brewer on one side, and a 12-cup carafe and heat plate for drip coffee on the other. They both share the same 60 oz. water reservoir and switching between brew settings are as simple as selecting a cup or carafe.
Additionally, the Cuisinart Coffee Center Coffee Maker & Single-Serve Brewer has two separate water reservoirs for its drip coffee maker and k-cup side as if two coffee machines were combined together.
NutriBullet Brew Choice Pod + Carafe: our verdict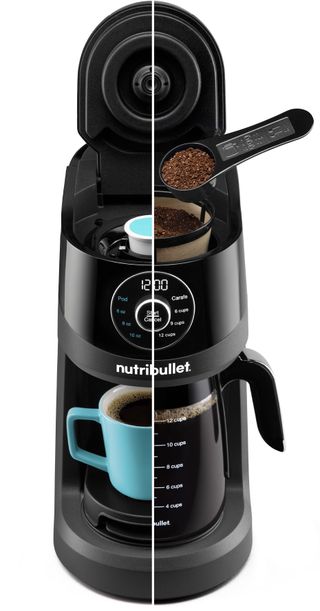 Versatility earns this NutriBullet a solid five stars. With features, we didn't know we needed (like the digital clock and removable platform), this coffee maker belongs on every coffee drinker's Christmas list. Because I'm already used to reheating my coffee 10x before 10 am, I could get over the lack of a heating plate. For those of you without a microwave nearby, this may be the one noted downfall I can find.
So step aside blenders and food processors. NutriBullet has entered a new arena and things are looking good. Officially my new favorite coffee maker, the Brew Choice Pod + Carafe is here to stay. Translation: go buy one pronto!
About this review and our reviewer
As a working mom of three, Courtney fuels her day with lots and lots of coffee, and has spent lots of seeking out the best coffee makers. When she's not on the hunt for the next big trend, you can catch her in her kitchen, which is currently under construction.
All our reviews, as in the case of the Nutribullet Brew Choice Pod + Carafe, are based on the real-life experience of using these products at home. The products are given to us free of charge and we test them for as long as possible before sending them back to the brand unless we are able to keep them as we are with this coffee maker. This means that we can continue to use the product which gives us the opportunity to return to our reviews for updating, so you can keep up-to-date with how it's fared over a period of time.