Cuisinart Grind & Brew Single-serve Coffee Maker: Quick Menu
The Cuisinart grind & brew single-serve coffee maker is the coffeephile's answer to filter coffee without the fuss. No soggy papers, no waiting around for a drip-by-drip drink. This coffee machine cuts down time and clean-up (to a certain extent, but I'll come to that later).
Though most would classify it as a single-serve coffee maker, this 3-in-1 small coffee machine takes beans, pods, and grounds. Clever right? But just like those magazine quizzes I used to do as a teen, it really depends on what type of user you are to determine what coffee-making route you'll take.
If flavor is your top priority, you'll want to use it as a bean-to-cup coffee maker. But if you appreciate variety (and don't want to keep changing the hopper), use it like a pod coffee maker. Don't want to break up that relationship with your independent roastery/coffee bar, and are intimidated by whole beans? Get them to grind your favorite coffee cherries so you have a familiar-tasting cup without paying for their overheads or queueing up for a cup. I tested the Cuisinart grind & brew single-serve coffee maker to see whether it could replicate my favorite shop-bought sip in the comfort of my own home.
Cuisinart grind & brew single-serve coffee maker review
Why you can trust Real Homes Our expert reviewers spend hours testing and comparing products and services so you can choose the best for you. Find out more about how we test.
What I thought of the Cuisinart Grind & Brew Single-serve Coffee Maker
The Cuisinart grind & brew single-serve coffee maker is a great machine for users who want a freshly ground, filter coffee maker experience without the wait (or mess of filter papers). It's a flexible machine with a reusable filter that allows you to use either whole beans or ground coffee. Most surprisingly, it can even be used as a Keurig coffee maker so you can mix and match your brew based on availability, budget, or preference. However, for transparency, we didn't have any Keurig pods on hand to test this feature. If you want to go down this avenue, we recommend the Keurig Coffee Lovers' Collection Sampler Pack, available on Amazon.
The machine has a small footprint, making it a good choice for rental kitchens. Nonetheless, the drip tray could be wider to accommodate larger cups, and an adjustable tray height would improve the overall design (especially to prevent coffee from splashing down the side).
Mechanically, the conical burr crushes coffee beans effectively, resulting in an espresso shot that is strong and has a decent amount of crema. Grinding is on the loud side at 80dB, compared to a 41-55 dB brew.
Testing the Cuisinart Grind & Brew Single-serve Coffee Maker
Hi, I'm Christina Chrysostomou, acting head of ecommerce at Real Homes. I test small kitchen appliances, including coffee makers for the title. On this occasion, Cuisinart sent the grind & brew single-serve coffee maker to the Future Plc test kitchen. We have been allowed to keep the product to update this review.
Cuisinart Grind & Brew Single-serve Coffee Maker specifications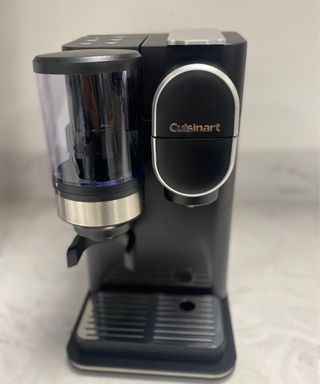 Model number: DGB-2
Dimensions (in.): D11.02 x W7.28 x H12.67
Weight (lbs): 7 lbs
Pump pressure (bar):
Beans container capacity (oz): 3.5 oz
Water container capacity (oz): 48 fl oz
Voltage: 50V
Wattage Output (watts): 1200W
Unboxing and setting up the Cuisinart Grind & Brew Single-serve Coffee Maker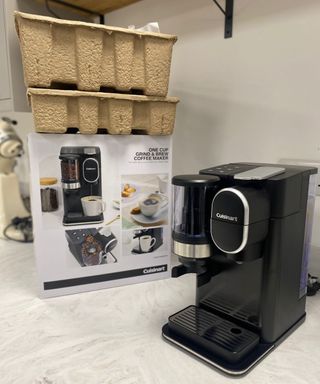 The 7-pound machine is well-packaged in a molded pulp container to prevent any damage in transit. Though there is some plastic packaging, it's not excessive, but you should keep it away from children and pets.
Using the Cuisinart Grind & Brew Single-serve Coffee Maker
If you've read one of my coffee maker reviews before, you'll know they are pretty thorough. However, this is such a simple machine to use that it's a comparitively short.
Understanding the control panel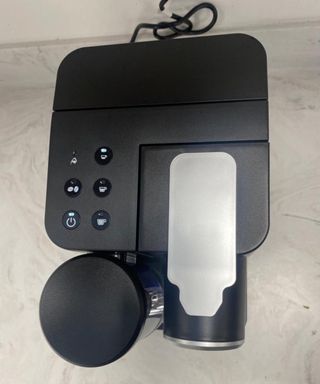 The control panel has four buttons that you'll need to familiarize yourself with, and although there's no LED screen, the icons are pretty self-explanatory:
Power ON/OFF: Designed to turn the brewer on and off
Grind button: Press to automatically start/stop grinding coffee into the filter cup.
Add water indicator: This button will illuminate red when water levels run low
Brew size buttons: Select 8, 10, or 12 oz cup sizes to begin brewing
Inserting the water filter
This coffee maker comes with a charcoal water filter that eliminates chlorine, bad tastes, and odors from tap water. I live in a hard water area, so this was a nice bonus to have. This was one of the parts that came in a polybag and does involve some time to setup.
Soak the filter, fully immersed, in cold tap water for 15 minutes.
Lift the water filter holder out of the water reservoir.
Press down on the filter compartment and pull it toward you to open.
Place the filter into the holder and snap it closed. Be careful – it's a little fragile.
Flush the filter by running cold tap water through holes in the bottom of the compartment for ten seconds.
Allow the filter to drain completely.
Slide the water filter holder back into the channel in the water reservoir, pushing it down to the base of the unit.
Just so you know, additional charcoal filters can be bought from Cuisinart. It is advised that you change these once a month. Once the filtration system is set up, you can fill the tank with 48 ounces of water from your faucet. I like that it's removable so you don't have to lift the whole machine and place it under the tap (an obvious electrical risk).
Cleaning the machine for the first time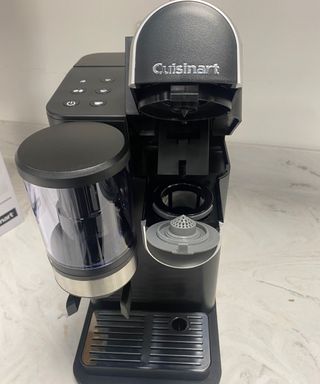 You'll want to run a rinse cycle (without coffee). To do this, press the power on button. Then, open and close the brew head (being careful not to touch the sharp needle). Next, place a mug on the drip tray. Press the 10 oz. Brew Size button to begin the brew cycle. Hot water will start to dispense in the cup. When the process is complete, you can discard the wastewater and begin brewing!
Using the grinder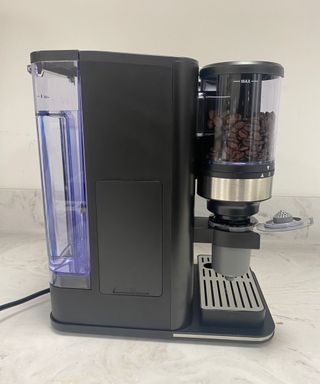 For optimum results, you'll want to make coffee using beans. This is a pretty easy 4-step process that takes less than two minutes from start to finish. To begin, remove the bean hopper lid and add your beans.
By the way, in case you're frantically hunting for it — your HomeBarista Reusable Filter Cup pops out of the left side of coffee maker. Open the lid of the filter cup and insert it into the holder below the grinder.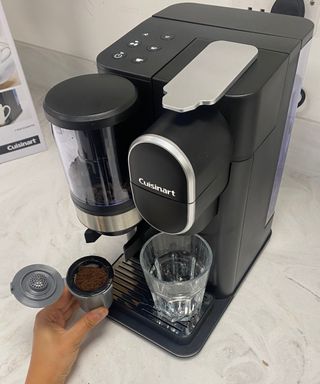 Holder in? Great! Press the Power button to turn on the unit. The Power and Grind buttons will light up. Then, press the Grind button to start grinding. The grinder is set to automatically turn off once the filter cup is full.
By the way, Cuisinart says that If you buy large portions of beans, separate them into one-week portions and store them in airtight containers in your freezer. You can also preserve freshness by minimizing exposure to air, light, and moisture. And, once beans are removed from the freezer, keep them in a sealed container at room temperature.
Making coffee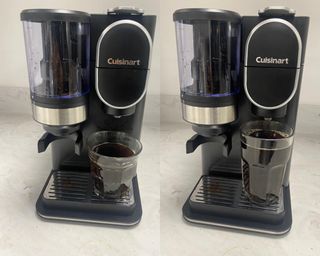 With ground whole beans
To make coffee, remove the filter cup from the grinder holder, close the lid, and pop it into the brew chamber. FYI, it doesn't need to click or snap into place, but this would have given us some reassurance.
Close the brewer head, pop your cup or travel mug underneath, and select your chosen brew size. At this point, it's important to note that the brewing process can be stopped during brewing. Simply press the button again to cancel your coffee order.
When your drink is ready all of the brew buttons will be unlit. The Grind button will remain on for use until the brew head lever is opened to begin the brewing process. After brewing, raise the handle and remove the filter cup. Be careful as it will be hot (I learned the hard way). Replace the capsule holder, making sure that the arrow on the capsule holder rim aligns with the arrow on the brewing chamber. Gently push the capsule holder to snap into place.
Packaged grounds
Using shop-bought grounds isn't too dissimilar. Obviously, instead of using the grinder, you can use the included scoop to measure your preferred amount (making sure that it doesn't exceed the max line). The maximum fill is roughly 2.5 scoops or 0.5 ounces and you don't need to tamp your grounds.
So, how did it taste? Temp-wise they range between 192 -198 degrees Fahrenheit. For reference, I tend to wait until mine is around the 140 mark before drinking. Nonetheless, I did miss the ritual of warming my cups on top of the machine (it doesn't have this feature). Taste-wise, all three sizes had good strength, and I'd be happy to serve my guests using this machine.
Cleaning the Cuisinart Grind & Brew single-serve Coffee Maker
Descaling the coffee maker
If all button lights are flashing in sequence — it's time to clean the coffee maker.
To descale the coffee maker (or decalcify it, per Cuisinart's terminology), you'll want to clean your coffee machine using vinegar. Having tested my fair share of coffee makers, it's quite refreshing to see that the brand advocates using this affordable cleaning supply. Amazon's Happy Belly white distilled vinegar works out at just eight cents per fluid ounce. Note, that some manufacturers consider this a coffee maker cleaning mistake, and in some cases, it can actually invalidate your warranty if they find out!
They recommend rinsing your coffee maker with vinegar at least once a month (maybe more frequently if you live in a hard water area). If you've never done this before, follow this 10-step method:
Fill the water reservoir with 13 oz. of white vinegar and 26 oz. of water.
Place a mug or other container on the drip tray.
Open and close the brew head.
Press and hold the Power and 8 oz. buttons for two seconds to start descaling
Discard the contents of the mug into the sink.
Repeat this process until the 'Add Water' light comes on.
When descaling is complete, the 'Power' and 'Grind' buttons will light up
Discard any remaining diluted vinegar into the sink.
Repeat step one three times using fresh water in place of the vinegar mixture. This will remove any residual vinegar taste.
Cleaning the bean hopper and burr grinder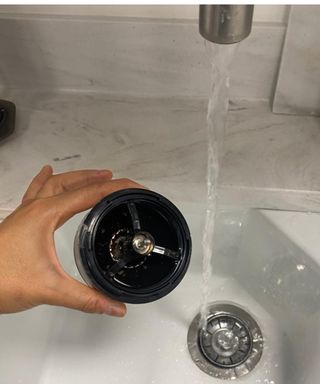 Hopper
Before unlocking and removing the burr grinder, make sure you've emptied all of the
beans from the hopper. The hopper can be wiped down with a soapy, damp, non-abrasive microfiber cloth, making sure any dish soap residue is rinsed with clean water. Next, use the scoop brush included to clean the grind outlet to clear away excess grounds and wipe with a wet microfiber cloth.
Burr grinder
The burr grinder is not dishwasher safe, so will need to be hand washed.
Cleaning the grinder
When the Grind button indicator is flashing, it means that your grinder is overloaded. To unclog it, press the power button and unplug the unit. Wait five seconds, the grind button should illuminate to grind again. If the Grind indicator is still flashing — remove the burr grinder and clean it well.
Cleaning the filter cup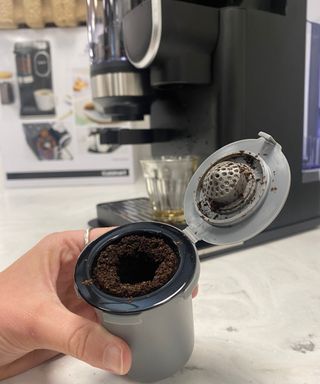 While we hand-washed the funnel/capsule holder, Cuisinart says it is top-shelf dishwasher safe (just be sure to use a low-temperature / eco cycle).
Cleaning the exit/piercing needles
We didn't experience any clog-ups during our test, but Cuisinart advise that any coffee-ground congestion can be irrigated using a paper clip. This 220-piece pack of paper clips from Amazon means you'll never be without.
Cleaning the drip tray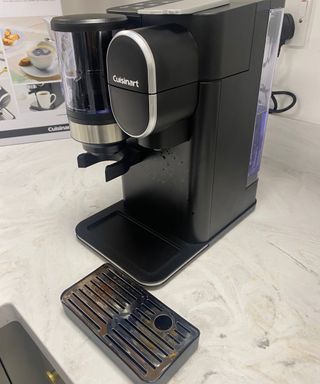 The Cuisinart grind & brew single-serve coffee maker has a removable drip tray which makes this component easy to clean. We hand-washed it with dish soap and warm water, however, you can pop the tray and plate into the dishwasher. Cuisinart advises that you don't clean the tray with steel wool pads or abrasive cleaners/materials.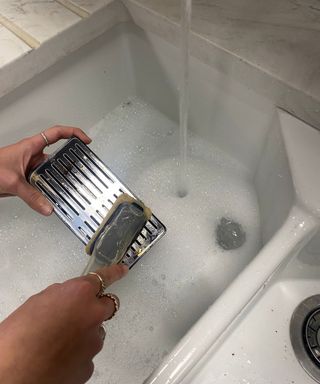 Is the Cuisinart Grind & Brew Single-serve Coffee Maker right for you?
If you don't want to invest in a coffee grinder, or if a flashy bean-to-cup coffee maker is too big (or expensive), kill two birds with one stone by investing in this small kitchen appliance. At under $150, it's a decent machine that can make varying sizes of black coffee. If you're looking for an espresso maker, or a machine that can make white coffee drinks — this isn't for you.
Looking for similar models. The coffee makers below have similar attributes: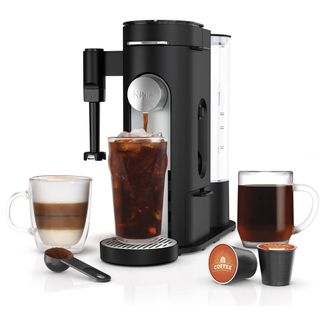 Built-in milk frother
Ninja PB051 Pods & Grounds Specialty Single-Serve Coffee Maker
Price: $129.99 (currently on sale for $79.99-$99.99 at Amazon)
Pods versus grounds is the eternal coffee debate, and Ninja is stepping in to settle it — or not. With the Ninja PB051 Pods & Grounds Specialty Single-Serve Coffee Maker, the brand is making it possible to have both in one machine. The slim design even comes with a fold-away milk frother.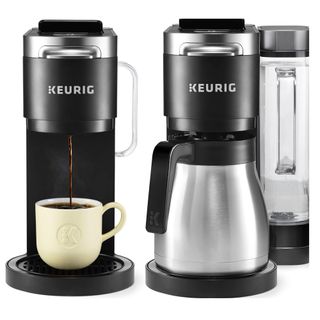 Thermal carafe included
Keurig K-Duo Plus Single Serve & Carafe Coffee Maker
Price: Usually $229.99 (But on sale at Keurig for $149.99)
Have the best of both worlds with a single-serve and carafe coffee maker with the Keurig K-Duo Plus. Like the Cuisinart model, you can choose between grounds or K-Cups.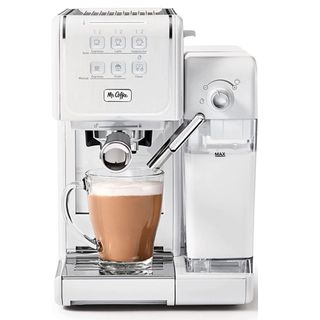 Automatic milk frother
Mr. Coffee One-Touch CoffeeHouse II
Price: Usually $349.99
It's an expensive choice, but the Mr. Coffee One-Touch CoffeeHouse II is a convenient and sleek coffee machine that will perfectly slot into modern kitchens. If you're after a milk-frothing machine (that comes with a storage compartment), and a model that uses grounds or Easy Serve Espresso (ESE) pods, go for this chic design.
Read our Mr. Coffee / Breville One-Touch CoffeeHouse II review.
Good to know
The Cuisinart Grind & Brew Single-Serve Coffeemaker comes with a three-year warranty, but you'll need to register the product to qualify for a free repair or replacement. Don't forget to keep your receipt or proof of purchase as you'll need to show evidence of the purchase date if making a claim. If you live in California, you'll have slightly different terms and conditions.
Where to buy the Cuisinart Grind & Brew Single-serve Coffee Maker
The Cuisinart DGB-2 Grind & Brew Single-Serve Coffeemaker is available directly at Cuisinart, and we've also spotted it on Amazon, Crate & Barrel, and Target too.
How we test coffee makers
Packaging: How well are the machine and accessories protected in transit? Do the parts come wrapped in unnecessary amounts of plastic?
Weight: How easy is it to carry from my front door to the kitchen?
Setup: How easy is it to assemble the machine (if applicable) and make a coffee? How long does this process take? Does it require instructions?
Brew quality and grind: Here, I make each drink and assess the strength, bar pressure, extraction, and time it takes to make each drink.
Noise levels: Is this machine quiet enough to make coffee in the morning, without disturbing co-habitants and neighbors?
Size: Can the machine be used in a small kitchen? How tall is the machine and is there adequate counter clearance for it to sit underneath cupboards?
Features: Are the programmable settings helpful? Does the milk frother foam milk consistently and satisfactorily each time?
Cleaning: How easy is it to maintain this machine? Are coffee stains wipeable? Can the drip tray and waste bin be removed easily? Which parts are hand-washable or dishwasher-safe? How easy is it to descale this coffee maker?