I took a look into the Keurig K-Elite single-serve coffee maker to see how it worked, if it brewed a delicious cup of coffee, and whether or not it was worth the price tag. Generally speaking, I'm not one of those people who need coffee every morning, however, when I want a cup I want it to be quick and delicious... cue reviewing this Keurig coffee maker.
While I could look into one of the best all-singing, all-dancing small coffee makers, or even boil a pot of water with a tea kettle to make a cup of coffee, the processes involved with these can be time-consuming. And frankly, I don't have the patience for that. That's why I made it my mission to test this pod coffee machine and see whether or not it could be a staple in my kitchen from here on out.
The K-Elite normally retails for $189.99, but right now it's on sale for $129.99 — that's a pretty good deal if you ask me, but what it really comes down to is how well it works.
TLDR: what I thought of the Keurig K-Elite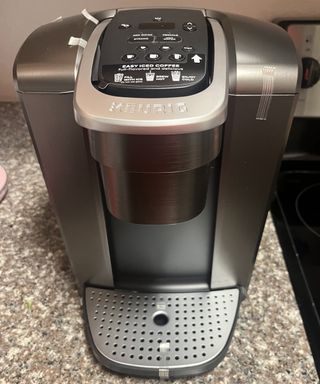 The K-Elite is ideal for those who want a simple cup of coffee made from a standard single-serve coffee machine. Whether you like it hot or iced, this machine allows for versatility with the ever-popular morning beverage. And its intuitive design is optimal for those with morning brain, who don't have the capacity to think fully at the crack of dawn with its easy-to-click buttons and lighting features. If you're not looking for a full espresso maker or coffee bar to have in your home, but a more plain and simple coffee maker, then this is for you.
It's worth noting that you don't need to apply much pressure to puncture the pod so don't slam down the machine. You'll need to refill the reservoir every so often, roughly every four or five uses depending on how big your cups are. A blue light will appear when your reservoir needs a refill. And since there is an included water filter, the machine will likely have higher longevity than one without, so you're getting a better bang for your buck.
If you're looking for a more complex machine, then you'll want to consider looking into other Keurig makers that have additional features like an automatic milk frother, an iced setting, multi-stream technology, etc. You can also just brew hot water, whether you need it for a bowl of oatmeal, soup, or another recipe. To do this, simply take the pod out of the designated slot and solely brew the water to use — easy as that.
Testing the Keurig's K-Elite Single Serve & Carafe Coffee Maker
Reviewed by
Reviewed by
Casey is a freelance writer and has previously worked on mattress reviews for our sister publication Homes & Gardens. In her work, she browses the internet for the best products for your home to help you make the right purchasing decisions. She spent a few weeks trying out the various coffee prep methods of the Keurig K-Duo Single Serve & Carafe Coffee Maker at home.
The techy stuff
Type: Single serve/carafe
Water tank capacity (oz): 75
Dimensions (in): H13.1 x W9.9 x D12.7
Weight (lb): 8
Setting: Buttons for brew strength, brew size, temperature control, auto-on, and digital clock display
Color: Brushed silver, gold, and slate
Brews (oz): 4, 6, 8, 10, and 12
Heating time: 3 minutes
Pressure: Strong
Water filter: Yes
Warming plate: No
Programmable: Yes
Cord length (in): 30
Warranty: 1 year
Price: $189.99
Unboxing the Keurig K-Elite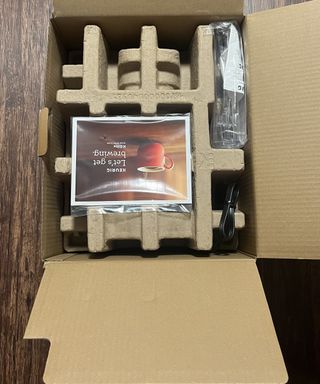 Similar to all of the Keurig's we've tried in the past (like the K-Duo or K-Café Smart), each of the parts, including the machine and water filter, arrives individually wrapped. After they are unwrapped, it takes less than five minutes to put everything together.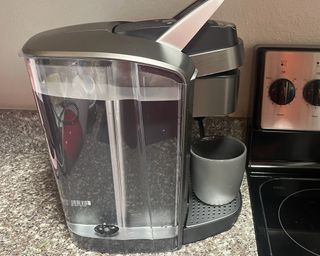 For the Keurig K-Elite, the reservoir is found on the left-hand side which has a max fill line to indicate how much water to put inside. Similar to any new appliance, you'll want to set up the water filter and do a test run, especially for a coffee maker to clean out the insides so it's ready for use.
The instructional booklet that came with the machine offered step-by-step guidance on how to do this. But from using similar machines in the past, I really didn't need to refer to it much because they are all nearly the same in terms of operation and set up at least on the basic level.
To set up the filter, I soaked it in water for five minutes per the directions, rinsed it thoroughly, and placed it in the filter, which then went inside the reservoir — super simple.
The cleansing brew for this machine is nearly identical to any other Keurig machine. It runs 8 ounces of hot water through it as if you were brewing a cup of coffee, however, this time you don't use a pod. The initial heating process took roughly three minutes and after that, it was ready to officially brew.
Test 1: making a cup of single-serve coffee
Since my reservoir was already filled up from my test brew, I simply placed the pod in the designated area and pushed it down. It didn't require much effort to push down and it was so quiet that I double-checked if I pushed it down enough (indeed I did).
For this cup of coffee, I wanted it to be on the strong side. I pressed the "strong" button and then hit the size I wanted — you can choose from 4, 6, 8, 10, and 12 ounces. Unlike the K-Duo Single Serve & Carafe Coffee Maker, this machine didn't have the sizes spelled out. Instead, there were little symbols to represent the different sizes, but they are labeled in the instruction manual.
In terms of the temperature, you have the ability to change how hot it's brewed. I kept mine at 192 degrees Fahrenheit, but the range varies from 187 degrees Fahrenheit to 192 degrees Fahrenheit. When it was ready to brew, it automatically filled my mug which rested on the drip tray — the process took all of four minutes, which was impressive.
After a few sips, I didn't think the coffee tasted too strong despite selecting the specific button. This wasn't an issue because I don't usually like my coffee strong, but if that's important to you, you'll want to try it for yourself to see if it meets your standards. It had just the right amount of flavor and strength for my liking, especially after adding some cream and sugar.
Test 2: making an iced coffee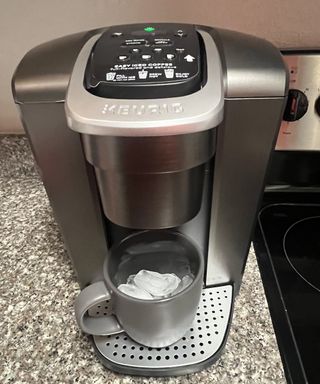 Keurig advertises the machine as having an iced coffee setting. From what I can tell, it didn't have one — unless they meant you could brew the coffee over ice which is how I made my cup. I followed the same process for the hot coffee, but this time filled my mug up with ice before brewing.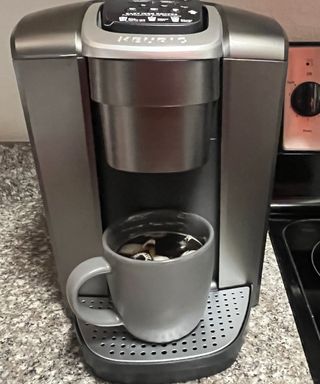 Compared to the previous cup, I preferred the iced coffee because it was more refreshing, IMO. Oddly enough, I didn't feel like I needed the cream and sugar I typically put into my hot beverage.
After making two cups, the reservoir was approximately a quarter of the way empty, so it still had some days left before I had to refill it. Just so you know, a blue light appears on the machine when it's time to top it up, which is helpful.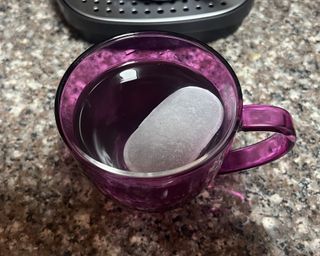 Key features the Keurig K-Elite offers
Temperature Control: This feature allows you to adjust the temperature of the coffee being brewed. Whether you like your beverage piping hot or warm, you can adjust the settings to set the temperature anywhere between 187 degrees Fahrenheit to 192 degrees Fahrenheit.
Auto-On/Off: Sometimes it's easy to forget whether you've unplugged your coffee machine with everything going on in the morning. The K-Elite has an automatic shut-off and will turn off two hours after the last brew. You can also program it to turn off in 15-minute increments after the last brew or remain on all the time. A moon icon will appear when "auto-off" is turned on.
If you want the coffee maker to automatically turn on at a specific time, you can also set that as well. This is indicated by a sun icon.
High Altitude: Whether you live in the mountains or at a high altitude, that can have an effect on how your coffee brews. This machine has a setting specifically for high altitudes to make sure it works properly. You'll know it's on if a mountain icon appears.
Quiet-Brew Technology: Some coffee machines tend to make a loud noise as they brew, but not this one thanks to its Quiet-Brew technology which reduces the amount of noise.
How to clean and maintain this Keurig coffee maker
To prevent unwanted calcium buildup and dried-up coffee grounds, it's important that you clean your coffee machine every few weeks. The brand recommends hand washing the reservoir and letting it air dry once it's unplugged and cooled down. To clean the needle, my hack is to put a paper clip in to release any remaining coffee grounds. Then you'll want to run two hot water cycles.
How does it compare to other Keurig machines?
In comparison to the K-Supreme Single Serve Coffee maker, both don't have the ability to make espressos or lattes. The Keurig K-Elite single-serve coffee maker offers the ability to make hot and iced coffee in a variety of sizes between 4 and 12 ounces.
Keurig has a comparison chart on its website where you can directly compare models based on price, functionality, and other details to help you choose the model that works best for you.
Is the Keurig K-Elite right for you?
I think the Keurig K-Elite single-serve coffee maker is a great option for those who are simple coffee people. With its single-use function, you can make yourself a cup of iced or hot coffee in minutes. It's small enough to fit on those tiny countertops and if you aren't a technology aficionado like myself, then you'll probably appreciate its intuitive design and lighting effects.
While this coffee machine is on sale right now for $129.99, it normally retails for $189.99. I think it's a bit overpriced considering the lack of functions, however, it's a solid gadget that works efficiently and well for your morning cup of joe.
How does the Keurig K-Elite rate online?
The Keurig K-Elite single-serve coffee maker was initially sold through Keurig and has a rating of 4.3 out of five stars with reviewers saying it's "easy to use," "very attractive," and "tastes superb."
A few four-star reviewers and lower expressed frustration about the size of the largest size coffee saying 12 ounces isn't big enough for many thermal to-go cups. Also, some say that the pump is louder than other models they've tried.
About this review and our reviewer
Casey lives in a small two-bedroom apartment in New York City where she tested this pod coffee maker every day over a couple of weeks. We are sent products to review at Real Homes and are sometimes allowed to keep them so that we can update our reviews after using products for a lengthy amount of time.