Feel like a coffee connoisseur? If you want to elevate your at-home java experience, then having a top-rated bean-to-cup coffee maker, like the Breville Max Barista espresso machine, is a great place to start a hobby as a coffee artist.
This stainless steel model is smart, small enough for a compact kitchen, and comes with all the innovative tech that you'd expect from a commercial coffee machine, and this it's a huge 34% off on Amazon. What better time to scoop up this hot deal?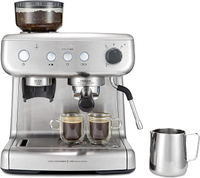 Breville Barista Max Espresso Machine | Was £449.99, Now £299 (save £200.99) from Amazon
Don't settle for expensive and burnt beverages at a chain outlet. With this affordable appliance, you can craft coffee at the right temperature from the comfort of your kitchen. The integrated grinder has 30 adjustable settings to ensure your favourite beans are always freshly ground for maximum flavour.
The techy stuff
Type: Ground/bean to cup
Pressure: 15 bar
Capacity: 2.8 litres
Watts: 1100 watts
Dimensions (cm): 38.1 x 35.56 x 43.18
TLDR: What we thought of the Breville Barista Max
The Breville Barista Max will suit anyone who likes a solid espresso and more high-quality coffee experience at home. It's a good coffee machine for anyone that works from home (like myself) and who wants the option of making fancier coffees every once in a while. It took a little getting used to, as I've been using a cafetière/percolator most of my life, but once you know what you're doing it runs like a well-oiled machine and delivers a really good cup of coffee whenever you need it.
How to use the Breville Barista Max coffee machine
There's a lot to this machine, and although all its features are stylishly packed away, you need to familiarize yourself with all of them before getting started. Thankfully, using this coffee maker is simple. We think so anyway.
As it's a sizeable machine, you'll want to find a good spot for it on your counter where you can get to the water tank easily to fill the reservoir. Our ecommerce editor likes to fill it with filtered water as it means you'll have to descale it less frequently (but more on that later).
Once in position, you can start washing, drying, and placing the parts/accessories all into place. This includes the drip tray, one and two-cup filter baskets, a 460 ml milk jug, plus a few nifty cleaning utensils: cleaning disk, pin, and brush. It's worth noting that if you're new at this, you'll soon adopt some more barista vocabulary. Think top burr, bean hopper, and tamper — it's all naturally part of the package.
Once the machine and all its components are in place, it doesn't need heaps of priming, which is brilliant. You simply need to fill up the water tank and press the power on button. This will illuminate the "start" and "grinder" lights, which will flash. Once all the buttons are illuminated, the machine is ready for priming and then use.
You'll want to purge a couple of main parts of the machine, starting with the group handle and then the steam wand, ahead of making your first cup.
Test one: grinding coffee beans
Grinding your best coffee beans is the first and most essential step in creating the ultimate coffee. Thankfully, Breville's guidelines start you off on the right track. From advice on using freshly roasted coffee beans to grinding and extraction temperature tips, you're in good hands. While some may take to it straight away, I personally found it took a little getting used to. This isn't too much of an issue, as the coffee is still good, but it's even more satisfying when you get it right. Practice makes perfect.
The Barista Max has a total of 30 different grind levels with one delivering the fastest extraction and 30 offering the slowest. The optimal and recommended pour time is between 20 to 30 seconds, and this will deliver a rich, caramel-coloured espresso that is robust, sweet, and vibrant. Breville recommends you start on 20. Though it's a daily ritual, Christina loves seeing this amber nectar being dispensed into her BODUM double-walled glass espresso cups.
The coffee beans and the grind setting are mighty important, then it's all about the dosage and tamp force. You want to grind enough beans for about 13 g to 15 g for one cup and 20 g to 22 g for two cups, then you're looking for about 10 kg to 15 kg of tamp force, pivoting the tamp a little as you go.
Another vital part of ensuring the best extraction is temperature. Breville Max's default is set to 92°C, but you can actually customise this to suit your needs. We suggest leaving it as it is, as many coffee shops set this super high (which results in a bitter-tasting drink — yuck!).
You can also customise the pre-infusion profile to give your espresso the perfect finish for your taste. There are three profiles to choose from in total: gentle, distinct, and constant. You can then, of course, return to the default settings if you wish.
Test two: using the milk frother
The Breville Barista Max's wouldn't be complete without the built-in milk frother however — just to manage your expectations — it's not one of its best features. There's no ability to customise the power and temperature and I find the quality of the finish not so impressive. The milk will be warm but often lacks that fluffy texture and voluminous body you'd expect from the pros.
The metal jug included is large enough for a variety of coffee drinks and you can use dairy milk or alternatives like soy, oat, or almond milk. Breville does also include advice in the manual on how to best steam plant-based drinks. We've got our own set of methods to foam milk, if you'd prefer.
Otherwise, the wand is easy to wipe clean, and by turning the steam dial anti-clockwise, you can remove any remaining milk in the wand. I'd suggest investing in a couple of microfibre cloths, too.
Test three: making classic coffee creations
Breville's Max espresso machine does give you access to a full coffee shop menu. Including classic espressos, macchiatos, babyccinos, mochas, and more, there is a full list of specialty coffee recipes and other hot drinks that you can try to recreate.
With it being a bean-to-cup machine, you do enjoy a full flavor profile and it's great getting to know the best grind setting for your favourite beans. A simple espresso will smell aromatic, have a lovely crèma layer, and come out at the right temperature. It's the steam wand that can be temperamental at times, which I can imagine would be a nuisance if you're a dedicated flat white artist.
It's quick and easy to use, so the machine makes a great first bean-to-cup coffee machine to impress your household, parents, and any guests alike. And, because it's 5 pm somewhere in the world, why not use your brewed shots to shake up some espresso martinis? For dinner parties, having this on hand for post-meal Irish coffees is always a crowd-pleaser.
Cleaning and maintenance
Some parts should be cleaned after each use, which is easy, and others weekly — for which there are cleaning tablets available (on Amazon) and a cleaning cycle to run. Some need maintenance every two to three months like the filter baskets and grind outlet. However, if you want a low-cost alternative to using shop-bought descaling tabs, you can learn how to clean a coffee maker with vinegar.
For the daily parts, some are dishwasher safe (top shelf only) while others can easily be cleaned by hand, using your favourite washing-up liquid. And there is a specific de-scaling cycle to run also when needed.
Christina Chrysostomou is our ecommerce editor. As well as testing other small kitchen appliances, she gets to drink coffee on the job (ahem... review coffee makers). The Breville Barista Max is the machine she uses at home to brew her "jitter juice" when she can't venture out to Monmouth Coffee in London's Borough Market. She, of course, buys a bag of the brand's artisan beans whenever she visits this foodie hotspot.
Having a bean-to-cup coffee machine has truly opened up her eyes to the state of the coffee culture in the UK. When she's abroad, she enjoys drinking the local specialty drinks. Though she has sat in many Italian coffee shops, her faves are frothy Freddos and super strong coffee shots in Greece. Though it must be said that the Australians definitely know a thing or two about making a good cup of joe.
Alternatives to buying the Breville Barista Max from new
Though the Breville Barista Max is almost 35% off, we understand that it might still be a bit spenny for some. If this is the case, why not consider buying a refurbished machine from a retail outlet? Most of the time, these work just as well as buying brand new — you might just not have the box (or it might be a bit scuffed).
Here is a list of places you can buy second-hand, and do your part by buying an environmentally-friendlier purchase.
Amazon renewed: Professionally inspected, rigorously-tested with guarantee
AO Outlet: Quality products delivered seven days a week with one-year warranty
eBay: Save up to 50% with manufacturer-approved refurbs
About the reviewer
Camille Welch is the deputy editor at Real Homes, and when she's not looking for the latest kitchen looks or garden trends, she's making a cup of coffee. It could be the French in her, but good coffee brewed in a great machine is paramount. When it comes to coffee machines, she prefers bean to cup, so the stakes are high in terms of design, ease of use, and taste. If you're really into coffee and rarely without a flat white, you can count on one of these reviews.