Nespresso Essenza Mini: Quick Menu
Like a good espresso, the Nespresso Essenza Mini proves that the best things come in small packages. And, while the company has recently released several new models with all of the bells and whistles — some of its older machines deserve serious consideration.
On first impression, this compact coffee machine is particularly ideal for space-challenged households because it's compact enough to easily fit in small kitchens and also finds a home on crowded countertops. It's also a convenient choice for those who prefer single-cup coffee, as well as people who like the idea of using pods instead of measuring and adding grounds to a filter compartment. After all, Nespresso has gained quite the reputation for making a variety of single-serve coffee makers that deliver hot beverages at the touch of a button.
But just because it's easy to use doesn't mean that this coffee maker compromises on quality. After testing the Nespresso Essenza Mini for over a week, these are my thoughts.
Nespresso Essenza Mini review
What I thought of the Nespresso Essenza Mini
If you don't like complex machines, this small coffee maker is quite simple to use, which also makes it great for beginners. However, the 19-bar high-pressure pump and fast heat-up are hallmarks of Nespresso's thoughtful designs.
Be advised that you'll need to use Nespresso's capsules with this pod coffee maker, and your espresso drinks can't be customized. Also, it doesn't come with a built-in milk frother like some of the best Nespresso coffee makers. But for the price, you can't beat the Nespresso Essenza Mini for a basic machine that makes great-tasting espresso drinks.
Testing the Nespresso Essenza Mini
I'm Terri Williams and I specialize in product reviews. I tested the Nespresso Essenza Mini coffee maker for a week in my home kitchen.
Nespresso Essenza Mini specifications
Dimensions (in): H12.8 x W8.1 x D4.3
Weight (pounds): 5.1 lbs
Water tank capacity (fluid ounces): 20.3 fl oz
Container capacity: 5-6 used capsules
Voltage: 120 V
Wattage: 1255 W
Unboxing the Nespresso Essenza Mini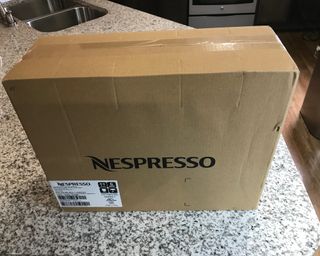 The Nespresso Essenza Mini Espresso Maker was certainly well packaged. It arrived in a brown shipping box (with another Nespresso that I'm testing), and inside of that, a brown, Nespresso-branded shipping box.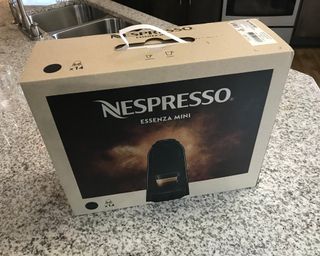 Upon opening that box, there was another Nespresso-branded box with a convenient carrying handle. The molded cardboard inside kept everything in place.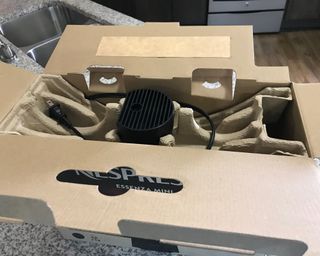 There's not much assembly required. After taking everything out of the box and removing the protective plastic, I merely needed to attach the drip grid and base and remove the stickers. According to the Amazon page, it ships with a set of 16 Nespresso capsules, and according to the text on the box that was shipped to me, 14 should have been included. However, I only received five capsules.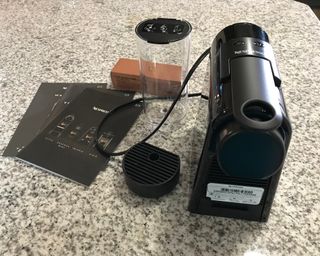 Setting up the Nespresso Essenza Mini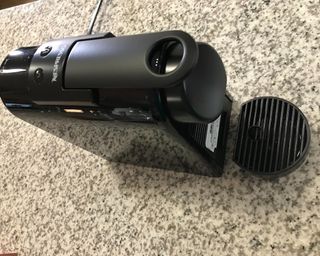 After unboxing and setting up the Nespresso Essenza Mini Espresso Maker, I familiarized myself with the machine. Even though I've tested several dozen coffee and espresso machines, I always read the instructions. But honestly, this one was so user-friendly that reading was merely a formality.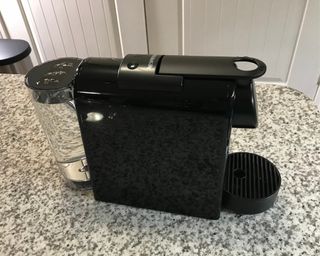 The 20.3-ounce water tank holds enough water to avoid having to refill it every time I want to make an espresso. It's a removable water tank, which makes it easy to fill, pour out, and clean. After filling the tank with water, I placed a container under the coffee spout, turned the machine on, and pressed the Lungo button to rinse the machine. This is done to remove any dust or debris from the manufacturing process. I repeated this process three times.
Using the Nespresso Essenza Mini
Making coffee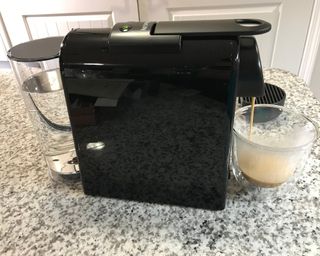 There are only two buttons on the machine: Espresso and Lungo. Since I was making the larger of the two coffee choices, I moved the drip tray/base/grid out of the way and placed my double-walled glass mug (similar to this Bodum pair on Amazon) underneath the spout. After raising the lever on top, I inserted a Nespresso capsule, closed it, and pressed the Lungo button. Since the Nespresso Essenza Mini uses a 19-bar high-pressure pump to extract flavors and aromas, in less than 30 seconds, the system reached the perfect temperature and started brewing.
The corresponding light for the Lungo selection blinked for around 25 seconds, and then the light was steady when it was ready to start brewing. (Had I chosen Espresso, the light for that selection would have followed the same process.) When the machine finished brewing, it had a silky crema layer – which I was not expecting with this model, so it was a very pleasant surprise!
I raised the lever, which ejected the capsule into the used capsule container. It's not big but can hold five or six capsules before it needs to be emptied. There's also an eco mode on the Nespresso Essenza Mini that kicks in after three minutes to lower energy consumption. And, after nine minutes of not being in use, the machine will turn itself off.
Cleaning and maintaining the Nespresso Essenza Mini
It's quite easy to clean the coffee maker. The used capsules were ejected into the capsule container in the machine, which I then emptied (I tend to empty them every day instead of letting them accumulate in the container).
Then I emptied the drip tray and base to remove any water inside and cleaned them and the water tank with a small amount of unscented dish soap (i.e.: Palmolive's fragrance-free detergent on Amazon) and warm water. Using a damp microfiber cloth (like these AIDEA ones on Amazon), I also cleaned the machine's exterior and wiped it around inside.
Descaling the Nespresso Essenza Mini
I haven't had the machine long enough for it to require descaling, but the descaling process takes about 15 minutes. It entails pouring Nespresso descaling solution (available directly from their site) into the water tank and then filling the tank with water up to the fill line. Next, put a container under the coffee outlet, turn the machine on, and press the Espresso and Lungo buttons for five seconds at which time, both LEDs will blink.
Then press the Lungo button and the water tank will empty into the container. The used water in the container is then poured back into the water tank and the cycle is repeated. The final step is to empty the used water, refill the water tank with fresh water, and then run two cycles to rinse all of the solution out.
Good to know
Instructions
The Nespresso Essenza Mini Espresso Maker comes with an instruction guide that covers the brewing and cleaning process.
Color choices
Color choices for the Nespresso Essenza Mini Espresso Maker are plentiful. I tested the piano black color, but it's also available in Pure White, Intense Grey, Ruby Red, and Lime Green.
Similarly-named models
The Nespresso Essenza by De'Longhi (available on Amazon) is a lighter, more affordable model, but has a larger reservoir.
Warranty
The Nespresso Essenza Mini Espresso Maker has a limited 1-year warranty against defects in material and workmanship.
Is the Nespresso Essenza Mini right for you?
If you like single serve Espresso and Lungo without the hassle of using coffee grounds, the Nespresso Essenza Mini Espresso Maker is easy and convenient — and the used capsules can be stored in the machine for almost a week before you need to empty it. The compact size also makes it a great option for small spaces — or for anyone who just doesn't want a bulky machine. It quickly makes great-tasting Lungos and Espressos, and the silky crema layer on top makes it even more yummy.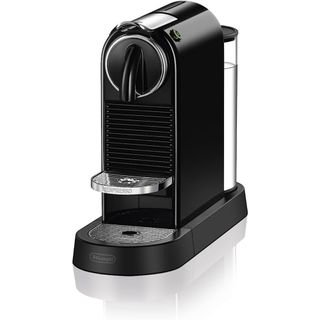 Retro modern design
Price: $279
Dimensions: H10.9 x W14.2 x D5.6
Weight: 7.5lb
Real Homes rating: 4.5 out of 5 stars
The Nespresso CitiZ Espresso Machine takes all of the guesswork and prep time out of making espresso and coffee. This compact machine features a generous water reservoir and a nearly foolproof push-button experience. Paired with Nespresso's extensive line of capsules in plenty of different flavors and strengths, this machine is an excellent option for anyone looking for a simple and efficient coffee and espresso solution.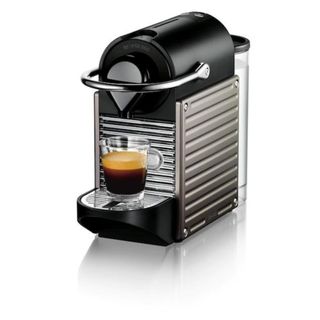 Industrial-chic design
Price: $229.95
Dimensions: H12.8 x W4.4 x D9.3
Weight: 6.2lb
Real Homes rating: 4 out of 5 stars
The second-smallest espresso that the brand makes, the Nespresso Pixie is a relatively inexpensive option that doesn't take up much space on your countertop. Of course, a great price and a small shape mean nothing if the coffee doesn't taste good. Fortunately, the Nespresso Pixie delivers smooth-tasting espresso drinks that are flavorful and delicious.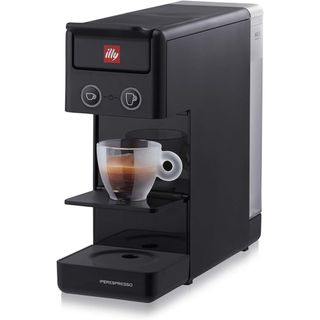 Four colorways
Price: $149
Dimensions (in): H10 x W3.94 x D11.73
Weight (lbs): 9.98 pounds
Real Homes rating: 4 out of 5 stars
For espresso fans who just want a minimalist yet efficient machine, this illy Y3.3 espresso machine does the job. The one-touch capsule machine is super easy to use, compact, and makes great-tasting, Italian coffee. But if you're after more versatility, this is probably not ideal for you.
Where to buy the Nespresso Essenza Mini
The Nespresso Essenza Mini Espresso Maker is available to purchase directly from the retailer, via their Amazon storefront, or through retailers like Williams Sonoma.
How we test espresso makers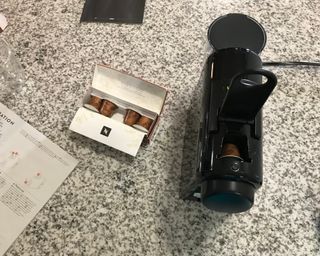 Nespresso sent me the machine and I tested it for several weeks in my house before writing the review. I used the following criteria for the testing process:
Unboxing: I evaluated the product's packaging, including how well it protected the product during shipping. I gave bonus points for packaging that is more sustainable, such as including cardboard packing instead of using Styrofoam.
Operation: When evaluating the machine's operation, I looked for factors like reliable performance, how long it takes to warm up and brew, and how loud the machine's operation is.
Beverage quality: I evaluated how well the machine prepared coffee and espresso, looking for qualities like a consistent brew and a hot temperature. I also considered the different flavors and options available in Nespresso's capsules.
Ease of use: I considered how user-friendly the machine is, including the learning curve when using it for the first time and what consumers will experience when using it daily. I also considered factors like how easy it is to insert and remove capsules and to fill and insert the water rank.
Ease of cleaning: I considered how easily the machine can be cleaned and maintained, including whether components are dishwasher-safe. I also evaluated the descaling process and how easily it can be completed.