If you haven't heard of Zwilling kitchen appliances before, it's because the brand launched its first range of electricals in 2020. This German brand is best known for making kitchen knives, which it's been doing since 1731, so it certainly knows a thing or two about cookware and kitchenware.
Enfinigy is the name of Zwilling's coordinated range of kitchen appliances that also includes toasters and blenders. Alongside this drip coffee maker, there's a milk frother and a bean grinder, but you have to buy them separately and like the coffee maker, they're not cheap.
Given that the Enfinigy Drip Coffee Maker is the only coffee machine in Zwilling's range of appliances, you'd be forgiven for thinking that paying out for this pricey machine is a bit of a gamble, especially considering the brand doesn't have a history or reputation for making the best coffee makers.
That's where I come in, I got hold of one of these coffee makers and used it at home in place of my regular machine, to give you the lowdown on whether it's worth the money.
Zwilling Enfinigy Drip Coffee Make: Product specs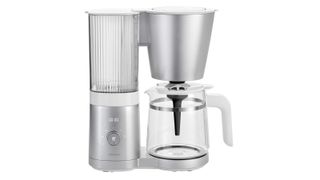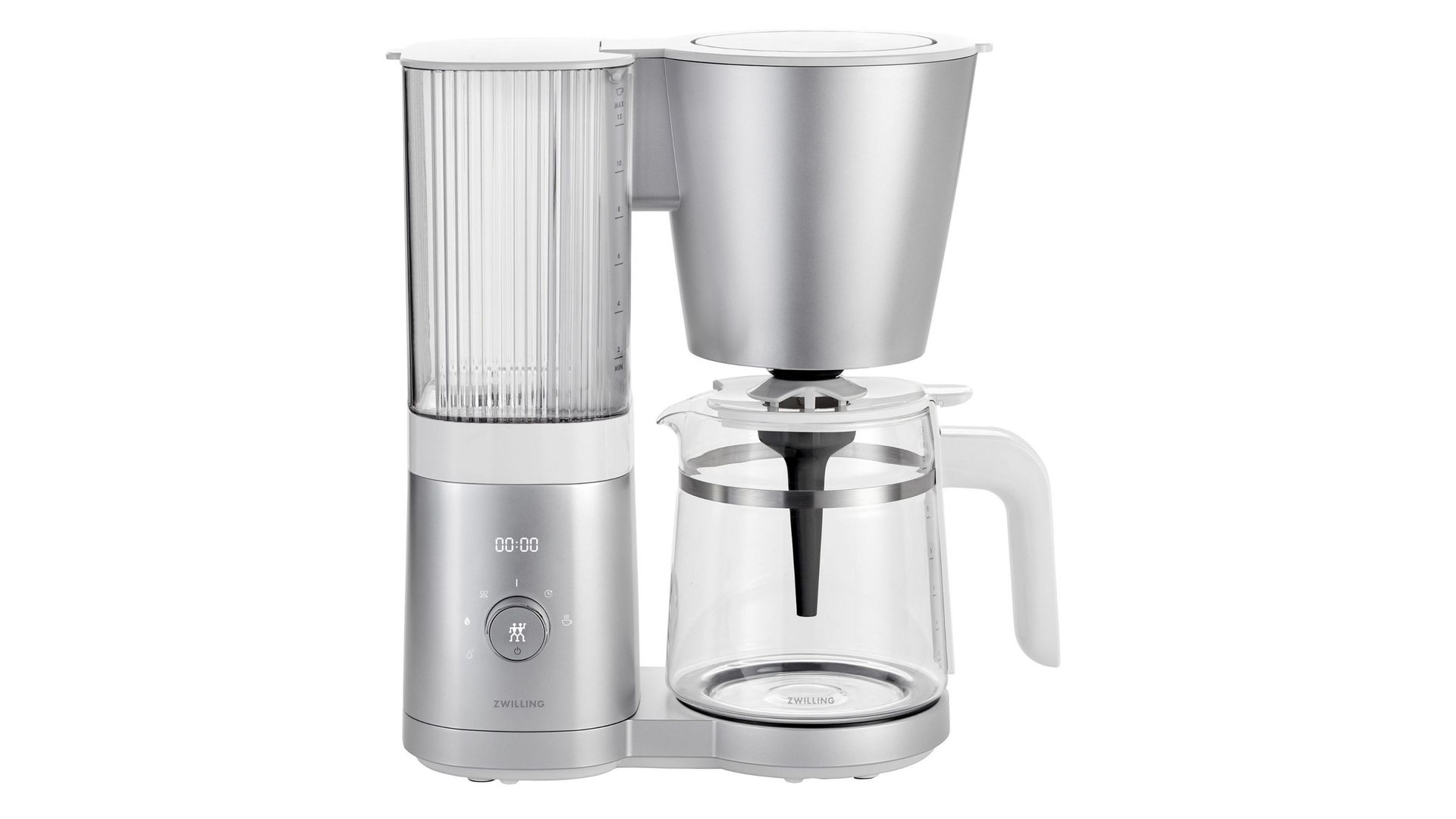 Dimensions: 13.7 x 12.8 x 6.02
Number of cups: 12
Materials: Stainless-steel boiler, plastic body, glass coffee pot
RRP: $270
Water tank capacity: 48oz/ 1.5 liter
Weight: 6lbs
Helen McCue is a freelance contributor who trained as a home economist. After starting her career in the food industry, she moved into home appliance reviews, utilizing her cooking skills and experience to put all kinds of products to the test, and over the years has reviewed hundreds of home and kitchen appliances for a variety of publications. She reviewed this coffee maker at home, using it every day for a week before sending it back to the brand.
Unboxing the product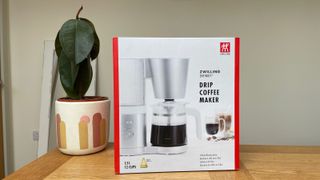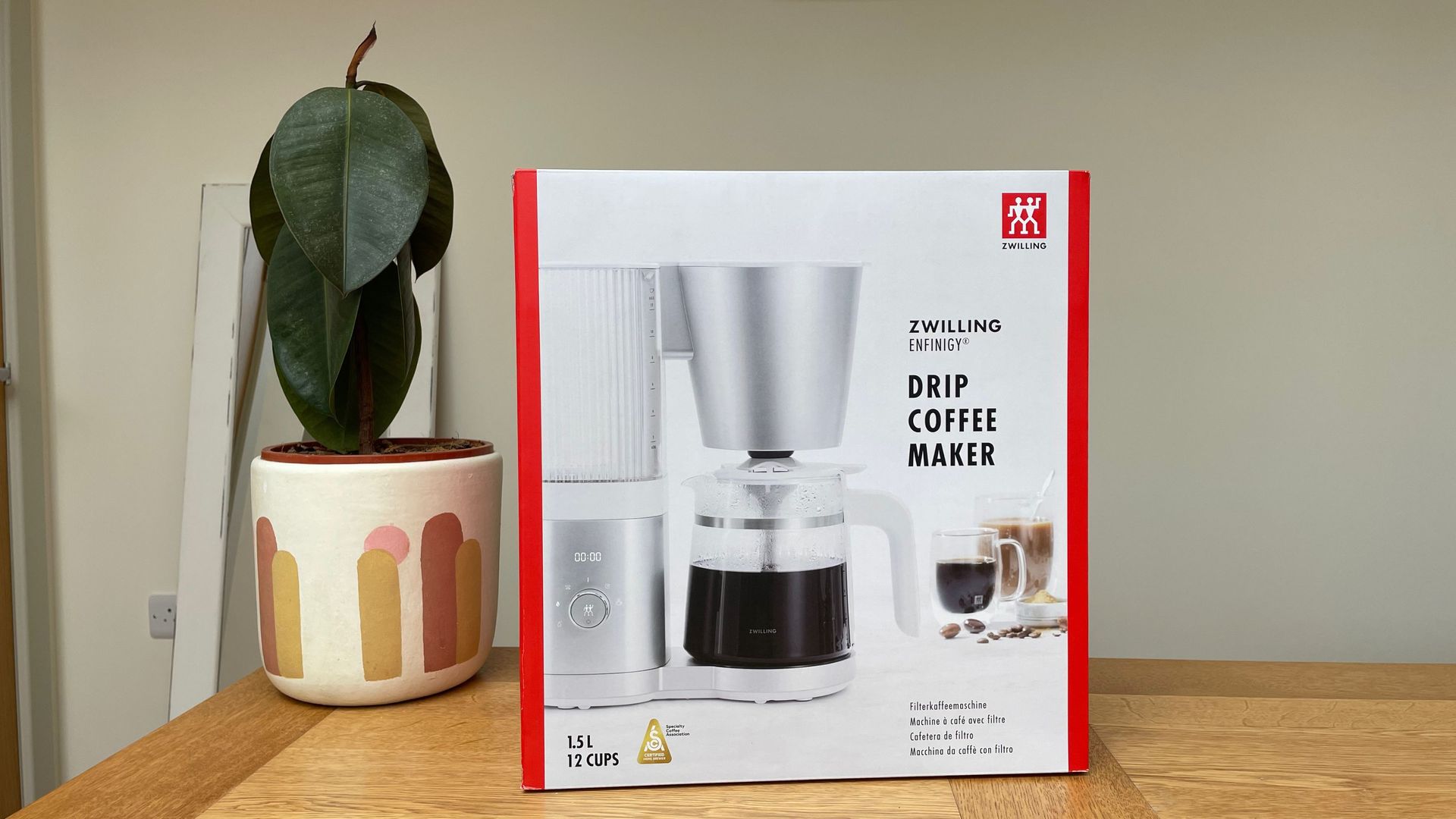 When the box arrived at my door, I was struck by its compact size and light weight. This was my first indication of what to expect from the coffee maker. As I removed it from the carton, I was thankful that the packaging included mostly cardboard, with minimal plastic in the form of a few protective bags around the product.
The coffee maker comes out of the box pretty much ready to go and I was pleased that when I set it on the counter it looked as sleek and streamlined as in the pictures online. Though at this price level, I wasn't expecting most of the exterior body to be made of plastic. It wasn't quite the high-end durable build quality that I thought it would be.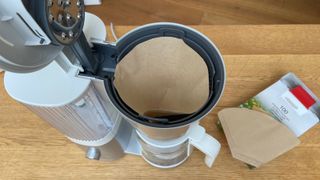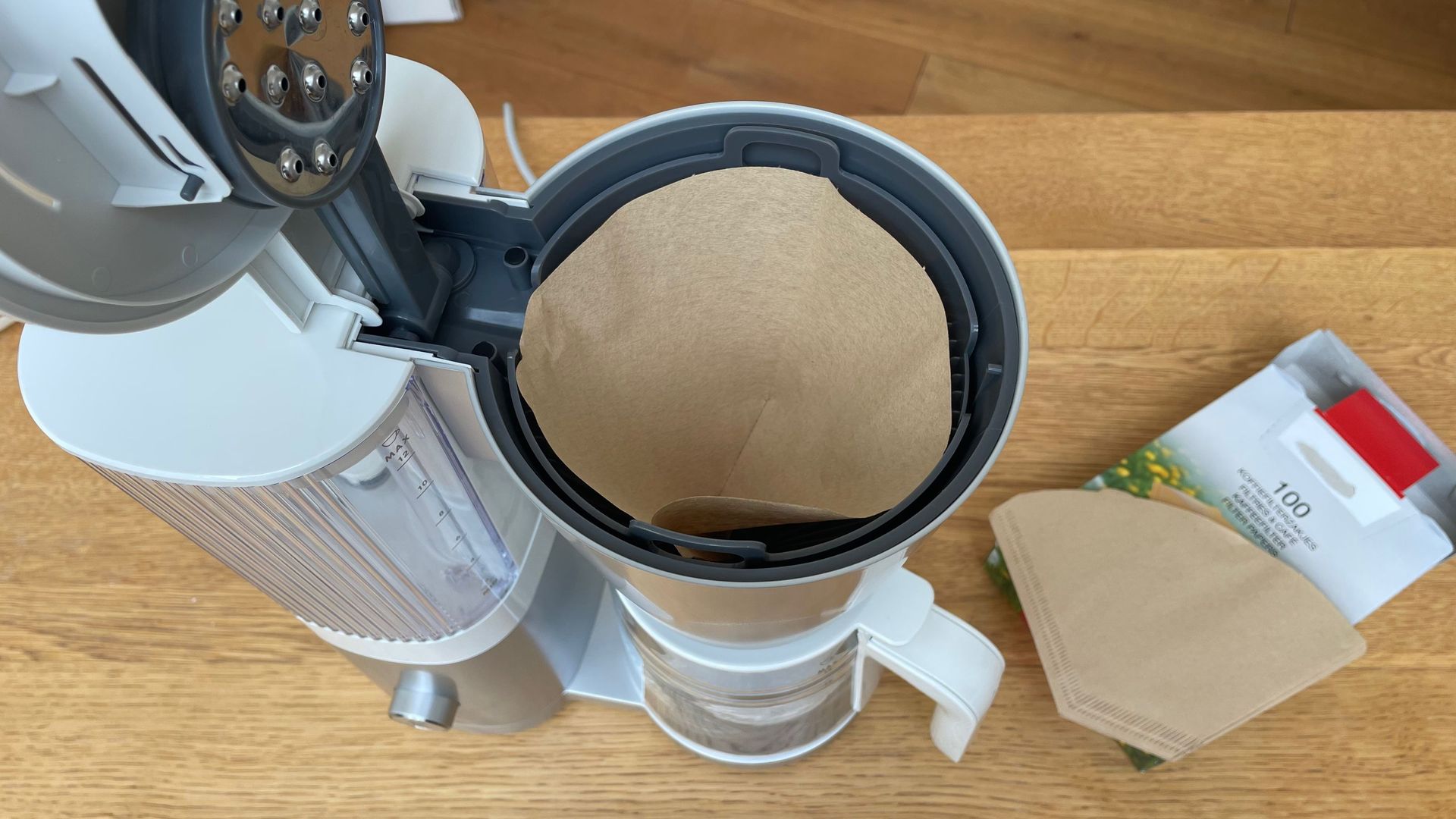 When using the best drip coffee makers you'll need filters. There's not much else in the box, no filter papers are included to get you started, so I'd suggest buying some when you order it, at least this way you'll be ready to go when it arrives. I used cone filters in size 4 – I'm telling you this because I couldn't find any information in the manual to suggest which filters are the correct ones to buy.
Now you won't have to go through the frustrating guessing game that I experienced when choosing filters online!
First impressions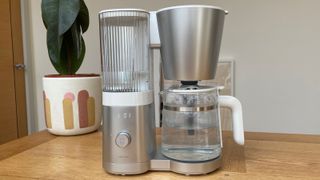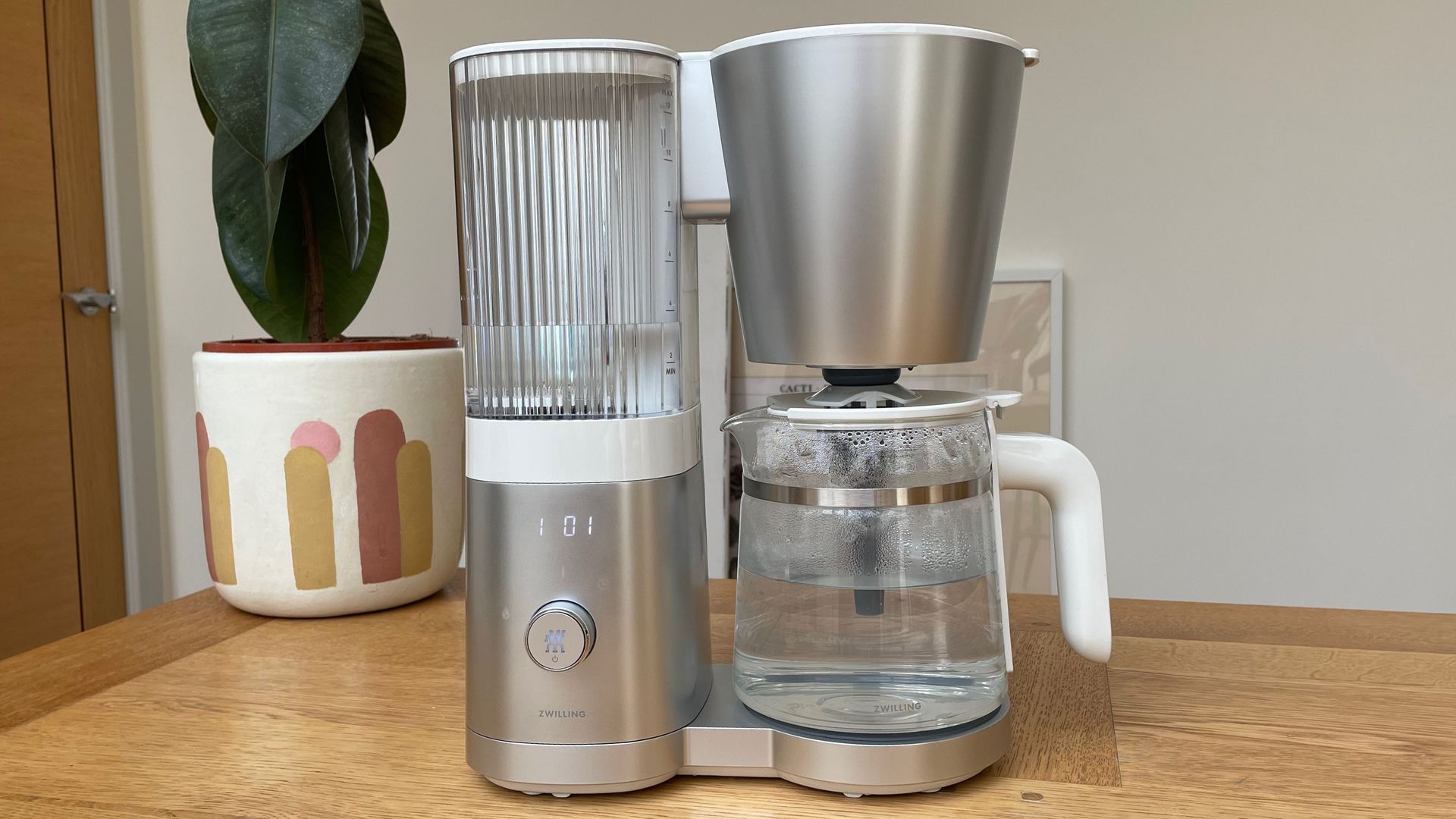 The initial set up is straightforward, you'll just need to fill it up and run a cycle with no coffee, this flushes through any dust from the manufacturing and shipping, then you're good to go.
It's worth taking a minute to adjust the water hardness setting, there are only three options to choose from, although you'll need to know the water hardness in your area, because Zwilling doesn't include a testing strip in the box.
Getting to know the machine and understanding the settings is a pretty swift process – there's really not too much to get to grips with. A central dial allows you to cycle through the five backlit symbols that surround it and you select options using a button in the middle of the dial.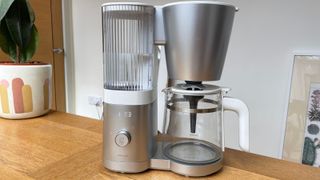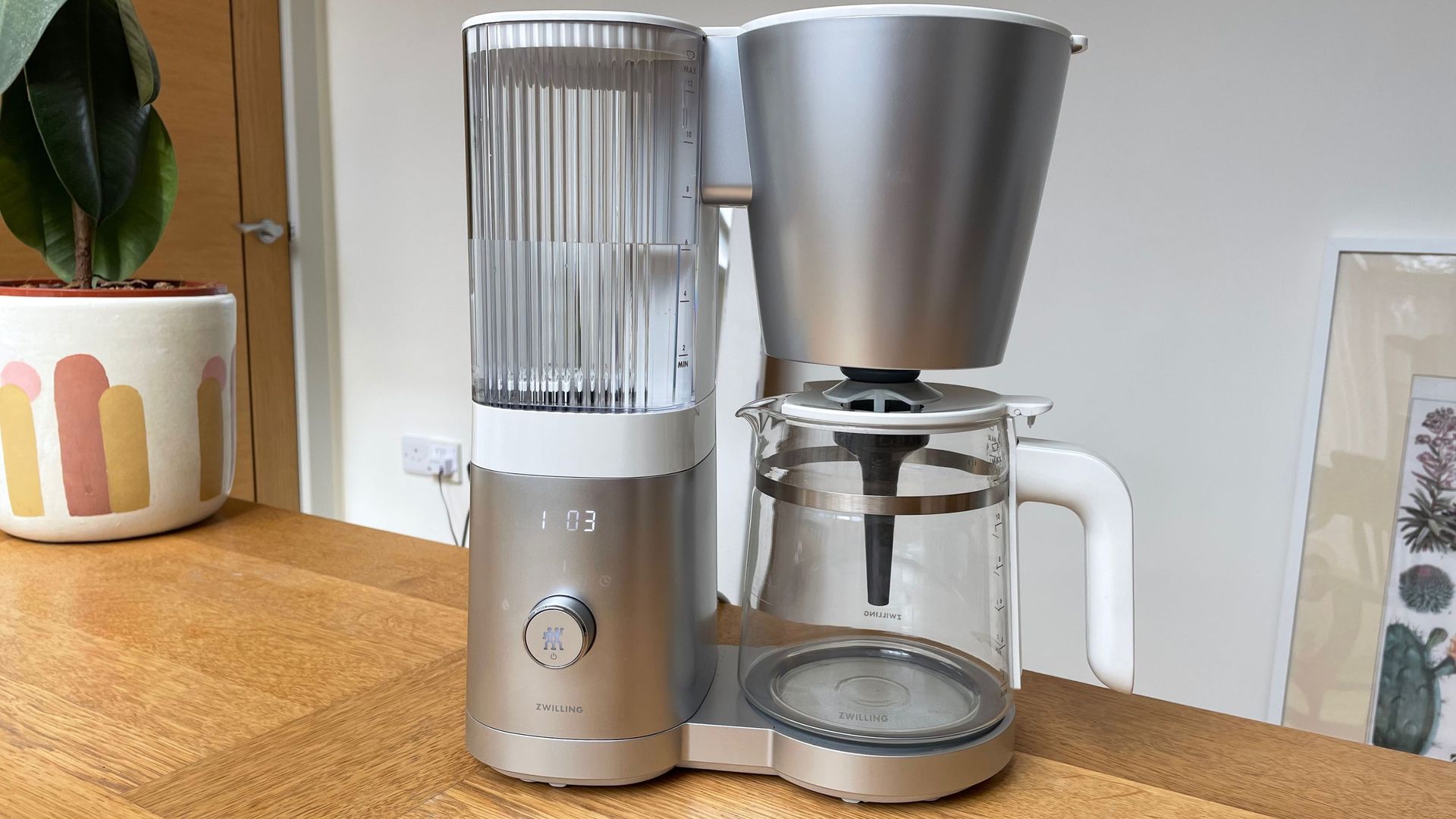 The options include descaling, water hardness, blooming, timer and brewing/ cup selection but that's it. There's a clock above the dial too, setting it is straightforward and once it's showing the correct time, you'll be able to make the most of the programmable timer, to have your coffee ready when you come into the kitchen in the morning a bit like a coffee maker alarm clock.
Additionally, the bloom function is a big plus, it moistens the coffee grounds before brewing. This allows them to release carbon dioxide and extract coffee with a better flavor and aroma. It can be switched on or off and although it's designed for use with freshly ground coffee, I left it switched on. Partly because when it's switched on, you're prompted to select how many cups you're brewing so the coffee maker can optimize the process accordingly.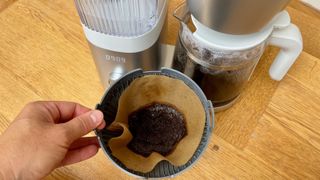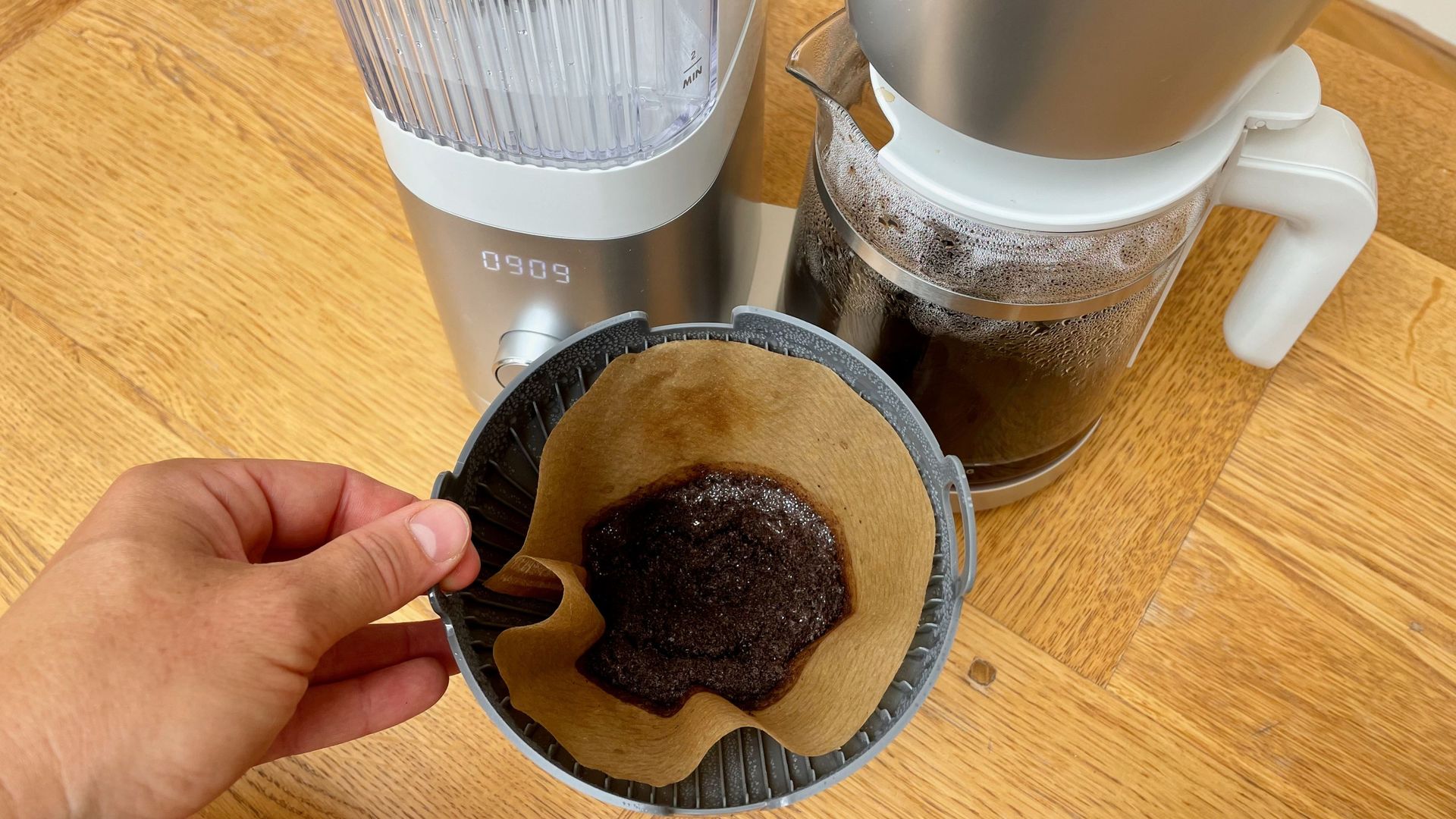 User experience
The beauty of this coffee maker is in its simplicity, the straightforward settings mean there's really no way to get it wrong. I had to play around with the amount of coffee I added to get it tasting just how I like it. There's no guidance in the product manual as to how much coffee to use. Since I was using store-bought coffee, I went with the suggestion on the bag, but if you're grinding your own, there may need to be a period of trial and error. For the coffee I used, seven dessert spoons was about right when brewing a full carafe.
Making a full carafe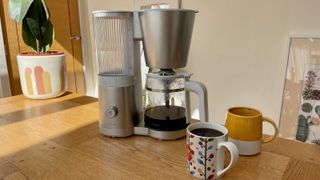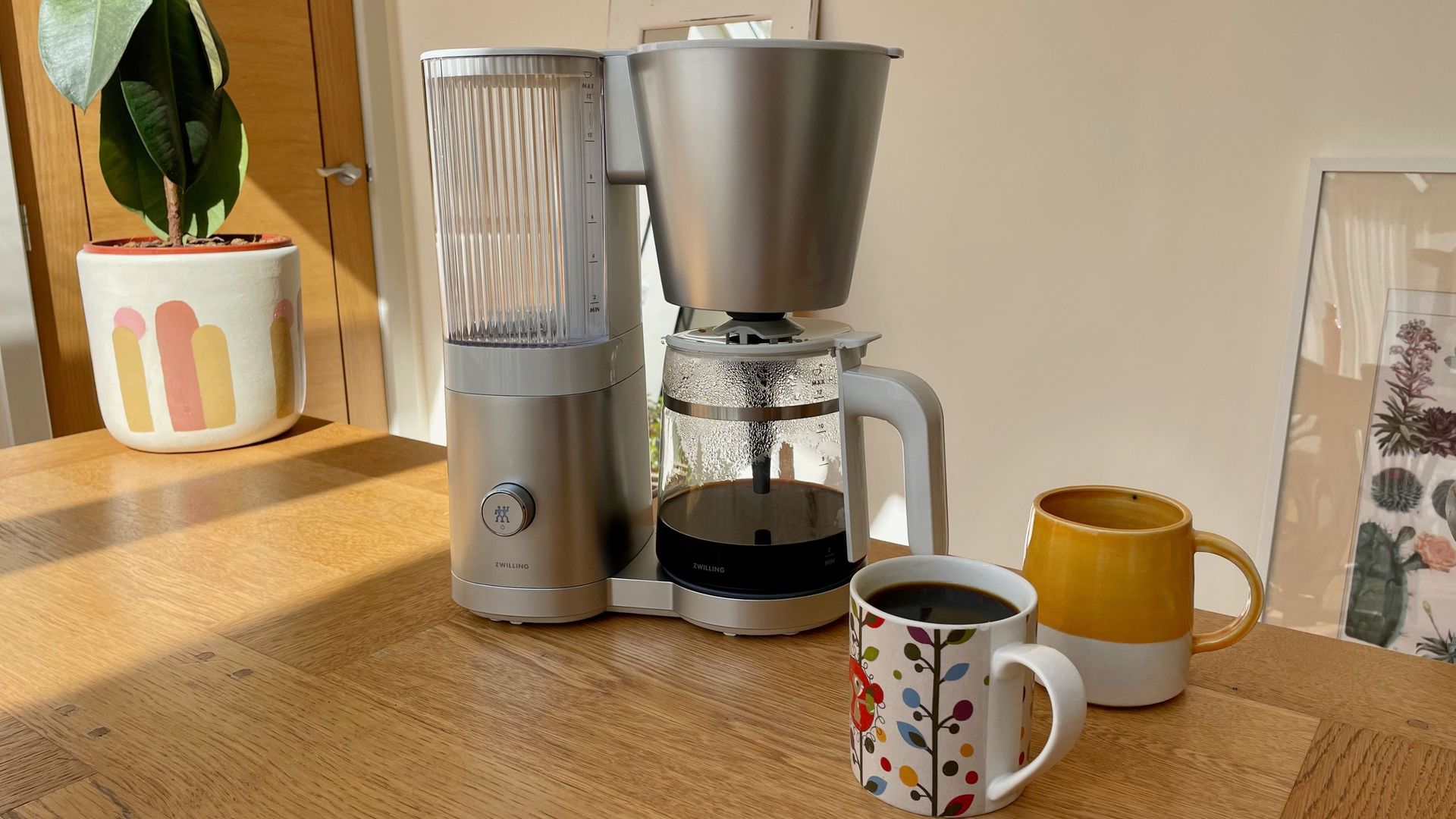 To make the maximum amount of 12 cups, all you have to do is fill the water container to the 12 cup line, add your filter paper and coffee and then turn the dial to the start brewing icon and hit the button. It doesn't get much simpler.
The only other option to consider is whether to select the blooming function, which I turned on as standard. If this is selected you'll be prompted to choose the amount you're brewing when you switch it on. Then it'll optimize brewing and blooming for the exact volume you're making.
The 12 cup brewing process takes around seven minutes with the bloom function switched on and the full pot of coffee was 185°F/ 85°C. I poured out two mugs and left the rest on the hotplate, but the hotplate automatically switches off after half an hour, so when I came back to it an hour and a half later, it was a cool 128°F/ 53.5°C.
Making the minimum volume of coffee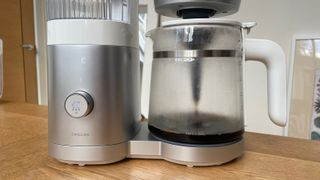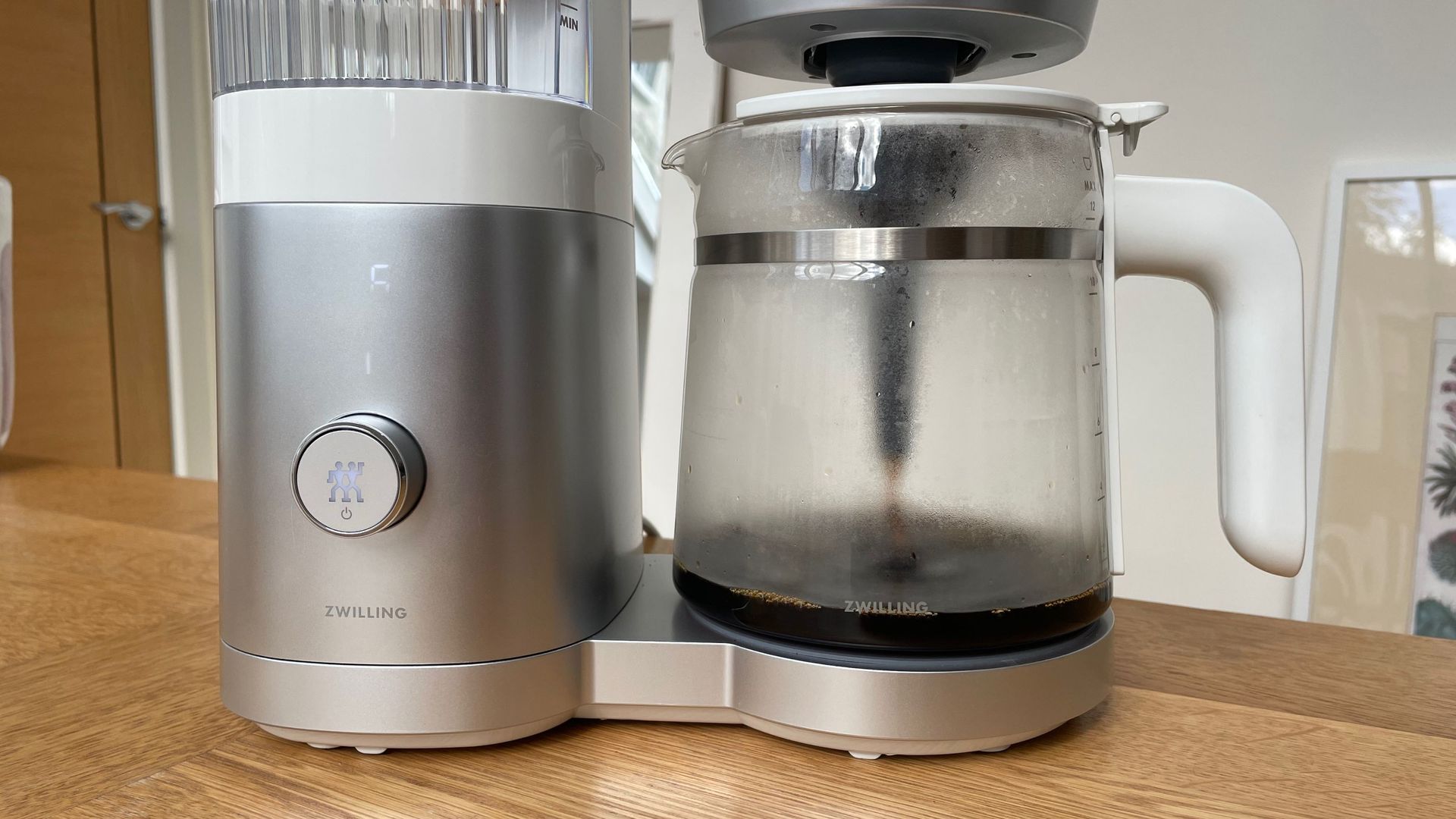 Whether you're making the minimum or maximum volume of coffee, the setup process is the same, just with adjusted levels of water and coffee. Two cup brewing takes three minutes and the coffee came out at a cooler temperature, around 162.5°F/72.5°C.
It's worth noting though, that in my house, the two cup volume was really just enough for one mug full and it's far from full if you don't add any milk. You'd have to be using pretty small cups for this amount to be enough for two people. I also found it annoying that the carafe lid flips open as you pour out the last of the coffee, though this is a minor issue.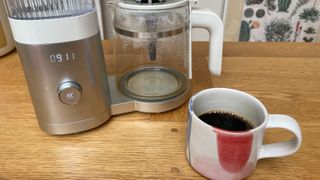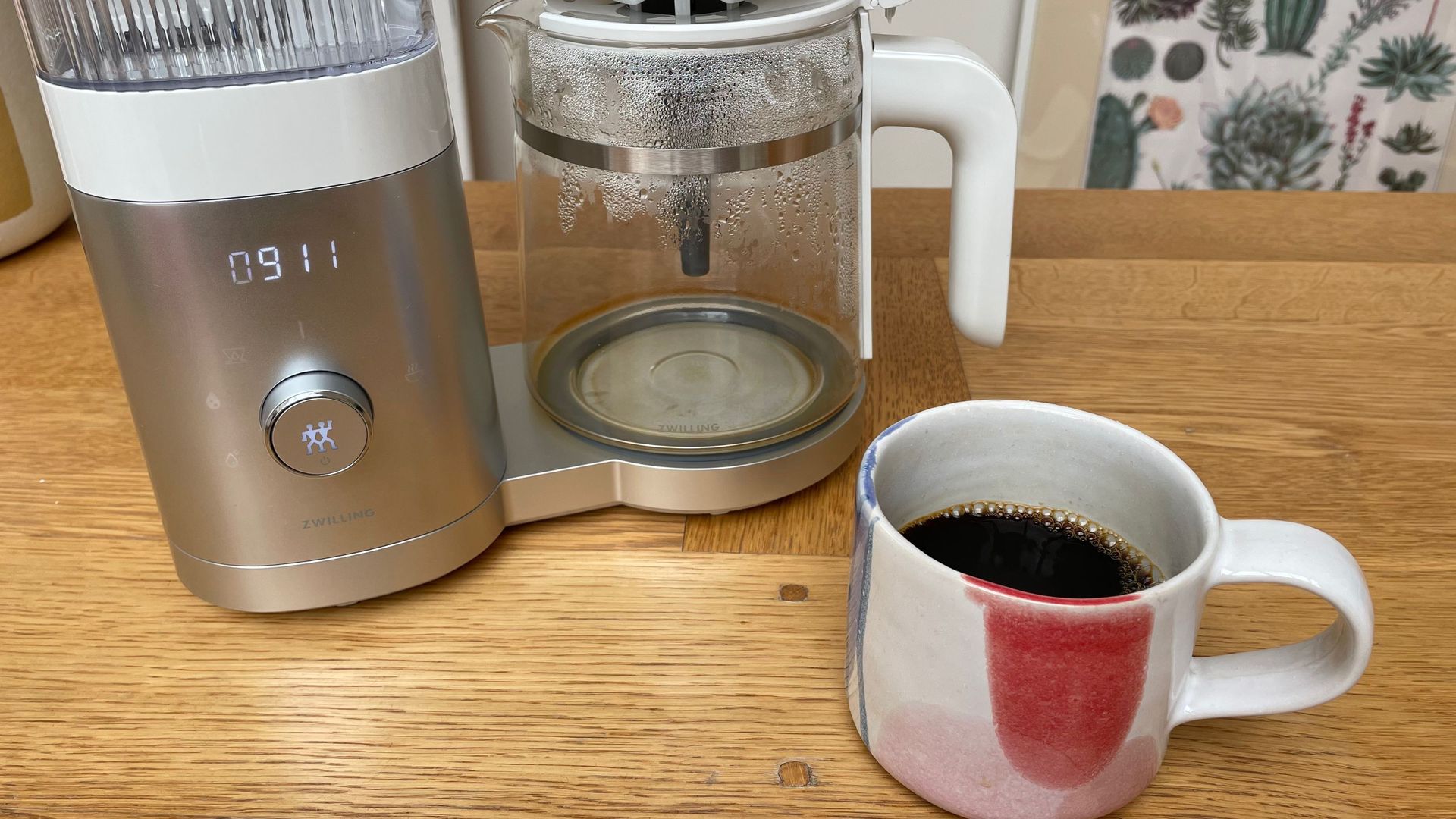 Making half a carafe
Six cups is half a carafe and takes five minutes. This is the perfect amount for two good size mugs of black coffee, if you like it very milky you'll probably get three mugs from this amount.
Using the timer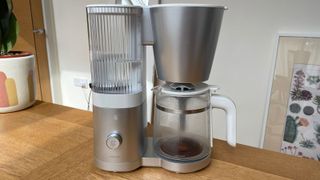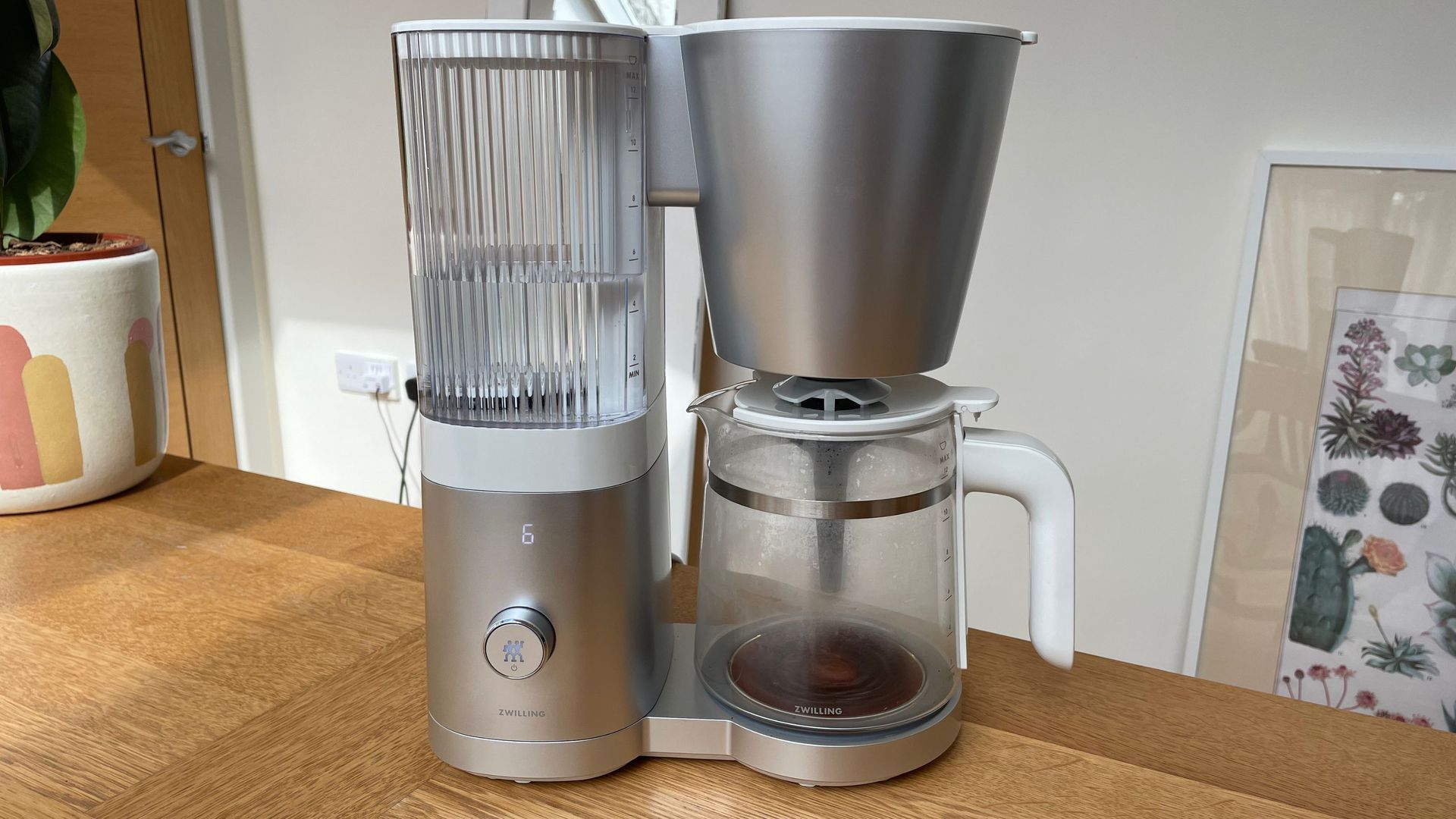 The programmable timer is very simple to use and once you've set it, the corresponding symbol remains lit so that you know for sure it's on. Then at the designated time, it starts brewing your coffee, perfect if you're usually pushed for time in the mornings.
In general the coffee maker is quiet in use, there's no beep at the end of brewing, just a light that stays illuminated. And the brewing process itself registered a very unintrusive 55dB on my noise meter, so if it starts up while you're still asleep it's unlikely to disturb you. Just remember that warming plate will switch off after 30 minutes, so don't set it too far ahead of you being up and ready.
Does the Zwilling Enfinigy Drip Coffee Maker make good coffee?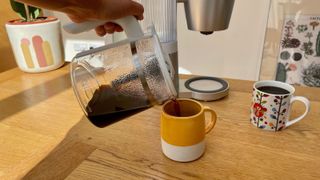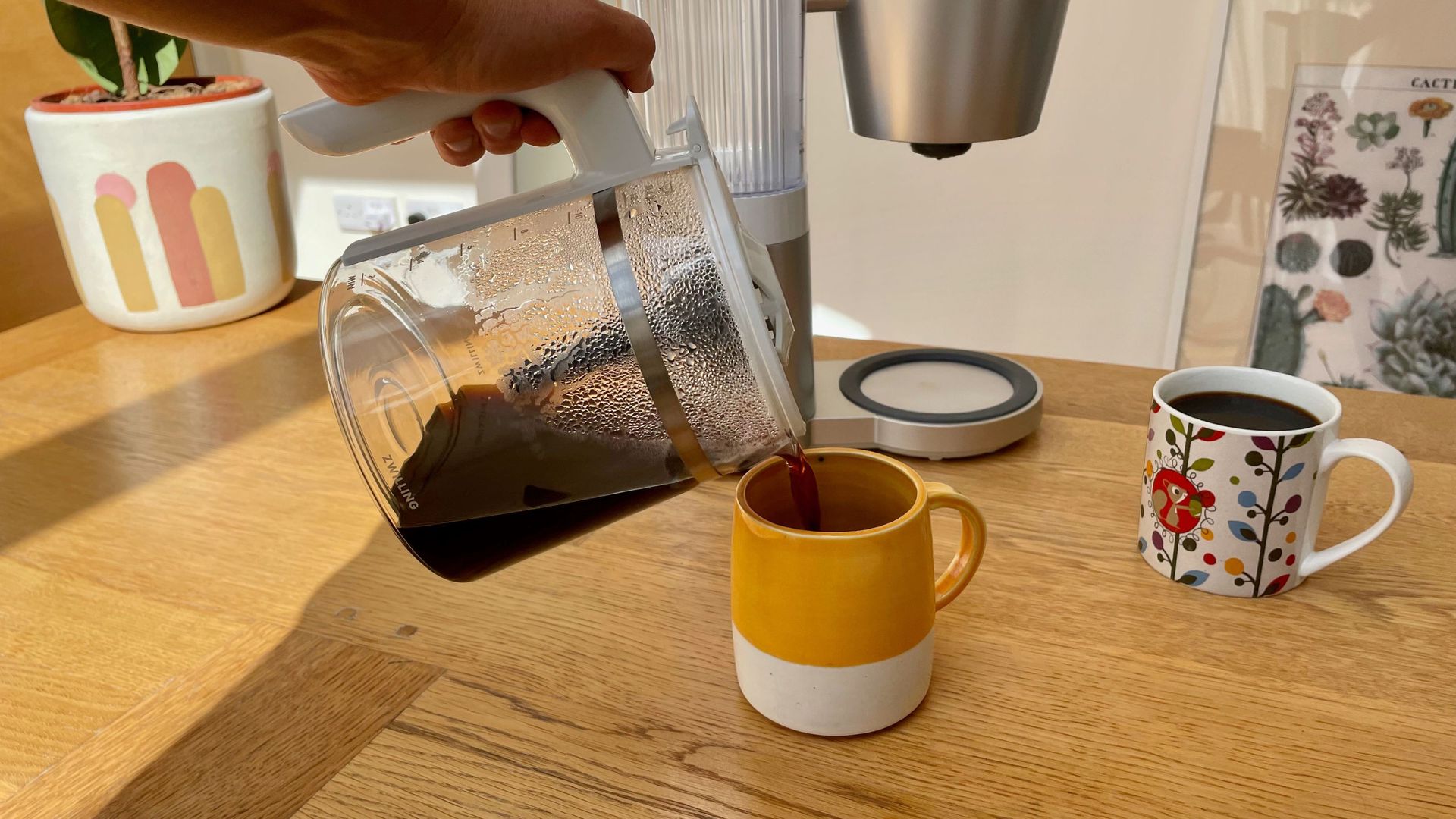 Whilst I appreciate that I'll get the freshest and tastiest coffee if I grind my own beans, to me, this is something I'm more likely to do when using a barista style espresso machine. For drip coffee, I see no point in complicating matters and if it can't produce a tasty caffeine hit from store bought coffee then I'm not interested.
Hence, I used regular ground Colombian Arabica coffee straight off the shelf from my local grocery store. It was a medium roast coffee that promised sweet and nutty flavors. In my opinion this coffee maker did a fine job of extracting the flavor from the coffee grounds and the freshly poured coffee was neither sour, nor bitter and proved to be very drinkable. Like all drip coffee, if you leave it hanging around in the carafe, it does start to taste more bitter, but the short hotplate time encourages you to drink it while it's fresh.
Design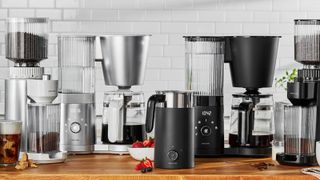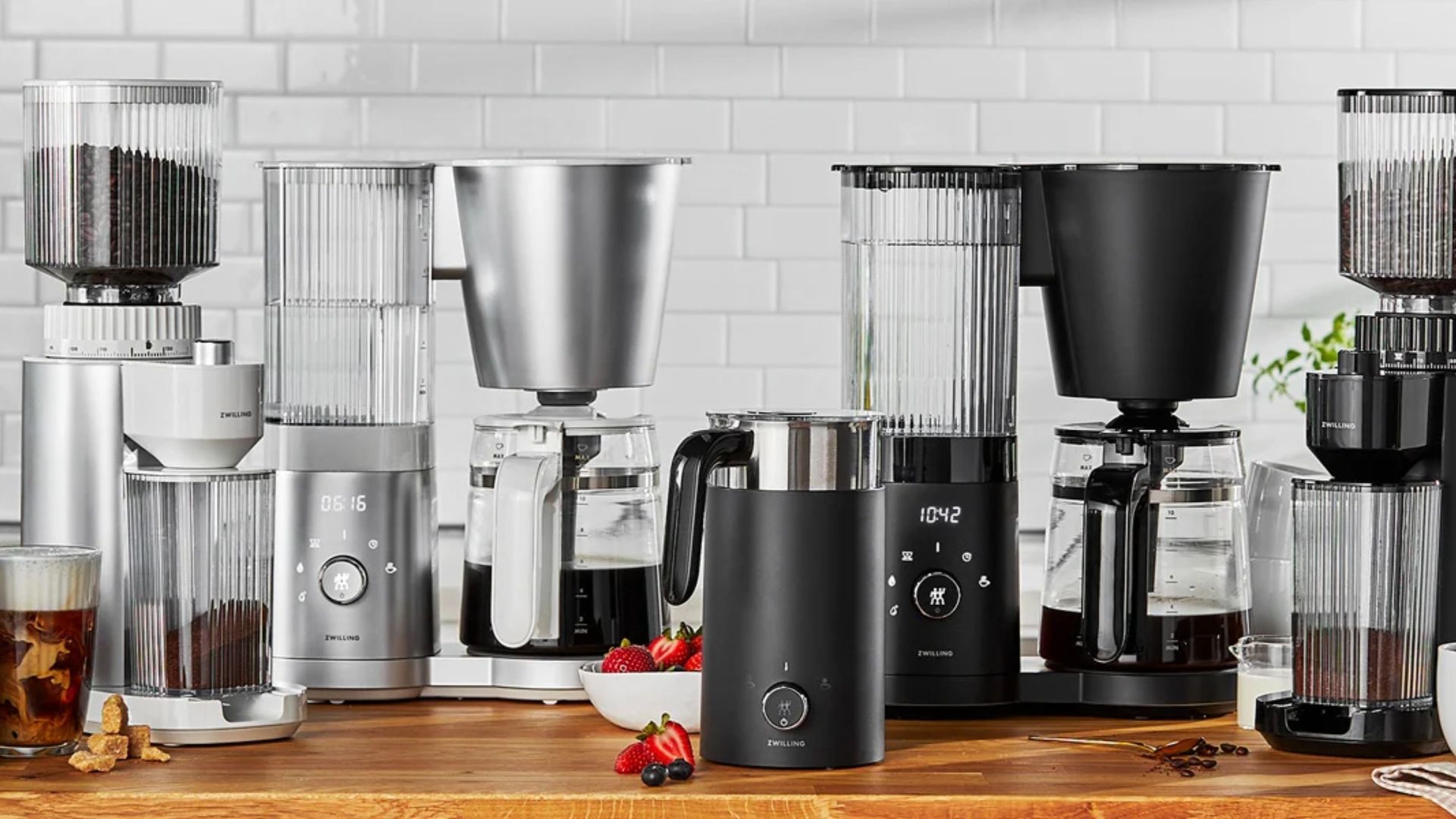 Design is absolutely one of the reasons you'd invest in this machine, and it's also a big part of how we review. The appearance has been carefully thought through so that it's streamlined and minimal. It looks great on the counter. My review unit was the matte silver version which lends itself to a light and airy kitchen, but it's also available in matte black, which is a far cry from the chunky, shiny black or stainless-steel coffee makers we're used to seeing.
But for this machine, it's not all about what's on the outside, it's got some notable features internally too. Including a corrosion-resistant stainless-steel boiler as well as a large stainless steel shower head for even coffee moistening. The integrated drip circulator gives optimal coffee circulation as it drips into the carafe.
All the design features have come together to make a great coffee machine that's been awarded the Speciality Coffee Association's Golden Cup Standard, for its ability to brew coffee to their exacting standards.
If I'm being critical of the design, I'd have to say that parts of it do feel plasticky and I wonder how durable it is in the long term. The glass carafe also feels delicate and I don't think it'd take much to crack it. And while the backlit display looks neat and minimal, when in a bright room it's tricky to see the symbols clearly.
Ease of cleaning
For ease of cleaning, the filter funnel and the carafe lid with its aroma hopper can all go in the dishwasher. But since you have to manually rinse out the carafe, I found it was just as easy to give everything a quick rinse after each use. The filter funnel and carafe lid don't really get dirty enough to warrant taking up space in the dishwasher.
While they might be an added expense, the paper filters make it quick and easy to lift out all of the used coffee grounds, so you don't end up with any in your sink. And I was impressed that the matte finish on the outside of the coffee maker stays looking clean and doesn't show fingerprints or marks.
There is of course regular descaling that's necessary to keep the coffee maker in tip top condition. It'll alert you when this needs doing and the process is pretty automated, so once you've filled it with water and descaler, the machine does the rest. Unlike lots of other machines though, it doesn't come with a sample pack of descaler to get you started. So you'll need to buy some and have it in the cupboard ready for when you need it. It might be against manufacturer warranty advice, but you can also clean your coffee machine with vinegar at a push – just make sure to dilute it.
How does it compare?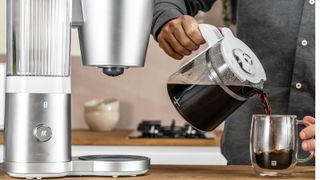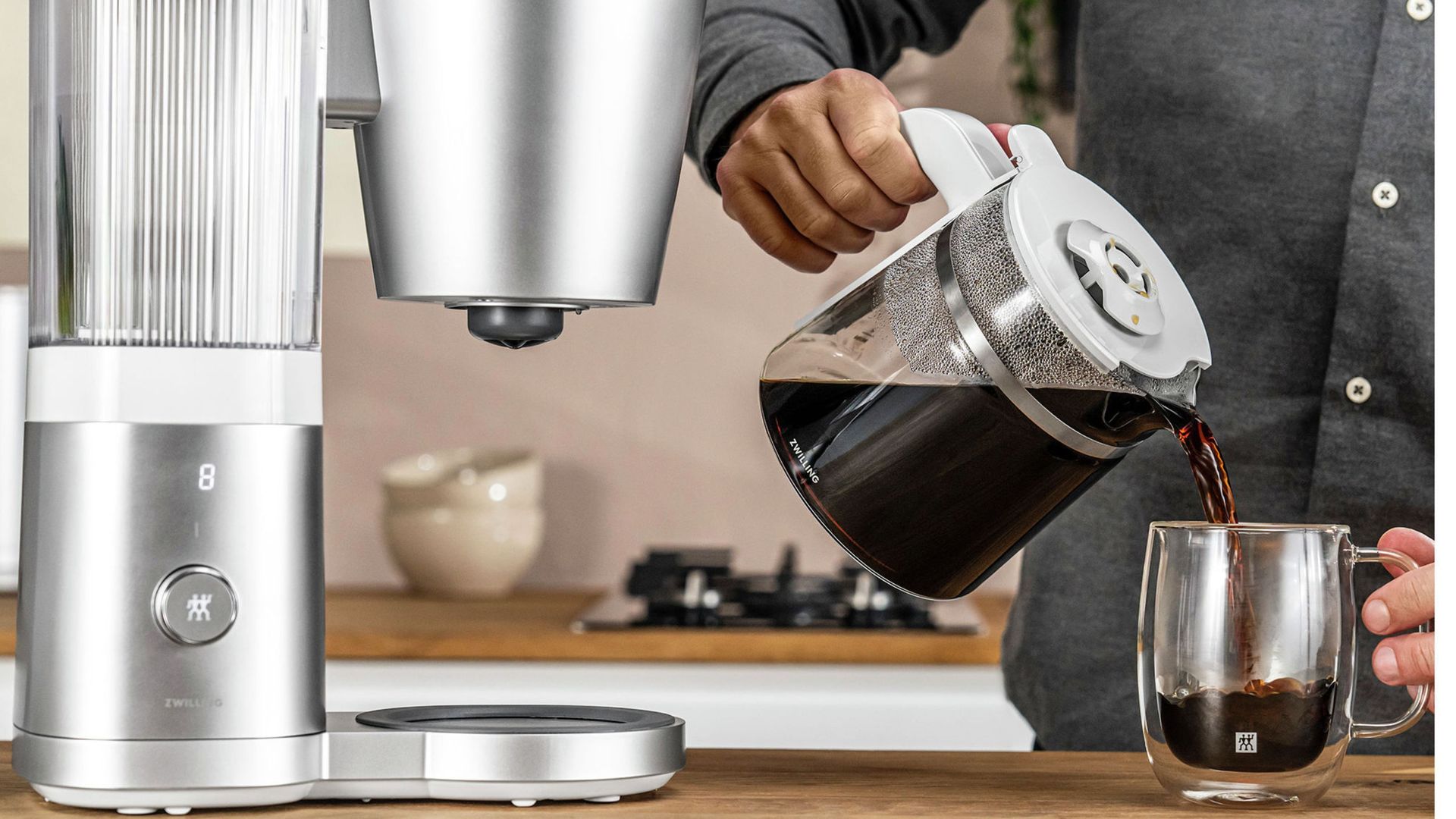 When compared to other drip coffee makers it makes great coffee and is super simple to use, not to mention the fact that it looks so much nicer than most on the market today, but it's pricey.
For around half the price, you can get this Cuisinart Coffee Plus 12 Cup Programmable Coffeemaker Plus Hot Water System which performed well in our reviews. It's got lots more programmable settings, plus it dispenses hot water for tea. The body has a more robust design, but in comparison to the Zwilling it looks dated, so it depends on where your priorities lie.
I'd say its main competition in terms of appearance is the Technivorm Moccamaster which is currently top of our best coffee maker list, both are expensive, but modern and stylish, and both have the SCA Gold Cup Standard Award.
Eco-friendly features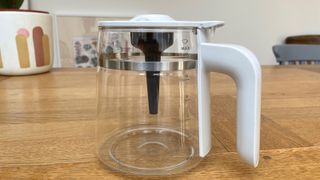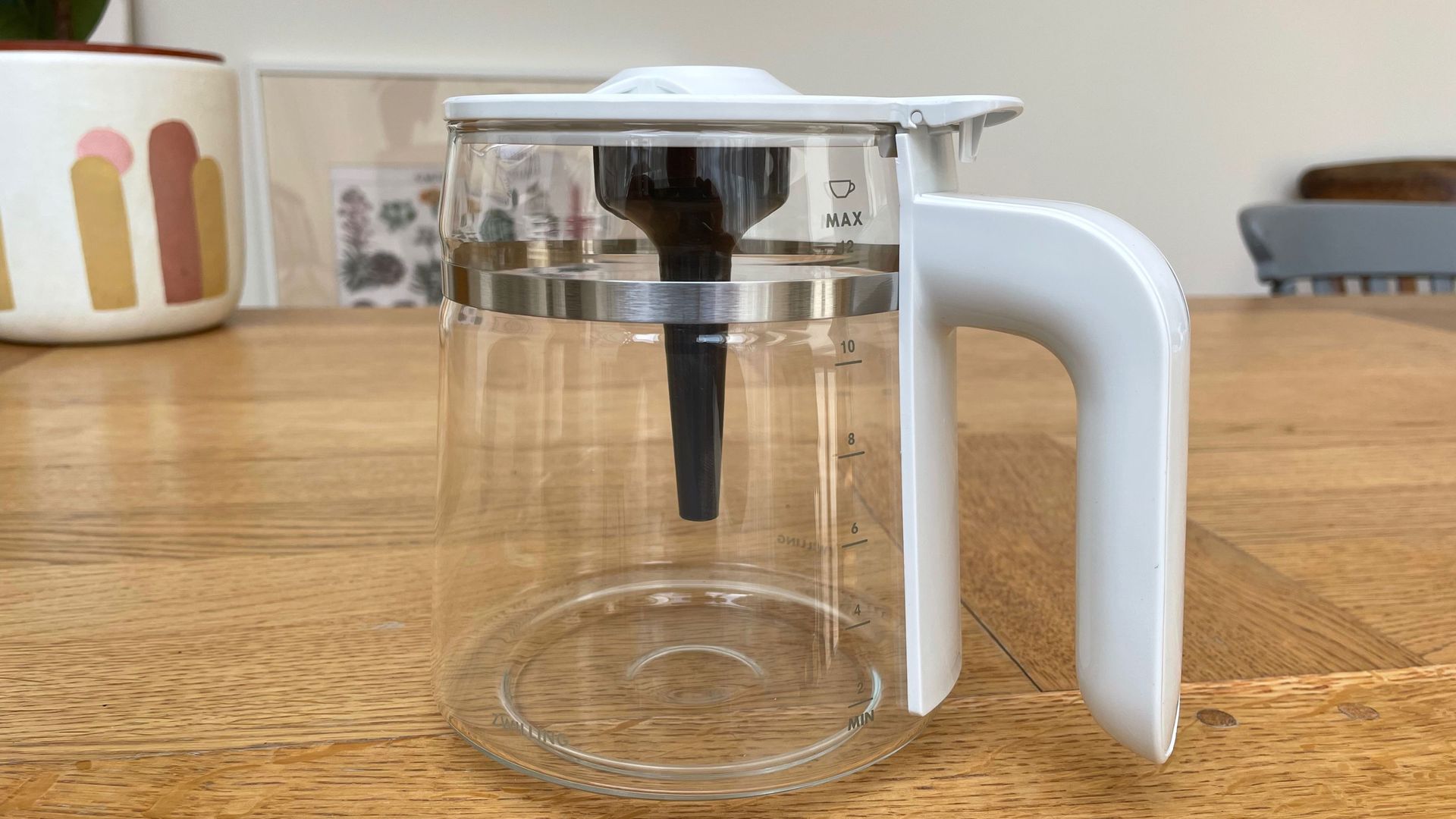 As I already mentioned, the coffee maker doesn't come packaged in polystyrene or excessive amounts of plastic, though it is largely made of plastic itself. My biggest gripe in terms of eco-friendly credentials (as well as financially) is that you can't buy any replacement parts. So as soon as any part of it breaks – and this could happen quite easily with the carafe – it's virtually impossible to keep it going. Meaning it could end up in the trash sooner than is necessary. And the brand could definitely make improvements to the longevity of the product by offering spare parts.
A smaller but still, I think, valid point to mention is the need for single use paper filters. While I do acknowledge there are benefits in terms of brewing and taste, these are still wasteful. Many brands have now switched to reusable metal filters instead of disposable papers. The only way to lessen the impact of these is to buy compostable filters and actually compost them, which isn't something everyone has access to.
Should you buy the Zwilling Enfinigy Drip Coffee Maker?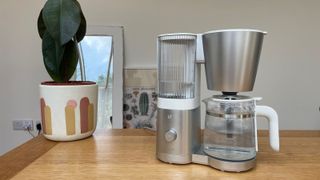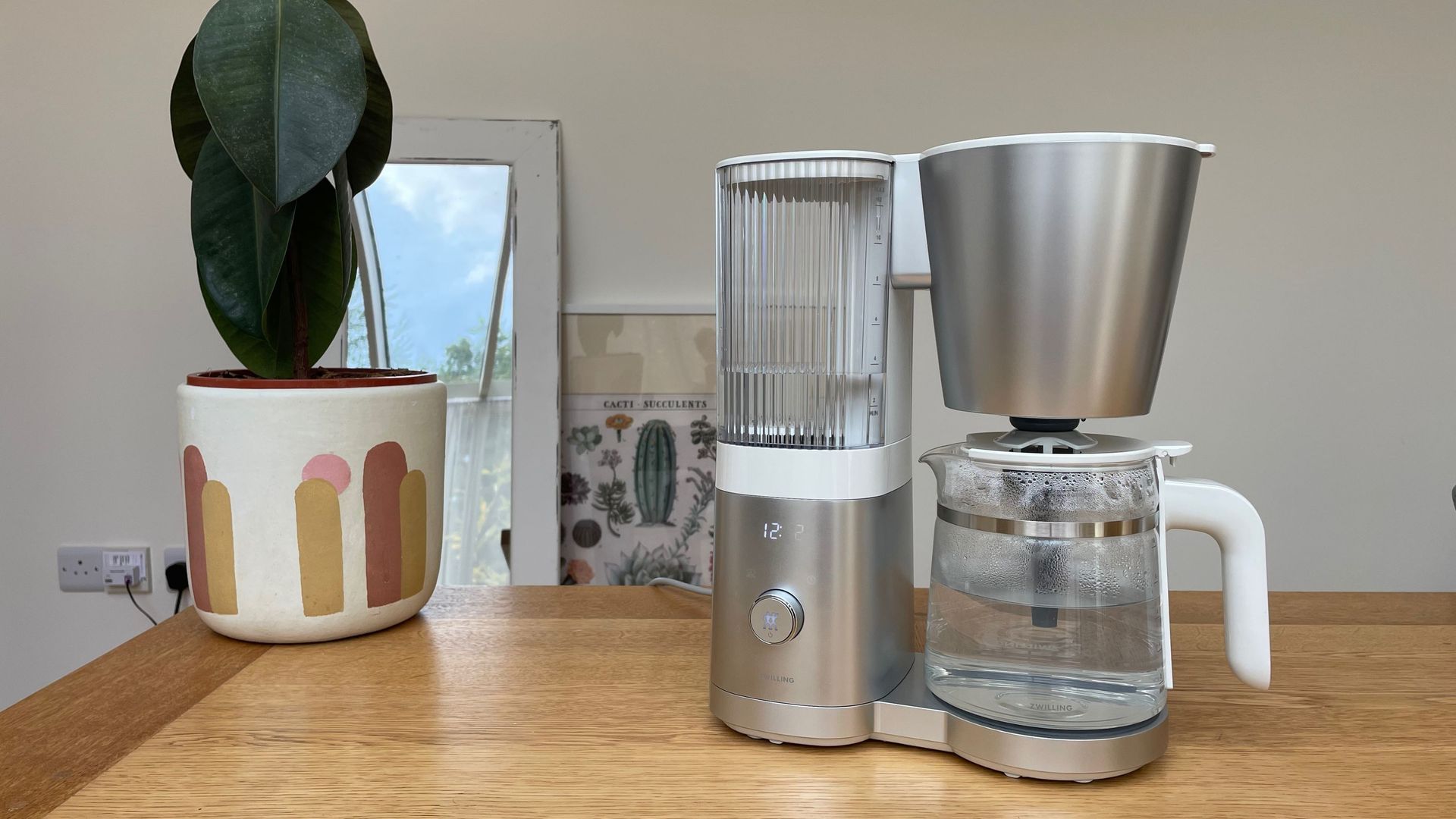 I would say price is the biggest barrier to buying this coffee maker. Yes, there are plenty of advantages, it looks great, it's easy to use and it makes a delicious cup of coffee. But the reality is that you can check most of these boxes, apart from the looks, with a more wallet friendly coffee maker. So it comes down to how much you want a pretty appliance on your counter.
If money isn't tight and you can't resist the sleek minimal style, then go for it, you'll get a decent coffee machine. But beware, it's not as hard wearing as some models and could have a short lifespan in a hectic household full of children and pets. It's probably better suited to smaller two person households where it won't have to stand up to the bumps and knocks of family life.