Smeg's '50s-style range of appliances has a distinct playful design that features rounded shapes with an array of color options and chrome accents. And while the appliance models are reminiscent of what was in your grandma's kitchen, under the hood they contain all the technology needed to make them a great addition to the modern home.
The Smeg ECF01 espresso machine allows you to create shots of espresso and frothy milk at home, just like the barista in your local coffee house. But instead of having another boring appliance on your counter, this pop of retro design will be the talking point of your kitchen. With seven great colors to choose from, there's something for everyone — perhaps not for lovers of super sleek minimal design.
I use an espresso machine daily to make coffee for our household of two, so I packed away my usual appliance and replaced it with this one. I kept it on the counter for a week and made it part of my regular coffee routine, trying out all the settings and features to bring you a thorough review of what's good, and not so good, about this cool-looking coffee maker.
TLDR: What we thought of the Smeg ECF01 Espresso Machine
Smeg's ECF01 Espresso machine was a fine countertop addition. The appliance itself is complete with good looks, as expected, and full feature specs. However, appearances aren't everything and performance-wise, this model fares as a more entry-level machine, lacking in exceptional quality and missing some key accessories — that you would assume a coffee machine at this cost would have.
There are few eco credentials to discuss. Unboxing unveiled that yes, the majority of the packaging is recyclable cardboard, but most of the exterior of the machine is molded plastic. Given that the price is comparable with some more mid-range espresso machines, I was disappointed with this and found that it also just lacks the robustness that you would want from a staple countertop appliance.
Coffee-wise, start with good-quality beans or freshly ground coffee and you'll get sound results. Pods deliver well on taste too. However, if you're into latte art, you won't be able to rely on the steaming wand for cool designs or very impressive cappuccinos as it does the job but is a little awkward to maneuver and the milk texture is hard to get right.
When it comes to cleaning and descaling the machine, it's simple but you will need to follow the manual step-by-step. It's worth noting too that I saw spare parts are hard to come by, so if anything breaks after the two-year warranty is up, it'll be tricky to replace. This could mean the product lifespan is short.
Ultimately, it's not a bad machine but you are paying a higher price for the name, design, and appearance — which may not please everyone. The settings are basic and are comparable with other entry-level espresso machines I've reviewed.
Testing the Smeg ECF01 Espresso Machine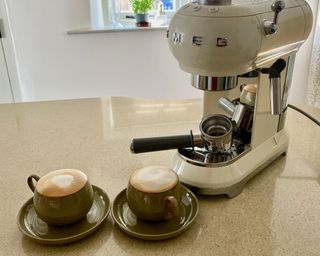 Reviewed by
Reviewed by
I've reviewed countless coffee machines over the years for several different publications and I'm all too familiar with how they all work and how to make a great coffee. But it's only been in the last 12 months that my own love of coffee has really developed into a daily habit.
Previously, I might order a coffee on the weekend in a coffee shop, but now my morning coffee ritual is my favorite part of the day and I love my strong cappuccino. That being said, I'm frustrated that I still can't do latte art!
The techy stuff
Model number: ECF01
Coffee type: Ground or ESE pods
Dimensions: 13 x 5.9 x 13 inches(H x W x D)
Coffee options: Single or double espresso
Materials: Stainless steel and plastic
RRP: $529.95
Water tank capacity: 1 liter
Pressure: 15 bar
Weight: 10.4 lbs
Accessories included: Combination scoop and tamper, 3 filters
Unboxing the Smeg ECF01 Espresso Machine
The first thing I noticed when taking this espresso machine out of the box was its bulbous, retro shape; it's unique. As I lifted out the surprisingly lightweight coffee maker, I realized that it's actually molded plastic, and therefore less robust feeling which surprised me, given the high price tag.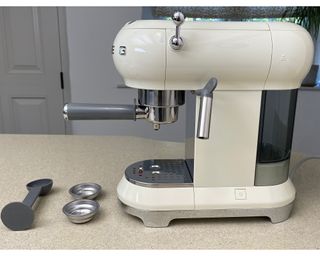 On the counter, it does look the part, and if you're buying it for the fun vintage style, you won't be disappointed. It's also compact so doesn't take up too much space.
In the box, you'll find both a single and double shot, Easy Serve Espresso (ESE) pod filter baskets, and a surprisingly sturdy portafilter that's got some weight to it. There's a tamper in there too, which has a coffee scoop on the other end, but it's a little too flimsy for my liking.
There are some accessories missing that I would have expected to be bundled in at this price point. There's no milk frothing pitcher for example, nor is there a water filter or starter pack of descaler. I've reviewed coffee makers that are cheaper, yet still come with all of these.
How to use the Smeg ECF01 Espresso Machine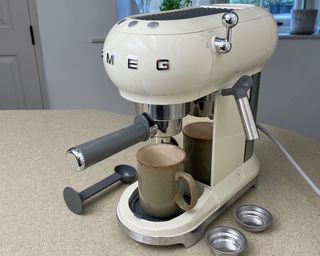 The manual walks you through setting up the espresso machine. It's a relatively quick and simple process. Firstly, the water tank should be washed and then filled and inserted at the back of the machine. Then, after placing a large cup or pitcher on the drip tray, the double espresso button will need to be pressed five times to flush the internal system thoroughly. You need to dispense hot water from the steam wand so that this is flushed through also.
Getting to know the machine felt quick and easy. With three buttons — one for a single espresso, one for a double espresso, and one for steam, plus a steam lever — you can't go too wrong. If you want to access the settings menu, you'll need the manual, because it utilizes the three main buttons and various combinations of flashing lights to allow settings to be changed.
Once you're in the menu though, you can change the water hardness to reflect whether you're using soft, medium, or hard water. There is also an option to adjust the automatic shut-off time to nine minutes, 30 minutes, or three hours. Coffee volume can be adjusted to any amount and there are three coffee temperature options, but I'd suggest giving it a try before adjusting these to suit your preferences.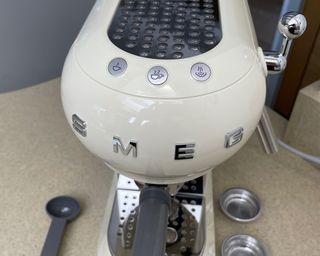 There's a removable drip tray and I immediately noticed that once the portafilter is in place, the space between it and the drip tray only allows for very small cups. There's a clearance of about 3.1 inches, which is fine for espresso cups and smaller cortado or cappuccino cups. For anything else, you'll need to remove the drip tray and place your mug on the little cup holder below it. But even then, with just 4.7 inches of clearance, you won't be able to put anything taller than a standard mug in here.
Whilst reading the manual I was alerted to the fact that you can't brew an espresso straight after steaming milk without dispensing hot water to cool the boiler first. I've seen this on other entry-level espresso machines. It's a bit of a pain if you intend to make several milk-based coffees in one go, because you'll have to pour all the espressos first and then steam the milk afterward.
With just three buttons and limited adjustable settings, this Smeg espresso machine is straightforward to use and there's not much that can go wrong. It's a good choice if you've never owned an espresso machine before. I'd say working out the pressure required when tamping the coffee into the portafilter is the biggest thing to master. Once you get this right, the rest is simple. I realized fast that I didn't need to tamp the coffee with as much pressure as I would when using my usual espresso machine.
Making single and double espressos with ground coffee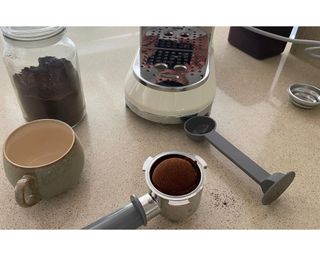 For me, a double espresso is my go-to for a cappuccino, and rarely if ever, do I reach for the single espresso filter. But I made some single espressos to try it out and found that a single espresso requires slightly more than the level scoop of coffee advised in the manual. A single espresso pours in around 15 seconds (provided you haven't tamped the coffee too firmly) and the coffee was a pleasant 162°F/ 72°C.
To make a double espresso, the process is the same, but you switch out the basket in the portafilter and hit the double espresso button instead. It takes around 30 seconds to pour.
Using coffee pods in the Smeg ECF01 Espresso Machine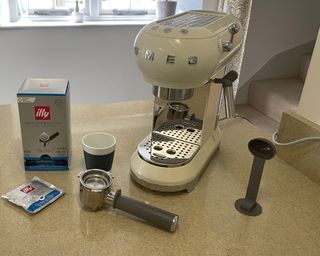 If you want the whole process simplified, you can use Easy Serve Espresso (ESE) pods, which are essentially a small puck of ground coffee inside a teabag. The quantity is enough for a single espresso shot and you just pop the bag into the pod filter basket, replace the portafilter, and hit the single espresso button. It's cleaner because the coffee grounds are all contained in the bag, there's also no tamping to worry about. You're pretty much guaranteed a good result, but since the coffee isn't fresh, the flavor won't be the same as using fresh grounds.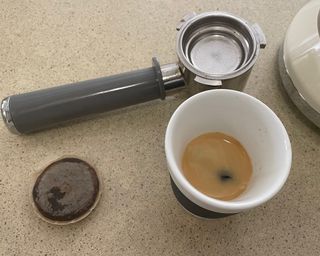 Using the steam wand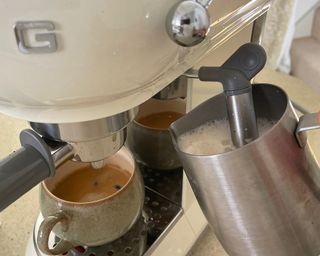 If you turn the lever without pressing the steam button first, the steam wand dispenses hot water for tea. To steam milk for lattes or cappuccinos, you'll need to press the steam button and wait 10 seconds for the light to stop flashing. After this speedy preheat you can insert the wand into your pitcher of milk.
Although the wand moves, it doesn't have enough adjustment in the angle and it's also short, so if you're using a bigger pitcher, it can be awkward. I struggled to achieve the perfect milk texture using this wand and found it's not easy to create fine micro bubbles. Instead the milk is overly foamy and even using the barista trick of tapping and swirling the pitcher wasn't enough to remove all the larger bubbles.
Coffee drinkers that are very particular about the texture of the milk will struggle to create the perfect custom drink with this wand.
Coffee quality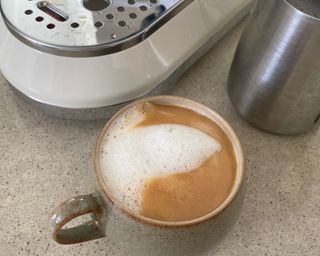 My regular espresso machine coffee comes through the mail. I don't grind my own beans, but I do have a couple of coffee subscriptions, so I get sent coffee that's been roasted and ground immediately before it's posted out to me. Plus, this means I get to try different coffees from all around the world.
While I tested this espresso machine, I was using a Rwandan coffee that claimed to have hints of chocolate-covered raspberry marshmallow. Now, I'm not going to pretend that's what I could taste, but in general, I was pretty happy with the depth of flavor and fruitiness of the coffee from this espresso machine. It certainly didn't taste burnt or bitter. Most people will be able to enjoy a decent espresso-based drink from this coffee maker, so long as you start with good coffee.
I wasn't happy with the crema, it lacked depth and sturdiness. Yet, I'd describe this as a more entry-level machine. Therefore, I think the coffee it makes is acceptable and perhaps mastering the perfect crema will come with the next-level machine.
Smeg ECF01 design
Love it or hate it, the retro design certainly has impact and combined with the color options, this appliance can really add a wow factor to your kitchen. It's won a Good Design Award as well as a Red Dot Design Award, and the friendly bulbous shape really stands out. Regardless, it's not a style that will suit all kitchens, and if you like your appliances to be streamlined and minimal, this probably isn't the espresso machine for you.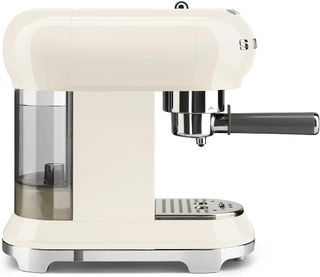 Cleaning the Smeg ECF01 Espresso Machine
As with any coffee machine, you'll have to clean it after each use, but for the most part, it's just a case of rinsing the various parts quickly in the sink. The steaming nozzle twists off and the rubber nozzle beneath it pulls away easily. Both should be rinsed after each use to remove milk residues and some additional steam should be dispensed to remove any residues internally.
The coffee grounds don't knock out in a puck. I used a spoon to remove them and then rinsed the portafilter to remove any remaining grounds. The mirrored backplate and drip tray need a regular wipe because they show marks easily, but otherwise that's about it in terms of daily cleaning.
The removable drip tray has a floating red tab that raises when it's full, so you can take it to the sink to empty and clean it. You should also wash out the removable water tank monthly.
Descaling is an important part of coffee machine maintenance, but you'll only need to do this when the steam button alerts you with an orange light. Then you'll just need to add water and descaler before starting the automatic descale program. This is followed by an automatic rinse with plain water, the process is simple but you'll need the manual to walk you through it, so keep it at hand.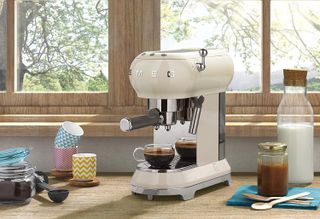 How does the Smeg ECF01 compare to other espresso machines?
In terms of appearance, there isn't really anything that comes close to the unique vintage look of the Smeg espresso machine. If that's not your main priority, there may be other models to consider when making your purchase decision.
We reviewed the EspressoWorks All-in-One Espresso Machine and it's equally as simple to use but it's roughly half the price, yet it comes with a coffee grinder. So if you don't mind losing the retro look that Smeg provides, this espresso machine offers a similar level of ease of use, but you get a bit more bang for your buck.
Or, if you want more functionality than is offered by this entry-level Smeg coffee maker, and you can find an extra $200, then you'll be rewarded with excellent cafe-style coffee from the Breville Barista Express which we've also reviewed. It might be more expensive, but with a built-in bean grinder and a whole host of customizable settings, it offers a great hands-on barista experience.
If what you really need is speed and simplicity, then we rated the Nespresso Vertuo Next 4.5-stars as it makes espresso from a mess-free capsule at the touch of a button. You'll need to buy the Aeroccino milk frother separately, but it'll still come in at a significantly cheaper price.
Should you buy the Smeg ECF01 Espresso Machine?
If you love the retro style and choice of colors, and you don't mind paying extra for these, then go ahead. Keep in mind, what you'll get is a basic, entry-level espresso machine with minimal adjustable settings. In my opinion, the price tag is steep considering the build quality and functionality. If you're a coffee connoisseur, you'll probably find this machine is too basic for your needs.
There are comparable entry-level espresso machines available from other brands at more budget-friendly prices, but they won't look quite as interesting on your counter. It really comes down to a clear choice between a fun and colorful appliance or a more serious and functional one. As it doesn't have a long-lasting robust feel to it and personally I'm not convinced that it's built to last. Lastly, as I'm fairly sure my love of coffee will only grow from here, I don't think this would quite cut it for when I'm ready to up my latte art and flat white game.
About this review and the reviewer
Helen McCue is a freelance contributor who trained as a home economist. After starting her career in the food industry, she moved into home appliance reviews, utilizing her cooking skills and experience to put all kinds of products to the test, and over the years has reviewed hundreds of home and kitchen appliances for a variety of publications.
Having recently moved into a new house that's part 17th-century cottage and part new build, she's busy trying to marry the old with the new in her interior design choices. She's a reformed tea drinker who now needs a minimum of two coffees to start the day. She reviewed this coffee maker at home, using it every day for a week before sending it back to the brand.