Ninja Pods and Grounds Coffee Maker: Quick menu
The Ninja Pods and Grounds Coffee Maker is the caffeine conciliator in the home. Hear me out. You might love the routine of grinding fresh beans and brewing a hot cup of joe, but maybe your partner prefers the ease and convenience of a pod. And sometimes you like to mix it up with a stronger brew topped with a rich milk foam. So you have three coffee makers — a basic drip machine, a pod coffee maker, an espresso machine — and zero counter space. Sound familiar? It's definitely been my life.
Thankfully, Ninja came down from the coffee heavens to put an end to the multi-machine life. The Ninja PB051 Pods & Grounds Specialty Single-Serve Coffee Maker can brew both pods and grounds, and it can use each in one of four brewing options. From a plain black coffee to a shot of strong coffee concentrate for lattes, it can do it. The brand couldn't leave out iced coffee fans either. There's also an iced option that brews a stronger coffee so you don't have to drink lukewarm coffee-tinted water.
Ninja thought of everything and somehow fit it all into a slim single-serve coffee maker that not only has a small countertop footprint but also has each accessory cleverly integrated into the actual machine. Your coffee scoop snaps into the side, while the brew basket and pod adapter live in a storage garage right below.
What I thought of the Ninja Pods and Grounds Coffee Maker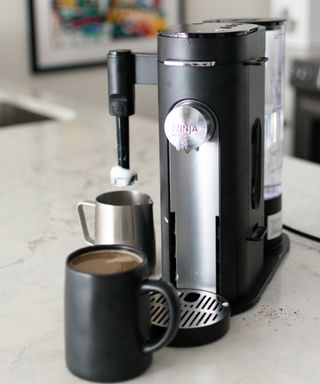 I definitely went into this testing process curious about how even the best small coffee maker could possibly do both pods and grounds well. Those seem like totally different coffee-making processes to me, and, typically, I don't love the taste of joe from even a top-of-the-range pod coffee maker. It's just not strong enough.
But Ninja nailed it. Whether I'm making the specialty shot or just a cup of black coffee — both methods are delicious however you decide to use this coffee maker. This machine was designed to do it all well. It's not a pod machine that happens to be able to be a good drip coffee maker or vice versa. Ninja set out to do everything equally, and it achieved this. The milk frother seems like a special treat. I'm used to a milk frother on my premium espresso maker but on a coffee machine? What a delight.
It's also super simple to swap in between both the pods and the grounds, and I love that each accessory snaps into this innovative coffee maker itself. There are definitely a lot of pieces — there have to be to brew two different kinds of coffee grounds, yet I found them all easy to switch out and clean. While I like to think I'm incredibly organized, even I can misplace things on occasion. Still, I actually can't with this machine. I just snap the brew basket or pod adapter right back into the machine, and, voilà, it's waiting for next time.
And then there's the footprint. This slim machine barely takes up any room on my countertop, so not only did I get to trade in several machines for one, but I also saved space. Even the frother folds in, saving even more space. When you have a small kitchen, you know that every inch matters, and it feels like whoever designed this knows the tiny space life.
But how's the coffee? Solid. I'm picky about my coffee makers because I nearly always add milk to hot coffee and, if that coffee isn't strong enough to hold its own against the milk — I'm out. Ninja knows how to brew a strong cup of coffee. Between the rich selection for when I just want to add a touch of cream to the specialty 4-ounce concentrate for when I want to go all in on a fancy coffee drink with frothed milk, I'm set. And, seriously, I cannot get over the fact a normal coffee maker has a milk frother — a good one at that.
Clearly, I'm a fan of Ninja and of consolidating my coffee makers, so let's get into the finer details.
Testing the Ninja pods and grounds coffee maker
Hey, I'm Heather, a lifestyle and commerce writer based in Washington, DC. This coffee maker was sent to me by Ninja, and I tested it out daily for several weeks before writing this review, eagerly trying out coffee made from pods and ground coffee. I've continued to use the machine and will keep this updated if my thoughts or opinions on the coffee maker change.
Ninja pods and grounds coffee maker specifications
Model name: Ninja PB051 Pods & Grounds Specialty Single-Serve Coffee Maker
Dimensions (in.): H13.31 x W5.51 x L13.07
Weight of machine: 6.23 lbs.
Water capacity: 56 fl. oz.
Voltage: 120 volts
Amperage: 6.23 amps
Wattage: 1500 watts
Unboxing and setting up the Ninja pods and grounds coffee maker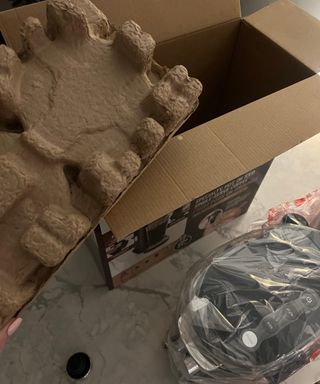 The Ninja pods and grounds specialty single-serve coffee maker came snuggly packed within one box with molded cardboard keeping it in place. It wasn't excessively packed, and it was easy to remove from the box.
The machine arrived assembled, with only a few pieces like the drip tray that needed to be put into place upon arrival. There were lots of stickers there to let you know exactly what each piece was, and though I was cursing them throughout the removal process, they were absolutely helpful in guiding me through the machine. I'd rather the stickers than try to match up a diagram, so I'll pick my battles.
To get the machine up and running, the instructions tell you to run one 24-ounce classic cycle. A few minutes later, I was ready to start brewing.
How to use the Ninja Pods and Grounds Coffee Maker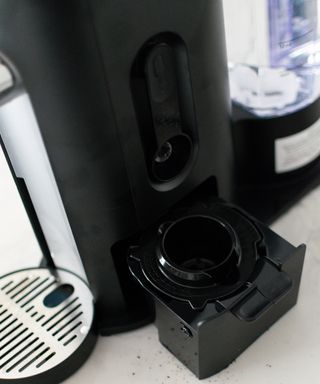 From the very first steps of making coffee with the Ninja, I was in love. Give me organization, and I'm happy. Being able to snap the coffee scoop off the side of the machine and see on the handle exactly how much to scoop? Perfection. Using the storage bin to choose the brew basket or the pod adapter? It doesn't get any more convenient.
Then, once you've decided whether you're going pods vs. ground coffee, you get to enjoy one of the smart coffee maker features that I love the most. It makes the process foolproof.
Making pod coffee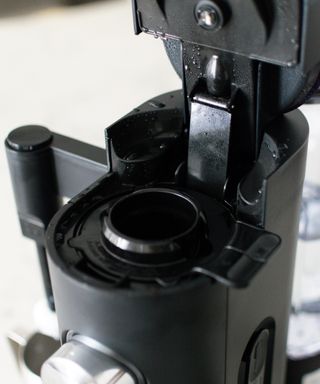 If you put a pod in, the capsule lights up, and it will not let you make more than 12 ounces of coffee. The options simply don't light up. But, don't worry, podsters, you can still make all of the brewing styles even with the pods. You can use any K-cup pods (hey, Amazon) with this machine. One issue I ran into, however, was that it doesn't take a reusable K-cup. Could this contend with even the best Keurig coffee maker? It got me thinking.
You can make anything from a 4-ounce specialty coffee, which is a rich coffee concentrate that is ideal for lattes to 12 ounces of black coffee to 10 ounces of strong, rich coffee to 18 ounces of iced coffee (as good as from our favorite iced coffee maker, FYI), and everything in between. The options are endless. Once you've selected your style and size, and then pressed brew, you should expect about two to three minutes from start to finish. It's super simple, and you'll watch the progress bar on the top make its way across the screen from left to right as you brew.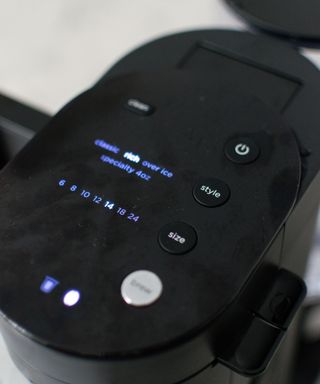 Using the milk frother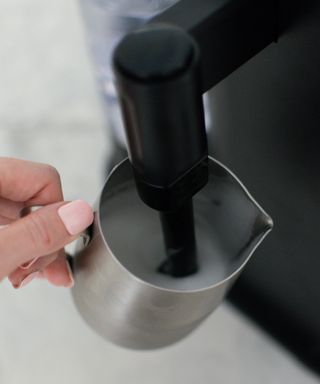 The milk frother, while a huge plus for me, does have a few quirks. First, it is simply a frother. Don't expect it to heat your milk. This is frothing and frothing only. But it works! It works even with skim milk, giving it a beautiful, foamy texture. To froth milk, however, you have to hold the button on the top down continuously. I kept releasing my finger, and then it would stop, and I'd have to press down again. It takes a little bit to get the hang of it.
Lastly, the directions literally tell you to remove the milk frother while it's above your cup so you can carry it to the sink. This is, of course, exactly what you should do to avoid a mess but, for some reason, it made me laugh. It seems like common sense, but I love that Ninja put it out there so we don't have milk-splattered counters running rampant.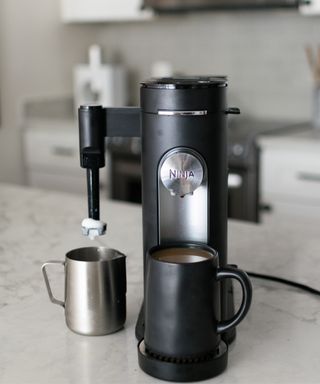 How to clean the Ninja pods and grounds coffee maker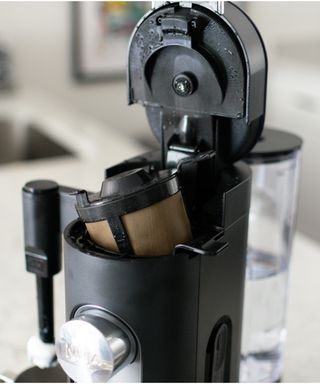 When it comes to cleaning this coffee maker, Ninja saved the day by making several of the parts for this machine dishwasher-safe. You can throw the brew basket, permanent filter, pod adapter, water reservoir, frother whisk, nozzle, and smart scoop all in the dishwasher when it's time to clean them. The storage bin and brew basket will have to be hand-washed, but, hey, things could be worse, right?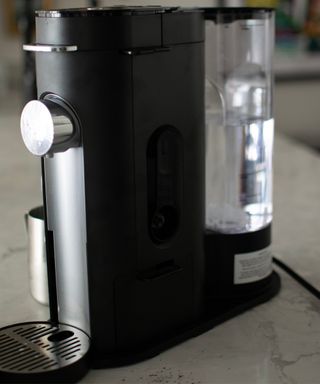 When it's time to descale your machine, the machine will illuminate orange, telling you it's time to clean. To run the clean cycle, you'll fill the water reservoir with 16 oz. of white vinegar (from Amazon) and 40 oz. of water, remove the cup tray, and place a vessel that can hold 56 oz. beneath the nozzle. Place either the brew basket or pod adapter in the machine. Press the clean button, and the 75-minute clean cycle will begin.
After it runs, you'll hear a beep. At that point, it's time to wash the water tank, fill it back up, and run a 24 oz. classic cycle to flush the machine. Roughly 90 minutes later, you're back in business.
Is the Ninja pods and grounds coffee maker right for you?
If you and your partner or roommate can't agree on whether you want pods or grounds, or if you like the flexibility of having both options then the Ninja® PB051 Pods & Grounds Specialty Single-Serve Coffee Maker can't be beat. The ability to brew either pods or grounds — and brew them both well — is not something you see in most machines. Add in the 4 oz. specialty option and the milk frother, and you have a machine that can do it all.
The slim profile also makes it a no-brainer for small space dwellers. You can't beat its space-saving ways. Is there anyone who wouldn't like it? If hot steamed milk is critical to your morning coffee or you prefer a true espresso, then this might not be your machine.
If however, you're on the look out for similar machines, browse the below: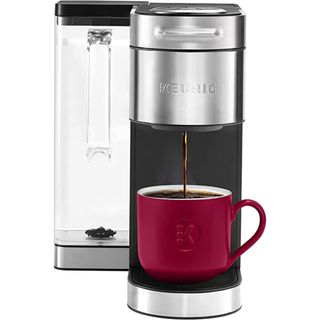 All rounder
1. Keurig K-Supreme Plus Coffee Maker
Price: $199.99
It's no surprise that this Keurig coffee maker sits at the top of our single-serve coffee maker list. It works with K-Cup pods, which offer a dizzying array of coffee options, as well as specialty tea and hot chocolate options, too. Plus, it brews a batch of coffee in under one minute. Oh, and it's nice and compact if you have a small kitchen or minimal countertop space.
Read the full Keurig K-Supreme review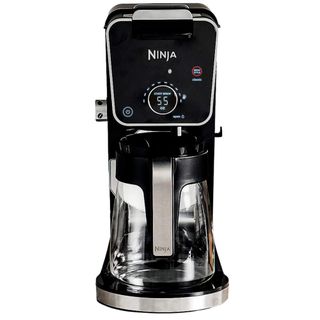 Also accepts K-cups
2. Ninja DualBrew Pro Specialty Coffee System
Price: $229.99
Ninja's new DualBrew Pro is one of the most luxe options out there, with special features like the ability to brew a specialty brew, iced coffee, fold-out milk frother, built-in measuring spoon, and a hot water spout, all in a narrow, space-saving footprint. But let's be clear — it's big.
Read our full Ninja DualBrew Pro Specialty Coffee System review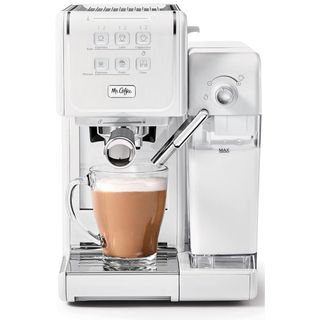 Pods or grounds
3. Breville One-Touch Coffeehouse II
Price: $349.99
Whilst this is not the cheapest option on the market, our reviewer would struggle to fault the lattes and cappuccinos that the Breville One Touch CoffeeHouse II produced. I also appreciated the combination of pre-set and manual options that allowed me full control over the coffees I made. As it works with ground coffee and espresso pods, it provides convenient choices depending on your preferences.
Read the full Breville One-Touch Coffeehouse II review
Good to know
Instructions
The Ninja® PB051 Pods & Grounds Specialty Single-Serve Coffee Maker comes with an instruction guide that walks you through each brewing process.
Warranty
A one-year warranty from the date of purchase is included with the Ninja PB051 Pods & Grounds Specialty Single-Serve Coffee Maker.
Where to buy the Ninja pods and grounds coffee maker
The Ninja PB051 Pods & Grounds Specialty Single-Serve Coffee Maker is available to buy directly from the retailer, via their Amazon storefront, or through retailers like Crate & Barrel.
How we tested the Ninja pods and grounds coffee maker
We have a set process for our reviews at Real Homes. As is the case with all products we review, we match the reviewer with the coffee maker.
The Ninja PB051 Pods & Grounds Specialty Single-Serve Coffee Maker was sent to me by Ninja, and I tested it out daily for several weeks before writing this review, brewing everything from the specialty 4 oz. with grounds to 12 oz. of classic with a pod to 24 oz. of rich with grounds. And, because I drink my coffee with milk and sugar, and my husband prefers his black, I got the full experience of testing its capabilities daily. I've continued to use the machine and will keep this updated if my thoughts or opinions on the coffee maker change.
Here are a few things I like to look out for when testing coffee makers:
Water tank: When looking at the water tank, I assess whether it's easy to fill and, most importantly, is easy to remove (can it be removed at all?) and whether it's easy to clean.
Operation: How easy is it to use the machine? Are the prompts/buttons legible? If the machine makes a sound, is it clear to understand what is happening?
Type of coffee: What type of coffee does this machine take? Is it an appropriate volume for the resulting beverage?
Cleaning and descaling: How easy is it to provide maintenance for the machine? This may involve anything from removing coffee stains to getting rid of limescale.
Functionality of features: Here I may look at any standout features. In the case of the Ninja PB051 Pods & Grounds Specialty Single-Serve Coffee Maker, I observed how well both the grounds and pods functions work, as well as how the frother compares to other frothers.