These garage conversion ideas will inspire you to make the best of a space that is often underused. If your garage isn't doing much apart from storing all the stuff you no longer need, such as your old sofa or old mattress, it's time to put it to better use.
This part of your house renovation will take a bit of effort, in order incorporate your garage into the design of your home. But, with careful planning and scaled drawings, you can create a space that will be both functional and beautiful.
Find design advice, inspiration and lots of brilliant garage conversion ideas below – and for step-by-step practical information, check out our ultimate guide to garage conversion costs and planning.
How will you use your garage conversion?
Before getting started, when converting a garage into a room you'll need to consider how you will use the space. This will depend not only on your needs, but also on how it relates to the rest of the house. So, if your garage is joined to your living room, a home office or playroom is sensible, and a utility less so.
Future-proofing the room is a must, too. You may be happy to kit it out as a TV den or playroom now, but could it be a useful spare room for elderly relatives later – in which case, could that affect the positioning of electrics, for example?
Here are some garage conversion idea, to inspire you on how you could use the room:
21 garage conversion ideas
1. Use the converted space to rework your whole layout
This internal garage was converted into a living space that has totally transformed the layout of the house and opened up a once small kitchen to create a fabulous kitchen diner and living space. 'The initial meeting with the client was to discuss redesigning and making a new kitchen,' explains the architect behind the design, Stephen Graver. 'As part of this we discussed how the rest of the house worked in relation to the kitchen. There was a door leading from the kitchen into a garage area being used as a store room rather than a garage. This had access stairs leading to a bedroom and study area. We suggested incorporating this space into the scheme.
'During the design process we managed to incorporate a modest utility room without impacting the overall kitchen design. The inclusion of the garage area into the kitchen living space has made this an incredible transformation.'
2. Use a narrow ex-garage to create a multi-purpose space
The integral garage of this house was once used for storage rather than the car, and the owners wanted garage conversion ideas to help them add a home office as well as utility room, downstairs toilet and shower area to their home.
Architect Your Home used the full width and depth of the original structure for the utility, then extended it towards the garden to make space for the toilet/shower room and the home office at the rear, to give it windows with an outlook over the garden. Insulation was essential, but there weren't any other issues to be tackled because the garage was integral. It cost £42,000.
Find more tips on how to transform a space into a small home office.
3. Create a new kitchen diner from a converted garage
Whether you're building a kitchen extension as part of a larger job and incorporating the original garage into the new space, it's the ideal opportunity to create a large, open plan kitchen diner and living space. This garage conversion idea could make a dramatic difference to your home's value. The owners of the home above wanted a larger kitchen-diner so, instead of extending their house, they converted their integral garage, using the new space to enlarge their existing kitchen, and creating a utility, cloakroom and dining space, too. The project cost around £48,500 in total.
For complete advice on kitchen design, be sure to check out our feature.
4. Replace garage doors with consistent architecture
'Ensure the brickwork, materials and windows replacing the garage doors match well with the existing house. Ask builders to fully tooth and bond the new brickwork into the old.' This will help blend your house's exterior design better with your garage conversion.
'Often, the top of the garage door is lower in height than the other doors and windows on the ground floor. Consider whether you will be able to match the brickwork or external materials if the garage door opening requires reducing in size,' advises Designer Nigel Lewis of Space & Style Home Design. In this case, you can choose to go for an architectural contrast, such as the below.
5. Position the interior door correctly
If you're looking for garage conversion ideas for an integral garage, you'll want to make sure you design the position of the interior door to the new room in the right place. It's best to consider what the ideal position would be, rather than going with the existing door, if there is one. Work out how the door's position will affect the furnishing of the new room – it's no use positioning it in an ideal place in the hallway if it makes the new room awkward.
Use our buyer's guide to internal doors to choose a new one for your space.
6. Think about flooring levels too
Garage design ideas need to be practical as well as fun, too. Your garage floor is usually going to be lower than the floor level in the rest of your home, so if you want to create a seamless space without a step down into the new room, you'll have to raise the floor if the ceiling allows. Just be aware that, whatever your flooring – whether it's carpet or tiles – you will likely need a new concrete sub floor poured first, and this will add around £1,000 to the overall costs.
7. Create a double storey conversion to maximise opportunities
A larger than average single car garage attached to the house by a wall at the front, with good ceiling height, provided great potential for this conversion. Aquila Property Group created a galleried sleeping area at the top of the space. Beneath, there's a kitchen as well as dining space, living area and shower room.
The roof of the garage was changed, sound insulation was added to the walls, and a steel beam protects the integrity of the roof and houses the galleried bedroom. The floor was dug down to create extra head height and it was replaced with a concrete slab with underfloor heating. It cost around £55,000.
8. Get natural daylight into your converted garage
Looking for contemporary garage conversion ideas to create a bright, light space? If you can fit in extra windows to make the new space feel more like a room and less like a conversion, do so. If the garage faces the garden, replacing one wall with floor-to-ceiling windows or folding-sliding doors will make it feel wider and much more spacious – but do consider how this might restrict the layout of the room.
9. Pay attention to your room's proportions
Typically 5m x 2m inside, a converted garage may feel somewhat long and narrow. You can correct this by building a stud or block wall to convert the garage into two spaces, perhaps a boot room, a cloakroom or a utility room.
Looking for garage conversion ideas to visually change the proportions of the room? The cheapest way to do so is by using paint colours that make it feel bigger and brighter. Keep windows uncluttered if they are small, and hang mirrors to reflect light and stretch the space visually. Shop for furniture that matches the room's proportions; if it's too big, the room will feel cluttered. Invest in good storage, too. For more small living room furniture ideas, check out our guide.
10. Connect your new room to the garden
The owners of this once dilapidated garage wanted to transform that space into a versatile open-plan living area, filled with natural light and access to their garden. Their first move was adding in plenty of roof lights. Then they replaced both of the solid garage doors – one became a large Crittal window, the other a new garage style door but with windows built in to allow for even more light.
11. Design a utility room and cloakroom into the conversion
Looking for garage conversion ideas to make family life easier? When a garage adjoins a kitchen or hallway, it will be very useful to make it a utility room. Use it for everything from laundry to extra storage and, if possible, squeeze in a downstairs cloakroom, too. Depending on your needs (and space), you might even be able to devote half of a large garage to utility and leave the other half for a car. Or, you could split the room to create half utility, half playroom, for example. For a utility, underfloor heating will be useful for keeping the room warm and dry, while good ventilation is also a must.
12. Convert a garage into a home office
If you want garage design ideas to make a family home more practical, a home office is a good one. Best sited away from the main living space if you have a family who will want the TV on while you try to work, it can also double up as a homework space, so having it near to where you'll be most of the time can be very useful. It will need plenty of natural daylight to make it welcoming during the day, but invest in good blinds if it is south-facing, and ensure the heating is sufficient.
The artist owner of this 1970s Surrey bungalow (above) bought the dated home with improving in mind. Bliss Interiors undertook the total transformation of the property and, as part of the work, the garage was converted to create a light-filled studio. A door was added in the kitchen of the house to link the new space to the rest of the home. Storage was retained at the front of the new room, which features doors that can be opened to let in both air and light. Generous views and access to the garden were created at the back of the new living space. It cost £75,000.
For more home office ideas look to our feature, and if you need tips on home office design, we've got plenty of advice there too.
13. Convert a garage into a playroom
If you're on the lookout for garage conversion ideas that will suit a family with kids of a younger age, a playroom is a great idea. For a garage off a kitchen-diner or living space, this is the perfect use for families with young children. Include one of the best TVs, too, to help keep your living room much more of an adult space. Good daylight, ventilation and lots of practical storage will all be must-haves. Bear in mind that children grow up very quickly, so when you're converting for this purpose, think ahead to how you might use the room when they do – could it be converted to a home office for you, or for them to do schoolwork in?
Check out these playroom design ideas for more inspiration.
14. Convert a garage into a bedroom
With a small garage off a living space or hallway, converting it into a spare bedroom for guests is a good idea – but the room will be much more practical if you swap a conventional bed for a sofa bed and fit in a desk or exercise space to double the functionality. The downside to a downstairs guest bedroom might be lack of access to a toilet or shower room. So, if there is enough room, squeeze in a space-saving wet room.
Read our guide to bedroom design to make the most of your new space.
15. Convert a garage into a living room
If your family is growing (or growing up), you'll begin to need extra living space to cater to everyone's tastes and needs. Kit your living room out with plenty of slouchy seating, and a TV to create a versatile space that they'll gravitate towards. Thorne Wyness Architects transformed the under-used attached garage of this home (below) into a self-contained apartment, including a living space with the most amazing view. The garage wasn't accessible from the main house, and the separation of the two was maintained when it was converted.
The work required the replacement of the truss in the garage with a ridge beam. The main challenge for the architects was ensuring that the conversion didn't feel mean while complying with the building regulations, and fitting in all that was required. It cost £45,000.
For advice on living room design be sure to read our guide.
16. Build a home gym in your garage
Garage conversion ideas needn't be about finding vital space – you can set it aside for life's luxuries, too. A garage conversion is ideal for a home gym, full of all of the best home gym equipment, that leads off a hallway or kitchen. It will need to be fitted with air conditioning or a window that can be opened to keep it fresh, though. Add a flatscreen TV and mirrors to make it feel like a real gym, and devote the back of the room to a handy shower space.
Read more about how to build a home gym in our guide.
17. Convert your garage into an annexe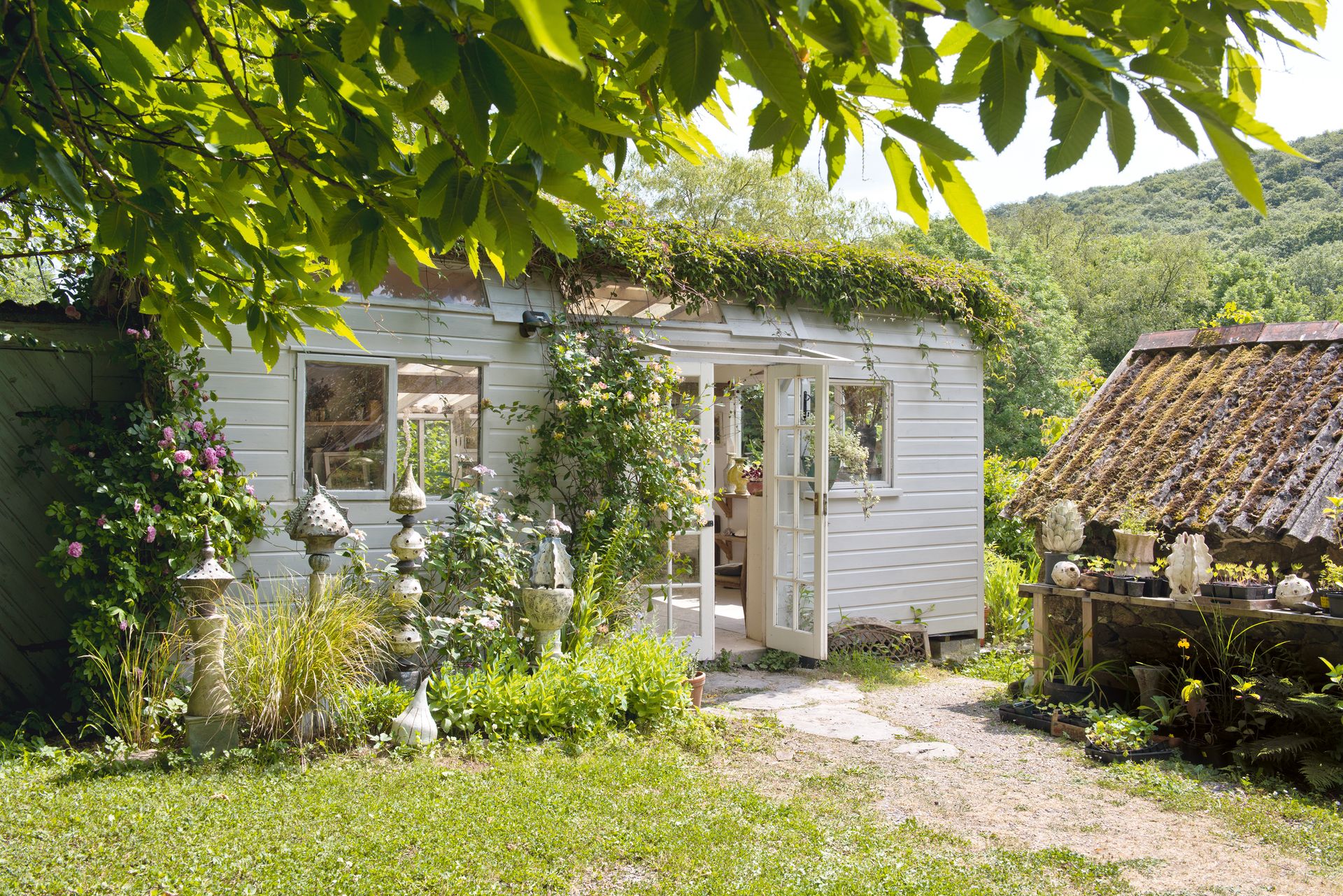 Converting a garage into an annexe is best suited to an unattached, probably double, garage because it will give both you and the occupant privacy and space. Depending on your arrangements, you will have to fit in a shower or en-suite, possibly a laundry room and kitchen, plus a generous bedroom/living space. The room will need lots of natural light, and you should consider how it will be joined, if at all, to the rest of the house. At the very least, you might want a covered walkway between the two buildings.
If you need anymore practical advice on building an annexe, go and have a read through our in-depth feature.
18. Convert a garage into a home cinema
if your 75 inch TV isn't quite enough, then why not convert your garage into a home cinema? Perfect for partially converted garages, these rooms can be created without the need for windows, although sound-proofing would be good. Future-proof the room by installing a window anyway and fitting good blackout blinds – then it could always double as another room if you decide you need to change its functionality.
For more tips on how to add a home cinema, check out our guide.
19. Turn your garage into an entertaining space
A garage, just off the kitchen, or detached from the house, can make for a perfect room for entertainment. We've already talked about it being a great home cinema room, but how about installing a home bar, like Instagram Influencer (and Real Homes columnist) Lisa Dawson's? It won't take up too much space and all you need are some comfy chairs and a decent sound system, and it's the perfect party room...
20. Knock down the garage and start afresh
If an external garage is in a sorry state, the best plan might be to demolish it and start again. Ungar Architects got planning permission to replace a 1960s timber garage in a North London conservation area, greatly enlarging the footprint to include a double garage and a home office with kitchenette. Pile foundations were used to avoid the roots of mature oak trees that surround it, and the building was clad in Western red cedar sympathetic to its surroundings. It cost £180,000.
21. Convert your garage into a home office
This is guaranteed to be a popular garage conversion idea post-Covid, with garages providing a valuable extra space for a home office in homes where an extension of garden office isn't possible. The obvious challenge with making a garage suitable as a home office is maximising natural light, which is usually scarce in a garage. Sliding floor-to-ceiling doors are likely to provide the best solution, and you'll likely need them on at least two sides of the garage to get enough light in, as demonstrated in this garage conversion by ID Architecture.
Read more: