The best home office ideas will take your WFH setup to the next level. Whether you have a dedicated space or are working from the corner of your living room, inspiration is a must, to help you create the right working environment for you.
Finding the perfect balance between decorative and practical is achievable, and you don't need a big budget either. Well thought-out storage and chic furniture – such as the best office chairs – brought together by color palettes, soft furnishings and wall art, is the way to go – whether you want to create a calm and contemporary space, a traditional office look, or something a little quirky.
56 home office ideas to inspire your WFH space
Whether you have a big or small area to work with – be it an entire office room, or a small corner of the dining table – we've rounded up some brilliant home office ideas for inspiration to help you create a working space you'll love.
1. Create a maximalist home office design full of pattern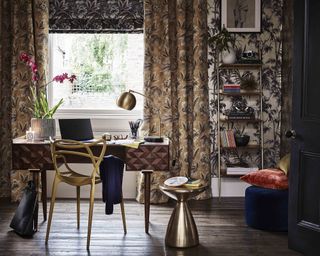 A maximalist home office design scheme will give you energy on tap. This might include laying down a busy printed wallpaper, opting for heavily patterned drapes, investing in a statement console table or all three – there are no limits.
2. Go dark and dramatic with an all-black home office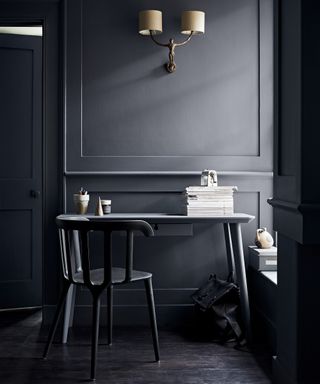 Even smaller spaces can work with a dark color on all four walls, for a grounding finish if you're planning home office ideas. 'For smaller sized spaces take one color over every surface. This technique helps blur the lines between where one area starts and the other stops, making a room feel bigger in size and less distracting.', says Patrick O'Donnell, brand ambassador for Farrow & Ball. 'Dark colors can be good to enclose a space and cause limited distraction; ideal for smaller rooms and for those who are working with data and stats.'
3. Play to historic home strengths with vintage decor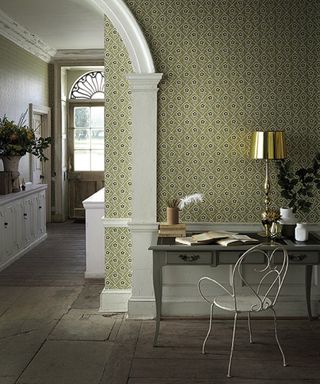 If you have the luxury of a historic home without the luxury of a separate home office space, to not despair. Incorporate your desk into a free area that is already full of character. Lovely hallway wallpaper ideas make the perfect backdrop, and this small white and green patterned number is not without its charm.
'Greens are naturally calming and help us to relax, especially if we can create an environment that feels like the great outdoors.', says O' Donnell. 'The symbolic color of nature's 'green' in all its shades can be a very effective color to focus the mind, from pale, soft cool greens, to the deeper richer end of olive tones. Greens inspire thought and logic, perfect for dealing with your daily work tasks.'
4. Embrace multi-use and built-in units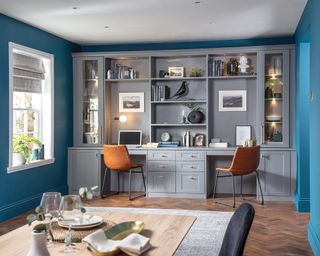 Work spaces shouldn't be limited to a quiet corner in a room with no noise. If you're someone that thrives on a busy environment with high traffic (or doesn't have a choice!) consider giving your dining room or even kitchen space a dual purpose. This gray shaker style office works like a charm, with built in units.
5. Opt for an ethereal color scheme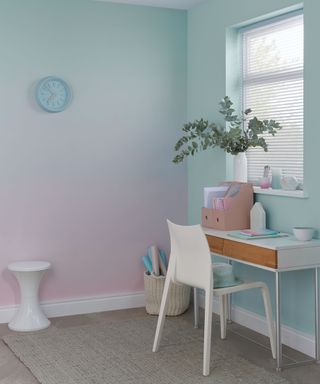 If you're a creative, choose an ethereal color palette to inspire you daily, and to open up your space too. Ombre wall paint ideas are guaranteed to put a smile on your face and boost your WFH momentum also.
6. Create a tranquil space with brown and beige tones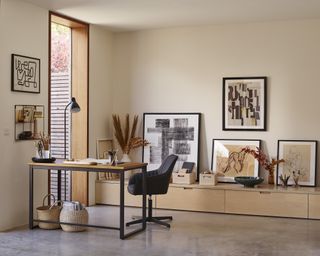 Nutty and warm, woody shades bring modern vibes and a close connection with nature to a space also. 'Brown is often a surprising choice to create calm spaces, but has a similar impact to greens. Teamed with natural materials such as wood, brown becomes an easy zone of zen like quality!', says O'Donnell.
7. Gallery walls that mean business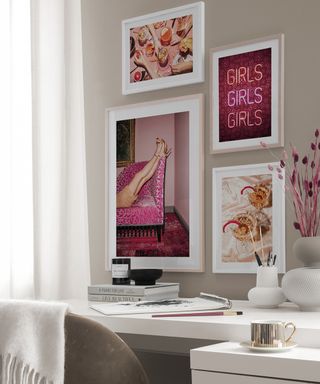 Take your gallery wall up a notch with inspiring quotes, energizing images and more to make you smile, and to creative a home office environment that is totally unique.
8. Use primary colors for a Bauhaus-inspired office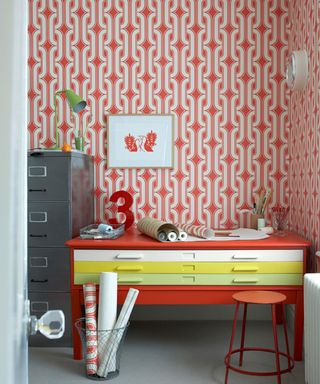 Home office ideas needn't be dull. Thought primary colors were too childish to be used in a home office design? Not according to Bauhaus. 'I love the way this trend brings us 'back to the future',' says Crown Paints color consultant Neville Knott.
'With a functional approach to design aesthetics reflective of the Bauhaus, its strong colors and shapes provide graphic focal points within a space.'
9. Create a scandi-chic scheme with white and wood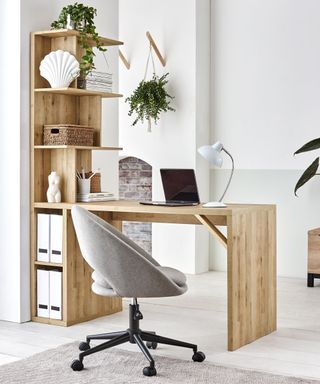 Bright and airy, a light wood and white home office is a nod in the right direction towards Nordic design and Scandinavian chic schemes.
'White is the color of purity and clarity - the easiest option for most, especially those nervous of committing to too much color.', says O'Donnell.
When looking for the right white shade, we recommend School House White for creating a clean workspace with little distraction. This off-white, creamy hue is a warmer, less clinical cousin of crisp, cool and icy whites which may make the room feel 'cold'.
10. Take it outside with a summerhouse setup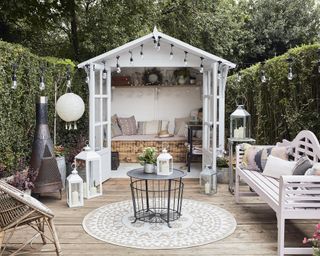 If you have a large garden space with a dreamy summerhouse design, make the most of this outdoor scheme when the sun is shining.
Whether you want to escape from the kids, or have a half in, half out idea, owning an outbuilding will allow you to align with nature, while ticking off your to-do list.
11. Create a multi-purpose home office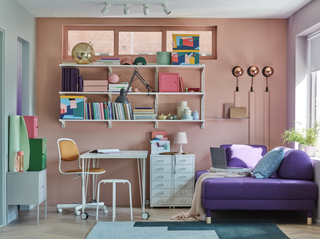 If your home is slightly on the small side, having a space that is purely dedicated to working from home may seem like an impossible dream. But just because you don't have an extra room to turn into a home office, that doesn't mean you can't squeeze a small desk and some essential home office storage into your bedroom or living room.
In fact, you'll likely notice an increase in productivity if you take the time to create a designated work space, rather than relying on your 'soft office' – by which we mean your bed or sofa. And when you aren't WFH, the space could double up as a sideboard, a dressing table, or even a dining area.
12. Choose your home office chair sensibly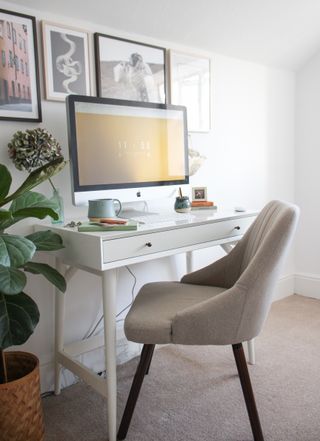 We all know that the key to WFH is having a designating place to work, a desk rather than say the kitchen table, or the sofa, or your bed. Physically sitting at the best desk you can find gets you into that "work mode" and a good, comfortable chair is all part of that mentality.
So make sure you get you take time to choose the right office chair to suit your needs. It really is worth perusing reviews and testing out a few models before you pick. Why not take a look at our round-up of the best Amazon office chairs if you need a speedy delivery?
13. Choose a light scheme for a small home office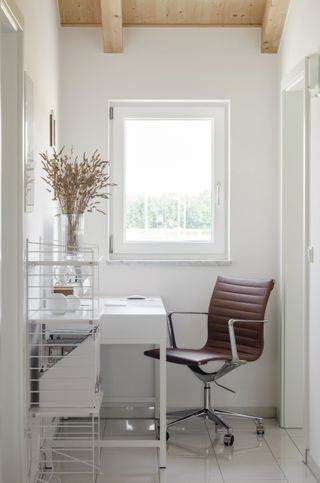 If you're designing a small home office – be that a designated room or a workspace squeezed into an unused area of your home, like in the image above – opting for a light scheme will make it feel larger and lighter than it really is.
Attempt to keep your space free of clutter and it will feel larger again, as well as lending itself to greater productivity. Tidy house, tidy mind, as they say...To help, we have a feature on how to clean your home office.
14. Corner off an open plan space for your home office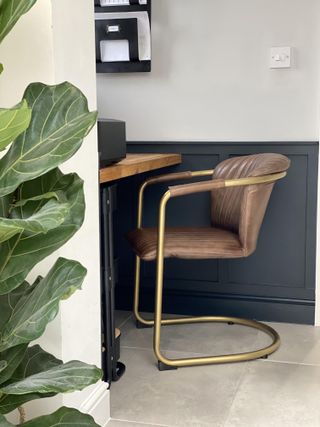 If you're lucky to have enough space, dividing an open plan kitchen or living room is a great option for designing a home office. Particularly if you opt for a simple and neat furniture layout with soothing colors that complement your existing space.
15. Give yourself a view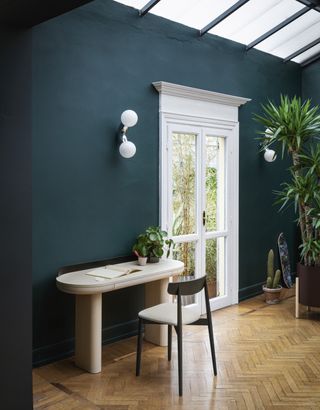 Natural light and a view to inspire you is a great addition to a home office setup, so why not position your desk right next to a window or door – or in front of it, if it's a window? If you don't have a natural light source close by, keep house plants around for a little more of the outdoors by your side.
16. Or opt for an alcove office if you're short on space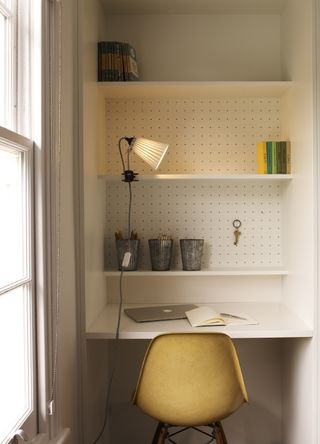 Alcoves are usually a pretty neglected space, so put them to work by creating a small home office in them. Even if you can't squeeze in a full-sized office desk, you could install a wall-mounted work surface with shelves and cupboards fitted above for maximum storage opportunity. Recreate this idea really quickly, using our guide to how to create an alcove office.
17. Get creative with your home office storage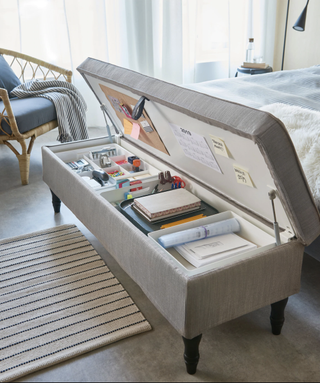 Yes, that is an ottoman being used as home office storage. If – like many of us – your home office is your kitchen table, but you'd like a space to keep papers, stationary and tech that's out of eyesight, using an ottoman that can just sit at the end of your bed is an easy solution.
Here, a stylish gray ottoman has been filled with desk organizers, with the lid used as a space to store reminders. One of our favorite home office ideas!
18. DIY a functional home office feature wall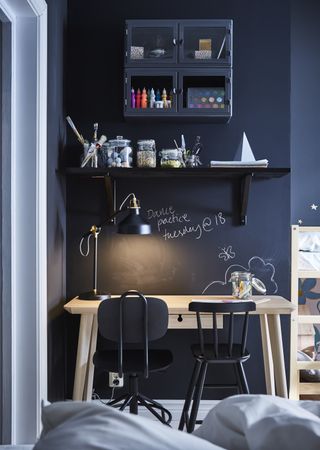 We love this home office idea! There are plenty of wall planners and noticeboards on the market to help you organize your time and your to dos, but if you fancy a project, why not make your own? All you need is some chalk paint to get started. Find out how to make a chalkboard wall, like the above, with our clever tips and ideas.
19. Hide a home office under the stairs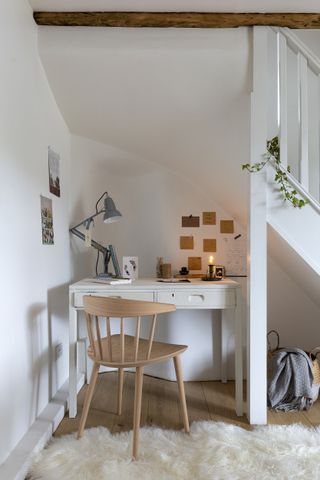 This stylish space shows you how easy it can be to reclaim the space under your staircase and create a workplace in the process. We love the unfitted feel of this setup, which would work well in a variety of homes. But, you could also opt for a made-to-measure solution designed to fit right up to the underside.
20. WFH not quite working? Build a garden office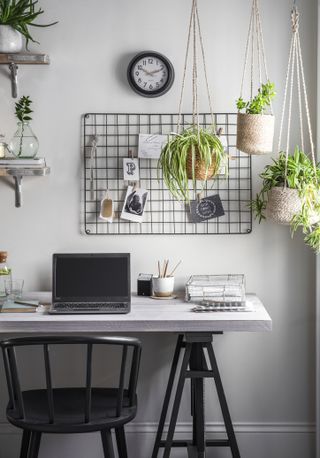 Building a standalone garden room is an efficient use of outdoor space – and a great home office idea.
Designate it as a work space from the outset and it can be fitted out accordingly with power points, tailored lighting solutions and natural light from large windows. Properly insulated, it will be as comfortable as any room in your home.
21. Traditional with plenty of character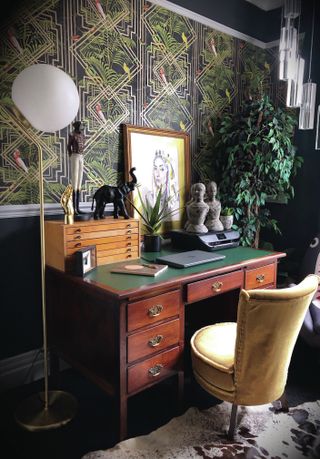 There's something appealing about a traditional home office – or a study as one may prefer to call it – that even those with the most contemporary of interiors tastes can't help but love.
Overflowing with character, this space combines inky tones with art-deco inspired wallpaper – and not to mention the chunky oak desk – to create a space that wouldn't look out of place in 1920 or 2022.
22. Be inspired by stunning Mid-century style offices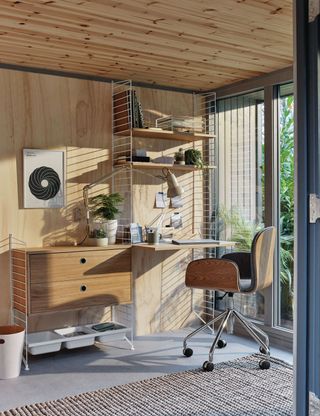 Mid-century modern home offices often provide design inspiration, with their sturdy furniture, ample storage and simple color schemes proving popular amongst those seeking a productive workspace.
And once works over, they're also a stylish spot for sipping an Old Fashioned and contemplating world domination.
23. Create a stylish work station with a ladder desk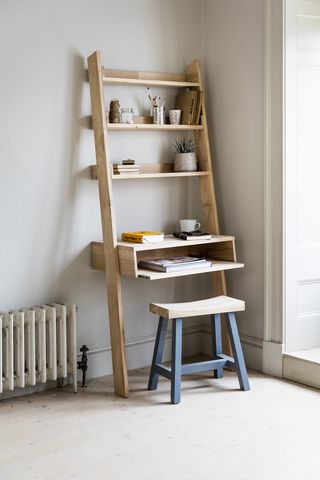 Proof that you can fit a home office into even the smallest of spaces, a ladder desk provides a handy desk and plenty of home office shelving in one. And without taking up any precious square footage.
24. Pick a paint color that will boost your productivity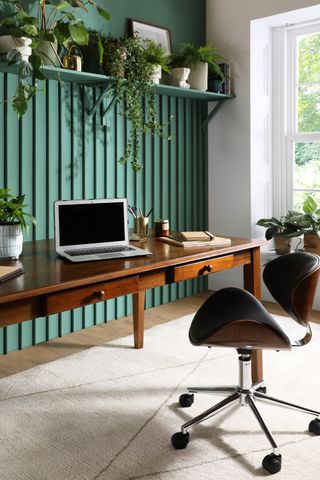 Different colors affect our moods in different ways, so choosing the correct paint color when planning home office ideas is no small matter.
Surprisingly, the color that has been revealed as the ultimate productivity booster is... orange. This does not mean that you have to paint your home office a garish shade; choose a stylish hue such as Picture Gallery Red from Farrow & Ball. If reds and oranges don't appeal, try a combination of soothing greys, greens and blues, which create a calm feeling, much more conducive to stress-free working.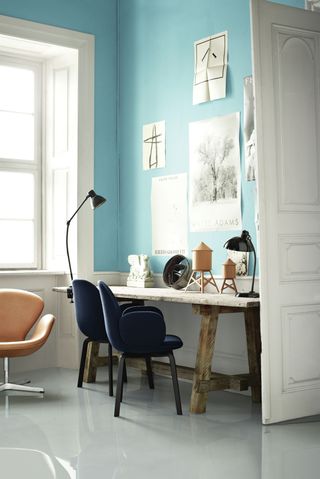 25. Add some greenery to your home office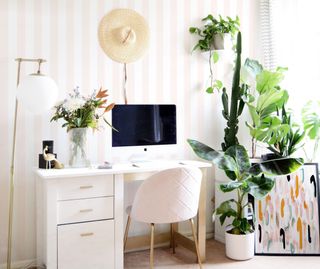 That on-trend cheese plant won't just look great on your office shelves – adding houseplants to the space can also help purify the air, apparently helps absorb noise (who knew?) and improve productivity.
When choosing the right plant for your home office, consider the light levels it might require and its watering needs – staring at a brown, shriveled plant isn't going to do much to boost motivation on a Monday morning.
26. Go for bags of woody tones for warmth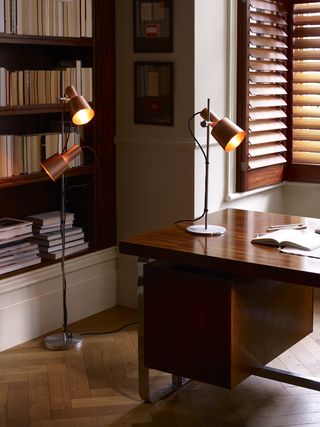 Want to create a traditional-feeling space that's warm and welcoming, too? You need to fill your home office with warm-toned wood – and this can stretch from the desk to the window treatments.
A good work area needs plenty of light, but at the same time you don't want any glare on your laptop or computer, so it's worth considering a variety of home office window treatment ideas before making a final decision.
Blackout blinds or curtains are a great option as they will obviously stop any issues with glare. But then you also run the risk of being sat in the dark. Shutters, however, allow you to control the amount of light coming into the room throughout the day. More on those later.
27. Experiment with pretty window treatments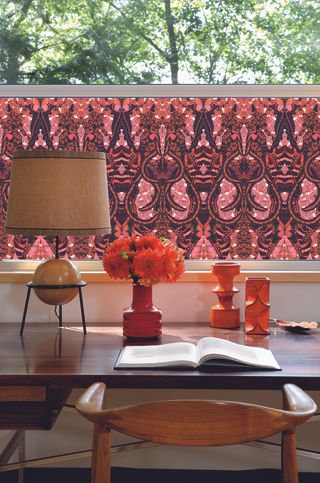 If you don't like the idea of blinds or shutters when considered home office ideas, but would like a little more privacy, it may be worth considering a window film. Easy to install – and a super simple way to add interest to your space – this option is just what you need if you feel a little overlooked in your workspace.
28. Create a co-working space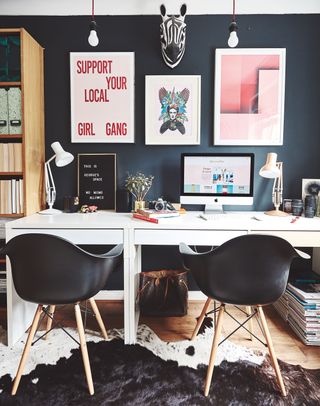 Because a home office needn't be all work and no play. Add some pattern, color and (most importantly) inspiration to your space with the help of framed wall art.
This co-working space will put city hotdesks to shame, comes without the hefty monthly rent costs, and you can guarantee you've got a familiar face to keep you company when you need a break from your screen.
29. Use contrasting colors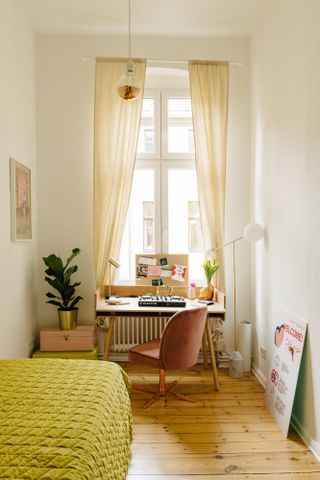 Home office ideas can work for the bedroom too. When using your bedroom as a home office, color can be used to express your style, as well as creating a relaxing atmosphere. By opting for office furniture in a light wood, this already small space above isn't overwhelmed by a large desk in a contrasting color.
Home office accessories, such as a small pin board and a couple of stunning desk lamps establish this as a work space, while complementing the interiors style seen throughout the rest of the space.
30. Bring your office into your living room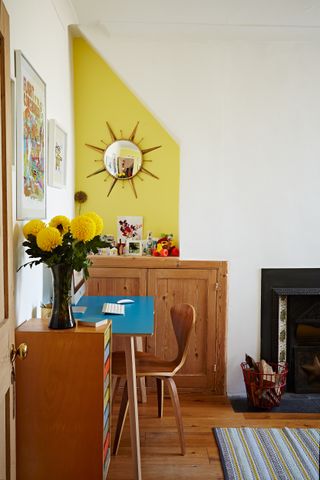 This stylish living room proves that you can work a tiny office space into even the smallest of spaces. And you can do so without your home beginning to feel too corporate.
Here, a vibrant blue desk complements the sunny, yellow feature wall, creating a space that you might actually enjoy spend time working in. Next to this streamlined desk is a handy storage solution perfect for storing paperwork, cables and other office essentials.
And while this desk is positioned against a wall, a little wall art make it much more entertaining to look at than plain paintwork.
31. Hide your home office away at night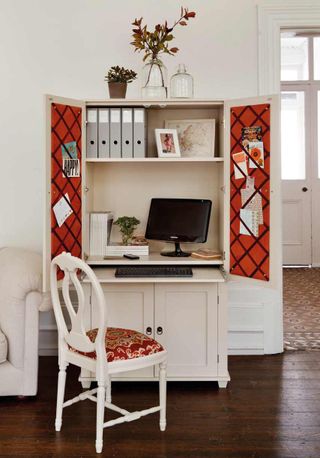 What we love most about this home office idea is when you are done with work for the day you can shut the doors and it just looks like a lovely dresser – great if you're trying to achieve good work-life balance. Because being able to separate your workspace from where you 'live' is so much better for your mental health than leaving your work on the kitchen table all evening.
Plus, this set-up is idea if you have a load of home office gadgets – we're talking monitors, keyboards, one of the best small printers and the like – that slightly ruin the aesthetic of your home.
32. Choose a stylish noticeboard to organize thoughts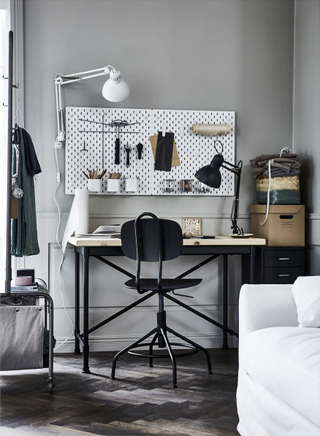 It's worth investing in the best noticeboard as part of your home office set-up if you're more of a visual person. The perfect spot for storing reminders and to-do lists, you could also try pinning images that inspire you to your noticeboard for extra inspiration. And if not, a well-designed noticeboard adds plenty of aesthetic appeal to a space.
We love the minimalist feel of the SKÅDIS Pegboard from Ikea. Our top tip for recreating this look is to pick a color theme for your pegboard that matches your interiors and use it to add personality to your room, as well as storage.
33. Build a home office into an awkward space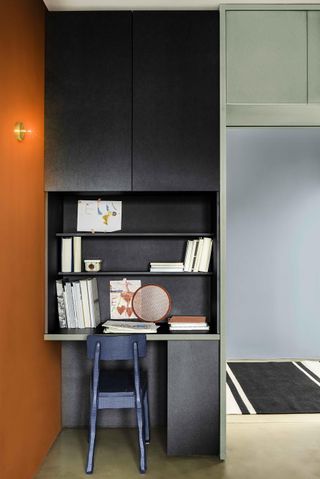 This home office idea may require slightly more planning than the others, but if you're planning a larger renovation project – or have a particularly awkward space you're prepared to spend a little more money on – we think it's a great option.
This streamlined solution makes the most of a space that might otherwise be wasted. And it offers plenty of options in terms of home office storage, as well as providing a practical desk space.
34. Make the most of natural light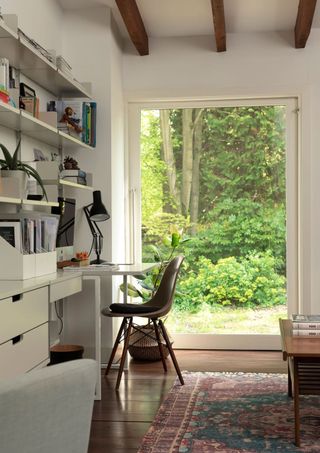 Okay, so we know that most people won't realistically have access to such a stunning work from home spot, but the use of natural light in this gorgeous home office is one home office idea we can all apply to our own spaces.
In our experience it's best that you choose a space with as much natural light as possible if you're looking to minimize the risk of straining your eyes. Plus, you may find that exposure to the sun helps boost your energy.
35. Design an ultra-minimal space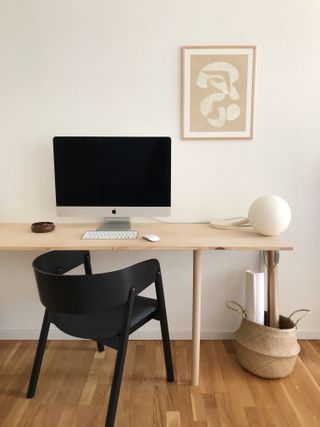 If you need a tidy space to work effectively, you'll love this Scandi-inspired, ultra-minimal space. Not only is it free of clutter, but its neutral color palette is also really calming, making it a great spot to get into a productive work flow.
36. Use task lighting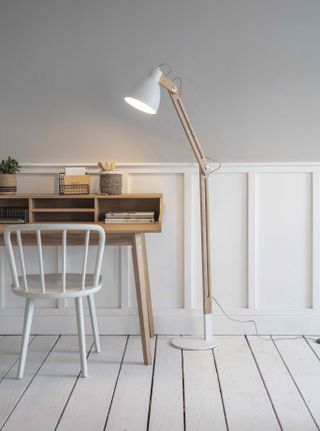 Prioritize making the space as functional as possible, with high-quality furniture that encourages good posture, as well as suiting your aesthetic requirements. Effective office lighting is also super important in all seaons.
37. Go for nautical vibes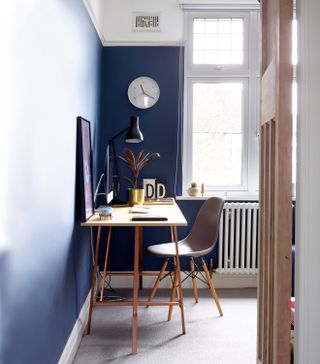 Or, go nautical if neutral interiors for your home office ideas aren't your thing. We love the blue against all the wooden furniture accents, making for a warm and charming look.
38. Work a sweet wallpaper into your office space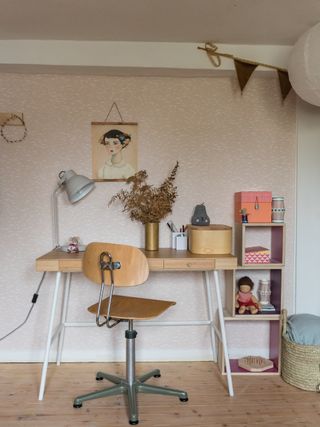 To avoid staring at a blank wall for the majority of your day, pop up some wallpaper behind your desk. Use it as a basis for your color scheme, so you can make the area feel more cohesive and, less just a space you had to throw together when lockdown started.
We love this home office because all the colors are nice and soft and muted, so won't be distracting – but the wallpaper print still adds a bit of subtle pattern.
39. Design a space that inspires you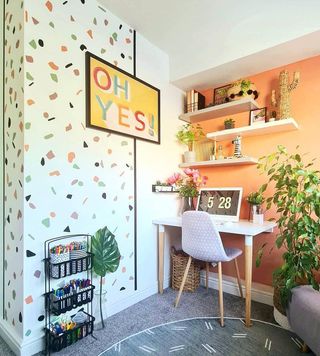 When designing a home office, what's most important is ensuring your space inspires you. And while for some people that may mean a minimalist space with clean lines and next to no distractions, for other it will mean embracing bold colors, patterns and other interesting bits and bobs.
We love this bright space, which we think is exactly what you need if you want to get your creative juices flowing.
40. Get statement chairs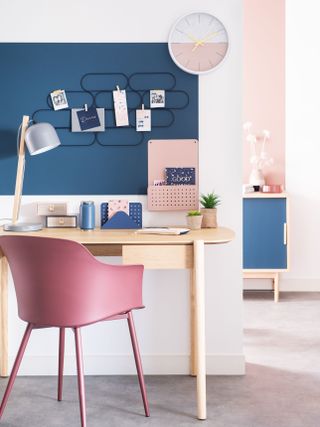 If you're working a home office into a larger area – perhaps a living room, or bedroom – consider making your office chair the centerpiece. Go bold with a bright color, which can be especially great if the rest of your space is neutral. Or, choose one in a jazzy pattern – whatever floats your boat.
41. Try complementary colors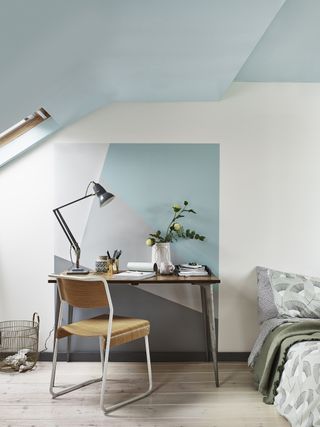 Opting for a complementary color will ensure your office works within your wider scheme while ensuring the space is distinctly separate – great news if you're looking to create a clear definition between work and leisure. Check out more of our color blocking wall ideas.
42. Build your own wall-to-wall storage, but half depth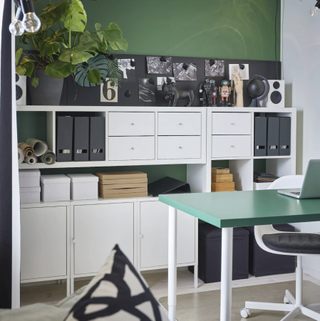 If you have the room and requirements to need heaps of storage space, then our hot tip for home office ideas is to break down your storage units into shelves, separate drawers, boxes and little cabinets so it doesn't look clunky, and of course, so it is easier to order without shoving everything together.
Our second hot tip? Make it half depth: everything is easy to reach and find and it won't take up so much floor space. This floating unit from IKEA, can be placed above a few storage cabinets – and you have yourself a storage paradise without ruining the chic home office look.
43. Design a suitable office for home schooling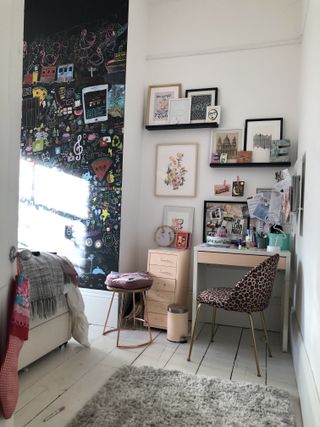 Just as important as a suitable workspace for adults working from home is a spot for kids – and especially teenagers – to be able to get on with their homeschooling or homework assignments. But rather than making the space feel clinical, why not make it a space that they (almost) enjoy spending time?
This compact desk slots seamlessly into the corner of this teen bedroom and is decorated with plenty of images and accessories that still make it feel like their space.
44. Pick a desk with lots of character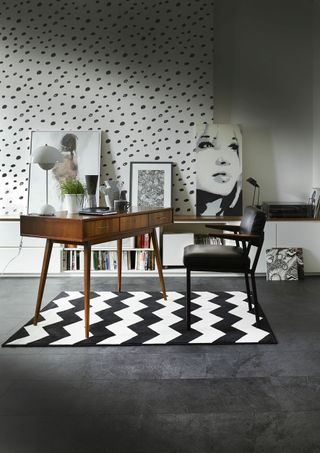 We know it's easy to get carried away with creating the perfect space, but don't lose sight of the fact that an office is primarily a place to work in. This means spending some time picking the perfect desk, given that this is the place you'll actually be sat at all the time. Really nail down your perfect choice – is it a vintage, large wood desk you can pass down, or a fun, minimalist white option?
Where to look? Think flea markets and antique shops for something authentic.
45. Be bold with your lighting choices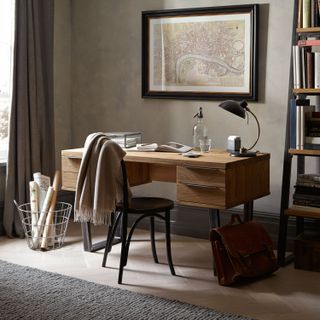 When choosing lighting, think simple but sculptural. In an otherwise minimalist interior, the right light fixture can make a striking statement – the curved silhouette of an arc lamp or a bright anglepoise adds an instant Mid-century feel to a room without going overboard.
46. Add a feeling of luxury to your home office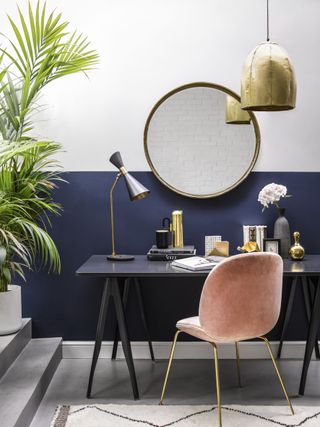 Want your home office to feel comfortable? Add a seat that looks like it belongs in a living space or bedroom, despite being perfect as a home office chair.
If you're looking to strike the balance between your love for modern neutral furniture, and a desire to experiment with on-trend paint techniques in your home office, color blocking is a stylish option worth considering. Paint a dark shade up to where the dado rail would naturally sit and opt for a neutral – white being the most obvious option – above. Pair with a stylish, brass toned, round mirror, a desk with hairpin (or hairpin inspired) legs and a geometric inspired rug.
47. Choose an accent color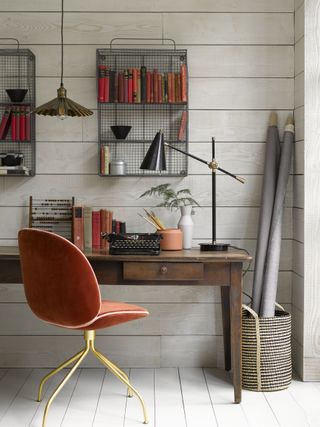 If you're working with a neutral scheme – we love this use of white wood paneling on both the walls and floors – you might consider incorporating an accent feature to add depth and create more interest within the space.
Opt for a statement piece of furniture in red, burnt orange or another shade that's attention-grabbing, then incorporate the tone more subtly throughout the rest of your scheme – styling shelves with books in your chose shade is a great and very easy example.
48. Add art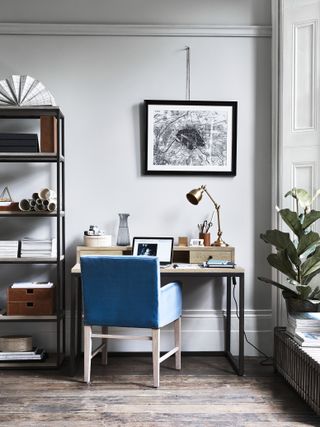 One of the very best home office ideas. A piece of art will give you both escapism and decor in one. Hang your favorite abstract piece in your eye-line for maximum impact.
49. Add pops of color with paint samples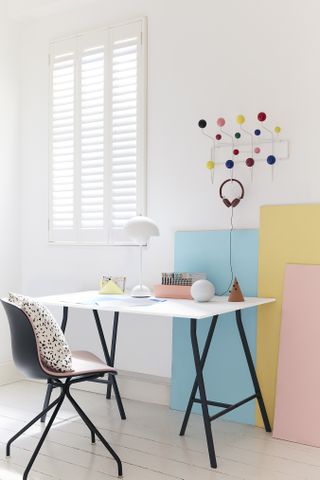 It's not just us that's working from home more, it's our teens and uni aged kids too, so make them a fun space to encourage them out of their beds to do a bit of online studying! Opt for modern furniture and pops of color to make this workspace more inviting to them, as above.
This light and airy space has natural light from the window. If you don't like blinds, then consider a shutter – while they can be pricey, they are great for privacy and security too.
50. Create a customized desk, then paint it to suit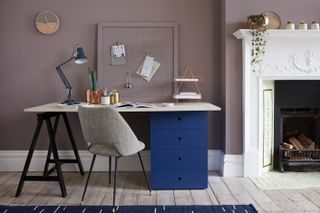 Buying your home office furniture from somewhere like Ikea (ie, it's not costing a bomb)? Customize it with paint, as above with the blue drawers, and use that as a starting point for your whole scheme. To make it work choose a desk and seating that ties in with the rest of the room – here, the pale blond desk top and trestle legs work well with the bare floor-boards and jet black of the fireplace. The copper plant pot on the mantle links to the copper accessories on the desk – it's all in the details!
51. Get organized with a DIY wall planner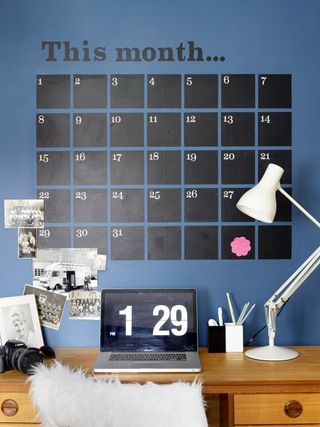 So now you have your little nook filled with your furniture – it's time to make it really practical by adding a wall planner. These are great for jotting in meetings, deadlines and all those fabulous weekend plans we are all making at the moment. It's super easy and cheap to create the look at home; all you need is masking tape to create the grid and chalkboard paint to create the squares. Remove the tape once the paint is dry and then fill in the numbers with a chalk pen. Easily done for under a tenner and it looks fab!
52. Shutters as your number one window treatment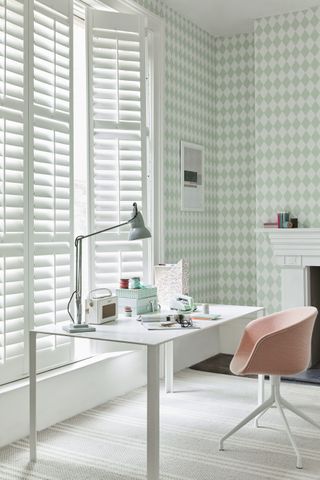 Shutters are brilliant for home offices: they keep the light filtered so it's always at the right levels, they ensure privacy and security, and of course, they're great for allowing in a draught when it's hot outside, or keeping out the cold when it's not. Take a look at our guide to how to choose shutters for more info.
53. Pick a monitor designed for small home offices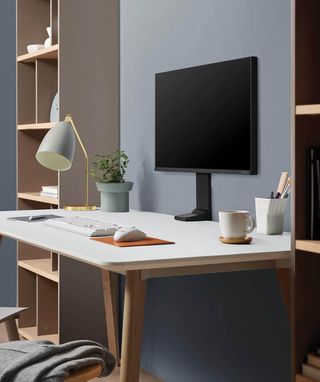 Home office ideas don't always require mounds of space. Having the space for a dedicated home office isn't a choice we can all make – but that doesn't mean you still won't need to work from home occasionally, find space for a passion project, or need a specific spot for the kids to sit down and do their homework. So, what to do if you're limited on space, and particularly desk space? The clever, space-saving (clue's in the name) Space Monitor could be the answer.
What makes it so special? Put simply, it's a super slimline screen that can be placed, flush, against a wall, as well as adjusted to a variety of other angles, depending on what suits you.
54. Add a cork board wall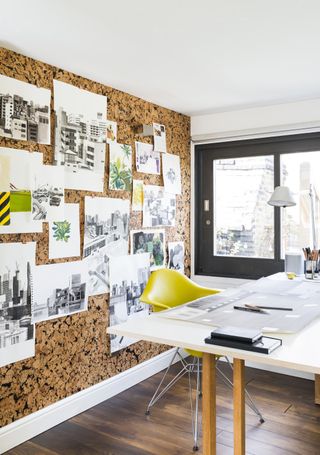 Take your cork memo board up a notch and add a whole cork board wall. It's an easy DIY job too, all you need to do is cover a wall in cork tiles – you can pick them up from Amazon, then just get decorating!
55. Create a home office in an unused landing space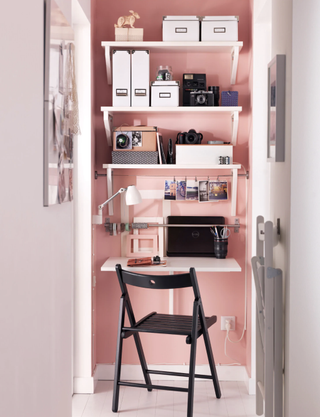 If space really is at a premium, a drop leaf table and folding chairs you can hang on the wall in your landing is a genius idea. That way, you can fit your home office into the tightest, shallowest of spaces, without taking up loads of room. This Norberg set up is by Ikea (of course it is).
56. Experiment with metallic paint in your home office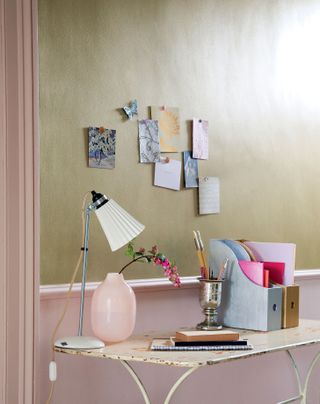 Metallic paint has come on leaps and bounds, and this shade from Crown has great coverage. Use it to zone a wall that you can pop your desk against and create a pinboard for inspirational images and quotes. The calming blush colour works really well with a metallic paint – accessorize with gold, silver and pink stationery to tie the two shades together.
How can I make a home office in my bedroom?
Need home office ideas for a bedroom? 'In house-shares and homes with teens, sometimes the only sensible spot for work and study is a bedroom, which can make it tricky to switch off at the end of the day.', says Patrick O'Donnell, brand ambassador for Farrow & Ball.
'To turn a corner of any room into a dedicated workspace – that doesn't stick out like a sore thumb – try painting a mounted desk in the same color as the wall.'
'This keeps the contrast low and creates a more soothing look, especially in focus-promoting greens and blues.'
How can I make a home office with no space?
'If you're lucky enough to have an unused alcove or an old kitchen serving hatch, why not make a feature of it by painting the interior. Voilà: an (almost) instant workspace.', says O'Donnell.
'Kids will especially love these secret pockets of color for after-school homework sessions, but they're just the right size for part-time home workers to pop a laptop on, too.'