Designing a home office? Whether you are working with a dedicated room, a built-for-purpose garden room, or small study space in the corner of your living room, we've got you covered with our design tips to help you create a space you (almost) won't want to leave...
1. Keep your home office multi-purpose
If you home is slightly on the small side, having a space that is purely dedicated to working from home, may seem like an impossible dream. But just because you don't have an extra room to turn into a home office, that doesn't mean you can't squeeze in a small desk and some essential office storage into your bedroom or living room. When you aren't WFH the space could double up as a sideboard or a dressing table.
2. DIY a functional home office feature wall
There are plenty of wall planners and noticeboards on the market to help you organise your time, but if you fancy a project, why not make your own? All you need is some masking tape and chalk paint to get started, or alternatively some corkboard and spray paint if you need something you can pin notes to.
A blackboard calendar wall sticker, from Ferm Living, allows the owner of this office in a colourful Victorian semi to keep track of appointments. The Mid-century desk was originally a dressing table bought on Ebay for £40. For a similar chair, try Made.com.
3. Hide a home office under the stairs
Reclaim the space under your staircase with a made-to-measure home office. Not only can office shelving be designed to fit right up to the underside, it's a great opportunity to create a feature by displaying favourite items and photos. Opt for purpose-built office furniture so you can incorporate useful components, such as slide-out cupboard shelves that are ideal for housing printers and scanners or bulky equipment that you may not want on show.
4. WFH not quite working? Build a garden office
For properties that may have planning restrictions, having a standalone garden office is an efficient use of outdoor space. Designate it as a work space from the outset and it can be fitted out accordingly with power points, tailored lighting solutions and natural light from large windows. Properly insulated, it will be as comfortable as any room in your home.
5. Opt for an alcove office
Alcoves are usually a pretty neglected space so put them to work and use the empty space create a small home office. Even if you cant squeeze in a desk you could install a wall mounted work surface with shelves and cupboards fitted above.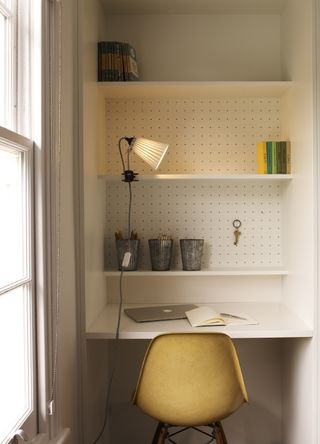 6. Keep your home office clutter-free
Look for adaptable home office storage solutions to that can grow and be adjusted as your needs change. Open storage is also a great option for a home office, they are easier to keep organised and accessible. The storage system from String is incredibly versatile and can be built to perfectly fit your space, there are also drawers and cupboards too that can be added.
7. Save space with a wall mounted desk
If you have some extra-wall space in your home but not enough space to put an actual desk, go for a wall-mounted drop down desk, pair with an adjustable chair and modular, freestanding storage and you'll have an instant mini office.
8. Create a workstation with a ladder desk
Proof that you can fit a home office into the smallest of spaces – a ladder desk includes everything you would expect from a home office but doesn't take up any precious square footage.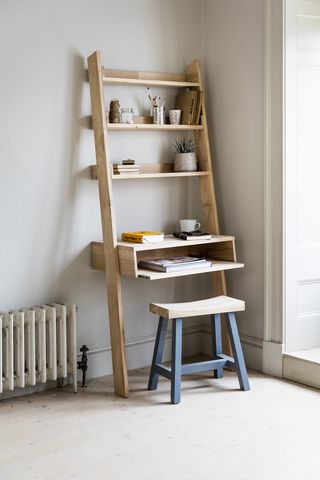 9. Choose free-standing furniture for flexibility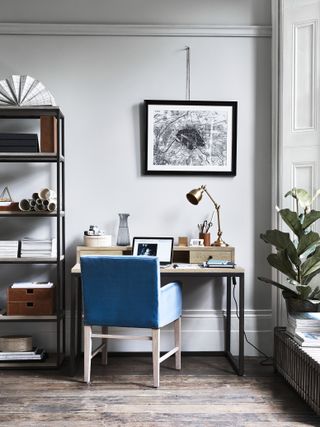 If a fully fitted office is beyond your budget, find freestanding solutions that are more mobile. A double-sided desk is useful if you're sharing the space, and opt for drawers on wheels that can be rolled under a desk and easily switched around for a fresh new look.
10. Pick a paint colour that will boost your productivity
Different colours affect our moods in different ways, so choosing the correct paint colour for the room you plan on working in is no small matter. While plain white may be tempting, an all-white room can create an overly clinical atmosphere. Surprisingly, the colour that has been revealed as the ultimate productivity booster is . . . orange. This does not mean that you have to paint your home office a garish shade; choose a stylish hue such as Book Room Red from Farrow & Ball. If reds and oranges don't appeal, try a combination of soothing greys, greens and blues.
Looking for more home office inspiration?