1. Keep your home office multi-purpose
Much as we would all love to design a home office that is dedicated just to home-working, few of us have the space. This doesn't mean you can't have a pleasant area to work in though. Any corner in any room can be used to house a small desk and some essential office storage.
Creating a concealed workspace (like the one below) allows you to pack the working day away — essential in a space that has to fulfil more than one purpose.
This bespoke storage unit from Schmidt features a drop-down table for working on, which can then be lifted to neatly hide everything away. Sliding doors allow you to reconfigure the look when needed. Priced from £1,500
Read more:
2. Make function a home office feature
There are plenty of wall planners and noticeboards on the market to help you organise your time, but if you fancy a project, why not make your own? All you need is some masking tape and chalk paint to get started, or alternatively some corkboard and spray paint if you need something you can pin notes to.
A blackboard calendar wall sticker, from Ferm Living, allows the owner of this office in a colourful Victorian semi to keep track of appointments. The Mid-century desk was originally a dressing table bought on Ebay for £40. For a similar chair, try Made.com. Lamp, Anglepoise
Read more in our expert buying guides:
3. Stash a home office under the stairs
Reclaim the spare space under your staircase with a made-to-measure home office.
Not only can office shelving be designed to fit right up to the underside, it's a great opportunity to create a feature by displaying favourite items and photos.
Opt for purpose-built office furniture so you can incorporate useful components, such as slide-out cupboard shelves that are ideal for housing printers and scanners or bulky equipment that you may not want on show.
Check out more clever under stair storage ideas.
Luca fully fitted home office in Alder, total W250cm, from £1,800 including design, delivery and installation, Sharps
Read more:
4. Fit versatile furniture
This desk has been built as an extension of a banquette-style dining nook, yet remove the chair and computer and it could easily revert to being a dresser. Reduced-depth units work well in the narrow space and what it lacks in size, it more than makes up for in clever design. It also features a concealed pop-out power point and wide drawers and cupboards for storing paperwork.
Bespoke Classic hand-painted oak furniture in Light Blue by Farrow & Ball with wholestave oak work surface and shelving, from £5,000, Roundhouse
Read more about desks in our expert buying guides:
5. Open up your space
This extension includes a centrally placed clear desk to prevent the floor area being interrupted. Wraparound shelving allows the glazed sides to be a focal point.
Bespoke fitted bookcase in oak veneer, left wing measures H230xW204xD50cm, right wing measures H230xW160xD50cm; base units, H96xW547x D53cm, from £1,200 per metre, Barbara Genda Bespoke Furniture
6. Create a home office in the garden
For properties that may have planning restrictions, having a standalone garden office is an efficient use of outdoor space. Designate it as a work space from the outset and it can be fitted out accordingly with power points, tailored lighting solutions and natural light from large windows. Properly insulated, it will be as comfortable as any room in your home.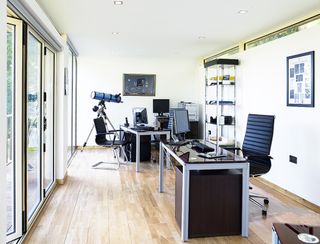 Modular Garden Studio with steel frames, timber cladding and aluminium doors and windows, H300xW900x D450cm, from £17,055, Atelier Garden Studios
Read more about garden offices:
7. Add a touch of luxury to your home office
Your office doesn't have to be a dark den to squirrel yourself away in while you work — make it look and feel like a place you want to spend time in. Treat it as you would any other room of the house. Invest in the best quality furniture your budget will allow, have a strong design scheme that reflects your tastes and adorn it with items that mean something to you.
This is all the more important if you have visits to your office from clients, so that your give a professional first impression.
The Atelier Desk (£1,660) and Girado Office Chair (£1,649) by Team 7 are made from sustainably-sourced, solid wood and can be purchased from Wharfside
Read more about finding the best office chair in our expert buying guides:
8. Pick home office design details carefully
While a desk is a must, there's no reason why it can't be planned as part of another piece. Here, a peninsula-style extension of built-in shelving is wide enough to seat two people. Desktop accessories, such as an angled desk lamp, can be housed to one side on the shelves, while a floor-to-ceiling window, unobstructed by furniture, presents a light-filled vista. Bespoke Harewood study with leather desk inlay, H75x W150xD60cm; shelf, D38cm. Recessed LED lighting with Cravache and Barbuda chairs and table lamp by Christian Liaigre.
An equivalent design starts from £30,000, Gregory Phillips
9. Keep your design clutter-free
A modern home office needs a layout that keeps everything in its place, yet is easily accessible. Frosted glass-fronted file cupboards are an inspired addition — you can see what's inside at a glance, plus they're less visually intrusive than having everything on display, enabling your space to stay neat and tidy.
Creator home office in walnut effect, H230xW270xD65cm, from £4,700, John Lewis
Read more about keeping your office organised in our storage buying guides:
10. Find a corner for a home office
Use compact, flexible elements to convert your space with a drop-down desk that needs no leg room and minimal wall space. Pair with an adjustable chair and modular, freestanding storage — these stacking cubes can be flipped to form mini tables.
Congress chair, H81-90xW60xD62.5cm, £191.50; Spacebox desk, H83xW90xD14-60cm, £287; Crossover stools in white and grey, H42xW42xD42cm, £116.50 each, all Calligaris
Read more:
11. Colour co-ordinate in a multi-purpose space
When it comes to a compact home office, its essential components are far more flexible than a bedroom or a bathroom. Not only does this example make the most of the alcove space, it provides a memo board and reduced-depth drawers and worktop for extra functionality.
Milbourne cabinetry in Almond, with solid-maple surfaces and built-in lighting, H216xW190xD58cm. A similar design costs from £1,200, Second Nature
12. Use vertical space in a small room
Take advantage of high ceilings by building office storage up as far as it'll go. Modular open shelving keeps the design light and spacious, and splashes of colour will add personality.
Reclaimed timber Nidi desk in Bianco with Luce wall unit in Mirtillo Blue, H73xW120x D60.5cm, £395; Luce two-shelf wall units in Limone and Bianco and Mirtillo Blue and Bianco, H75xW31xD33cm, £110 (two doorless), and £135 (three with one door, one shelf); Luce single wall cube in Limone and Bianco, H38xW31xD33cm, £95 each; Tak chair in Bianco, H86xW45xD44cm, £195; Black stool, H48xW24xD24cm, £150, all Nidi Design at Nubie
Bespoke study furniture in a lacquered paint finish. Room measures W300xD400cm, from £15,000, Chamber Furniture
13. Choose free-standing furniture for flexibility
If a fully fitted office is beyond your budget, find freestanding solutions that are more mobile. A double-sided desk is useful if you're sharing the space, and take the chance to introduce colour via cabinets or storage boxes — it can be easily switched around for a fresh new look.
Hissmon/Nipen table for two, H73xW150xD75cm, £115; Helmer steel drawer units on castors in red, H69xW28xD43cm, £25 each, Vågsberg/Sporren swivel chair, H54xW45xD39cm, £40, all Ikea
Find everything else you need for your home office in our home office buying guides:
14. Pick a paint colour that will boost your productivity
Different colours affect our moods in different ways, so choosing the correct paint colour for the room you plan on working in is no small matter. While plain white may be tempting, an all-white room can create an overly clinical atmosphere. Surprisingly, the colour that has been revealed as the ultimate productivity booster is . . . orange. This does not mean that you have to paint your home office a garish shade; choose a stylish hue such as Book Room Red from Farrow & Ball. If reds and oranges don't appeal, try a combination of soothing greys and greens, such as Manor House Gray and Cooking Apple Green.
More home office inspiration: