What would you like to do with your spare bedroom (if you're lucky enough to have one)? If you live far out in the country, you may well need to dedicate this space to friends and family staying over. On the other hand, if you rarely have guests, your spare bedroom can be your own personal project, to design as you please.
From home cinemas to gyms and libraries, here are the most creative ways to repurpose you spare bedroom.
1. Revamp your spare bedroom with bright paint
While you may be reticent about going too bold with the colour scheme in your own bedroom, having a spare room is a fantastic opportunity to be more daring with paint colour and pattern.
This spare bedroom look has been created with bedlinen and bedroom accessories from Amara.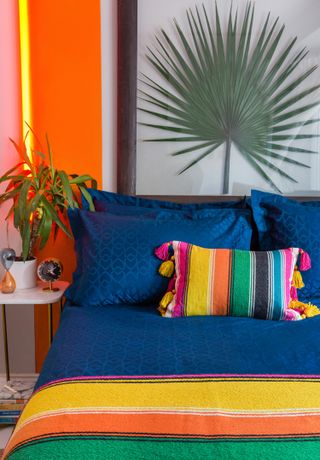 2. Give your spare bedroom a vintage bar look
Transform your spare bedroom into an Art Deco inspired lounge – and you have an intimate cocktail bar in your own home! Pick characterful furniture, add a bar trolley or wine rack, and you're ready to impress your guests.
We like the Dutchbone Art Nouveau Flower Tub Chair from Cuckooland. With its curved shape and emerald colour, it is guaranteed to make a statement.
3. Create a home office in your spare bedroom
Spare bedrooms tend to be on the smaller side, but most will fit a desk and a chair, especially if you opt for a space-saving day bed rather than a full-sized double bed. Add a stylish lamp and you have your own writer's nook or mini home office.
This cosy home office area was put together by designer Rosalind Wilson.
4. Use the spare bedroom as a sewing room
Good with the sewing machine? Those rolls of fabric, mannequins and sewing apparatus sure take up a lot of space. With the luxury of a spare bedroom, you can create a craft studio. Mix and match storage units, storage boxes and baskets to create a tidy space.
For a wide range of storage solutions, see Ikea.
5. Create an exotic boudoir in your spare bedroom
Turn your spare room into an exotic hideaway that evokes your favourite holiday destination.
Home accessories from Kalinko will (however briefly) transport you to far-flung Burma, where they are made by hand.
6. Transform the spare bedroom into a library
If you don't need a dedicated guest bedroom, how about investing in a home library instead? Create a dedicated book storage area with bespoke shelving or freestanding bookcases.
Bespoke shelving by Neville Johnson is used in this spare bedroom to create a perfect reading space.
7. Repurpose your spare bedroom into a home gym
Whatever your workout of choice, your spare room is a good place to burn some calories. Invest in a treadmill or punch bag for relieving end of day stress.
As Pottery Barn demonstrates here, a home gym needn't lack style.
8. Make a statement with a special desk
No one does 70s Hollywood glamour quite like designer Jonathan Adler. With a whole spare room to play with you can create the work space of your dreams – starting with the striking Channing desk (£1,950).
9. Create a wrapping station
In busy households it's helpful to have a decent wrapping station – that is, an organised spot to store giftwrap, cards and stationery. It might sound extravagant, but it won't just come in useful at Christmas if you have children who seem to attend birthday parties almost weekly.
Brintons show how it's done with a functional yet homely integrated workspace.
10. Reserve your spare bedroom for dressing
If you don't have the square footage for a dressing table in your bedroom, reserve a space in your spare room to store yourbeauty essentials.
The Brodi Dressing Table from Habitat is so compact that it could double as a bedside table for any guests, too.
11. Use the spare bedroom for a walk-in wardrobe
What could be more indulgent than a bespoke walk-in wardrobe? If your own bedroom is severely lacking in storage space, you could build a walk-in wardrobe in the spare bedroom instead.
Check out NEJ Stevenson for bespoke cabinetry and wardrobes.
12. Go multi-purpose with a sofa bed
When overnight guests are few and far between, a sofa bed really comes into its own, allowing you to reserve the spare room for use as an office or relaxation area, instead of a dedicated bedroom.
The Henry 'bed in a box' from Sofa.com looks like a footstool but folds out, providing an extra place to crash when needed.
13. Create a relaxation area
On extra cold days, it cab be best to heat one smaller room than trying (and failing) to keep the whole house warm. Install a woodburning stove – perfect for small, snug spaces – and curl up with a book or your favourite TV show.
Danish-made Morso stoves are guaranteed to keep your spare bedroom cosy and warm.
14. Convert the spare bedroom into a home cinema
Make staying in the new going out with a home cinema. All you really need is some good seating – think a sofa and some beanbags – and a blank wall to project films onto. Plus an obligatory bar cart, or popcorn machine.
Coleccion Alexandra UK specialises in cinema rooms, if you're after something more on the luxe side.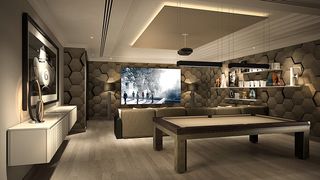 15. Create a comfortable retreat
Create the ultimate escape for your guests – or yourself – by giving your spare room a 5*-hotel-worthy makeover.
Quality bedlinen is key. The White Company has everything you could possibly need in this department – their Brompton bed linen starts at £35.
Read more: