If you've got a rarely used dining room, a box room that's never put to good use, space in an open plan kitchen, living room and diner or you've given the biggest bedroom in the house to the children, you must, somewhere along the line, have wondered whether a playroom (or at least a devoted play area) would be a good idea.
These playroom design ideas are suited to small rooms and larger spaces, to open-plan areas and to rooms with doors (you can firmly shut). Be inspired to get your project on the go – and of course, take advantage of our hard-won advice to design a playroom for your children.
Before we start, bear in mind that young children WILL need to be monitored closely in any room that has a swing, rope, climbing equipment – or anything, frankly, that might be a choking hazard.
Don't have the space for a dedicated playroom? Fear not, just check out our children's bedroom design ideas, there's plenty of tips and tricks for incorporating plenty of play space.
Related articles: 11 small kids' bedroom design ideas | 15 inspiring paint ideas for kids' bedrooms | The best kids' beds for modern homes
1. Create a multi-activity space
We all know that very young children have pretty short attention spans, so in an ideal world you'd provide them with a room packed with variety – a playhouse, a swing (attached to a rafter that you can hang up high out of reach for when they're not being watched), their favourite toys in drawers they can access easily... In other words, the more you can pack in, the longer you'll get between pleas for attention or help.
Check out our toy storage ideas for ways to store every kind of toy (although expect no help from your youngsters in keeping things neat, obviously).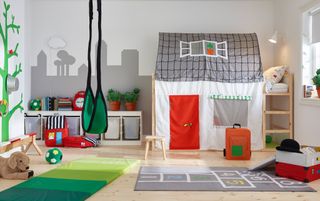 2. Build a mega toy storage system
Playrooms benefit from as much storage as possible. Where budget allows, shelves and cupboards fitted across an entire wall will look neat and take up little floor space. Combine open and closed shelving to display decorative toys and books and hide away anything that isn't quite as pretty.
The bespoke shelving in this playroom also includes desks which can be used for crafts or homework.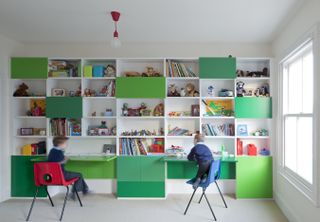 3. Choose practical flooring
Super hardwearing and highly scratch resistant, vinyl flooring is not only a great for playing on – the smooth surface makes it perfect for doing jigsaws, playing games and for playing with cars and trains. It's warm and soft underfoot, easy to clean, and has outstanding noise insulation, making it the perfect choice for busy playrooms. This flooring is from The Colour Flooring Company.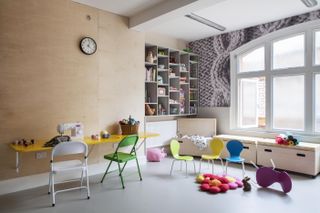 4. Devote space to phys ed
An indoor climbing frame like this one from Niro Sport is ideal for rainy days when kids can't get outside. The poles are held in place between the floor and ceiling using tension, so no need for drills, hammers or nails. Our advice? Put very soft or padded flooring beneath.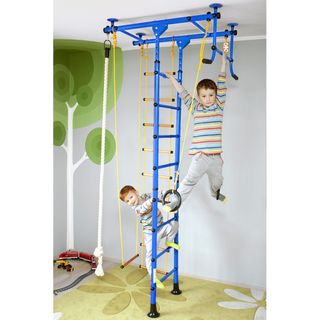 5. Pick a fun playroom colour scheme
Whatever colour you choose to paint your playroom, make sure the finish is, at the very least, wipeable. Paints with a low sheen are more durable than matt emulsions, and any marks can be wiped off without damaging the paint. If you do choose a paint with a matt finish, use a tester pot first to check if the finish is chalky. If it is, it won't wipe down well.
Check out the best selection of paints for kids' rooms – from low VOC to glittery finishes in our buyer's guide. Paint colours shown, Farrow & Ball.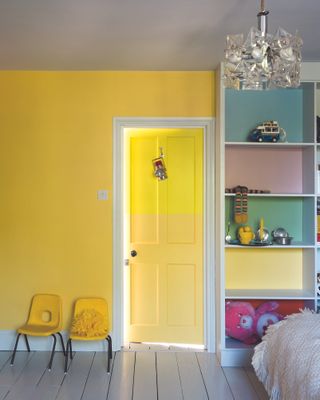 6. Make room for play in a bedroom
No room for a separate playroom? That doesn't mean you can't incorporate one into your child's bedroom. Here's how: either choose a bed that looks like a fort, castle, racing car or can be easily transformed like this one with the addition of a fabric canopy; use the bed design as inspiration for other parts of the room (whether colour or theme); stock up on tall storage that takes up very little floor space (whether tall cabinets or under-bed storage) then devote the room you have left to at least one large imaginary play toy – whether a racing track, play kitchen or play shop.
Check out our selection of the best kids' beds – from singles to bunks to cabin beds.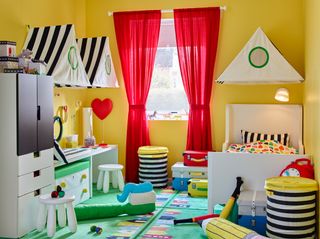 7. Install a climbing wall (really)
Take inspiration from this playroom created by Roselind Wilson Design and build your energetic kids a climbing wall fixed on to a solid wall, painted with black chalkboard paint. You might need to enlist the help of your child to plan the position of the holds – put the first couple in place then get them to stand on them and stretch to work out the best placement for the others. You can buy climbing holds at Holdz.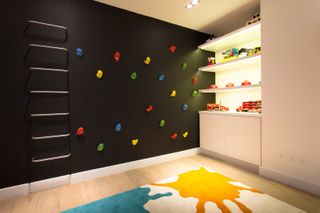 8. Choose a bed that stimulates imaginative play
If you don't have the space for a separate playroom, the best way bar none to create one in your child's room is to buy them a raised bed with room underneath for them to create a den. Permanent curtains across the bottom half of the bed or loosely draped bedclothes is all you need. You may need to persuade them from sleeping there too, though.
Check out our selection of the best kids' beds – from singles to bunks to cabin beds.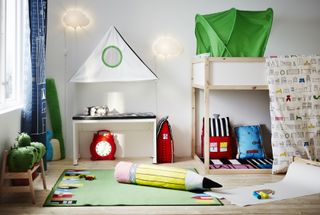 9. Provide a dressing up rail
If your children love to dress up, creating an area with a child-height clothes rail, trunk and low level mirror is a must. This one is by Great Little Trading Company, but if space is tight, pick one that can be fixed to a wall.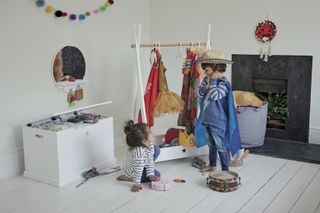 10. Pick flooring that stimulates play
Flooring needn't just be practical – why not find a rug that stimulates play, too? This hopscotch rug looks great, is good fun to play on, and also helps to teach little ones numbers and balance, but yours may prefer a rug race track?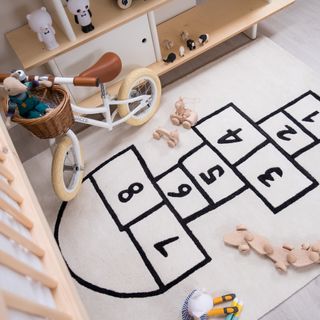 11. Gear up on roll up play mats in a shared space
If your child's playroom is within an open plan kitchen diner, you'll want a play mat that doubles up as storage, too. This clever Play & Go storage bag from Soren House has a thunderbolt design on one side and a roadmap print on the other. It folds out so it can be used as a play mat, then pulls together and fastens at the top keeping all the toys inside. Perfect for storing cars, Lego and other small toys.
Find tons more clever Lego storage ideas in our guide.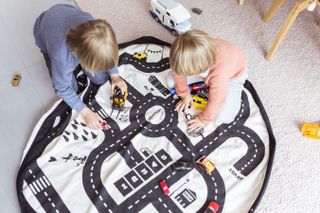 12. Paint a mural to make the playroom fun
While we wouldn't suggest going all out on a theme for your playroom, we love the painted mountains (pretty easy to do yourself with some masking tape – forget the scalloped bits if you're not confident), and cloud lights and shelves. You can create a similar look with a mural – see our mural design ideas for inspiration.
The soft play area in the centre of the room is also a great idea. Have something made to measure with fabric covered foam blocks, or use floor cushions, gymnastic crash mats, or a crawling area like this one from Jump Bounce.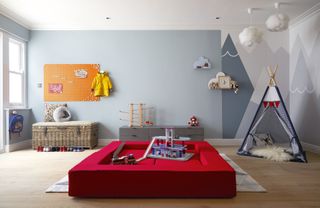 13. Plan in a book corner to encourage reading
An area to chill out (or calm down) is a must in a play area, so make room for book storage that's accessible to encourage them to pick up (then hopefully put away, but who are we kidding?) their favourite reads.
Find all our kids' book storage ideas in our guide.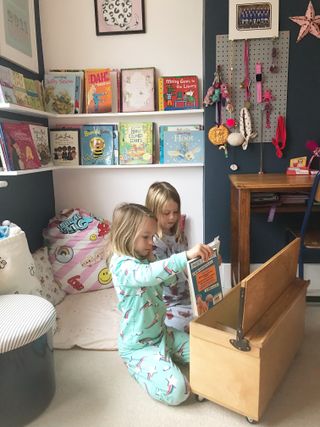 14. Think ahead, they'll soon be teenagers
Just a heads up – you're planning a playroom now for youngsters, but it won't be long until this is your (sooner-to-be-than-you-think) teen's idea of a dream playroom: space to study, space to lounge, space to play drums (although we wouldn't encourage that).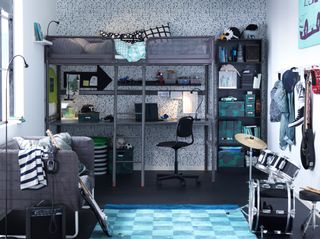 15. Combine traditional elegance with a play space
Lucky to live in a period propery full of gorgeous, antique furniture, and wondering how to make it fun for the little one without ruining the elegant design scheme? Luckily, there are plenty of playroom accessories that will fit right in with a traditional decorating scheme. If you are really dedicated, look for antique toys (shock horror: the Victorians also had children) – Ebay will be a good place to start. Or, if you simply want something that is timelessly elegant, have a look at the beautiful range of toys from Kidly that will fit right into a traditional room scheme.
This gorgeous playroom in an 18th century cottage proves that even the more elegant room can be made child-friendly.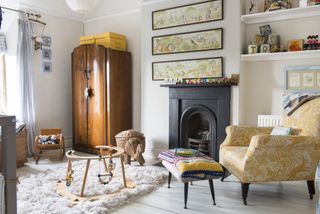 16. Decorate with bold colours
In a playroom you can really indulge your (or your child's) love of colour. Choose from bold graphic wallpaper designs like this or wallpapers for children's rooms to make your scheme age-appropriate.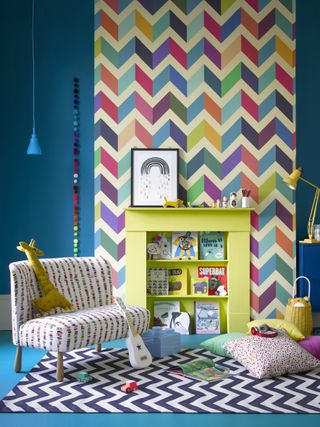 17. Paint a chalkboard wall
We are aware that doodling on the walls is usually strictly forbidden, but painting a chalkboard wall is a way for kids to customise their own playroom. It's also a great idea if you are decorating on a budget, because you can easily DIY one yourself, just check our step by step guide to find out how.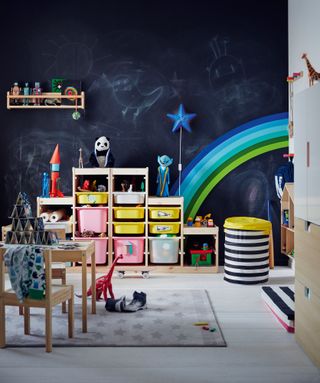 More on kids' stuff: