From pretending the floor is lava to making forts out of cardboard boxes, kids will use their imagination to entertain them. So designing playroom ideas should be child's play right?
Unfortunately, it's not as simple as you may think. Combine kids bedroom ideas with a shoestring budget, and this project may not appear feasible. But that's where we are here to help!
Rather than scooting them outside in the backyard or porch and leaving them to mix magic potions from mud, our interior design ideas are innovative and cost -effective.
You may be asking yourself why your child needs a separate space. Surely a bedroom will do just fine. But Adam Browne, Managing Director at Painted Furniture Company says: 'At a time when our homes have become so much more important, children need a calming space to call their own where they can sleep, relax, read, chat with friends or even do their schoolwork.'
1. Create a roaring scheme centered around wildlife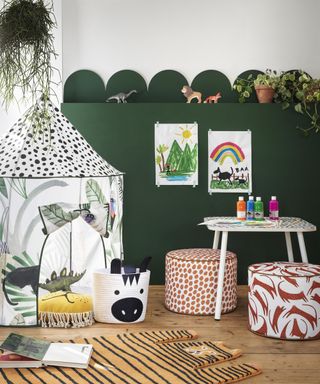 'Hand-drawn fonts and animal illustrations were designed to inspire and educate, crammed full of jungle characters and prints that kids can learn about with family and friends. We've given the animal characters a playful twist, seen in leaping tigers, mischievous baboons and chilled out cheetahs.', says Abigail Clarson, senior designer at Habitat.
'By experimenting with scale in oversized animal artworks, subtle botanic prints and small-scale geometrics, we've created an eclectic yet cohesive look that's easy for parents to achieve through a mix and match approach.'
2. Create a playroom from thrift shop finds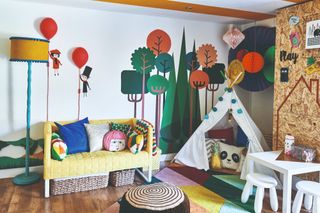 If you thought you needed to kit your playroom design out with brand-new furniture and boutique soft furnishings - think again. The best decorations can often be found on online auction sites, flea markets and yard sales. This ground-floor playroom features hand-painted murals and plenty of handmade items, such as the tipi.
'The tree stump pouffe actually houses an old tyre,' says Chloe Spillett, a homeowner from Essex, England.
'I topped it with MDF and foam and covered with an old velvet curtain I found in a charity shop and some felt.
OSB or oriented strand board is also an affordable way to create a feature wall for your playroom decor. Chloe says: 'It doubles up as a memo board.
'The girls can pin their favorite things and artwork to it.'
3. Instill creativity with an imaginative mural design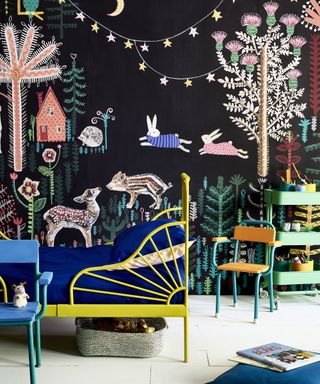 Known for her years of creative commissions and uniquely colorful designs, we can always rely British interior designer Lucy Tiffney to inspire us with her bold large-scale motifs.
No matter whether you passed with flying colors in your Art class, organic and abstract hand-painted designs can add heaps of character to a kids playroom design.

This is one interior idea that you can get the kids involved in. However, we won't be held responsible for the messy fingerprints or excess paint you'll see in their hair for days. So when working out how to design a kids room, remember to get suitably dressed, cover up expensive items and prepare for hours of fun!
Pair with equally colorful storage and furniture ideas for a youthful design that will excite your young family and encourage hours of playtime.
4. Add 'mini-me' grown-up seating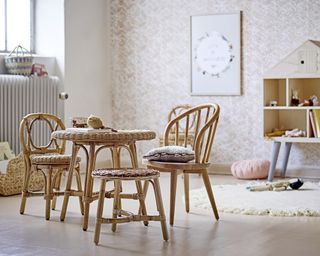 Believe it or not, those aches and pains you get when you hit 30+ don't just happen overnight. Practicing good posture starts from our younger years. So an appropriate seating area is essential for drawing, reading and other arts and crafts.
Not just for 'adult' living areas or garden furniture, we think this rattan table and chair set from Sweetpea and Willow makes for the sweetest of playroom setups. Light but sturdy, this natural piece will add a lovely organic feel to a play area and won't scrape or damage floors like metal or wood can.
5. Create a pop-up play area in your living room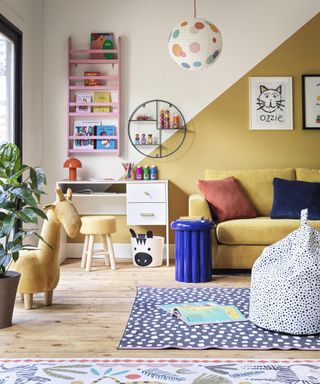 'Create a cute kids corner with a slimline wall-mounted bookcase housing favorite books and toys. The four gallery-style shelves are cleverly designed to display book covers, making choosing a bedtime story easier than ever.', says Anna Cross, home living buying manager for Habitat.
'Available in a series of block pastel colorways and with a slim profile, it can seamlessly blend into communal areas for those creating a study space in the family living room."
6. Create a gender-neutral Scandi scheme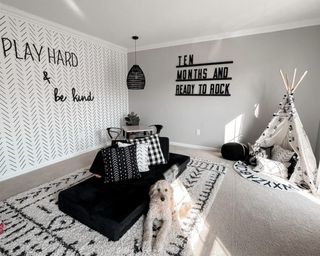 With a healthy Instagram spanning 11.4K followers, Home Decor and DIY mumma Brie from @Roostonrodgers certainly knows how to rule the roost when it comes to styling her suburban farmhouse in Pittsburgh, Pennsylvania.
And we're sure you'll agree that this monochrome scheme is almost too cool for school! Commenting on the playroom design idea, she says: 'Completing this playroom as one of my favorite projects!
'I love everything about this room, but the best part in my opinion is this accent wall.'
To create this look, she used a Herringbone wall stencil from STENCILIT, a gorgeous independent retailer that can be found on Amazon Handmade and Etsy.
Then, to build upon this iconic background, she used wood letters from Craft Cuts to create a slogan wall design displaying the phrase 'Play hard & be kind'.
The handmade letter board put together by Brie and her husband is often updated and features on her Instagram whenever she has news to share. From announcing her son's age to adding candid captions, this is a fun and easy way to update the space quickly.
On the other side of this kid's room idea, Brie has used a chalkboard design which blended in seamlessly with the black, white and cream decorations. Styled with an alphabet motif rugs, emulating this look is as easy as A-B-C!
7. Create a ground floor playroom under the stairs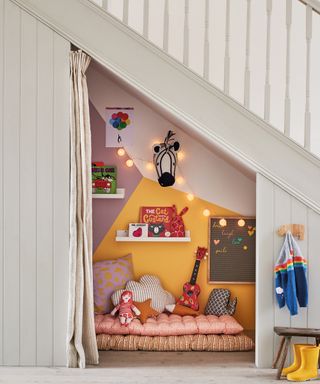 For most of us, an under stairs storage space is an opportunity to hide a vacuum cleaner, a few pairs of shoes, cleaning products and a secret stash of wine. But have you ever considered that it may also be a great playroom idea?
Far from the snug squalor that Harry Potter was subjected to, this bright and airy space in your hallway will mean that you can keep an eye on your kids.
No longer will you hear mysterious knocks and crashes from the upstairs landing, or more scarily - the sound of complete and utter silence. Instead, you can keep a watch on little ones whilst cooking in the kitchen or entertain guests in the living room.
8. Introduce an interesting bookshelf idea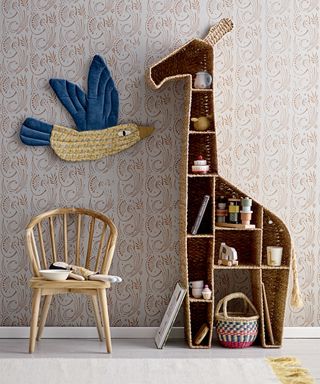 If you've a bookworm that likes to dive into a fictitious world, then incorporating a reading nook in your playroom design gets a thumbs up from us.
But if your beloved Billy bookcase from IKEA is just a little basic, then why not invest in a statement shelving idea to store their books?
This gorgeous giraffe design from Beaumonde is made from natural grass on a wire frame and would sit wonderfully in a safari-themed playroom idea or gender neutral nursery design. To ensure there's no tears, we recommend to fix this wonderful creature to a wall to ensure that it doesn't tip over.
Pair with comfortable seating designs or armchair ideas to ensure there's no sore butts while sitting down to story time.
9. Add warm lighting for an atmospheric space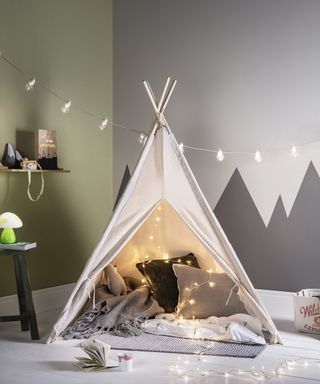 As kids get older and their bedtime schedules get later, this often means that they're often left to play in the dark or in poorly-lit spaces.
Come winter time, as the days get shorter, you'll want to provide a bright space for your little buddies to play comfortably.
So whether you want to create the look of twinkling stars in a dazzling playroom design or incorporate modern bedroom lighting ideas for little scientists, the shape and glow of your bulbs can dictate the mood you want to set.
As always, safety must come first so be sure that wires do not present a strangulation or electrical fire risk.
10. Create an art and crafts corner with lots of texture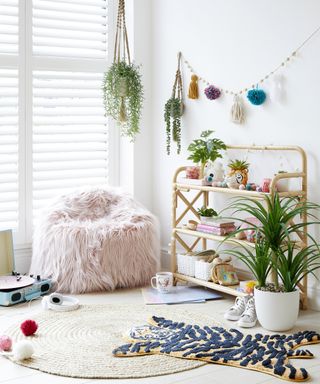 Got an older girl or boy who's into making art and craft projects? Then listen up - as we have the perfect playroom design for their decorating den. And the good news is that they'll be hands-on with the hard work needed to transform this space .
Their first task is to create a macrame plant hanger to add this bohemian and 70's soft furnishing to your space on a budget.
Then simply add some tassels and pompoms for more glam in this getaway. Consider picking up a cozy seating option, such as a fluffy or faux fur bean bag while you're there too. A jute rug and a repurposed bath mat in the trolley means we're almost there.
Lastly, style a couple of succulents in a space for a chic scheme that your child will want to be seen in.
11. Create an affordable design with wall tape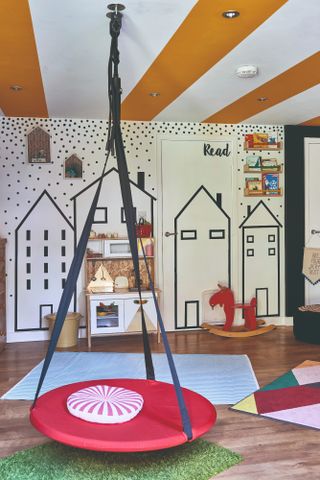 Household maintenance can be expensive and unpredictable. From remodeling to repairs, unexpected boiler breakdowns and refrigerator malfunctions, you can quickly see how your playroom funds can disappear!
But don't despair as this playroom idea not only makes sense - it costs cents too.
Simply grab some adhesive wall tape and get creative with wall painting ideas.
Whether you decide to create an abstract geometric design, or choose to create a more structured look, be sure to pencil your motif onto your walls first for an accurate execution.
And, as your child gets older and grows out of this playroom decor, simply lift the tape off your walls and redecorate as you see fit.
12. Create a multi-activity playroom design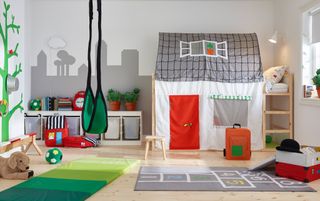 We all know that very young children have pretty short attention spans, so in an ideal world you'd provide them with a room packed with variety – a playhouse, a swing (attached to a rafter that you can hang up high out of reach for when they're not being watched), their favourite toys in drawers they can access easily... In other words, the more you can pack in, the longer you'll get between pleas for attention or help.
Check out our toy storage ideas for ways to store every kind of toy (although expect no help from your youngsters in keeping things neat, obviously).
13. Build a mega toy storage system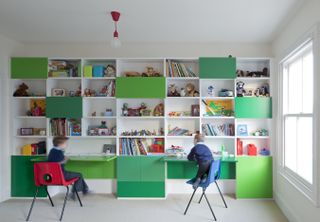 Kids' playrooms benefit from as much storage as possible. Where budget allows, shelves and cupboards fitted across an entire wall will look neat and take up little floor space. Copy this playroom idea and combine open and closed shelving to display decorative toys and books and hide away anything that isn't quite as pretty.
The bespoke shelving in this playroom also includes desks which can be used for crafts or homework.
14. Choose practical flooring for your playroom design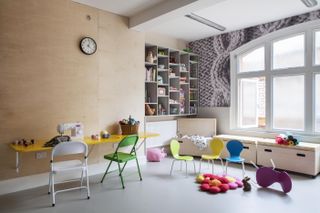 Super hardwearing and highly scratch resistant, vinyl flooring is not only a great for playing on – the smooth surface makes it perfect for doing jigsaws, playing games and for playing with cars and trains. It's warm and soft underfoot, easy to clean, and has outstanding noise insulation, making it the perfect choice for playroom designs. This flooring is from The Colour Flooring Company.
15. Devote space in a playroom to climbing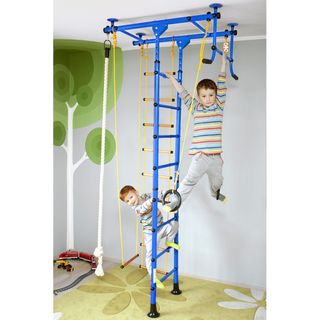 An indoor climbing frame like this one from Niro Sport is a great playroom idea, especially for rainy days when kids can't get outside. The poles are held in place between the floor and ceiling using tension, so no need for drills, hammers or nails. Our advice? Put very soft or padded flooring beneath.
16. Looking for colorful playroom ideas? Mix and match with paint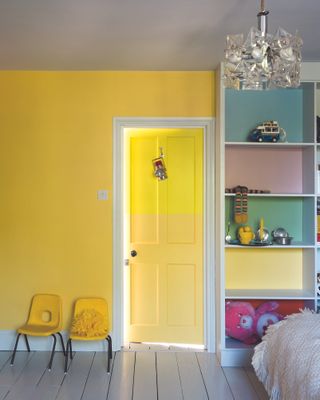 Whatever colour you choose for your playroom design, make sure the finish is, at the very least, wipeable. Paints with a low sheen are more durable than matt emulsions, and any marks can be wiped off without damaging the paint. If you do choose a paint with a matt finish, use a tester pot first to check if the finish is chalky. If it is, it won't wipe down well.
Check out the best paint for kids' rooms – from low VOC to glittery finishes in our buyer's guide. Paint colours shown, Farrow & Ball.
17. Create a kids' playroom in a bedroom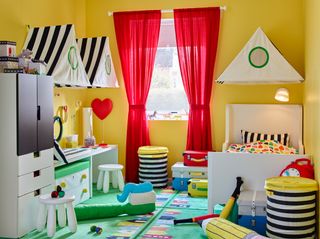 No room for a separate playroom? That doesn't mean you can't incorporate some of these playroom ideas into your child's bedroom. Here's how:
Choose a bed that looks like a fort, castle, racing car or can be easily transformed like this one with the addition of a fabric canopy
Use the bed design as inspiration for other parts of the room (whether colour or theme)
Stock up on tall storage that takes up very little floor space (whether tall cabinets or under-bed storage) then devote the room you have left to at least one large imaginary play toy – whether a racing track, play kitchen or play shop.
18. Install a climbing wall (really)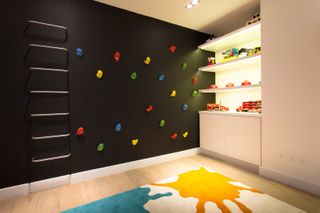 Take inspiration from this playroom idea created by Roselind Wilson Design and build your energetic kids a climbing wall fixed on to a solid wall, painted with black chalkboard paint. You might need to enlist the help of your child to plan the position of the holds – put the first couple in place then get them to stand on them and stretch to work out the best placement for the others. You can buy climbing holds at Holdz.
19. Choose a bed that stimulates imaginative play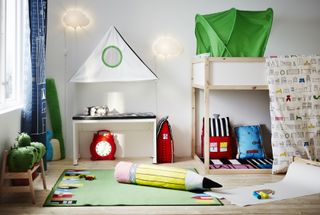 If you don't have the space for a separate playroom, the best way bar none to create one in your child's room is to buy them a raised bed with room underneath for them to create a den. Permanent curtains across the bottom half of the bed or loosely draped bedclothes is all you need. You may need to persuade them from sleeping there too, though.
20. Add a dressing up rail to a children's playroom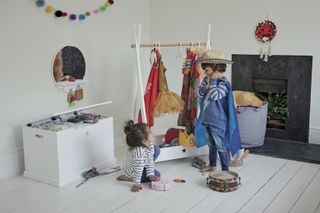 If your children love to dress up, creating an area with a child-height clothes rail, trunk and low level mirror is a must. This one is by Great Little Trading Company, but if space is tight, pick one that can be fixed to a wall.
21. Pick flooring that stimulates play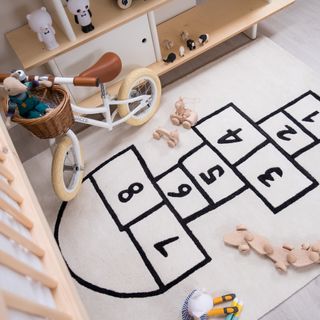 Flooring needn't just be practical – why not find a rug that stimulates play, too? This hopscotch rug is a great playroom idea, is good fun to play on, and also helps to teach little ones numbers and balance, but yours may prefer a rug race track?
22. Gear up on roll up play mats in a shared space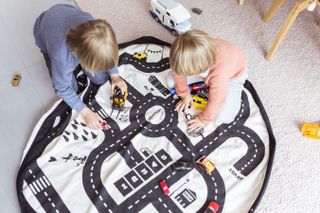 If your child's playroom is within an open plan kitchen diner, you'll want a play mat that doubles up as storage, too. This clever Play & Go storage bag from Soren House has a thunderbolt design on one side and a roadmap print on the other. It folds out so it can be used as a play mat, then pulls together and fastens at the top keeping all the toys inside. Perfect for storing cars, Lego and other small toys.
Find tons more clever Lego storage ideas in our guide.
23. Paint a mural to add pattern to your playroom design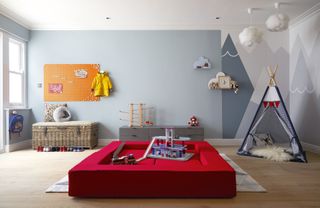 While we wouldn't suggest going all out on a theme for your playroom, we love the painted mountains (pretty easy to do yourself with some masking tape – forget the scalloped bits if you're not confident), and cloud lights and shelves. You can create a similar look with a mural – see our mural ideas for inspiration.
The soft play equipment area in the centre of the room is also a great idea. Have something made to measure with fabric covered foam blocks, or use floor cushions, gymnastic crash mats, or a crawling area like this one from Jump Bounce.
24. Plan in a book corner to encourage reading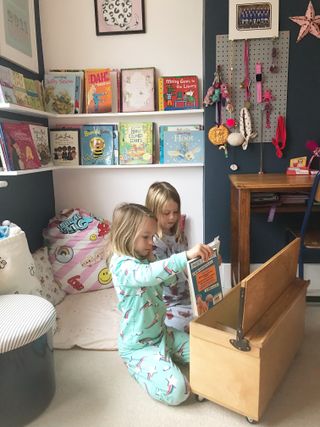 An area to chill out (or calm down) is a must in a playroom design, so make room for book storage that's accessible to encourage them to pick up (then hopefully put away, but who are we kidding?) their favourite reads.
Find all our children's' book storage ideas in our guide.
25. Think ahead, they'll soon be teenagers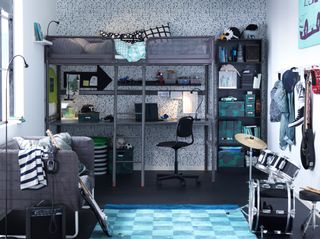 Just a heads up – you're planning playroom ideas now for youngsters, but it won't be long until this is your teen's space.
In this teenage bedroom idea, there's space to study, space to lounge, space to play drums (although we wouldn't encourage that).
26. Combine traditional elegance with a play space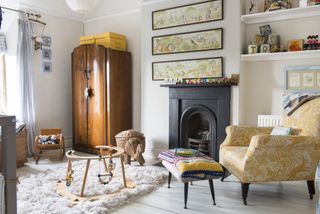 Lucky to live in a period property full of gorgeous, antique furniture, and wondering how to make it fun for the little one without ruining the elegant design scheme? Luckily, there are plenty of playroom ideas and accessories that will fit right in with a traditional decorating scheme.
If you are really dedicated, look for antique toys (shock horror: the Victorians also had children) – Ebay will be a good place to start. Or, if you simply want something that is timelessly elegant, have a look at the beautiful range of toys from Kidly that will fit right into a traditional room scheme.
This gorgeous playroom in an 18th century cottage proves that even the more elegant room can be made child-friendly.
27. Decorate a playroom with bold colors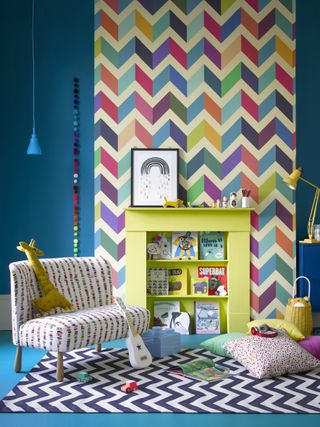 In a playroom you can really indulge your (or your child's) love of colour. Choose from bold graphic wallpaper designs like this or check out our wallpapers for children's rooms to make your scheme age-appropriate.
28. Paint a chalkboard wall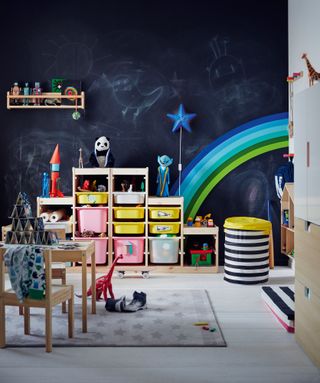 We are aware that doodling on the walls is usually strictly forbidden, but painting a chalkboard wall is a way for kids to customise their own playroom. It's also a great idea if you are decorating on a budget, because you can easily DIY one yourself, just check our step by step guide to find out how to create a chalkboard wall.
29. Or create a blackboard planner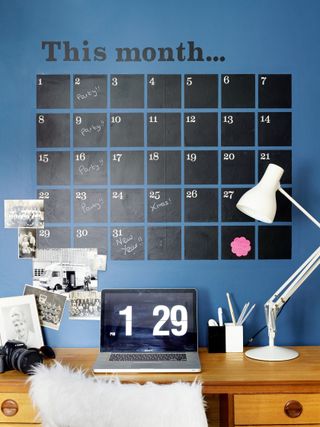 If you kids are a bit older and need space in their playroom to get homework done, this is a really easy DIY to make their workspace a bit more fun. All you need for this playroom idea is some masking tape and blackboard paint. You can find more detailed step by steps in our guide to how to create a DIY wall planner.
30. Create a flexible, adult-friendly space
If space is at a premium but you still want a playroom, try creating a flexible space that can easily be turned into an adult-friendly room when the kids grow out of their toys.
This homeowner utilised the dark middle room of her Victorian house for her toddler's toys, connecting it to her open-plan kitchen-diner with internal glass doors. Once her daughter is older, she can use the room as an extra reception room when she's hosting parties, thanks to the grown-up decor with a fun, colourful twist.
Get more top tips from this renovated Victorian home.
31. Make use of an underused living room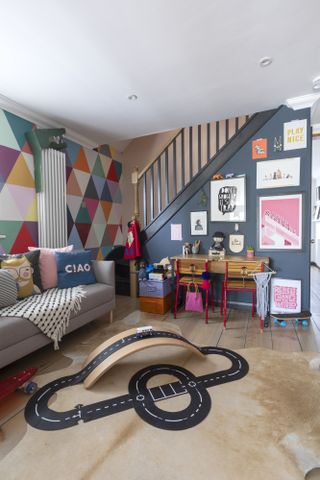 If your front room is severely underused or you have a second living room (lucky you!), turn it into a living space just for your kids.
Not only does this keep their clutter out the way, give them a quiet space for studying and prevent you from having to watch yet another episode of Peppa Pig, it can grow with your children into a teenage 'den' where they can hang out with friends.
And one day, when they're moved out (sob!), a smart little home office for you.
32. Choose pared-back basics for adaptable style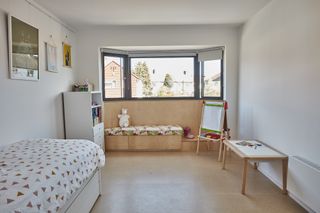 Not so keen on colour? We get you. If you flinch at the sight of anything brighter than a pastel shade, fear not: this uber-cool plywood design is here to save the day.
Perfect for those who prefer a scheme throughout their house, a neutral base of white and wood can be easily built upon and injected with your kid's own personality. Plus, as they get older they can remove the colourful plastic toys and plaster the walls with band posters – we promise it'll still look amazing.
33. Paint the ceiling in a playroom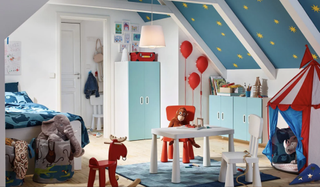 Love this playroom idea! Learn how to paint a ceiling with stars to create a proper magical space. You could really do any pattern, clouds, birds, hearts, the whole Paw Patrol gang floating above your child's playroom.
Our artistic skills probably wouldn't stretch to that mind... so stay within your creative comfort zone for the best results.