House exterior design is more important than ever, and ensuring that your home looks on point from the outside (as well as the inside), will ultimately bump up your kerb appeal, not to mention, your day to day pleasure when you return home, and its overall value. Whether you've a modern or traditional property, there are both simple tweaks and bigger changes that you can make – from windows and cladding to even your front door colour – to help improve the saleability of your home, so it is worth exploring your options.
At the lighter end of the scale, you're looking at cosmetic changes like a lick of paint, or cladding. While, if you are after something more substantial, you could be looking at adding an extension, landscaping your front garden or changing the roof structure for a more impactful architectural difference.
As with any house facelift, it needs to be done sympathetically to your home's current style. Keep scrolling for our exterior design advice – and for more on house renovation, read our ultimate guide.
And when you've perfected your house exterior design, why not take a look at the best garden furniture, to update your back garden?
House exterior design: why should you change it?
While many people view a home for its practicality and how it can serve them for family life, the appearance of a home is very important too. Historic homes ooze charm and character that mass-built, post-war homes sometimes lack, and this can be off-putting to potential buyers. So if you are looking for 1960s house facelift ideas, or want to update a 1970s house exterior, you have come to the right place.
Newer homes aren't the only ones that may need a makeover. Inappropriate exterior finishes or incongruous features can also ruin an older house. Or, you might need to repair or replace what is already there. For example, replacing the tiles on the front of your house is necessary where the old wooden pegs or mortar used to secure them might have failed and tiles need a more secure replacement – usually double-nailing or a screw. Find out more in our guide to vertically hung tiling.
How can I improve the exterior of my house?
There are a variety of routes to take and it depends on what you are working with. Here is a list of changes you can make to inspire your house exterior design in 2022.
1. Change the proportions of the exterior of your home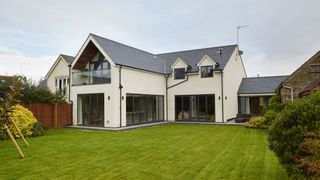 For a significant renovation, it's often worth changing the overall proportions of a building. This can be achieved by extending a house upwards or outwards to create a more pleasing balance (and space), greater symmetry, or to replace poorly designed extensions added by previous owners.
Subject to planning permission, it may also be possible to add a second storey to a bungalow, transforming it into a house, or to replace a flat roof. Many smaller extensions can be added under permitted development rights (PDRs), without applying for planning permission, especially those at the back and sides of a property.
With the exception of listed buildings, partial demolition does not require planning permission either, so you can remove unsightly structures or features, freely. This said, different rules apply for England, Wales, Scotland and Northern Ireland, so always check with your local authority.
However dramatic – or not – your new addition is, make an effort to either match new materials exactly with the original materials your house was built with, or go for a stark contrast: swathes of glazing next to Victorian brick, for example. This will help to add to the overall kerb appeal of your home – but is of course, subject to planning.
What does this cost?
If you're using a main contractor, you can expect to pay £1,050 to £1,650 per m² of added footprint for a standard specification and £1,450 to £2,200 for a high-end finish. Design fees will range from three to four per cent for the design work, plus the same again to produce detailed construction drawings. A further fee will be payable if you then retain the designer to appoint and oversee your building contractor for the work. In total, budget 10 to 15 per cent of the overall cost for design and project management.
2. Swap exterior finishes: cladding, render and paint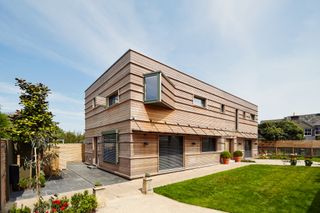 There are many reasons why you might want to replace the current exterior finish. If your home has 1970s or 1980s stone cladding, pebbledash, mismatching bricks or a mixture of different external materials, you can remove – or, easier still, cover – them with a different material to create a completely new look. Cladding over pebbledash is often done as it is hardwearing and easy to maintain, but it can look quite harsh – especially on boxy estate homes.
The cheapest option is to simply paint the house using masonry paint in a neutral shade, such as white, to help unify the different materials. You can expect this to cost you around a few hundred pounds.
Rendering external walls and repainting may be a better option if the original brickwork has been damaged. Or, if you want to give your home a brand new, contemporary appearance, cladding your home's exterior will make a dramatic difference.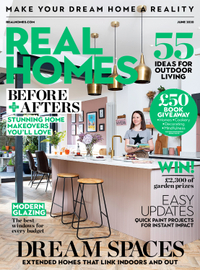 Get Real Homes magazine delivered direct to your door and your device
Can't get to the shops but don't want to miss out on the latest issue of your favourite homes magazine? Don't worry, as when you subscribe today you'll get every issue of Real Homes magazine delivered direct to your door and your device.
From stunning completed projects to the latest decorating ideas you can try in your own space, you'll find plenty to keep you entertained and inspired inside each issue. Don't miss our special deal – subscribe to our annual print and digital bundle offer today for just £39.99 – a massive saving of 52%.

Which exterior finish is right for your home?
Start by looking at samples of your cladding choices in situ at different times of the day. Ask your supplier if they can give you new and aged samples to see how your home will look freshly clad and a few months down the line. Make sure the weight of your chosen cladding or render is suitable for your property, as some materials are heavier than others.
PVCu cladding is one of the most inexpensive options. Coloured or wood-effect PVCu is comparable in price to timber boarding. Low-maintenance and easy to clean, it should last for up to 20 years. Some PVCu cladding has a cellular core that offers good thermal resistance.
Laminate cladding such as that made by Trespa, is made by compressing impregnated paper or wood fibres and epoxy, phenolic or polypropylene resin. Durable and scratch-resistant, it can have coloured pigments added to the surface during curing, making a variety of colours and finishes possible. Virtually impervious to weather, it can also be cleaned very easily.
Composite cladding such as Corian or HI-MACS made by LG Hausys, is made up of stone powder and high-quality acrylic resins with pigments to add colour. Highly weather-resistant, it can be easily cleaned, moulded and fitted.
Timber boarding suits contemporary and some period properties. Shiplap boarding has straight tongue-and-groove edges, while feather-edged boarding overlaps and has irregular edges. Softwoods, such as pine or spruce, are the cheapest option. Hardwoods, like oak, chestnut or larch, can be left to weather naturally or sealed with a fire-retardant coating.
Fibre-cement weatherboarding, being a composite, is long-lasting, won't twist or warp over time, is fire-resistant, frost-proof, comes pre-finished, needs minimal maintenance (an annual hose down will do) and won't rust or rot.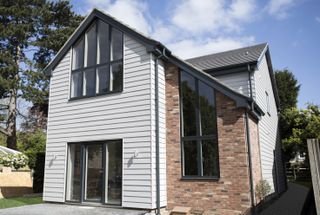 Brick slips look like solid bricks but are actually 2-2.5cm deep 'tiles' made from clay – either kiln-fired as preformed slips, or sawn from the face of standard clay bricks. Cladding panels with a brick finish and interlocking prefabricated boards are also available.
Stone tiles are of a similar construction to brick slips, and are split from genuine stone. They are ideal for a more traditional look, offering a cost-effective and lightweight alternative to building with natural stone.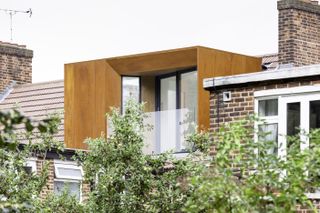 Metal is an expensive option but is low-maintenance and weather-resistant. It can come painted, powder-coated, pre-aged or coated to preserve its finish. Steel is the most affordable and should last at least 30 years; lightweight aluminium is good for 40; untreated zinc weathers to look like lead and should last 50 years; copper develops a verdigris finish and should have a lifespan of 100 years.
Masonry paint is a cheap and fast way to cover an ugly exterior. Textured finishes are particularly good for hiding minor cracks. It can hide poor-quality or mismatched brickwork on period properties, and create a sleek finish on modern homes.
Concrete render shouldn't be used with the lime mortar masonry of many period properties as it will lead to damp and rot. Use a silicon-based render, which is flexible, breathable and easy to maintain. Lime render can be an eco-conscious choice for new homes and over masonry, too.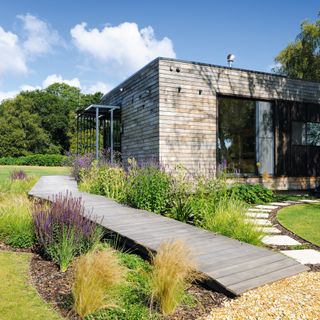 How much does exterior painting, rendering or cladding cost?
Comparing costs is not just a case of looking at the material costs. We have factored in labour and the cost of associated materials for fitting (such as mortar for bricks and battens to attach cladding to).
Note that when it comes to timber cladding, the costs will be impacted by treatment. Hardwood cladding materials cost more than softwood, but as hardwood naturally silvers and does not need decorating, the full cost of installation and treatment brings softwood to the same total. Heat-treated timbers like Accoya have a large initial outlay, but require next to no maintenance, making them a good long-term investment.
Timber composite cladding – £105/m2
Fibre cement weatherboarding – £65/m2
Softwood timber cladding (painted or treated) – £50/m2
Hardwood timber cladding – £90/m2
Heat-treated timber cladding - £80/m2
Tiles (concrete) – £40/m2
Tiles (slate) – £100/m2
Natural stone – 100/m2
Artificial stone – £70/m2
Metal – £50/m2
PVCu cladding – £50/m2
Brick - £60/m2
Brick slips – £50-60/m2
Rendering – £60/m2
Masonry paint (three coats) – £15/m2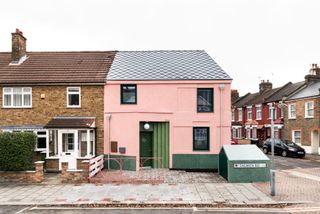 Do you need planning permission to change your home's exterior finish?
Permitted development allows for extensions to be built with materials matching the existing building – but if you'd like contrasting cladding, you'll most likely require planning consent.
Building Control at your local council will also be concerned that the house meets regulations for thermal efficiency, so always consider whether cladding will alter its eco performance. Some will boost insulation, but it's vital that airflow is maintained. If you live in a listed building or Conservation Area, detailed consideration needs to be given to how cladding will impact the character and fabric of the house.
Find out more about building regulations in our guide.
3. Replace a roof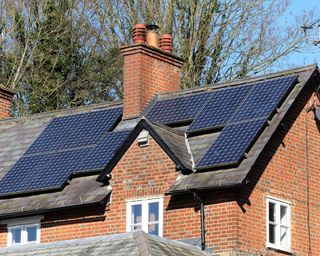 On some styles of house – especially a bungalow – the roof is a very dominant feature, so if you change the shape of it, or the exterior covering, or even just improve the look of the existing tiles, it will transform your property's appearance. Note, this is not an easy job when it comes to house exterior design. It is costly and labour intensive so most people do it for one of the following reasons:
As part of a loft conversion or extension
In the process of improving the home's efficiency (with new insulation)
When they change the roof covering
Replacing the roof covering usually falls under your permitted development rights, so it doesn't need planning permission, but you are required to add roof insulation at the same time to meet building regulations.
If you are stripping the roof tiles, it's a good time to consider increasing insulation and also adding additional rooflights if you have a loft conversion, as it's easier to make changes to the structure with the weight of the tiles removed.
Find out more about maintaining your roof in our guide.
What does it cost to replace a roof?
Replacing a roof doesn't always mean swapping the trusses. Replacing the covering is very effective too, not just aesthetically but from a maintenance point of view.
Changing its shape is a more radical and expensive alteration – but it can have a dramatic impact, for example, to increase the roof height on a 1970s house with a very low-pitched roof, or a flat-roofed 1960s house.
The cost can be mitigated if the new roof is tall enough to allow for a loft conversion. Bear in mind that raising the height of the roof will always require planning permission.
For advice on loft conversion costs be sure to read our guide.
Good roof maintenance is a must, particularly in a period property. Pressure-washing a moss-covered roof can be an inexpensive improvement which helps to freshen up a tired-looking property.
If you change your roof covering it will cost from £40-£80 per m².
Replacing sun-faded concrete roof tiles can give a 1960s or 1970s house a new lease of life. Budget £28-£35 per m² to replace old tiles with new interlocking concrete ones, including labour and materials.
If you're looking to do a period-style makeover, look at traditional properties and copy the vernacular style, whether it is plain clay tiles, Roman tiles, slate or stone. For a contemporary makeover, you should opt for natural slate or man-made slates.
It's also worth considering changing guttering, which can also have a big impact on the look of your house. Many properties now have white PVCu guttering, which shows up dirt more easily than black PVCu, but which also looks better on period properties. Galvanised guttering is now very affordable and can suit both modern and older properties. For a very contemporary look, powder-coated aluminium box gutters can look great.
Changing the roof's shape
Generally, flat-roof extensions and modern, low pitched roofs look out of place on traditional-style houses, so replacing them with a more appropriately styled design can make a huge difference to a property's overall shape. Ideally, the new roof will be steep enough to create usable space beneath, which will also help justify the cost.
If it is not economical to replace an inappropriate roof, it may be possible to disguise it with a steep-pitched front-facing gable or a parapet wall, built up in the same material as the exterior walls – a trick used by the Georgians.
For a contemporary makeover, a 'brise soleil' overhanging sun shield can hide a low-pitched roof and give the appearance of a modern flat design.
4. Replace your home's windows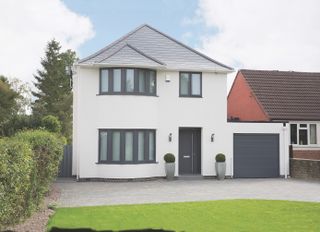 Windows are the eyes of a house – if you change them, you can alter your property's whole personality, especially if it's done in conjunction with an overall redesign scheme.
Under permitted development rights you can choose and fit replacement windows, alter the shape and size of the window openings, and add new ones without having to get planning permission. However, choose windows and doors for a period property with care if you are planning to maintain its authentic style.
If, however, you are looking to give your home a contemporary update that's style sympathetic to its period feel, consider metal framed windows and doors as replacements. Crittall-style designs are popular amongst renovators for creating a statement look. Read our guide to choosing metal door and window frames for more information.
What do replacement windows cost?
A modern house that might be lacking in character can be made to look like a period property by adding period-style small casement or sliding sash windows, and by altering the door openings. Expect to budget an average of £600-£800 per window supplied and fitted.
A 1950s or 1960s property with modest window openings could be given a contemporary makeover by adding large window openings with a horizontal emphasis and narrow frame profiles.
The most inexpensive solution is to buy new windows direct from a manufacturer, DIY supplier or online and fit them yourself. PVCu windows from websites such as Dunster House and DIY UPVC Trade Windows can be ordered to your bespoke specification online. Expect to budget £200-£350 per window. If you want the windows installed, you should always shop around and hold out for the best price.
All replacement windows must comply with building regulations. This means either using a FENSA registered installer who can self-certify their work for building regulation purposes, or submitting an application to the local authority together with the correct fee and either fitting them yourself or using a general builder to fit them for you.
5. Update your front door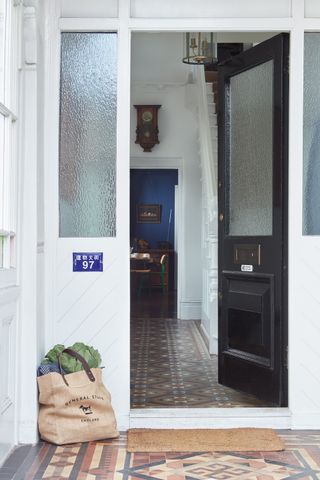 Whether choosing a new front door, or refurbishing and painting your front door, this is a quick, easy and often DIY way of improving your house exterior design.
If you live on a road where there is a very uniform house type, you should try to match your front door as closely as possible to those of the homes around yours. There are many modern doors that are made to look like traditional styles, so if it is new technology you are searching for, you won't have to look far.
If you are living in a period property, and are looking to restore your home's exterior to its former glory, then trawling reclamation yards to find a door in the style and period of your house is a good bet – as is commissioning a skilled joiner to make a new one that mimics the original to a tee.
Here are some traditional front door design ideas.
How much does a new front door cost?
PVCu front door – from £600
Glass reinforced plastic composite front door – from £900
Timber core composite front door – from £1,200
Veneered timber front door – from £250
Solid hardwood front door – from £2,000
When choosing a new front door don't always go for the budget option. Not only do you need to consider the style, you need to think about safety, so going for a solid and secure door is important.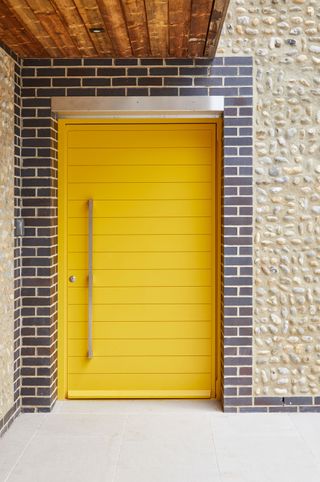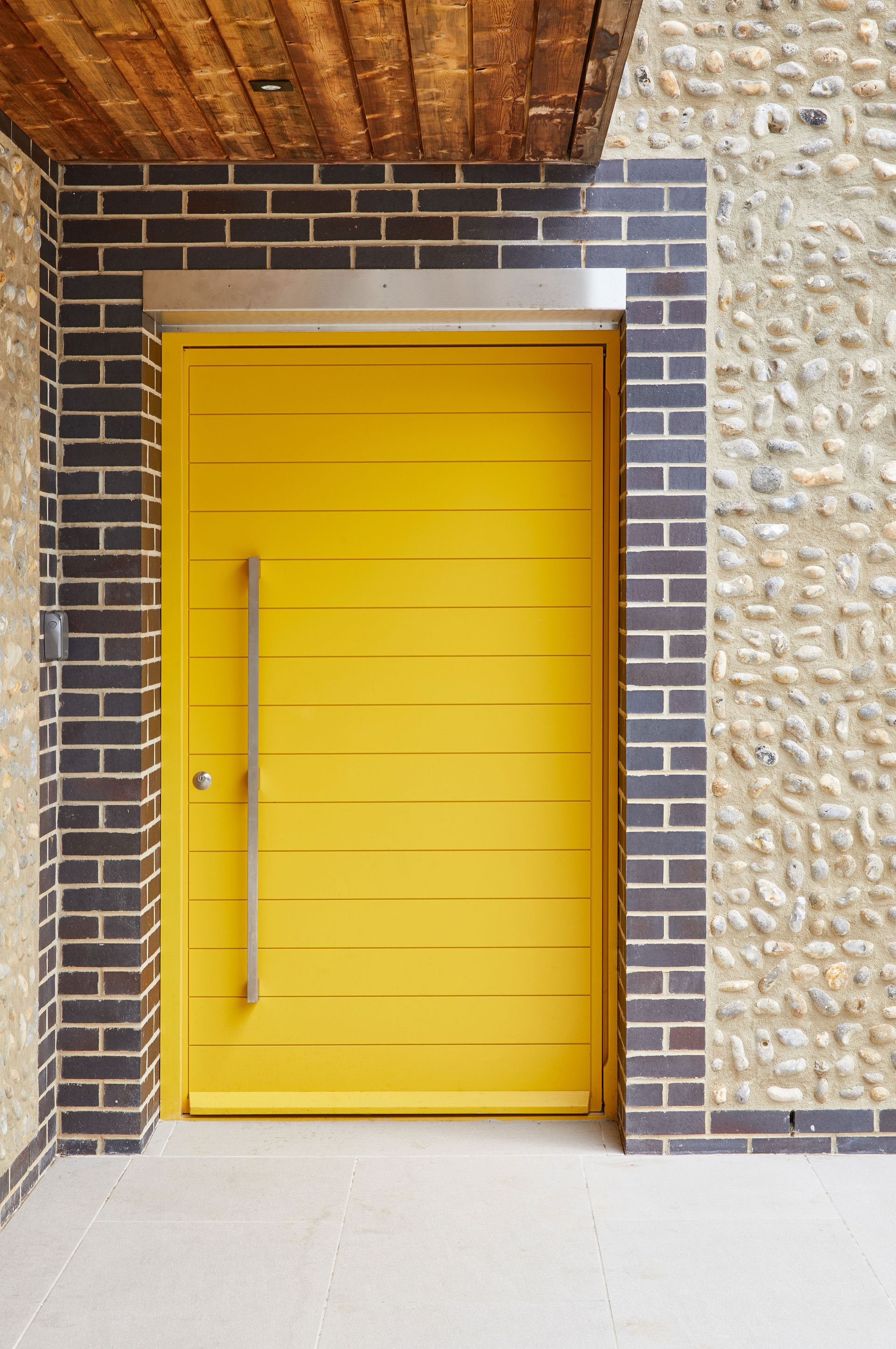 What are the best front door colours?
Blue, lilac, and purple: are the most appealing paint colours to visitors, so great for kerb appeal, creating associations of calm, prosperity, and spirituality (especially in the case of lilac). We recommend choosing blue over lilac or purple any day – these last two shades are really tricky to get right.
Black and grey: are good choices to impress fussy buyers by letting your house stand out from the crowd. Black and grey front door colours apparently carry associations of anonymity, exclusivity, and understated elegance – very chic. Think 10 Downing Street for a good idea of what we mean.
Teal: and very specifically, teal apparently appeals to the widest possible pool of potential buyers. This vibrant colour sits right between cool and warm tones and is both cheerful and calm. It also looks good in every season, making it easy to style either with bright summer plants or a Christmas wreath.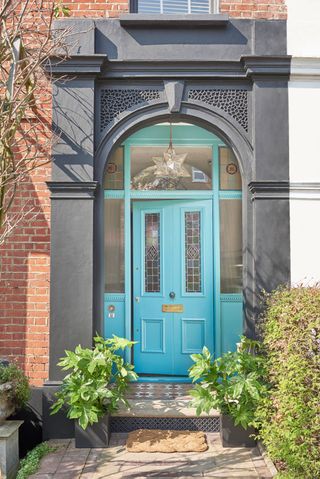 The front door colours to avoid
Bright pink, brown (unless it's natural wood); bright yellow (cute on a country cottage, not so much everywhere else); orange (just, no); green – unless we're talking a classic Farrow & Ball paint colour, these are choices that are likely to put house buyers off and, in some cases, might even damage your home's value.
6. Add an extension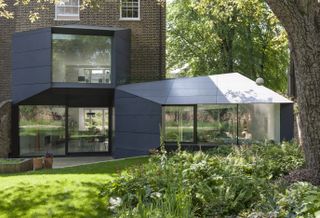 Changing the shape (and function) of your home by adding an extension can have a huge impact on its appearance. Smaller alterations, such as adding a porch or a bay window needn't be expensive, but can add a lot of interest and character to the house exterior design.
A larger single storey extension or two storey extension to the side or front can help balance the shape and proportions of your property to create a particular architectural style, as could the addition of a large feature chimney.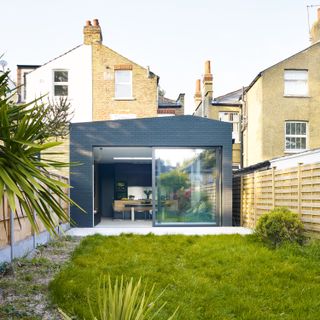 How much this will set you back depends to a large degree on the spec and size of your extension, but expect to pay between £950-£1,350 per m². For ways to cut the cost of an extension we can help.
Many smaller extensions, including a porch, single-storey side and rear extensions, side and rear loft extensions, and some two-storey rear extensions are considered permitted development in England and Wales, so they may not require planning permission, subject to certain design constraints.
7. Add a porch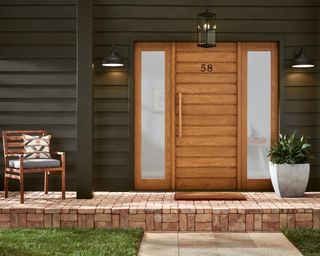 Adding a porch on the front of your house will give character to a featureless frontage as well as providing extra, practical storage space indoors. It is especially worth considering if your front door opens straight into a living room, rather than a hallway.
Think carefully about design; the porch should be constructed in a style that suits the original architecture and is in proportion with the size of the house. Don't forget to take a cue from the existing roof pitch and angles – the house exterior design should all be in keeping with one another.
When designing an enclosed porch, consider the impact it might have on the natural light that flows through your existing front door – you may be able to improve the amount of daylight with a well-considered design.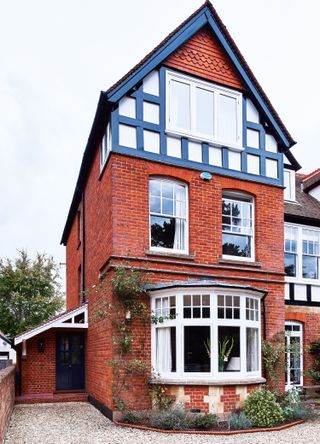 How much does it cost to add a porch?
A brick-built porch with a new front door can cost anything from £3,000, depending on size and materials.
Wall-hung timber porch kits are less expensive than enclosed designs, but will transform a flat frontage, especially if climbers are trained around the structure to help it blend in. Expect to pay around £1,000 for a kit.
8. Convert a garage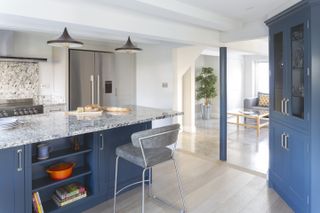 The appearance of a house will be dramatically altered, and you will gain a whole new living space by a garage conversion. The join between old and new should be seamless – this may mean hiring an architect to ensure the details and proportions of features, such as windows, are right. Keep the palette of materials used outside to a minimum, and ask your builder to tooth and bond the new work into the old to avoid a bolted-on look.
Before you go ahead, check with a local estate agent to ensure you're making the right move – if the advantages of an extra room are outweighed by the need for secure parking, the resulting impact on the value of your home may be negative.
Large double garage doors can be an eyesore on the front of a property and don't suit a period-style makeover. Converting the garage into a living space and replacing the doors with walls and windows will alter the main elevations and could help create a more traditional period look.
A garage conversion will cost from £850-£1,250 per m² and does not normally require any planning permission.
9. Landscape the garden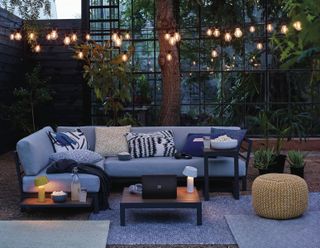 Once all the building work is complete, turn your attention to garden landscaping and updating any outdoor space that may be visible from the front of the house. You can find out how to design a garden in our guide, then turn your attention to planting.
Choose a planting scheme that's in keeping with the rest of the work – if you've gone for a contemporary finish for your home's exterior, pick architectural plants; for a more traditional feel, opt for cottage garden plants.
A period home might have its encaustic path repaired or reinstated; a cottage garden might have raised beds made from reclaimed bricks, and a new house might have garden walls rendered and painted.
What will it cost?
If you do the work yourself, a front garden transformation could cost just a few hundred pounds.
Think in the region of £3,000 plus though, if hiring a landscaping company.
You might want to consider hiring a garden designer to get the most out of your outdoor space, which will cost £250 to £750 for a day's consultancy.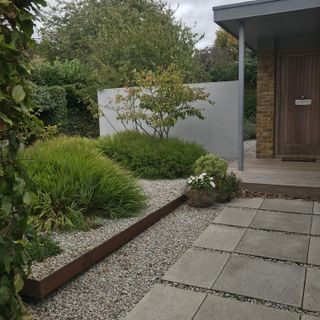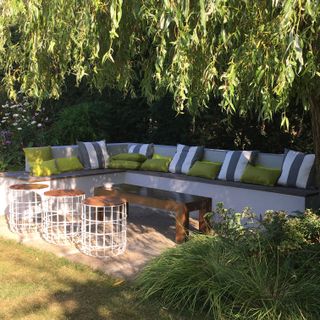 10. Makeover the driveway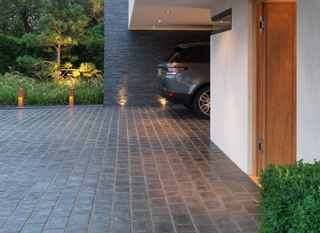 You may not have considered this when it comes to your house's exterior design, but off-road parking makes a property more desirable from both an aesthetic and practical point of view. If your home does not have a driveway and there is enough room in the front garden for one or two cars, you should contact your local council to find out how much it would cost to drop the kerb. You need to be sure that access is possible and won't be a risk to highway users. Note that planning permission is required to drop a kerb.
When it comes to choosing a driveway surface, gravel is favoured for a number of reasons. It is generally more affordable than other hard landscaping options, the noise means it is a deterrent to intruders, it drains well preventing flooding issues, and it is easy to create a gravel drive on a DIY basis. However, it does easily spread onto the highway and might need topping up and raking every so often. A good weed membrane is essential underneath so you don't spend most of your time weeding it too.
While tarmac is very popular, block paving might be preferable as it does allow some drainage and is easier to repair than poured surfaces. If your driveway is more than five square metres and the surface is not Sustainable Drainage Systems (SuDS) compliant then you will need planning permission.
Learn more about updating your driveway or creating a new one in our guide.
What does a new driveway cost?
Costing depends on how much preparation is needed. Factor in £20/m2 for groundwork
The cheapest surface is gravel which costs from £4/m2
Block paving is around £28/m2
The most expensive surface is resin-bound paving at £54/m2
11. Update your front garden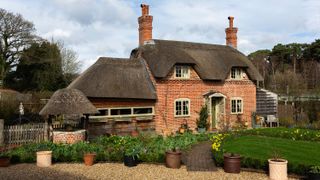 Ensuring that your front garden's look is in tune with the property's style is vital. So if you've kept a traditional house exterior design, you'll want to stick to classic planting and even formal pruning if available, for a truly refined finish that still has heaps of character. While if your home is contemporary, you may want to pare back on cottage planting and opt for a minimalist approach, using lighting to create a modern and inviting entrance.
If you have a lawn, keep this neat and tidy, while all types of home will benefit from a wall light next to the front door or to highlight the front path, and planting so as to make the house look very attractive at night.
Watch the Real Homes Show for more home transformation ideas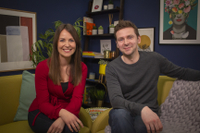 Want more decorating and renovating advice?