Whether you're planning a total remodel or just want to refresh your space, the right bathroom tile ideas will be instrumental in elevating that washroom look to the next level.
Tiles are versatile and can enhance all types of bathroom, big or small. The first key thing to consider is size – detailed mosaics are super glam, but less can be more, whereas large-format tiles minimize grout lines and therefore cleaning.
Then there's shape. Scalloped tiles are a big trend right now, subway tiles have become a true classic, and slim rectangles are an upcoming favorite.
Aside from color and pattern, another thing you'll want to think about is how you lay your tiles. In recent years, laying on a diagonal, or herringbone arrangements, have become popular, and can totally transform the way you see your chosen tile.
So when you're putting your bathroom remodel ideas on paper, think more than twice about tiles. You'll thank us for it.
Bathroom tile ideas to inspire
1. Bring the biophillic trend to your tilework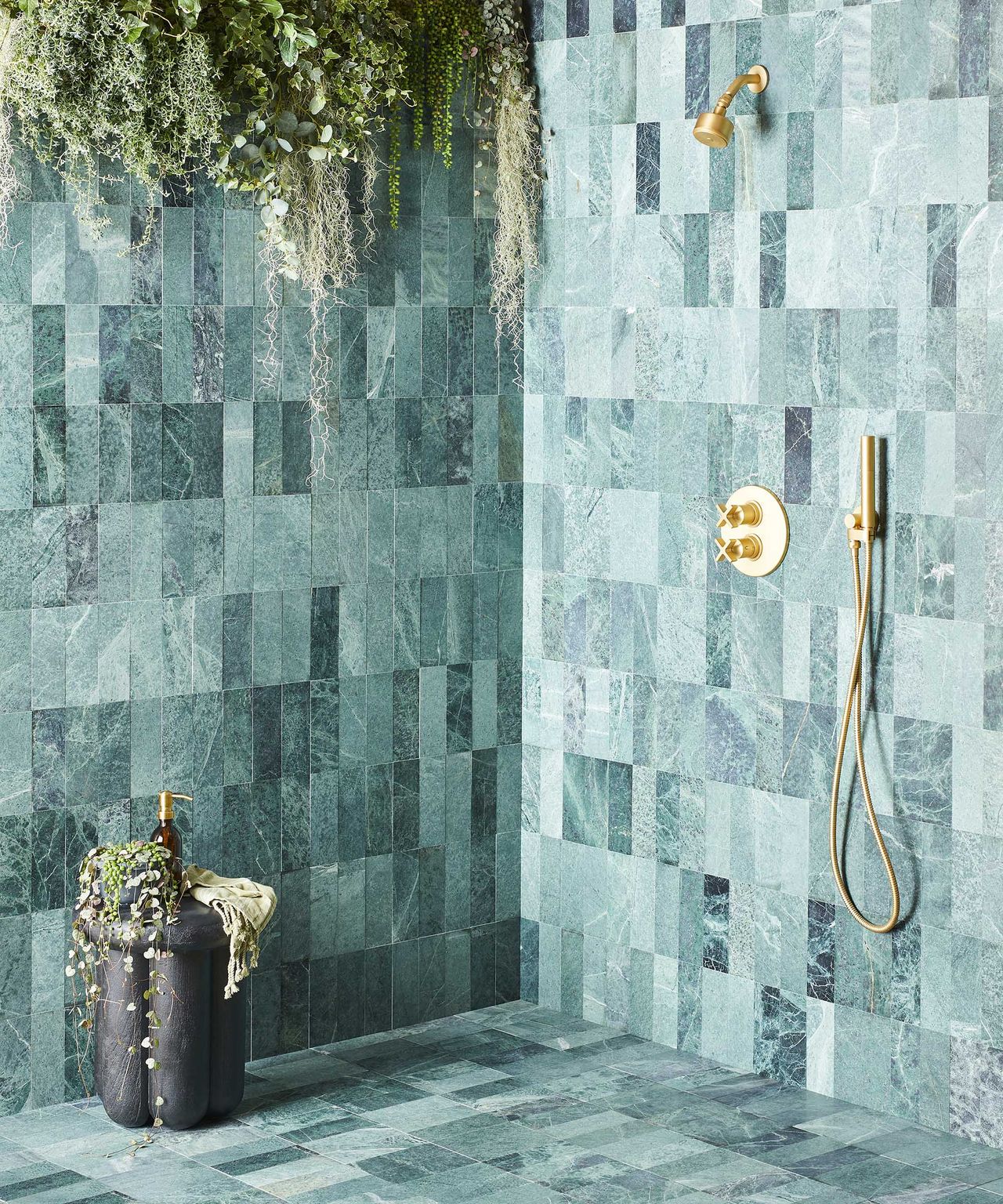 If Adam and Eve's garden of Eden had its own shower space, we suspect it'd look a little something like this.
Combining swoon-worthy marble with fennel green and English mint hues, this mineral-veined bathroom tile design is fresh, fun and fabulous. Taking its inspiration from nature, it's only right to pair this design with a living wall, potted plants and cork accessories for a flora-inspired finish.

Cork? Where did that come from? Well, as Bo Hellberg, Chief Marketing Officer at string furniture explains:

'Cork is a material part of the 'biophilia' trend, where we seek to connect with nature and organic materials and plant life, in our homes.
'It is obviously inherently sustainable and brings warmth and texture to any surface or space.'
And when looking to complementary color schemes, Bert and May, creators of these tiles advise you to boldly mix with vibrant orange and terracotta tones to make a modern statement. Just heavenly!
2. Embrace your inner mermaid with scalloped tiles
With taxis going tech, Netflix at our fingertips and drones delivering our food - we're becoming an increasingly demanding consumer that wants it all.
So why choose a color for your modern bathroom design? Instead, let the light define your bathroom space with an iridescent scheme. Creating a beautifully oily water effect with a gentle sheen, pastel pink, luscious lilac and trendy teal all combine to create a custom look for your scheme.
Alternatively, add interest to a walk-in shower with a bathroom tile idea, or give a feature wall a fierce but feminine feel with a dash of glittery bathroom wallpaper decor.
3. Contrast plain walls with patterned flooring
In this small shower room, the clever owners have made the space feel taller and wider by contrasting bold patterned floor tiles with white subway tiles on the walls. Brass fittings add opulence and a contrasting grout feels more modern.
4. Make tiling as easy as ABC
The writing's on the wall for this one – quite literally. If you've got a bathroom that you're particularly proud of, and want to show it off, then this one's for you. By opting for colorful, alphabetical bathroom tiling ideas, you can say it with your whole chest.
Add personality to your modern bathroom decor by tiling on a significant date such as the day you moved in, or the age of the build. Or perhaps pay homage to the kids with their names sealed in ceramic or porcelain.
This design-led decision will definitely get guests talking and wanting to emulate this idea in their homes. But rest assured that no two ideas will look the same.
Juan Pillay, Marketing Director at Crosswater says: 'The trend for personalization in the home is one that we see continuing well into 2021 – this will allow homeowners to combine colors, materials and patterns in unique ways that reflects their personality and individual style.'
5. Magic up the illusion of space with a mirrored tile design
If you have a small bathroom design that you can't knock through as part of a wider bathroom remodel project, you'll be pleased to know that there are many interior tips and tricks to create the illusion of a bigger square meterage.
Asides from looking to lighter bathroom paint ideas and de-cluttering your space, adding a mirror or reflective surfaces can unveil extra capacity you never thought you had. Especially when complemented by strategically-placed bathroom lighting decor.
These antique mirror tiles are extra forgiving when it comes to cleaning. Rather than having a squeaky clean polished surface, the rough-and-ready look embraces its imperfections...#bodypositivity
But, be sure to keep mirrored tile designs classy by limiting it to one wall of the bathroom. Otherwise you may end up with a disorientating effect that's akin to those distorting mirrors at the circus.
6. Shine bright with a like a diamond
Be there, or be square - so the idiom goes. But if you want to create a modern bathroom design that is unique in appearance, then you'll need to think outside the box.
If you find that square or rectangular shaped tiles are overly ordinary, then why not opt for a diamond bathroom tile design? Diamonds are a girl's best friend, so deviate from the conventional quadrilateral shapes and add some sass to your space.
These beveled beauties would look great as part of a blue bathroom design [LINK] and fit particularly well in an underwater themed scheme. However, we can't be held accountable if you suddenly re-imagine yourself as a mermaid whilst taking a bath!
Don't feel like you need to saturate your bathroom space with this design. By placing a few tiles against a splash back, or upcycling an existing bathroom storage idea, you can jazz up a generic-looking scheme.
7. Bring rustic texture to a farmhouse bathroom
If you want a bathroom that gets the A-OK from Mother Nature, then consider a rustic washroom design that takes its inspo from the countryside. By incorporating natural materials, you can create an organic-looking terrain for your self-care space.
If real stone tiles are too expensive, then fake it 'til you make it with imitation effect solutions. Adding wooden, bamboo or rattan bathroom shelving ideas and seating will only accentuate this eco-chic and sustainable bathroom idea.
And, when it comes to styling with soft furnishings, look for lots of luxury linen and cool cotton towels for an understated outcome. Brownie points if you can get your hands on broderie anglaise or embroidered designs.
8. Inject flapper girl fun with fan-shaped bathroom tiles
If you want your bathroom to be the star attraction in your home, then turn to the twenties for a wow-factor washroom.
While you'll probably be familiar with fan, star scallop and sunburst shaped styles, when looking to Art Deco for bathroom tile design inspiration, it spans much further than that.
And when deciding on how to choose the best bathroom paint colors to pair with your bathroom tile ideas - think high contrast combinations. Pair bold, moody and deep colors with gentle nudes. For example while black and gold is a classic go-to, teal and silver is a signature look for a speakeasy style scheme.
9. Get creative with your cloakroom bathroom tile design
A practical idea for last-minute comfort breaks and desperate dashes through the door, a cloakroom is a necessary feature for when nature calls.
And If you've made tidy work with the snug space underneath your stairs - don't neglect its style. By adding a bathroom tile idea you can add interest, no matter how small it is.
You may think a floor-to-ceiling bathroom tile idea will make the space feel claustrophobic, but a considered and creative execution can add value to this room. Choose a light bathroom tile idea all over or combine white and grey for a minimalist bathroom design with maximum appeal.
10. Be inspired by Italy's romantic baroque designs
Though Rome wasn't built in a day, a good bathroom tile design can be.
Inspired by Italian architecture, this luxurious design can transform your bathroom into an interior artist's dream. Typically printed onto a bathroom wallpaper design, you may have seen this motif on catwalks (especially when looking at couture or boutique clothing).
But will the world of fashion and interiors cleverly intertwined, we're seeing this print popping up on our bathroom walls. So say 'Ciao Bella' to a Euro chic suite.
11. Choose wood effect bathroom tiles for a warm feel
We love the look of bare floorboards in a bathroom, but they aren't always the most practical choice. You can however get a very similar look using tiles – easier to clean, wear better but still add that warmth and rustic vibe to your space.
12. Create a rustic design with a subtle floral
Oooh, loving the muted grey greens going on here, and all the wood too, so natural and rustic. Bathroom tiles didn't always be sleek and contemporary looking, you can create a more traditional, farmhouse look in your bathroom too.
For more traditional bathroom ideas check out our full feature.
13. Go glossy with a glazed bathroom tile design
We never thought we'd be rooting for glossed bathrooms, but we love the look of this tiled sink area, brought to life by the Zellica collection from Topps Tiles . Inspired by majolica pottery, the rustic-feel tiles have a glazed finish for the ultimate combination of modern and traditional. With a range of colours, including this gorgeous earthy bronze, we're sold.
If you do want a hand with bathroom design then we can help you start from scratch, too.
14. Nod to opulence with green and gold
As much as we love the spa-like natural stone and traditional monochrome that's inspired bathroom design for years, we are all up for having gorgeous jewel tones in this space. If you're into luxury bathrooms, then these forest green beauties from Topps Tiles are for you. They're super classy and will add a sense of grandeur to your bathroom space. If you're more of a minimalist, this will work beautifully with white and natural wood for a clean finish that's still super luxe.
15. Use reflective bathroom tile ideas to bounce the light
Using bathroom tiles with a shimmering, multi-tonal effect is a super retro way to add texture, depth and dimension to a space. Plus, they will reflect light more than tiles with a flat finish.
Picking small mosaic tiles can make a bathroom feel busier, so try these on one or two walls for smaller bathrooms, while bigger spaces can use them a little more liberally.
16. Create interest with pattern
Patterned tiles can do so much for a bathroom space. Go for a graphic design – like this horizontal(ish) stripe – that you can stretch across a couple of walls in a small bathroom to trick the eye, while in a large space, this level of detail will add heaps of charm and character to make this room a little more inviting too. It's a win win situation.
For more small bathroom tile ideas we can help.
17. Go for two-tone bathroom tile ideas
You've done the whole two-tone thing with paint, but how about using the same concept in your bathroom with tiles? This design from Walls & Floors uses their unique Pickett bevelled tiles – a cross between brick and hexagon-shaped tiles – to create the effect, and a patterned floor stops the room from feeling too clean cut.
18. Try a new take on a classic blue bathroom
There was a time when if you'd say bathroom, you'd think blue. We are not dismissing blue as a bathroom color, but we are suggesting the clever use of tiles to introduce blue in a more subtle and interesting way.
The large and stretched blue patterned tiles here help elevate the space, and having a different painted shade of blue on the joining wall, makes this bathroom anything but blue.
Psst... we have loads more ways to improve your bathroom, to help a small bathroom to look bigger. Go take a look!
19. Go for a statement wall behind the bath
Using bathroom tile ideas is a simple way to create a statement wall. Inexpensive – ideal if you need bathrooms on a budget – yet sure to deliver maximum effect, aim to create a feature wall that frames the bath, and keep the other walls simple to really make yours stand out.
20. Go for a classic grey bathroom tile design
Grey is (still) everyone's favorite color these days; we have grey bedrooms, grey living rooms, and, yes, many of us have grey bathrooms too. To counteract the potential for a cold looking room, combine grey tiles with a warm oat or rusty shade, and be a little bolder with how you lay your tiles.
A vertical column of tiles is a great way to enhance a beautiful sink, while you could even take grey to the floor too by introducing large format, fuss-free tiles. If you need some advice on choosing bathroom floor tiles, be sure to go and check out our guide.
'Grey is a timeless choice for bathrooms, as it's a calming neutral tone that lends itself to a variety of styles. A soft, more silver inspired shade of grey is a good choice for creating a modern look that can work well alongside other splashes of floral colors such as rose and forest green.'
'Grey also works perfectly as a neutral backdrop for patterned tiles, such as speckled terrazzo and intricate, geometric designs.' says Harriet Goodacre, Brand Communications Manager and Tile Consultant at Topps Tiles.
21. Or go for a dark and moody color scheme
A black bathroom can look very chic and tiles can be just the way to introduce this trend into your space. Plus, keeping to just one color means that you can really go to town with different textures and patterns. Pick colorful or warm metallic contrasts for bathroom furniture, towels and accessories to lift the scheme, while good bathroom lighting, large mirrors and more to warm the space up will help bring the whole look together, too.
22. Team pattern with coloured bathroom tiles
Want to introduce color and pattern to your bathroom walls? Picking a bathroom tile design with a warm color scheme – like this cream and blue combo – will make the space feel welcoming; sticking to very plain finishes (whether towels, bathroom window treatments or flooring) and sleek lines elsewhere in the room will help it feel as big as possible, too.
23. Make metro tiles work harder
Metro tiles are forever fashionable, but you need to try a little harder with them to ensure that your bathroom isn't just another metro tiled bathroom. How? Choose a colored tile and play around with grout colors too, while you could enhance the area furthermore by lining it with another bolder colour.
The strong horizontal lines here against the gorgeous, borderline avocado green metro tile create a really interesting take, on a classic look.
24. Choose a unique bathroom tile shape
The pointed edges add a subtle twist and create a smooth finish on this bathroom wall, and we love the deep blue color. We reckon it'd look even better with a contrasting tile thrown in here and there – a simple white or paler blue, maybe.
25. Create a wall-to-floor contrast
Want to introduce dark tiles while keeping the bathroom as light, bright and spacious feeling as possible? This is the perfect tile combo: dark bathroom floor tiles and pale-colored bathroom wall tiles.
26. Pick an all-over tile in a shower room
Got a shower room or wet room? Using the same tile throughout will give you a smart, contemporary look that makes for super-easy cleaning too. Choose an off-white tile with a marble effect for warmth, texture and interest.
27. Make your shower stand out with scalloped tiles
As we have mentioned, you don't need to tile a whole load of space in a bathroom for it to have an impact. Try instead using a bold tile, in a brave shade or interesting shape, for the inside of your shower. Scalloped tiles are such a big trend right now (in fact they even made it into our round-up of the top interior design ideas), and these Syren tiles from Topps Tiles come in five glorious sea-inspired hues.
28. Say yes to sunset bathroom tiles
This very cool bathroom has been created by a very clever choice of sunny floor tiles. The fading colors draw the eye to the end of the room, giving the illusion that the room is longer than it is, and running the tiles up the side of the bath lengthens the room further.
We love the sunset colors used here but if you are more into a monochrome bathroom this would work really well fading black into white.
29. Lay your bathroom wall tiles vertically
A very on-trend bathroom tile look is to lay your tiles vertically, plus is a great way to add height to your room. What makes this look really stand out is the contrasting grout, giving it more of a graphic, contemporary look.
30. Use your fave vacation for tile inspiration
'Due to restricted travel overseas, 2020 was the year of the staycation and this trend is all about helping you bring relaxing, holiday vibes into your interior décor. The best way to embrace this trend is to think of your favorite holiday locations or coastal inspired retreats and look at the colors, textures and materials that embody these destinations and bring them into your home.' explains Jane Addis, designer at Original Style.
We love the French vibe of this bathroom, the mural created with tiles brings a really luxurious traditional feel to the space. Plus this is a great alternative to wallpaper if that's not going to be suitable for your bathroom.
31. Go graphic with small square tiles
This is such a quirky unique look and ideal if you have a modern, simple style. Small tiles have fallen out of fashion slightly recently, but we think this is a bang up to date way to do mosaics tiles in a more contemporary way.
AND, you could totally recreate this look if you have inherited dated mosaic tiles in your bathroom by using paint and a grouting pen. Yep, you can paint tiles you just have to put in the prep work to make sure you get the best results – check out our guide to painting tiles for everything you need to know.
32. Tile your walls in a luxurious green
'Green continues to be popular in the home, especially in the bathroom where botanical shades are the perfect choice for creating a natural and spa-inspired space.' says Harriet Goodacre, Brand Communications Manager and Tile Consultant at Topps Tiles.
'Add touches of opulence with marble tiles and brass fittings that will offset the forest green color in a sophisticated way and add personality to this refined style.'
What are the latest trends in bathroom tiles?
According to the experts, it's all about creating a sensory-led experience so think stand-out shades, eye-catching intricacies and textures you can't resist to touch.
Abbas Youssefi, Director of Porcelain Superstore says: 'Homeowners are going all out in their bathroom designs and in terms of tiles that means bold patterns, striking colors and adding texture.
'We're expecting to see a surge in demand for distressed, tactile tiles.
'Color can really add personality to a bathroom and there is a definite appetite for deeper shades, such as emerald green and classic blue.'
'We're expected to see warm neutral, earthy tones migrate into our bathrooms this year,' adds Kamila Chalfin, Marketing & Brand Manager at Tile Giant. 'This in line with the colors of the year 2021 that include warm brown and bronze shades, keeping the interiors soft and grounded creating a sense of calm in your home.'
'Rusty, warm and deep rich shades will be popular to achieve this look. Think welcoming comfort.'
We've also seen a growing trend for more sculptural tiles – circular shapes, scalloped edges, less formal layouts, so think about creating a softer, natural look with your tiles.
What is the most popular tile for bathrooms?
Let's be honest, metro tiles are a classic bathroom tile that never dates and they look gorgeous in whatever style space you put them in. Plus you can pick from so many colors, and change the grouting to create different looks.
Scalloped bathroom tiles are also having a bit of a moment, especially in shower enclosures or used in a half and half look. Plus herringbone designs are everywhere but have longevity too so a great option if you are after an alternative to metro tiles.
What is the best tile for a small bathroom?
'Be clever with shapes – using hexagonal tiles adds interest without overwhelming a small space. For a more traditional decor, opt for rectangular tiles, which when applied vertically add depth to the room and give the illusion of higher ceilings. Horizontal layouts can optically 'stretch' the room and create the feel of a wider space,' says Kamila.
'The oldest trick in the interiors book - mirrors and reflective tiles are an easy way to open up a room. Use silver or even black reflective mosaic to add reflections to your bathroom and add a bit of shimmer and glamour to a commonly overlooked room!'