Colorful kitchens are making a comeback! And we are, quite frankly, thrilled. Color has a big impact on our lives, and it can be used to give a boost to our wellbeing. But we know, choosing the right shade for your kitchen can be daunting, but follow your instincts when choosing and you won't go far wrong as you will be drawn to the right color. Have a look at our top five colorful kitchen ideas below and see if any resonate with you!
For more kitchen ideas head to our gallery.
1. Switch navy blue for on trend teal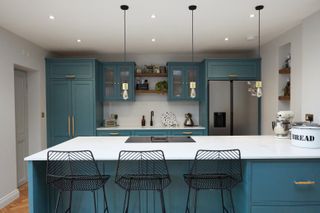 If you love blue shades then consider teal, it's a fresh color that has a warming hue. The brass handles add a ping of color and look great with crisp white worktops. Black also looks fab with teal so look out for black pendant lights and bar stools to add further interest to the scheme. Do consider your flooring, for a thoroughly modern look opt for white tiles, if you like a more classic feel like this kitchen, then adding in a mid-tone wood flooring will do the trick.
For more kitchen color schemes, check out our gallery.
2. Embrace the two tone kitchen trend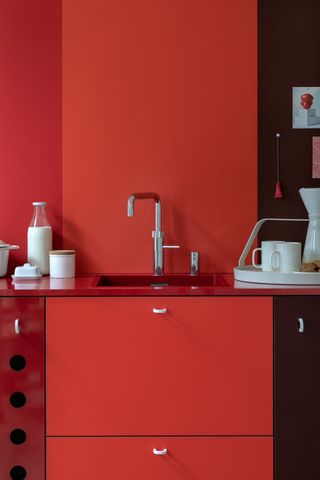 If you want to go all out and super bold then choose two shades of the same color - and make sure they are bright! It's not for everyone, but golly, it can be so dramatic and stunning. Break up the scheme with white, if you are going for an uber sleek design then it will provide a fresh yet contemporary visual contrast. Choosing one single colour for your accessories will make a statement that's eye catching and modern.
3. Mix multiple colours in your kitchen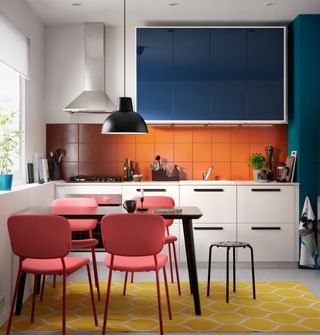 A colorful kitchen doesn't mean you need to suddenly ditch your current units, if they are white or wood-effect you can keep them and add color in different ways. Update your splashback with bold tiles, add a brightly patterned rug, buy some new dining chairs or choose one wall of coloured wall units. It's often the small changes that make the difference rather than big pricey ones.
4. Go for a pastel kitchen color scheme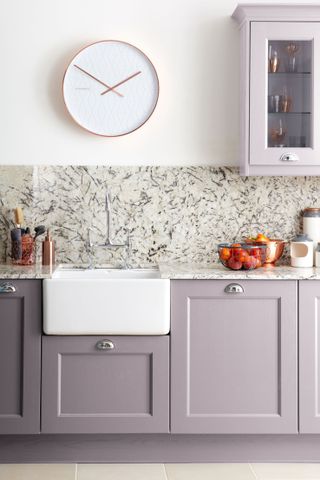 Color doesn't have to mean bold and dramatic, it can be oh-so-subtle and sophisticated. Pastel shades look fabulous in kitchens, they are calming and help to create a light and airy feel, which is a bonus if your kitchen is situated in a darker area of your home - North facing for example. Metallics work well with them too, chrome looks particularly refreshing with pastels and so does marble.
For more pastel decorating ideas head over to our gallery.
5. Pick a sunny yellow kitchen color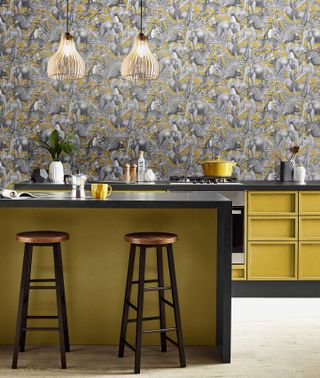 'Yellow is a great choice for kitchens particularly if there is a lack of natural light. It's bright and cheerful nature brings positivity to the heart of the home. The warm and welcoming hue radiates happiness and optimism, perfect when it's cake baking time,' explains Paula Taylor, Colour & Trends Specialist at Graham & Brown. We totally agree, it's so uplifting and it looks stunning here with black worktops and the striking wallpaper, be bold and give it a go!
Read more: