Investing in your home with the addition of an extension, loft conversion, basement conversion or by reconfiguring the layout of your home for a more open plan feel not only adds space to your home, increasing quality of life, but can also add value. Our expert guide will help you make your home bigger, brighter and more sought-after.
1. Improve the interior layout
You don't always need an extension to increase the space in your home; sometimes it's the layout or room size that is wrong. Improving the spatial flow or maximising the views to the garden can add tens of thousands if done right, but take structural advice before you start.
An architect can offer suggestions for improving the interior layout, perhaps by removing internal walls to open up a kitchen-dining space, or to create a larger room from several smaller ones.
2. Install new windows
If your house has single glazing, consider having double or even triple glazing (if there is outside noise), as it will improve the warmth and energy rating of your home. If it was double-glazed more than 15 to 20 years ago, the windows may no longer be performing well, or the seal could have gone in the unit. In this case, they will probably need replacing. New windows in keeping with the style of the house can enhance its external appearance considerably.
With a cost of £25,000, glazing your windows will add up to £60,000 to the value of a four-bedroom property.
You may also consider adding windows to increase the amount of incoming light, especially in north-facing rooms. Rooflights are especially effective for filling a space with natural light. Alternatively, try to add a window where the best light source is available, opting for obscure glass if the new window will be facing a neighbour's house. Check with the duty planner at your local council before proceeding with installation.
With a cost of £2,000 per new opening, a new window will add at least £5,000 in value to your property.
3. Convert your loft
Converting your loft will offer additional space for an extra bedroom, home office, or playroom. A dormer extension will give you extra headroom, but position these to the back of the property rather than the front or side, so that they are less visually intrusive.
With a cost of £30,000, an additional room will raise the value of your property by £50,000.
4. Upgrade your central heating
Installing efficient central heating reduces energy bills and is appealing to future buyers. Upgrading doesn't always mean you need a new boiler. Some plumbers dismiss older models because they aren't familiar with them, so get more than one opinion.
Cast iron radiators look attractive in a period home, but, to economise, you could reserve these for the ground-floor rooms that are on show, then use steel or aluminium models elsewhere. If you are investing in a new boiler, consider a combi option in houses of up to four bedrooms. A pressurised system is normally best in larger properties, or those with low incoming water pressure. Find out more about central heating in our dedicated feature.
A new boiler will cost you £2,000, or £10,000 if you include new pipework and radiators. New central heating will add £15,000 to the value of your home.
5. Add an en suite bathroom
En-suite bathrooms are a desirable addition to any home, but be aware that for resale they do need to include a toilet, so you will need to consider the drainage. Be wary of compromising too much space in the bedroom or you will lose the impression of a luxury master suite.
With a cost of £10,000, an en-suite will add up to £30,000 in value to your home.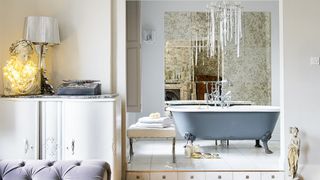 6. Repurpose your garage
It can be tricky to disguise what a converted garage once was, but don't let that put you off as they are great for creating extra ground-floor space without the cost of an extension and, with good design, a garage conversion should blend seamlessly with your existing property. A garage conversion can be used to extend your kitchen into an open-plan kitchen-diner, or as a playroom or media room.
At £20,000, a garage conversion isn't cheap, but it will add £50,000 to the value of your property.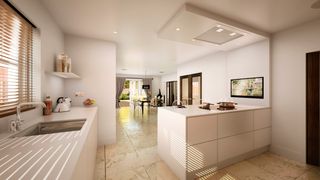 7. Install a new kitchen
A modern, spacious, and well-equipped kitchen is guaranteed to add value to your home. Open-plan kitchens are very popular, so consider knocking through to a smaller room to create a larger, more open space. Kitchen designers can advise on optimising your space and suggest integrated appliances and storage, such as a built-in larder cupboard, to make your kitchen more attractive to prospective buyers.
A new kitchen will cost £20,000 and add £50,000 in value to your property.
8. Create a downstairs toilet
The first consideration here is drainage; if you can't site the toilet on an outside wall or where it can connect straight to the mains, don't do it. Avoid macerators as they are noisy, easily blocked and won't add value at resale.
Ensure you site a downstairs toilet in a convenient place, ideally leading off the hallway and with an outward-opening door. Make sure that adequate space has been left for a hand basin in order to abide by building regulations.
With a cost of only £2,000, a downstairs toilet will add £10,000 in value to your home.
9. Build a balcony or roof terrace
Any outside space comes at a premium, particularly in an urban area, and will add value to your home. Aim to provide outside space where the light is best – especially useful if your main garden faces north.
Make use of a flat roof to gain valuable outside space, or install decking and lighting, which will add £10,000 in value to your property.
10. Replace your roof
If nothing else, you need to ensure there is adequate insulation as this will improve your energy rating and reduce heating costs. If you have old concrete roof tiles, changing them to slate will add value and enhance the appearance of the exterior. Roofs last a long time – a new one is a great selling point, as potential buyers won't need to worry about replacing the roof in the near future.
Replacing the roof will cost £15,000 and will add £40,000 to the value of your home.
11. Add a parking space
Parking can be difficult, especially in large cities. If parking in your area comes at a premium, consider converting the front of your property into a driveway. However, be careful about who will be building yours. As MyBuilder points out, 'a driveway needs to be built to last, so only hire an expert with a good track record.'
A new driveway will add £10,000 to the value of your home.
12. Update the front of your property
First impressions count, and your property is unlikely to be attractive to potential buyers if the first thing they see is a tired front path, or a front door that hasn't been painted for decades. Consider renovating or at least repainting the porch, the front door, and the windows, or giving the brickwork a good clean.
Find out everything you need to know about transforming your home's exterior.
13. Pay attention to small details
If you had to choose between a property where the toilet flushed properly and one where it didn't, which one would you go for? Think like your prospective buyer and invest into fixing any small issues that just might make that difference when it comes to selling your home.
About the author:
Melanie Clear is the founder and director of Clear Architects. With experience in both commercial and residential architecture, she believes that great design takes careful though, vision and a deep understanding of a building's structure.
More about buying and selling: