Buying a house is the biggest purchase you'll ever make. The average first-time buyer home in the UK now costs £163,000 and that's before stamp duty, solicitor's fees and moving costs.
The deposit needed to get that initial foot on the bottom rung of the property ladder ranges from £19,600 in the north west of England (that's 55 per cent of typical local first-time buyer income) to £96,400 in London (146 per cent of income, according to Savills).
Such sums seem unreal and the process is daunting. However, if you're well-prepared it is possible that the excitement of buying your first home will outweigh the stress.
1. How to secure a mortgage
Before taking to Rightmove make sure all your finances are in place.
There are some incredibly low mortgage rates around at the moment: HSBC is offering a mortgage covering 90 per cent of the value of your property (meaning you need a deposit of 10 per cent) at a rate of 1.79 per cent and a monthly repayment on £620.56. It's a tracker mortgage, however, so could change if the Bank of England move interest rates.
For around £2 more a month the Yorkshire Building Society has a fixed-rate mortgage for two years at 1.82 per cent (£622.72) – a small price to pay for peace of mind that that is the set interest you will be charged.
Either do your own research online and go to the provider directly, walk into your bank or contact a mortgage broker who will shop around for you.
Agreeing a mortgage in principle will allow you to pinpoint what you can afford so you can start looking at potential properties. Without financing in place the seller won't accept an offer and in estate agent vernacular you need to be "proceedable".
"We won't entertain an offer and pass it on unless we see proof that finance has been arranged," says Joss Cooper, branch manager at Seymours in Haslemere, Surrey.
Can I get a mortgage with a bad credit history?
If you are in, or have recently experienced, financial difficulty it is not the right time to buy a house. There is a brand new tenant-to-landlord payment system that allows you to build your credit rating back up by making your rent on time each month.
However, if money-worries are a thing of the past then your first port of call is the mortgage broker. Try and find one who has been recommended by a friend of family member and take to the first meeting a copy of both your Equifax and Experian credit reports (they can differ).
"Banks are less concerned with your score and more concerned with recent conduct," advises Jonathan Harris, director at Anderson Harris mortgage broker. "If you have a poor score but a good record over the last 12 to 24 months a bank may lend."
Much depends on how much you want to borrow, he continues. If you have a chunky deposit and can therefore afford a low loan-to-value mortgage it will be easier to get a mortgage agreed.
There are specialist mortgage lenders (known as the sub-prime sector) serving those with bad debt but the interest rate repayments are far higher.
Saving for a deposit
Saving a fraction more deposit can exponentially affect how much you can spend on the property so it may be worth hanging on for another six months to squirrel away that extra percentage.
But this only applies if you're operating in a flat or falling market. House prices in London rocketed by 25 per cent in the 12 months to June 2014, an escalation that had not been seen since 1987. In such conditions rapid capital appreciation may wipe out your extra deposit.
While it's important to buy a house predominantly based on your personal needs – such as accommodating a growing family – it's wise to have one eye on the bigger economic picture.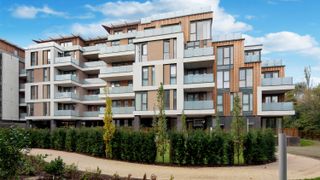 Affordable new homes
In the wake of the last recession the Bank of England revised lending policy making it impossible to get a 100 per cent mortgage. Typically a buyer will now need a 10 per cent deposit to put down.
First-time buyers at Quebec Quarter using shared ownership
Jonny Wing (28) and Ben Jewkes (30) have bought a one-bedroom apartment with a south facing balcony under the shared ownership scheme. The market value of the property was £510,000 but they purchased 40 per cent of it at £204,000, with a deposit of £30,600. The shared ownership scheme has allowed them to afford to be in London in an attractive new housing development.
There are 15 one-bedroom Shared Ownership units launching in April at Quebec Quarter and six one-bedroom private sale available through Help to Buy.
However, there are deals out there designed to get you over that initial cash hurdle if you're prepared to buy a new build home rather than a period property.
Help to buy is a shared equity scheme introduced in April 2013. The Government lends up to 20 per cent of the cost of the newly built home so you'll only need five per cent cash deposit and a 75 per cent mortgage to make up the rest. After five years you'll start paying off the remainder of the loan. Of course when you sell the property you have to pay it all back.
Shared ownership schemes allow you to buy a share of your home based on what you can afford (between 25 per cent and 75 per cent) and pay rent on the remaining portion. As time goes on you can buy a bigger share.
Some affordability initiatives vary by local authority so it's worth approaching the council on what offers they are running. On top of this developers may offer stamp duty holidays for first-time buyers or waiver service charges to seal the deal.
Dolphin Living is running an accelerator programme for key workers in London. With a deposit of £22,000, these workers can rent a flat from the affordable housing charity at 65 per cent of the market rate for three years while they keep on saving. In the meantime their deposit will accrue at the same pace as the average house price in Westminster funded by the charity. At the end of that period the pot of savings will have grown from anywhere between £44,000 and £77,000 – enough to buy a Dolphin Living property through a shared ownership scheme.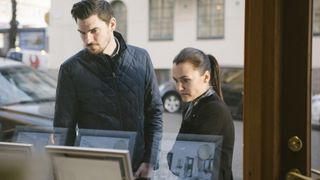 2. Start the search
So you're ready to start scouring the portals for that perfect home but where to begin? Rightmove, Zoopla and Onthemarket are the three dominant websites. Rightmove has the best UK-wide coverage, but it's a tight race. It's worth building a relationship with your local high street estate agents who may tip you off before a home hits the market.
Consider looking at properties under your maximum budget. Then, if you fall in love with somewhere that has interest from other buyers, you'll be in a position to be more competitive with your offer and increase it if necessary.
Equally don't dismiss properties that are a stretch. If you have everything in place and can demonstrate that you can proceed quickly, a seller desperate to move fast could well be open to an offer.
Don't be frightened of getting a dialogue going with the owner – a polite letter through the door can be a good starting point.
Create a tick-list of priority factors. The smallest things become important such as pavements outside the house if you have young children to walk to school.
On many estate agent websites you can now view the property via video which may also help you to discount certain homes with hidden problems: for example a very steep garden or drive.
However, while using your tick-list as a guide, don't be too rigid. You can't change the location but you can alter aesthetics. A wisteria and a lick of paint can improve a harsh brick facade and a good estate agent should be able to advise you on options to extend and whether the local planning officer is open-minded.
If you're buying in a couple ask each other some difficult questions. If one of you is commuting and the other at home, will the long journey into work put a strain on things? Will the person left at home feel isolated if the property is too remote? Make a list of questions pertinent to your circumstances and put the kettle on.
3. Get a solicitor
Instruct a solicitor early and get them to do all your identity checks so they are ready to start work as soon as you make an offer. This shows you're a serious buyer which could help tip the vendor's decision in your favour if you're in a bidding war.
Seymour's Joss Cooper advises to find a local solicitor who knows the area and the estate agents. They may be able to pre-empt an issue which otherwise could hold up the chain.
"You get what you pay for with solicitors and going for the cheapest faceless online service can cause delays," he says. Even being able to walk into the branch and talk face-to-face with your solicitor may help eliminate stress mid-way through what will invariably feel like a lengthy process.
4. Making an offer: how much?
Once you've found the one try and suss out its sales history using Rightmove and Zoopla. The online portals will tell you how long the house has been on the market and whether it has been put on and taken off several times, indicating that there was a lack of demand. Maybe there is a problem that, not insurmountable, has put some buyers off.
Don't rely too heavily on data, however. It's now possible to calculate the value per square foot of properties sold on a road using Zoopla. This is a good way of ensuring you are not vastly over-offering but these numbers do not allow for high spec interiors, a new kitchen or the size of the garden.
Low balling will get the seller's back up as everyone has an inflated idea of their home's worth so don't be surprised if your offer is instantly rejected. If the property has already come down in price it's worth starting low but if you want to proceed quickly and eliminate competition it's worth making a fair bid. A show of faith may save you money when it comes to negotiating over extras such as white goods further down the line, and once you move in you may need help with the boiler or inside information on the neighbours.
"Put any offers in writing and tell the sellers why you love their home. List everything that clarifies your position and puts your offer in the best possible light. Who knows – the seller may have been a first-time buyer themselves not so long ago and might relate to your circumstances," advises Rebecca Sullivan from Savills.
A helpful guide from the HomeOwners Alliance says "play it cool" with the estate agent and be flexible on the completion date to fit with the vendor: logistics may swing it.
Finally, there's no such thing as the one, so don't be despondent if you miss out. Many first-time buyers are utilising Government affordability initiatives to skip a step on the ladder, buying a small family home rather than an apartment. This saves them moving twice and shelling out more stamp duty. The longer you wait, the more deposit you'll have and therefore more chance of finding the right home for you.
Don't get gazumped
So your offer has been accepted but it's not legally binding yet. Both parties can still pull out. To avoid getting gazumped (another buyer coming in after your offer has been accepted and bidding higher) ask the estate agent (firmly and repeatedly) to take the property off the market and change the sign outside to 'sold.' Gazumping is deemed unethical by some agents but it is not illegal.
5. Surveying and conveyancing: the 'boring bit'
Up until your offer is accepted you will have a mortgage agreed in principle. Now it's time to sign an official mortgage agreement.
Now the solicitor earns their fee: they act as an intermediary between the buyer, lender and seller and deal with the agent, look over all contracts, deal with the Land Registry, sort out stamp duty and handle the movement of monies.
In the meantime find a local surveyor who knows the housing stock to check the property for hard-to-spot structural issues such as subsidence. On a new build property a basic survey called a Homebuyer Report will suffice (as long as you have chosen a reputable housebuilder) whereas a listed building or period cottage may require a more detailed report, known as a Building Survey. If there are issues uncovered at this point you can renegotiate the overall price. Be sure to check flood zones too on theEnvironmental Agency website.
At this point insure the building (but don't feel you have to do this through your mortgage provider – shop around.)
Inventories: white goods wars
There is a reason to keep things friendly between buyer and vendor: the inevitable quibble over white goods. There is no firm set of rules here: the vendor may have installed an expensive Rangemaster a few years ago and can't take it with them but is now trying to whack on an extra charge. A fixed item they cannot take with them should be included in the price of the property.
If it would benefit them to take the washing machine to their next home but they offer to leave it for a sensible cost, bite their hand off. The convenience of having decent white goods in place on moving day is invaluable. However, they must be well within the warranty period or do not part with any cash. Also, insist all warranties and manuals are left.
6. Exchanging contracts
Once the mortgage approval process has been completed and the solicitor has checked all paperwork you will sign on the dotted line and pay your mortgage deposit. Back-out now and forfeit that 10 per cent. Everyone in the chain is now locked in financially.
The completion date – when you get the keys – usually happens about two to four weeks later and is set at exchange. At this point you can swing into action – book a removals company, start arranging bills to be switched over and organise the redirection of post.
Buying at auction
Fans of the BBC series The Detectorists will remember the finale of series three with fondness as Mackenzie Crook and his girlfriend buy their first home at auction. Since the global financial crisis and housing crash of 2008 it's become a more popular way of getting on the property ladder. You avoid the traditional and lengthy process, cannot get gazumped, and can bag a bargain. But beware, as soon as the hammer falls your are committed to buying.
You'll need a solicitor, £200/£300 administration fee and once the paperwork is signed you are responsible for insuring the property. Remember, stamp duty still applies but you can apply for a special auction mortgage too.
Find out more about buying at auction.