Our gorgeous bedroom color ideas make for an easy bedroom update. And, if you are on a budget, we always say that painting is one of the most cost-effective and versatile bedroom ideas around. Especially if you grab the brushes and rollers and do it yourself. But how do you go about choosing the perfect bedroom color scheme?
First, consider the mood you want to create: bright and cheerful, cozy and muted, or dramatic? Then, think about your bedroom's orientation: how much sunlight does it get and how will the colors you're considering look under both natural daylight and lamplight? Now think about your bedroom's size: do you want your small bedroom to feel larger or does size really not matter that much to you in a bedroom?
If you are feeling a bit flummoxed by all those questions, don't worry we cover them all below as part of our paint ideas for bedrooms gallery.
1. Paint walls with a classic pale grey
You just can't go wrong with a pale grey, can you? It's such a classic and instantly makes a room feel elegant and airy. It works in any size bedroom and with any amount of natural light too, so a really easy color to work with. You can embrace the cooler tones and pair it with deeper grey and blues for a more steely vibe or copy this bedroom color idea and warm up those walls with dark woods, soft greys and blush tones.
We have plenty more grey bedroom ideas over in our gallery if you have already fallen for this look.
2. Pick a bang on trend sage green
Sage green paint is having a bit of a moment, isn't it? We can't scroll through Instagram for more than a few seconds without seeing some gorgeous muted green feature. So naturally, we want in on this emerging trend.
'It's such the perfect bedroom paint color – it's bolder than a white or grey but it's still so subtle and soft and just instantly creates a very serene vibe. ;We all know green is a restful colour so what better place to put this to practice than by decorating your bedroom in one of its tones.' says Patrick O'Donnell of Farrow & Ball. 'Not only will green help impart the mood of relaxation, but it will create a lovely link to the outdoors. Try decorating on both the walls and the ceiling for a fully immersive experience, this will help blur the boundaries of a room with limited space too.'
Love that paneling? You could actually DIY it using wooden boards and wood glue or nails.
3. Go bold with blue
A rich, vibrant blue wall is instantly going to make a statement, but it's a much more liveable hue than you might think. Pair it with very simple, minimal decor and just let that blue be the focus.
'Blue is a little difficult to use because it's generally cool toned, and the lighter shades can almost make a space feel too big and open (first world problems eh)!' says Annie Sloan, Colour and Paint Expert. 'You have a couple of options here. One is to opt for a deep, rich blue – which has a complex balance of warm and cool pigments and will make a space feel bigger, but not exposed. Or, if you're like me and you like to play with color, using complementaries! I'd include some orange accessories which will provide warmth, emphasize the depth of both colors and make a very stylish statement.'
4. Create texture with paint
We have been noticing a growing trend for bare plaster walls. You know walls that look like you ripped all the wallpaper off, barely sanded it down, and just left it to do its thing, but in a good way.
Since for most of us trying to get back to that bare plaster would be a massive job and probably leave our rooms looking like a not very cool disused warehouse, you'll be pleased to know you can recreate that distressed look simply with paint.
Create three hues of your chosen paint shade by either adding a touch of black (to make it darker) or white (to make it lighter). Apply a thin layer of the darkest color to the whole wall, don't worry if it looks messy or unfinished. Then use a textured sponge or a cloth to go on top with the lighter colors, making sure you leave sections where you can see the darker color underneath. You can interchange between using the sponge and a rag to create more texture, even turn to the darker paint again to add more depth.
5. Add height with a painted dado rail
Firstly, loving this all over pink. It's perfect for a smaller bedroom as it almost blurs the edges of the room and alludes to the space being bigger. The dado rail effect helps give the room height too, and you could really easily recreate this bedroom paint idea in your own space with any color. Just use masking tape to create your line and then use a slightly darker tone of the wall color above to create the subtle color block effect.
6. Embrace not so boring beige
'I feel beige and greige are going to be the new grey. The warm earthy tones make you feel stable and grounded paired with dusky pinks and warm green to bring balance and calmness to our lives.' says Tash Bradley Head Colour Specialist at Lick Home.
We couldn't agree more. Beige had a bit of bad rep of being a bit of a meh color, but it's definitely making a comeback as a very warm, elegant, cozy tone that's perfect for bedrooms. Keep it feeling contemporary by pairing it with white and black.
7. Pick aqua shades for east facing bedrooms
'East facing rooms are drenched with morning light but cooler in the afternoon so work with nature and play to this bias using soft Aquas, (essentially blue/ green shades).' says Patrick O'Donnell. 'They have a natural affinity to the lighting conditions but rarely feel too icy due to the blend of both colors. Aqua has a lovely restful quality and are super flexible depending on how you decorate your room with other furnishings which can make the room feel either modern or traditional.'
8. Get creative with shapes
If you are after fun (but sophisticated) bedroom paint idea, check out this! So simple but so effective and is a great look if you have a smaller bedroom that you want to give some interest but not clutter up with a load of decor. We personally love the circle, but you could go with any shape that you feel suits your space and style.
9. Opt for warm tones for a cozy vibe
Terracottas, oranges and even browns are becoming increasingly popular bedroom colors. They bring in so much warmth and instantly make a space feel inviting.
'We've seen so many homeowners use paint to create a restorative sanctuary in their bedrooms, where they need it most. We are seeing a lot of bedrooms incorporate colors inspired by the earth. Warm browns, deep greens and calming blues will be at the forefront as homeowners are bringing the outdoors in through design.' says Sue Wadden, director of color marketing at Sherwin-Williams.
'Rooted in nature, [Sherwin-Williams'] 2021 Color of the Year, Urbane Bronze SW 7048, creates a sense of calm, safety and security. I recommend painting it on all four walls in a bedroom for a cozy, cocoon feeling.'
10. Go all over black for a dramatic bedroom color idea
Yes, this is quite the look. Very dramatic but we think it totally works and actually proves that black can be a perfect color for a bedroom.
'While dark colors for any room can often feel like a leap of faith, they can create surprisingly cocooning spaces, so don't rule out using them in the bedroom, especially if the room is poorly blessed with natural light. Try something like Down Pipe which never feels too cold or overwhelming, especially when simply dressed in off white linen for a clean contrast.' says Patrick O'Donnell.
11. Or just paint the ceiling
And if you love dark interior design ideas, but aren't quite ready to commit to an all-over look, this bedroom paint idea is for you. Dark ceilings can make a real statement, especially when contrasted with paler walls. If you want to warm up the look just bring in some yellow and gold tones as you can see with this gorgeous bedroom color idea. Bring in some fun textures too to stop the monochrome scheme feeling too flat.
12. Highlight a feature with a different shade
Copy this bedroom paint idea and choose one strong color – then, pick a lighter accent tone of the same color to show off your room's features to add an extra touch of character. The paler circle around the mirror and the stripe at coving height soften the effect of the deep purple paint color; a similar approach will create a bedroom paint wall design that is unusual and striking.
13. Go for dramatic, deep bedroom colors
Darker bedroom paint colors work really well if you balance the rest of the color scheme carefully: choosing pale colors for the bedding, furniture, flooring, ceiling and window dressing will be particularly important in a room that gets poor natural daylight, but will keep brighter spaces feeling airy in the daytime, too. Add in a few touches of a warmer accent shade, such as pastel pink to keep the room feeling welcoming.
Here, the pale bedding, cream rug and flooring all contrast with the beautiful deep blue wall color. For something similar try Farrow & Ball Stiffkey Blue.
14. Create a coastal feel with blue and white bedroom colors
Still love the enduringly popular New England coastal look? We don't blame you – it never dates and always looks fresh and clean. Plus it's a really easy look to switch up as your tastes change.
To recreate this bedroom paint idea, choose a soft white paint for the walls and ceiling, and even the floor if you have been blessed with lovely floorboards. Then bring in those touches of blue with the decor and soft furnishings.
Love this love? Check out more coastal decorating ideas.
15. Get on-trend with painted geometric shapes
Geometric paint effects are very trendy – so why not add your own graphic design to your bedroom walls with little more than a roll of masking tape and a paintbrush? Use white as your canvas, and select some pretty pastel tones to complete the look.
You may even get away with tester pots for the lesser-used accent shades. Team with bedding in similar shades to complete the look. For more pretty pastel decorating ideas check out our feature.
16. Brighten a dull room with sunshine hues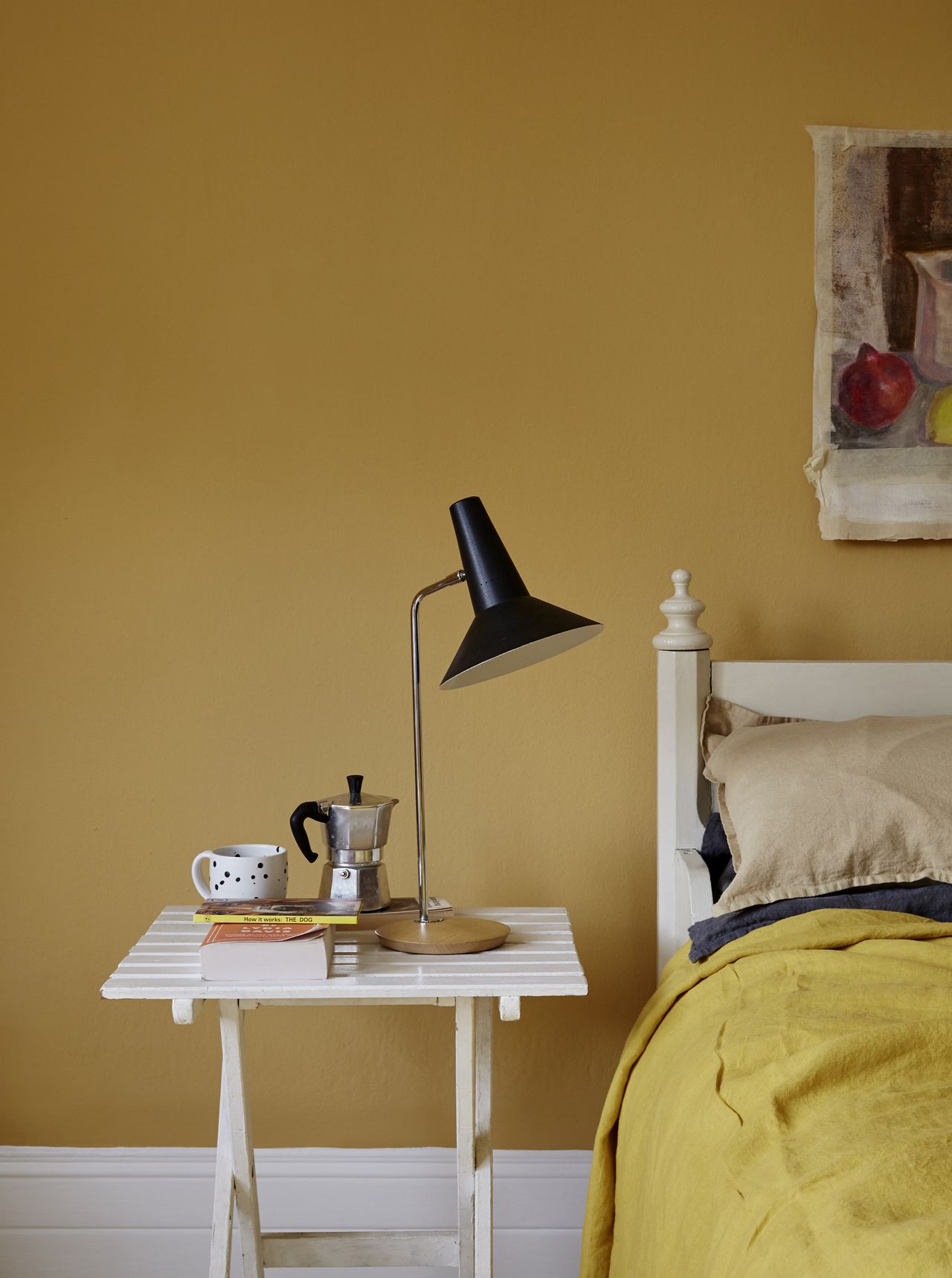 Don't be afraid to try warmer, more intense shades with your bedroom paint ideas, especially if yours faces north or east, has a small window or has proportions that make it feel unwelcoming.
Picking a yellow? For your bedroom paint colors stay away from citrus shades, which will be too bright, and pick earthier tones instead. Team with crisp white woodwork for a fresh look and accent with black accessories to give the room a contemporary edge.
If you love it, you are going to love our yellow room ideas feature too...
17. Bring the outdoors in with green bedroom paint colors
Another color that's on-trend is this deep, blue/green – and it's perfect for a bedroom, whatever its size or orientation. By day, it's light enough to bounce light around; by night, it will deepen to create an intimate feel. Better still, it's a great match for an abundance of house plants.
'One thing I would always avoid is anything too saturated in a bedroom – my bedroom is painted in deep Aubusson Blue and at night-time it's the most seductive, soporific, cozy night-sky blue. In the morning as daylight fills the room you can see the green nuances to it, so I'm still getting my color kick but I'm not trying to go to sleep in a room with a bright green wall shouting at me.' says Annie Sloan.
18. Create a calm look with beautiful neutrals
Want your bedroom to be a haven of calm? Or perhaps you like to change the look of a room on a regular basis? If you're not a fan of bold bedroom colors, a neutral bedroom color scheme will create a relaxed, spacious feel that's the perfect backdrop for ever-changing accessories.
Pick white or off white for your walls and ceiling and then bring in some warmth with terracotta hues, wooden accents and natural textures. Pick a slightly darker color to add too just to create a bit of contrast.
19. Liven up your bedroom with polka dots
Create your own feature wall without wallpapering by painting different shapes in various colors against a pale background color; it's a very effective and easy way to add interest to an existing bedroom color scheme. Use an on-trend metallic for the dots as shown here for a touch of boudoir glamour.
If you're getting a feeling for a pink bedroom, make sure you check out all our pink room ideas.
20. Create an elegant finish with painted panels
Whether your walls are tongue-and-grooved or paneled, or you're creating your own paneling from lengths of MDF pinned and glued to the wall, painting it in an authentic, period shade (which also happens to be fashionable for homes right now, too), will give your bedroom an elegant, traditional appeal that's rather smart, too. Then all you have to do is choose contemporary furnishings and accessories for the perfect mix of old and new.
Love grey? Check out these gorgeous grey bedroom ideas.
21. Go for an all white bedroom color scheme
Wow. Paint your bedroom white. How groundbreaking. But seriously, an all-white bedroom looks clean, crisp and it's never going to date. Pick a really bright white and go to town – paint the ceiling, the woodwork, the walls – to create a (surprisingly) striking look. Add color and pattern with your bedroom accessories and bed linen.
Check out more ideas that prove white can be an interesting color choice in these white bedroom ideas.
22. Paint a DIY headboard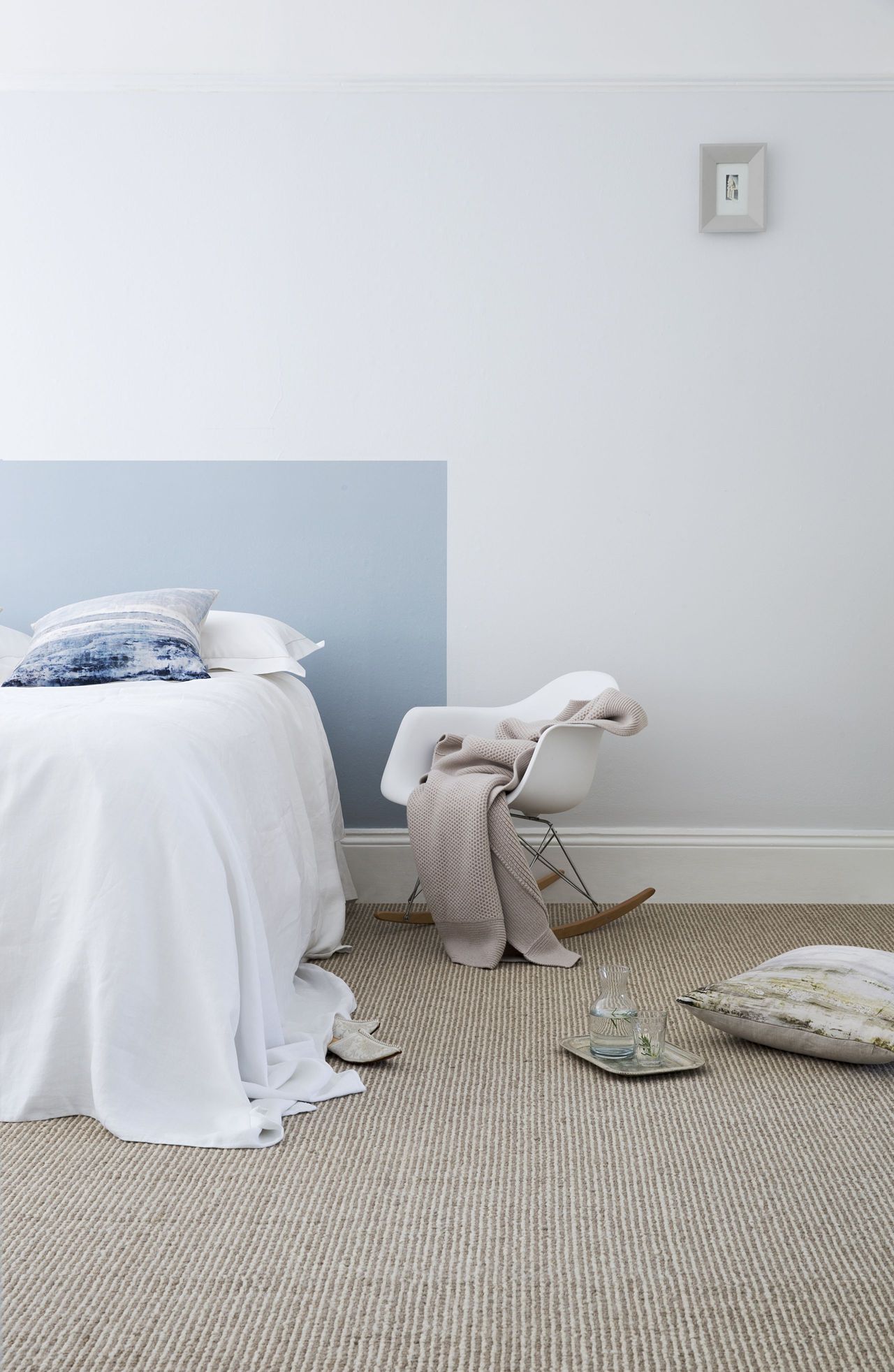 Looking for a bedroom painting hack? Literally, the cheapest alternative to a real headboard, all you need for this quick DIY bedroom paint idea is some paint, a brush (or roller) and some masking tape.
Start by using tape to mark out a rectangle around the top of your bed. Then, take your color of choice and start painting, being careful to keep within the lines of the masking tape. Let the paint dry, giving it another coat if it needs one, and then peel away the masking tape. We have loads more where that came from in our DIY headboards feature.
23. Split the walls with contrasting colors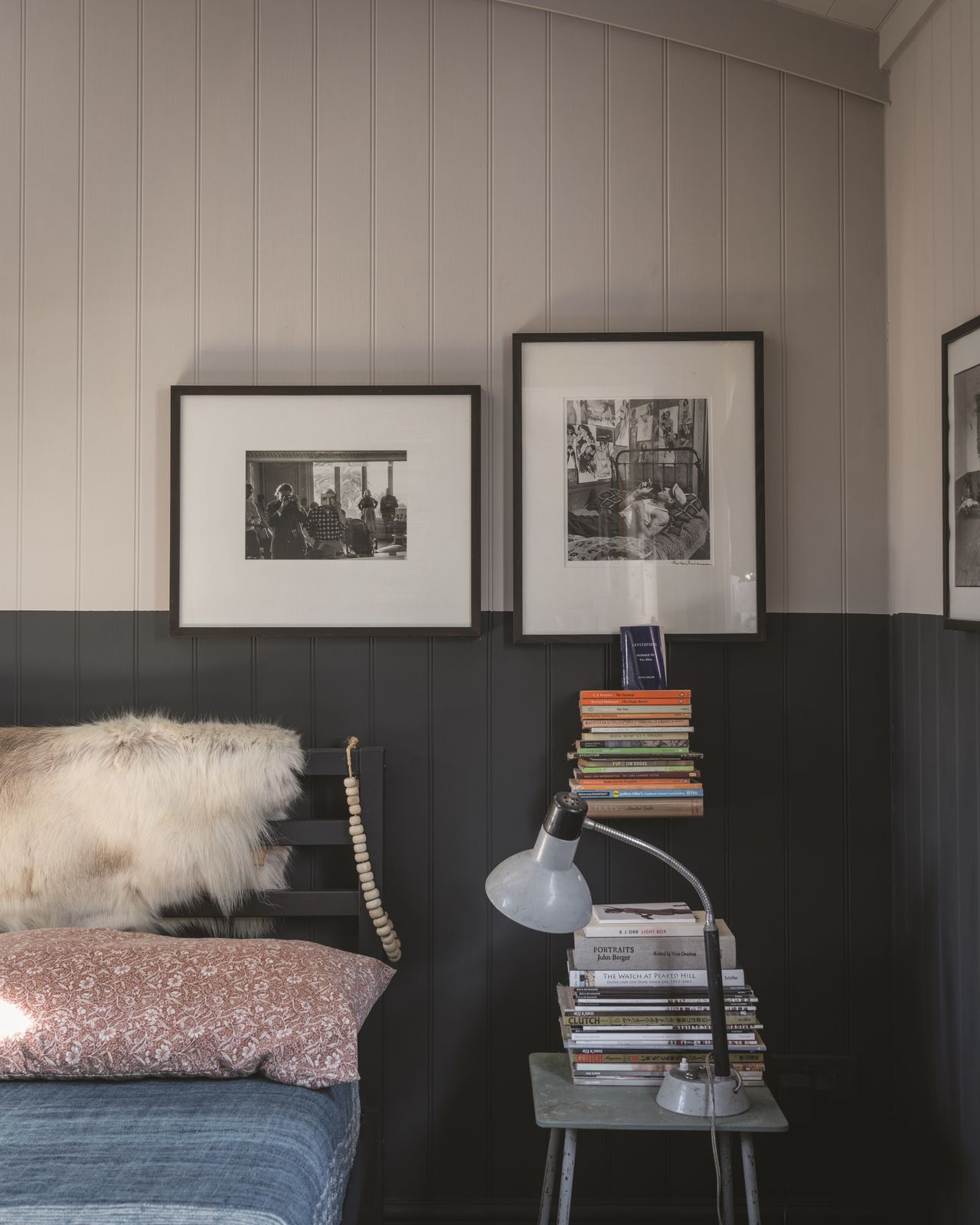 Period bedrooms have dado and picture rails to divide the wall up into areas that can each be given a different treatment, but if your home is modern and without these authentic details, you can still zone your walls with different colors to create a layered look that's packed with interest.
Fail-safe rule? Keep the darker of the colors to the lower part of the walls and the lighter above to make the ceiling feel higher and the room bigger. And, if you're picking a bold shade, opt for a non-white, or off white accent color for a softer contrast. For more similar ideas, check out these inspiring color block ideas.
24. Paint a bedroom in a pastel pink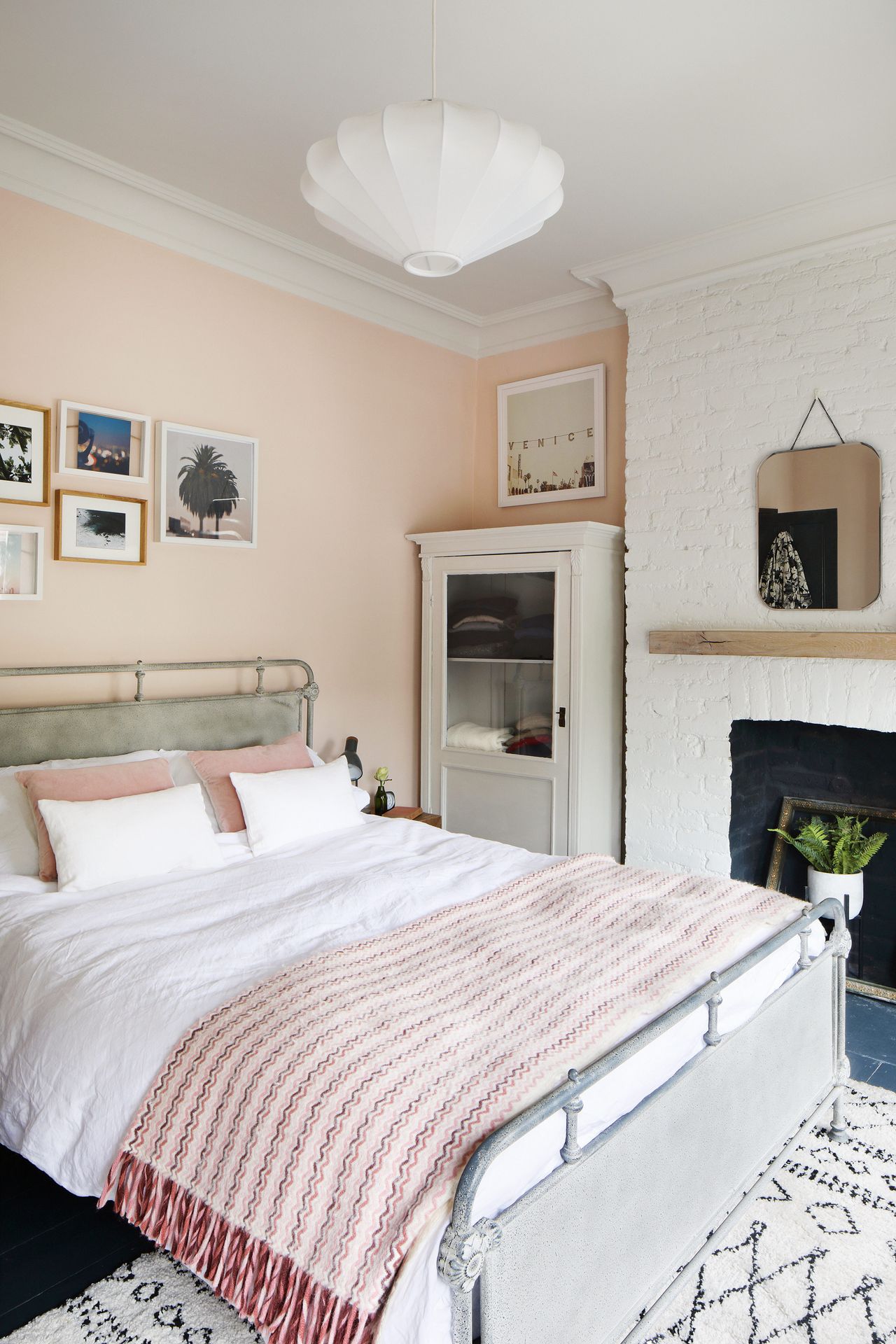 Pink is still a massive trend right now, but in interiors, we have moved past the slightly brighter millennial pink, towards softer, more blush pinks which we personally think are so much easier to decorate with. Blush pinks are perfect for bedrooms because they instantly make a room feel more cozy and warm and just more inviting.
For a great pink paint for bedrooms try Farrow & Ball's Sulking Room Pink.
25. Add a pop of red
You don't see red all that often in a bedroom, it's seen to be quite a bold almost overpowering color. But we think used in the right quantities it can create a cozy and inviting space.
We have seen it work so well in more traditional bedrooms, where lines are not as clean and walls not as straight, so if you have a period property (or not actually) try painting a feature wall, or a portion of the wall in a dusky, chalky red.
26. Play with a purple idea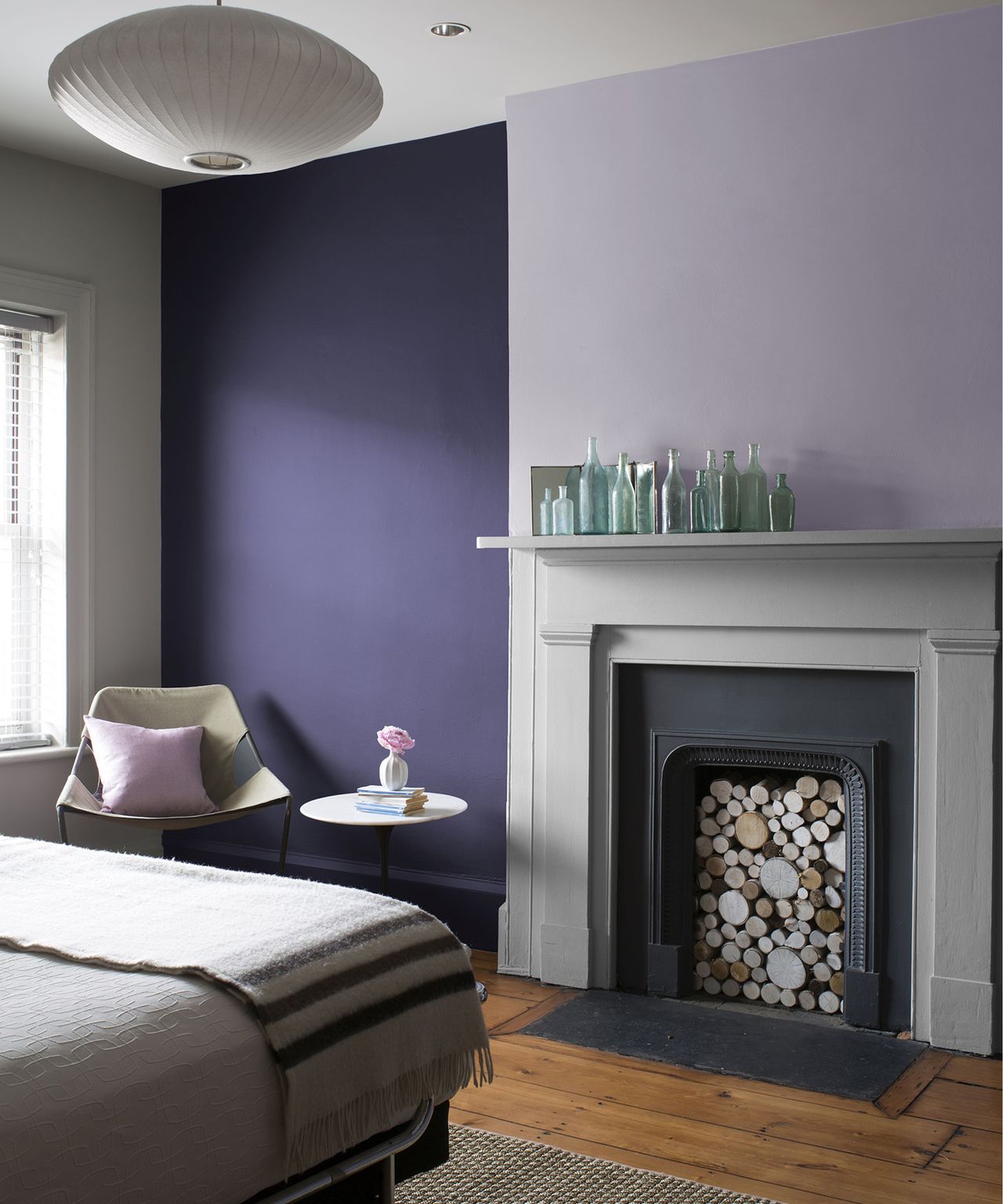 27. Turn up the heat with terracotta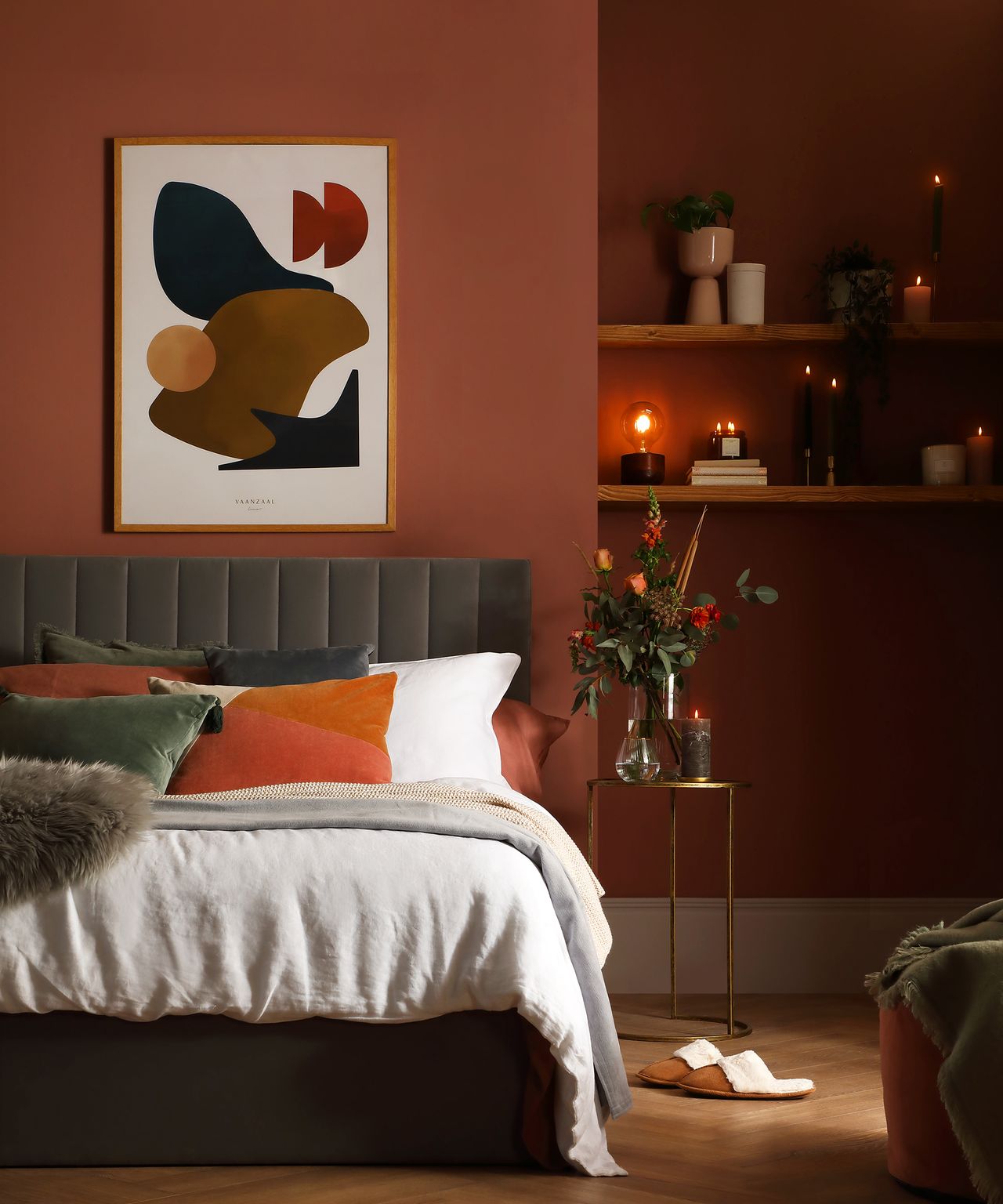 What is the best color for a bedroom?
The best color for a bedroom will of course come down to your own personal style but there are practical elements to help you decide too, like the size of the room or how much natural light it gets. What kind of vibe you want to create will also decide the bedroom color scheme you choose. Do you want the space to be bright and breezy or cozy and cocooning?
Just some general rules to follow – if your room lack natural light you want to create warmth by using warmed toned colors. Think blush pinks, oranges, warm whites, beige and even soft, muted yellows would work. If your bedroom is one the smaller side, you could play it safe by going to very neutral, light colors like bright whites as these are the most likely to make the room feel bigger. You could also go in the opposite direction and but darker hues like deep blues, greys and blacks to embrace the small dimensions.
What colors are on trend for bedrooms?
The color that still remains on-trend in bedrooms and is definitely the most popular hue is of course grey.
'Over the last 10 years, grey has been a very popular color. I think grey will always be an important neutral and a popular color for DIYers and designers alike, just like white has always been. However, over the past few years we've noticed people craving color in their homes, which I think is a direct response to how pervasive Scandinavian minimalism was in the previous decade. This doesn't mean we're eschewing grey, more so that we're looking for different versions of it. Notably, warmer greys and beiges (or 'greiges') are increasing in popularity.' explains Sue Wadden, director of color marketing at Sherwin-Williams.
Along with beige, we've also seen a rise in pinks, sage greens and darker colors are becoming increasingly popular in bedrooms.
What are the most relaxing colors for a bedroom?
The most relaxing colors for a bedroom are the ones that invoke a feel of calm. So think subtle, muted hues like lilac, dusky pinks pale blues, light greens and of course tranquil, clean whites.