These blue bedroom ideas are perfect if you are thinking of having a bedroom refresh. Blue is known for being such a calming color, even at its most dramatic it still has that soothing feeling you want in your sleep space. It's also super versatile and ranges from barely-there pastel blues for a laid-back, beachy feel, to deep, inky blues that create a cozy, cocooning vibe. It's also a color that works so well with other shades so you can really experiment with your scheme and create a blue bedroom that perfectly suits your style.
'Blue can be little difficult to use because it's generally cool toned, and the lighter shades can almost make a space feel too big and open (first world problems eh)!' says Annie Sloan, Colour and Paint Expert. 'You have a couple of options here. One is to opt for a deep, rich blue – which has a complex balance of warm and cool pigments and will make a space feel bigger, but not exposed. Or, if you're like me and you like to play with color, using complementaries! I'd include some orange accessories which will provide warmth, emphasize the depth of both colors and make a very stylish statement.'
Just keep on reading for all our favorite blue bedroom looks, plus plenty of ways to bring this beautiful hue into your space...
1. Keep it simple
Paint is the simplest (and usually cheapest) way to bring some blue hues into your bedroom. So get out your decorating dungarees and get covering those plain walls in a gorgeous deep blue teal. This color might seem like a bold choice but it works in any size room, with any amount of natural light – it never looks too dark or too flat.
You could go with one feature wall behind the bed or opt for all four walls to make more of a statement. Either way, pair this deep blue with simple decor – keep the walls free from too much clutter, your furniture simple and add in plenty of white to contrast and lift the blue. Oooh and those orange velvet cushions? Yes, please!
2. Pair deep blue walls with crisp white ceilings
If you love the idea of going all over with a blue paint but don't want to risk it making your room feel darker or smaller, our top tip would to be pair it with a crisp white paint. See how in this bedroom the blue stops just before the ceiling at the picture rail (you can fake one if you haven't got one) it gives the room height and stops the blue from overwhelming the space.
3. Pick a bold blue bed
Designing a blue bedroom isn't all about paint, you can create your color scheme using your furniture too. A blue headboard is an obvious choice as your bed tends to be the focus of your space anyway. How gorgeous is this velvet scalloped number? And we love how the color is reflected in the adjoining room. You could weave in more blue with your soft furnishing and decor or pick a cute wallpaper that has just hints of that same blue.
4. Contrast blue with pink hues
Loving the vivid colors in this blue bedroom. And we know that pink and blue aren't a color combo you see all too often, but we think this space proves that that needs to change. A pop of pink furniture against a blue wall, or a mix of blue and pink throw pillows not only creates a fun contrast but softens all those cool tones too. And despite the quote bold mix, there's something very sophisticated about a vivid blue and peachy pink.
We have loads of pink and grey bedroom ideas too, if you want more of this rosy hue going on in your bedroom.
5. Layer up the blue tones with bedlinen
Bedlinen is a lovely, easy way to bring in some blue tones to your bedroom, and we say the more the merrier. Layering up all those textures and blue hues creates such a relaxed, serene look that you 100% want in a bedroom. The raw edges and slubby fabrics only enhance the softness of the blues and it's all freshened up with the white shiplap walls.
See also: best bed sheets 2021 - the popular sheet sets designed for a good night's sleep

6. Don't be afraid to contrast colors in a blue bedroom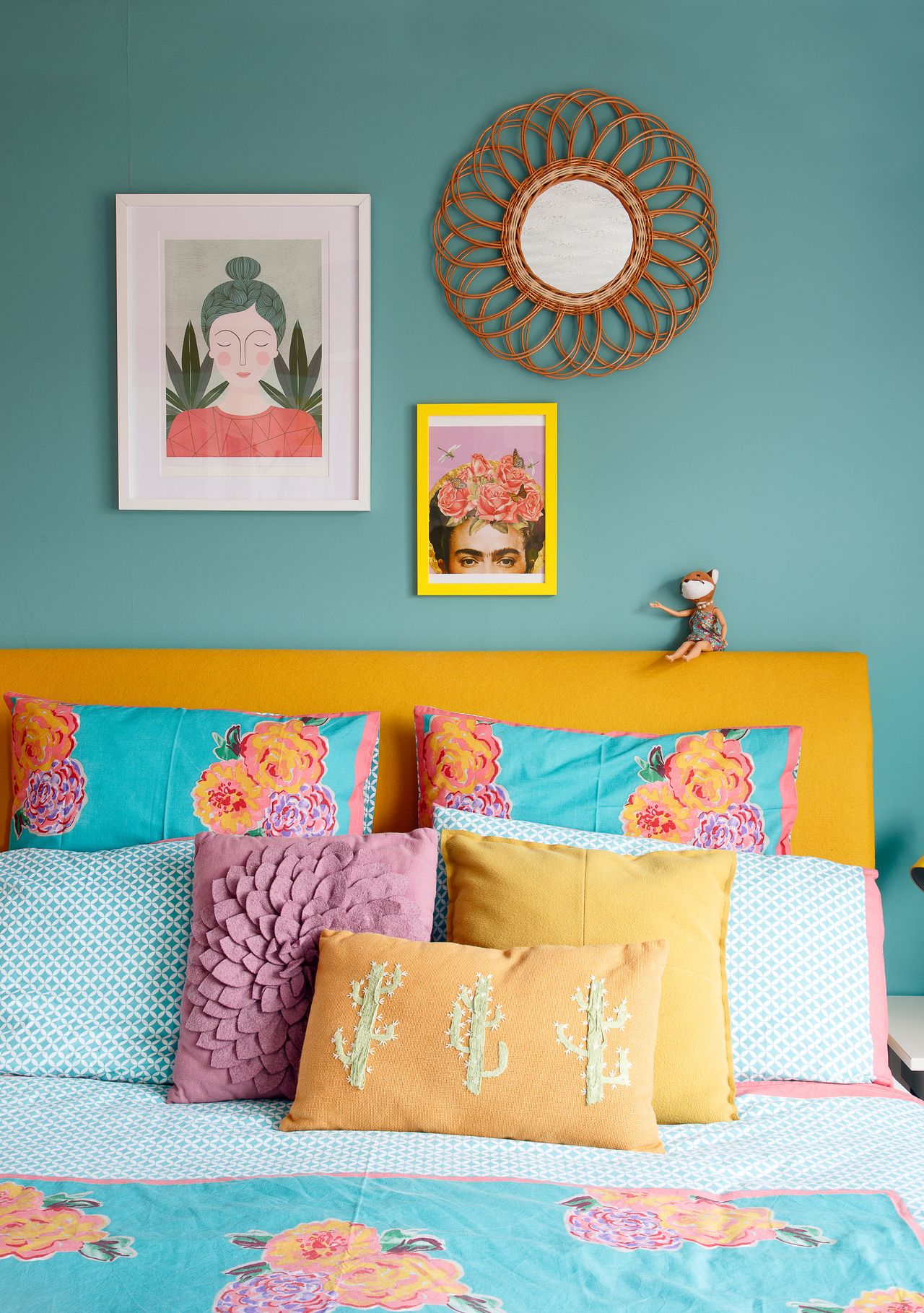 Yellow and blue may seem like a bold color scheme, but pick the right tones and it greats a fun, vibrant bedroom that doesn't feel too over the top. Opt for slightly toned down hues – mustard yellow with a muted teal works perfectly in this bedroom. You could pick simple white bed sheets if you want a more minimalist look or go all out and bring those yellows and blues into your bedding and pillows too.
7. Create a beachy vibe
Blue is synonymous with beach house style and it's a super simple look to recreate too. Keep your walls and floors white – if you have been blessed with wooden floorboards you could even paint them white, and panel the walls or pick out shiplap effect wallpaper for a more low maintenance option. Then add in those pop of royal blue with your decor, lighting and bed linen. Add a striped rug for an even more nautical vibe.
If you love this look we have plenty more where this came from in our beach house interiors gallery.
8. Go maximalist with a mural
Maximalist lovers, this blue bedroom is for you. All those gorgeous colors and patterns come together to create a surprisingly serene and calming space. That's the great thing about decorating with blue, no matter how bold you go it still always has that lovely soothing quality.
Picking a mural design over a wallpaper gives a room a more expensive, luxurious feel – loving the hints of lime green in this one and how it lifts all those watery blues.
9. Paint a feature wall in soothing teal
Not quite blue and not quite green, teal is a lovely, soft way to bring some blue tones into your bedroom. Despite being darker, it almost has the quality of a neutral tone in certain natural lights and a lovely cozy feel once it night falls.
'One thing I would always avoid is anything too saturated in a bedroom – my bedroom is painted in deep Aubusson Blue and at night-time it's the most seductive, soporific, cosy night-sky blue. In the morning as daylight fills the room you can see the green nuances to it, so I'm still getting my colour kick but I'm not trying to go to sleep in a room with a bright green wall shouting at me.' says Annie Sloan (opens in new tab).
10. Combine blue and black for a dramatic look
Black and blue isn't a combo you see very often, but in this blue bedroom, it totally works, with the walnut woods adding some lovely texture too, definitely one to try out.
This is the ideal color scheme for rooms that don't get tons of natural light too so you can really embrace that dark, cocooning feeling. 'East facing rooms are drenched with morning light but cooler in the afternoon so work with nature and play to this bias using soft Aquas, (essentially blue/ green shades). They have a natural affinity to the lighting conditions but rarely feel too icy due to the blend of both colours. Aqua has a lovely restful quality and are super flexible depending on how you decorate your room with other furnishings which can make the room feel either modern or traditional.' says Patrick O'Donnell of Farrow & Ball (opens in new tab).
Note how the ceilings are painted as well, adding even more depth and drama.
11. Keep things light with a sky blue bedroom
And at the opposite end of the spectrum. If you are after a light and breezy feel to your bedroom a light sky blue will always do the trick. This bedroom feels so fresh and inviting, with the blue working wonderfully with the splashes of deep red in the headboard. This is the perfect hue for more traditional bedrooms but you could adapt it to suit a more modern style by pairing it with white and navy blue.
12. Go super dark with an almost black blue
Really deep, almost black blues are having a bit of a moment right now. We are seeing this dramatic shade all over Instagram and Pinterest, but it's actually a far more liveable color than you might think. Especially if you stick to just one wall and style it with plenty of lighter colors and textures to add warmth.
See how in this small bedroom the dark wall draws the eye to the back of the room, making it appear larger. And it doesn't feel at all gloomy because of all the white going on in the rest of the space.
Find more dark interior design ideas in our full gallery.
What shades of blue are good for a bedroom?
The best shade of blue for a bedroom will depend on what look you are going for. If you are after a light, relaxing almost beachy feel you'll want to stick with those light blues – sky blue, duck egg blue, pale turquoise would all work well. If you are after something more dramatic to create a more cozy ambiance then deep navy blues, and midnight blues are what to go for.
As we have said the great thing about blue tones is how versatile they are and tend to work in all rooms of any size and with any amount of natural light. But as a general rule, you might want to avoid using anything too cool-toned in a darker or north-facing room, unless the icy look is a vibe you want to go for.
Jemma Dayman, Buyer for Carpets and Rugs at Carpetright says: 'Don't be afraid to layer several shades of blue and tie together with whites and greys.
'If you're not ready to commit to a bold carpet, opt for weathered wood or stone effect luxury vinyl which can be paired with complementary blue walls or blue upholstery.
'When considering a nod to nautical don't go overboard with accessories, so it remains on trend rather than novelty.'
What colors go with blue in a bedroom?
Blue pairs well with so many different colors as it has so many shades ranging from colors so light they are almost a neutral to ones so dark they are almost black. Some of our favorite combinations though are; the classic navy and white, they just always looks so elegant and chic. Orange and a muted denim blue work well together for a more vivid look, as does yellow and blue. Pale pink and deep blue are less bold than yellows and oranges but you still get that vivid contrast. And then there's grey. Grey, of course, works with pretty much every color, but the cool tones layered up with cooler blue tones looks so stylish in a more contemporary bedroom.
When picking your blue bedroom color scheme just be sure to order samples so you can see what different color combos look like in your space.