Scandi style has proved to be an enduring trend for bedrooms year on year. With long cold winters and the 'midnight sun' of northern Scandinavian summers, it is no wonder that home design in this region has embraced a style that perfectly balances cosiness and use of natural light. This commitment to comfort and style is embodied by the Danish notion of Hygge (that's hue-guh for those of you still struggling to pronounce it) – a concept that can't directly be translated to English, but describes a feeling of convivial comfort, cosiness, and general well-being.
Most bedrooms can benefit from a little dose of Hygge. Think soft throws in chunky knit or sheepskin, earthy tones, and lots of natural materials such as wood and wicker.
Simplicity and functionality are key to creating a Scandi look. When it comes to decorating your bedroom, neutrals dominate this style, but colour accents will add more interest. Good bedroom storage is a must to keep the room free from clutter, too.
Check out these beautiful bedrooms with their wonderful diversity of Scandinavian style.
1. Choose a neutral bedroom colour scheme
If bright white is not your bag, warm up your room with off-white shades that take their cue from nature. Work with a range of textures and tones, mixing up greys, creams, and ivory shades.
In this Scandi bedroom, have paired the Washed Linen in Stone has been paired up with the Maya tasselled cushion, Ilda striped cushion, Fora tufted cushion, and Ezra rug, all from the Cox & Cox New Neutrals range.
2. Pick a delicate wallpaper design
A delicate Scandinavian-style wallpaper will give your bedroom a restful feel, especially if chosen in muted shades of restful blues and greys. Bosky wide width wallpaper in Blue Yonder, £65.52 per metre, Lewis & Wood
3. Invest in reflective surfaces
Scandinavian-style schemes are all about maxing out the light, so pick not just pale walls and white furniture, but mirrored pieces, too. Match these with white-painted floors and sheer window dressings and even a north-facing bedroom will feel light and airy.
All items shown, Ikea.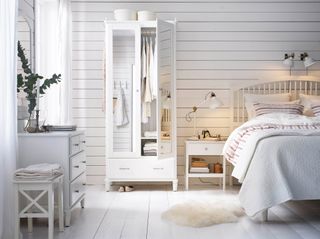 4. Install wall panelling
Wall panelling is a brilliant way to create character in a Scandi-style bedroom, and it needn't cost a fortune if you use DIY-store pine tongue-and-groove or ready-to-paint MDF panels. Paint yours grey for a cosier alternative to bright white. Here, it's matched with Mid-century inspired furniture for an eclectic feel.
Cranbrook bedroom range, all Soak & Sleep.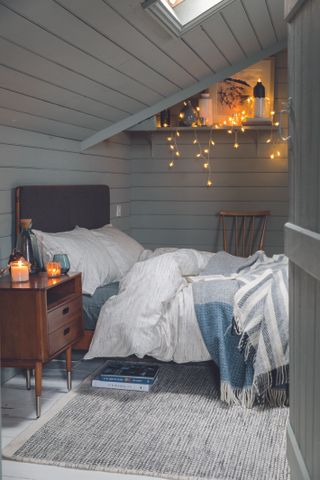 5. Choose a sleek modern bed for children's rooms
Scandi style is a popular choice for kids' bedroom designs, particularly for older children. The Scandi philosophy of combining a relaxed look with tidiness is an attractive aspiration for parents – but invest in plenty of bedroom storage in order to make it a reality.
The key furniture piece in any bedroom is the bed; as part of a Scandi design scheme, choose a bed frame that is modern and robust, and without excessive ornamentation.
The 'A' Teen Bed bu Rafa Kids is a sleek and functional option for older children's bedrooms. It can be paired with the F Loft Bed to create a bunk bed, and other matching furniture is available from Cuckooland. The one used in this bedroom has a whitewash finish and is made from eco-friendly Finnish birch and plywood.
6. Mix and match soft furnishings
Geometric prints looks great in a Scandi scheme. If you are going for a very modern take on the look, you can introduce bright colour accents, but for a cosier look, try muted, natural tones, or geometric knits and fabrics.
This Scandi bedroom design design by House of Fraser combines a variety of textures and delicate patterns.
7. Choose practical bedroom accessories
Keep your room uncluttered by accessorising with things that also have a function. Well-designed clocks, statement lighting and bedroom storage units can all be used to enhance the design of your bedroom.
8. Invest in Mid-century bedroom furniture
For an authentic Scandinavian look, pick Mid-century furniture; with its clean lines and slim frames, Mid-century style has won over many fans. The warm wood tones also work well alongside a neutral bedroom colour scheme and a wood floor.
Original Mid-century furniture is available from many independent antique retailers. Alternatively, Maisons du Monde stock a range of Mid-century-style bedroom furniture pieces.
9. Go bolder with a colourful bedroom design scheme
Scandi style is more versatile than it's given credit for, so think beyond just grey and white. If you are looking for a minimalist style with warmth, go for geometric prints and rich tones such as mustard or burnt orange. Pair up with metal furniture pieces for an edgier look.
In this Scandi bedroom design by Sainsbury's Home, the cheerful Helsinki range combines bright soft furnishings with black wire furniture pieces to create a characterful effect.
10. Accent with a statement Scandi furniture piece
Attracted to Scandi design, but can't invest in a whole furniture set, or just want to try out the style without committing to it? Invest in one or two pieces with a Scandi feel that won't look out of place as part of other contemporary bedroom styles.
The Open Minded Side Table by Leitmotiv can be effortlessly worked into any bedroom for just a touch of Scandi cool. Available from Black by Design.
11. Bring in natural light with minimal window coverage
The art of Hygge is all about creating a sense of harmony with your surroundings, whether you live in the country or city. Got a bedroom with large windows? Maximise natural light by ditching heavy curtains in favour of adjustable window treatments such as blinds or shutters. And even if your windows aren't very large, consider exposing them a little more with sheer curtains.
The bed itself is important, too. Think of the bed frame as an investment an get the best one your budget can accommodate.
We love the gorgeous Fawn Bed from Heal's – with its clean lines and blond wood, it's perfect for a Scandi bedroom.
12. Streamline your bedroom with all-over white paint
Scandi style has long been associated with the airiness of an all-over white paint colour scheme. White will maximise the natural light coming into your bedroom, but a room painted in nothing but bright white can feel a little sterile. Choose an off-white paint colour with warm undertones for a more forgiving, cosy look.
This Scandi bedroom benefits from the warm undertones in Welcoming White by Valspar.
13. Go for a traditional Swedish style
If you love Scandi style but find the contemporary version a little too minimalist, embrace the more traditional side of the trend. This means lots of layering and soft, pastel accent shades.
Fabrics by Vanessa Arbuthnott.
Find more bedroom curtain ideas in our design gallery.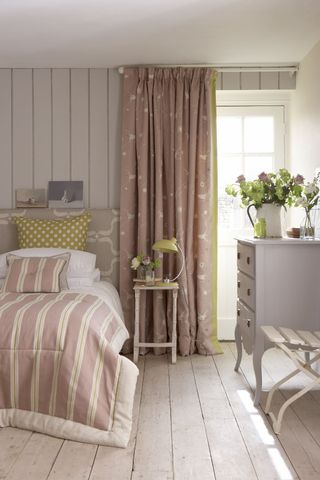 14. Break up wall panelling with a DIY headboard
We love this idea of building your own headboard. You can pick any fabric you fancy but velvet works so well to soften the space, especially if you have wall panelling like this gorgeous new-build log cabin. And check out the nifty idea of actually hanging cushions on your headboard to make it even cosier.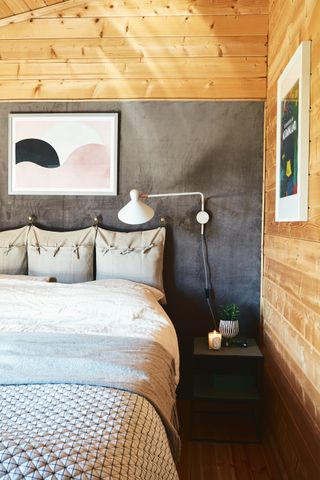 Read more: