The Scandinavian bedroom really is a thing of beauty and one of our fave ways to decorate at this time of year. Cool but cozy, minimalist but characterful, clean but rustic, these are spaces aren't all that hard to achieve. Have a scroll through these simple Scandi bedroom ideas to get inspired to give your space a bit of a hygge update...
1. Choose a neutral Scandinavian bedroom color scheme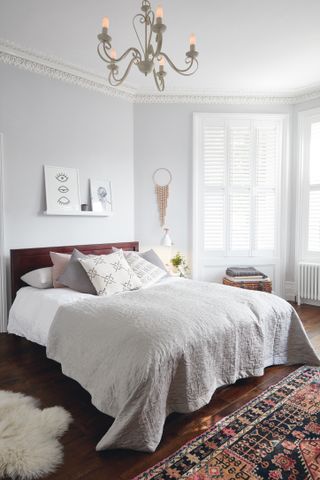 If bright white is not your bag, warm up your Scandi bedroom with off-white shades that take their cue from nature. Work with a range of textures and tones, mixing up greys, creams, and ivory shades to add a load of interest to a neutral scheme. You could even add a touch of muted peach or pink too, like you see in the rug in this bedroom to add even more warmth.
2. Layer up the textures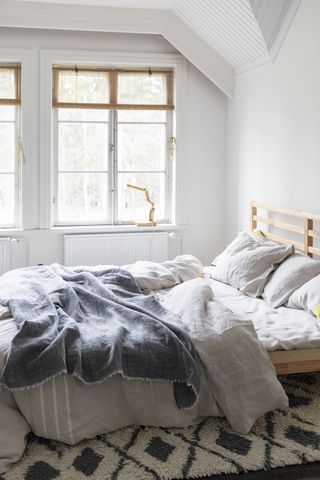 Whether you are going down the minimalist, modern Scandi bedroom route or the more rustic, traditional look, texture is key to both looks. Layer up slubby looking bedding with textured throws and pillows to give your bed that lovely lived-in look you see so often with this style. Stick to a limited color palette of just one or two colors and let the texture be what adds the interest to the room.
3. Paint your floorboards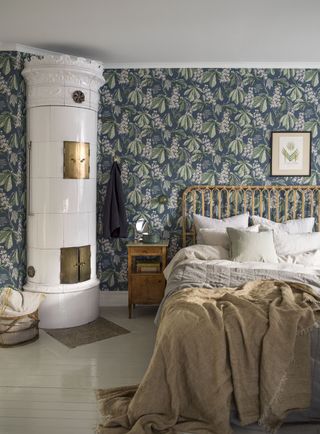 Painted floorboards are always popping up in the Scandi style rooms of Pinterest and Instagram and it's actually a look you can quote easily DIY too. White or white washed boards work best in Scandi bedrooms as the add that rustic touch but still keep the room light and fresh. Going light on the floor means you can add in some darker hues elsewhere in the room too, like you see here with that gorgeous deep blue wallpaper.
4. Hang simple artwork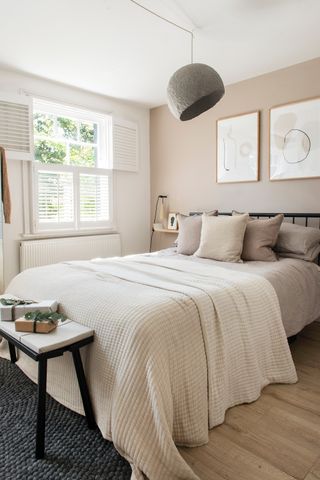 Want to bring some prints into your bedroom? Just keep it simple, stick to two or three larger pieces if you want a minimalist aesthetic, and try and find a common color that will give the prints a cohesive feel. Rather than hang them as a gallery wall, which can look busy, keep them in lines for a more clean feel.
5. Pick a delicate wallpaper for a rustic Scandinavian bedroom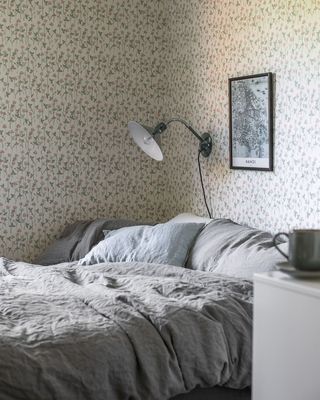 A delicate Scandinavian-style wallpaper will give your bedroom a restful feel, especially if chosen in muted shades of restful blues and greys. Our fave place to shop wallpaper is Sandberg. Every single print is gorgeous and the colors are just so... Scandi; nothing too bright, just lovely muted colors and nature-inspired patterns.
For more bedroom wallpaper ideas head to our gallery.
6. Use reflective and colors surfaces to make a space feel brighter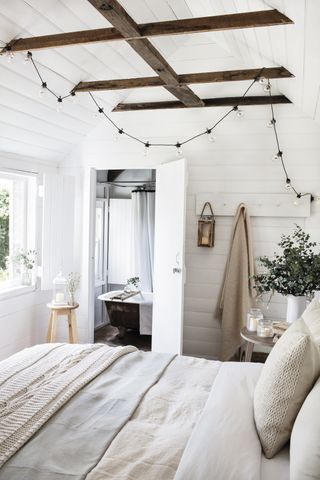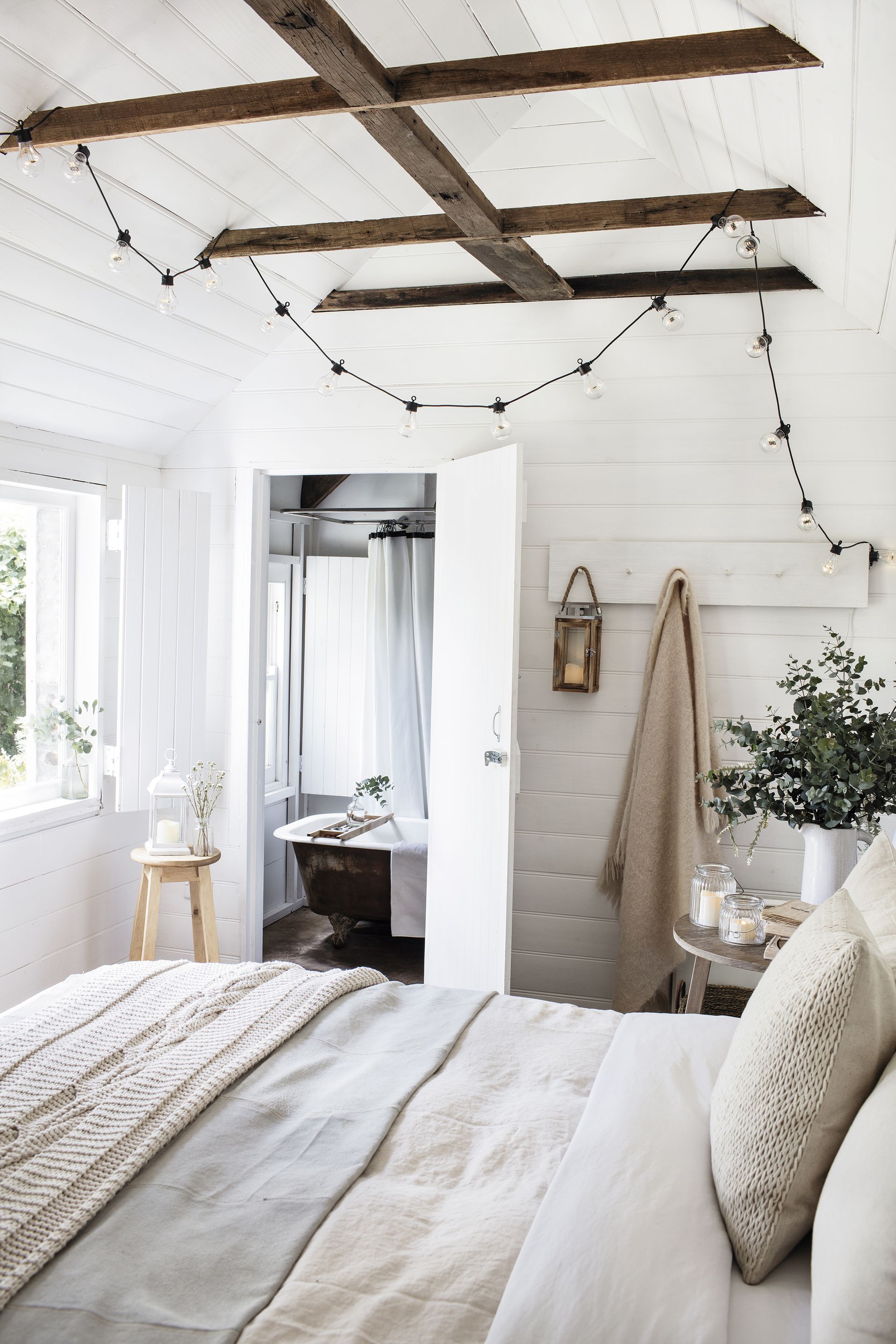 Scandinavian bedrooms are all about maxing out the light, so pick not just pale walls and white furniture, but mirrored pieces, too. Match these with white-painted floors and sheer window dressings and even a north-facing bedroom will feel light and airy.
Check out our bedroom window ideas feature for loads more looks.
7. Install wall paneling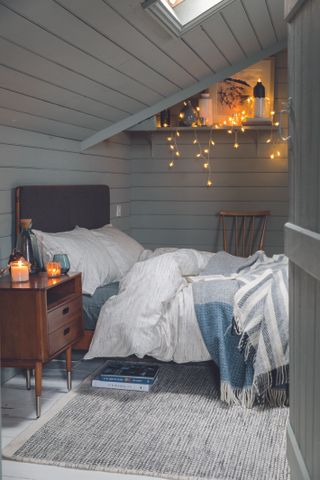 Wall paneling is a brilliant way to create character in a Scandinavian bedroom, and it needn't cost a fortune if you use DIY-store pine tongue-and-groove or ready-to-paint MDF panels. Paint yours grey for a cozier alternative to bright white. Here, it's matched with Mid-century inspired furniture for an eclectic feel.
8. Mix and match soft furnishings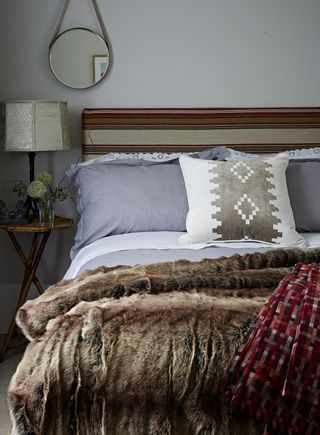 Geometric prints look great in a Scandinavian bedroom. If you are going for a very modern take on the look, you can introduce bright color accents, but for a cozier look, try muted, natural tones, or geometric knits and fabrics. See it as a kind of mix between Scandi and boho, an unexpected combo that's very in at the moment.
For more boho bedroom ideas that you can easily mix into the Scandi style, check out our feature.
9. Shop for second hand finds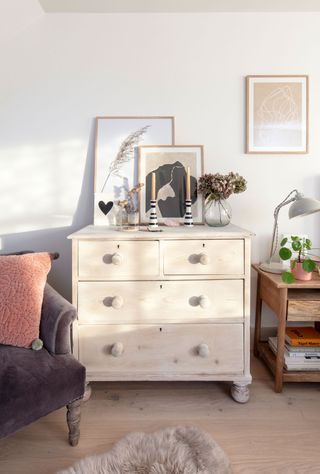 You've probably get the gist that Scandi bedrooms aren't all about new modern pieces, it's the quirky finds and how they look mixed with a minimalist style that gives the space personality. Shopping for vintage and second hand finds at thrift stores and online marketplaces are what will give your bedroom that slightly rustic edge.
Look out for well-made wooden pieces that have a more traditional feel than all the Mid-century style furniture you can pick up pretty much anywhere nowadays. You can find some really lovely painted wooden pieces that would add the perfect focal point to a contemporary bedroom.
Remember, don't get too focused on the colors either, you can always strip back wood or paint it to fit with your style.
10. Make your storage Scandi-approved too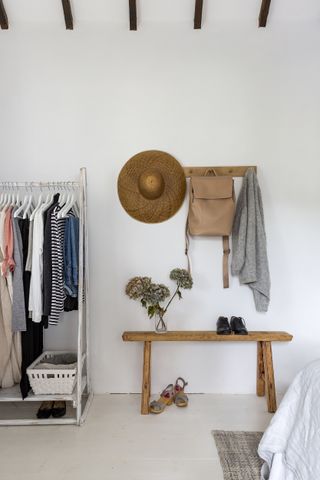 Because storage can add to your Scandi aesthetic too! A simple clothes rail is a great way to display your nicest and most worn pieces, plus is a great idea if you don't have a ton of closet space. Make sure you pick out some cute hangers, and don't overcrowd the rail, so your open wardrobe is more of a stylish feature in your room than a messy place to store closet overflow. Hang a peg rail too for a rustic addition to your bedroom storage.
11. Create a cozy reading corner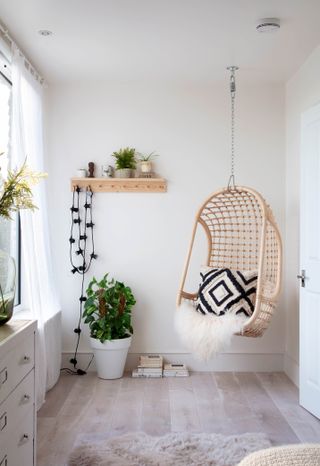 If you have the space, a chair can be a lovely addition to your bedroom. A place to sit and read before bed or on a weekend morning, adds almost a holiday feel to your room. Opt for a big cozy armchair if square footage isn't an issue or if you are squeezed for space a hanging chair will be your best option as it won't add any visual bulk to the room. Give your nook more of a Scandi feel by add plenty of pillow and a fur or sheepskin throw.
12. Choose practical Scandinavian bedroom accessories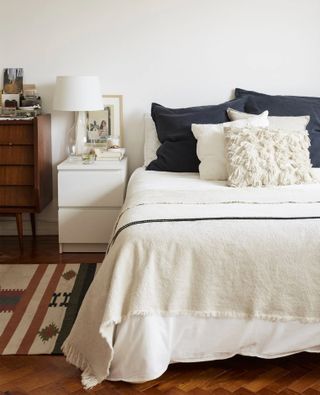 Practicality is important when it comes to Scandi interiors. Everything has to earn its place when you are going for a minimalist style so keep your room uncluttered by accessorizing with things that also have a function. Well-designed clocks, statement lighting and bedroom storage units can all be used to enhance the design of your bedroom.
13. Invest in Mid-century Scandinavian bedroom furniture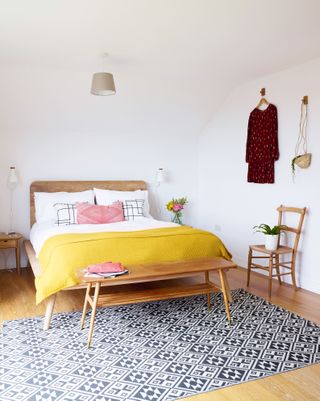 For an authentic Scandinavian look, pick Mid-century furniture; with its clean lines and slim frames, Mid-century style has won over many fans. The warm wood tones also work well alongside a neutral bedroom color scheme and a wood floor.
You can up the rustic vibes by adding in some vintage furniture too to give your bedroom less of an uber-contemporary feel. Note here how the bed and bench are very Mid-century but the chair adds a touch of something more textured and traditional.
14. Go slightly bolder with a colorful Scandi bedroom scheme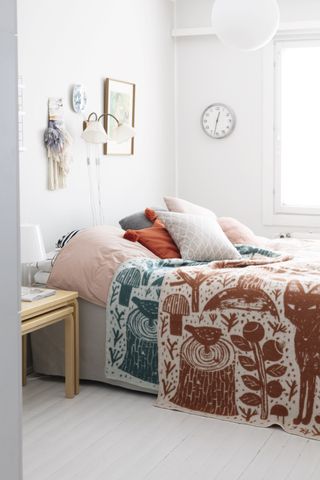 Scandi bedroom style is more versatile than it's given credit for, so think beyond just grey and white. If you are looking for a minimalist style with warmth, go for traditional folksy prints and rich tones such as mustard or burnt orange. Blush pink is also a bang-on-trend color that can really easily be worked into a Scandinavian bedroom.
15. Bring in natural light with minimal window coverage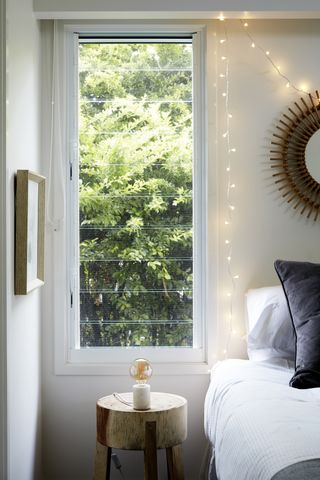 The art of hygge is all about creating a sense of harmony with your surroundings, whether you live in the country or city. Got a bedroom with large windows? Maximize natural light by ditching heavy curtains in favor of adjustable window treatments such as blinds or shutters. And even if your windows aren't very large, consider exposing them a little more with sheer curtains.
16. Go for a traditional Swedish style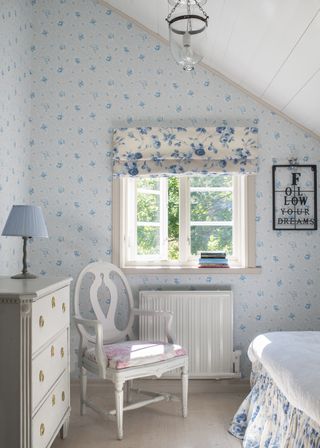 If you love the Scandinavian bedroom style but find the contemporary version a little too minimalist, embrace the more traditional side of the trend. This means lots of layering and soft, pastel accent shades. We are lovely the fresh, spring-like blues going in this more traditional bedroom.
And remember you can mix and match the styles too, say traditional wallpaper print modern furniture or a standout piece of vintage furniture in a very minimalist room.
17. Break up wall panelling with a soft headboard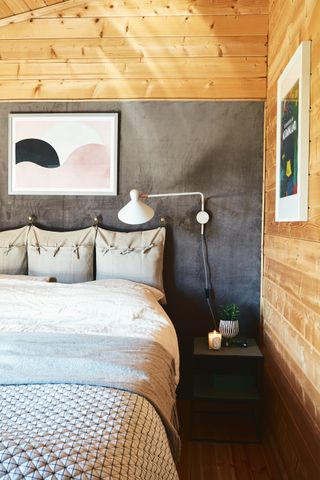 We love this idea of building your own headboard. You can pick any fabric you fancy but velvet works so well to soften the space, especially if you have wall paneling like this gorgeous new-build log cabin. And check out the nifty idea of actually hanging cushions on your headboard to make it even cozier.
18. Keep the lighting soft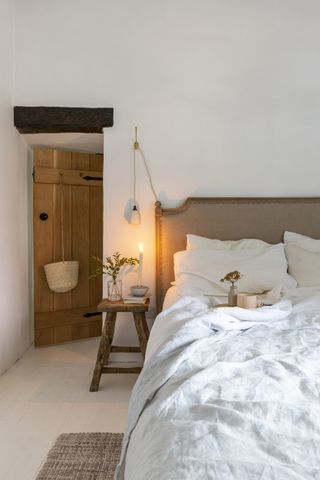 Up the hygge factor in your Scandi bedroom by keeping the lighting really soft and low. Switch out your bulbs for warm ones and place smaller lights all over the room so you create pools of light rather than just the harsh overhead light. Of course, light candles if you are in the room too.
Check out of bedroom lighting ideas feature for loads more ideas, plus all the practical advice you need.
What is a Scandinavian bedroom?
A Scandinavian bedroom can actually have many different vibes, depending on the design route you want to take. Most Scandi-style rooms are minimalist, filled with clean lines, simple shapes and a limited color palette. There are a lot of similarities with Mid-century Modern style, especially when it comes to furniture shapes and styles. It's a very practical aesthetic too, only bring into the room want you need, keep spaces free of clutter and everything must have a place.
Then there's the more traditional version of Scandi style, the one associated with hygge that's all about comfort, coziness and textures. Vintage pieces, heavily carved wooden furniture and folksy prints.
But the wonderful thing about the different takes on Scandi style is that you can also mix them. Choose Mid-century style striking furniture and adorn it with disty patterned bedding and soft linen throws. Or choose a stand-out piece of vintage furniture to add a rustic touch to your modern bedroom.
How do you style a Scandinavian bedroom?
When styling a Scandinavian bedroom first think about what look you want to go for. As we just mentioned, Scandi style is really diverse so do you want to go down the traditional route or the more modern minimalist route? Or mix them together? Whatever you decide a color scheme is a good place to start. Most Scandi bedrooms stick to a neutral color palette of whites, creams, greys and black. If you want to add in color stick to muted hues – sage greens, pale yellows, light blue, deep rust oranges.
As texture is so key to the look, add in some rustic wooden touches too with your furniture, even a wooden floating shelf will make a difference. And layer up your soft furnishings too. Throw down a rug, add some floaty curtains, pile up the throw pillows. Even if you like a minimalist look you still want your bedroom to feel cozy and inviting.